I made this hanging DIY hidden jewelry organizer to save space. Later, I realized making a secret storage place for jewelry was a great idea for so many reasons!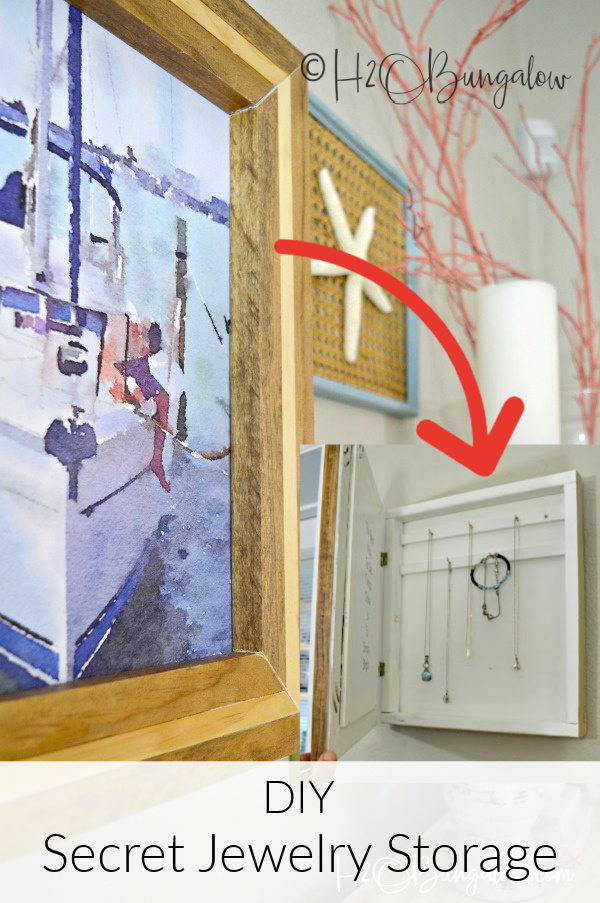 I should start from the beginning to fill you in on how this DIY project came to fruition. My necklaces were constantly getting tangled in my drawer. Plus, out of sight out of mind, right? I didn't wear any of them because I never looked at them! Once I hung my wall mounted secret jewelry holder All I had to do was open the door and I could pick a necklace to fit my outfit or mood and it was never-ever tangled!
I had a few frame scraps left over from an older sponsored Ryobi Tools project, my Inspirational Words Full Length Mirror Frame. (check out the post to see how I made the layered wood). This stuff was far too pretty to toss in the scrap bin.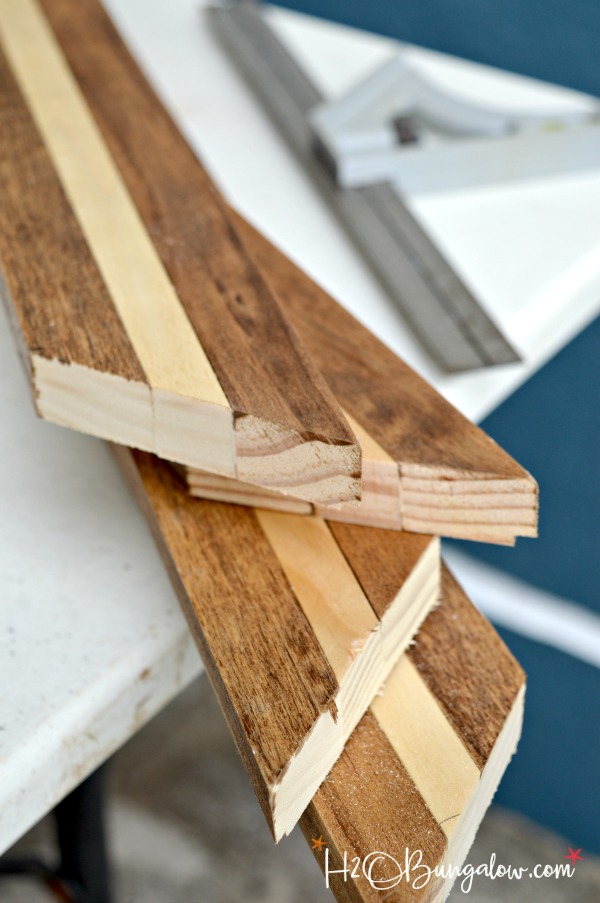 I've never owned a decoder ring or been the super secret, spy kind of girl.
But I have to admit, It's pretty cool to have a secret jewelry box on the wall that looks like art. When I came up with the idea to make this Hanging DIY Hidden Jewelry Organizer, I knew had to try it!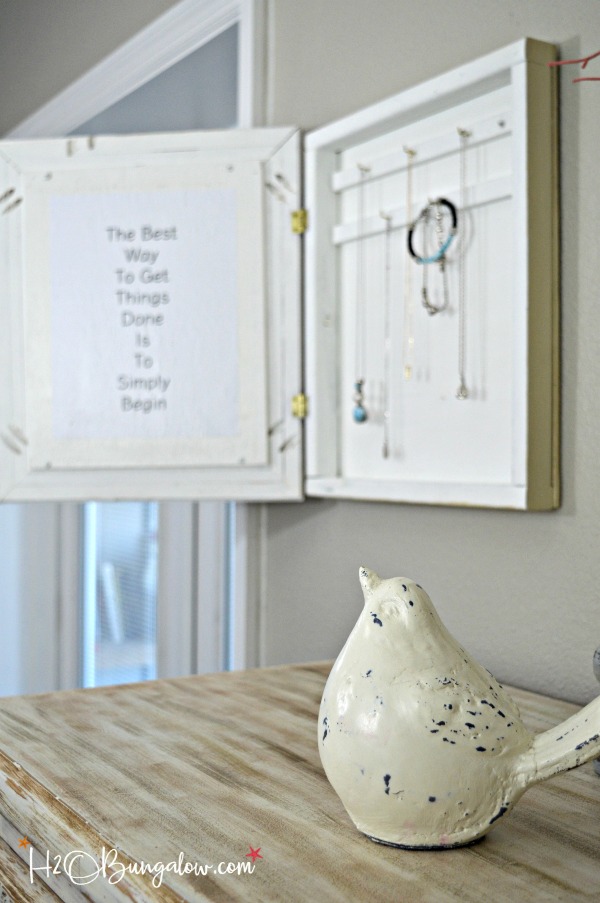 The best part about this project is you can build a DIY hanging jewelry organizer with art that fits your own style and decor. It's simple to make, pick out your artwork, plan the frame, then build the box.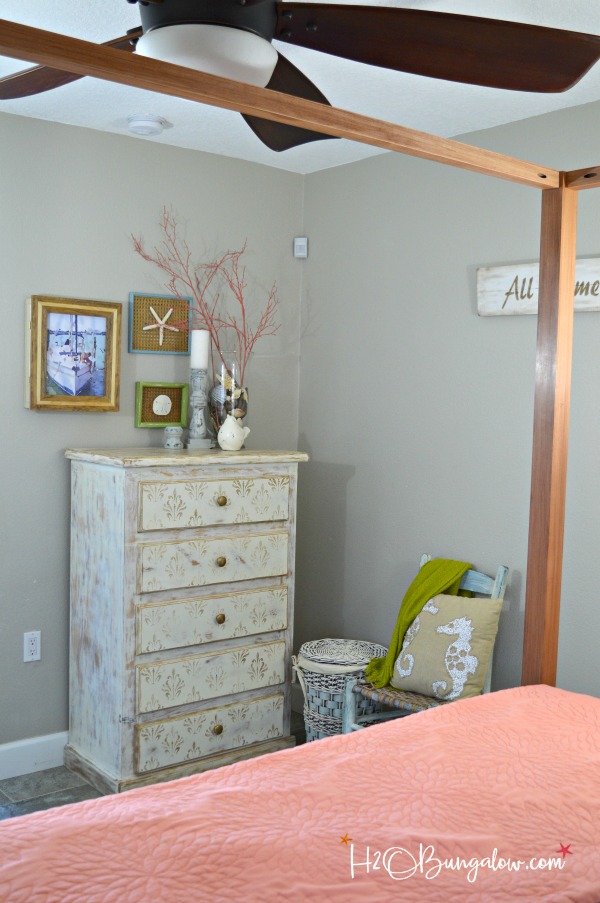 This post contains affiliate links, as an Amazon affiliate I earn a fee from qualifying purchases at no additional cost to you. Thank you for supporting H2OBungalow!
Supplies needed to make a hidden jewelry holder that hangs on the wall.
Premade frame or make one
1/4″ plywood
1 x 2″ board
Wood glue
Pocket screws
Small magnetic catch – optional
paint
D-ring hangers (this is a good deal!)
Artwork for the frame – I made my own, see below
Tools needed to make this project
Miter saw
Pocket hole jig- I used a Kreg Jig, There are a lot of other choices on the market now, like this metal one
Drill
Measuring tape,
Combination square – useful
Step 1: Build a picture frame or start with a premade wood one.
See below tips to build a frame. If you're planning on using a premade frame, be sure the sides are wide enough to give the frame support and have a flat space in the back to screw on the hinges.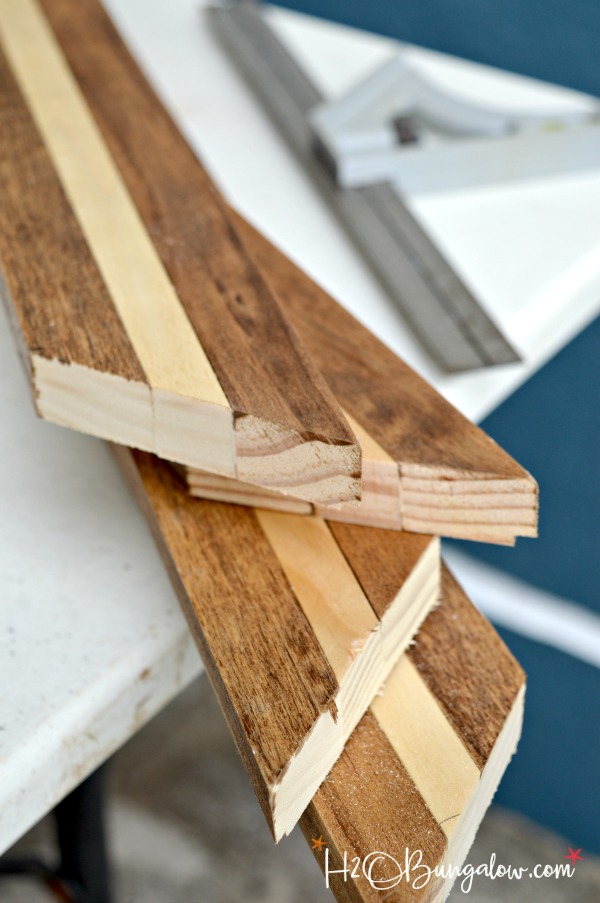 If you're building your own picture frame for the DIY wall hanging jewelry organizer, Cut 45 degree angles at the end of each frame section. Make 2 pocket holes in the top and bottom frame pieces with a pocket hole jig.
For reference, my frame is 3″ wide. Use 1 1/4″ pocket screws to assemble the frame.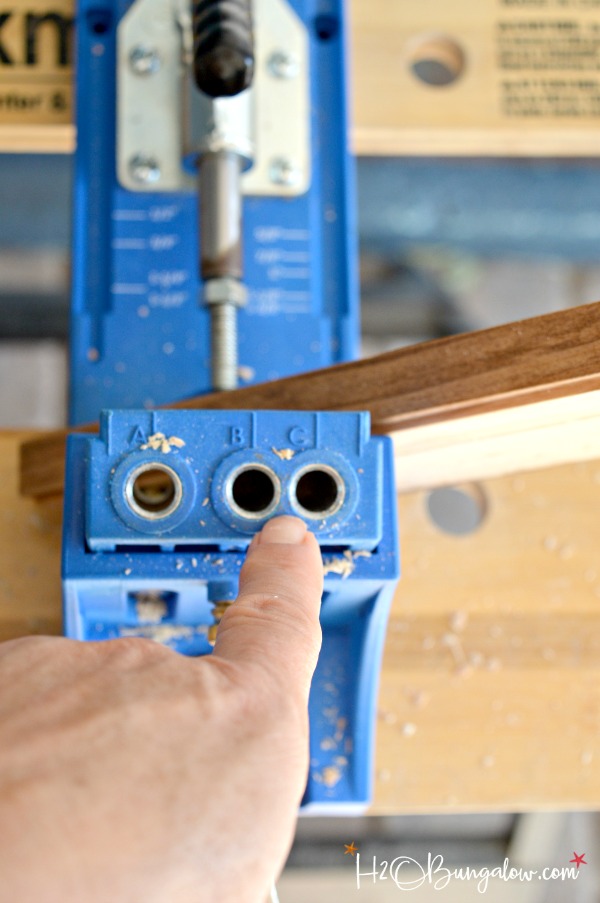 Assemble your artwork into a premade frame as the last step if you're using a ready made frame. If you've made your own door, your art attaches now.
My artwork was mounted on 1/4″ luan (plywood). You can also use chip board or MDF. I attached it to the backside of my DIY wood frame with #6 screws in each corner.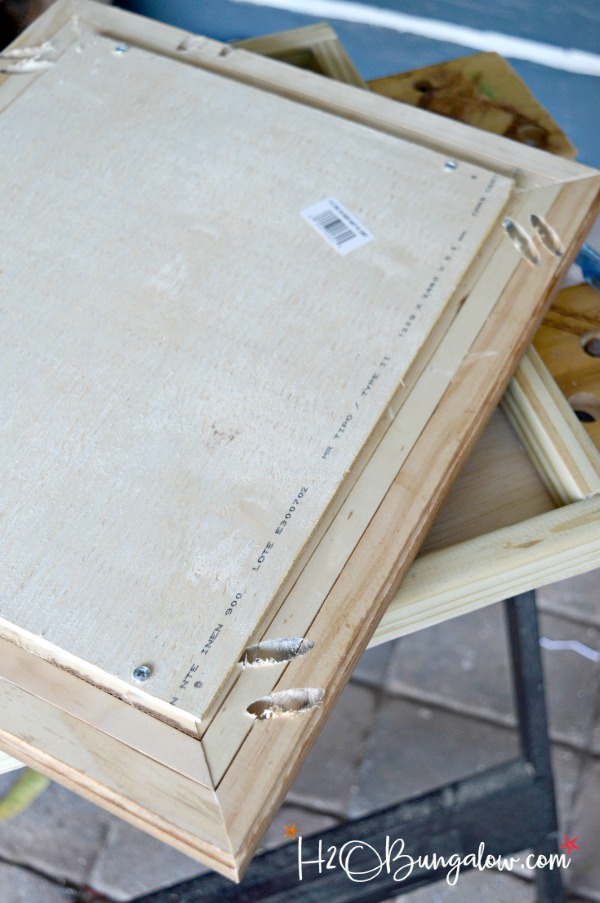 Step 3: Build the jewelry holder box
Next, you'll build a box that will be the base and mount on the wall to hold the jewelry.
I can't give exact measurements since I built my frame. What I can share about this step is the front door will need to close and lay flush against the base of your jewelry holder. This will also give you room to add a magnetic closure.
Tip: The secret jewelry holder looks better from the side when the panel that holds artwork fits inside the base frame. In other words, you don't see the panel at all from the side.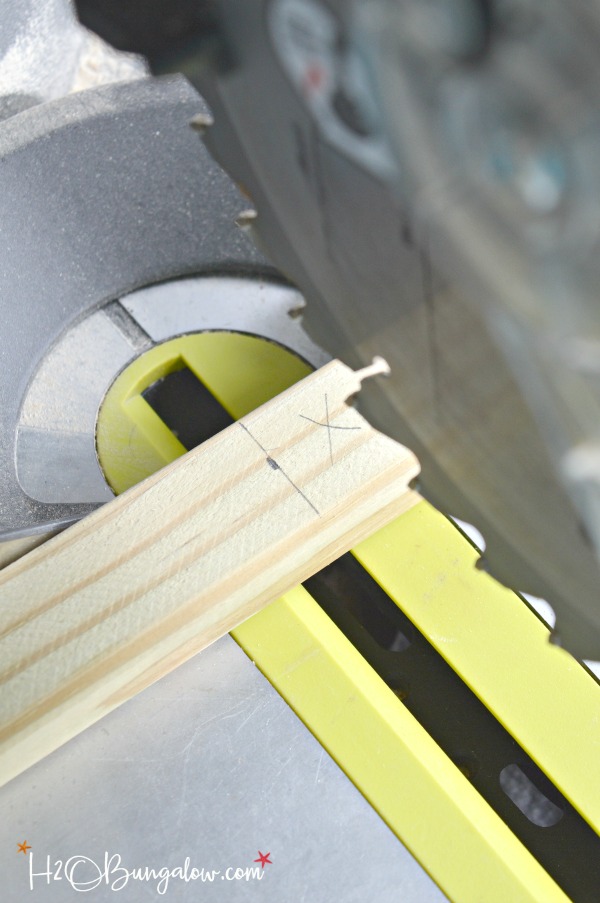 I used furring strip scraps I had on hand. The better choice would be to use 1 x2's, it's a better quality of lumber. Cut the outside frame and assemble it with wood glue and brad nails.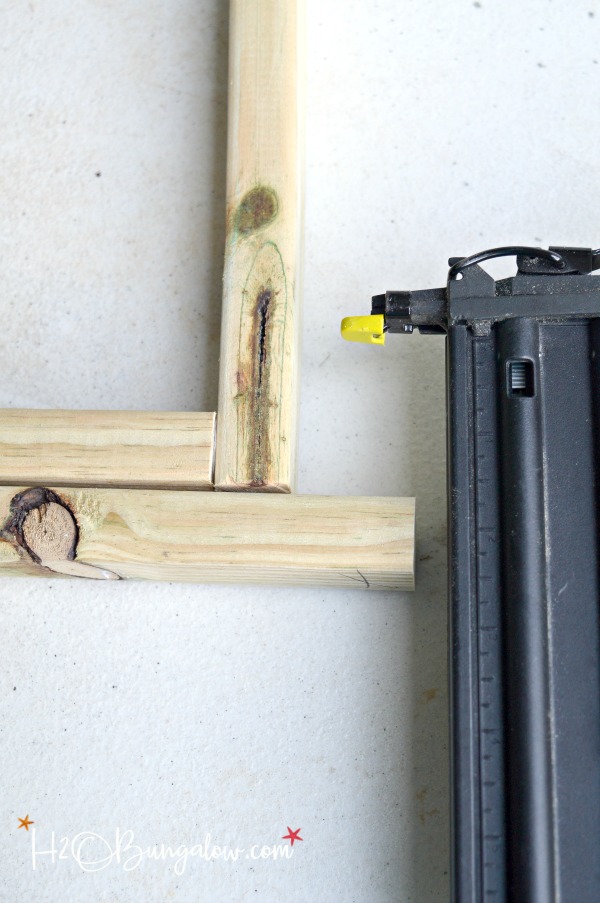 Use 1/4″ plywood for the back of the jewelry box, attaching it to the frame with brad nails.
Step 4: Place jewelry holder brackets
Cut two 1/2″ deep strips of wood to fit into the jewelry box frame. This is where you'll attach the small hooks to hold necklaces. Attach with wood glue and let dry.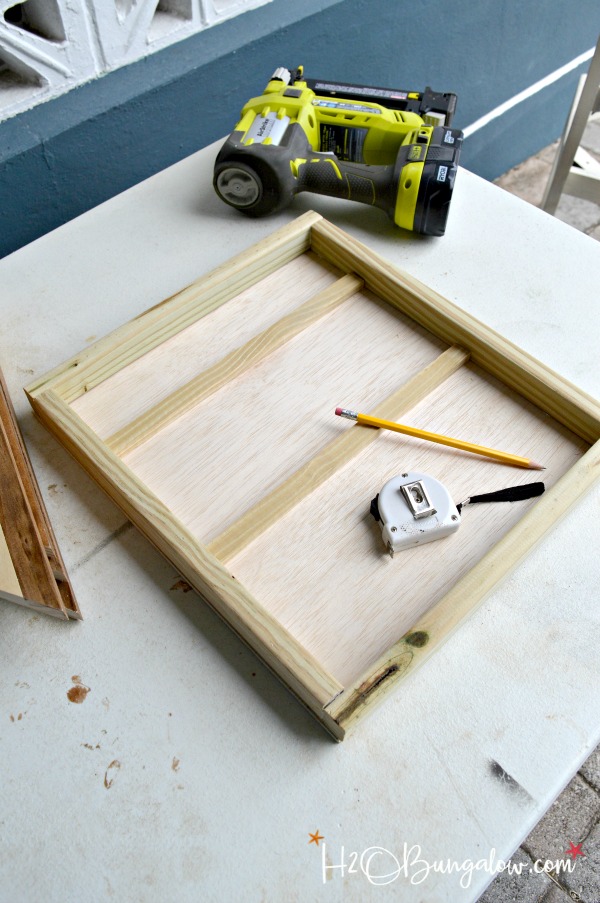 Step 5: Paint the DIY hanging jewelry organizer
Paint the wood as desired.
Step 6: Attach hardware
Attach two 1″ hinges along one side of the frame and shadow box base. Screw in small cup hooks or square bend screws along the two bars to hold the jewelry. You can also add a small magnetic closure to keep the cabinet closed if you want.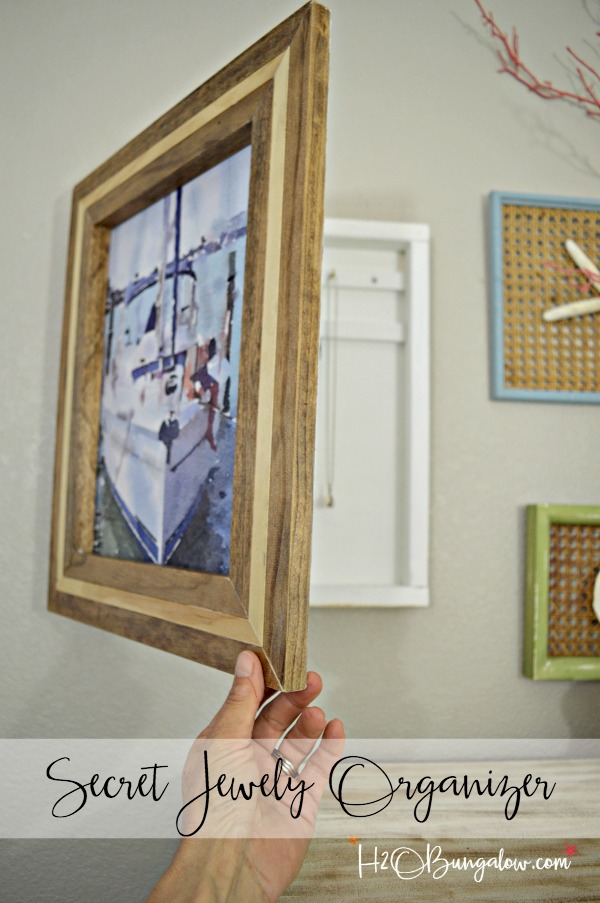 Last, attach two D-ring hangers on the back one at each side of the top to hang it from the wall.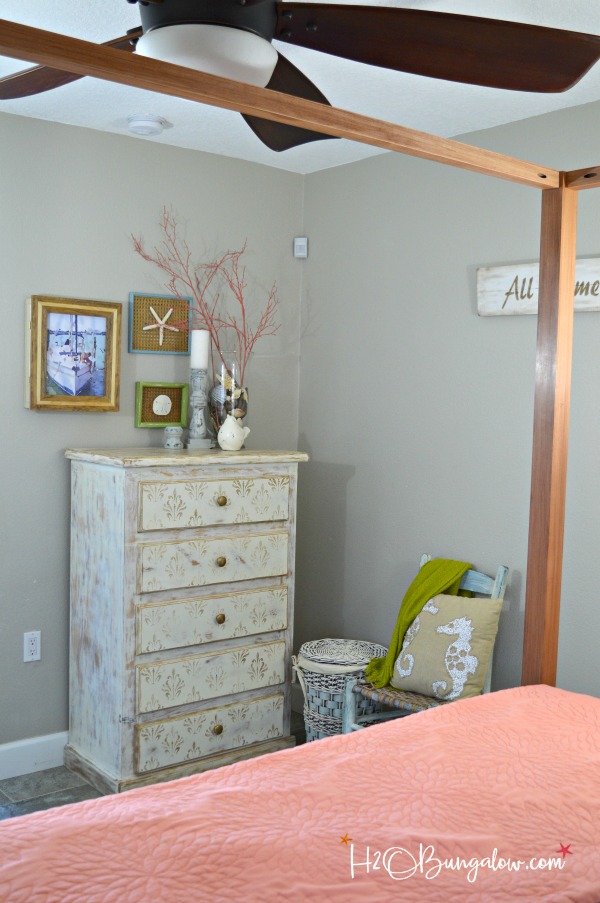 That's it!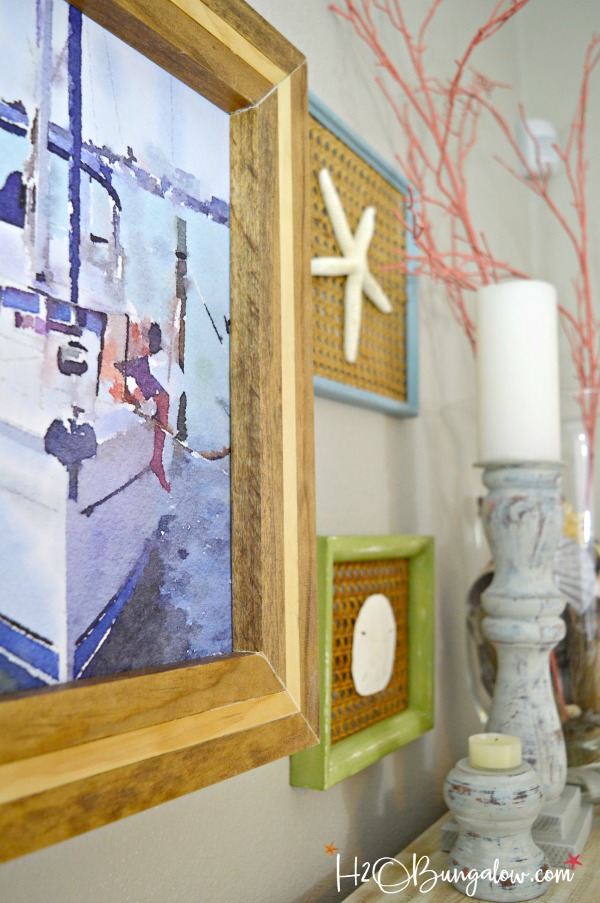 Hang it on the wall alone or with a few other art items and you'll have a beautiful wall display with a secret DIY jewelry organizer too!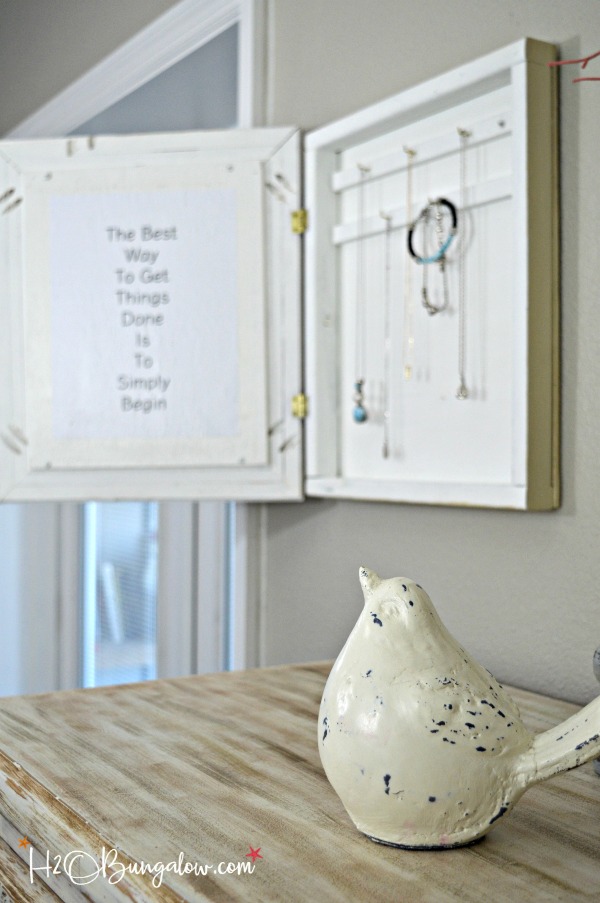 Do you love this project? Pin it for later!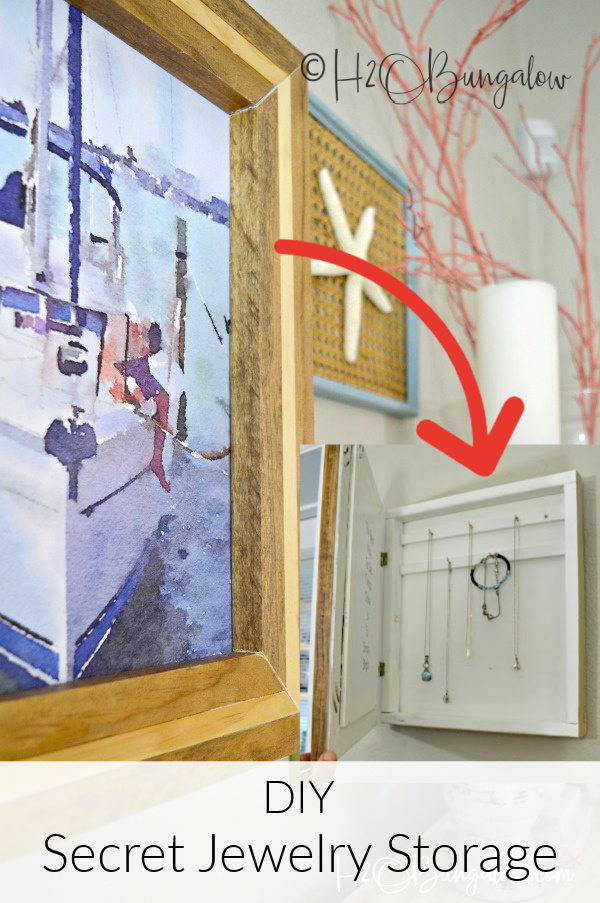 I'm pretty exited to untangle the mess of necklaces I have and start wearing them! My other jewelry challenge is earrings, but finding an organization solution for them will have to wait for another day 🙂 Besides necklace organization, what's your biggest jewelry organization challenge? Let's chat in the comment section below!