I promised to share with you how I made my DIY table chargers. Easy to make, durable and colorful, they added a punch of color and are an easy way to complete a themed tablescape. This project cost just over $1 a charger too!
Don't limit yourself to a coastal theme…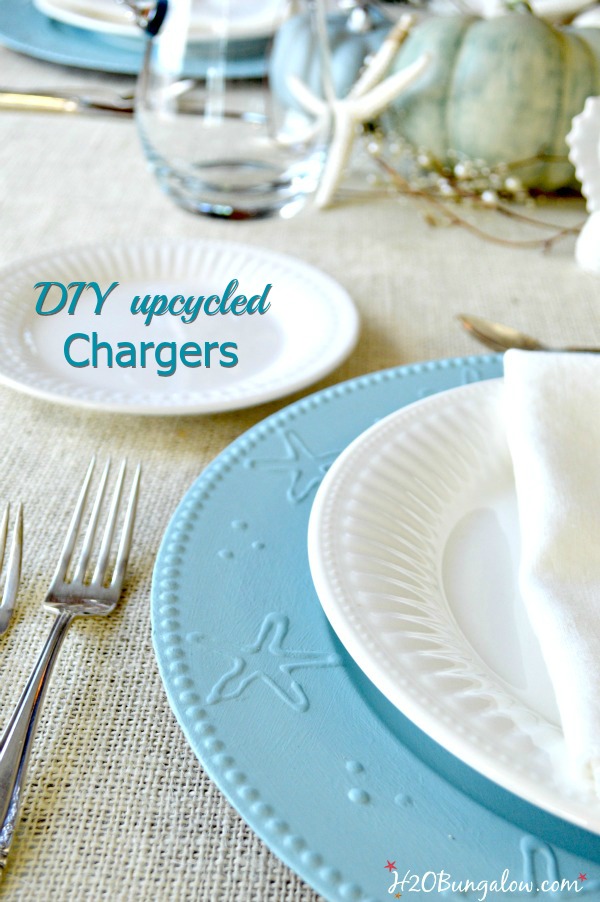 These would look great in fall colors with outlined leaves around the edges, elegant with a random pattern and layers of paint and unique finishes, or contemporary with random shapes and a high gloss finish. I'd like to make a few sets for different times of the year.
I was compensated for this post. This post also contains affiliate links and I will be compensated if you make a purchase after clicking on my links.
Supplies needed for DIY table chargers. I use affiliate links to help you find the supplies I used:)
plastic chargers – I found mine at a thrift store for $1 each
DecoArt Liquid Glass or white glue
320 grit sand paper
deglosser like simple green or TSP
DecoArt Chalky Finish Paint – You'll want to use a paint that does not come off easily. If a paint wipes off easily with water after it dries, do not use it for this project. You'll also want a chalky finish and not an acrylic shiny one to get an upscale finish. I used Vintage.
DecoArt Ultra-Matt Varnish – excellent sealer
2 " Paintbrush
Stencil or shape to trace. I used a starfish, but you could trace anything or freehand a design. There are also plenty of leaf shapes on PicMonkey that you could print, cutout and trace the shape for a fall theme.
Simple instructions for DIY table chargers
Wash and dry the plastic chargers, lightly sand the entire front where you'll paint. Wash and dry them again with a deglosser.
Use your stencil or cut out cardboard shape and trace it around the edges of the plastic charger with a pencil. The liquid glass has a pointy applicator and will allow you to draw with the liquid and outline the shapes.
I added starfish randomly around the outside and a few dots in between them to compliment the pattern already on the ouside edge of the charger. I'm sorry I don't have a picture of this step, I worked on this project a with a bunch of others during the crazy two months where I was back and forth from Dallas. Some of my pictures were misplaced 🙁
Let dry overnight. The shapes will be hard and clear.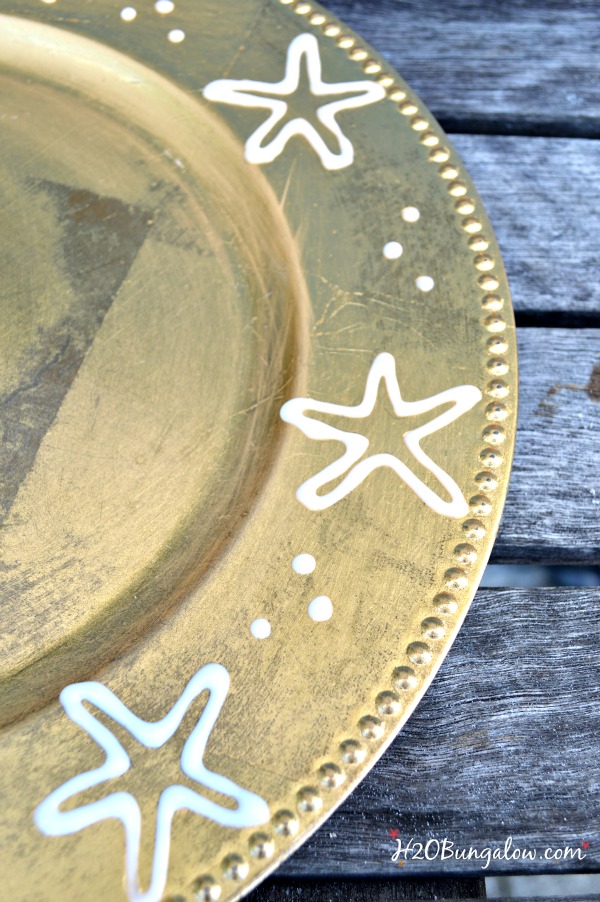 Paint with the Chalky Finish Paint. Let dry and seal with the Ultra-Matte Varnish.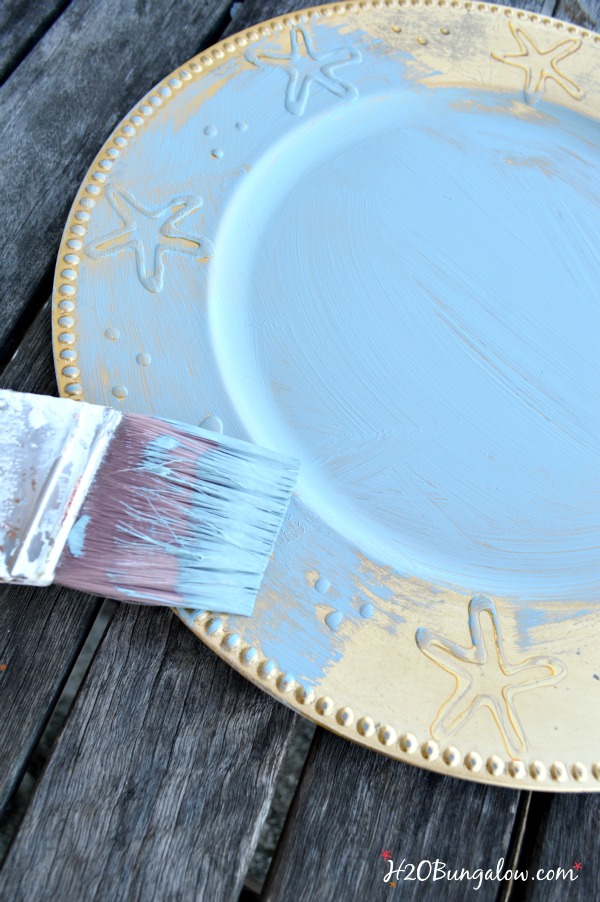 That's it.
After the DIY table chargers are sealed, all they will need is a wipe with a damp cloth after a meal.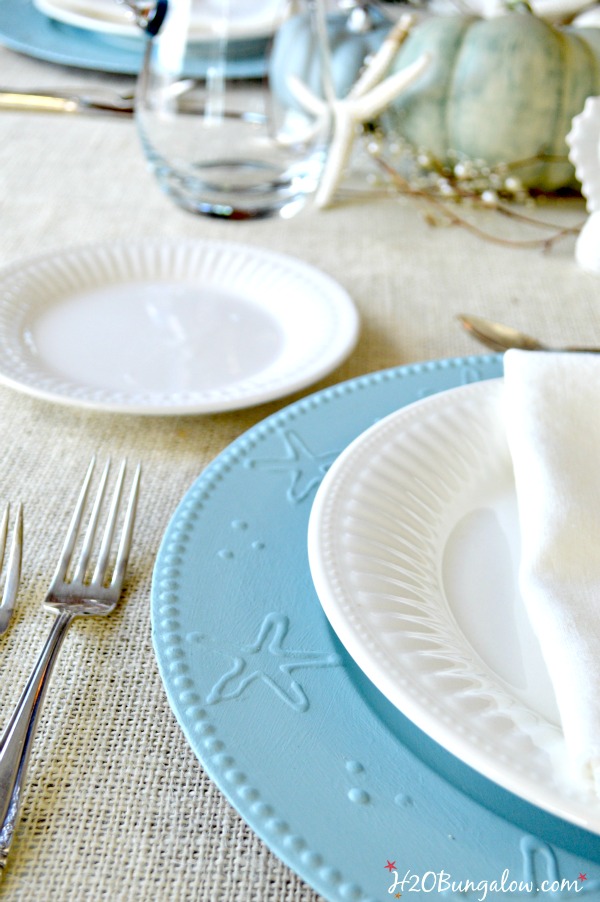 Super easy and they add a big impact to the tablescape.
Even though I made these for our holiday table , I'll use them year round and even for outdoor dining as well. Speaking of holiday tablescapes and table settings, did you see my earlier post linking 18 more fabulous holiday tablescapes and centerpieces?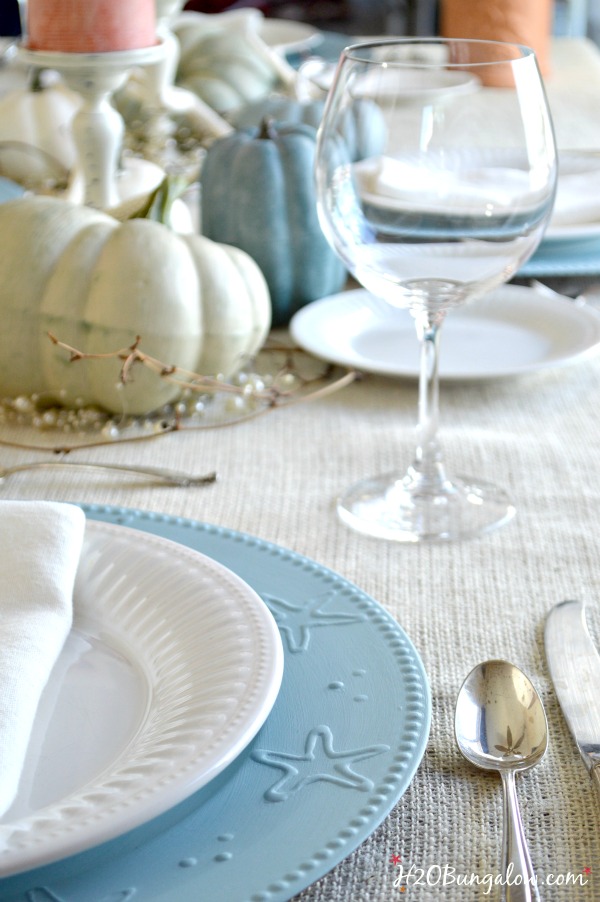 Don't forget to pin this idea too!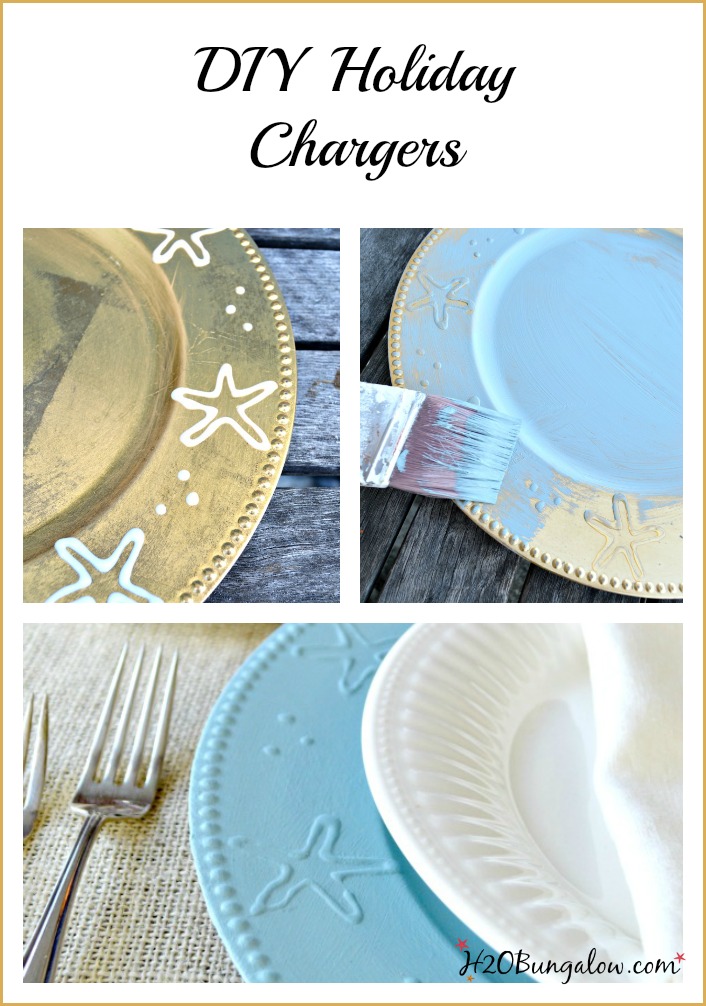 The holidays are such an awesome time of year to have fun and decorate. If you've put together a tablescape, be sure to share it on the H2OBungalow Facebook page!