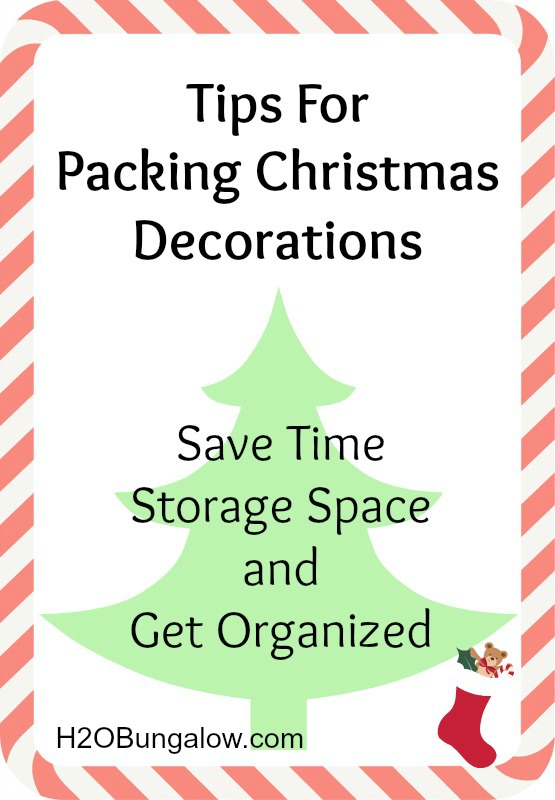 I hope your New Year has gone well so far! Hubby & I just got back from a wonderful 5 day getaway – with no teen & no pets! We actually slept in every day…what a treat! Coming home to the house nicely decorated was nice. But, yesterday morning I was ready to get on with 2014 and pack away Christmas till next year. I'm sharing my best tips for packing Christmas decorations that will save you time, storage space and make redecorating much easier!
This year I accomplished something I've meant to tackle for years. I cleaned out and weeded down our Christmas decorations. Every year I told myself that this is the year I'd get it done. It wasn't so bad, I don't know why I procrastinated for so long! I went from over 10 extra-large plastic storage containers down to 3 large plastic boxes. I've kept only what we will use and donated everything else.
Now, I'm ready to stay organized since my holiday decorations are safely packed up the right way. With very little effort, I'll be able to easily find everything next year when its time to redecorate for the holidays. Here's how I did it.
Tips for packing Christmas decorations
Weed it out – Only keep what you will use. If you've accumulated lots of extra items over several years, the initial investment of your time to declutter is worth it!
Have sturdy boxes – We use the extra-large plastic Sterlite containers with locking lids and smaller ones that fit inside the big ones.
Keep like items together This is especially important for your tree. You'll also read how I pack my garland below.
Label all boxes – Place labels in the same place and the same way on each box. I also put the date on my label.
Layer your packing – Place flat items on the bottom, odd-shaped or soft in the middle (like garland) and light weight on top. Make use of all the space in each box without over crowding.
I've added a little more detail to my tips for packing Christmas decorations for garland and a Christmas tree below.
Packing Christmas Garland – If you have more than one garland add a small label onto the end of each one. List where it goes and what side your end belongs on, example front door left side. Next Christmas you'll know exactly where each one belongs and which side has the cord for the lights.
Save more time and protect your garland by wrapping it assembled in plastic bags. Covering it like a sausage keeps everything in place and cuts down on tangles, especially if you have lights on your Christmas garland. I also pack the extension cord and any special ties I used to hold my garland in place. I label these as well. When I unpack my box next year, everything I need will be in one box and labeled. All I'll have to do is fluff it and hang.
Packing up a Christmas tree – We use one large box for our tree ornaments with a smaller box inside for the delicate ones. Keep each type of ornament separated in piles as you remove them. If you decorated your tree like my post on How To Decorate a Christmas Tree Like A Pro, your smallest ornaments will be on the branch tips and largest ornaments are tucked into the tree branches. Take off any fragile ornaments first. Next take off the smallest, followed by the next larger in size until all the tree decorations are off.
When packing a Christmas tree your goal is to open your ornament box next year and have everything organized by size. This will save you decorating time, especially if you are decorating your tree like a professional tree decorator. We keep original boxes for our delicate ornaments whenever possible. Others are bubble wrapped. Place your filled and sealed box of delicate ornaments into your large storage container box first.
Next, I use bags to keep my ornaments separated by size and place them around the box of delicate ornaments. Last, place any ribbons, or other decorative picks on top of the ornaments. I wrapped my long picks in newspaper so they wouldn't get messed up or tangled and placed them gently on top in my box.
Once you have an organized method for packing away your Christmas decorations you'll never want to do it any other way. These tips for packing Christmas decorations will help you be organized, keep your packed boxes to a minimum, save you valuable time and storage space. An added bonus is next holiday season redecorating will be easy and organized! Who wouldn't love that?
How soon after Christmas do you pack up your decorations?

Don't miss a single creative idea I share! Click here to get my posts sent to your mailbox or follow here on Bloglovin. Either way, keep in touch!
You may see me linked up to some fabulous link ups which you can see here.