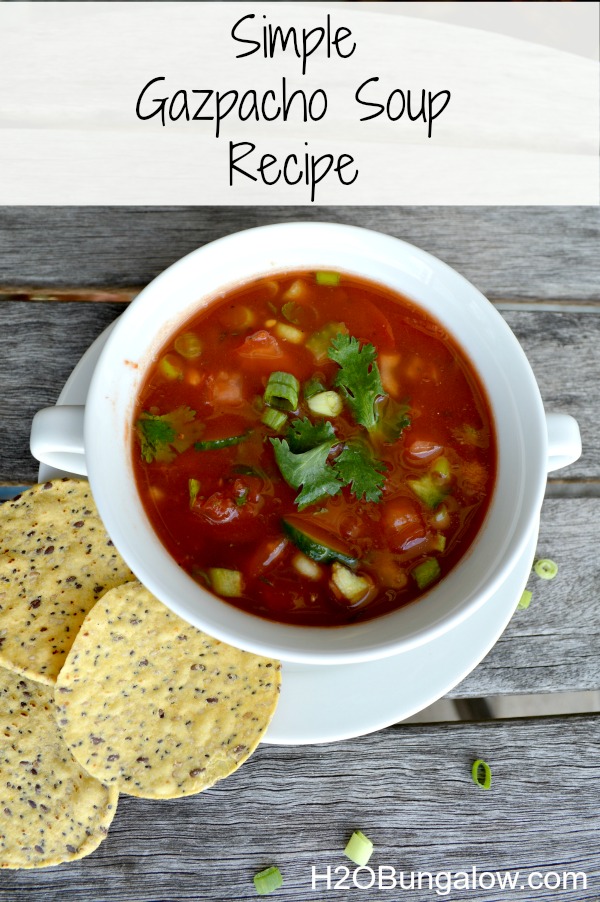 I make big batches of my easy gazpacho soup recipe every summer when fresh vegetables are plentiful. To me, it's the type of recipe that you just throw whatever fresh veggie you have on hand in the bowl. It's a terrific way to use up a bunch of extra fresh produce you don't want to go bad too.
…And you're thinking a recipe, really, from you Wendi? Yes. You see the construction goblins have taken over the house. It's crazy here. Not only can I not find anything, I can barely think straight to do a DIY project.
…So, in the meantime. Back to my easy gazpacho soup recipe 🙂
Sometimes, we just get burnt out on eating salads. Other times it's just sooo hot and humid here on the west coast of FL that I can't bear the idea of being in the kitchen any longer than I have to. Cold summer soup is my favorite go to for those hot days!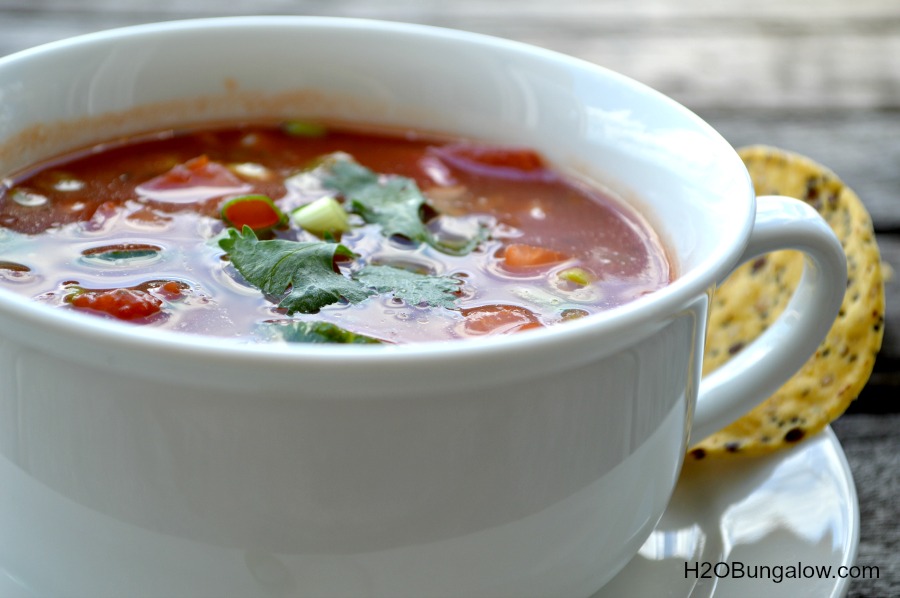 I mean, really, doesn't the sound of cold summer fresh gazpacho soup sound amazing? Have I started your craving for my fresh soup recipe?
Well then…Let's get started.
List of ingredients to make easy gazpacho soup recipe.
3 – 4 large fresh tomatoes, diced
5 green onions, also know as scallions, sliced
1 bell pepper, chopped fine
1 whole english cucumber, chopped
3 – 4 celery sticks, chopped fine
3 Tbsp chopped cilantro, plus some for garnish
One 32 oz can of diced tomatoes with juice
1 – 2 quart bottle of V-8 Juice
2 tsp lemon juice
1 tsp olive oil
Salt and pepper to taste
1-2 tsp italian herbs to taste
Mix everything in a bowl and chill in the refrigerator. Allowing the flavors to blend overnight will give the best results. This isn't a fussy recipe. Add more of anything you like, omit what you don't…except the tomatoes 🙂
Garnish with a little cilantro and sliced green onions. Serve with a few healthy tortilla chips and you have a healthy, low-calorie and tasty meal or appetizer.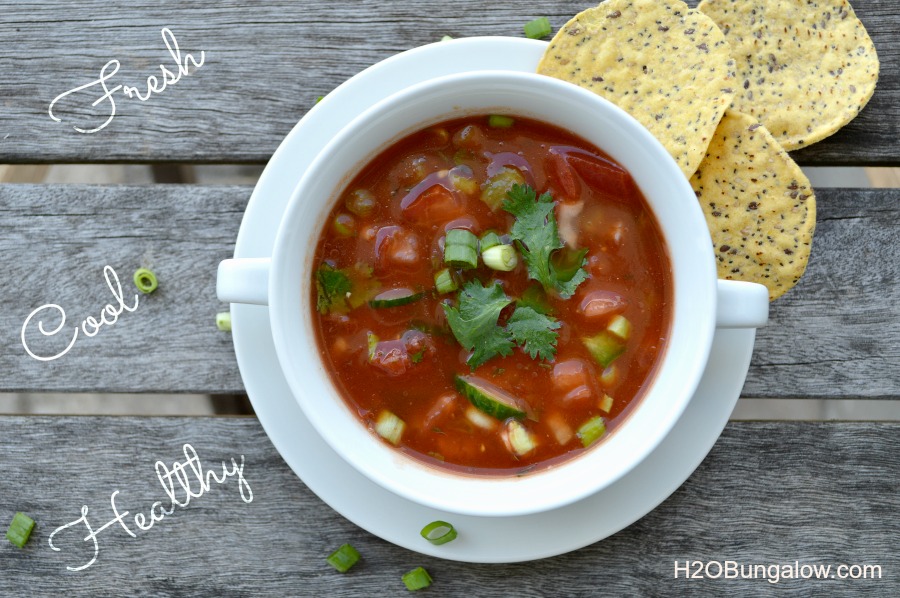 I hope you try my easy gazpacho soup recipe. It's my family's favorite summer soup. I love to make a big batch ahead of time and have it ready for the week. It keeps well in the refrigerator. I've also packed it in a spill proof container and brought it on our sailing trips. Yummmm!
What about the construction you ask? Ahhh… Stay tuned I have some exciting stuff to share with you all soon!
Do you have a favorite summer cold soup or perhaps a favorite easy gazpacho soup recipe of your own?
Enjoy!

Are you following me? Like, you know…my blog? What? Not following me yet?
Sign up for my posts via email HERE or Bloglovin HERE. Both are free!