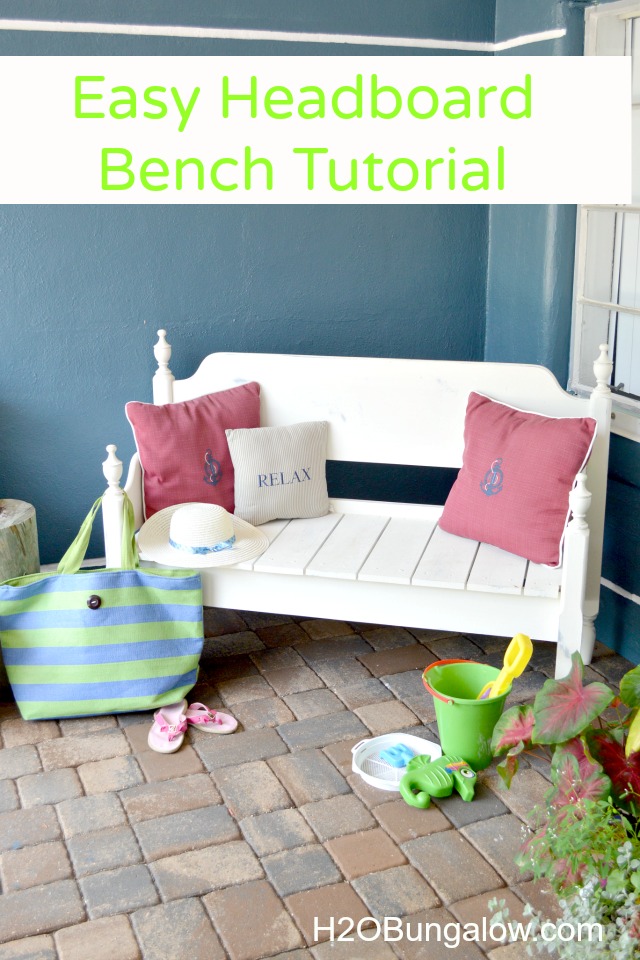 I'm proudly sharing how to make an easy headboard bench today. If you would have asked me if I could build something a year ago I would have said I've always wanted to…but was kind of scared to try. I was intimidated to use power tools. I've always LOVED the idea of the freedom that being able to use a power tool implied…
fix it, build it, on my schedule when I want it done!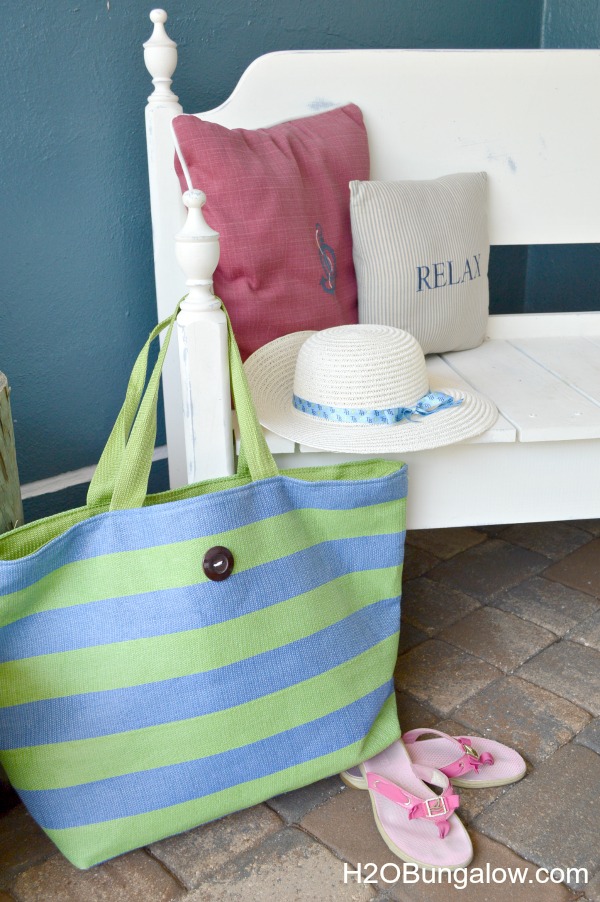 Once I made my mind up to build something, it didn't take me long to choose a bench for my first project. I found this great $20 headboard set at Goodwill. That night I mentioned my thrifty purchase to my husband at dinner and he said "great!" Let's be sure the garage doesn't get full of good ideas. Haha I laughed, no worries…'cause you're helping me this weekend. I'm going to build a cool bench from a headboard and I need an extra set of hands.
We had a blast doing this together!
In my excitement to build my bench I forgot to get a good before picture. You can see what the headboard and foot-board looked like before with this angle. The headboard is now the seat back and I cut foot-board in half, and shortened it, for the two side pieces/bench arms.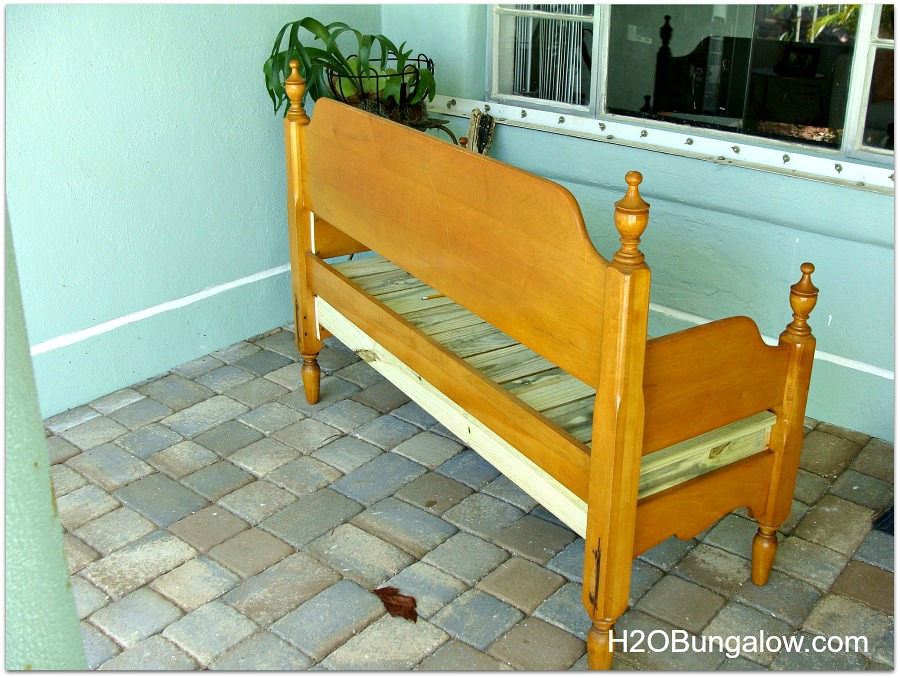 Part of the challenge in this type of project is that headboards come in all sizes and shapes. I'd recommend reading how I built mine, and use the information I share to plan your bench and be aware you may need to modify the instructions. I think the basic structure will be the same for most headboard bench conversions.
Cutting the wood was the step that intimidated me the most and I didn't want any mistakes. I avoided almost all of that by having Home Depot do the majority of the wood cuts. They'll cut your wood for free! That's what made this such a great first time project.
Here is a supply & cut list of what I used to build my easy headboard bench.
Wooden headboard and foot-board, I used a full size set.
2 – 1 x 6″cut for the length of the front and back of the bench for the inside frame.
2 – 1 x 6″ cut for the side arm parts of the inside frame.
18″ seat boards from 1 x 6″, I cut mine 18″ long.
Deckmate screws
4 metal corner brackets.
Drill
Jigsaw
Caulk
Paint
Ready for a good measuring tip? Measure everything, do the math and remeasure again.
That's it.
Write it all down and bring it with you when you buy your wood. We measured the headboard width and figured out how deep we wanted the bench. Most chairs are 18″ deep which is why I choose that seat depth. I cut about 12″ out of the center of the footboard and made it shorter. The new short pieces made the side arms fit an 18″ depth seat.
We attached the inside of the frame to the bench back first. Next, we attached the sides of the bench with the Deckmate screws to the bench back. choosing the right place to mount the frame is something you'll have to figure out since headboards are all different. Next, we attached the arm-side inner frames and then attached the front frame board across the bench. The Deckmate coated screws are easy to screw in and we didn't need pilot holes for this step.
We used metal "L" brackets on all the inside corners for added strength.
(Adding this note a year later) I didn't now about using a Kreg Jig or how easy it made assembly at the time. We learn as we grow 🙂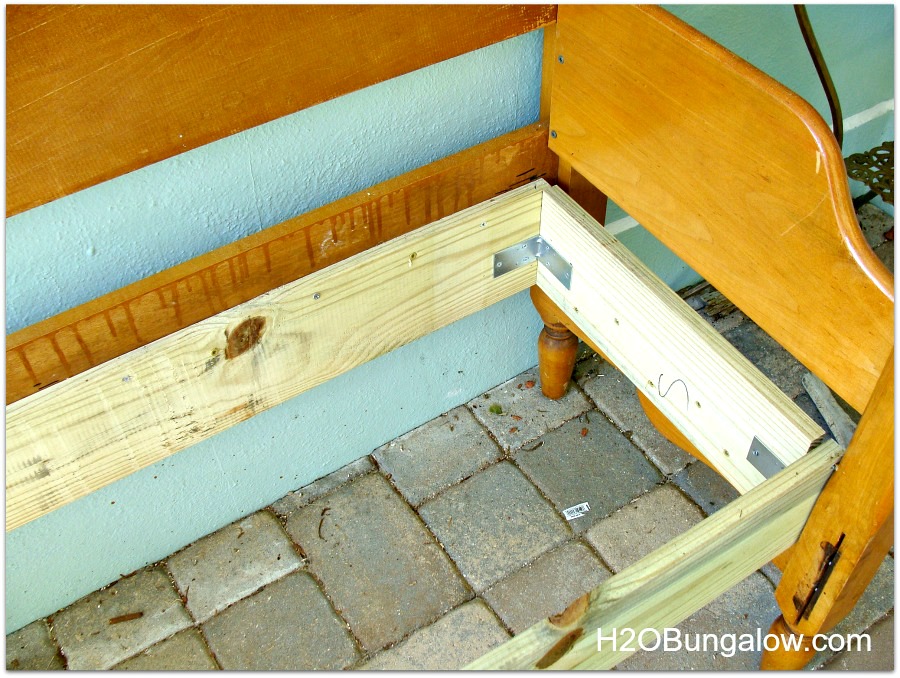 My seat boards were 18″ deep. We planned for them to overhang the front frame by about 1-2″. Layout your seat boards and mark how you'll trim the two ends if needed. Leaving space between each board is especially important if your bench will be outside like ours. The spaces allow for water run off. I used a high-tech pencil to space my seat boards evenly.
See below for how I marked these. I didn't want my boards to warp over time, especially because this bench is for our front porch so I used two screws per seat board on each end.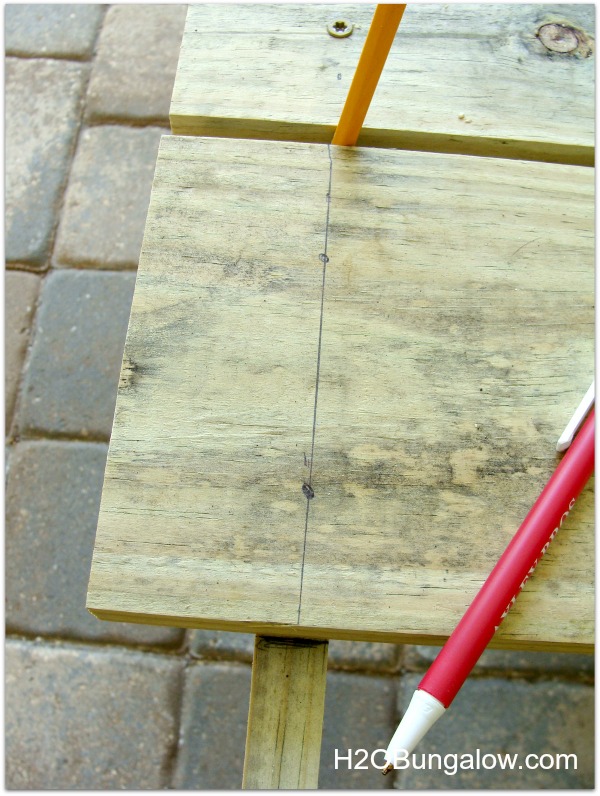 I found it easier to drill pilot holes on this step. Make sure your drill is strong enough.
The wimpy cordless drill I owned didn't have enough umph to do this job. I then borrowed my father-in-laws ancient drill which not only had a cord, it weighed a ton. I broke a drill bit in the wood. UGH.
Too wimpy..too strong…I was beginning to feel like Goldilocks in the Three Bears.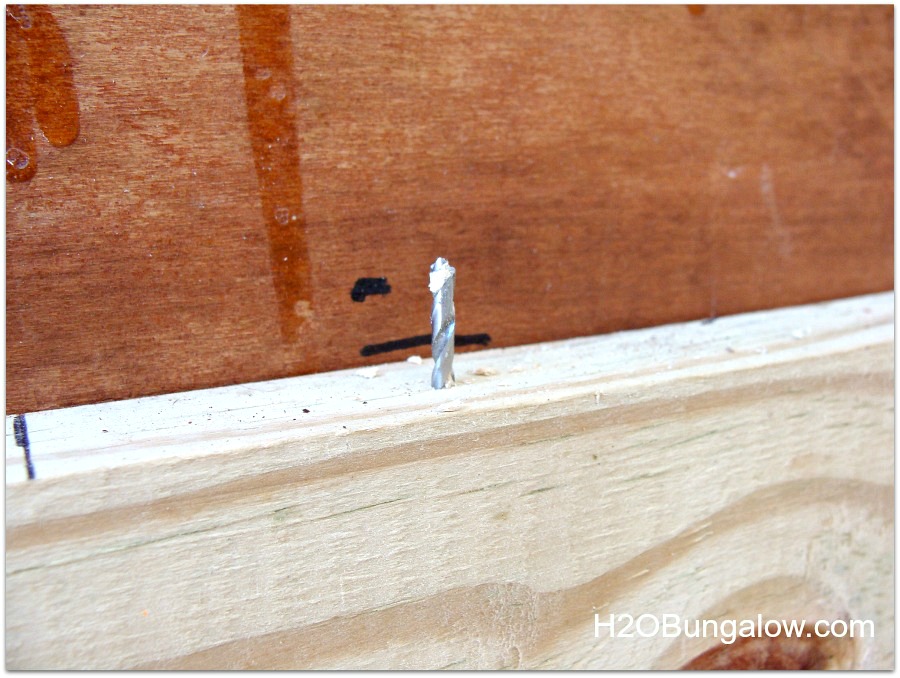 Ryobi to the rescue!
What better way to celebrate my new-found tool independence than to break down and buy my own Ryobi drill? I could easily justify it! The right drill along with these amazing wood screws made the job a whole lot easier!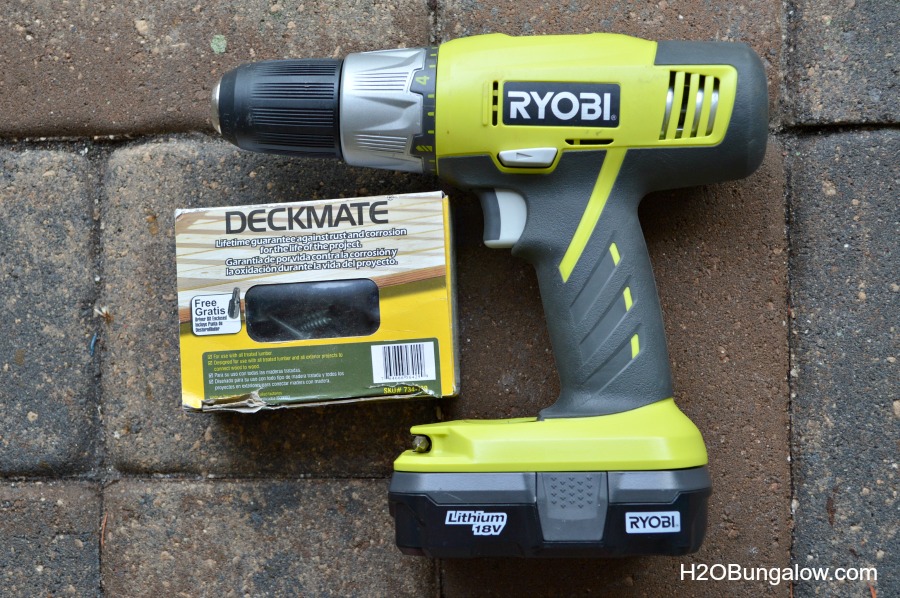 I had to cut these notched boards for the last seat slats at each end of the bench.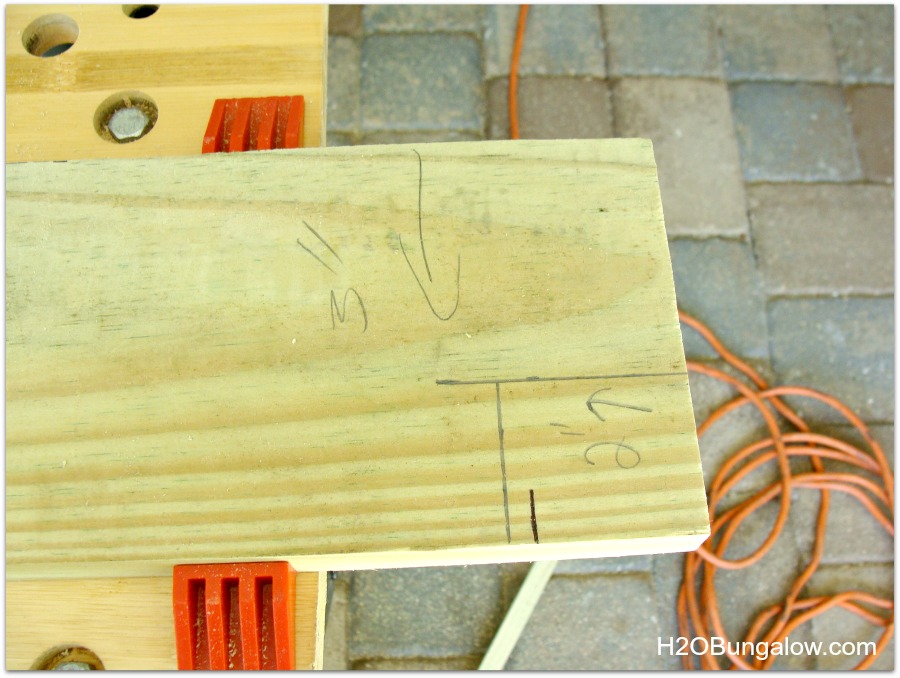 I filled in spots with painters caulk before painting it.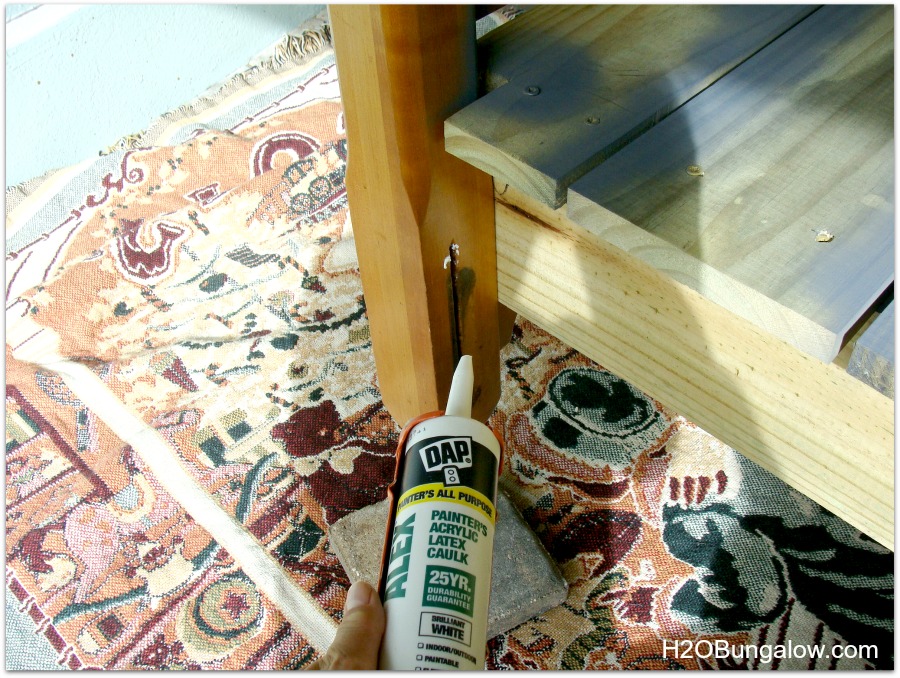 I'm so darn proud of myself for tackling this project! The entire project and all the supplies cost less than $75 and I finished it in a weekend. When I say this bench is sturdy…I mean it's STURDY! It doesn't rock, wiggle or move in any way… at all 🙂
The post tops add character to my bench, don't you think so?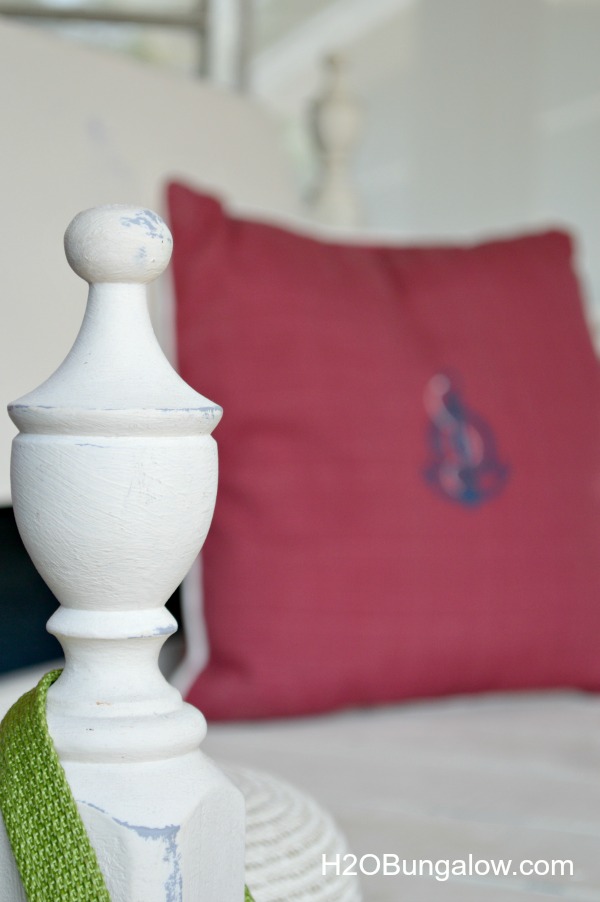 I've always wanted a front porch area. A place that greeted us as we walked up to the front door. A spot to decorate that was welcoming for holidays and our different seasons and now I have one.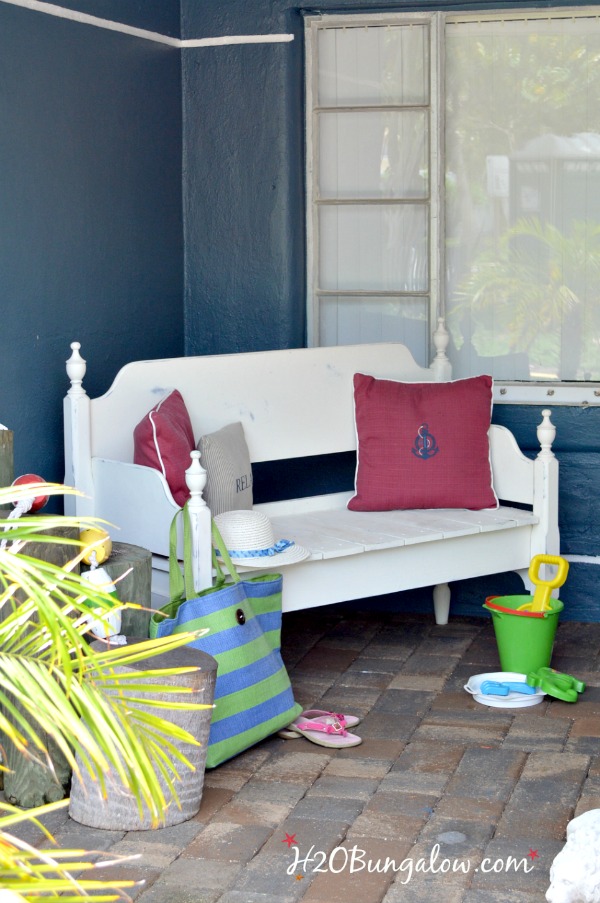 If I could make an easy headboard bench like this, so can you. My biggest tip? Do the math, figure out exactly where you'll attach your parts before buying your supplies. I saved a lot of time and beginner angst since I only had to make 4 cuts on the entire bench. Remember…Home Depot cuts for free 🙂
OK so now what? I did it, I'm over my fear. Ya know what? It wasn't so scary after all 🙂
Over the past year my blog has created some amazing opportunities for me, I've opened new doors and definitely stepped out of my comfort zone! I now own several awesome Ryobi tools. My newest addition is a portable table saw. What on earth can I do with a table saw?
A lot.
In the next few weeks you're going to see how I'm adding a master bathroom and closet edition onto our house. I've planed a series full of great information on maximizing utility and space in a small home. Even if you're not planning a renovation, you'll still love and be able to use many of the ideas I'm sharing.
Do you have a project you've always wanted to try?