I made my faux pallet wood box out of a fence post from Home Depot. I love the look of reclaimed and weathered wood. Wood that looks as if it has stood the test of time, and bears the scars of years worth of rough handling adds instant character to just about any DIY project. I've tried to use pallets as a quick and cheap alternative to reclaimed wood.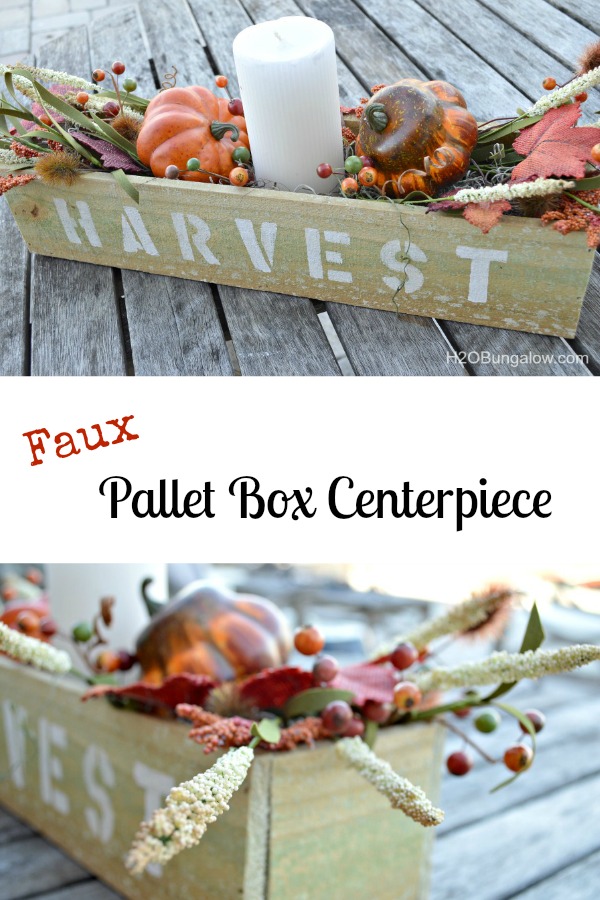 However, I don't like the work.
I don't like trying to fit them in the back of my little SUV, finding storage space for them in our overstuffed garage (full of good potential projects) and I'm not good at all when it comes to taking the darn things apart.
Some projects were a lot easier before my son left for college and I've had to get creative!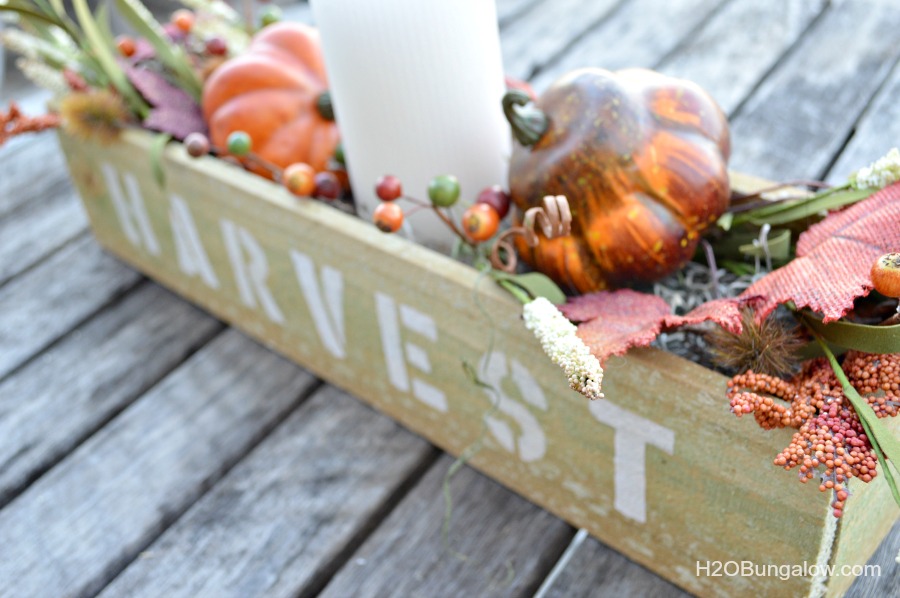 My answer? A faux pallet wood box that looks just as good, costs about $1 and takes a fraction of the time commitment.
Why not?
If I can save time, save precious budget dollars AND get the same look…then, why not? 🙂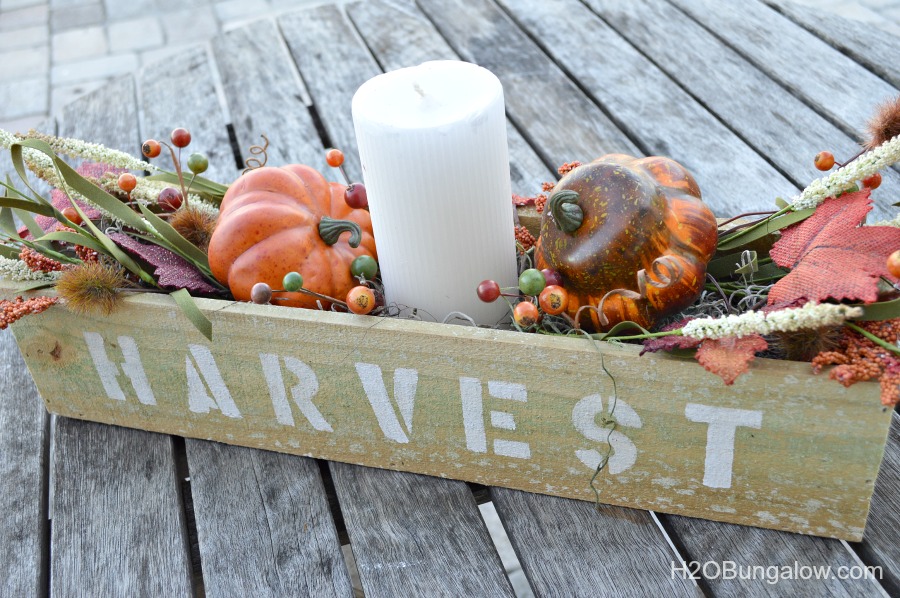 Building it was a snap. I started with a six foot cedar fence post. It's about 3/4″ thick and the perfect width to make a wood trough box. I used my jigsaw to cut the board into sections, and my favorite Ryobi Airstrike Brad Nailer to put it together. It took about 15 minutes.
Cut list for faux pallet wood box.
bottom board at 17 1/4 inches
2 sides at 18 1/4 inches
2 end pieces 3 3/4 inches
If you want a different size box, choose the length of the bottom piece first. Next measure for your sides, which are slightly longer. They will cover the two end pieces. Last you'll measure the two ends which fit inside of the sides. I attached the two long sides to the base first and the ends last.
We finished the construction on the new master bathroom addition last week (which is turning out amazing!). I haven't had time to find our fall or Halloween boxes of decorations. Our home is looking pretty slim on the fall decor this year. This will have to do. It's not too much of a compromise though, I really like how it turned out:)
I decided to add a simple stencil on both sides and fill my box with pretty fall colors.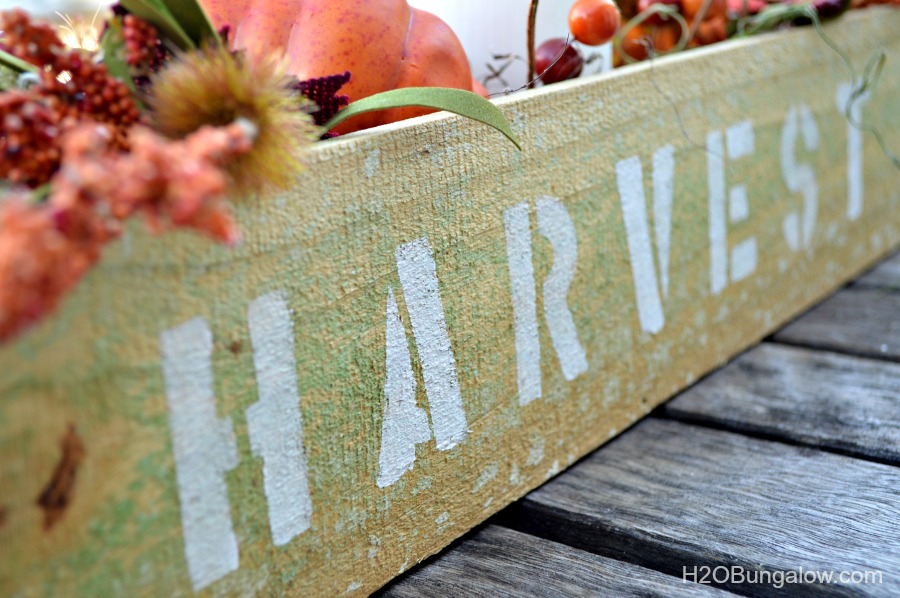 I like to use floral stems instead of seasonal picks because there is always a better selection and I get a lot more bang for the buck 🙂 They fill a lot of space when I take them apart and use the little branches or sections to build my arrangement.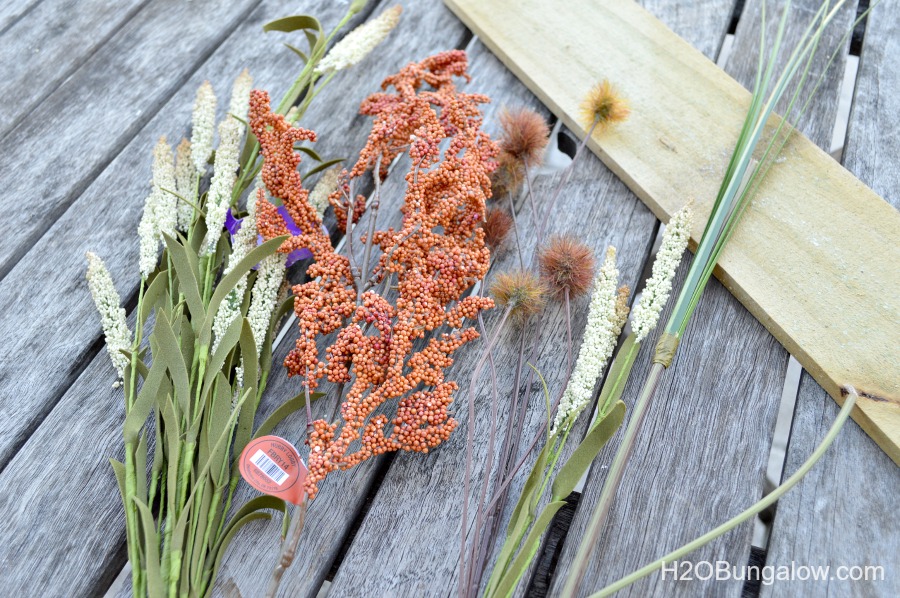 I needed to add a little height under my candle to have it stand out and used a styrofoam block underneath it in the box. A little spanish moss goes a long way in filling up the open space and its great for holding the berries, leaves and other smaller stems in place.
Simple and it looks great!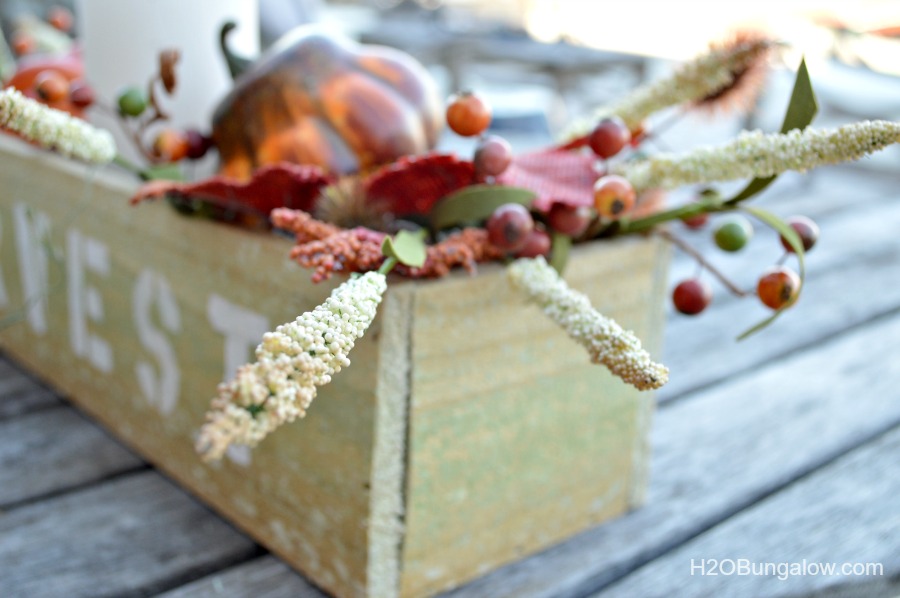 That's all there is to it! I love my faux pallet wood box! My version is much easier and faster to make than lugging a pallet home, cutting it up, and then building the box!
So what do you think? Would you skip the pallet and go for the look…or are you a pallet purist?
Looking for more fall decor ideas? You might like my Limed Wood Holiday Candle Holder , or this DIY Book Pumpkin and if you need a little fall cheer at your front door , here's a great idea.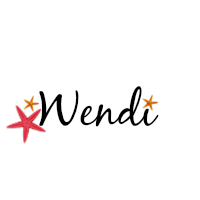 I