You guys haven't heard much from me in the last week. We made it through Hurricane Irma and I can now share it's been a long – long week. Yes, we have damage to repair, it's pretty much what you'd expect from a hurricane. We are incredibly fortunate though; it could have been much worse. One of the reasons we weathered the storm and the aftermath as well as we have is because we were prepared. Well prepared in fact. I'm sharing our downloadable hurricane preparation checklist with you guys today and some of our favorite resources we found for emergency supplies. Feel free to share these lists with your friends and family or anyone else you think could use it.
Even if you have an emergency or hurricane preparation checklist, it may be time to update it. Many of us live in areas that are prone to disasters, hurricanes, floods, wildfires, tornadoes or other crazy weather. Had my sweet and well organized husband not put a lot of time and energy into making and gathering everything for our hurricane checklist and building a hurricane kit well in advance we would have been a hot mess.
We live on the Boca Ciega Bay on a barrier island 25 feet from the waters edge. We didn't just prepare for a hurricane as Irma headed towards Florida, we did a full evacuation.
By the morning of the expected arrival of Irma, Madeira Beach was a targeted potential first landfall and still a category 3 or 4. We expected our home to be underwater; we expected to loose everything that was left behind. Yes, we moved our kayaks and everything from out back into the house!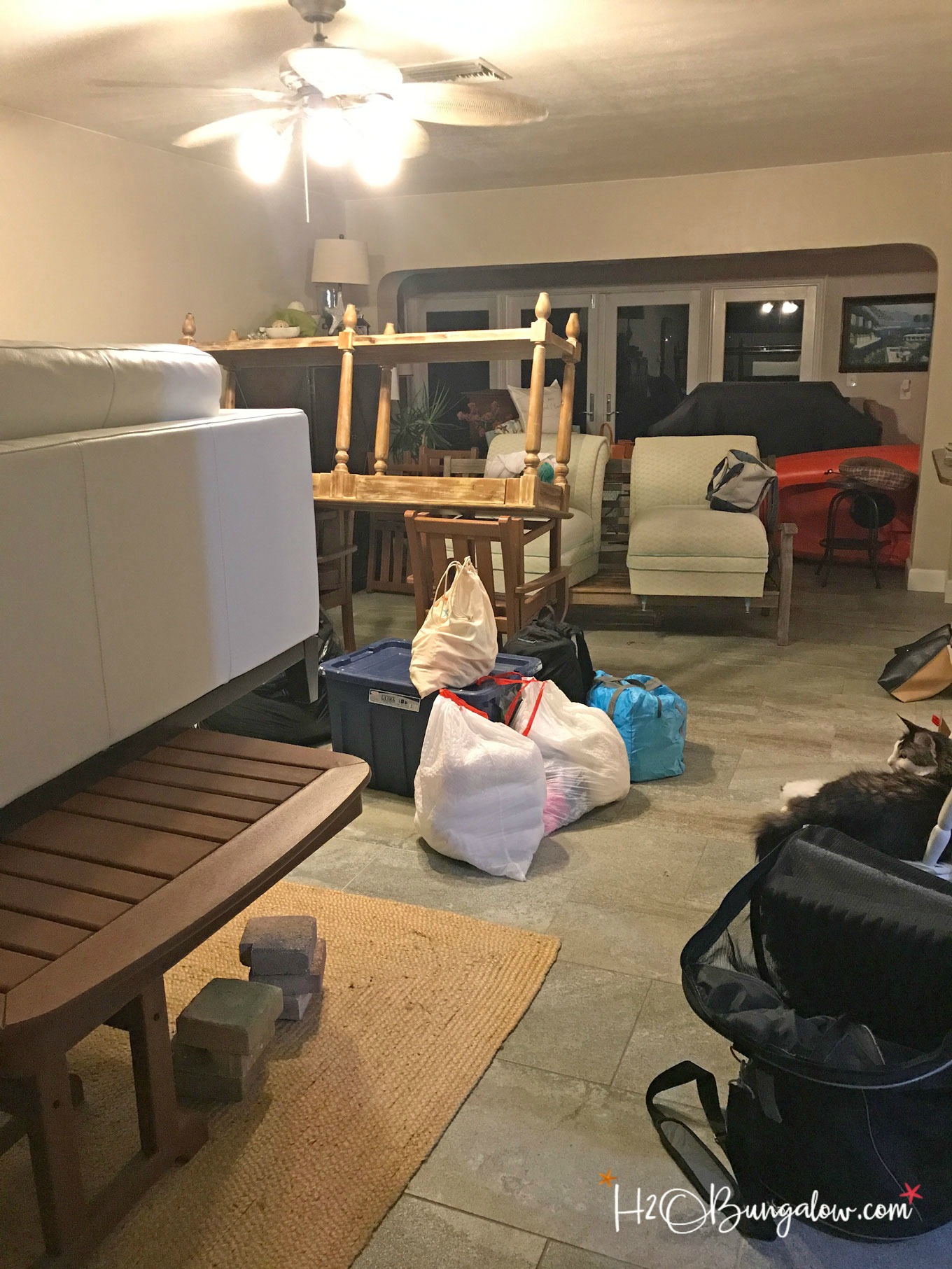 At the last minute Rob and I made the decision to go home one more time to take the rest of what we could carry out. All bridges to the island had been closed of at 6am. We arrived at 6:08 and talked the bridge guards into letting us cross and get back home for one more trip. We stacked the furniture as high as we could, loaded our trailer with one last load of anything we thought we could use to start over, and said goodbye to our home.
We were so exhausted from all the preparation over the past several days that we couldn't stay awake for the storm. We slept through the worst of it!
Once the storm passed, our next challenge was simple things like having enough water, food and a way to communicate with friends and nearby family that everyone was safe. Most of the cell service was down in our area. We'd walk or drive until we could find a spot that had a signal and we could make calls. Trees were down and debris was everywhere.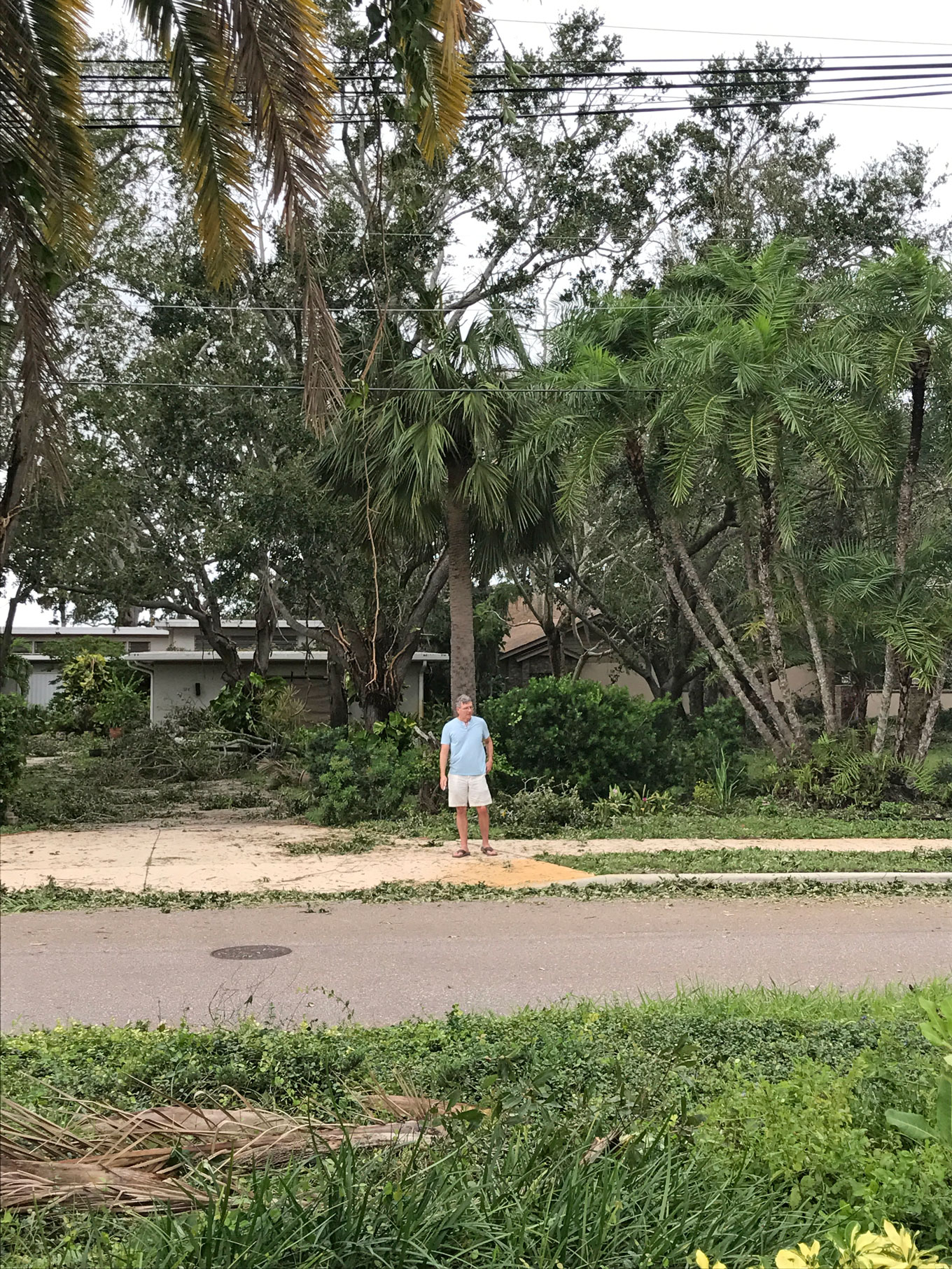 Residents sat and waited for hours to get back on the island after the storm passed. As soon as the down light poles and any other hazards were cleared we got the go ahead. Look closely and you'll see every large metal light pole on the bridge lining the right side of the street. Every single one had snapped and fallen over onto the bridge in the storm!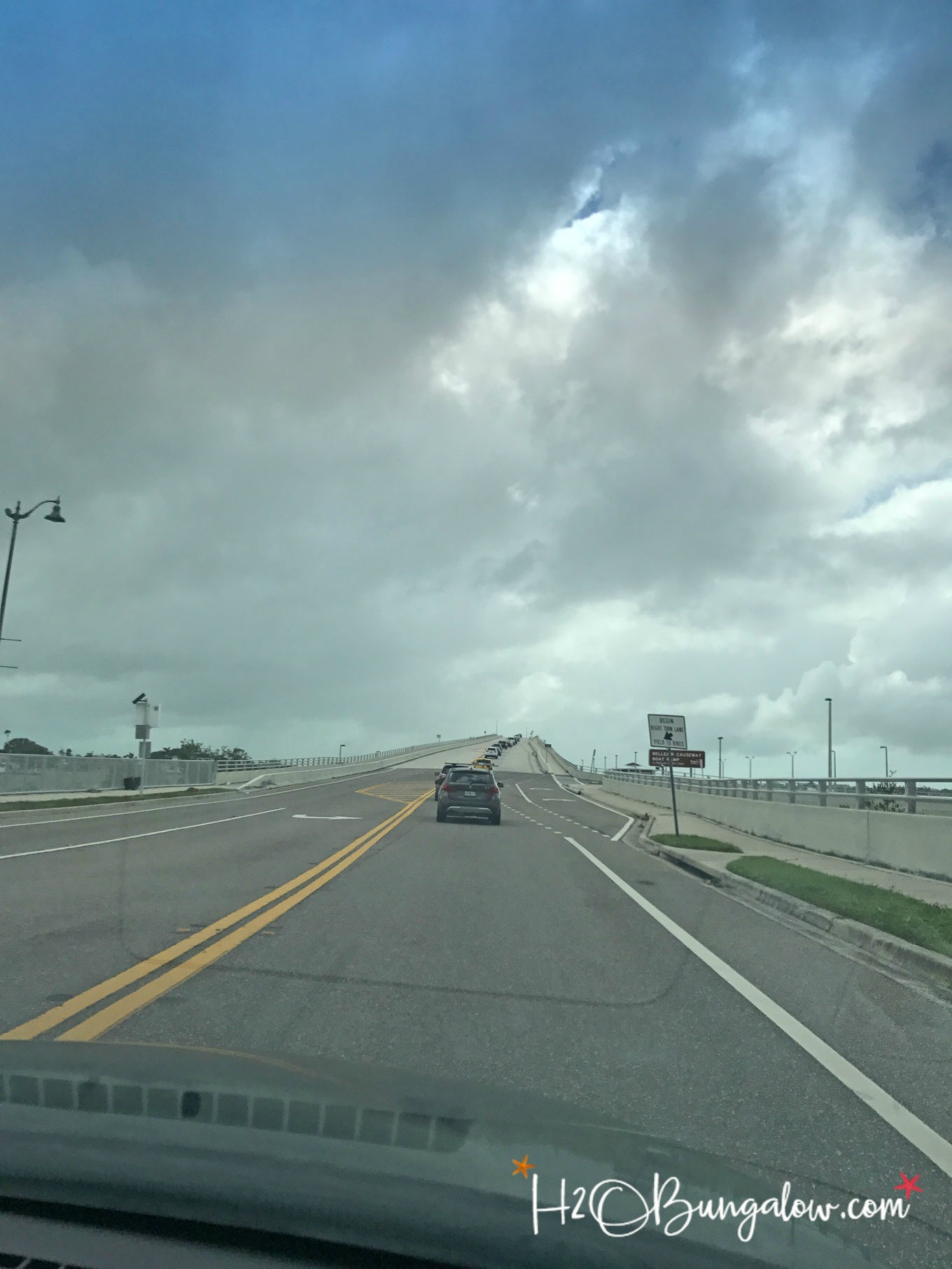 Driving back home was messy and sometimes surreal.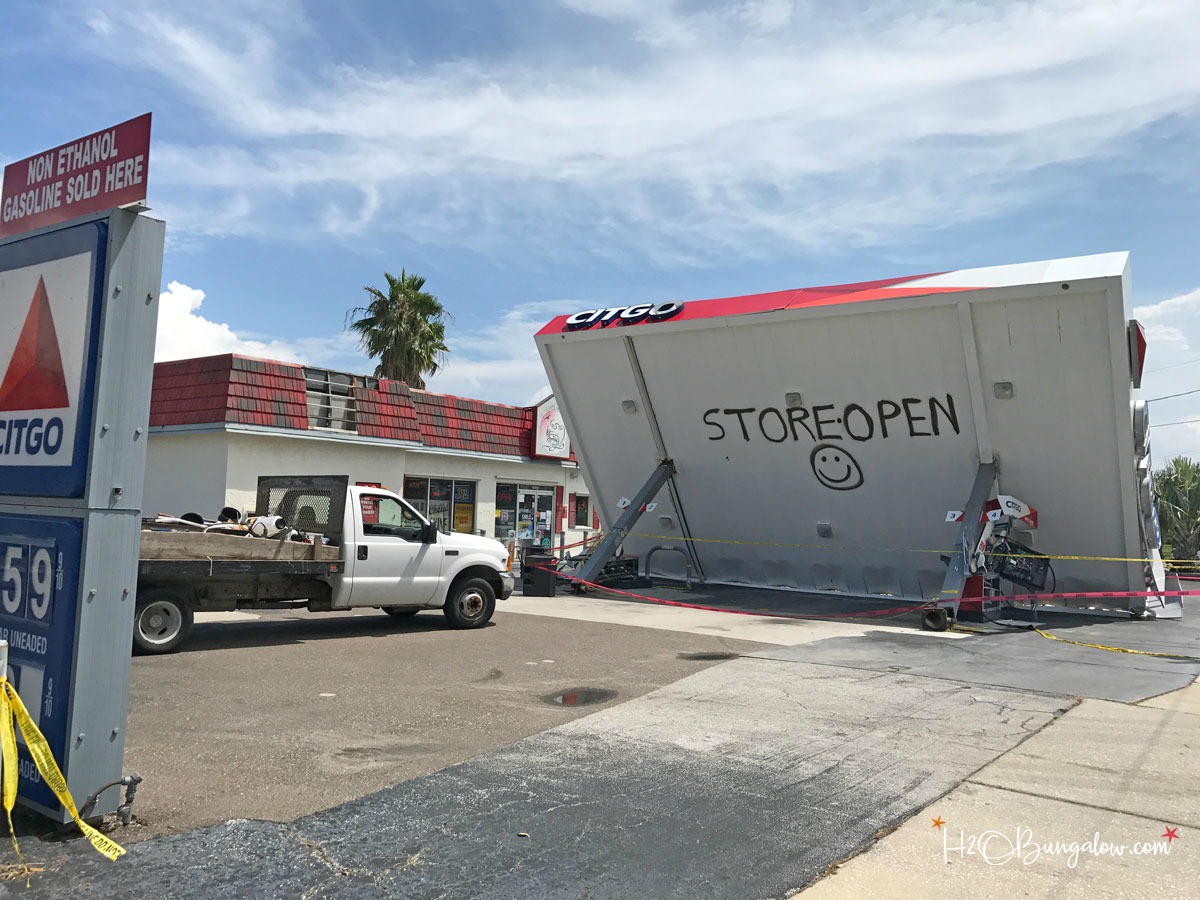 Some people fared better than others.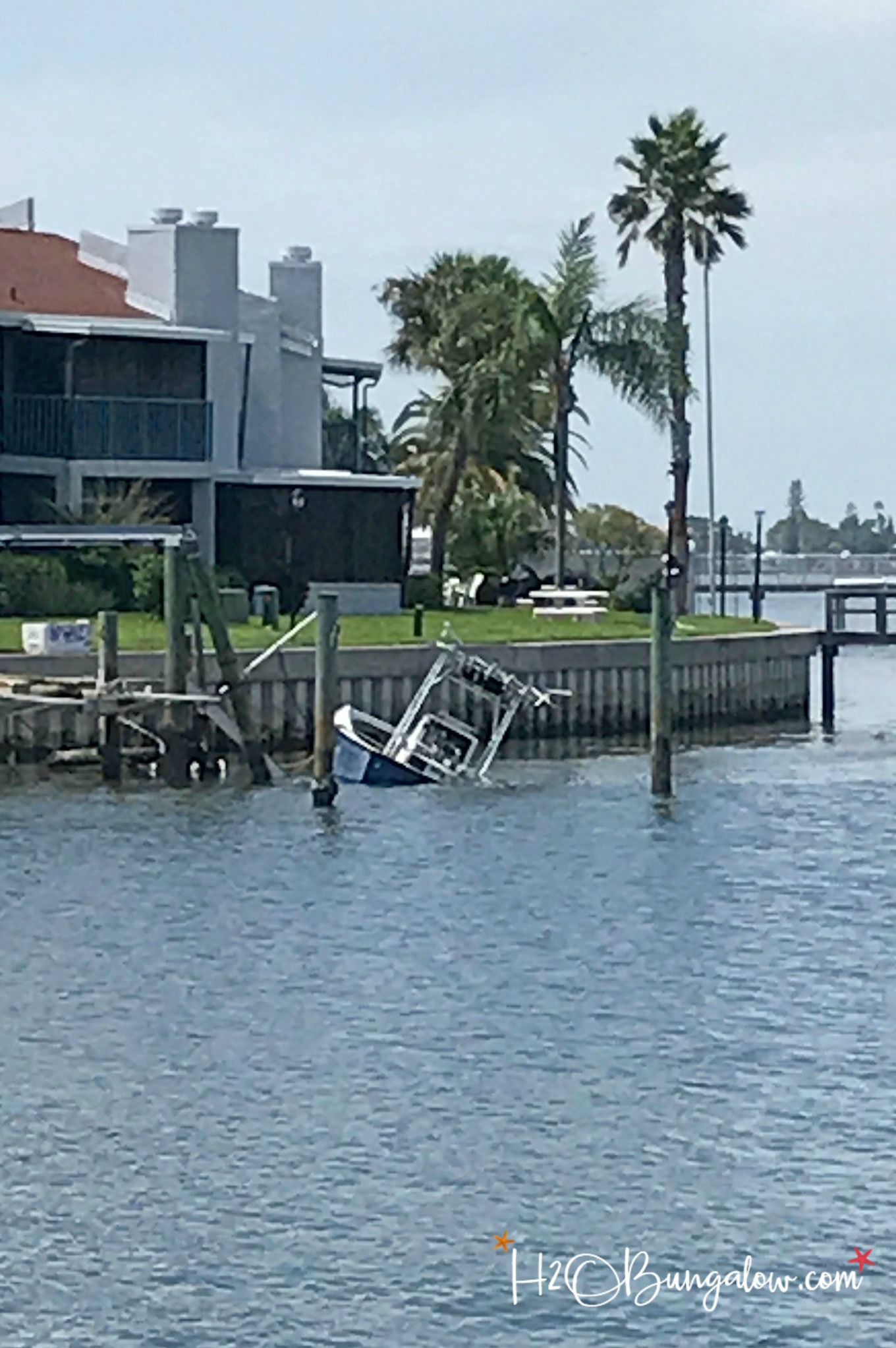 We were lucky. We had a lot of wind damage, but not much else.
Looks like I'll be designing a new outdoor shower this spring. The old one disintegrated. Darn, I was just about to paint a mural on the light blue wall too My Life Is Better On The Beach Bench project survived OK.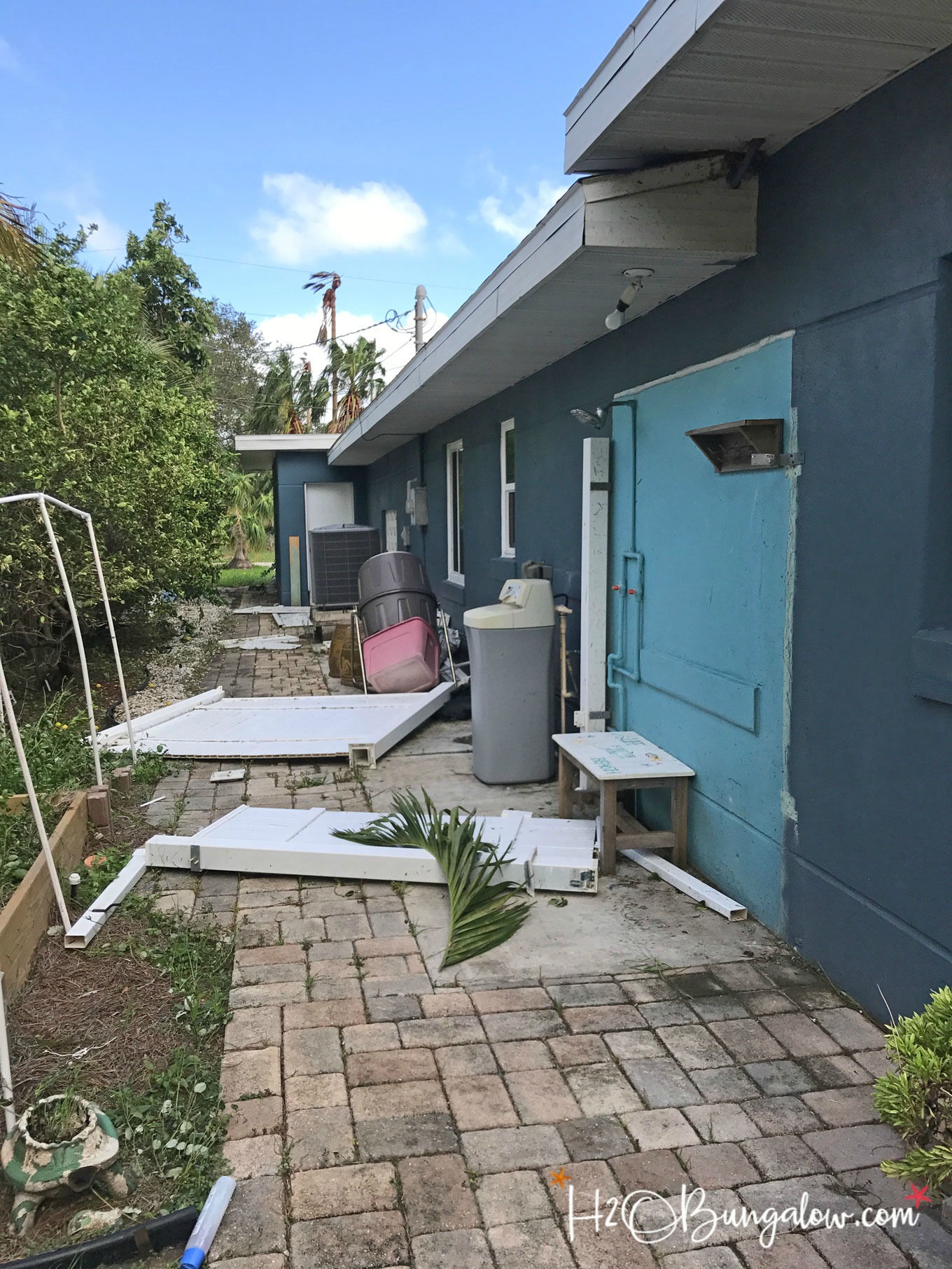 I spent half a day washing blue threads off our house and windows. The cover shredded in the wind. We had light damage to both the sailboat and the powerboat.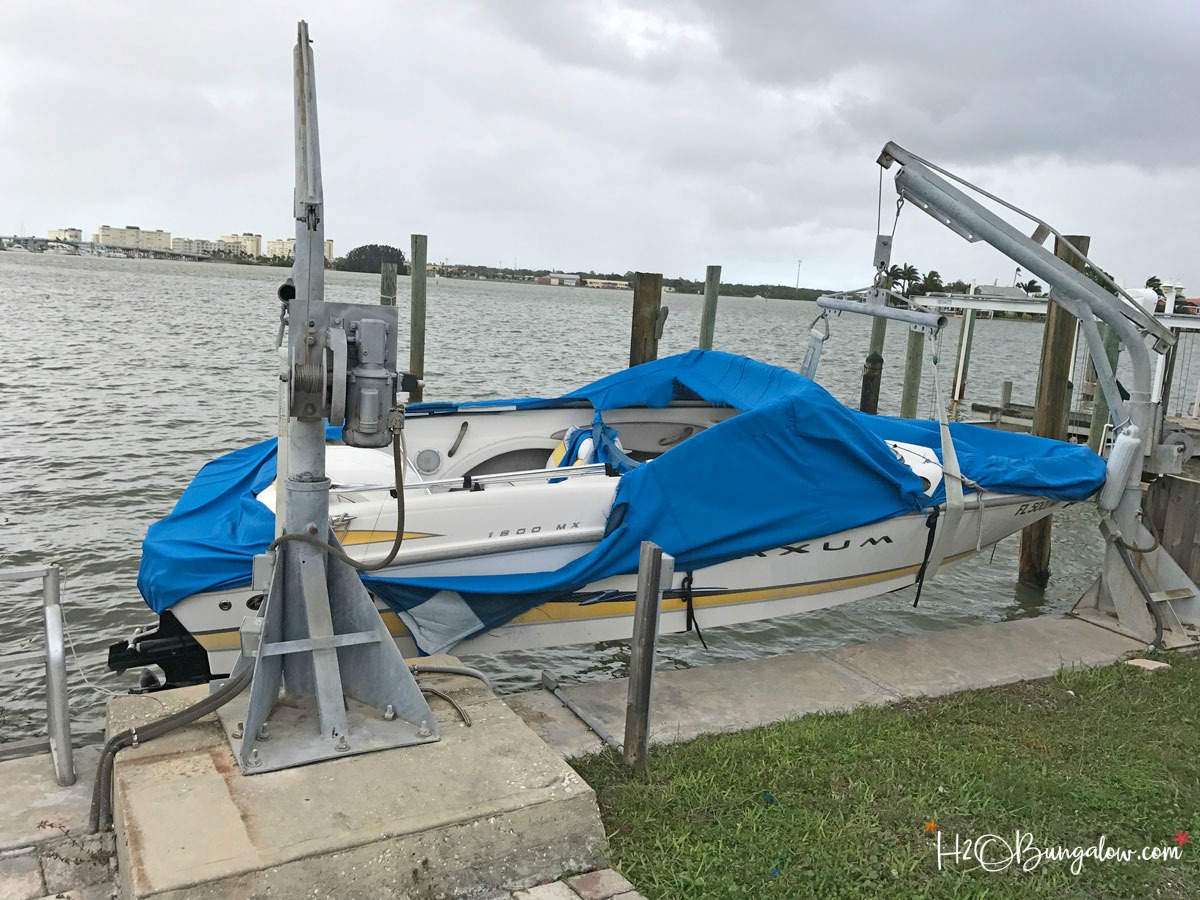 Oh well, we knew it was time for a new fence anyway.
Our neighbors have been collecting soffit pieces from all our homes and returning them to each house that fits the colors. We all have growing piles on our front porches.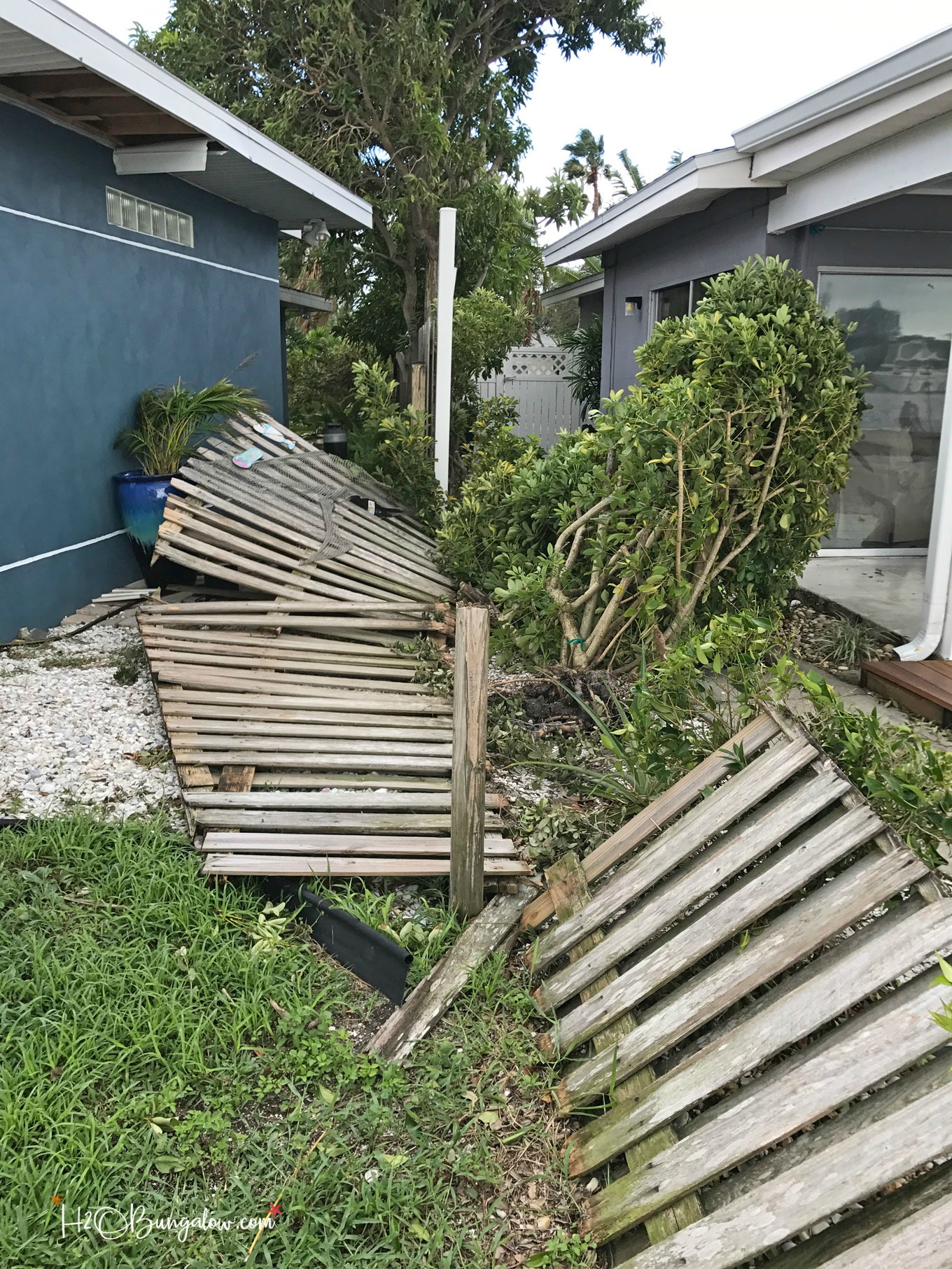 We ended up being one of the lucky ones in our neighborhood and had power when we returned home. It's been five days and many around us still do not have power. Should I mention how hot Fl is this time of year? Most of the banks, groceries and small business are still closed as well.
We've gotten used to the constant background sound of chainsaws cutting up the trees that fell and we hear emergency generators humming day and night.
This brings me back to why we have an extensive emergency hurricane preparation checklist and have built a hurricane kit for our family and pets. It's why I thought I'd share my downloadable hurricane checklist with you guys now. It's not always the storm, but getting through the aftermath of the storm that's the hard part.
Get your hurricane checklist below!
Modify it to fit your needs as necessary. Even if you don't live in an area that gets hurricanes, chances are you face other disasters. Are you and your family prepared? You may be surprised at some of the items on our emergency and disaster kit list and yet all are necessary. You might also be interested in my Generator Uses for Safety and Fun.
Pin and share this hurricane preparation checklist on Facebook so others have it too!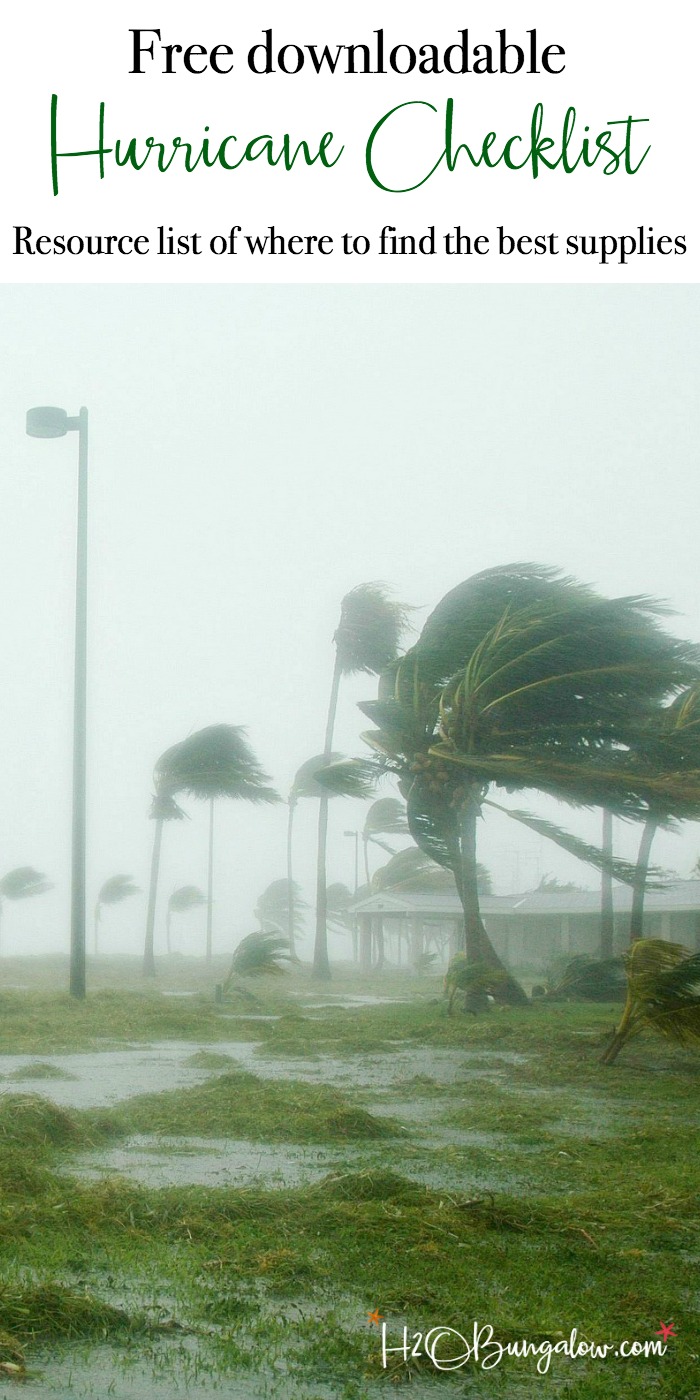 Below I've listed some of our resources for our hurricane preparation kit and emergency supplies.
I use affiliate links to help you find the supplies I used. You can read my full disclosure policy here.
Where to find the supplies from our hurricane check list we used
Don't forget your pets comfort and safety in a hurricane too!
My favorite tips for living without power. Yes, this girl still needs her coffee, hurricane or not!
A coffee press works great for morning coffee, just heat the water on the grill
Evaporated milk in cans is a terrific substitute for half and half
keep pots and pans on hand that can be used on a grill. We use our Magma set from the sailboat boat. Cast iron works well too.
Our hurricane preparation checklist is extensive and covers preparing the the family, our pets and home for a major disaster and evacuation. Building a hurricane kit and updating it annually takes some time but now that we've used ours, I can't begin to tell you how grateful I am that we have one!
Do you guys have any favorite emergency preparation tips? How about camping tips that would be helpful when living without power for long periods of time? Share them below in the comment section!