Let's talk about how to avoid home DIY project stress. I'm sharing five tips to tackle overwhelming home DIY projects with you guys today. It's been a long time since I've tackled an overwhelming project. One that's so big that I can't think clearly about where to start. Everywhere I look I see work, and lots of it which feels intimidating. Have you had a project like that before?
I'm in VT working on the North House Lodge. I know what some of you are thinking. I thought you worked on it last year! Remember when I shared it was a duplex? This season I'm tackling the other side, and boy do I ever have my work cut out for me. It's not just the work that needs to be done that's intimidating, it's the timeline. I have just over a month – two at the most to get it done enough to rent out this season.
Which brings me to the topic I thought I'd share with you guys today.
I use affiliate links to help you find the supplies I used. You can read my full disclosure policy here.
5 Tips to Tackle Overwhelming Home DIY Projects
Use these five tips to avoid home DIY project stress that comes with facing big jobs like the one I'm taking on in the North House.
#1. Prioritize your tasks. Make a list of the big items that need to happen in order for you to move forward. Number each one in order of importance. Use an organization software like Trello to keep on top of tasks and make lists. You can download it to your phone which is great for quick updates.
In my case, I need to get the second and third floor bedrooms finished and out of the way before tackling other items in the house. I made my list and have decided to work from the top down, starting with the third floor bedroom.
#2. Keep the momentum going once you start. Tackle the shopping list for the first two or three projects at once. This way you can utilize any down time from one project to start setting up for the next one. Keep an ongoing list of items you need organized by project and store. Save time and pick everything up at once in advance. We love the Cozi family organization app. I can create and share my calendar and shopping lists with others. They have a free version too!
#3. Don't backtrack. Work from the top down, inside out or whatever path makes sense. Work on parts that won't get damaged or scuffed up from traffic, carrying wood or splattered paint. Save time by keeping touch-up work to a minimum.
#4. Tackle the messy jobs first. Avoid creating extra work for yourself by getting the messy work out of the way and cleaned up before you move on to the next job. Get painting, plastering or wall repair done before laying floors. You'll save a lot of time and wear and tear on your newly finished work.
#5. Plan the complex projects out completely. Know what your DIY remodel plan is before you start demolishing. Line up your vendors like plumbers and electricians in advance to stay on a timeline. Keep notes of all your measurements with you so you always have them handy, you never know when you'll run across a special item that's needed.
I've worked through several, maybe more than I can count, projects like this. Going back to basics and a simple thought process has saved me stress, time and money on each one of them. These simple DIY organization tips help even more when I have several projects in different stages going at one time like I do now.
Want to see a few of my favorite projects from the other side of this duplex that I finished earlier this year? I painted the kitchen cabinets. My dad and I tackled 3 different types of shiplap and plank accent walls. Probably one of my favorite DIY's was rescuing an old mirror and removing the veneer to make this gorgeous mantle piece.
Pin this and save these simple tips to tackle overwhelming home DIY projects for your next big home improvement project.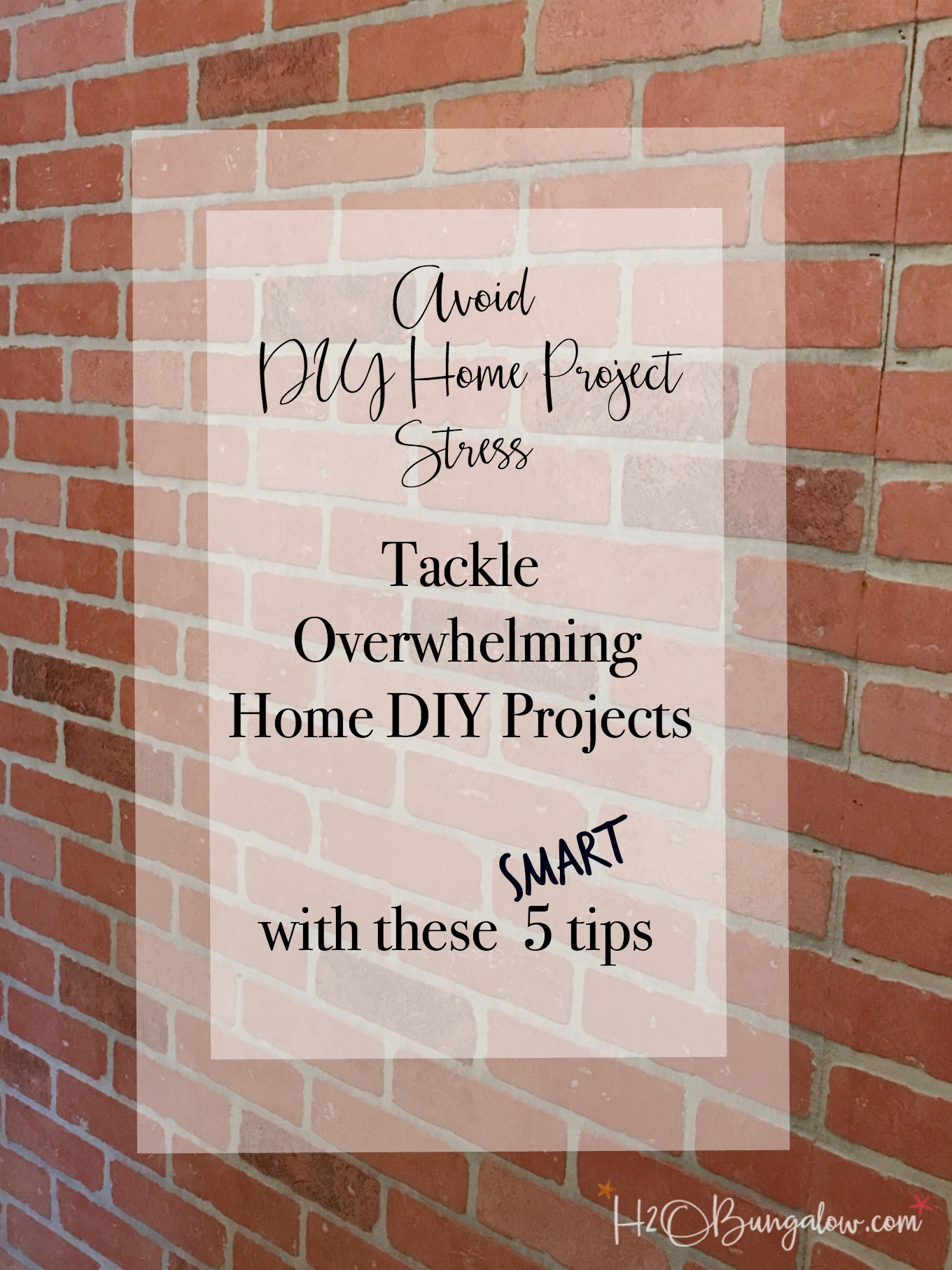 I see a light at the end of the tunnel and it's not a freight train.
Now that I've started this project, I really can see the end in sight. I know there is a huge amount of work left to do but by following my own tips on how to overcome DIY project paralysis it feels doable.
What big projects have you been avoiding because of project paralysis? Will these tips organize big home DIY projects help you get started? Let's talk about it in the comment section below!