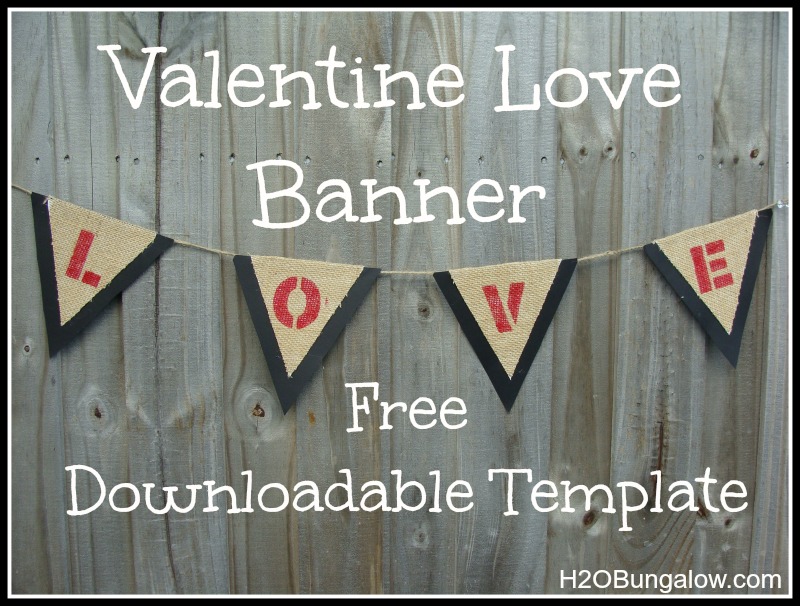 This valentine banner with free template is a quick project you can do in a jiffy. Best of all it's simple and easy to make! I've made it even easier with premeasured templates you can download and use.
I've been waiting to try a DIY banner project for the longest time. Valentines Day gave me the perfect motivation to whip one of these up and have some fun. You can make one yourself with colored paper, leftover fabric or burlap. Experiment with different embellishments, have fun and get creative.
Supplies:
Burlap
Freezer paper
Contrasting or patterned paper
Print outs of the templates. Get the top template here and the base template here.
Glue gun
Jute twine
2 inch tall stencils or cut out letters
craft paint
Iron
Burlap Top Triangle – Press the shiny waxy side of the freezer paper onto the burlap with an iron. You will leave the paper on, it will stick and stiffen the burlap. After it cools, trace out your banner triangles and cut them out. Leave a flap of burlap at the top of each triangle like I show on the template. Do not take the freezer paper off of your burlap triangles but DO take it off of the flap area.
Paper Base Triangle – Trace and cut your base triangles onto your craft paper.
Stencil – Stencil your letters onto the burlap triangles. I used 2″ high letters. You could also print letters on paper and glue them onto the burlap.
Assemble – Position and glue the burlap top triangles (with the freezer paper attached) onto the paper base triangles. Be sure to let the top flap extend beyond the top of your base triangle. The flap will fold over the string.
Attach Cord – Cut your string to your desired length. Plan for the length of the triangles and about 2″ between the triangles. Run a bead of hot glue at the back top and place your string over it. Before the glue cools, fold the burlap flap over the string and press.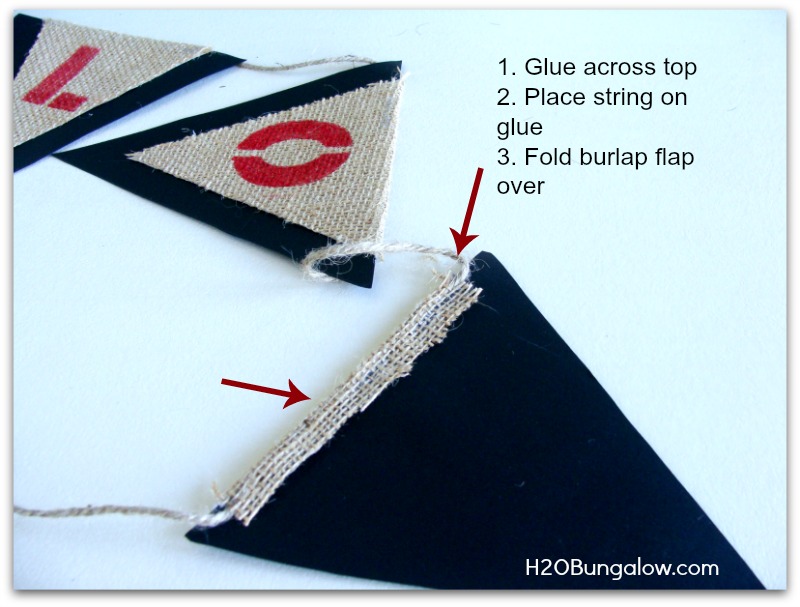 I'm thinking about adding a little more detail to this banner. Possibly outlining the words with a black Sharpie. Maybe I'll add some fun painted red, black and white hearts like I did on my Valentines Table Runner post. Then again, I might just leave it as is.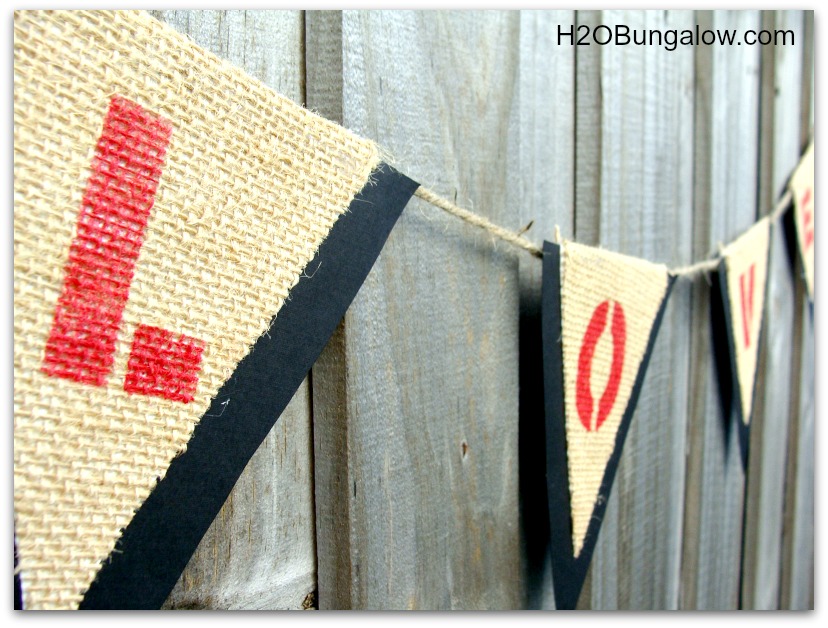 Now that I've made my first banner, I can't wait to make another one. I've never considered myself crafty, but I have to admit I enjoyed myself. One of the best parts to this little Valentine banner with free template project is that I've done the work for you. Simply download the triangle templates and use them to make your own banner. Come on, you know you want one too 🙂
What would your banner say?

Don't forget to enter the Spread The Love $500 Cash Giveaway!
Don't miss a single creative idea I share! Click here to get my posts sent to your mailbox or follow here on Bloglovin. Either way, keep in touch!
You may see me linked up to some fabulous link ups which you can see
here.