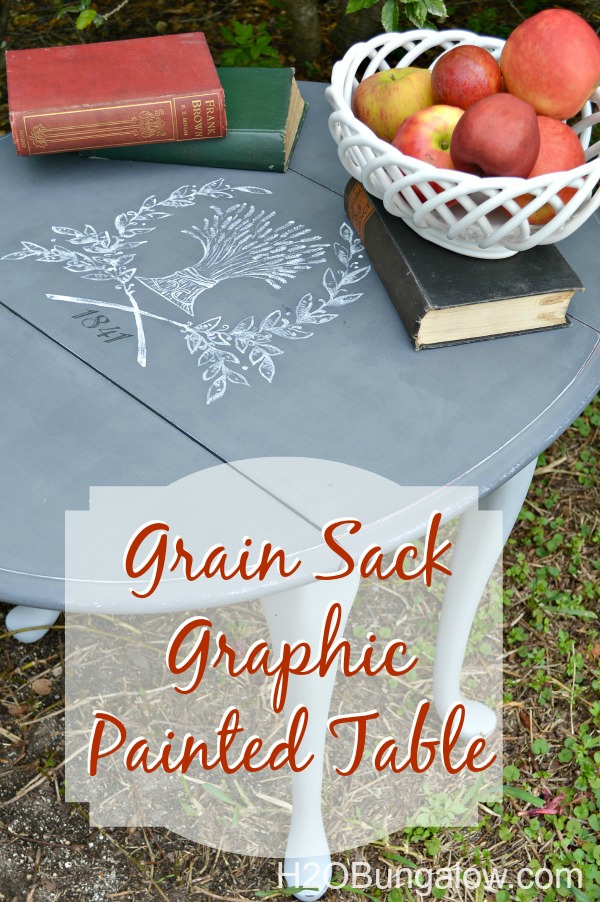 This post was sponsored by Americana Chalky Paint products. The creativity, grain sack graphic painted table and opinions are all my own!
I've wanted to try my hand at painting a vintage image on a piece of furniture for the longest time. A few weeks ago I found this darling and very sturdy drop leaf table and knew I had the perfect project piece.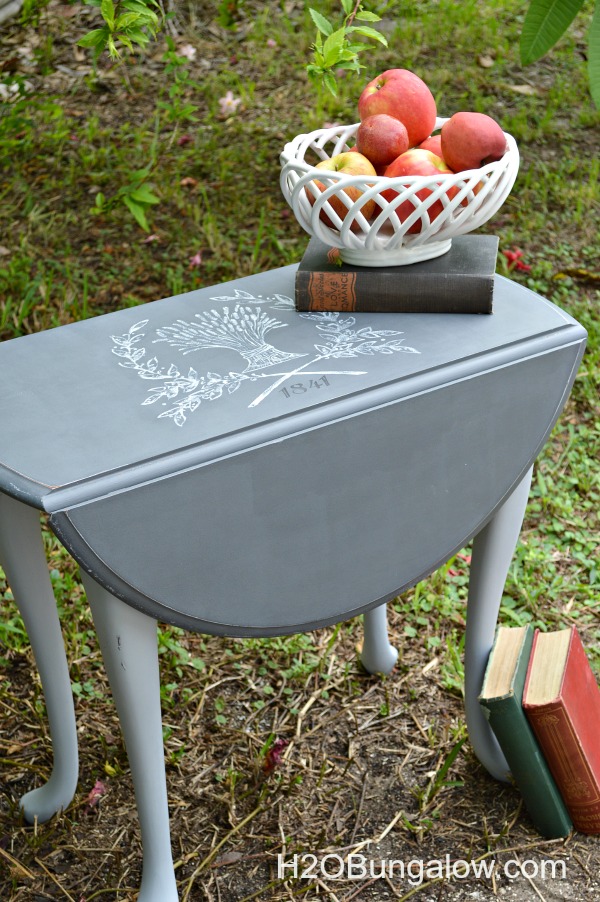 This table is really solid and has good quality hardware on the leaves. It just needed some TLC, a little paint, imagination and a good cleaning.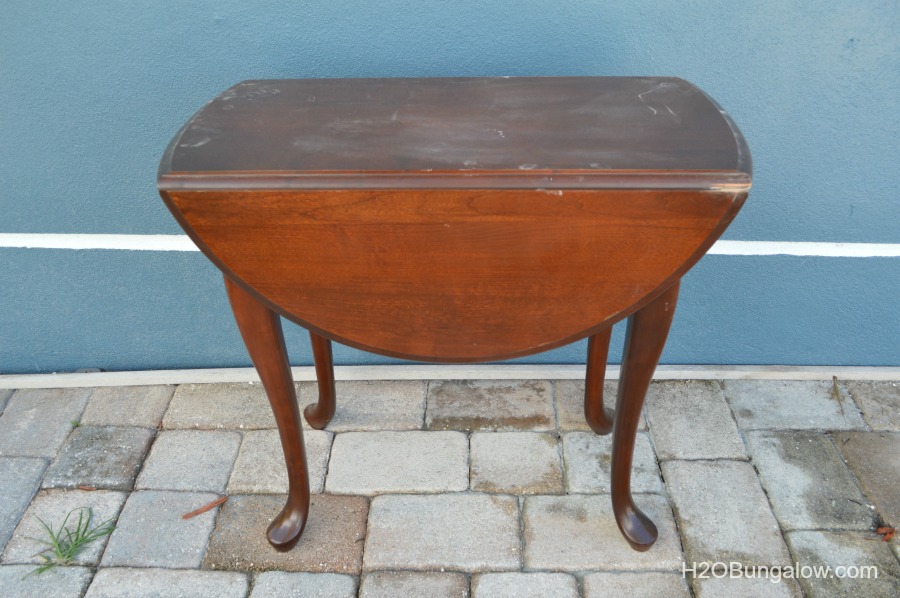 I used Americana's Chalky Finish paints and their Ultra-Matte Varnish for this project. The chalky finish in this paint line was perfect for my grain sack graphic painted table.
I started with 2 coats of Yesteryear which is a wonderful shade of light grey. I gave it a light sanding between each coat of paint. I love the contrast of light and dark grey. It was an easy decision to add a coat of Americana's Relic which is a luscious dark grey on the table top.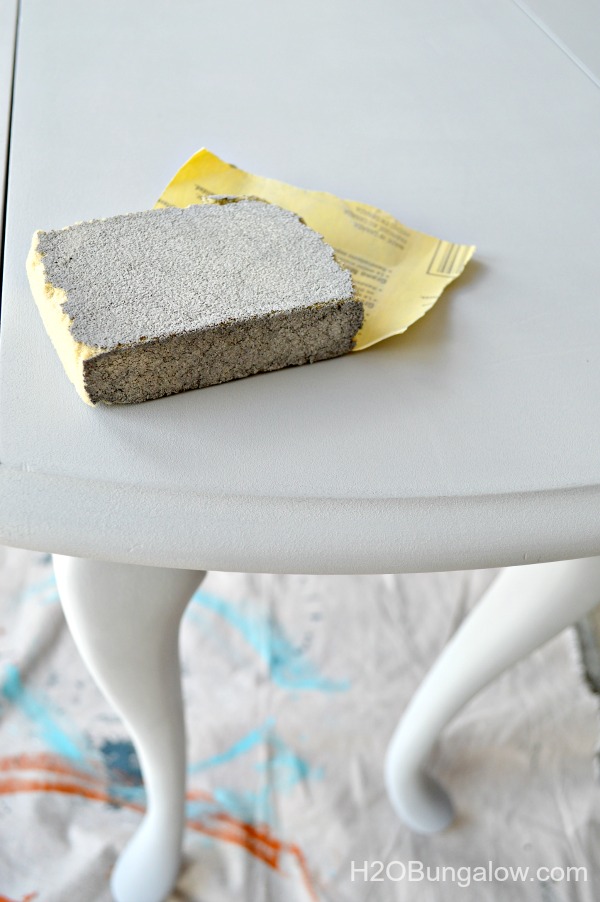 I found this graphic on the Graphic Fairy and used graphite paper to transfer it to the tabletop. A little Frog Tape on the edges held it in place without damaging my freshly painted surface.
Here's a little tip on tracing. Use a colored pen or pencil and you'll easily see where you've already traced and what is left to finish 🙂
When it was time to paint my grain sack graphic, I wasn't overly careful about painting every line exactly like the transfer. Sometimes this works well for me and sometimes not so much. Usually, much later, I realize I've taken too much creative liberty.
I kept my freehanding in check this time 🙂
Mostly.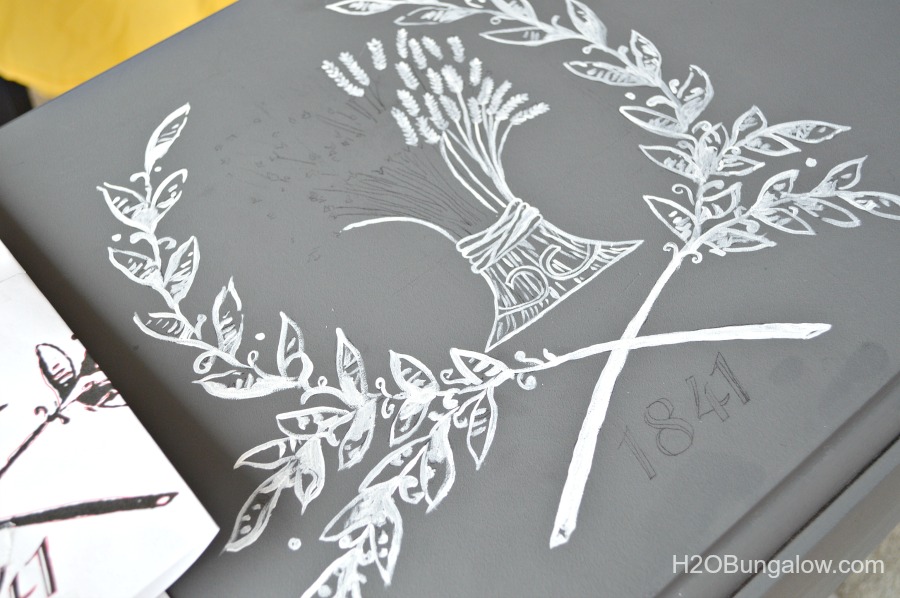 I used Everlasting which is a nice white for the main part of the graphic. Carbon, which is a deep black in the Chalky Paint line was used for the date.
I love how the grains of wheat came out. Here's a close up of how I painted them. Keep a little paint on the tip of a fine brush and lightly dab it onto your surface.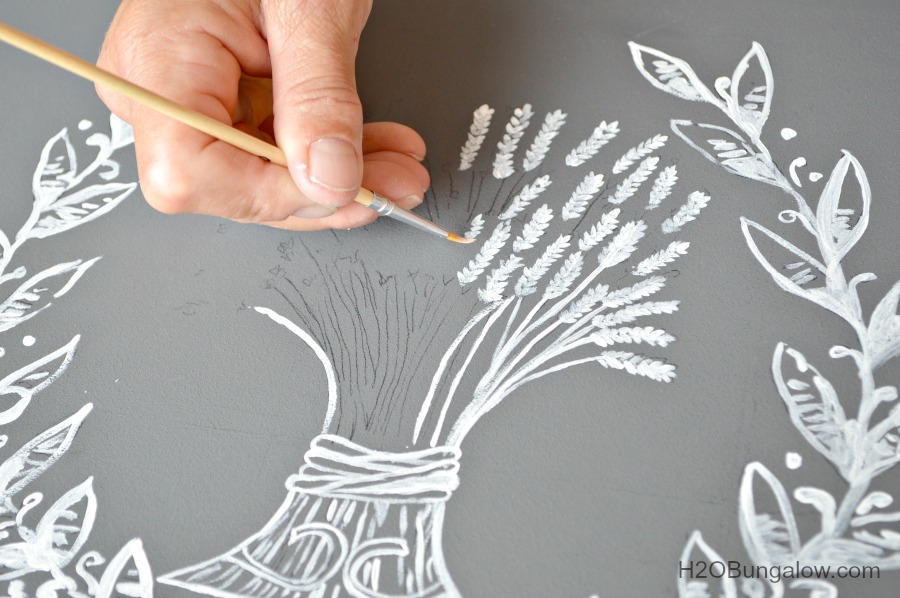 After my paint dried. A light sanding over the graphics with 220 grit sandpaper took off the last of the exposed graphite lines and gave me a nice aged appearance.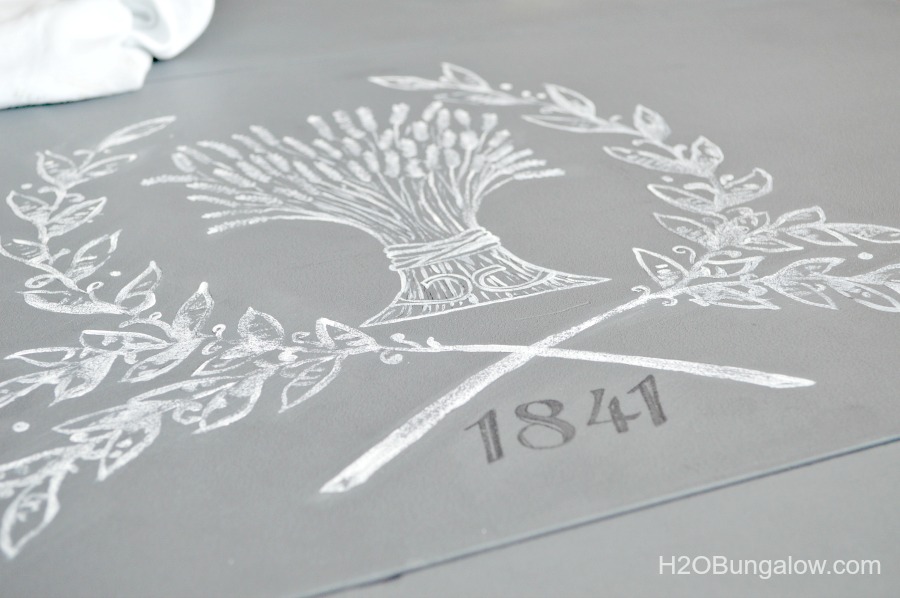 I distressed the entire table just a little on the edges. I liked working with Americana's Chalky Paints, they dried quickly and felt durable with a chalky matte finish. They covered well and adhered very well to the wood. You won't be able to wet sand with these paints, but they do well with sand paper. I finished my grain sack graphic painted table with two coats of Ultra Matte Varnish.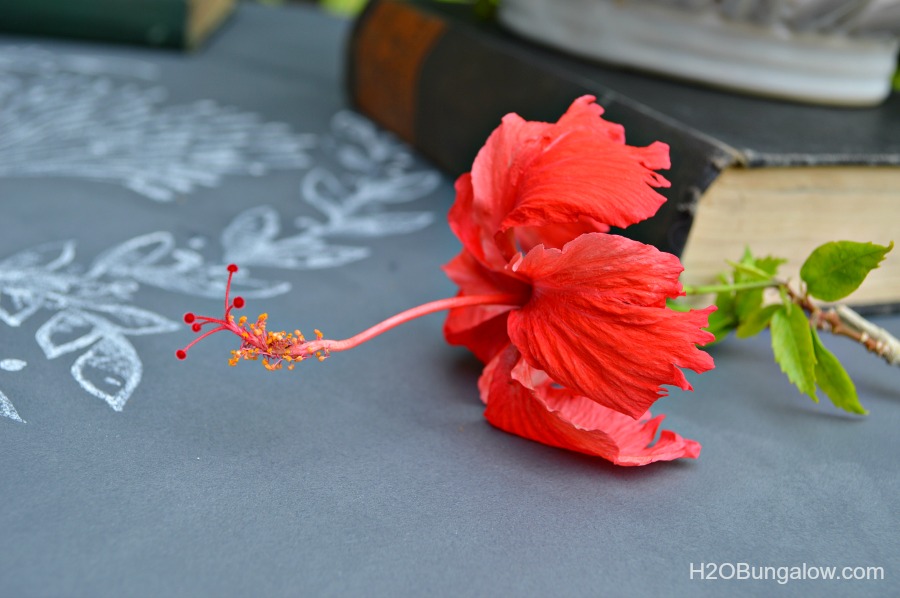 I loved the color and the coverage in the Americana Chalky Finish paints.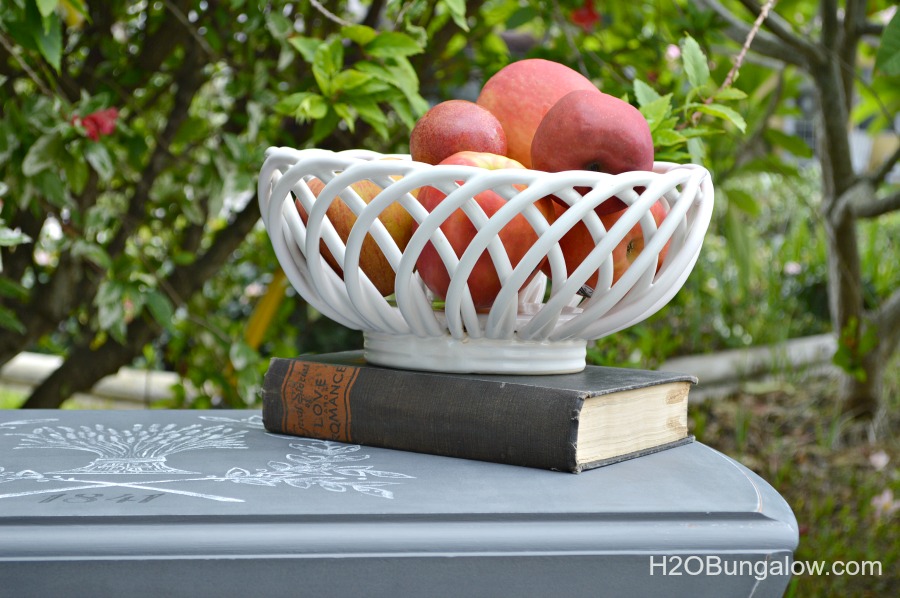 Here's a little before and after of my cute grain sack graphic painted table. That's always my favorite part!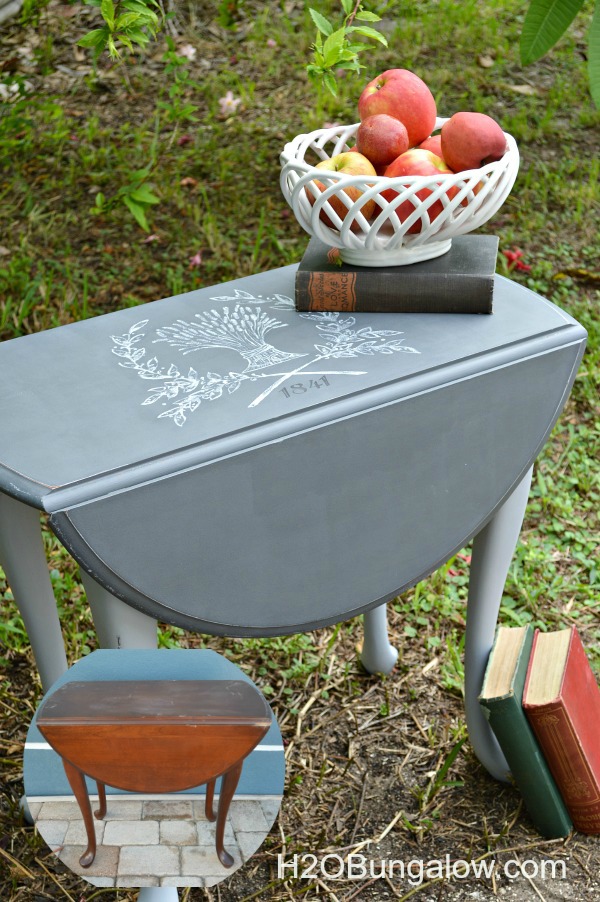 Wondering where you can find these quality paints?
Americana Decor Chalky Finish paint is available in Home Depot, Hobby Lobby, Michaels, A.C. Moore and other stores. Visit the DecoArt Chalky Finish website for more chalk paint ideas and inspiration.
Do you have a special piece of furniture you've been waiting to paint? Would you make a grain sack graphic painted table like mine?

I know you don't want to miss a single creative idea I share! Sign up for my email here or follow me on Bloglovin here.