I had some fun with the project I'm sharing today. It's a kitchen cabinet hanging measuring cup and spoon organizer. It mounts on the inside of our kitchen cabinet door.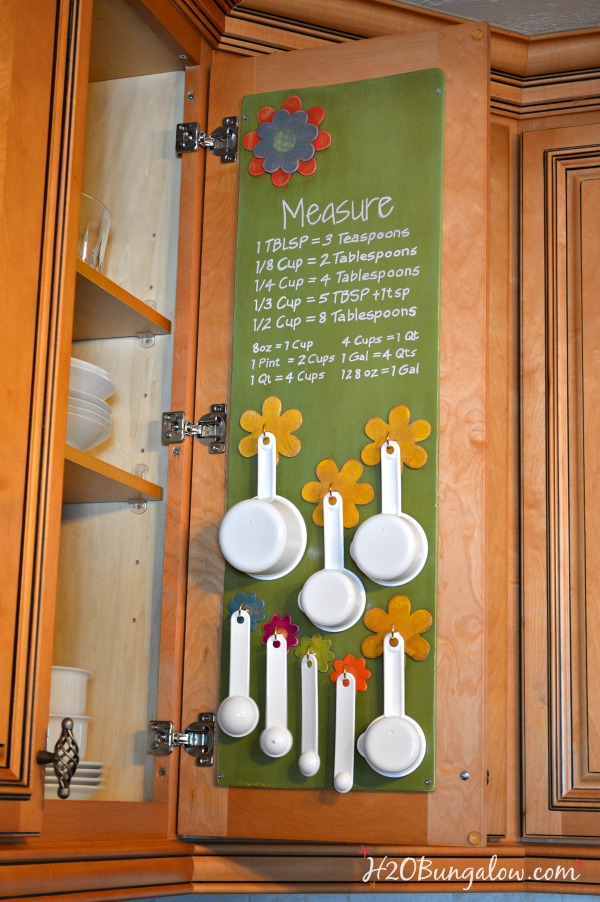 Originally I liked the idea of this project because it was so darn cute. After I put it up I really loved it! No more lost pieces to the set, no more rummaging around an overstuffed drawer while I'm in the middle of a recipe. Nope. Every piece is easy to see and easy to reach.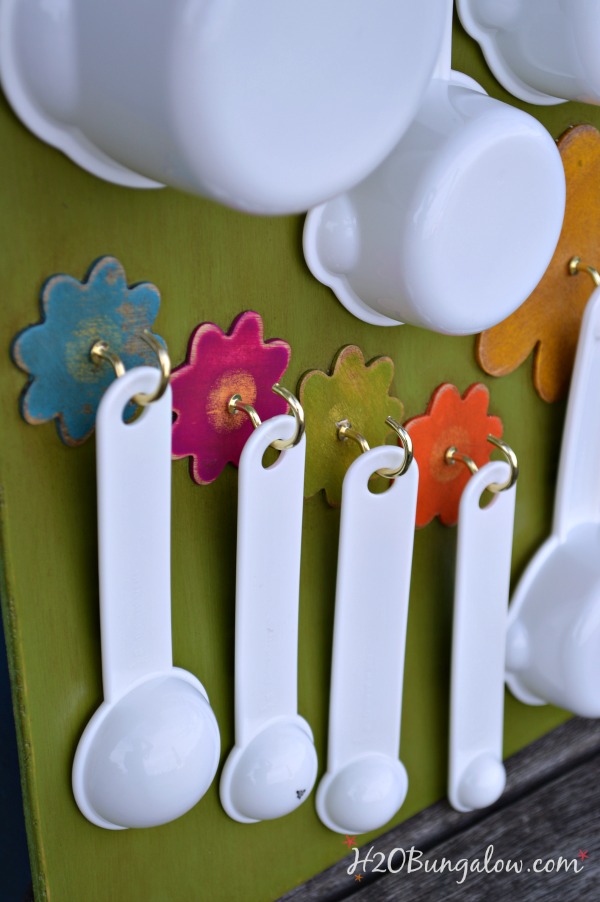 You've probably noticed I'm on a bit of a tangent lately with kitchen organization. I'm motivated to use every bit of unused space in a pretty and smart way. Any project that helps clear a few items out of a drawer is a winner in my book! The inspiration for this project was this hanging measuring cup and spoon organizer that's mounted on the inside of a kitchen cabinet door I found on Pinterest.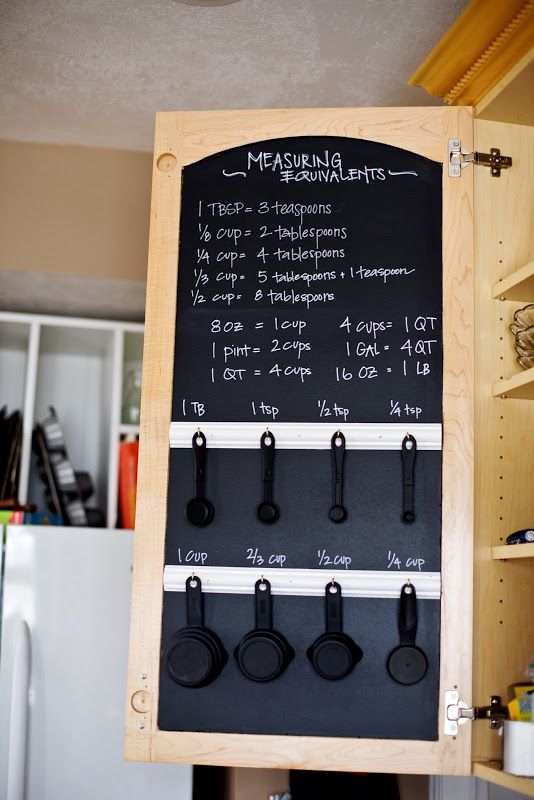 I'm not much of a chalk board gal and I didn't want to paint the inside of my cabinet. So, I came up with my own version of a hanging measuring cup and spoon organizer that fit for my taste. Our kitchen is small and the cabinets are narrow. I'll share a few important tips that you'll want to keep in mind when making your own hanging measuring cup and spoon organizer to hang on the inside of your own kitchen cabinet.
DIY Kitchen Cabinet Hanging Measuring Cup and Spoon Organizer
I used 1/4 inch plywood and cut it to fit on the inside of my cabinet so it wouldn't interfere with the cabinet door closing. I gave it a few coats of DecoArt Chalky Finish paint that I had on hand. I love this stuff, it's durable, sands well and adding wax to it is a breeze.
I love this color green, and if you love it too it's called New Life:)
Lay out your measuring cups and spoons first. I had to be creative because my cabinet was so narrow. The plywood is lightweight which is good. It's also thin, so I used wood applique flowers that I found at Michaels to add a little bit of thickness for the cup holder hooks. With the appliques, the hooks only mounted onto my board and didn't screw into my cabinet.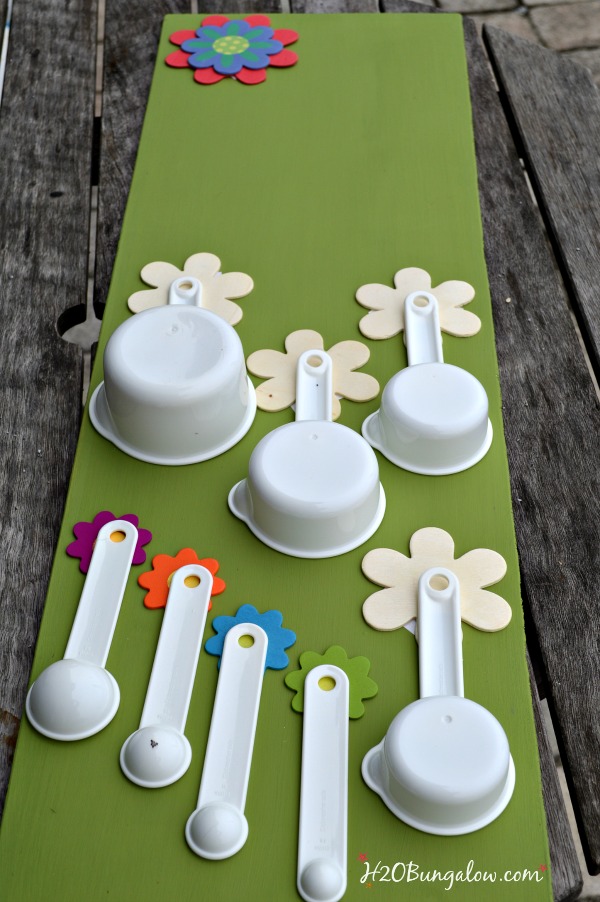 The measuring chart was made in Pic Monkey and saved as a jpeg file. Any word processing or art program will work, just be sure to save the file as a jpeg. Select 8 x 10 size when printing. Trace the letters onto the board with graphite paper and then "paint" with an oil based Sharpie Paint Pen.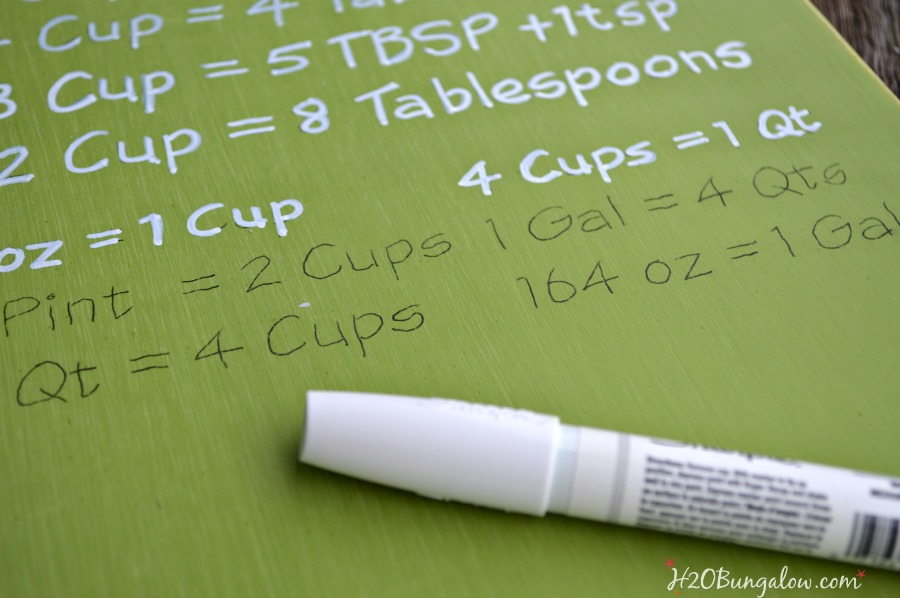 I gave the wood appliques a little bit of distressing and then used wood glue to mount them onto my board.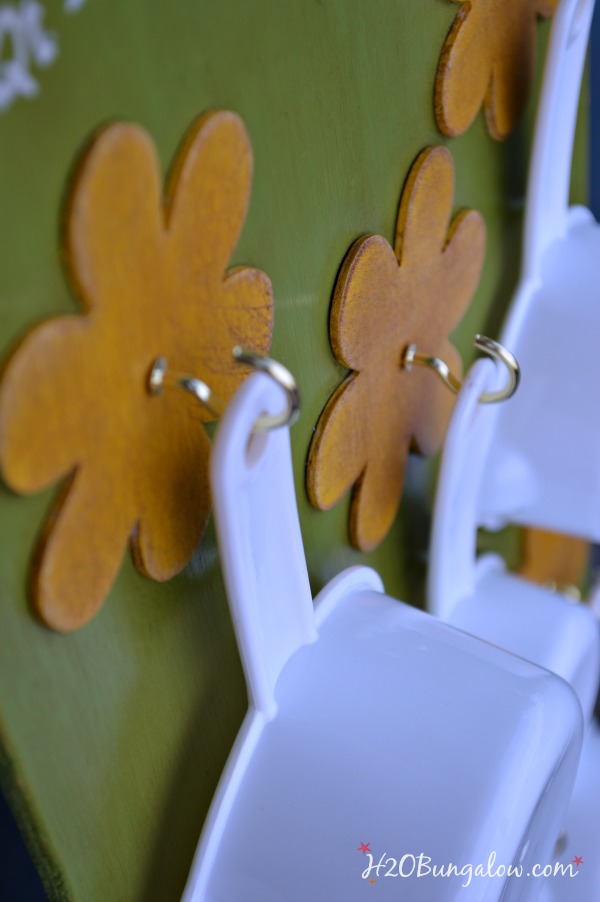 One coat of clear wax and one thin coat of dark antiquing wax was all it took to get this rich color with lots of depth.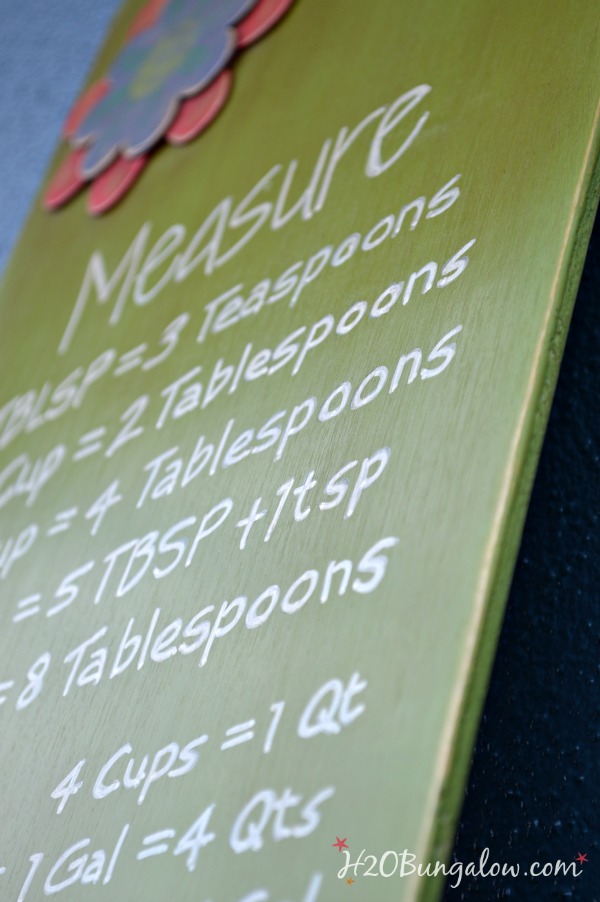 I love the detail that the dark wax brought out, especially on the colored flowers. We only needed 4 small wood screws to mount this onto the inside of my kitchen cabinet.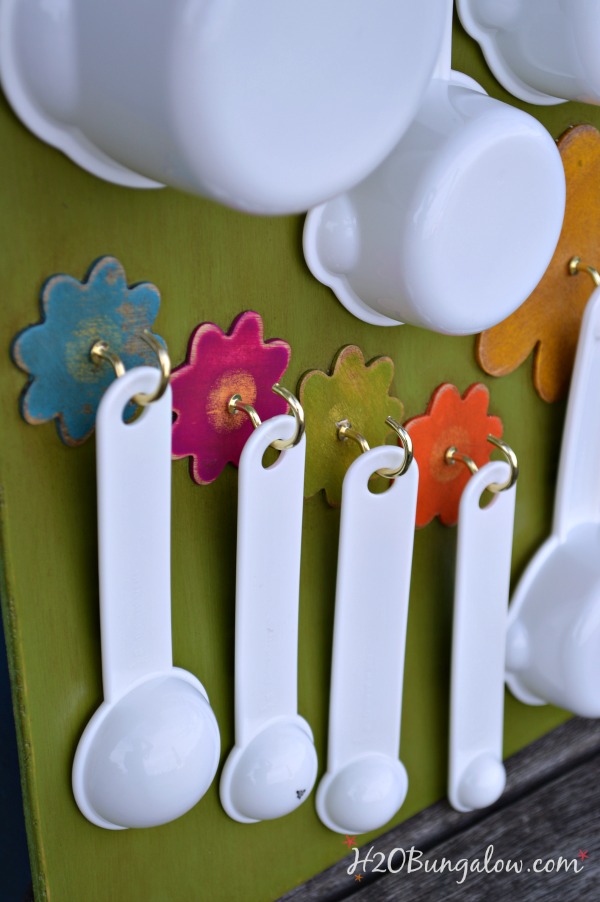 Oh…and let me address the elephant in the room.. or should I say in my post? Yes, I know there is a big ol typo in how I abbreviated tablespoon. I don't know what I was thinking, or not 🙂 , when I wrote that.. Oh well. If you read me often, you'll see the spelling and I don't always work well together!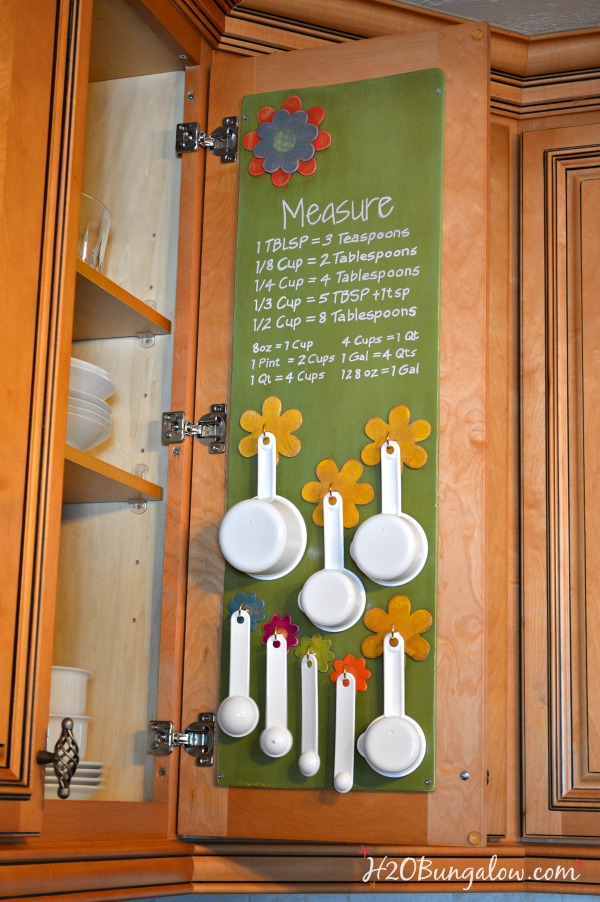 My hanging measuring cup and spoon organizer is a good way to free up drawer space and keep measuring tools handy and easy to find when I need them. If you're on an organizing tangent like I am and want to free up more space in your own kitchen, you'll probably like my How To Organize Spices In A Small Kitchen and How To Organize A Pantry And Get More Space too. Both ideas have saved me lots of space and helped keep my small kitchen more organized!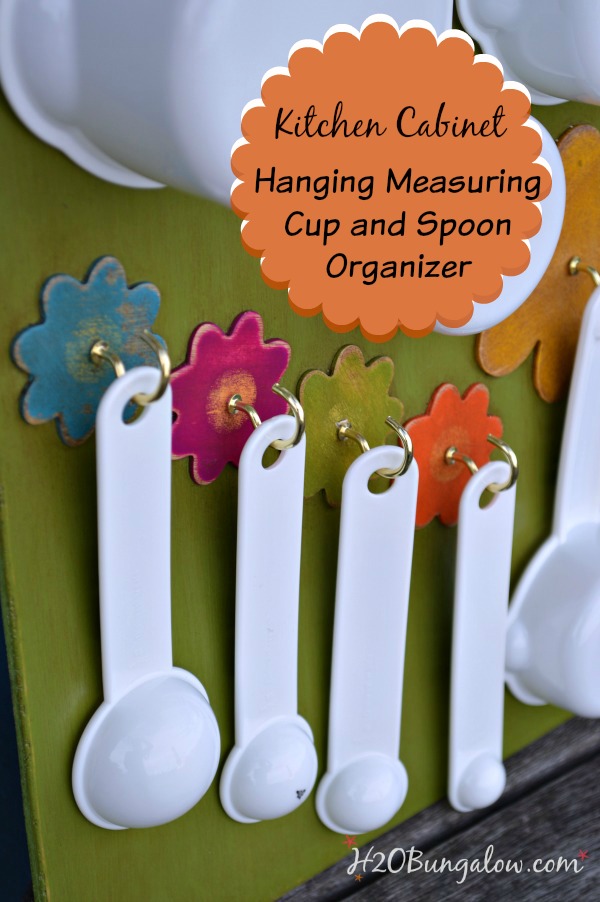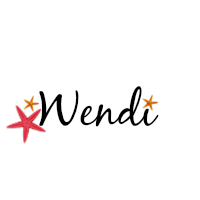 Love a good dose of DIY home decor, home improvement, the challenge of woodworking and creative ways to make your home look fabulous?
Me too!
I'd love to share mine with you. Click here to sign up for my post emails and I'll send a quick note when I have a new project to share.
Social media fan? Don't be shy say hello! I love when you guys do that! I'm interactive on Facebook and I share lots of other projects and, useful inspiration for the home and content I don't share anywhere else. Follow H2OBungalow on Facebook here
Oh heck, just follow me on all social medias. We'll have some fun…promise:) Follow H2OBungalow on Instagram , Follow H2OBungalow on Twitter , Follow H2OBungalow on Pinterest, I'm on Periscope! @H2OBungalow
I use affiliate links in my posts. If you should make a purchase I will receive an itty bitty commission at no cost to you. Thank you in advance for supporting my blog and two furball cats who believe they are privileged.