Today I'm sharing how to build a raised vegetable garden bed. I've been tossing around the idea of growing my own vegetables for a while. The prices in our local market are a big motivating factor. Way down here in FL we pay way too much for produce that has already seen better days.
Who knows where they truck it in from or what it's been exposed to. When I started planning this project I knew I'd be sharing not just how to build a raised vegetable garden bed but how to build an organic raised vegetable garden.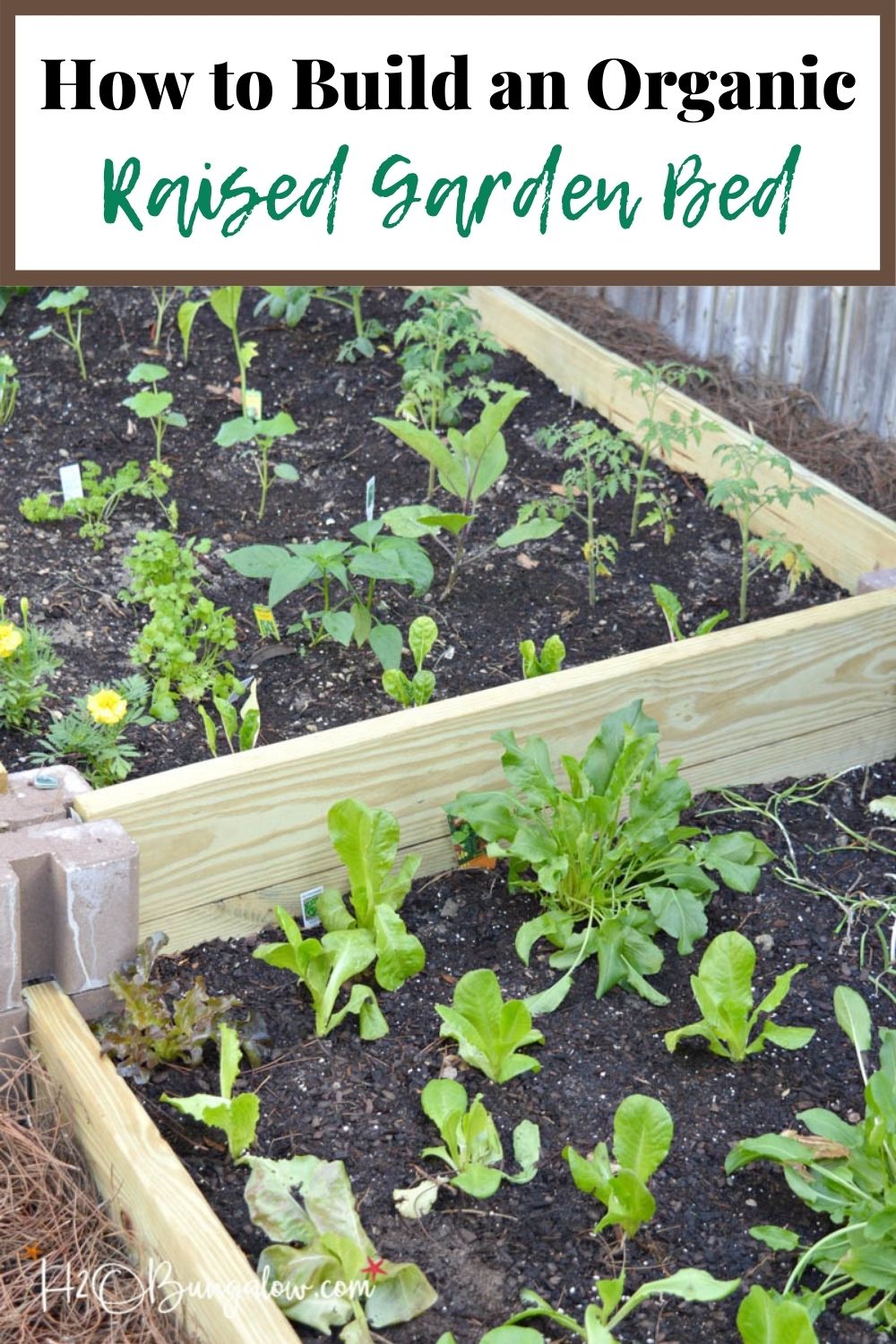 How to Build A Raised Vegetable Garden Bed
This post contains affiliate links, as an Amazon affiliate I earn a fee from qualifying purchases at no additional cost to you. Thank you for supporting H2OBungalow!
Supplies needed to build a raised vegetable garden bed
While updating this post, I found out that the brand I used is no longer available so I found one for you that is comparable, but you could use any organic product that suits you. Just do your research.
Tools needed
I purchase organic products as much as possible for my family, especially when it comes to our food. By using non-GMO seedlings as well as using organic garden soil that's free of chemicals or pesticides, I'll feel good about what I'm growing in my own garden and feeding my family.
Step 1. Planning a raised garden bed
Choose a location that gets at least 5-6 hours of sun per day. We didn't have much choice on an area since our yard is small. Our garden gets mid morning and early afternoon sun.
My raised garden beds are 3 1/2 feet wide. I wanted room to reach into them to work from both the front and back. There are several good modular raised garden bed corner brackets on the market that work with wood planks, the most common use 1″ x 6″ or 2″ x 6″ planks. They usually are stackable and require minimal assembly. Check your local stores or do an Amazon search.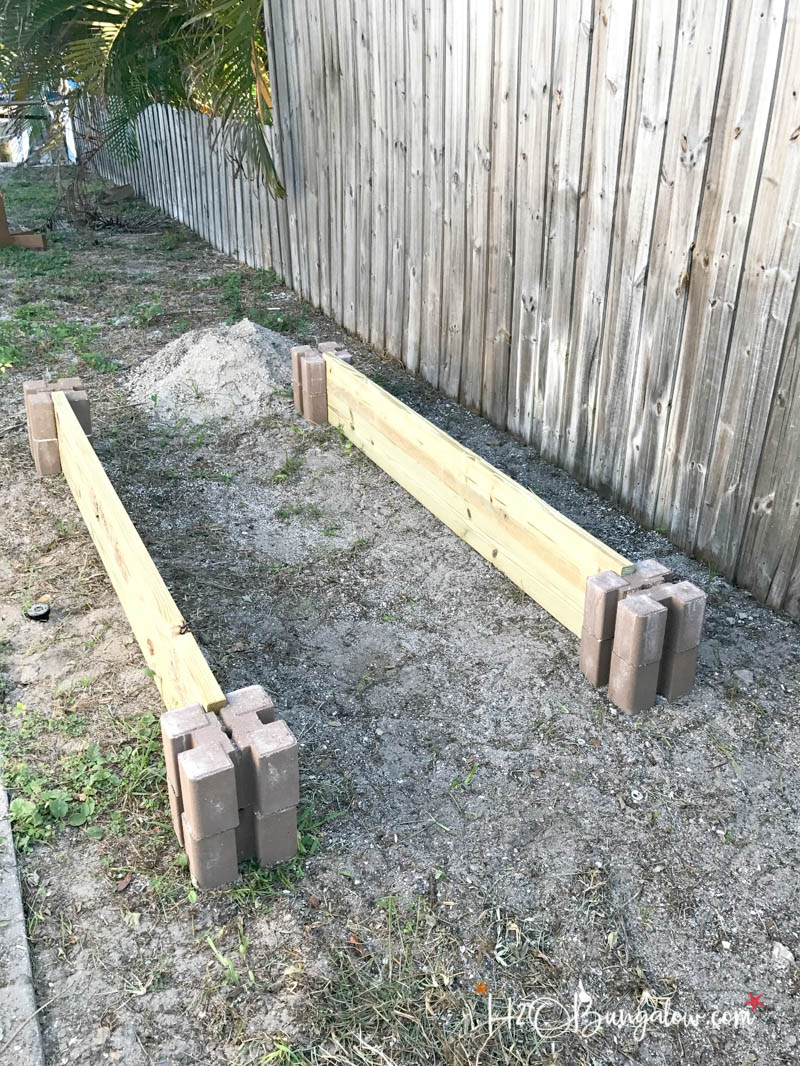 Planning a shallow bed and a deep bed for vegetables that need more root room than others is a budget friendly choice. I built a raised twelve-inch and a raised six inch garden bed. You can calculate how much soil fertilizer and compost you will need using this calculator.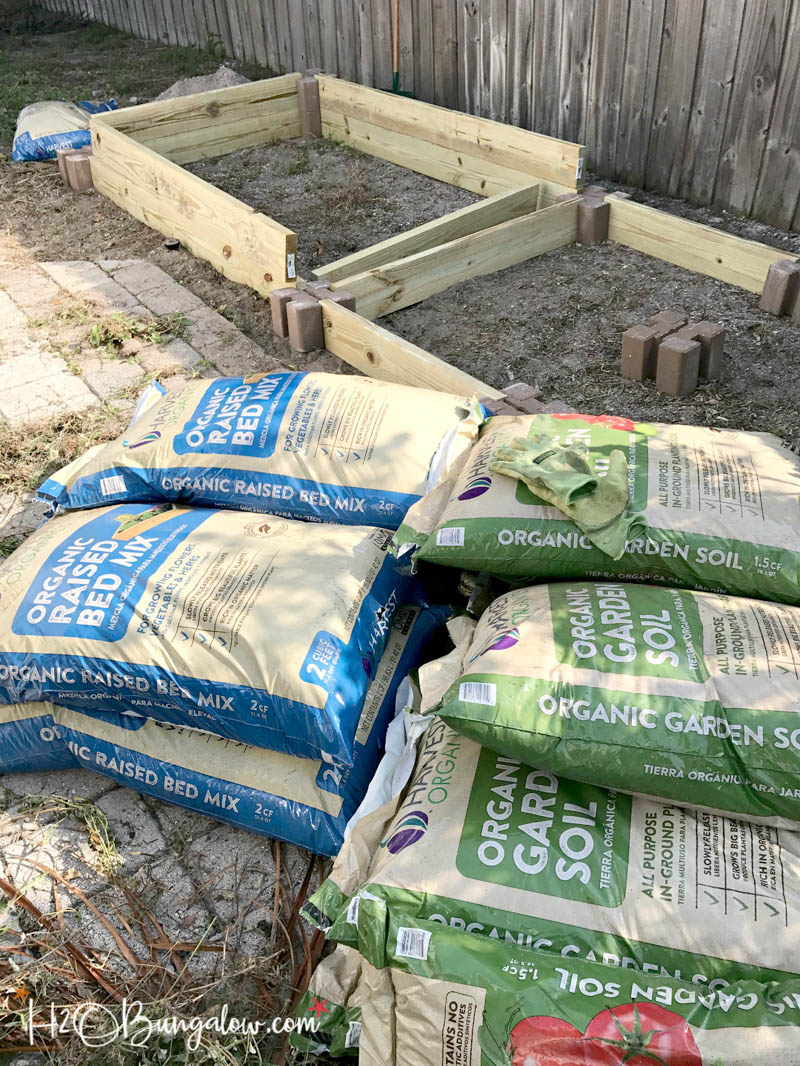 Step 2. Amend the soil. Dig turn and bury.
Give the roots of your vegetables plenty of nutrients down deep. Dig about a foot down and bury brown leaves and green weed clippings. Our dirt is basically brown sand. I buried weeds and leaves from the yard a foot down to help get organic matter into the lower level of the raised garden beds.
It will break down over time and add fabulous nutrients to the soil. The weeds won't sprout as long as they are buried well. If you don't have access to leaves and yard clippings you can mix in some raised bed mix. Tip ~ This step was a whole lot easier when I removed some of the existing dirt from the beds.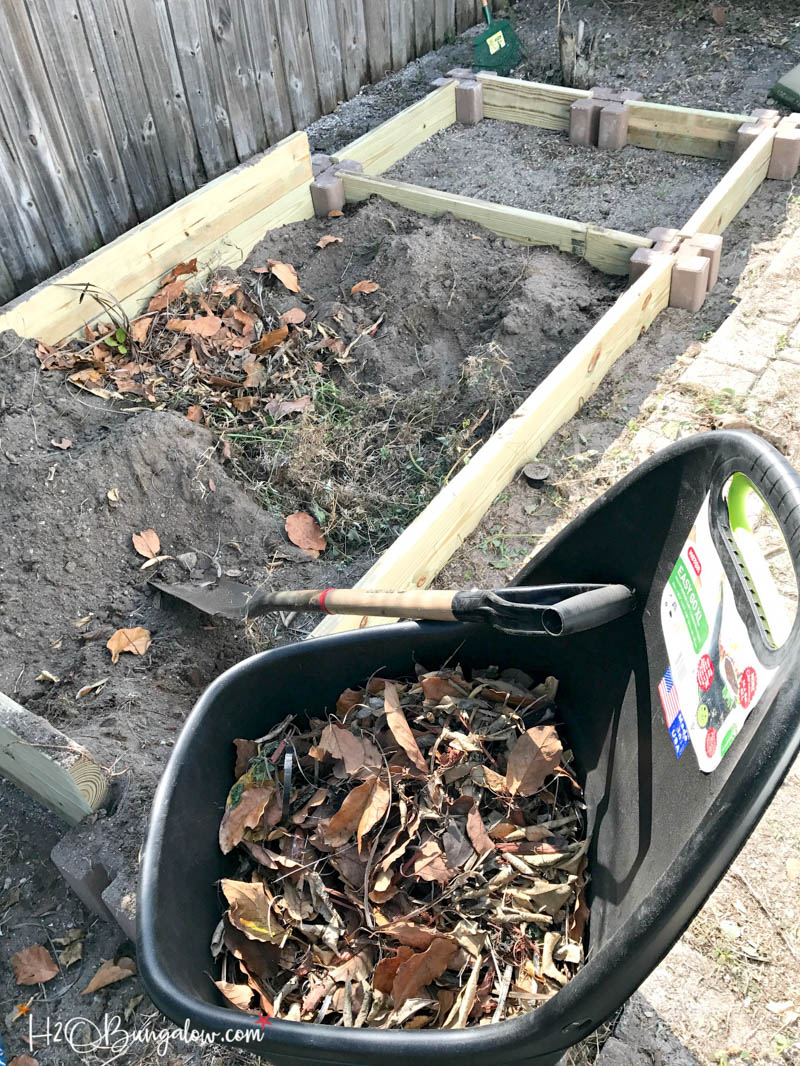 Step 3. Layer organic soil into the raised vegetable garden bed
Work the organic soil with some of the existing soil in the raised vegetable garden bed. Add more existing soil and organic garden soil and mix until you've used all of the the garden soil. Only use as much of the existing soil as needed to make a nice garden soil consistency.
You can see how sandy our existing soil is compared to the deep rich organic soil I added. Be sure not to overfill your garden beds! Stop when you are about 2″ from the top. It will make watering much easier.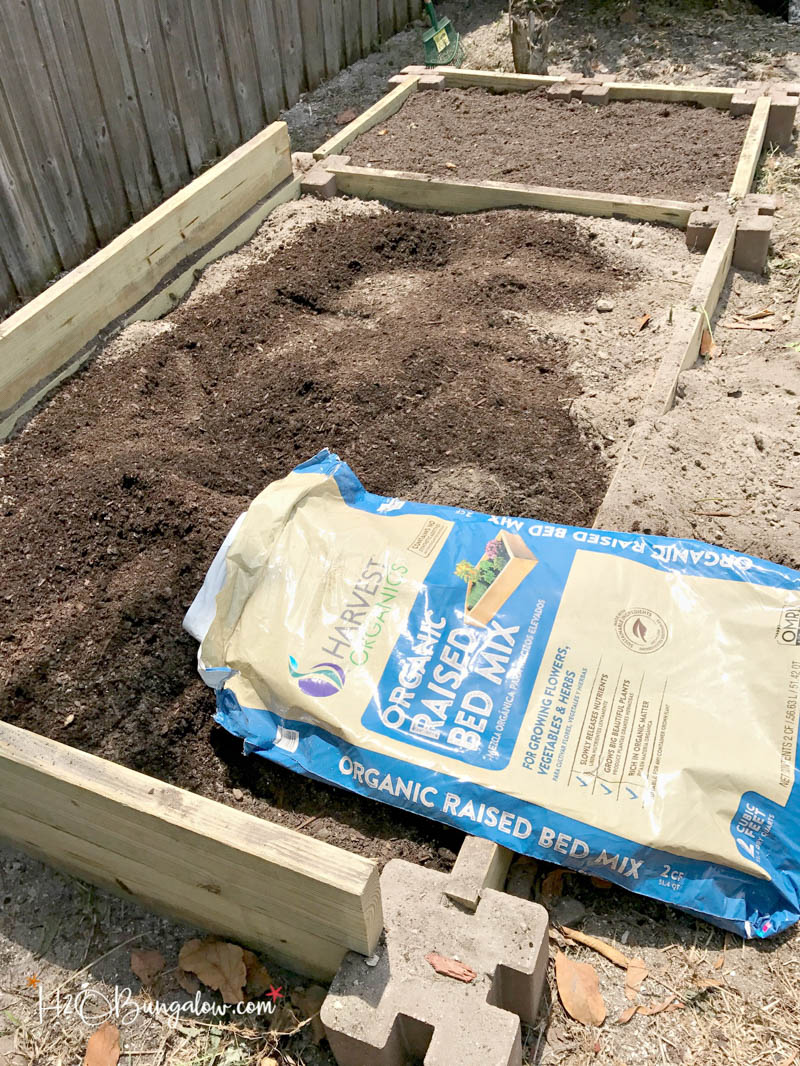 Step 4. Mulch around your bed.
Yep, I said around. You don't want grass growing up to or into your raised vegetable garden. If your soil is basically sand or dusty dirt it's much nicer working around the garden when your feet aren't constantly getting sand and dust all over them.
I added a strip of heavy duty garden edging on each side of my raised vegetable garden beds and filled the area in with pine needle mulch. I love this stuff and have used it in my organic butterfly garden we have in the front yard for the last few years.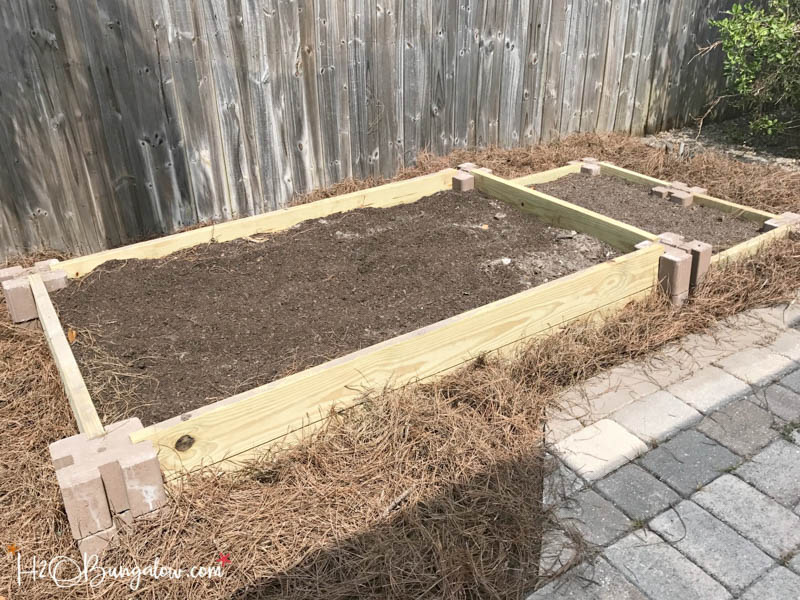 Tips for planting organically in a raised vegetable garden bed
Vegetables that needed less root room went into the shallow bed. Plants like tomatoes that like lots of root room went into the deep garden bed. Lay out and space the plants before planting. Sprinkle a little organic fertilizer into each planting hole and mix well into the soil before backfilling the plant.
Seek Out Advice
Ask your garden store or seek out the advice of someone who actively gardens in a raised vegetable bed. They are a wealth of information and can save you lots of time, money and frustration. I'm lucky enough to have a very good friend who creates the most beautiful and bountiful organic vegetable garden I've ever seen.
She has patiently spent hours on the phone helping me learn and plan my own raised vegetable garden bed project. Many of the gardening tips I'm sharing today are hers. Thanks Penelope!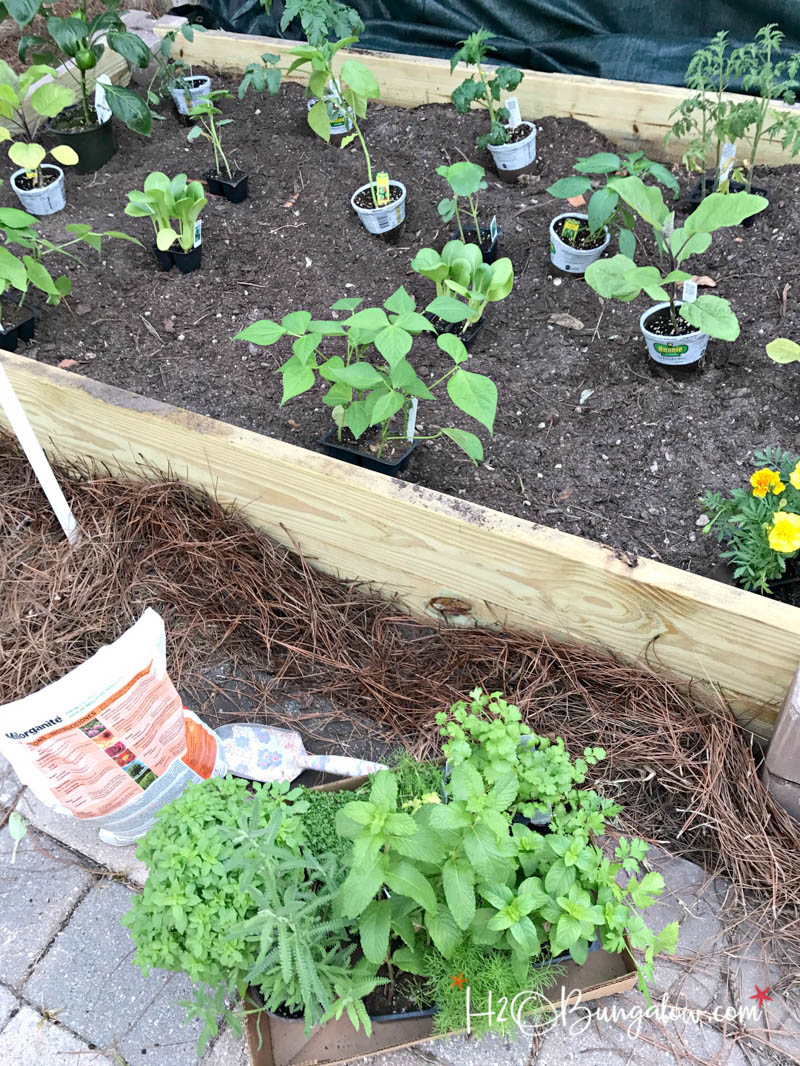 Add flowers and herbs that naturally repel insects.
Help keep your garden healthy. Marigolds, mints, rosemary, oregano, rosemary and sage are just a few that will keep pesky pests away from your garden.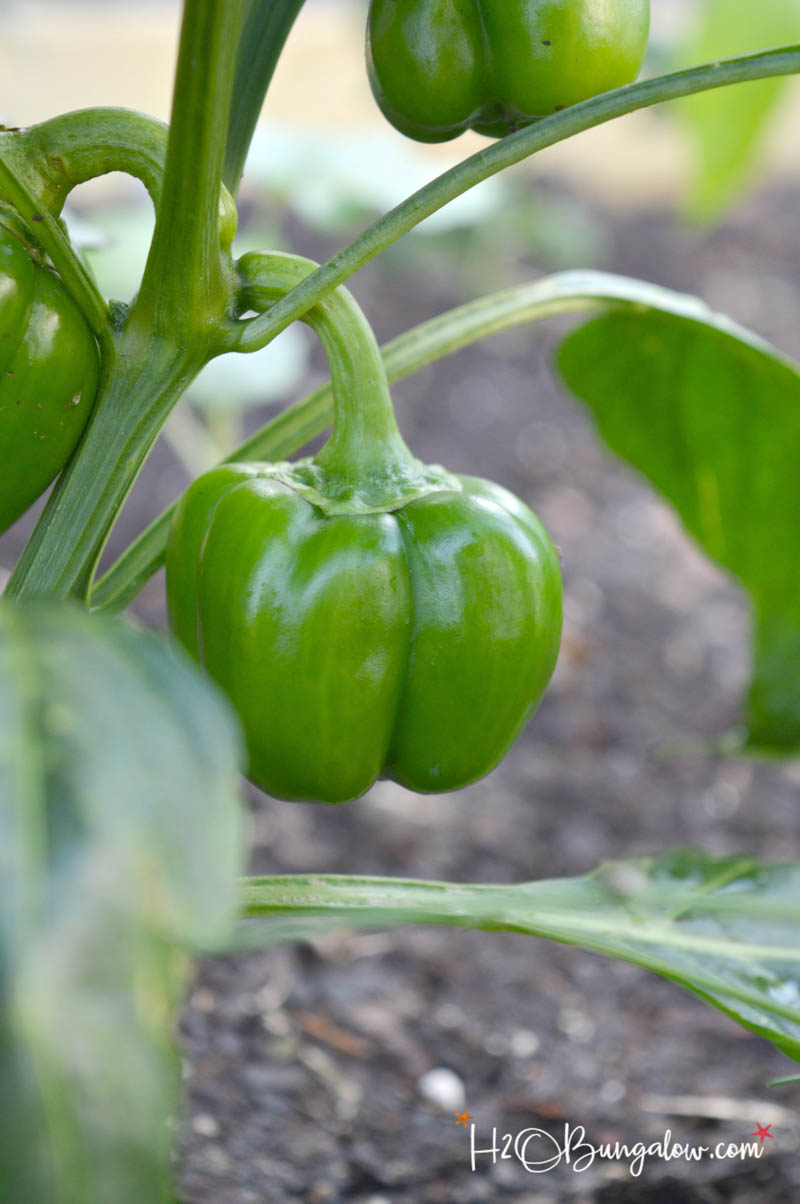 Make your garden pretty.
My imagination was much larger than my garden and there were lots of plants left over! Which turned out to be a good thing. I planted a few of the extra plants in decorative pots and placed them around the garden. Grab small statues, upcycled or recycled items to add interest to your garden too. Give your garden personality and make it pretty!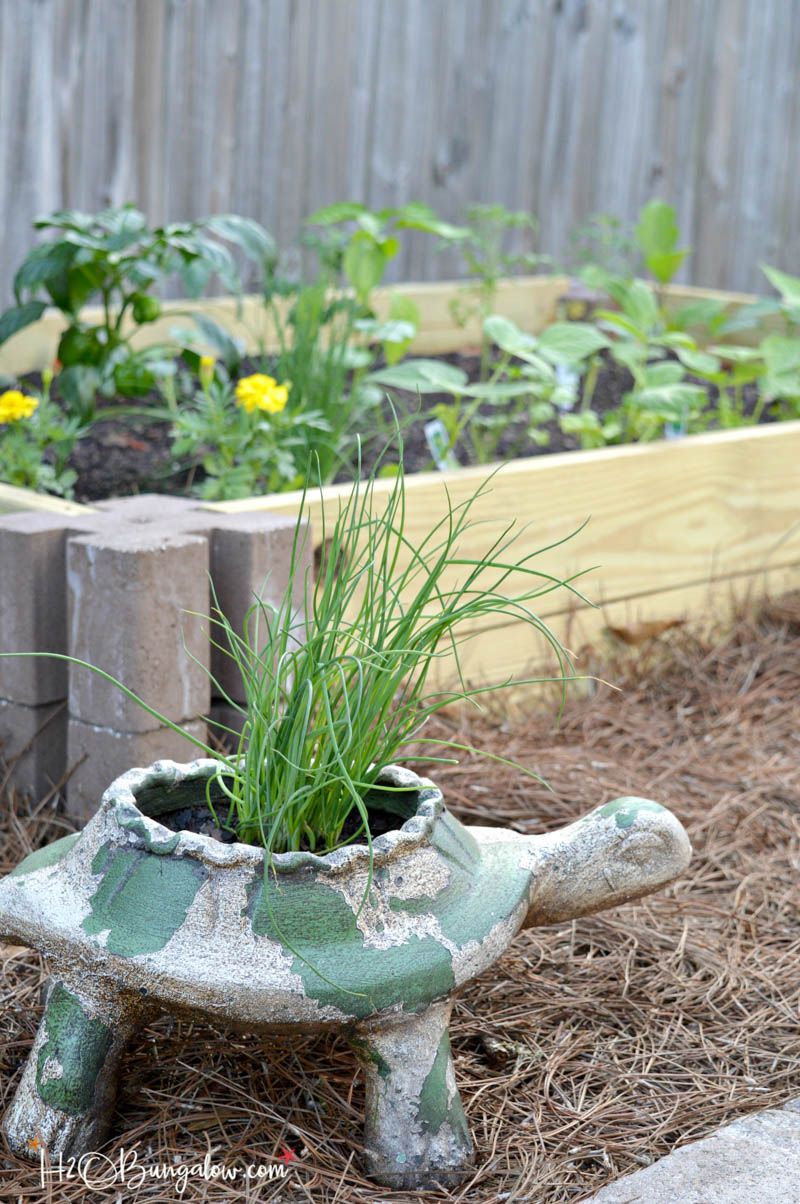 Plant vegetables in the right growing season for your area.
Choose the right time of year to plant and grow vegetables. In Florida lettuces don't do well in the spring and summer heat but beans and peppers do fine.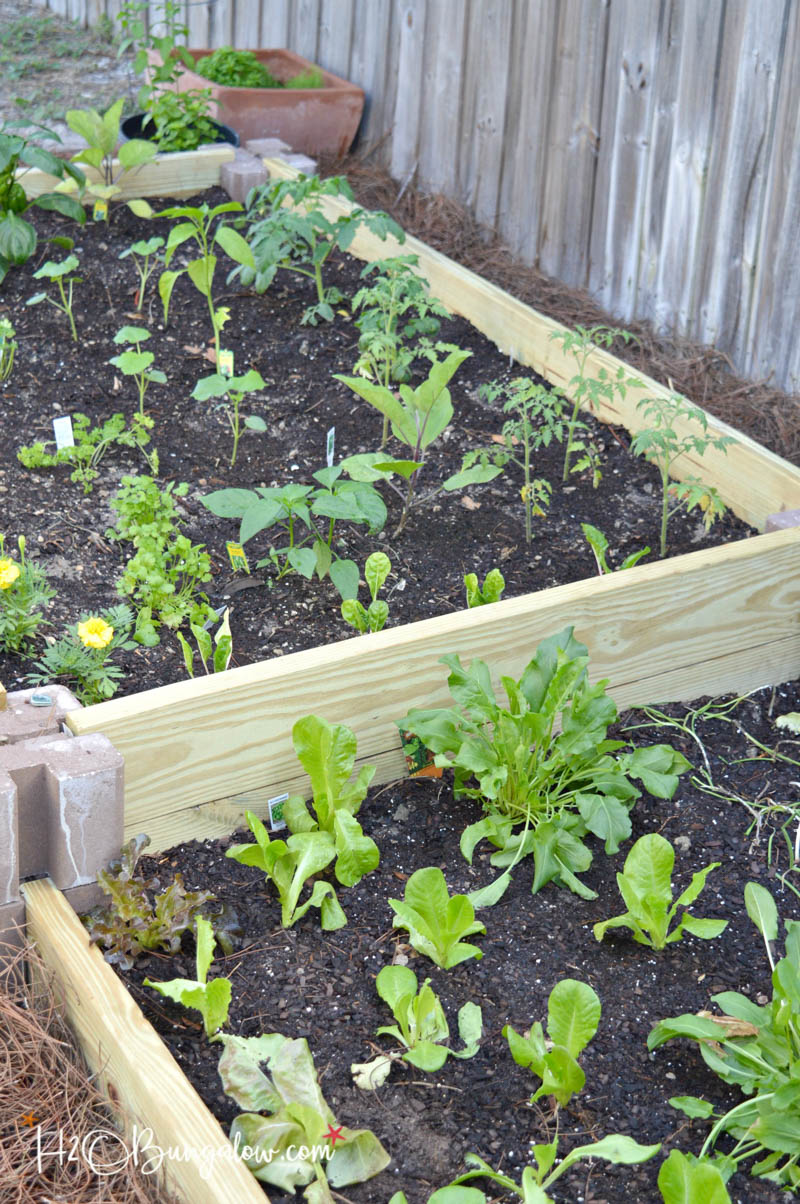 I extended my growing season of the tender plants by adding a shade layer to block some heat and some of the UV rays. I'll share more on how I built it in another post. 🙂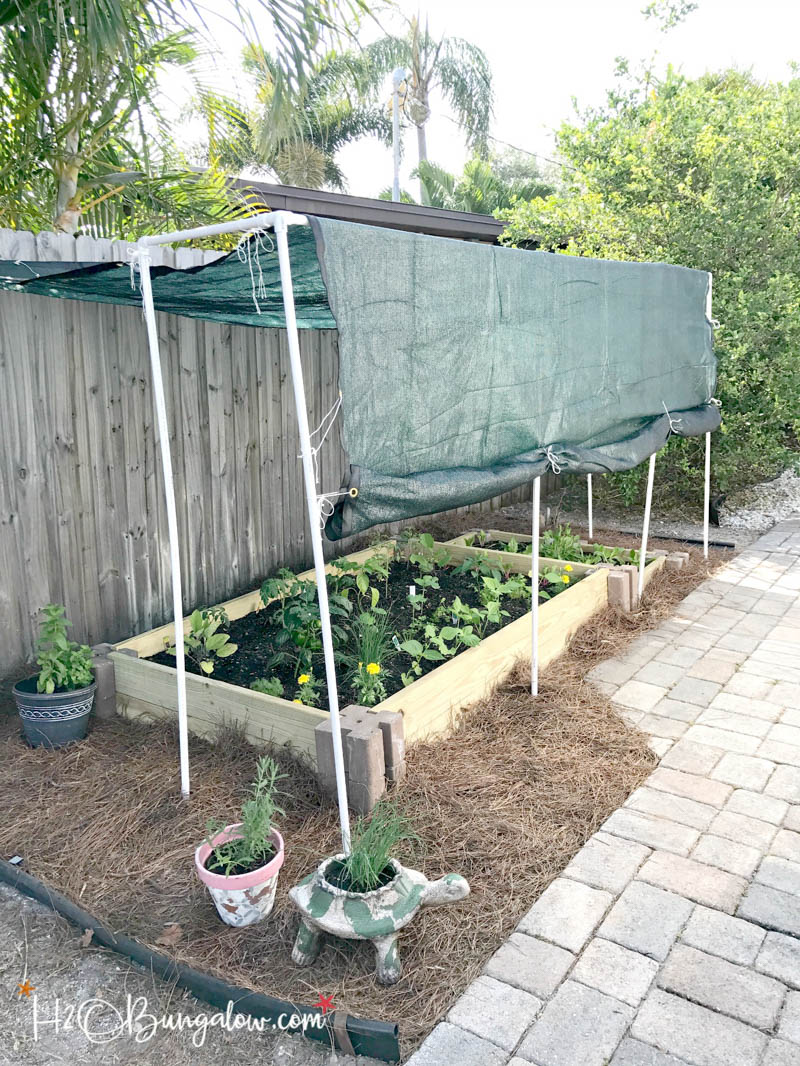 Pin this for later!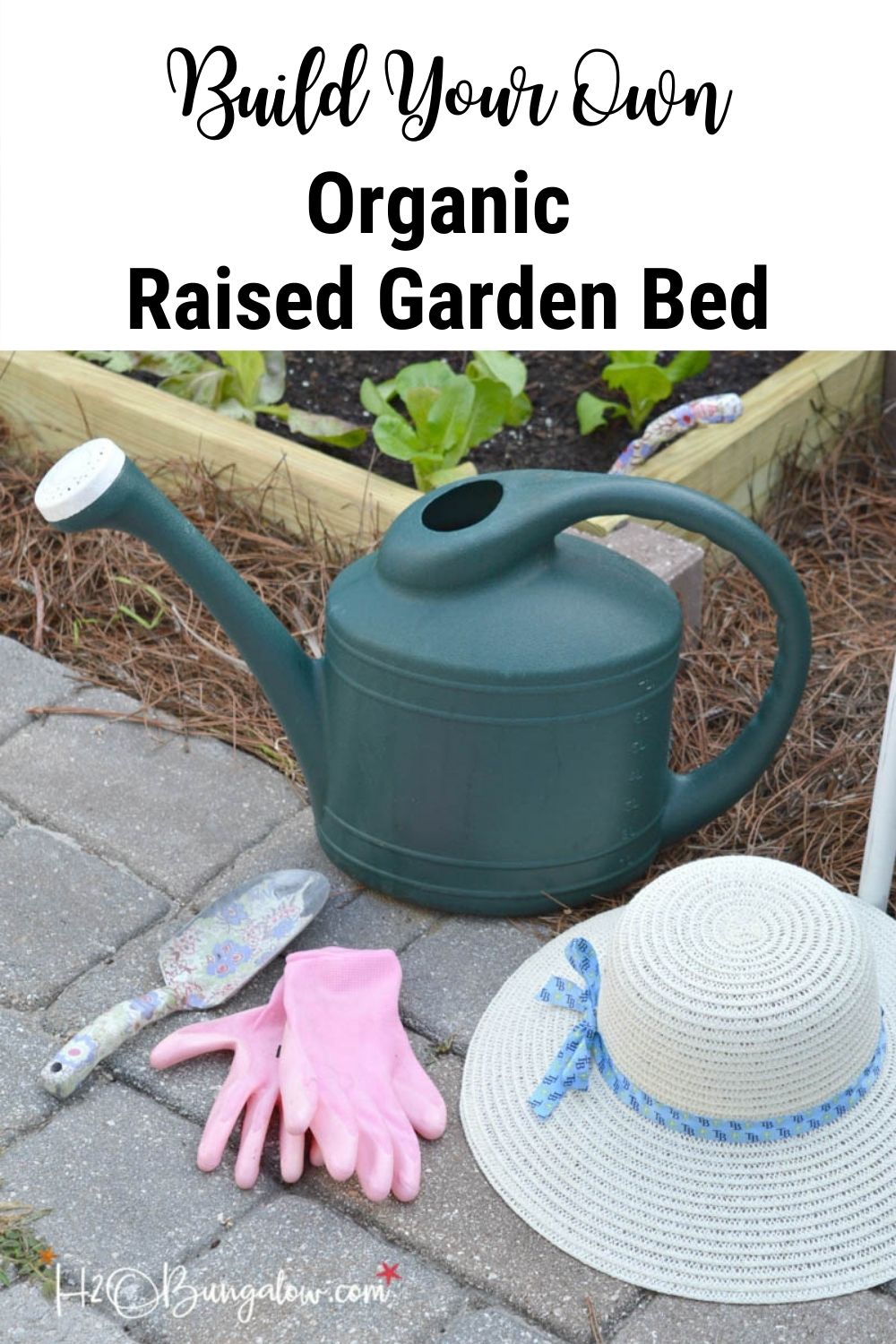 So now that I've shared how to build a raised vegetable garden are you ready to start on one of your own? Do you have a favorite spot picked out already? Or are you a gardener already? If so, we'd love for you to share a favorite gardening tip!
Share in the comments below!