Today's project, how to build a DIY fireplace with electric insert is such a great way to add warmth and coziness to a room. Yes friends, I'm sharing how to make a fake fireplace with a DIY mantel using an electric fireplace insert that works with or without heat. I know what you're thinking… How good could a faux fireplace really look?
Well, take a peek below at my DIY fireplace plans and finished project and you be the judge. I also made a video of my how to build a faux fireplace with an electric insert to make this project even easier to follow. *Update* I've just added a DIY Faux Stone Fireplace Chimney tutorial and video. I'm wondering now why I waited so long to build this!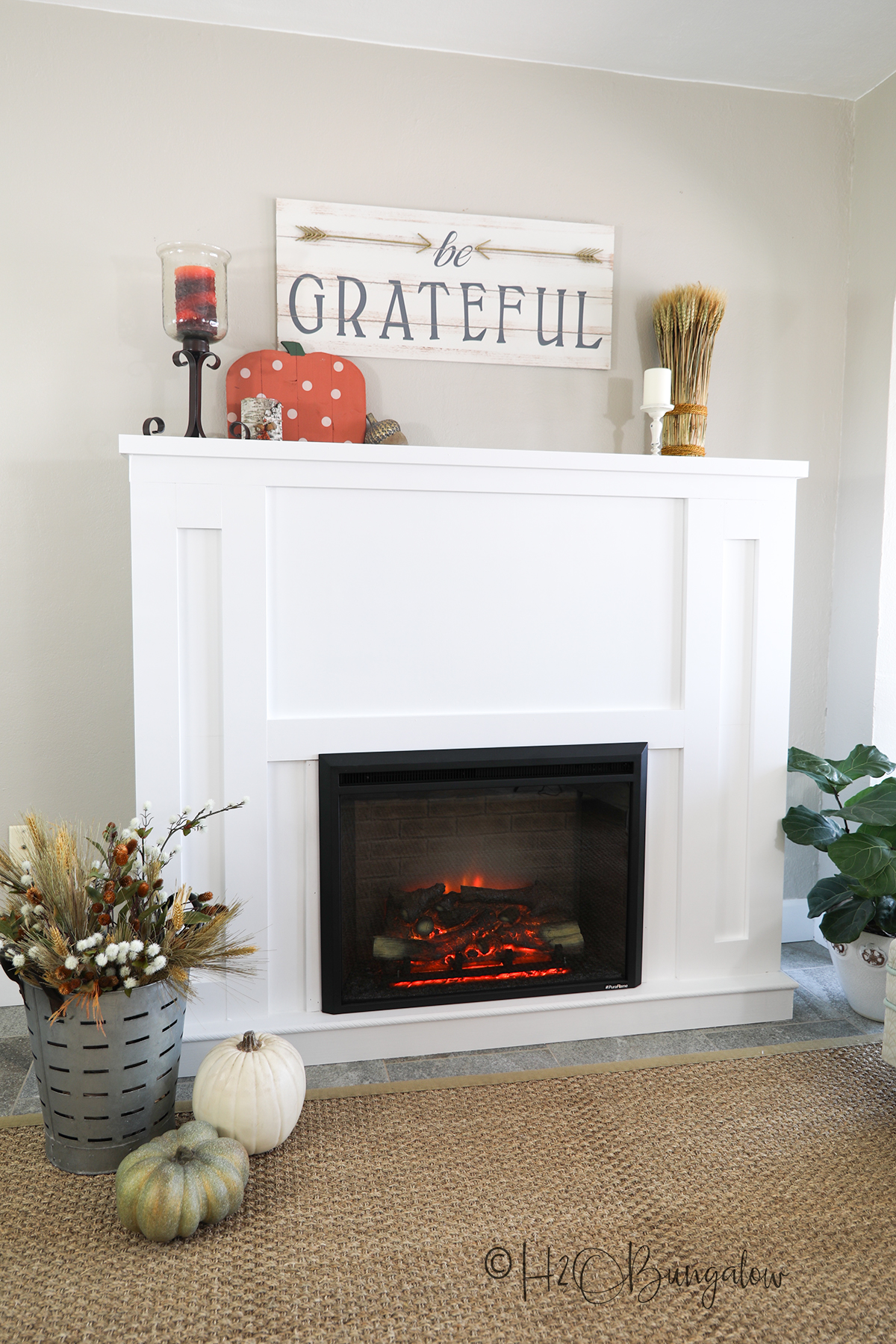 This project was one of my top diy projects for 2018
This post is sponsored by Finished Elegance. All opinions and project ideas are my own. You can read my full disclosure policy here. Thanks for supporting the brands that help to maintain H2OBungalow!
To me, a fireplace adds a welcome home coziness factor like nothing else. Imagine how excited I was when Woodgrain offered to sponsor this project! I've love Woodgrain trims and have used their products in several other projects. My gorgeous DIY Craftsman Window Trim Tutorial was built with Finished Elegance, a prefinished trim by Woodgrain that's a huge timesaver not to mention gorgeous!
Woodgrain products can be found at Home Depot in the wood trim department. I have to warn you though, as you stroll through the store's selection, your head will fill up with an abundance of cool home DIY projects!
Tips for Planning a DIY Fireplace in Your Home
Selecting a location for your faux fireplace.
You will need an electrical plug located inside your DIY fireplace frame. You'll also need to cut a section of your baseboard out so your DIY Fireplace will mount flush to the wall. Also important is that aesthetically, you'll want to select a location where your fireplace can be a focal point in your room.
How to choose an electric fireplace insert.
Electric fireplace inserts come in a variety of sizes from about 23″ up to 50″ wide. I chose this 30″ fireplace. Pick a size that will scale well in your room and fit the DIY fireplace surround you're building. Most mid-range electric fireplace inserts are LED lit, remote controlled and offer a flame only and flame and heat setting. That's perfect for us Florida dwellers who only need heat about 3 times a year! Be sure to check all the features before choosing one. I fell in love with one model of electric fireplace insert and just before I ordered it, I read that it projected the heat and flame settings on the fireplace glass when it was turned on 100% of the time. How distracting, ugh!
How do you wire an electric fireplace insert?
Electric fireplace inserts only need a plain household electrical outlet to work. What you will need to do is have your electrical outlet located inside your faux fireplace frame. I had an electrician add an extra plug on the wall where I was building my DIY fireplace, which you 'll see below. Let me help you avoid a mistake on your faux fireplace. If you're adding an outlet, make sure it's located toward the center and away from the edge of your frame. Mine wasn't in the frame area enough and I had to chip out part of my frame to fit the fireplace electrical plug into the outlet.
DIY fireplace building tips.
I designed my craftsman style fireplace to compliment the gorgeous craftsman window trim I added to our home earlier this year. My fireplace surround has a small footprint and is versatile enough to fit beautifully with lots of decor styles. Best of all, this craftsman style fireplace is easy to build and a great project for an intermediate woodworker or home improvement junkie like myself. It uses all flat cuts, plus, there are no tricky double angle cuts like you'd have with crown moulding. Easy peasy!
If you'd like to build a traditional fireplace, follow how to build this fireplace through covering the surround with plywood. Finish it in your style by trimming it out differently. One big word of advice, plan where your plywood seams will be in advance so you can cover all raw wood edges with trim.
Like I shared in the video, I like to mark my wood as I cut each piece with the size, piece name as well as the location of where I'll put my pocket holes. If your plywood has a front and back side, mark that as well so you always use the best side out. It's hassle to go back to the store when you've grabbed and cut the wrong piece!
Ok, so now that we have that out of the way my friend, are you ready to build your own DIY craftsman style fireplace?
How to Build a DIY Fireplace With Electric Insert Tutorial
Supplies needed to build a fake fireplace surround that looks real.
1/2″ Plywood
2 x 4s – see my frame cut sizes below
Electric fireplace insert – This is the one I used
3″ wood screws
2″ pocket screws
Tools needed for this project.
Table saw
Compound miter saw
Drill
Kreg Jig, K4 or K3
Sander
Brad nailer
Caulking gun
Builders square
level
measuring tape
Watch my How to Build a DIY Fireplace With an Electric Insert Video.
Step one: Build the fireplace base.
My base was 63″ x 17″ with center supports about every 18 inches. I assembled this with 3″ screws.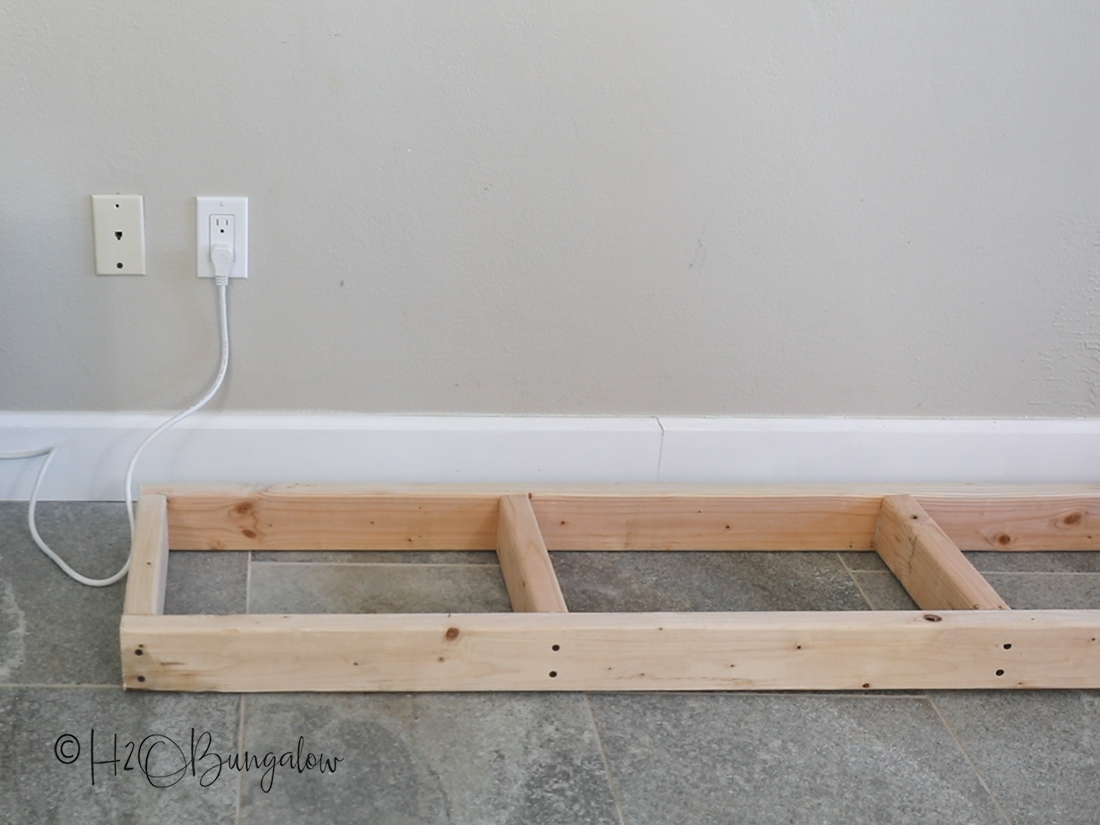 Step Two: Build the Fireplace Frame.
I've listed my 2″ x 4″ cut sizes below on the photo. I used both 3″ screws and pocket holes to assemble the frame. You could easily assemble this using just pocket holes or screws. Use a builders square to check for squareness.
Assemble the front of the fireplace surround on a flat surface first. Like I mentioned in my video, assembling the fireplace frame while it was standing up was not the best choice. Next, attach the sides of the surround frame. Add a back support at the top and bottom where the frame will rest against the wall.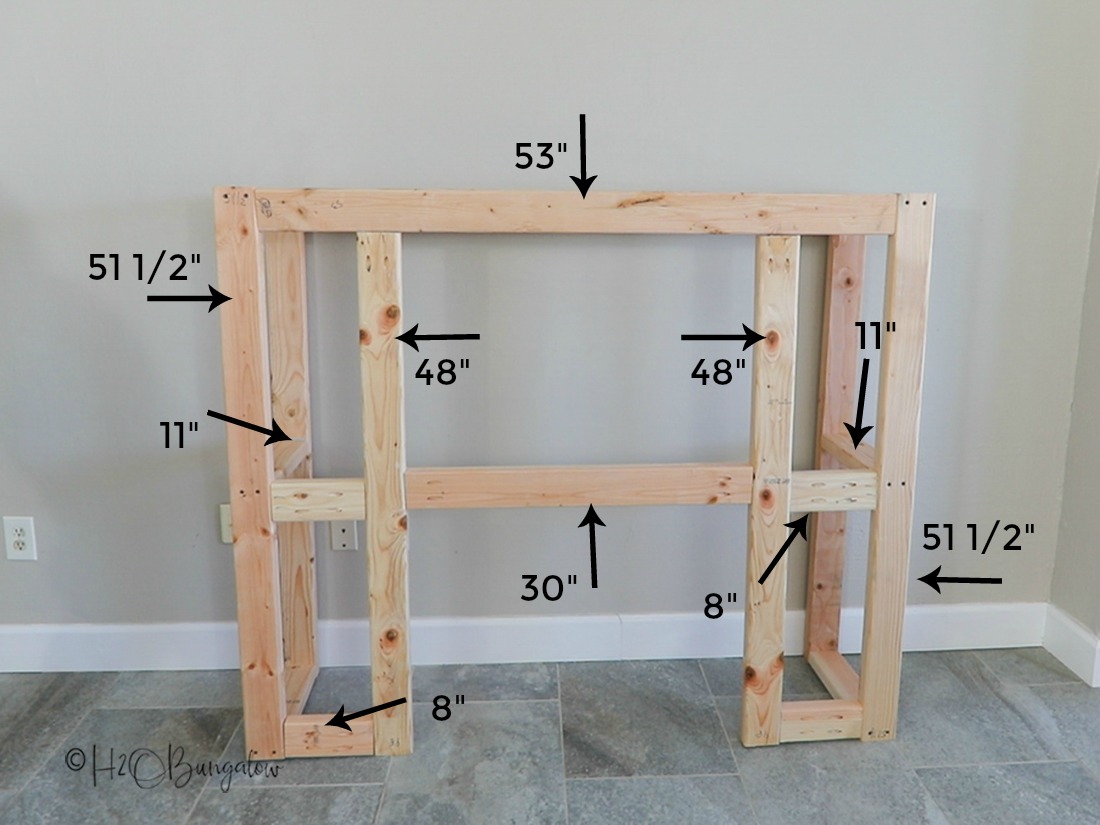 Step Three: Cover the fireplace base with plywood.
Use a table saw and rip each plywood piece to size. Cut and attach the left and right sides first. Add the front of the base piece next and the top last. The front piece will cover the cut edges of the left and right sides. The top will be flush to all of the edges. You'll add a small piece of trim to cover the cut edge of the base top later.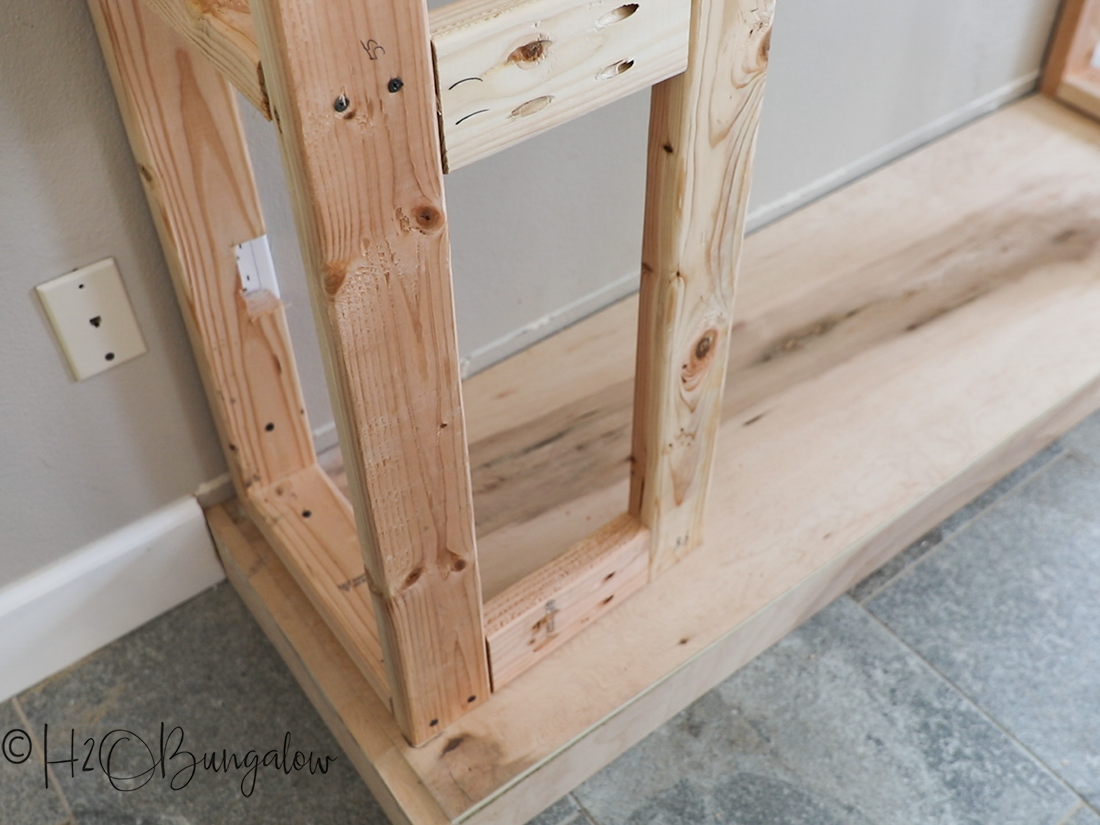 Step Four: Attach the surround frame to the plywood covered base and wall.
Use pocket holes and screws or 3″ nails to attach the DIY fireplace surround frame to the base attaching at center supports where available. Next, use 3″ screws to attach the frame to studs in the wall.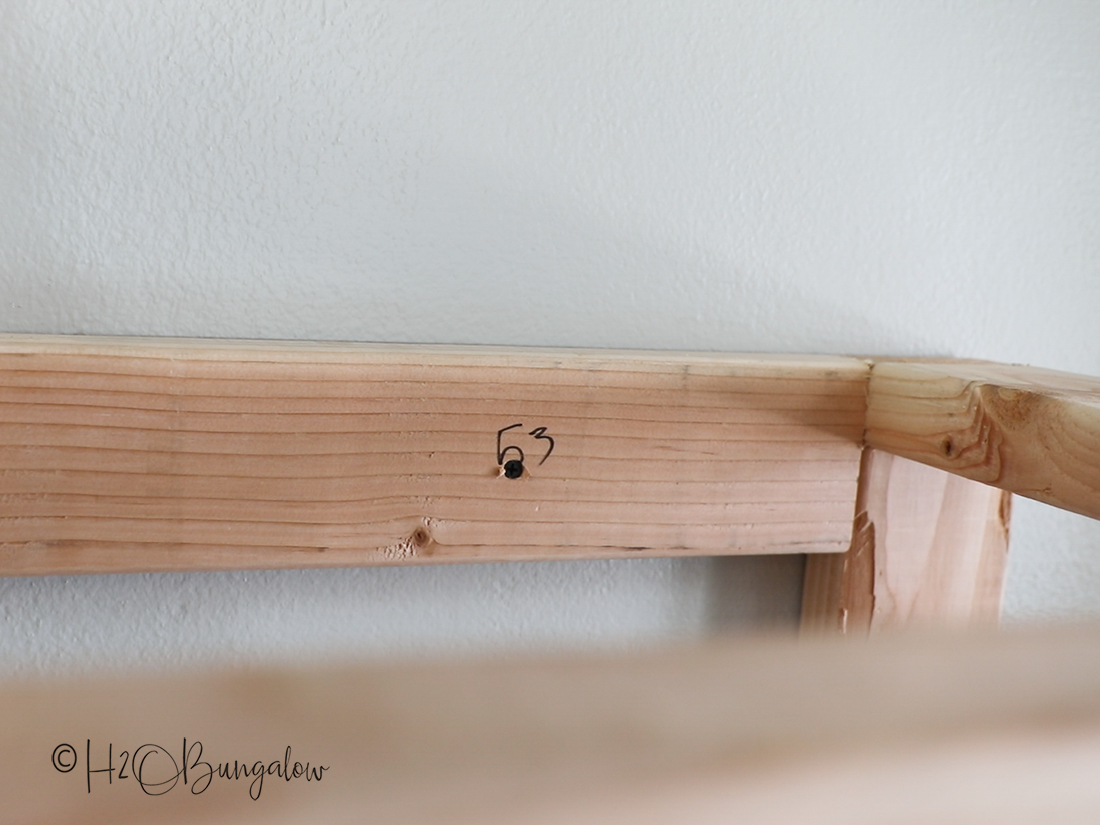 Step Five: Cover the fireplace frame with plywood.
Cover the fireplace frame with 1/2″ plywood and 1 1/2″ nails in a brad nailer. Add the sides first and the front next.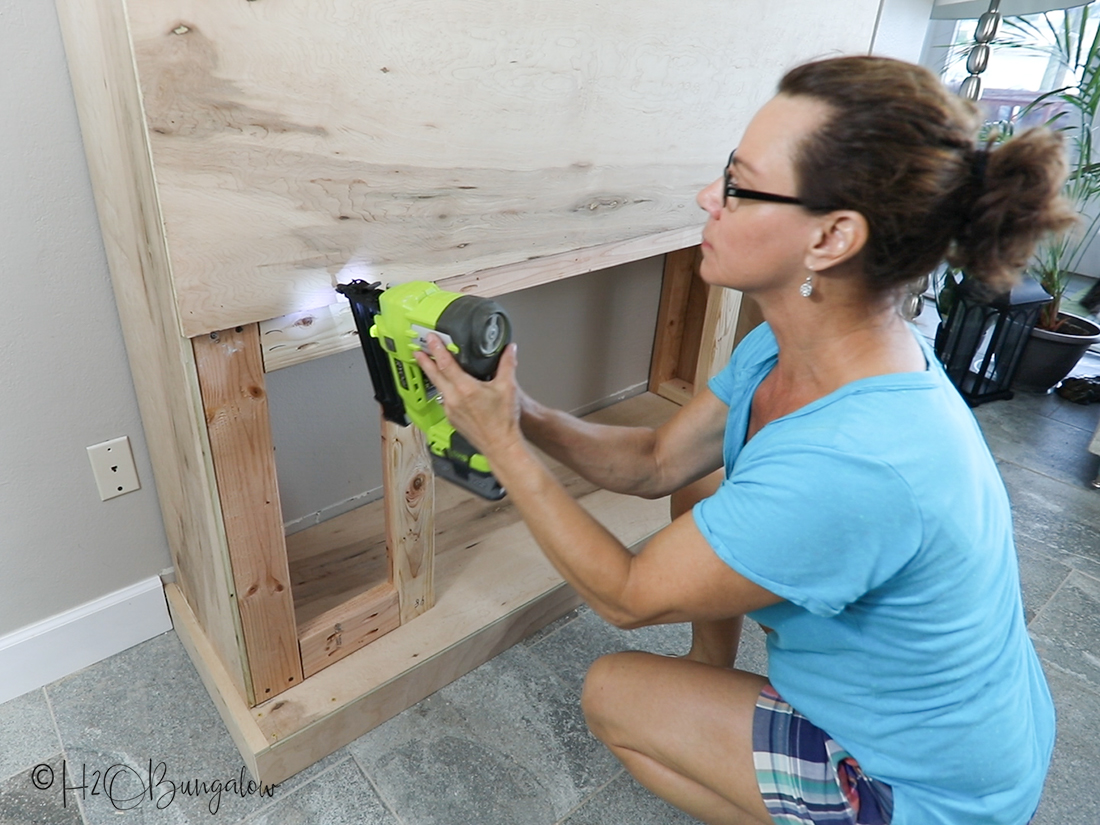 I had to shim the lower left side of the front of my frame so both sides lined up evenly around the opening for the fireplace insert. If I had built this part first and on a flat surface I don't think I would have had this challenge. It was a good fix though, and you can't see it on my finished fireplace.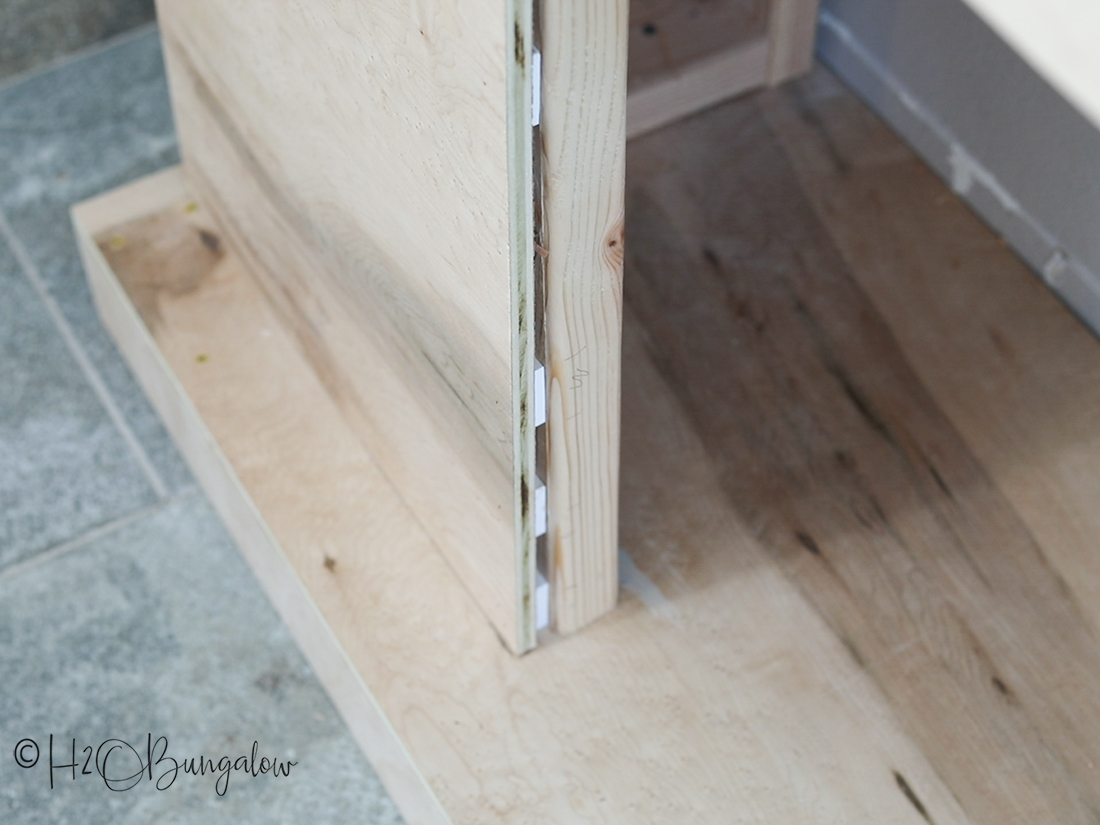 Step Six: Add the fireplace mantle or top.
Before cutting the fireplace mantel length, lay the 1/2″ plywood on top and mark the cut line on each side. Trim as needed and attach it using a brad nailer and 1 1/2″ brad nails.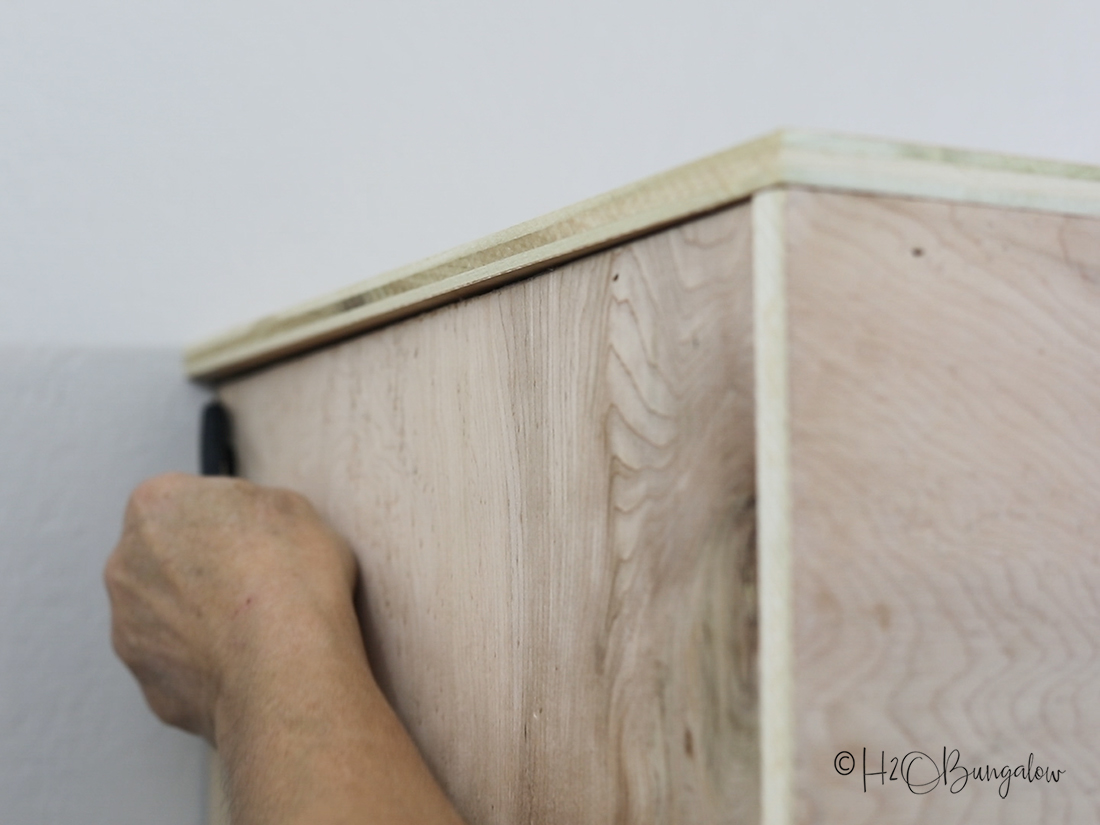 This is a good time to add unfinished wood trim to your fireplace. I added a beautiful rope style Woodgrain trim to the base of the fireplace to cover the cut edges. The rest of my trim was from the Finished Elegance line by Woodgrain and came prefinished as you'll soon see.
Step Seven: Use wood filler to fill in seams.
Use wood filer and fill in seams and nail holes that will not be covered with trim.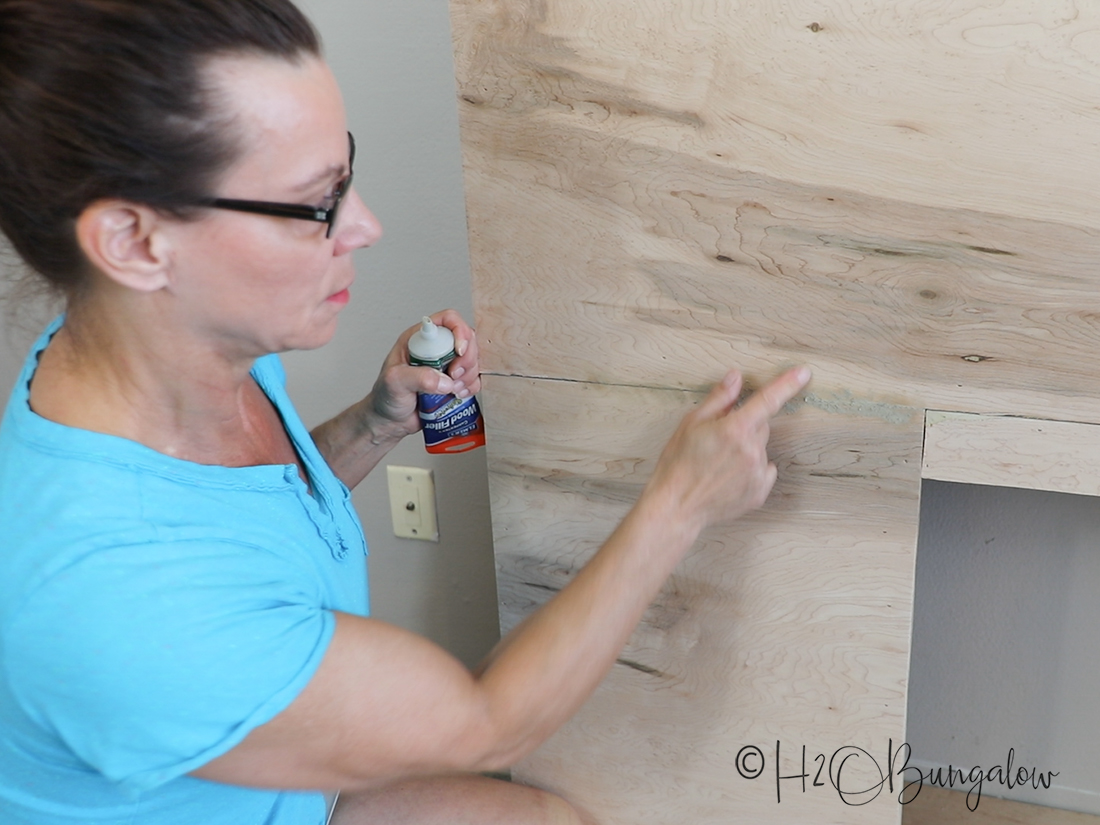 Step Eight: Sand, prime and paint the fireplace surround.
Sand the entire surface to prep for painting. Remove sawdust and wood particles by running a wet/dry vacuum over the entire fireplace followed by a thorough wipe down before priming and painting.
Except for the Woodgrain rope trim I added around the base, I saved time by painting a base coat of paint onto my fireplace surround before adding my trim. Since I wanted a contemporary fireplace and one that complimented my craftsman window casings, the rest of my trim is the same as my windows, Finished Elegance.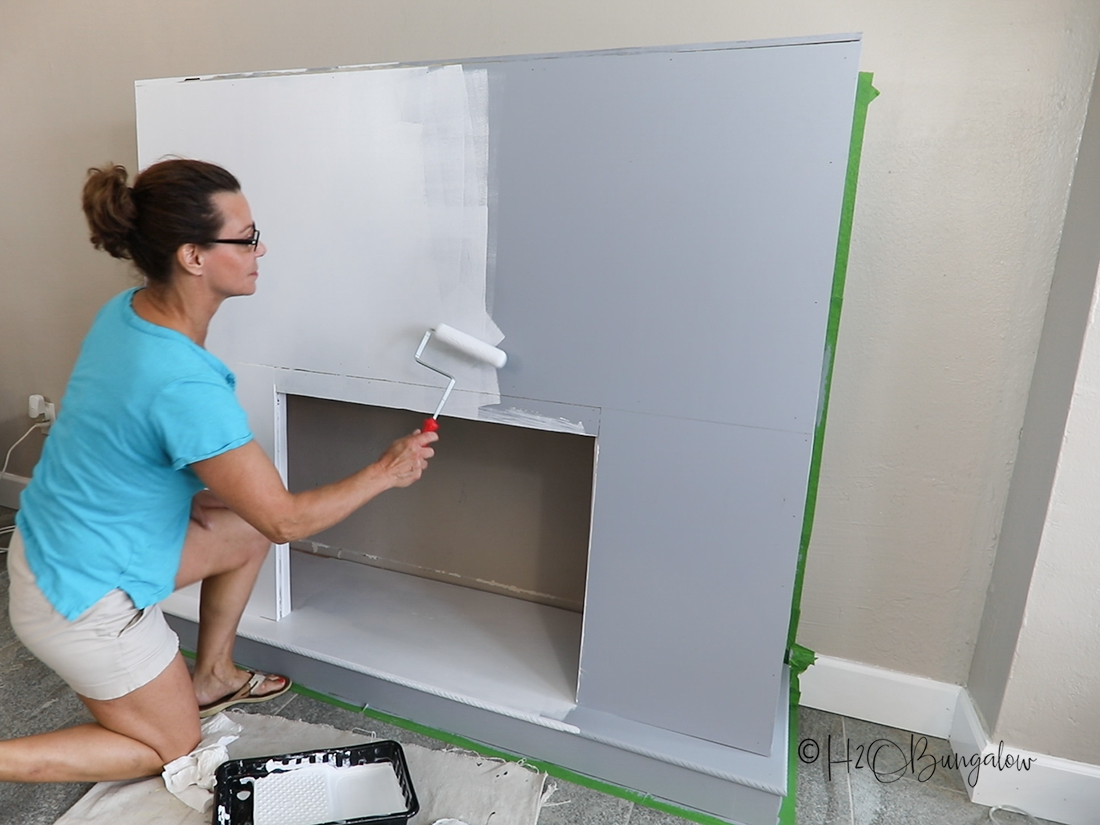 Step Nine: Add preprimed Woodgrain trim.
I trimmed out my DIY fireplace surround in this order.
Add 1″ x 4″ trim across the top and the two sides. It will be flush with the top of the mantel to cover the plywood raw edge.
Add a 1″ x 2″ trim on the left and right sides. It will be flush with the front of the fireplace so the next piece of trim will lay over it.
Add a 1″ x 4″ piece of trim to the left and right edge of the fireplace front. Align it with the corner trim from the other side (it makes a corner).
Add a 4″ x 4″ cut block to the top and bottom.
Add another 1″ x 4″ piece of trim to the outer edge of the fireplace front.
Attach a 1″ x 4″ across the front to cover the plywood seam.
Attach a 1″ x 2″ trim around the top and sides of the fireplace surround. It will be flush to the mantel top and be layered over the first 1″ x 4″ trim.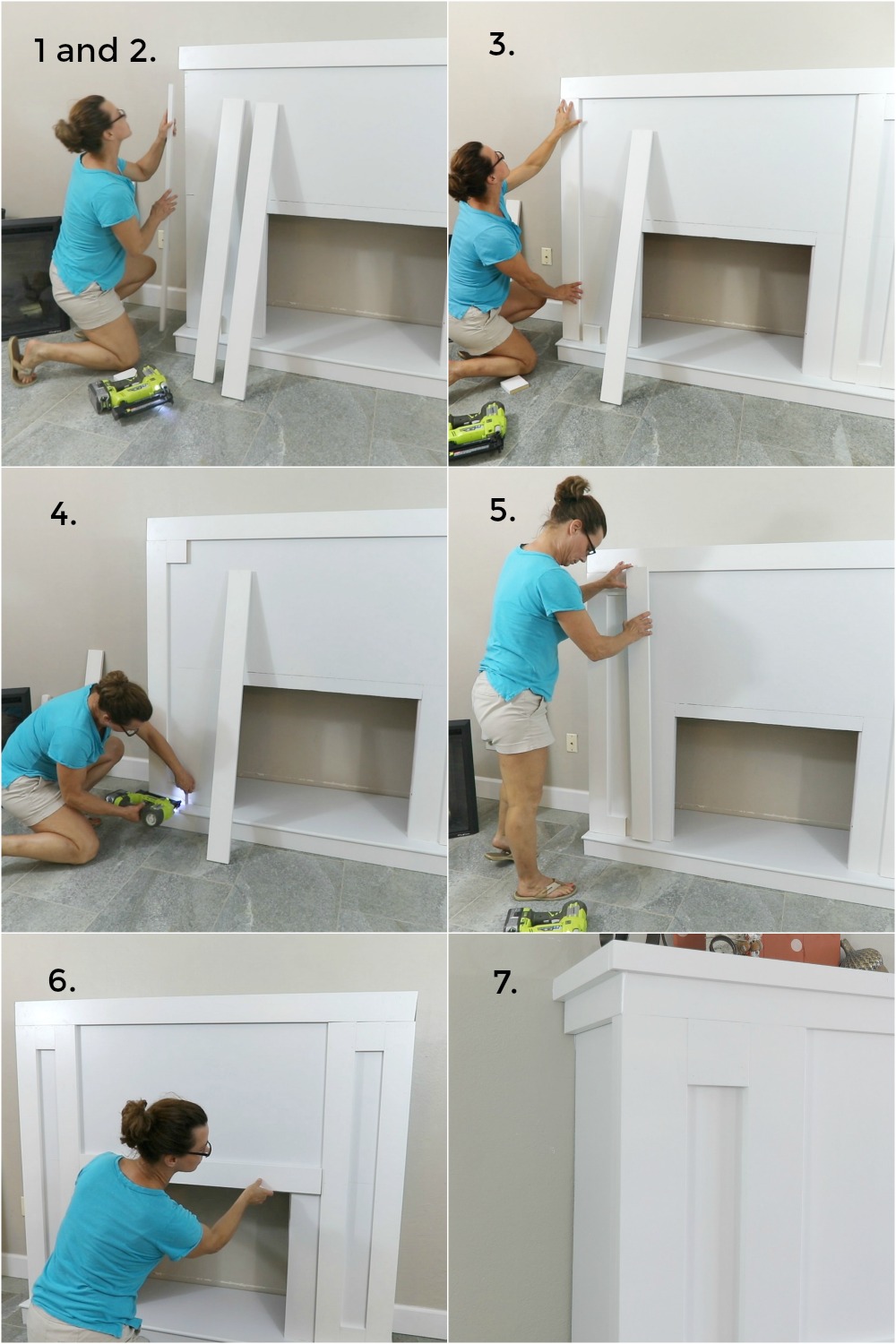 Step 10: Caulk and paint
Use painter's caulk along all the trim edges, nail holes and gaps. Once dry, follow with a final coat of paint. I know this next part is hard, but…Allow the paint to cure for at least 24 hours before sliding in the electric fireplace insert!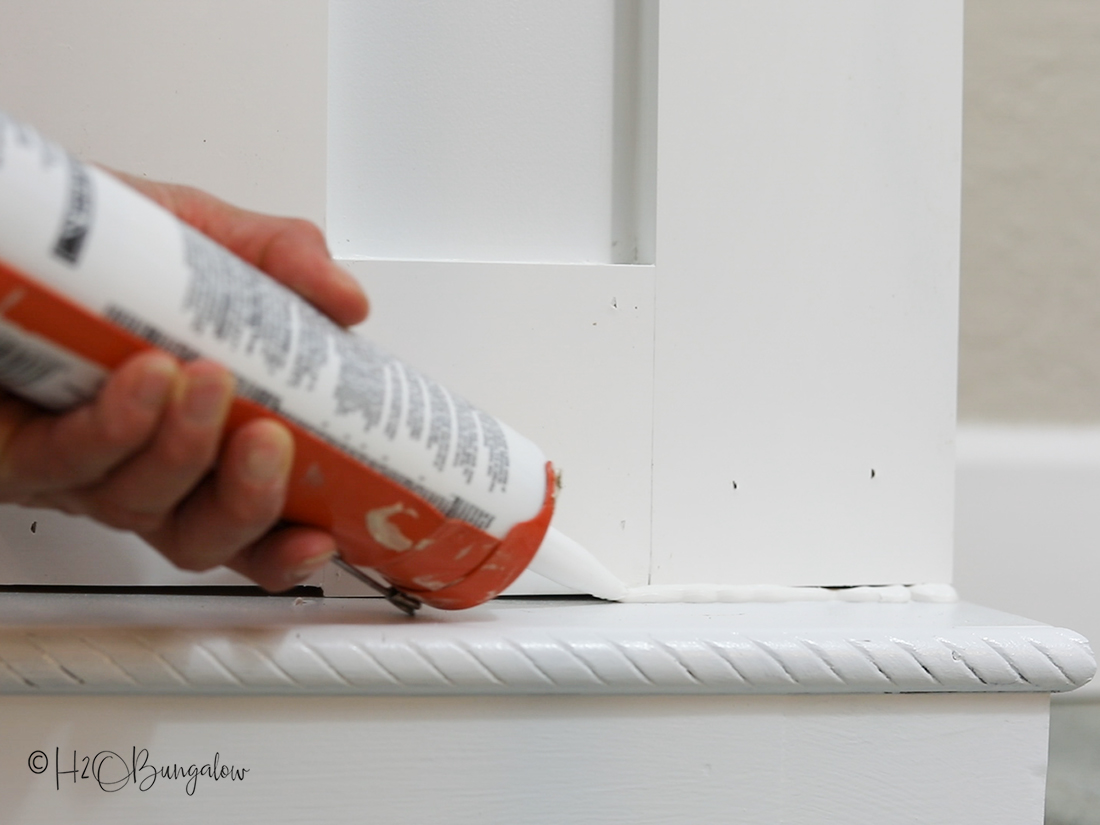 Later, I added another 1″x 2″ strip of trim along the sides where the fireplace slid into the surround to fill in the gap on each side. If the top trim had been higher I wouldn't have had to do this. It looks great either way.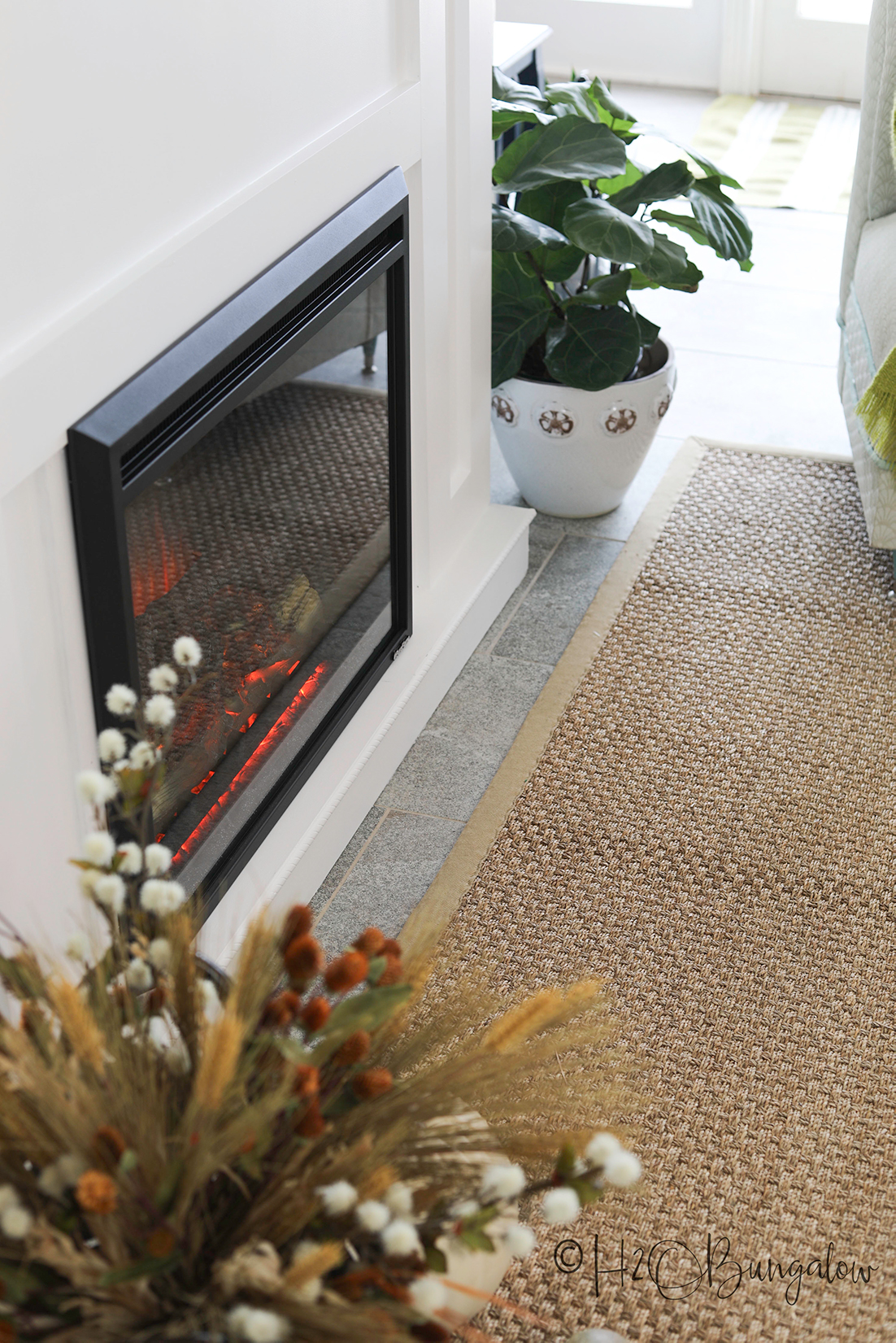 Yes, this was a big project. Was it worth the work? You betcha! I love how cozy my Florida living area is now.
Especially since it made the area just past the kitchen island a cozy retreat. Welcoming for guests and pretty for me to see as I'm preparing a meal.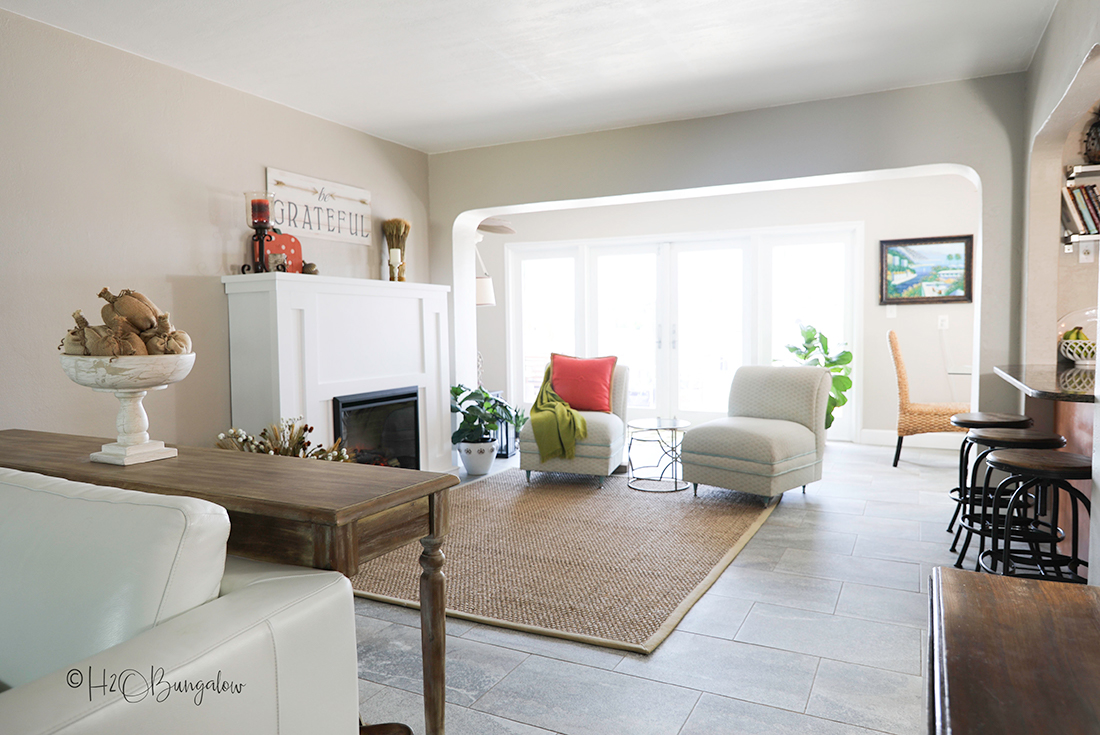 Do you love this project? Do you know someone who needs a DIY fireplace for their home too?
Be sure to see the new DIY Faux Stone Fireplace Chimney I added!
It would be great if you'd share it with your friends and family on Facebook and pin it for later!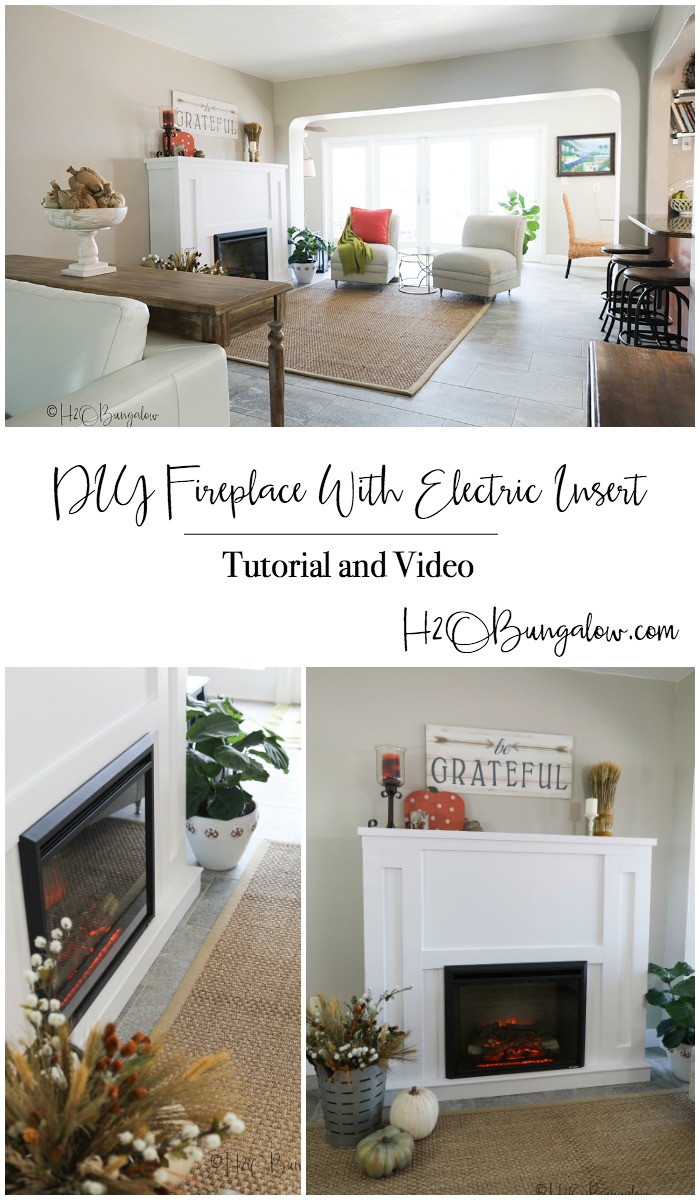 Adding a fireplace that complimented my craftsman style window trim helped my house look coordinated and decorated. Another earlier project I'd tackled was adding our own DIY baseboards. Like window trim, and upgrading baseboards, adding a DIY fireplace to your home is an affordable upgrade that the average homeowner can easily tackle.
I bet you're wondering how I liked working with the prefinished trim boards? I loved it! Finished Elegance is a quality product that saved me hours of extra work on my DIY craftsman style window trim project and my fireplace. Each and every board was perfectly finished and uniform, which helps my project look it's best.
Do you have a place in your home that could use the coziness a fireplace would add? Share with me in the comment section below where you's add one in your home!