Today I'm going to share how to make a window sill in a few simple steps with basic tools and skills. I'll show you what material to use for window sills and share a few style tips so yours look just right in your home.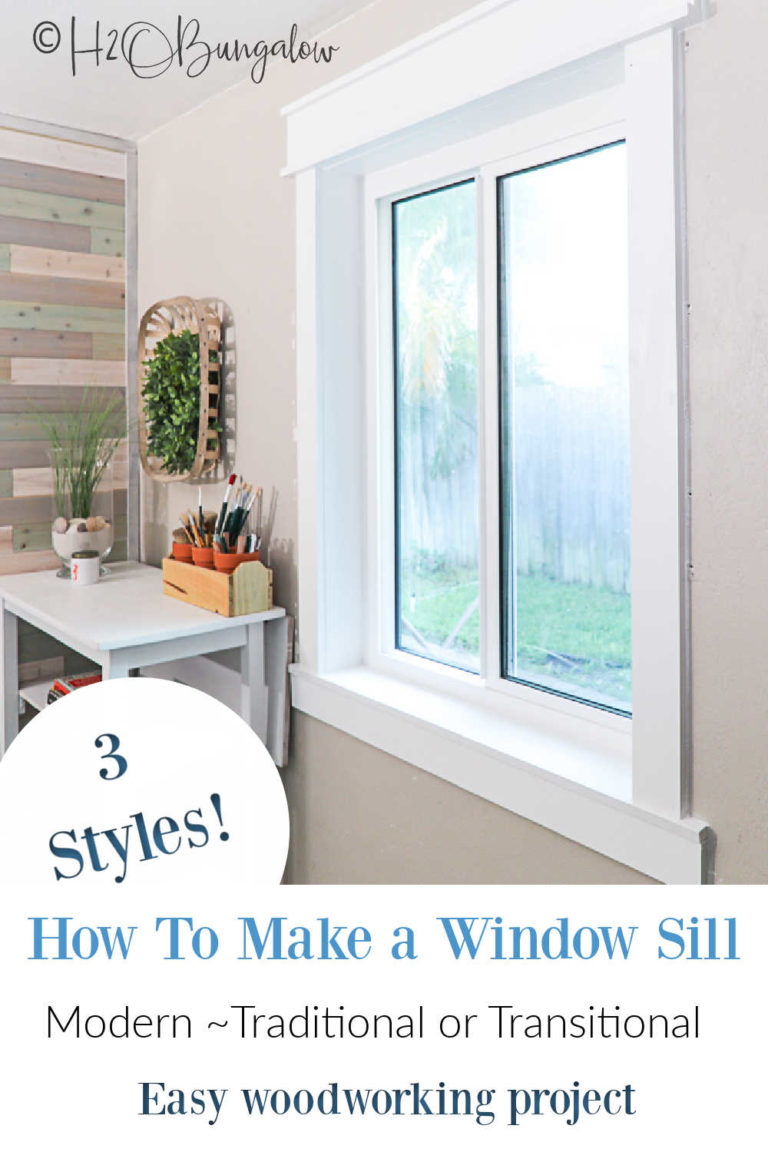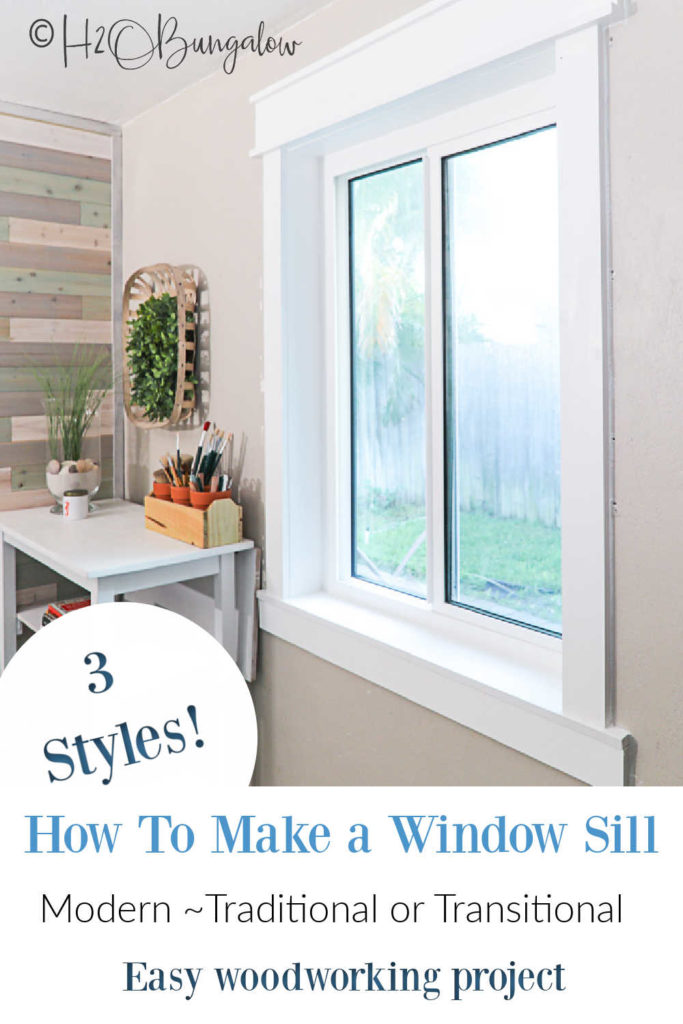 Adding new trim to our windows was the easiest and least expensive dramatic home improvement in our 1950's block house. I've been slowly replacing them and just knocked out three more.
Let's get started and I'll show you how to build a window sill and share a few different ideas for window sills.
Sending out a big thank you to HomeRight for sponsoring this post! I also use affiliate links, as an Amazon affiliate I earn a fee from qualifying purchases at no additional cost to you. Thank you for supporting H2OBungalow!
How To Make A Window Sill
A window sill is the bottom piece of trim, or the ledge at the bottom of the window. It's both decorative and serves the purpose of covering the framing and blocking out drafts and gaps at the window ledge.
How far should a window sill stick out from a wall? The sill should overhang from the front edge of the wall or window frame at least 3/4 inch. You can make it hang over more if you'd like. Keep in mind the sill should fit the scale of the window and reflect the style too.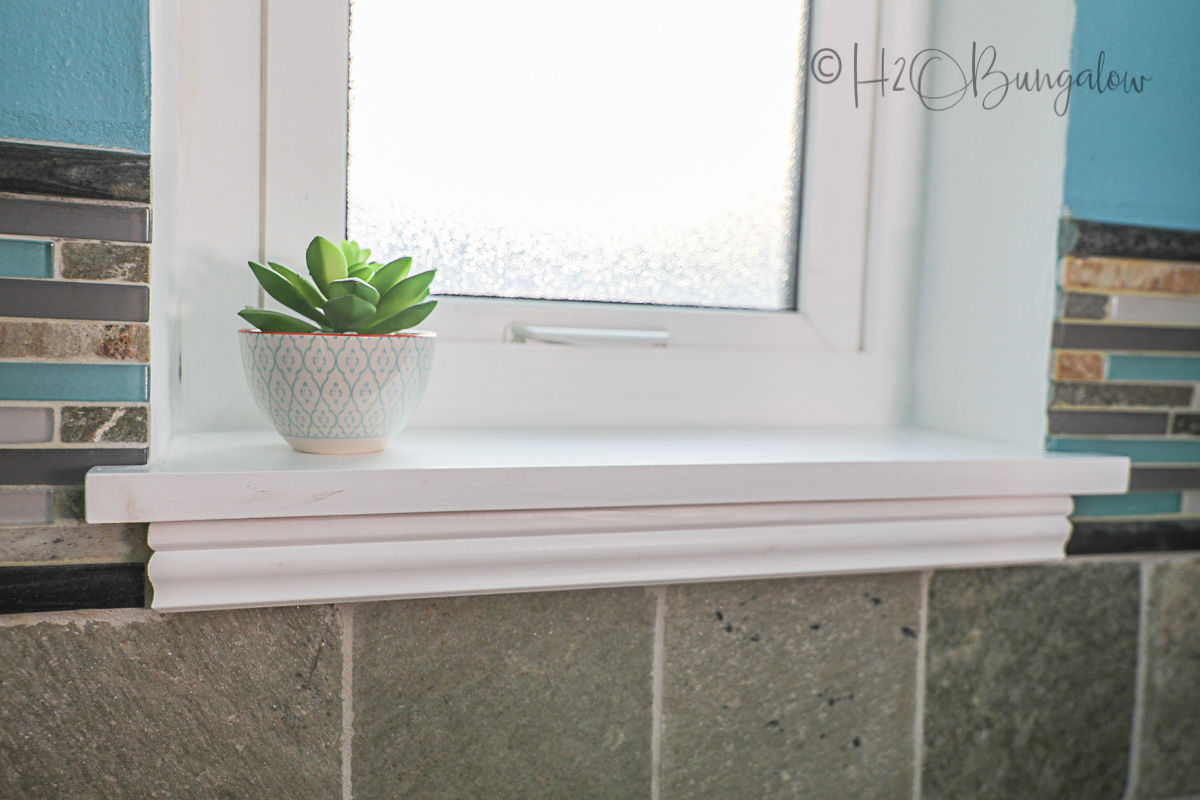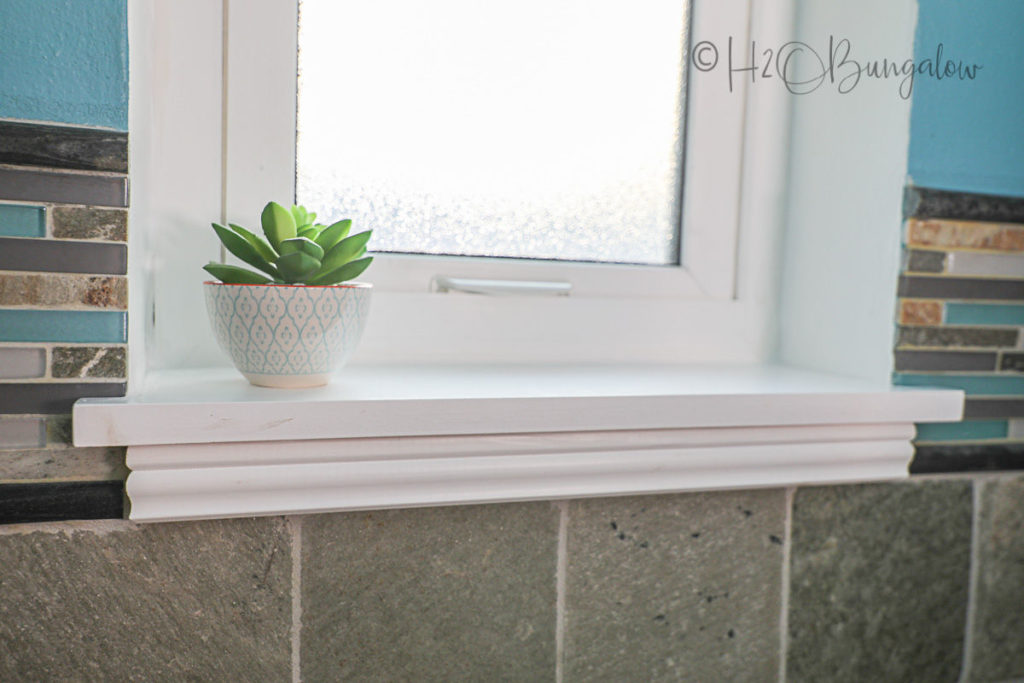 What style of window sill is best or most popular? It makes most sense to add trim that fits the style of your home and moulding if you have it. In my opinion, modern window sills look best with squared ends. Traditional, transitional or eclectic homes can have rounded or square ends. Craftsman window trim, like ours, fits a wide variety of home styles and it's really easy to add. Especially since it's all flat square boards and cuts.
Do I need to add an apron to my sill? The answer is no. The trim under the window sill is called an apron and adding that is optional. It does have a purpose though, many times and apron will cover a gap. It also adds a decorative touch and helps define the style of a window.
I'll show you three styles of window trim today. A craftsman, one with no apron and a simple apron made with moulding. You'll get a lot more detail in the how to build a window sill video I made.
Supplies needed:
1 x 6" or 1 x 8" select pine board depending on the depth of your window. 1″ x 6″ will be the most common.
Paint
Jigsaw
Construction adhesive – this is my favorite
Sander
Tape measure – this is my favorite one!
Drop cloth
Safety goggles – these fit over prescription glasses!
Step 1. Remove existing window sills.
Our home had tile window sills and a few poorly made wood sills. I tried to chip the tile off but that was an impossible task so I added my new ones right over them.
If you're removing old wood sills or trim, use a box cutter to break the caulking seal and then pry them off with a mallet and chisel or a heavy duty flathead screwdriver.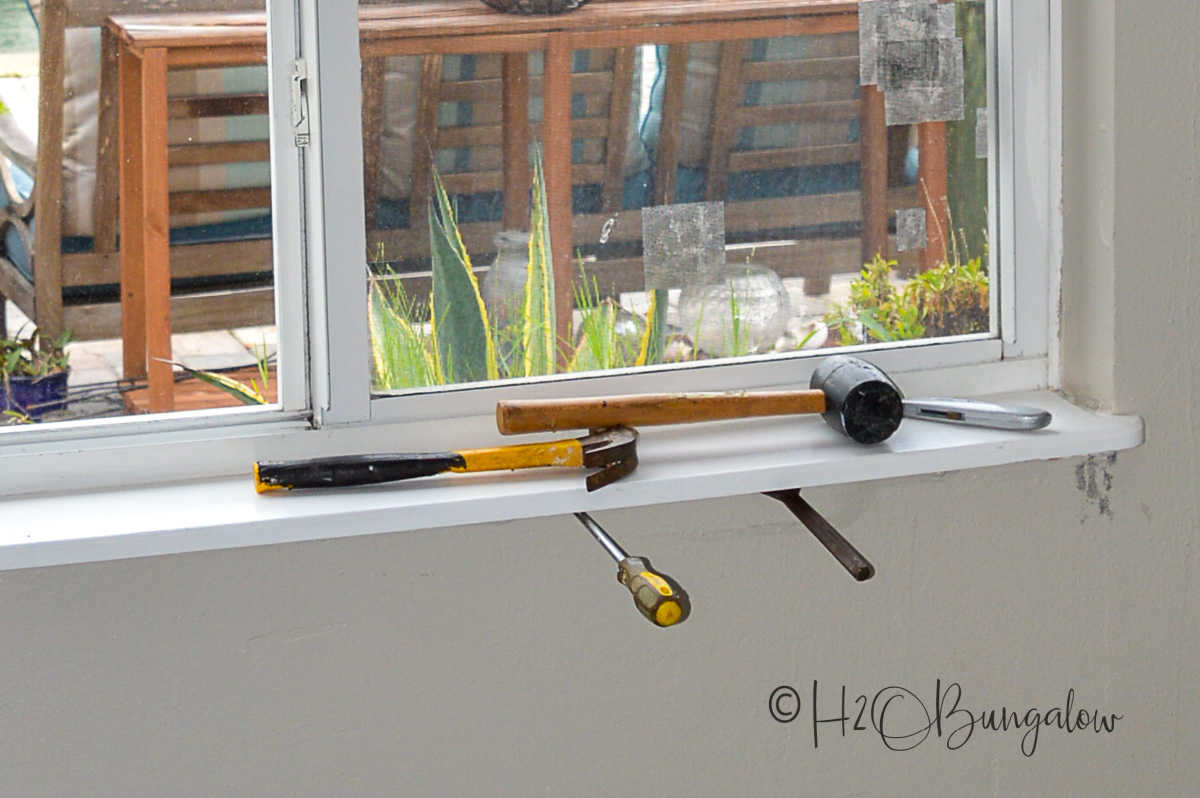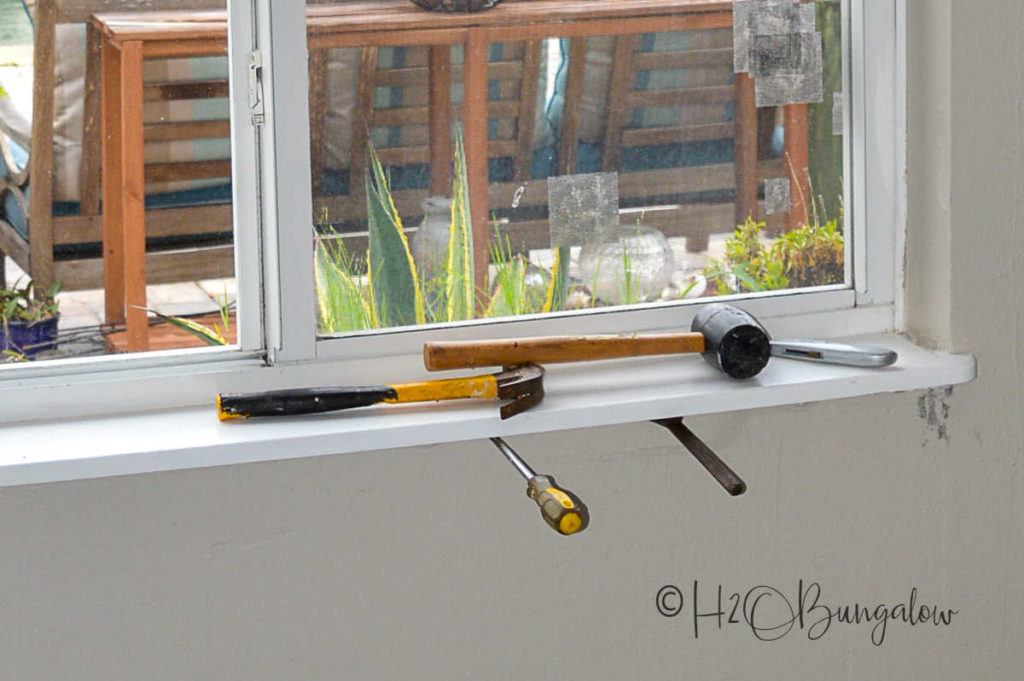 Step 2. Measure the depth and width of each window.
If you're working on several windows, it helps to make a list or diagram of each one. Check for items that will limit the choices of adding an apron or affect the size of your window sill like wall or tile trim that is in the way.
Step 3. Cut the window sill length with a miter saw.
What's the best material to make a window sill? Always use the best quality wood, which is select grade. It shouldn't have knots in it and you won't need to do much sanding. Always check that it is not bowed or warped when picking out your lumber.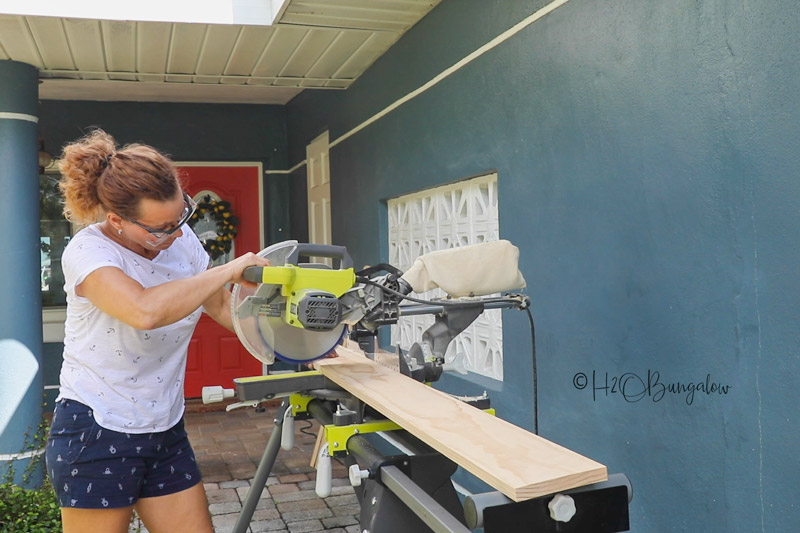 A miter saw gives the best and cleanest cut but you can also have your local big box store cut each board to lengths you'll need.
Choose the best side of the wood for the front and mark the back of the board so you know which window it was meant for. Marking which window the sill belongs to is a huge help when working on more than one.
Step 4. Cut the window sill ledge with a jigsaw.
Measure and mark the length of the sill that will extend beyond the window. Example: my Craftsman style window sill extends 5" beyond the window frame.
Next, measure and mark the depth of the window sill, mine is 4 ¾". That leaves a 3/4″ sill overhanging my window frame.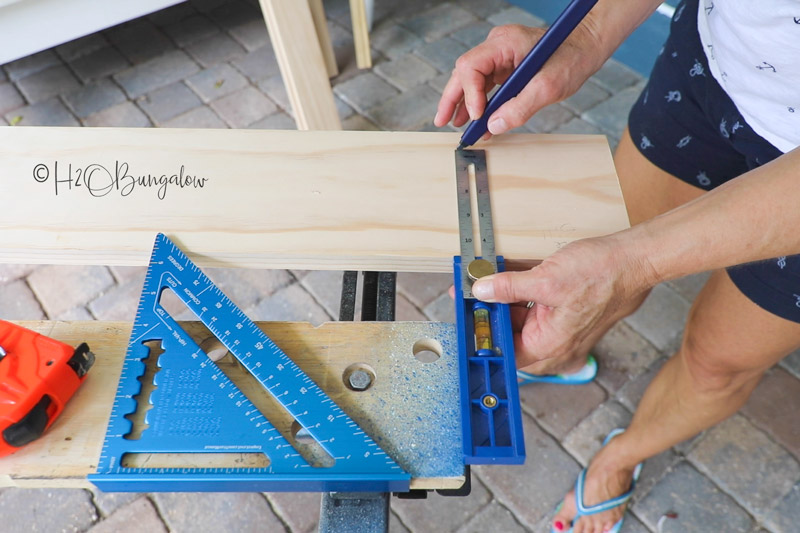 If your DIY window sill will have a square end than you're ready to cut. If it will have a rounded sides, then mark the rounded edges now. Use a cup or something rounded to trace the shape. It's pretty basic but works great!
Use a high tooth jigsaw blade for fine cuts to cut out each side.
See how well each windowsill fits in it's window. You may need to clean out more of the sill area to allow the sill to lay flat or you may need to shave off a little on the sill. If you need to trim your wood window sill, be conservative and only take a small amount at a time.
Also, keep in mind windows and walls are often not square, especially in older homes.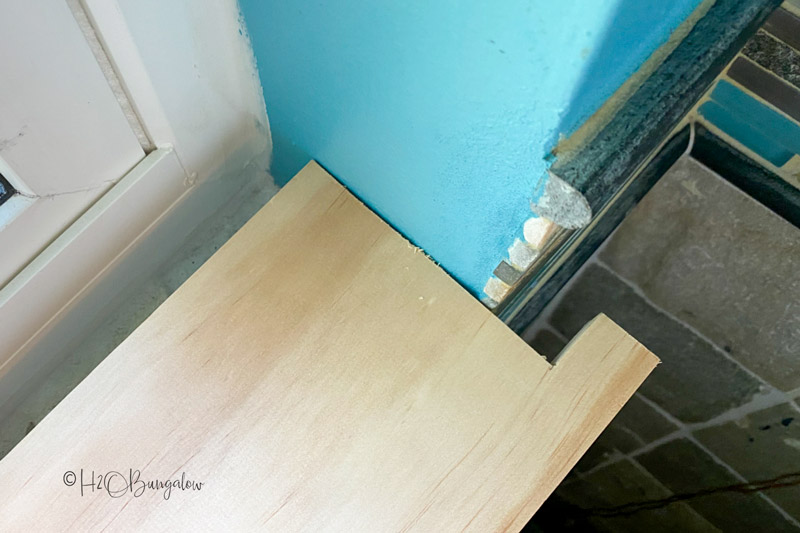 Step 5. Lightly sand any edges or rough ends before painting.
I used my random orbital sander with 220 grit sandpaper. Be sure to wipe everything down before painting to remove sawdust.
Step 6. Spray the paint when possible.
I used my Super Finish Max paint sprayer because I wanted a perfect finish without brush strokes. I also wanted to save time painting. Especially since it's been about 100° outside here in FL!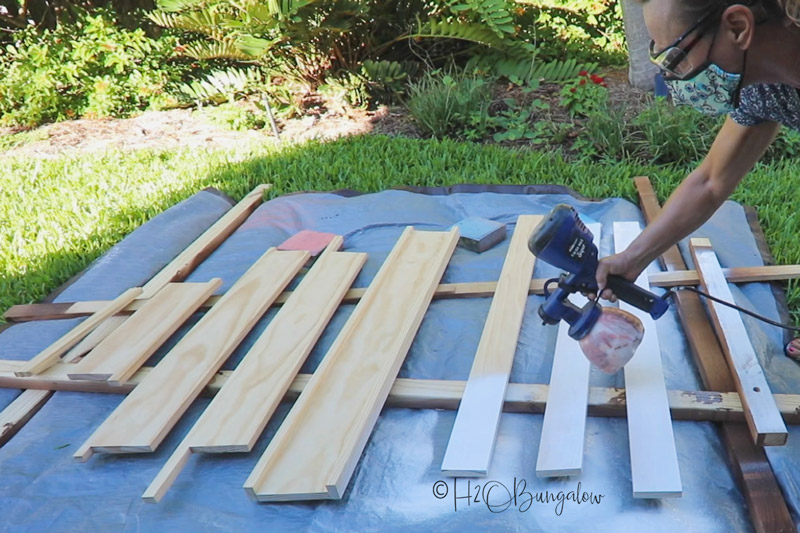 Below are my favorite tips for using a Super Finish Max paint sprayer. You'll see how I painted and get more tips in my video.
Learn more about HomeRight's family of products and the Super Finish Max on their Website.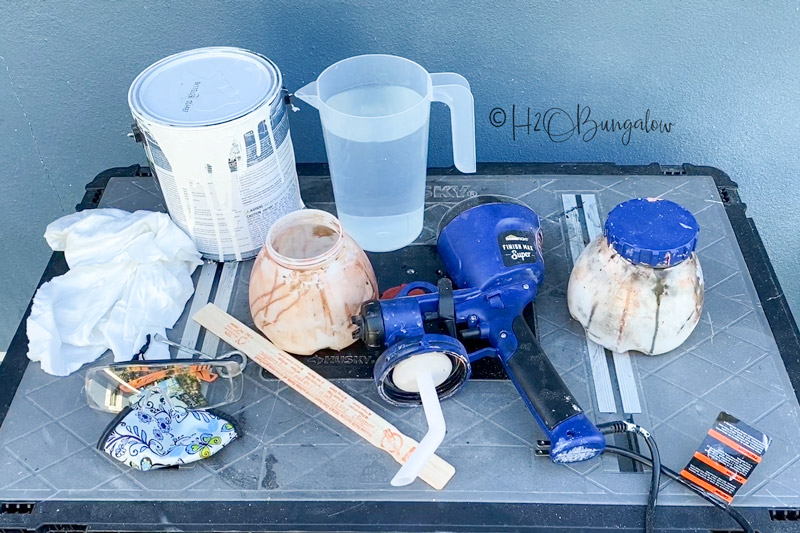 Elevate the window sills on boards over a drop cloth in a well ventilated area. I used small blocks of wood under my sills so the edges wouldn't pool paint and wreck the finish.
Always do a test spray before painting.
Paint with slow back and forth movement using your arms instead of your wrists to move the paint sprayer.
Run clear water through the Super Finish Max to rinse and set it aside while you wait for the first coat to dry.
Once the first coat is dry to the touch, put the paint container back on, run a test spray to clear out the water and apply a second coat of paint.
Step 7. Install the sill into the window ledge.
Apply construction adhesive to the window sill and place the sill in position. I added shims to the chipped off areas of my window frame for more surface and support but you shouldn't need this. Unless, of course, you have chipped tile sills like mine…haha.
Place the sill in the window making sure it lays flat. You can add a few brad nails if your widow is framed in wood. Ours is block and concrete so the construction adhesive is all I needed.
If you're adding a window apron add that now. You can see my Simple DIY Craftsman Window Trim project to see how I made and added craftsman aprons and framed my windows.
Step 8. Fill nail holes with wood filler, caulk the rest.
Use wood filler in the nail holes if you've added trim or used nails. Use painters caulk around the sill edges and underneath.
It's that easy. Here are the three styles of easy window sills I made.
Do you remember what my office liked before?
I'm going to go out on a limb and say this is a big improvement!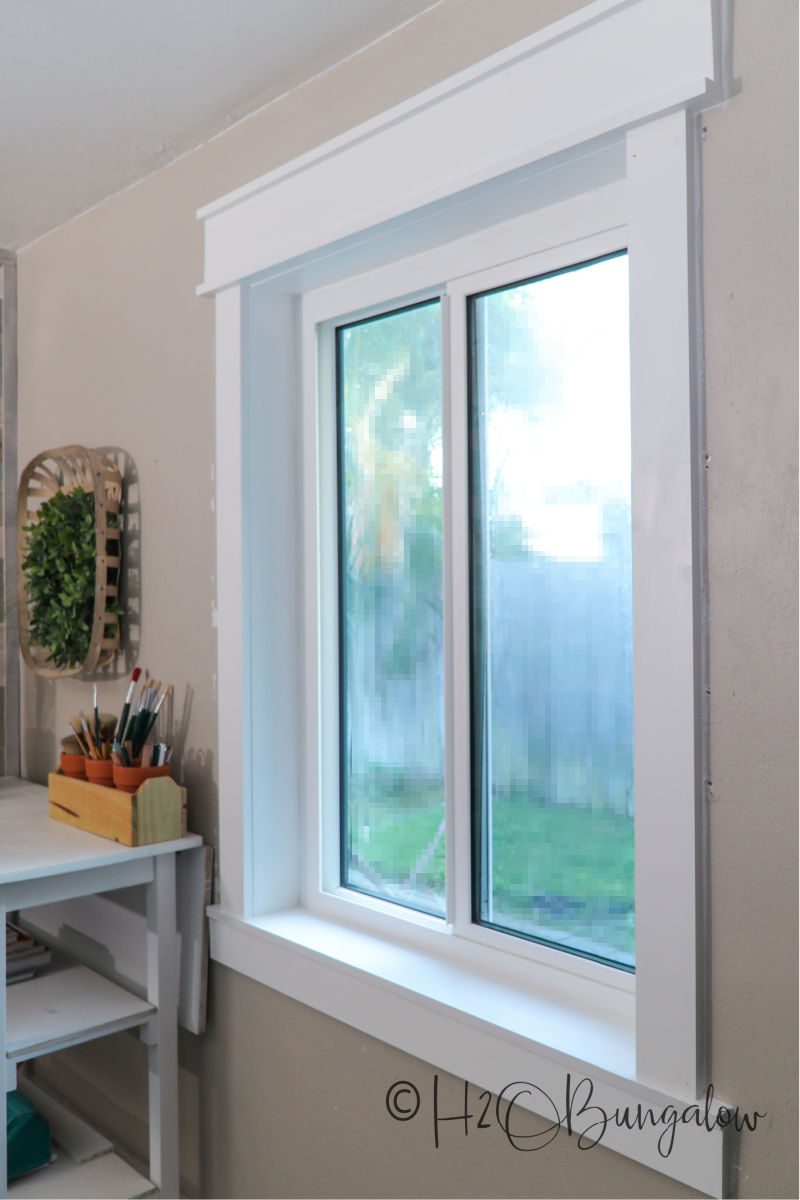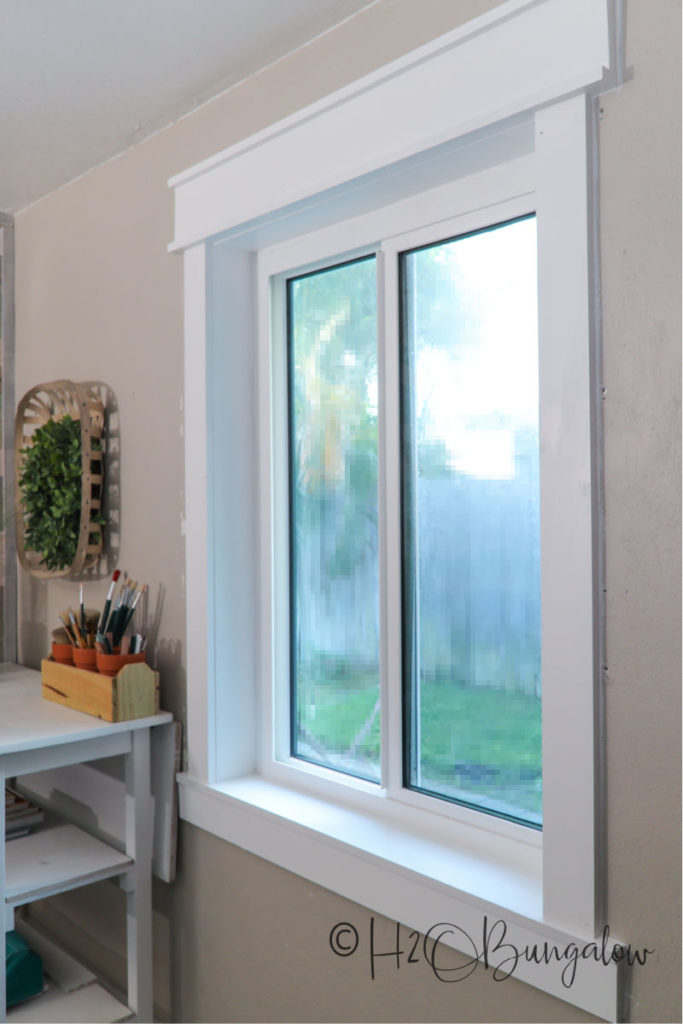 This is the Craftsman window ledge and trim.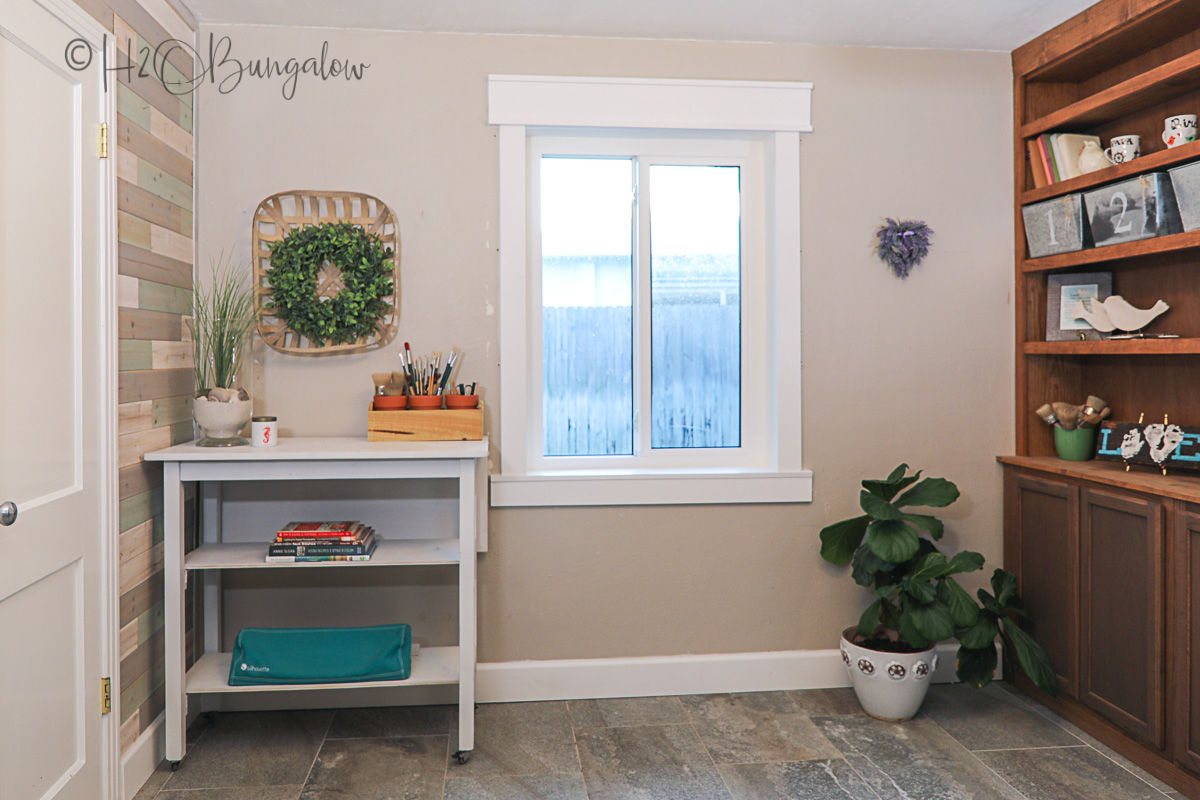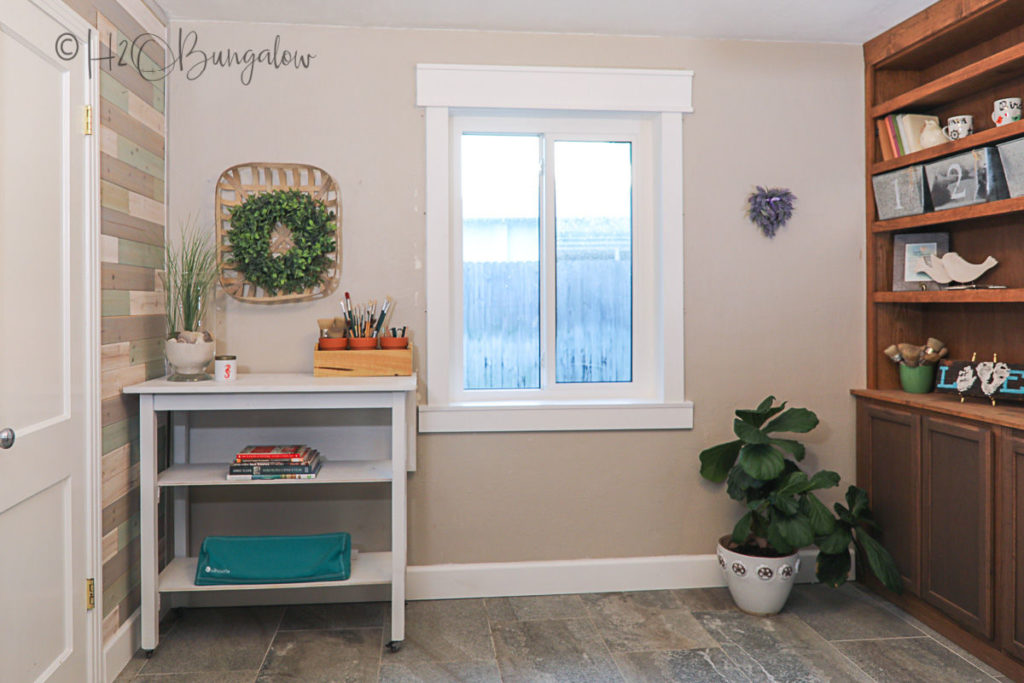 Pin this now and share with your friends on Facebook!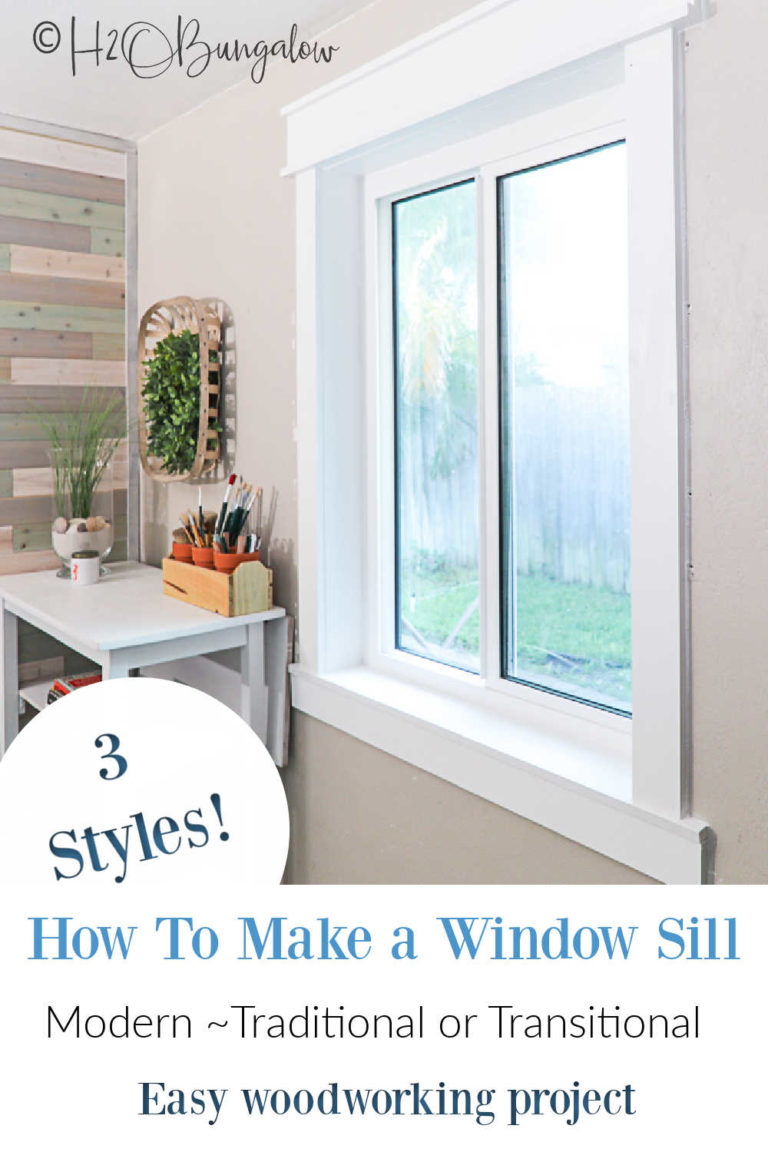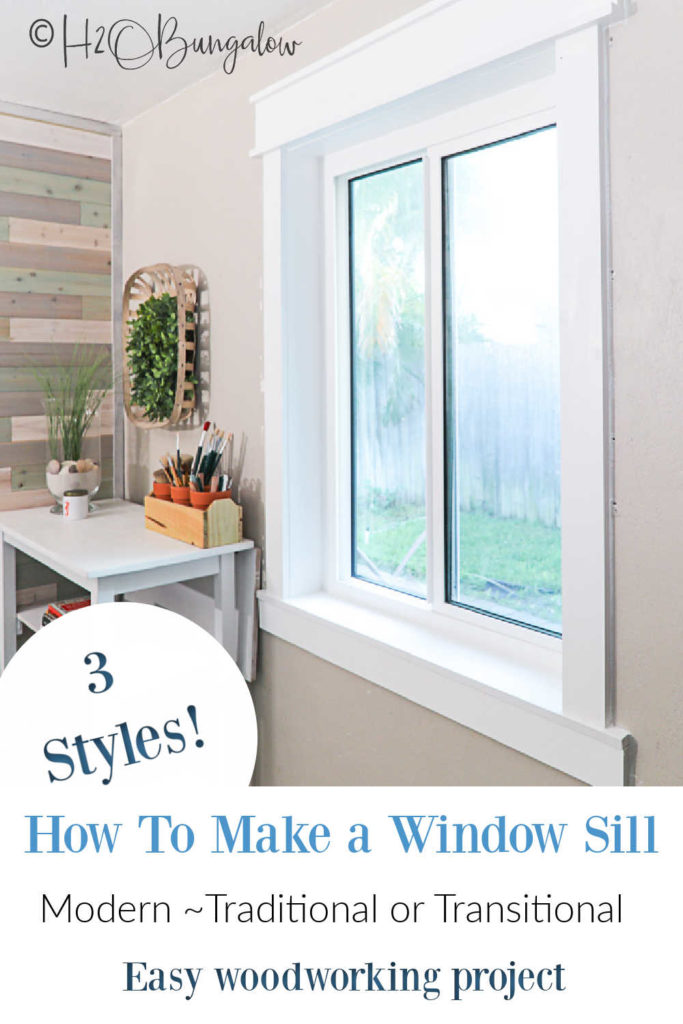 Here's the other two styles of window sills I made. The first is a simple apron under the ledge. It worked great with the tile trim. Normally, it would be as wide as the window ledge but the tile trim stuck out so I had to nestle it into the space available.
In retrospect, I think I should have cut the sill ledge a little shorter.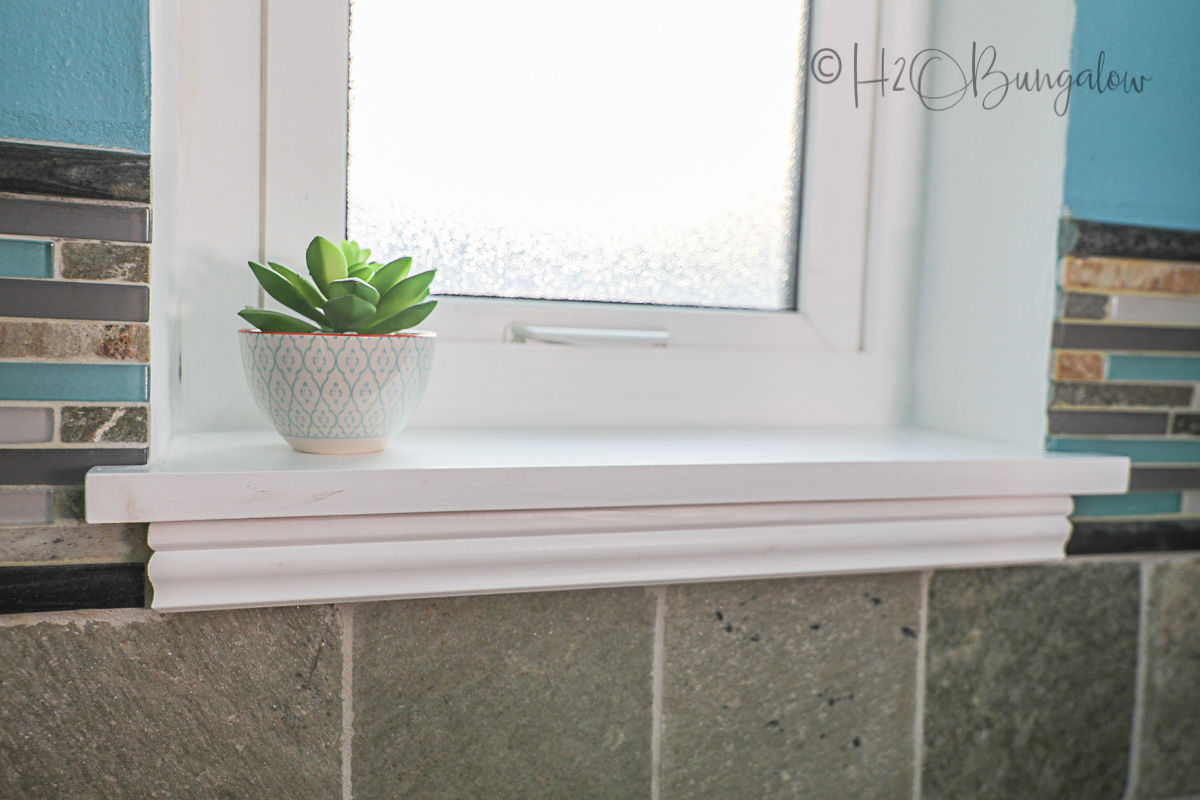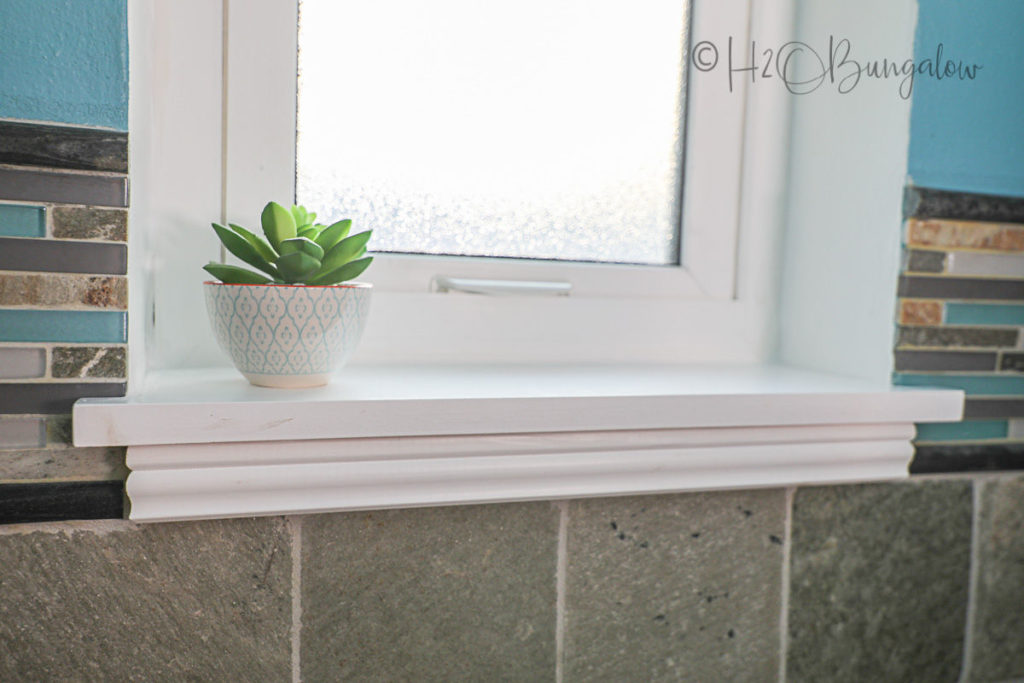 I think it turned out well though. and much better than what was there, which was nothing but loose tile.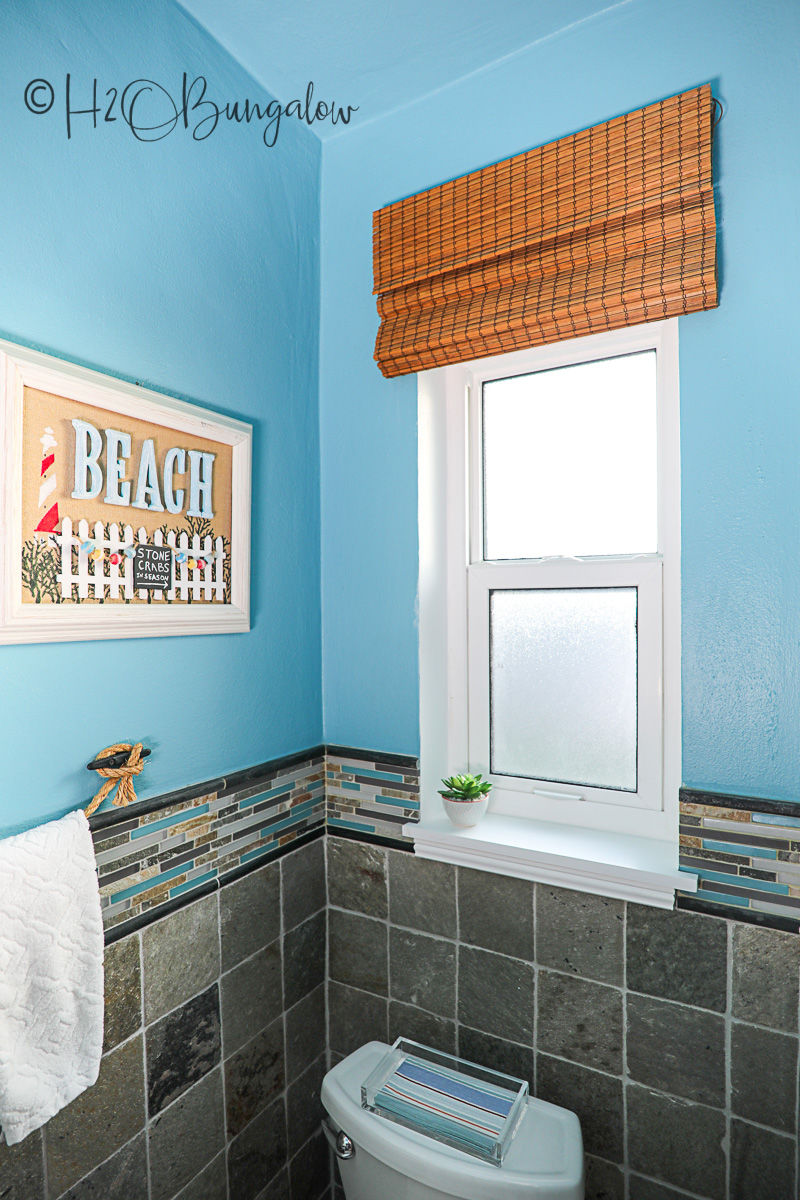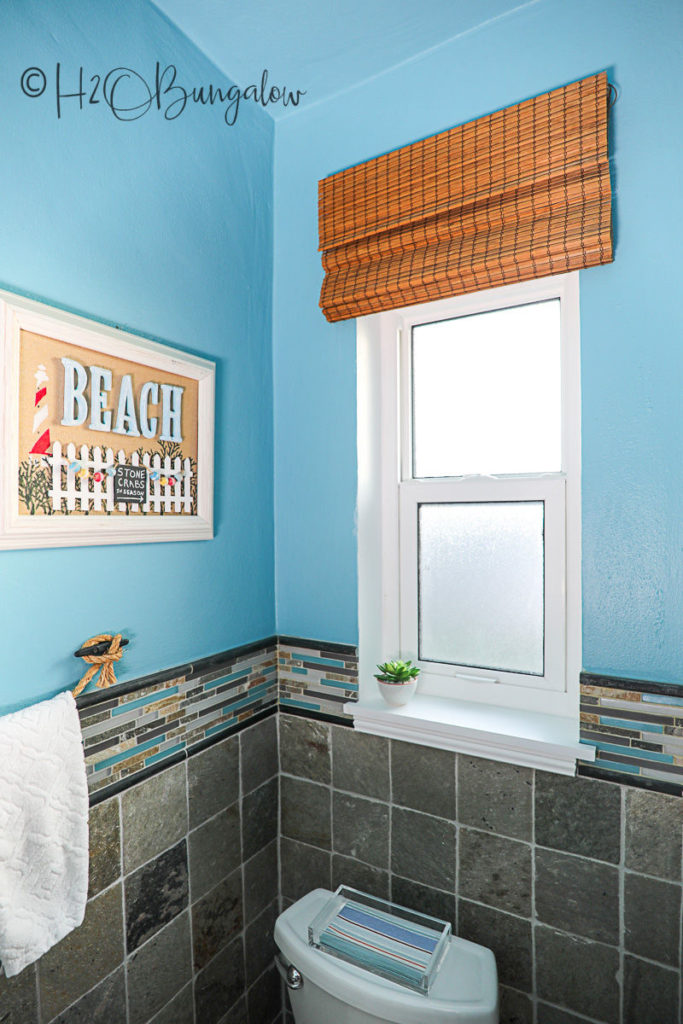 The other homemade window ledge I built has no apron at all. The bathroom has tile all around the wall and the way it sits, I thought it would look better just plain.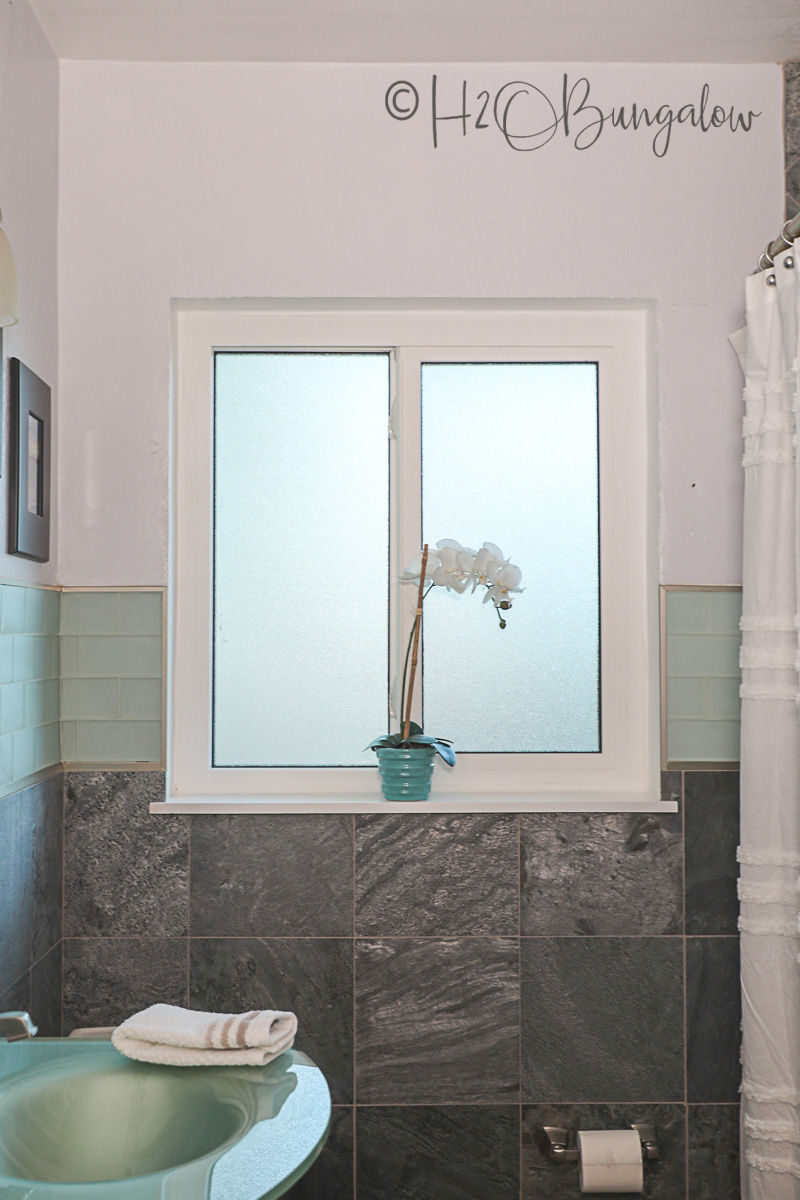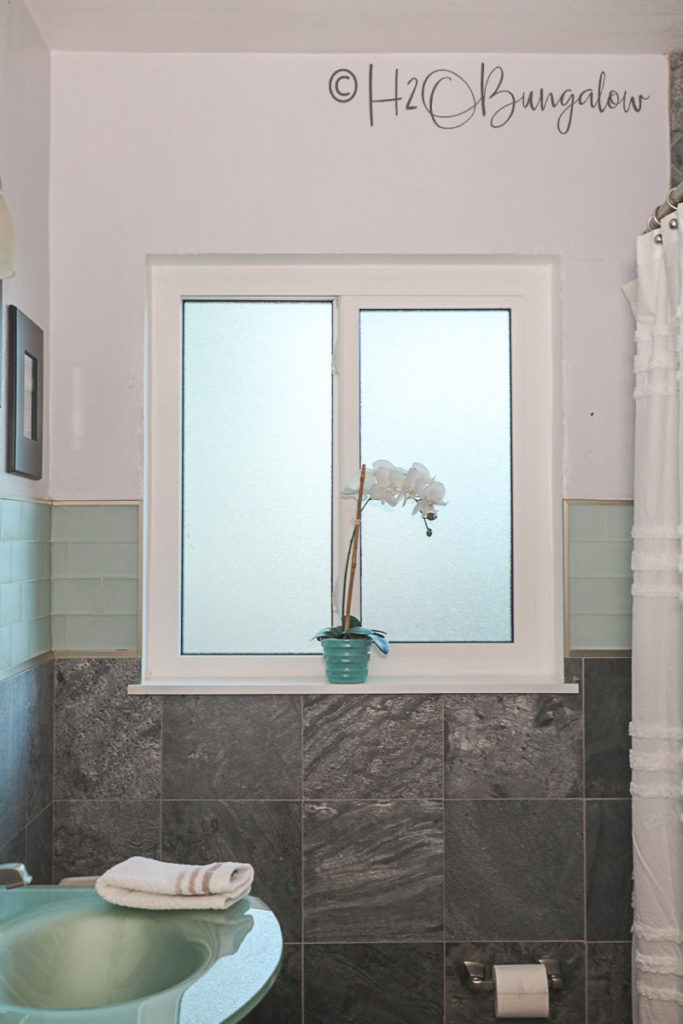 OK, so now that I've shown you how to make a window sill are you ready to tackle your own?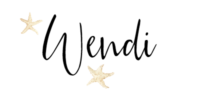 You may also like these projects I've done!
Rustic Modern DIY Picture Ledge
Why not add a DIY Window Box to the outside?