Today I'm going to share with you how to install simple DIY Craftsman style window trim in your home. This is an easy home improvement project for anyone who can cut a straight line and has a basic understanding of woodworking and it was one of my top posts of 2018. Seriously friends, if you can cut a straight line, you can easily make your own craftsman style window trim! I can't get over how much of a difference adding interior window casings made to my home. My windows are prettier, and reflect much more light too!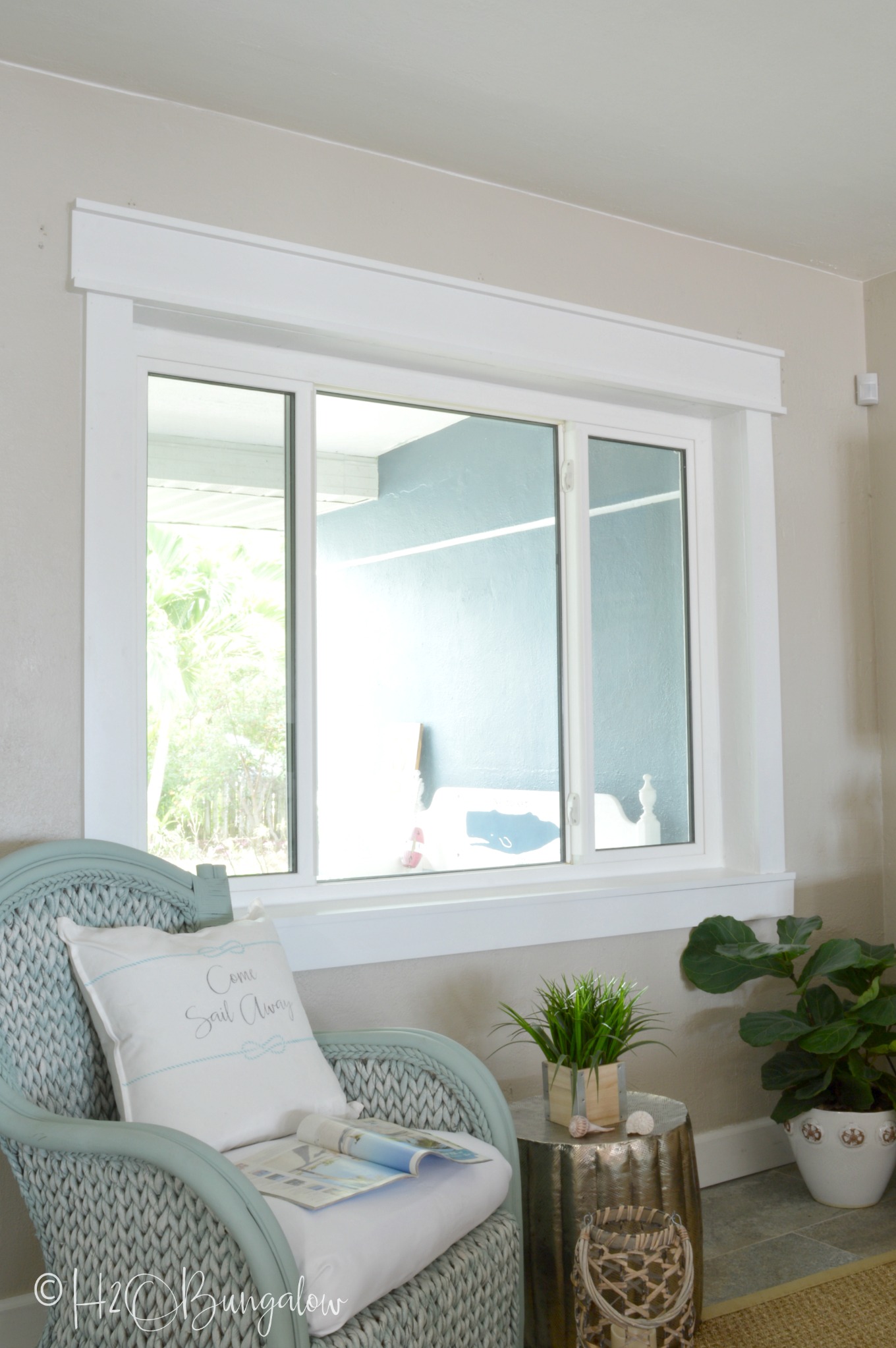 This post is sponsored by Finished Elegance. All opinions and project ideas are my own. You can read my full disclosure policy here. Thanks for supporting the brands that help to maintain H2OBungalow.
To make my DIY craftsman style window trim project even easier, I used Finished Elegance by Woodgrain Millwork. It comes prefinished which means no painting guys! That's a huge time saver! All I did was install my window trim, do a little caulking, and put away my tools. That was all. This isn't a hard project and except for two steps where I needed an extra set of hands, I was able to do it all myself in two days.
How to Install DIY Craftsman Style Window Trim
This is a list of the supplies needed to make DIY craftsman style window trim like mine.
Below you'll find the Finished Elegance board sizes I used for this project. You can find all of these in the trim department at Home Depot. The matching caulk is located there as well.
Finished Elegance prefinished trim comes in several lengths, I used the 8′ length for my DIY craftsman style window trim project.

1″ x 6″ x 8′ window sill
1″ x 4″ x 8′ window sill bottom trim
1″ x 4″ x 8′ window side trim
1″ x 6″ x 8′ header
1″ x 2″ x 8′ header trim top and bottom
Additional supplies needed to build craftsman style window casings.
1 quart paint, color matched to Finished Elegance color
Box cutter
Mallet
Chisel and or large wide flathead screwdriver
Miter Saw
Drill
5/32 drill bit
Brad nailer
Safety gear, eye protection and face mask


How Much Wood Do I Buy for Craftsman Style Window Trim?
The window sill, base under the window and window header will all be the width of the window plus 10″. In other words, all of these pieces will extend 5″ beyond the edge of the window on each side.
1″ x 6″ window sill = width of the window plus 10″
1″ x 4″ window sill bottom trim = width of the window plus 10″
1″ x 6″ header = width of the window plus 10″
1″ x 2″ header trim top and bottom = width of the window plus 10″
1″ x 4″ window side trim = measure and cut these last for a precise fit. Measure from the sill ledge up to the header bottom. Measure each window side separately.
When you are figuring out how much moulding to buy for interior window trim, always pick up a few extra boards to leave room for errors.
For those of you who are visual, here's a picture of where I used each trim board to make my modern version of craftsman style window trim.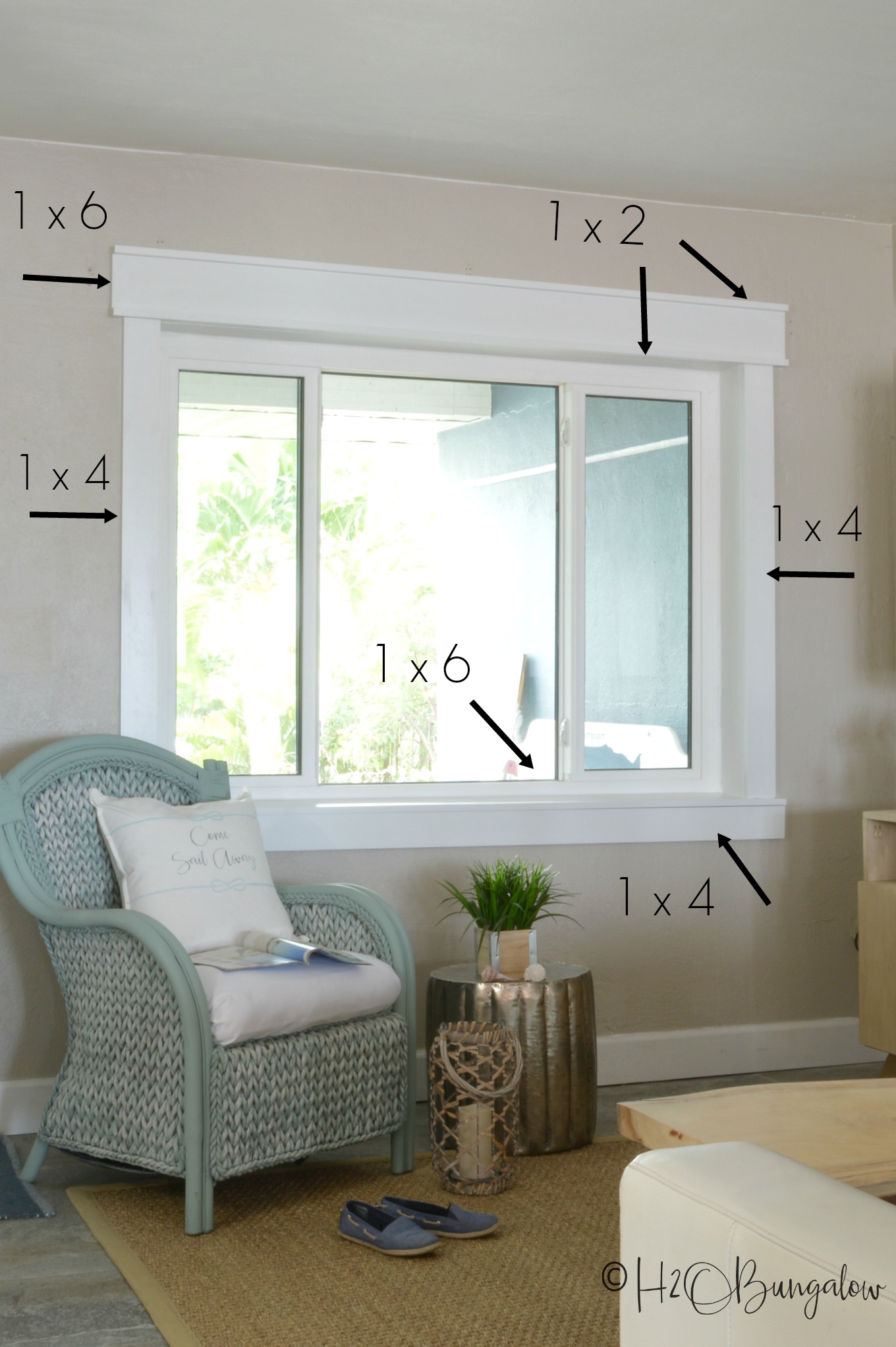 Installing craftsman style window trim in old homes with uneven windows can be challenging. I chose to use craftsman style window trim because it was the easiest to install and the most forgiving on old uneven windows. You'll see I only trimmed the outer portion of our windows. The inner sides of our windows are so uneven that I couldn't have added a layer of wood to trim them. To get around this, I painted the inner sides of my windows the same color as my trim so it looked liked trim. I had Home Depot match the color to a piece of Finished Elegance trim. It was a lot faster too!
Step one – Measure your windows. Measure the top and bottom width as well as your window sill depth. Don't assume your windows are straight or even! This is especially true in old houses 🙂 It was helpful to draw a diagram of each window and list the measurements of the window and the trim lengths I needed to cut. I referred to my cut list diagrams as I worked on the different windows.
Step two – Remove the window sill. Use a boxcutter to break the seal and cut an edge wherever your window sills have been caulked.
Hey friends, I apologize for how dark some of these photos are. It was raining cats and dogs during the entire project and the lighting for photos was awful.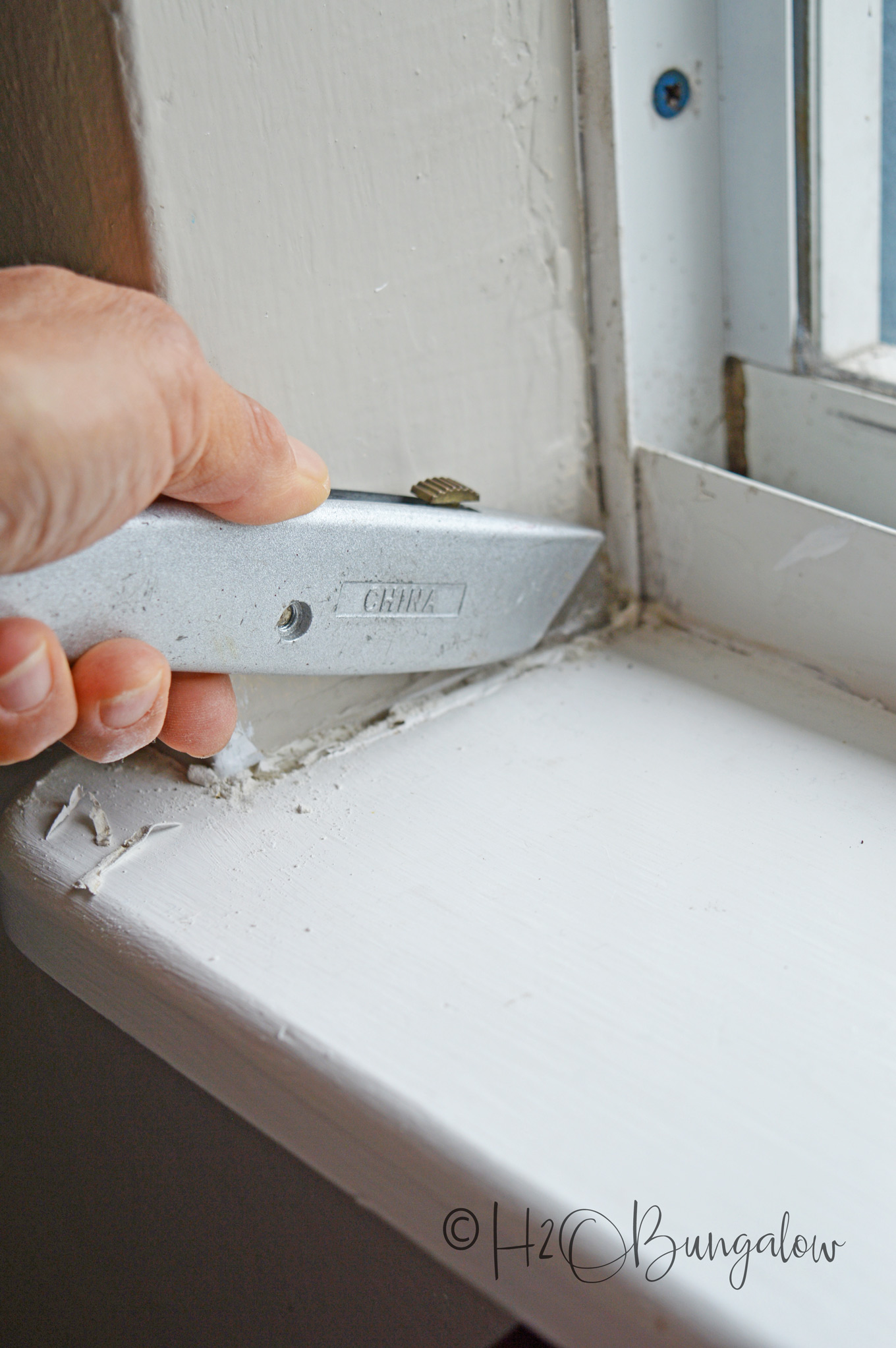 Use a mallet to tap your wood window sill from the bottom up to loosen it. Next, take a few chisels or a large wide flathead screwdriver to pry up the window sill by inserting a chisel under the window sill board. Tap it into the space, insert the next one in the new space you've just opened. Continue until you've removed the window sill.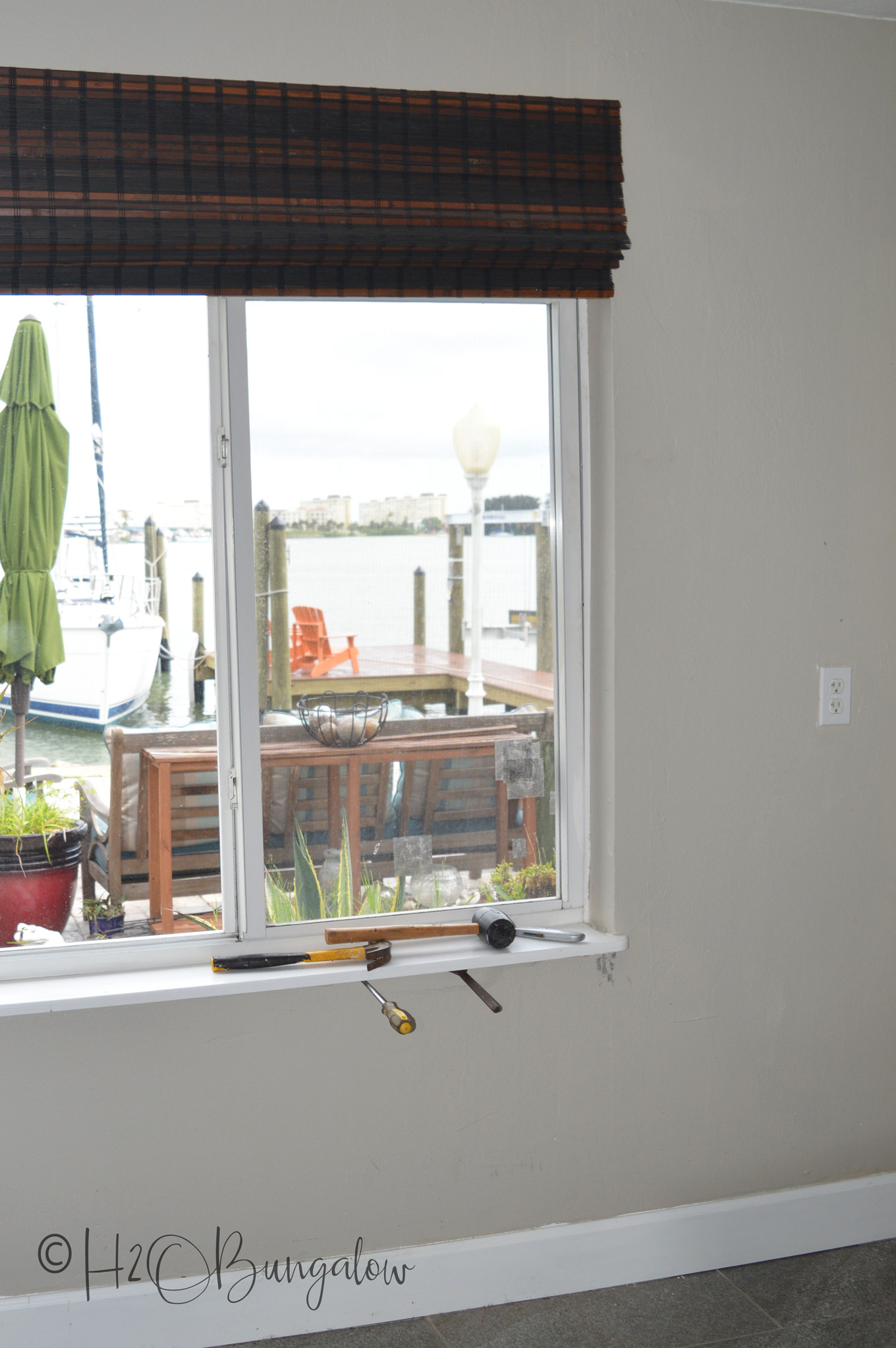 Our home was built in 1953, a few of the original window sills were still intact. That meant I had tile sills! It's easy to add wood window sills over tile. If they are level, just glue them down with Liquid Nails, otherwise chip off enough to level them. Add shims as needed for stability and glue the wood window sill and shims together with Liquid Nails.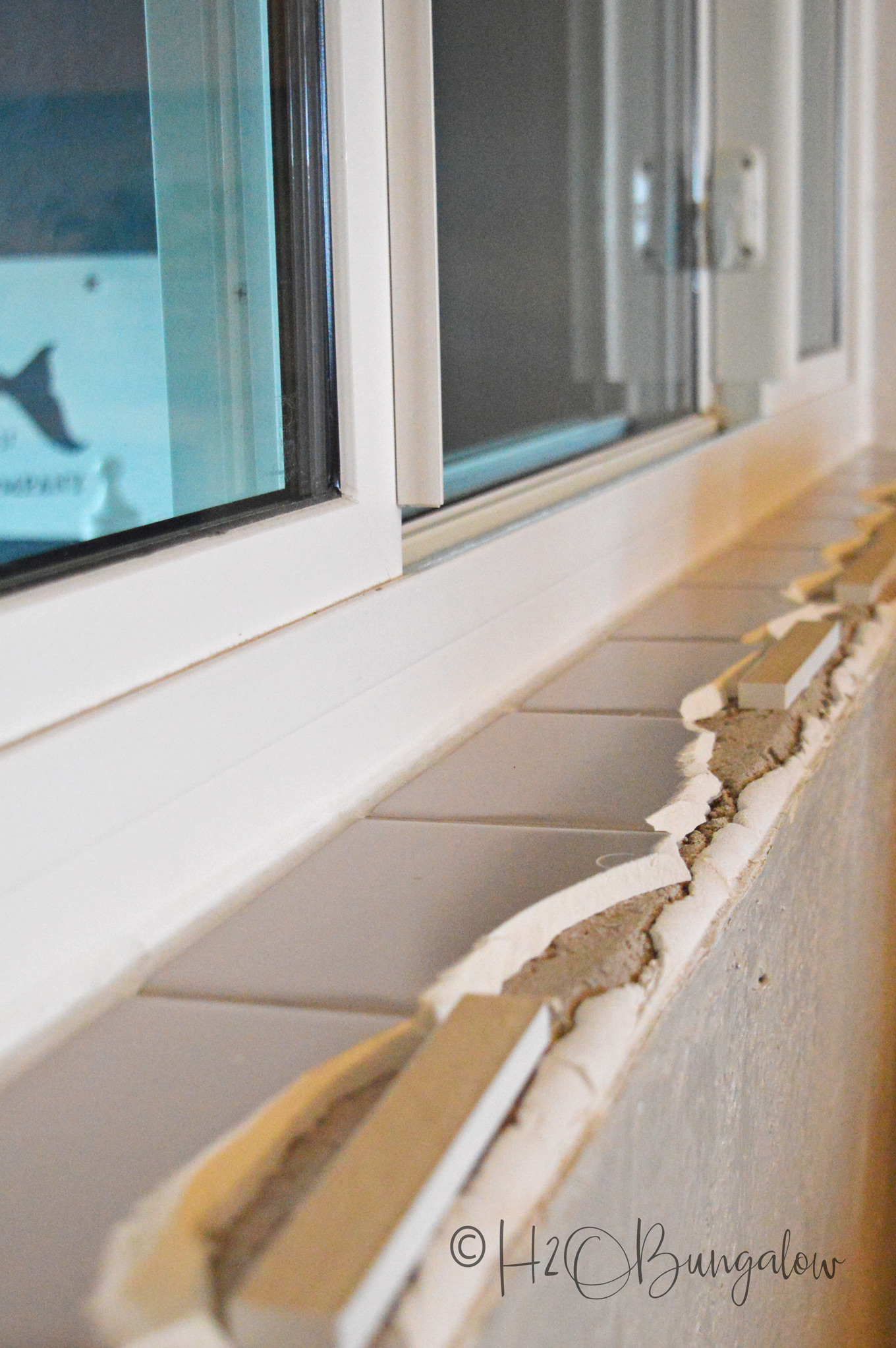 Step Three – Measure and cut your window sill from a 1 x 6″ board. It will be 5 inches wider than the window on each side. In other words, the window width plus 10 inches.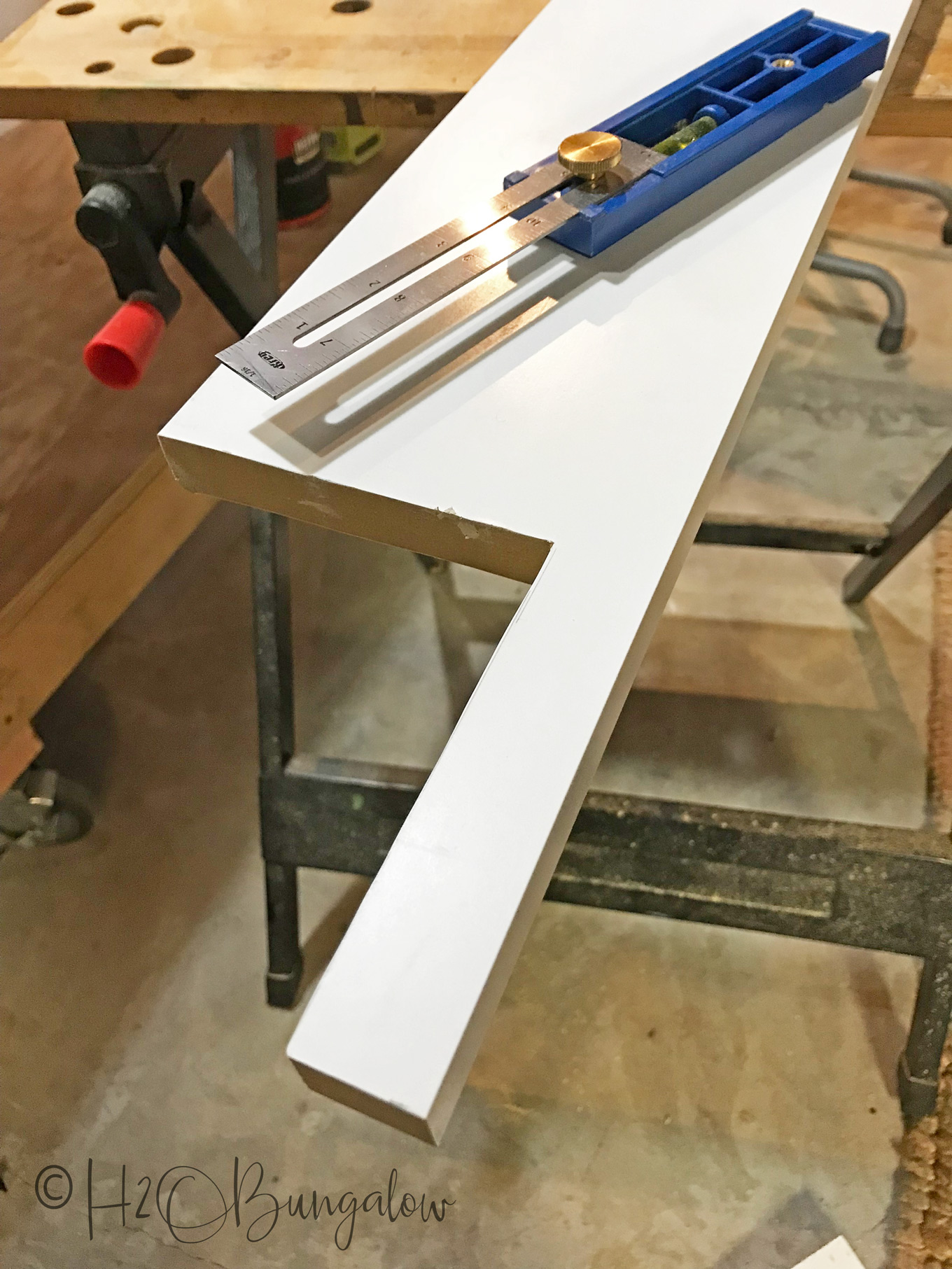 Step Four – Install the craftsman style window sill. When installing window sills, be sure to vacuum out any loose debris before gluing the window sills down with Liquid Nails. I didn't nail my window sills because the side and bottom window trim and Liquid Nails were plenty strong enough to keep them in place.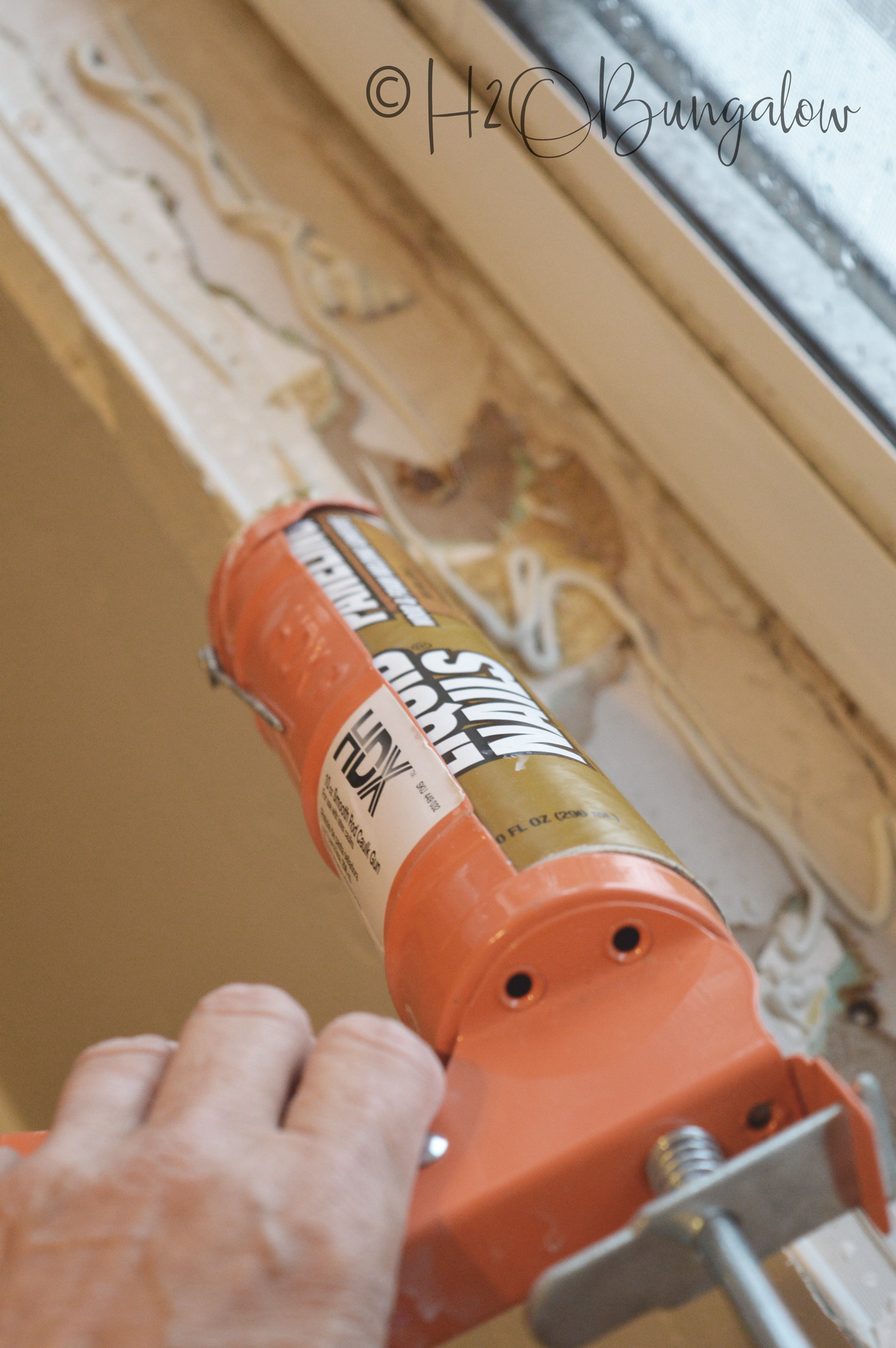 Next, attach the craftsman style sill base underneath the window sill. Both sides should be perfectly flush with the outer edges of the window sill and the top will butt up to the sill ledge.
It's looking better already! See where I painted inside my window surround?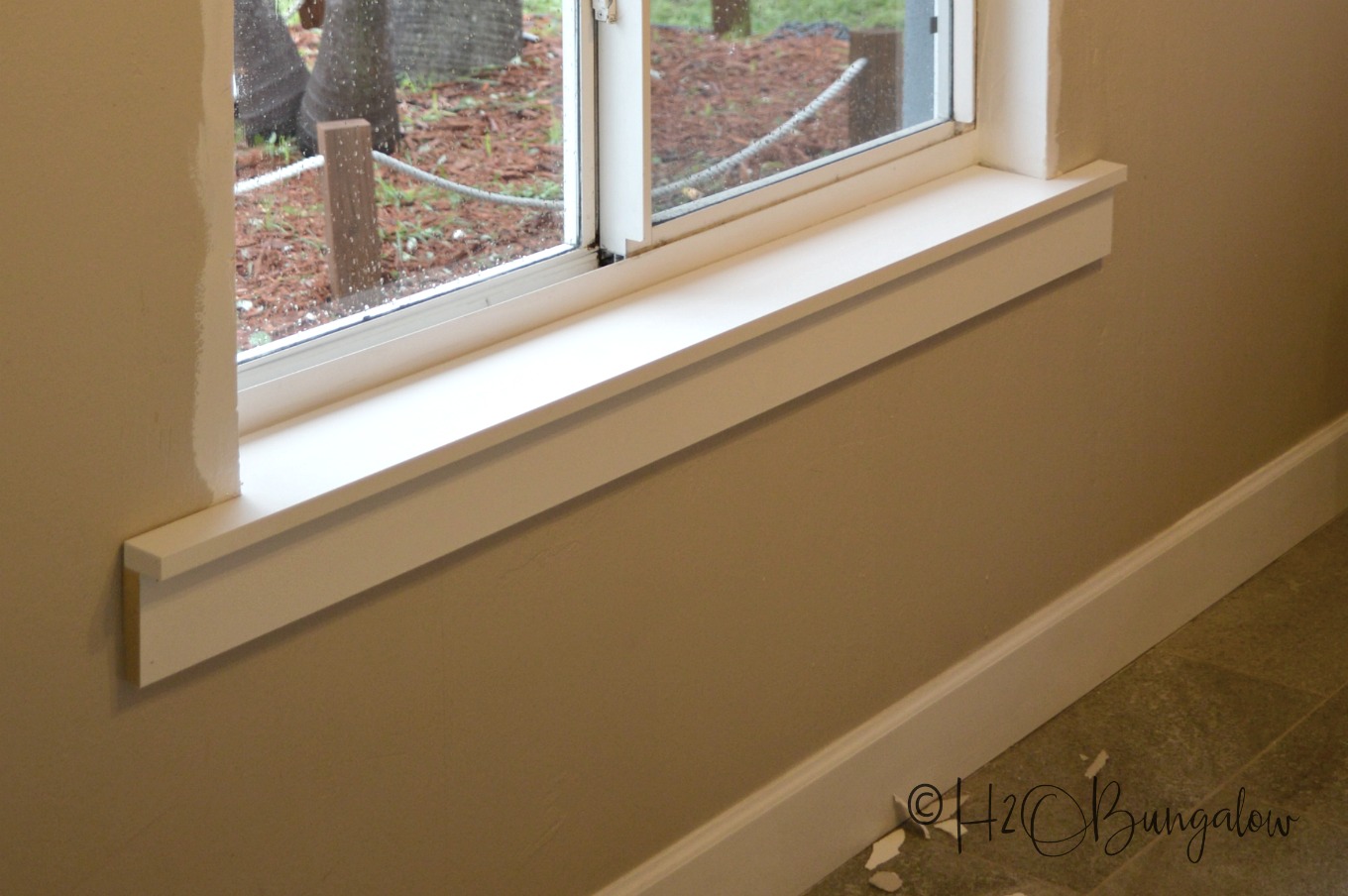 Step Five – Build the window casing header from a 1 x 6 and two, 1 x 2's. Cut the header pieces the same width as the outside measurement of the sill ledges. Assemble it before installing above the window.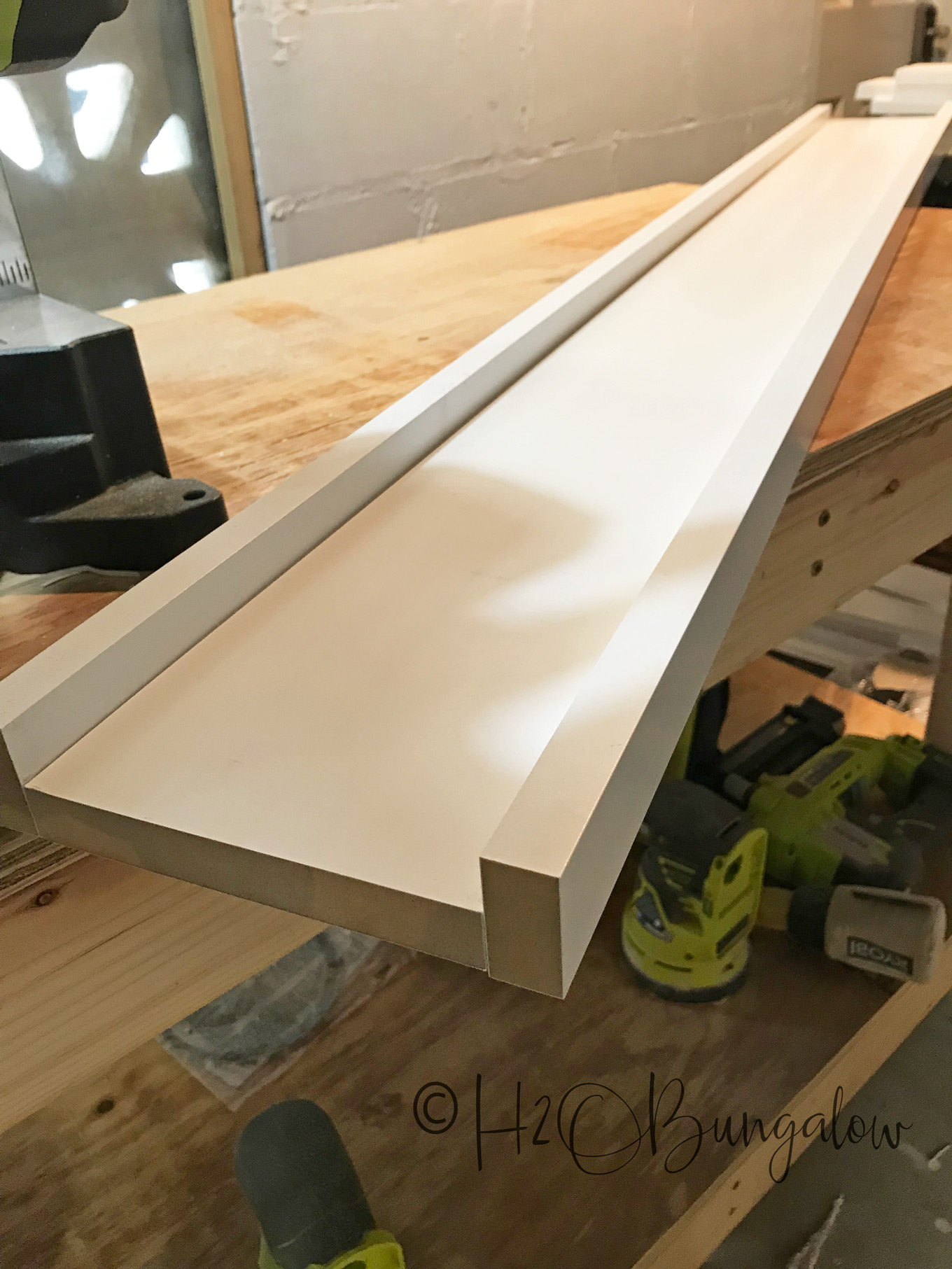 Tip~ If you don't have a second set of hands for this step you can tap a brad nail in one end of the 1″ x 2″ board to attach it to the 1″ x 6″ board while you're working on the pilot holes.
Because the Finished Elegance has such a hard surface (that's a good thing), I used a punch to make pilot hole indentations where I wanted my pilot holes. This made drilling the pilot holes easy. I used a 5/32 drill bit for the pilot holes.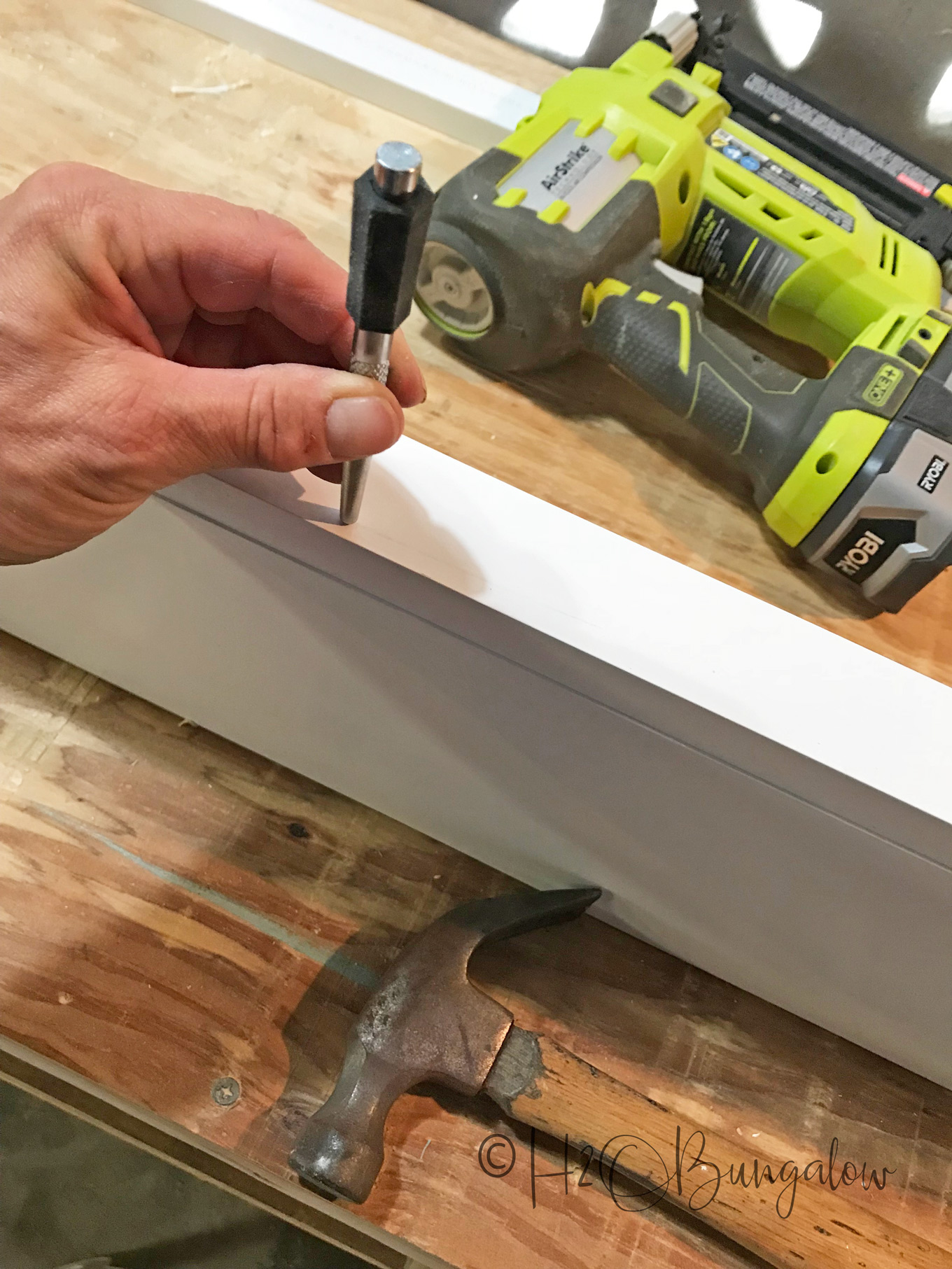 The screws are set about a foot apart. Use wood glue before screwing in the 2 trim screws. One more item I'll mention is to be sure the back, printed sides of the Finished Elegance boards are facing away or up so the writing won't be seen when each piece is installed.
You'll also notice I label my pieces on the back in pencil. That's a huge help when working with lots of pieces!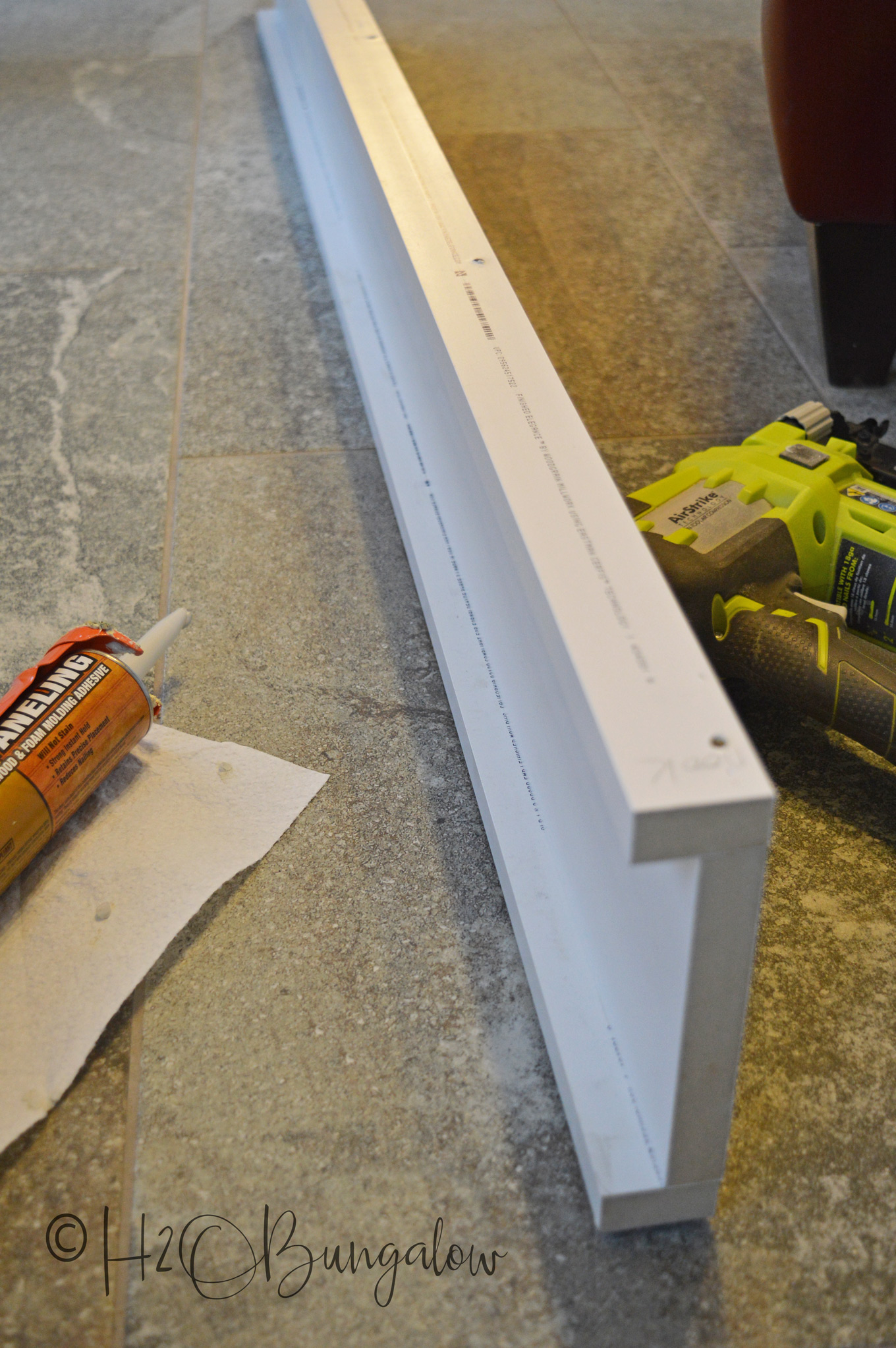 Step Six – Install the craftsman style window casing header. Mark the center of the header and the center of your window at the top. Load the back of the header with Liquid Nails. Use a level and hold in place while someone else attaches it to the wall with the brad nailer.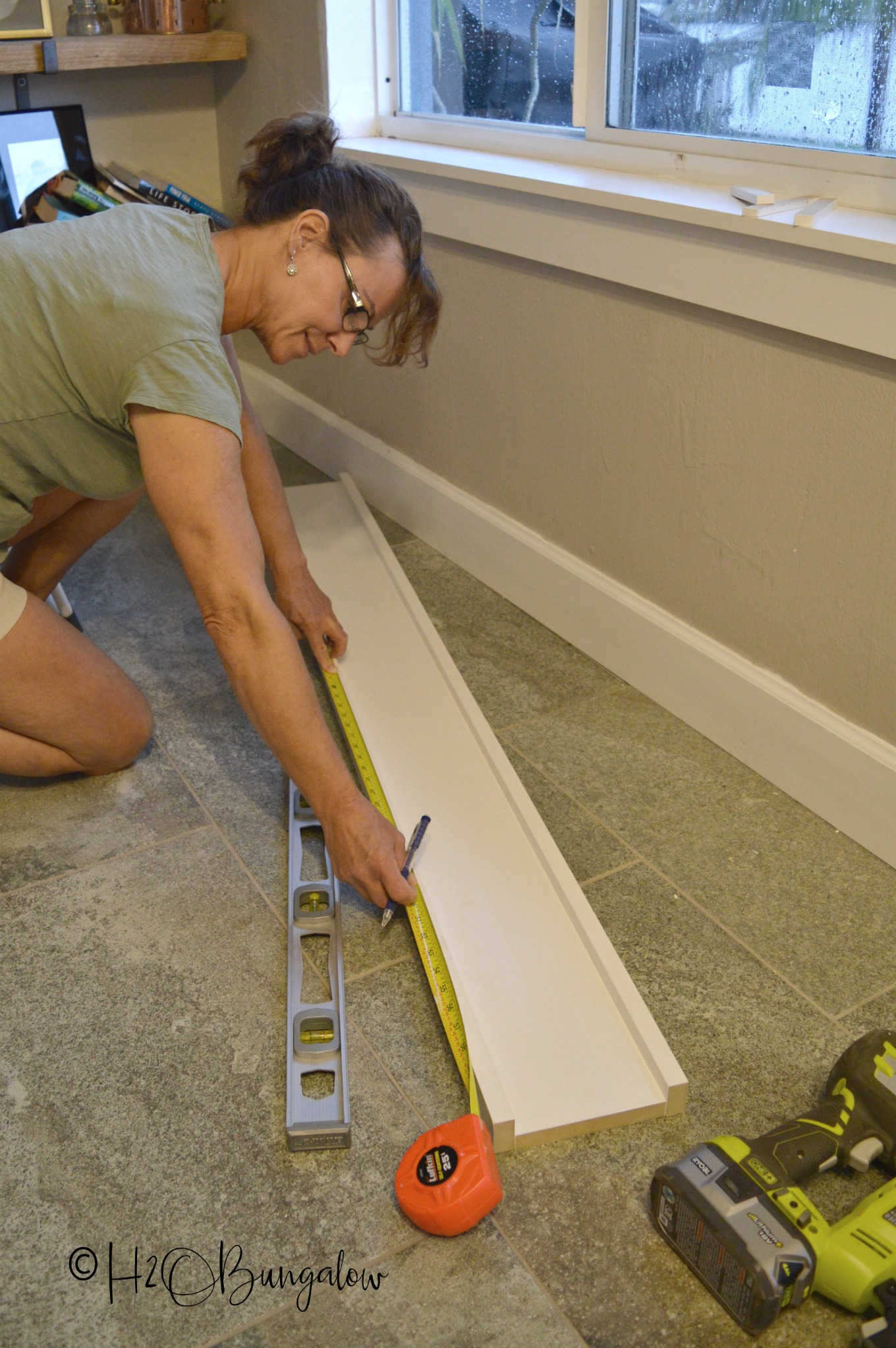 Step Seven – Cut and attach side pieces of window casings. I always wait to measure and cut these kind of pieces after everything else has been installed. Measure each side and make your cuts carefully. It's easier to shave off 1/32 of an inch than it is to run back to the store for another board! Line up the board with the inside edge of the windows.
It's looking pretty good so far!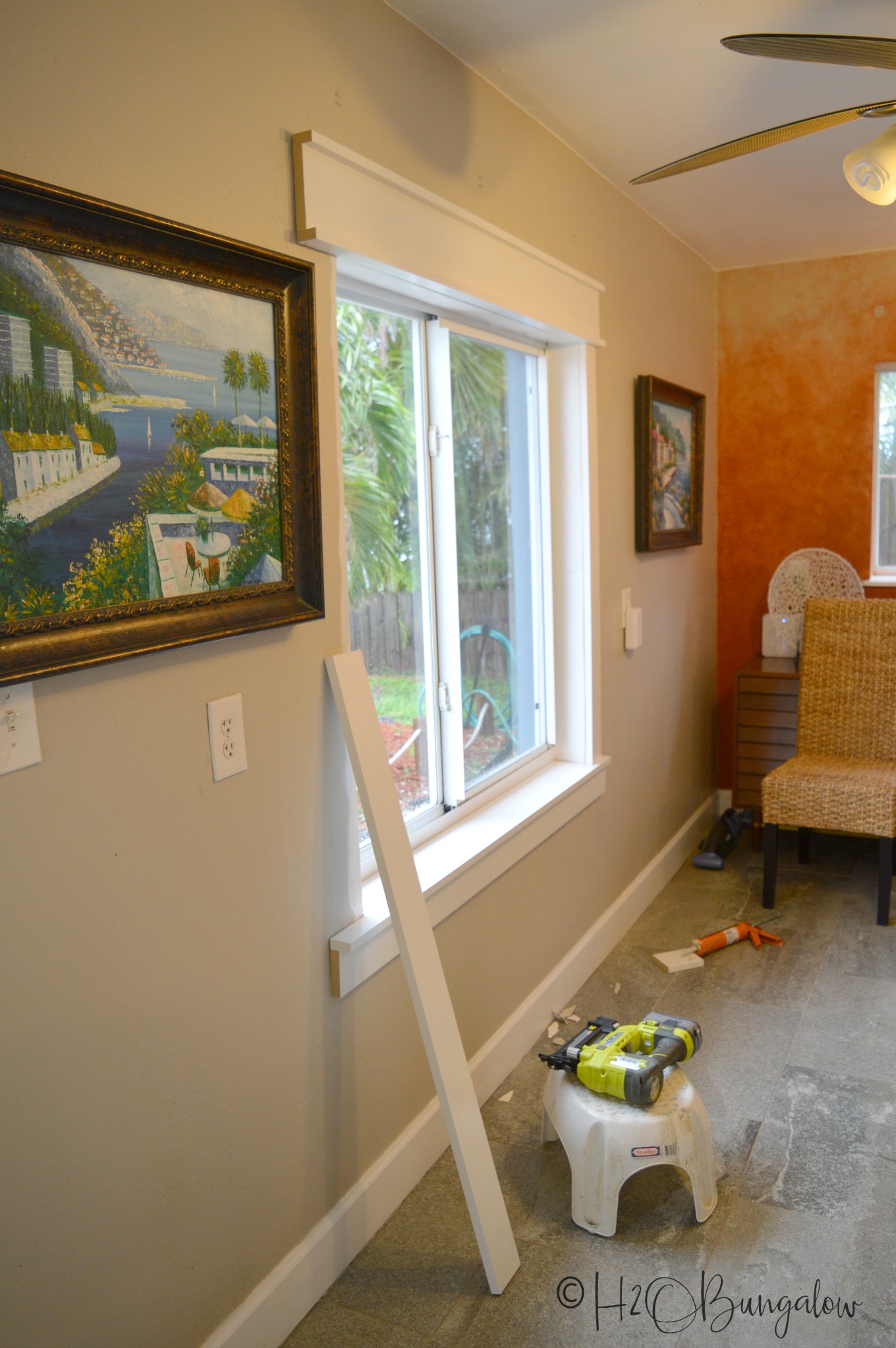 Finishing Craftsman Style Trim Using Finished Elegance
Here's a few tips on finishing your window trim project when working with Finished Elegance.
Shim uneven walls where needed. Yep, our walls are bit uneven too. This wall had a huge bowed section which would only let one side of my window header lay flat. We call it character and I've learned to work with it. I shimmed this spot with scrap pieces of trim, attaching it with Liquid Nails and then brad nails.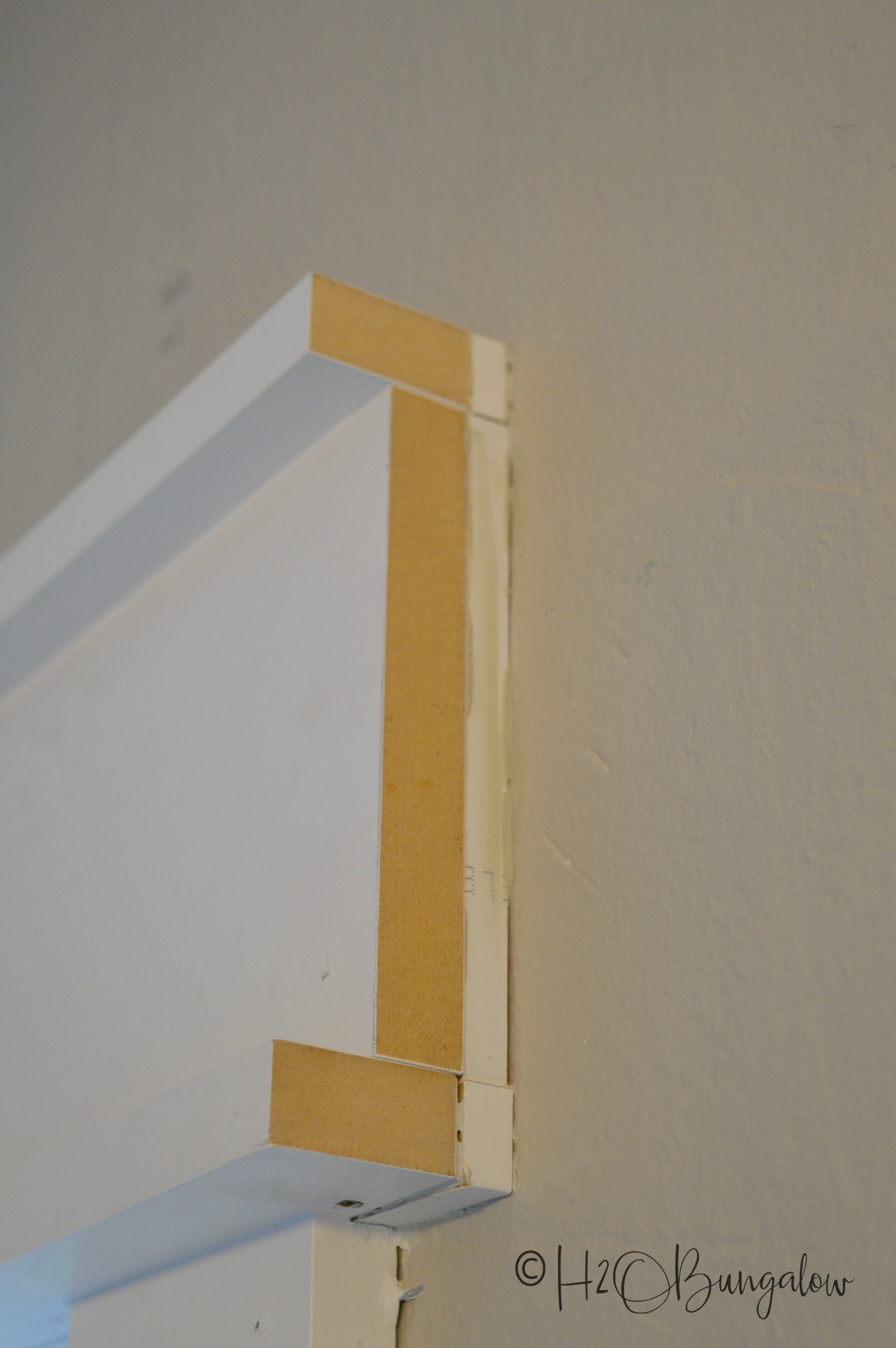 Use backer rod to fill large gaps before caulking.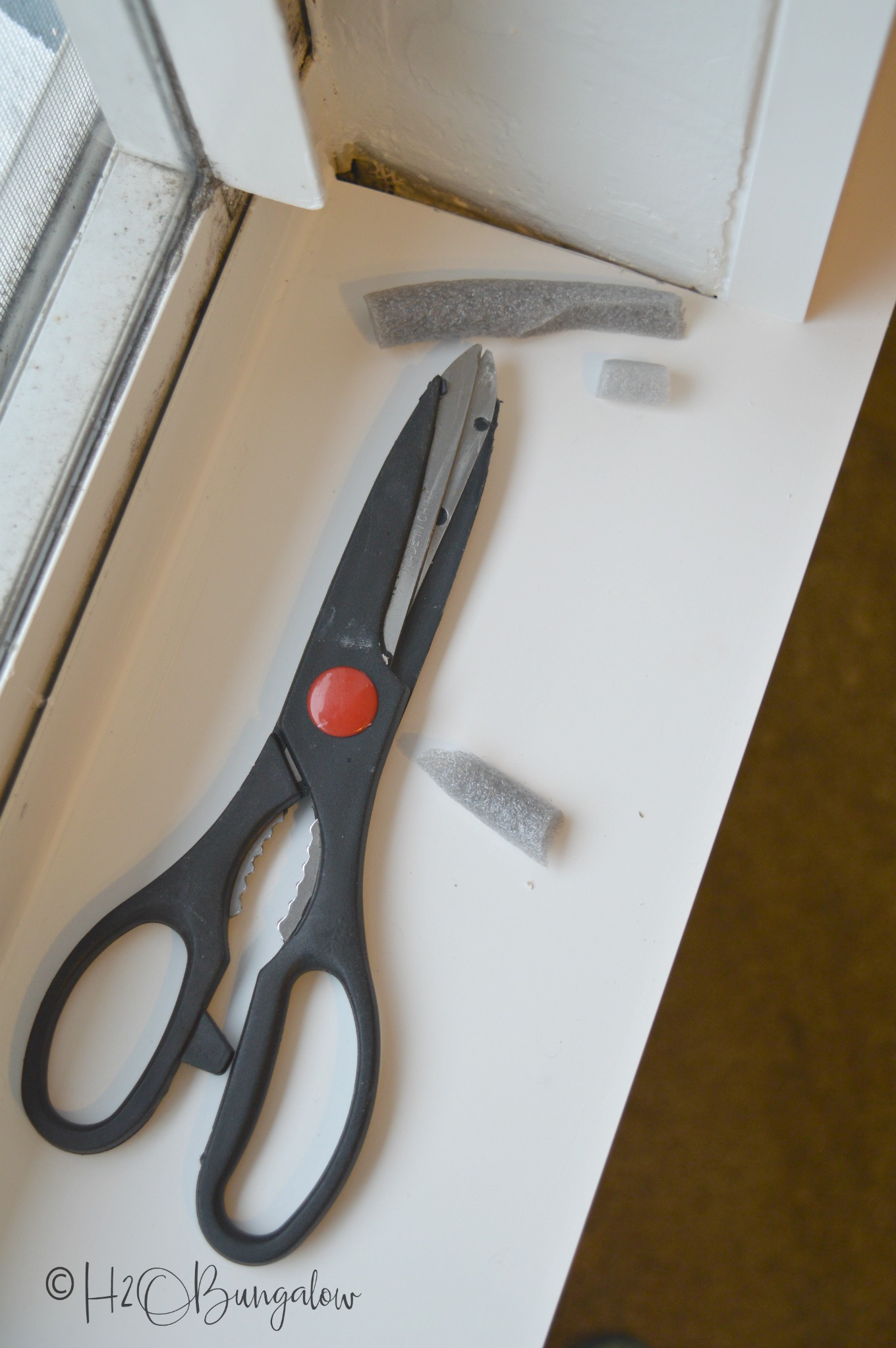 Paint the cut ends of your window trim. I used the same paint as I used on the inside of the windows.
Use the color matched Finished Elegance caulk to fill gaps, nail and screw head holes. Wipe off the excess with a damp cloth. It's a bit wetter than regular caulk and isn't water soluble, so use it carefully. I used regular painter's caulk to caulk the outside edge where the trim meets the walls.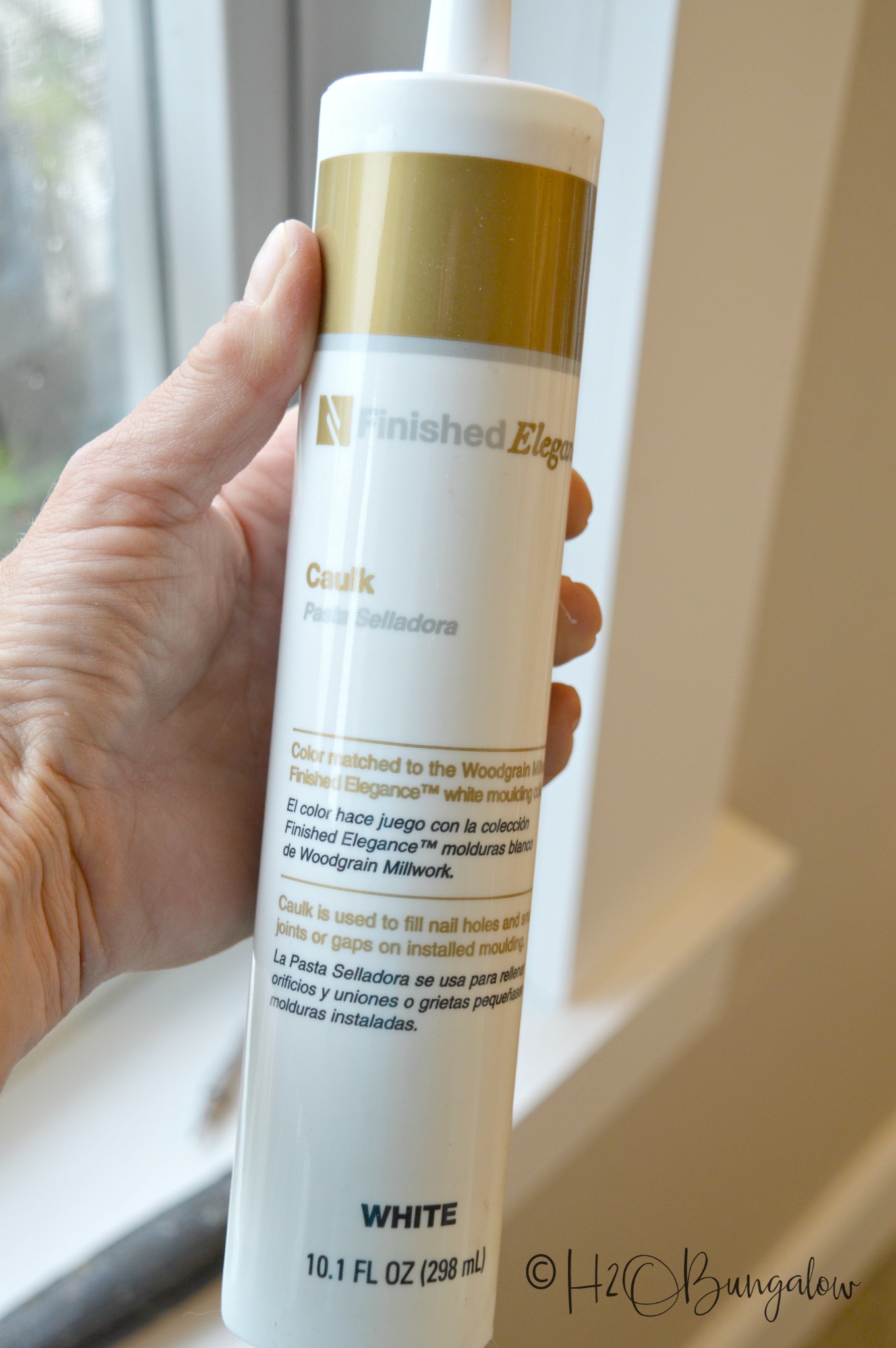 What a difference! I'm loving how much brighter the windows look and especially that they reflect more light. I love my new DIY craftsman style window trim! Besides being the easiest window trim to make, I chose craftsman window trim because it fits beautifully with almost all home decor styles.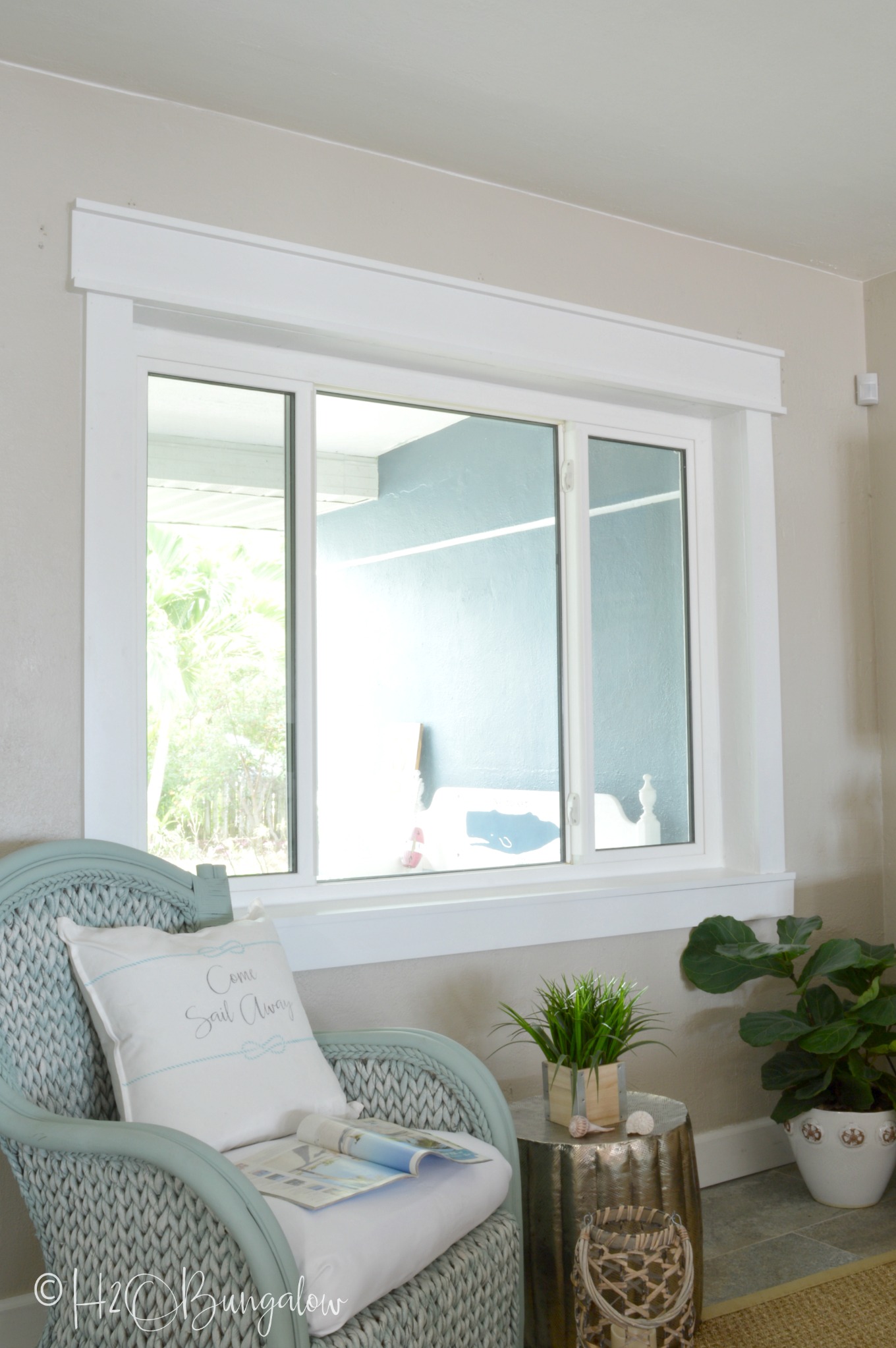 My windows look brighter and larger. DIY Window trim is an easy way to give a room an instant upgrade. Using the Finished Elegance prefinished trim boards made this project a breeze!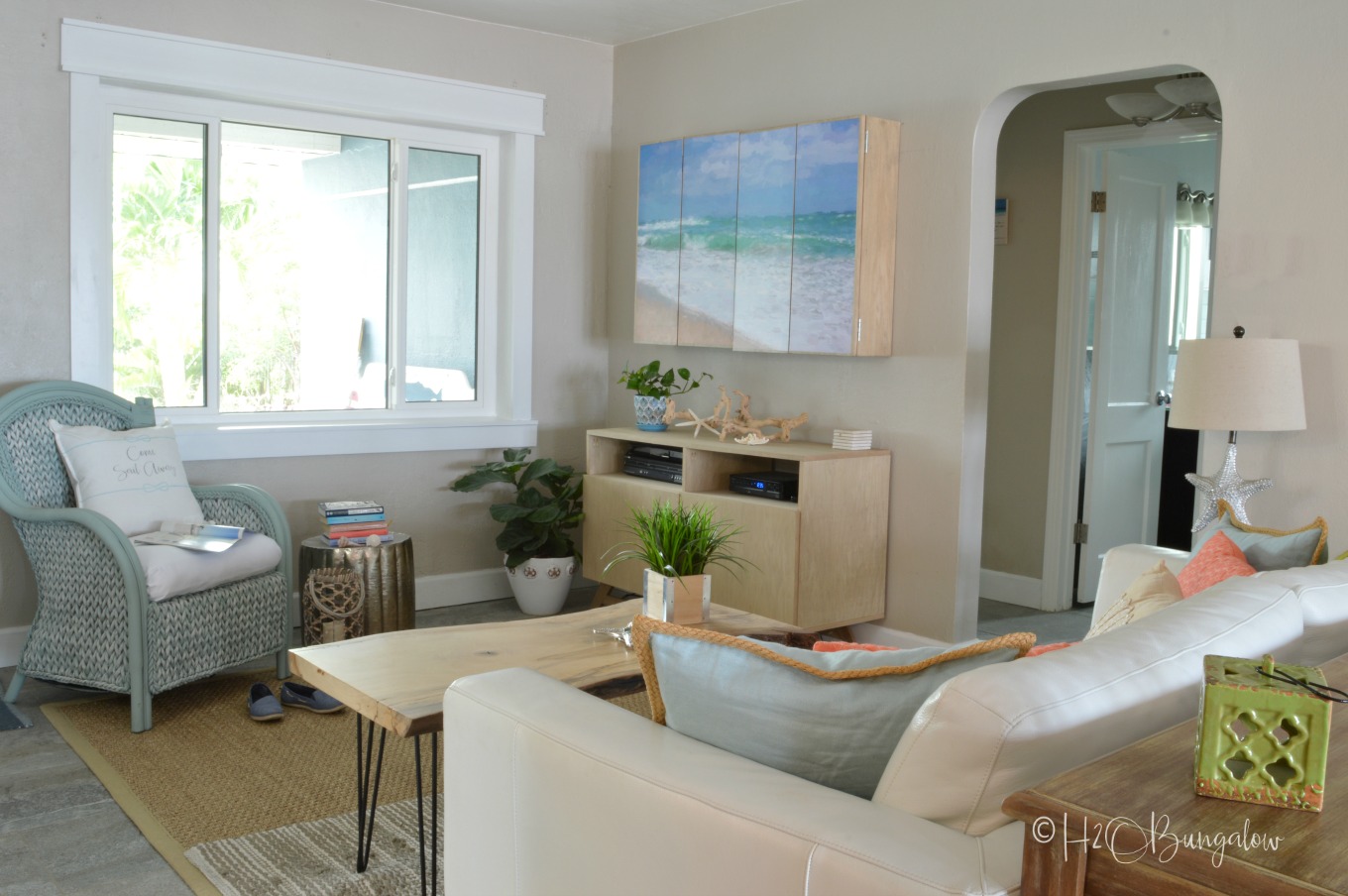 The width of my window trim look great with my DIY baseboards I put in a while back.
Here's a peek of my finished window trim in my reading nook. It fits nicely with my industrial rough cut shelves I put in.
Yes! I'm happy with how they turned out!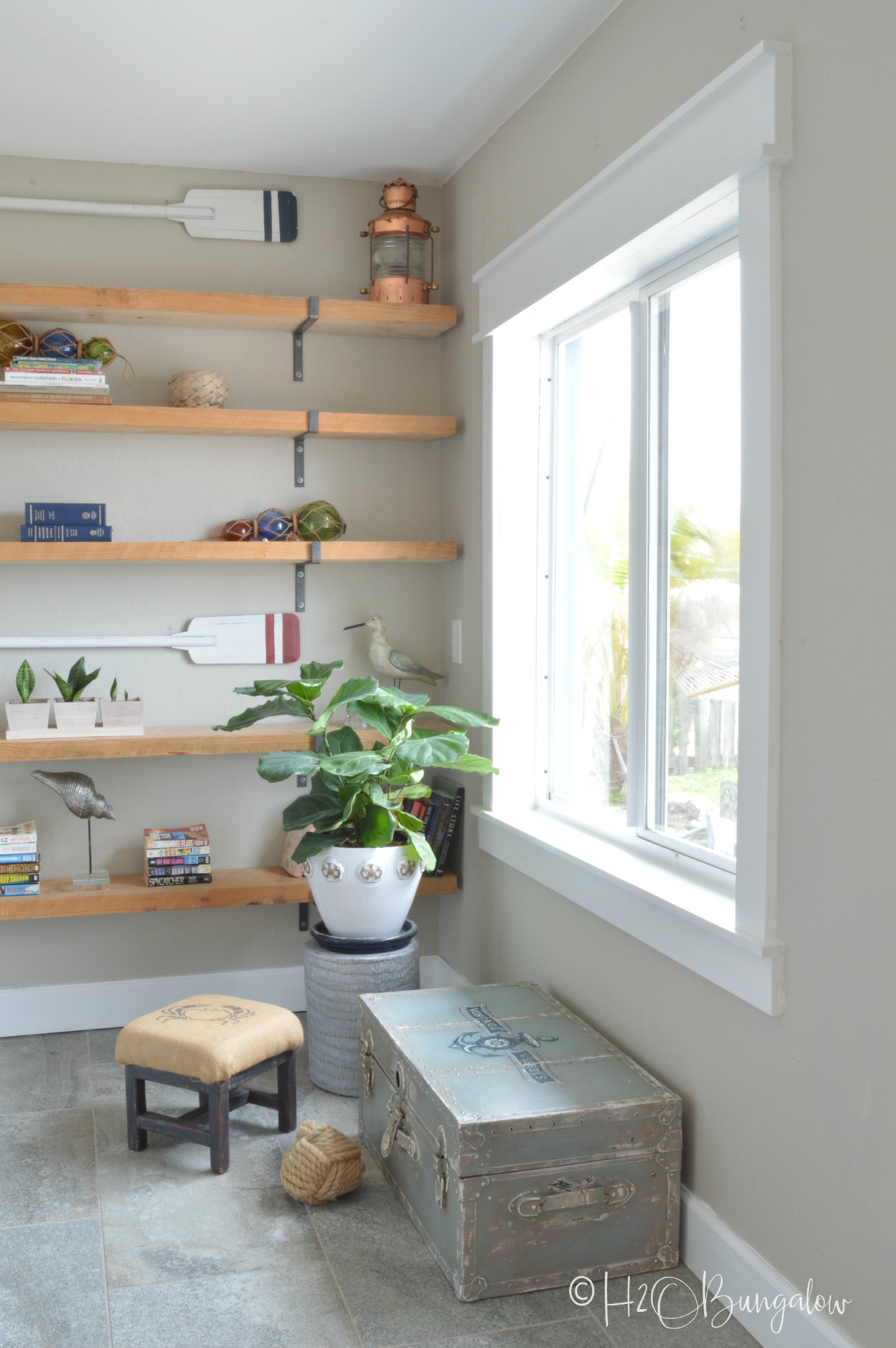 Here's the window in the dining area. Of course, finishing this project brought on the need to do something about my orange wall and the other window. Hubby calls it project creep 🙂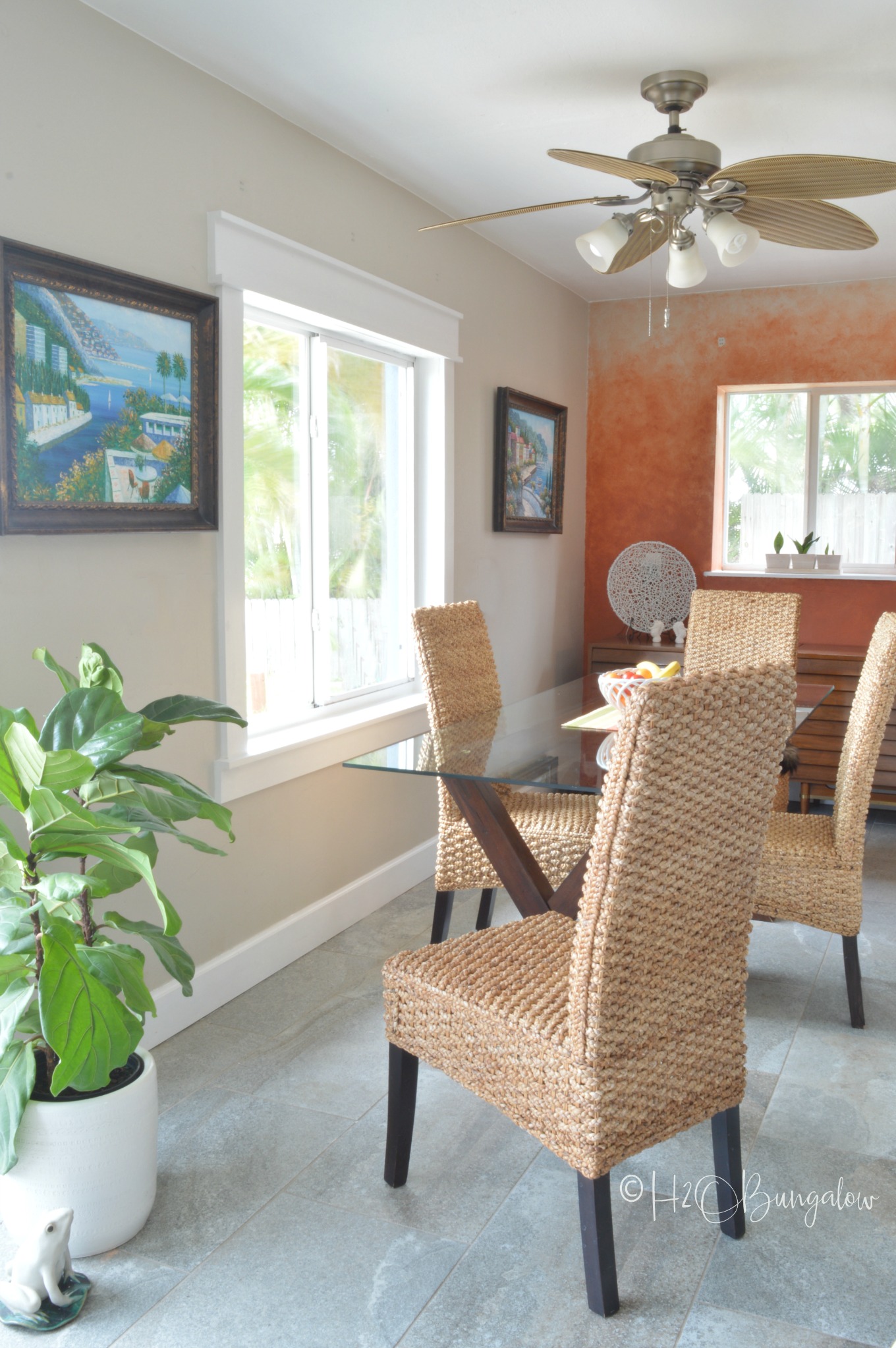 This is probably one of my favorite home improvement projects yet, especially because it made such a huge impact. It's a fabulous upgrade.
Pin my window trim tutorial for later and share it with your friends on Facebook!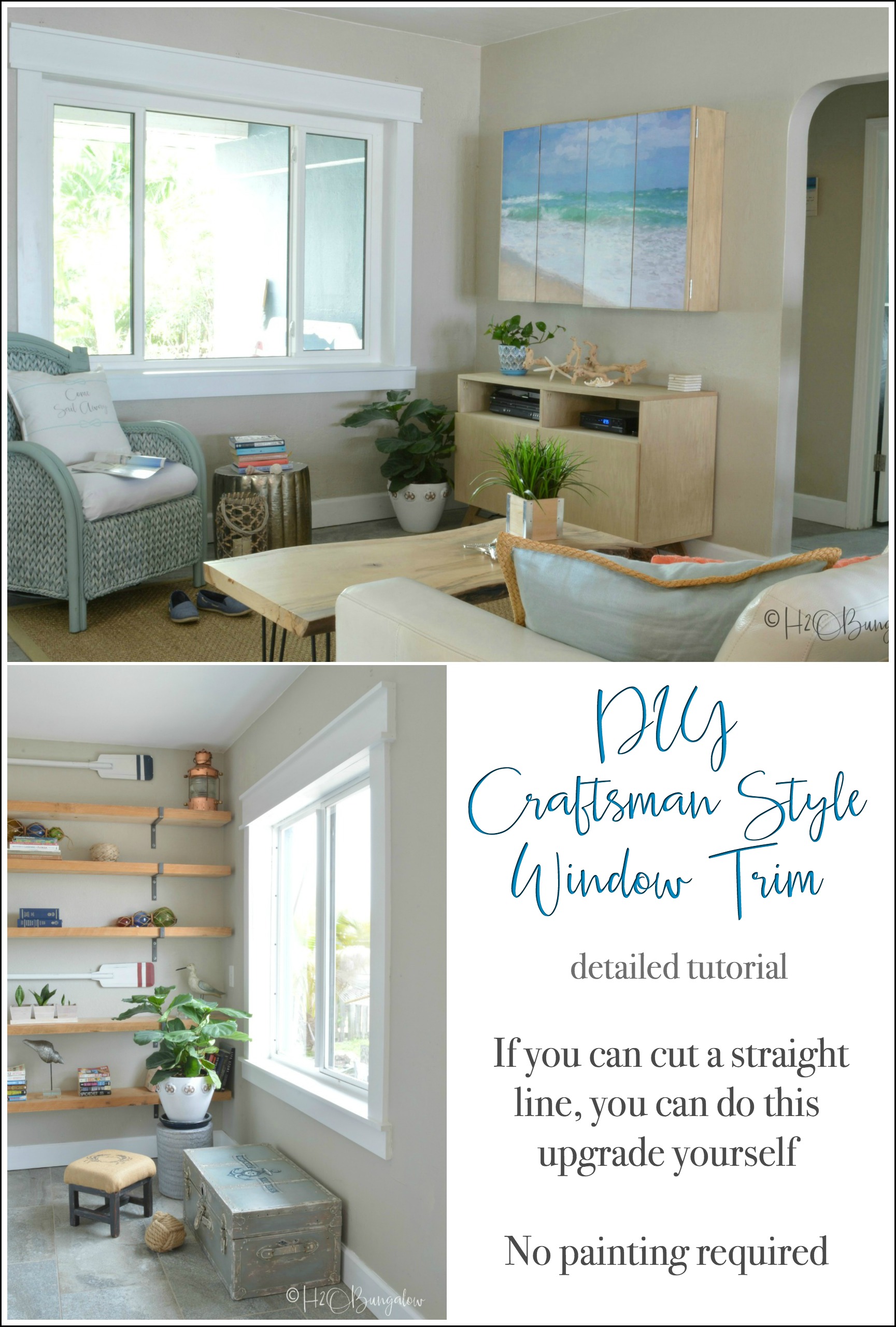 Adding DIY craftsman style window trim to my windows made a huge difference in my home. It's an affordable upgrade that the average homeowner can easily tackle.
I bet you're wondering how I liked working with the prefinished trim boards? I loved it! Finished Elegance is a quality product and it saved me hours of extra work on my DIY craftsman style window trim project. Every one of my boards was perfect. Like I mentioned before, I simply built my window casings and put away my tools. No painting, guys!
Do you have windows that need an update? Share with me in the comment section below which windows in your home you'd tackle first!