Today I'm sharing how to make a wall mounted paper roll note holder. It's just like the pricier store versions but this DIY hanging note holder costs lots less! Best of all, you can practically make it from a piece of leftover wood and items you have already in your workshop and kitchen.
This DIY hanging rustic paper roll note holder is perfect to hang on the wall in a kitchen or office to jot down a quick note.
It's easy to make too! If after reading this tutorial, you don't feel like making a hanging note holder but still want one, I found a few super cute ready made ones and link to them at the end of this article.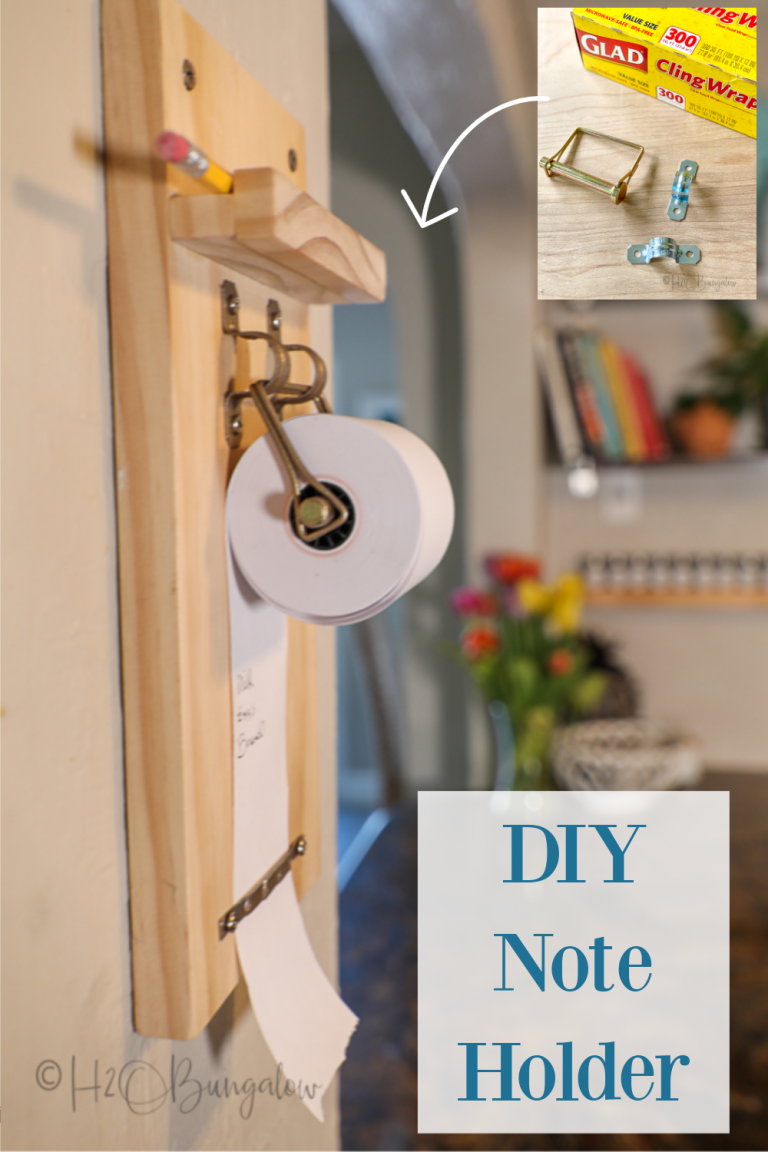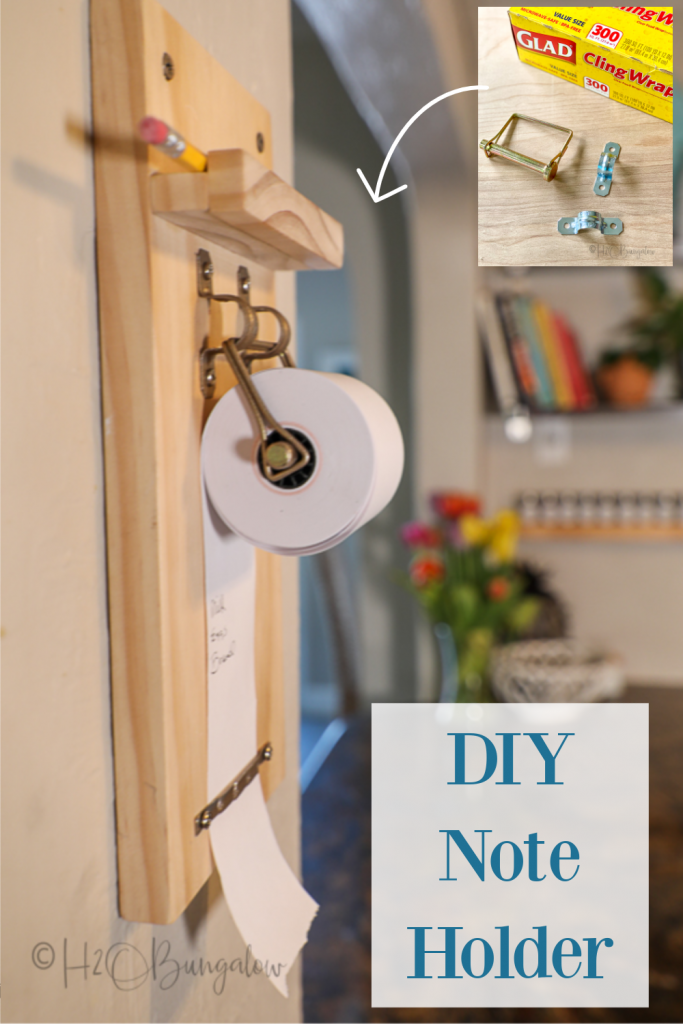 This post contains affiliate links, as an Amazon affiliate I earn a fee from qualifying purchases at no additional cost to you. Thank you for supporting H2OBungalow!
For more kitchen updates check out How To Makeover A Kitchen Island on a Budget, how to Organize a Pantry And Get More Space, how to Make A DIY Wood Spice Rack, my Hollow Core Door Makeover On A Budget, my new dining table that I love, and my free-standing pantry cabinet!
How to Make A Wall Mounted Paper Roll Holder DIY
Supplies needed to make a wall mounted paper role note holder
Step 1. Cut wood to size.
I used a scrap 1 x 6 pine board to make my wall hanging note holder. Start by cutting a 12″ length and two 1/2″ wide pieces. I made two note holders so you'll see extra pieces below. They make great gifts!
Lightly sand the tops and the edges of everything.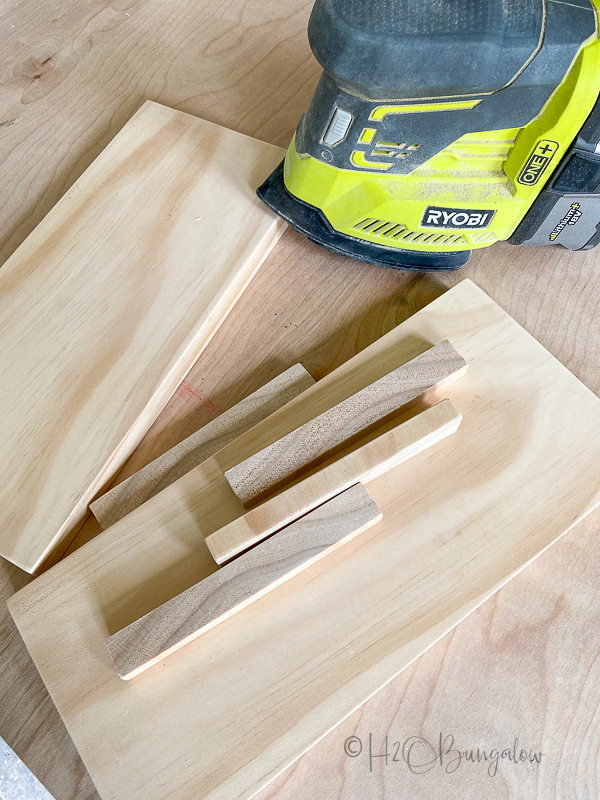 Step 2. Assemble the pencil holder
Use wood glue to assemble this part. Attach one of the 1/2″ wide pieces at the 3/4″ side. Place the other piece on top of it with the bottom flush so it makes a lip to hold a pencil. I added a few 1″ brad nails to the pencil support but I think the glue would have been plenty enough.
See the picture below if my description didn't make sense.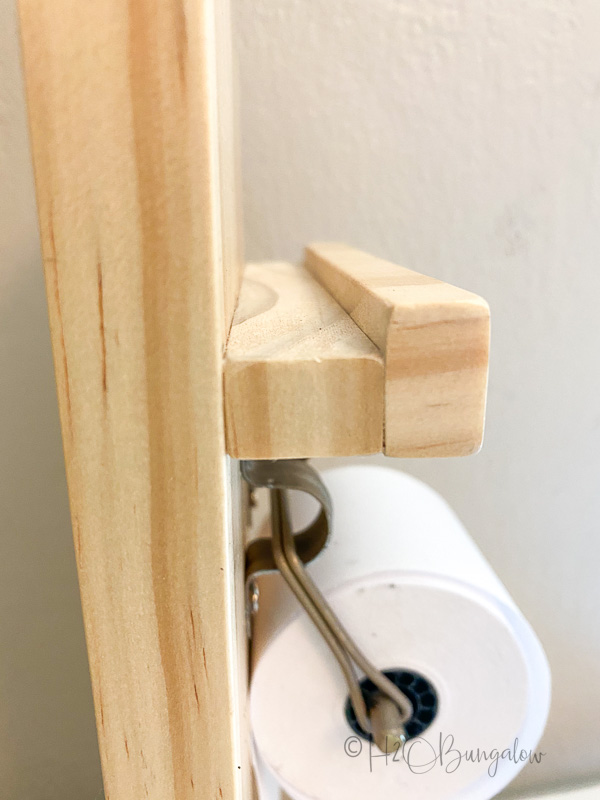 Step 3. Paint the metal pieces of the DIY note paper holder
Remove a metal cutting strip from a saran wrap box, foil or other type of roll dispenser. The wider the better. I found that our heavy duty foil had the best metal cutting strip.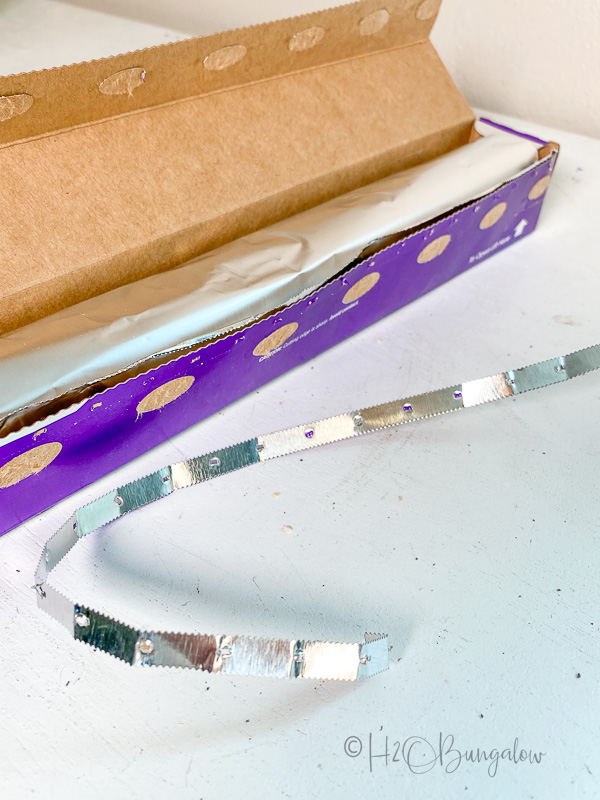 Spray paint all the metal pieces, the trailer hitch clip, pipe brackets, the screw heads and the cutting strip to match.
I used Krylon Metallic Gold spray paint.
Tip: To paint the screws, stick them into a piece of thick cardboard so they stand up.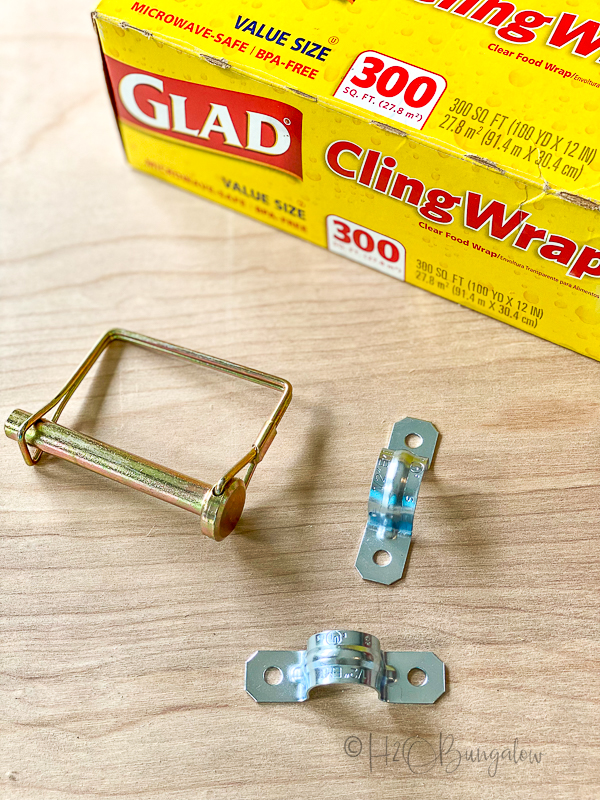 Step 4. Attach metal hardware for the DIY paper roll note holder
Attach the trailer hitch pin clip to the note holder back with the metal pipe clamps using 1/4″ screws. Place them 1/4″ down from the bottom of the pencil holder.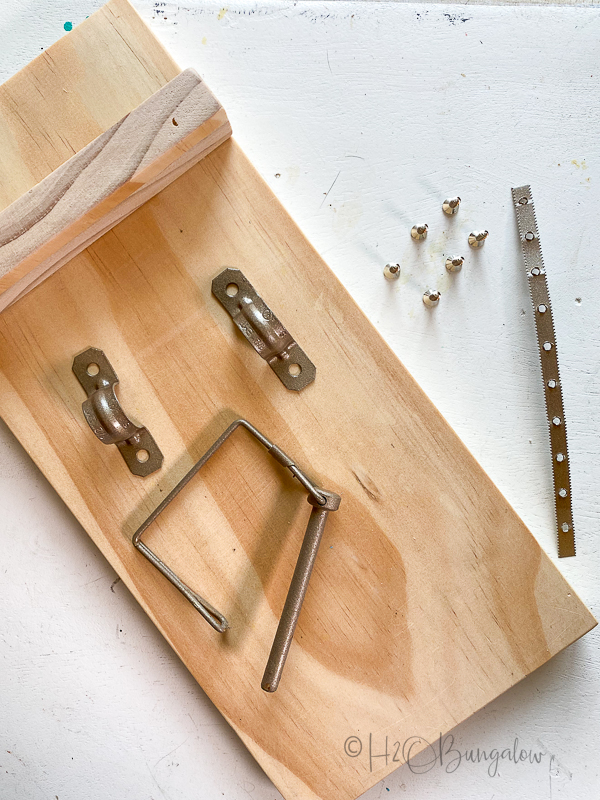 Trim the metal cutting strip to size with scissors. Attach onto the wood board 3/4″ up from the bottom with the wood screws. Use the existing holes that were on the metal cutting strip. You may want to work the screws through the cutting strip holes first, it helps if the holes need to be a tad larger.
Step 4. Load the paper onto the note holder
Load the paper onto the hitch pin and thread it under the metal cutting bar.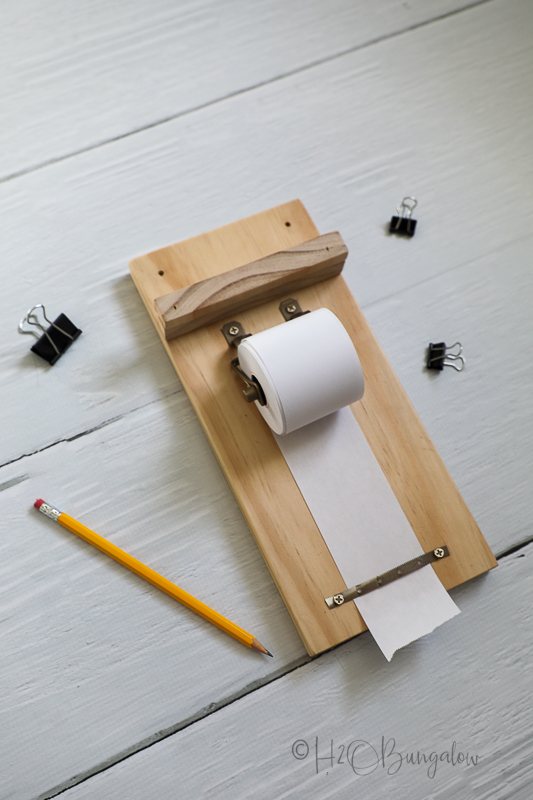 Step 5. Hang the DIY note paper holder on the wall
Hang the paper roll note holder on the wall. I drilled two holes in the top edges and attached mine to the wall with screws. Use a level to position it.
You could also use keyhole holders on the back of the board if you don't want the screws to show.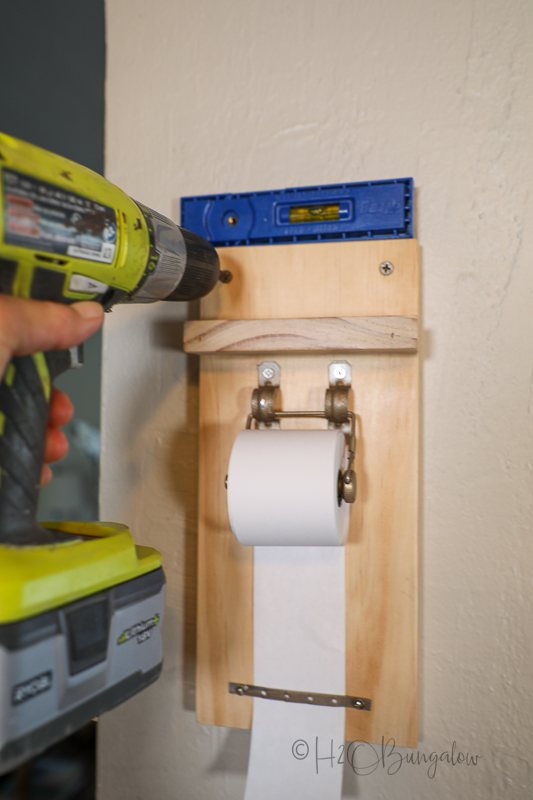 There you have it! This DIY note holder was so easy to make and it looks great in my kitchen.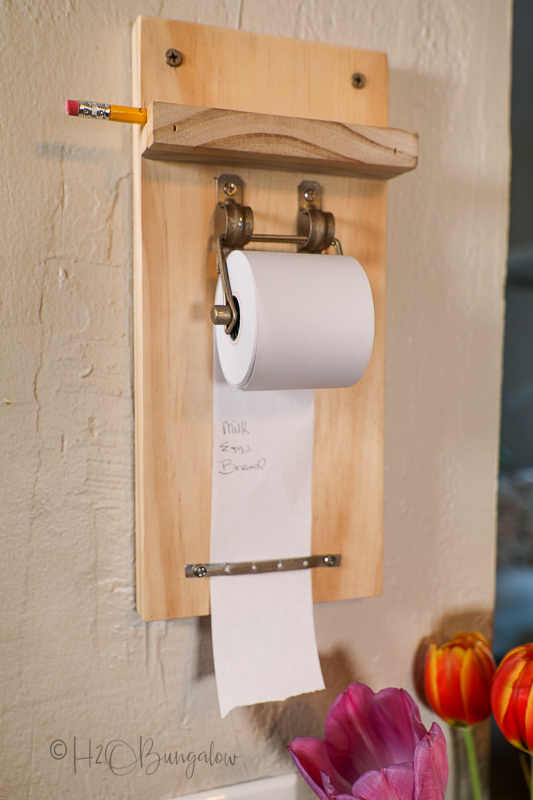 I finally have a place to jot down notes or a quick grocery list when I need to. I can't tell you how many times I've used my DIY wall mounted note holder already!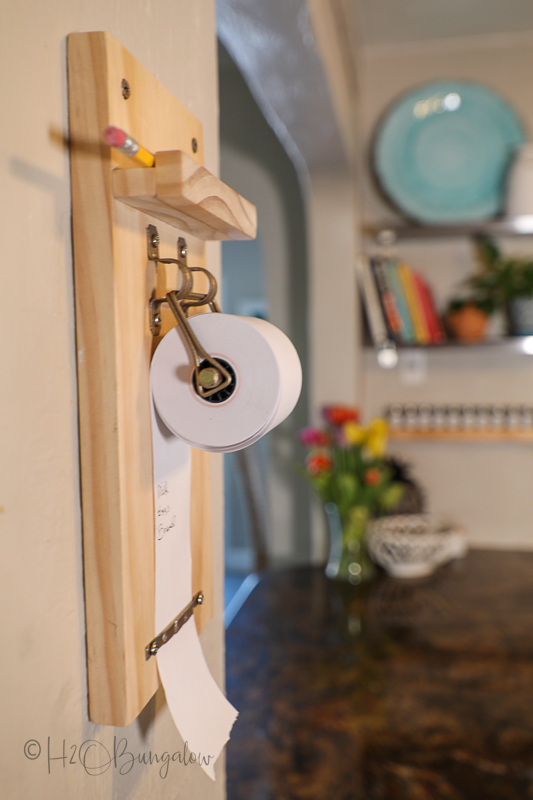 I've been updating my kitchen over the past several months. I made this DIY paper roll note holder to compliment my other kitchen projects.
Spice Rack with free label templates
Pantry organization bins with free label templates
Pin my wall mounted paper roll note holder for later and share with your friends on Facebook!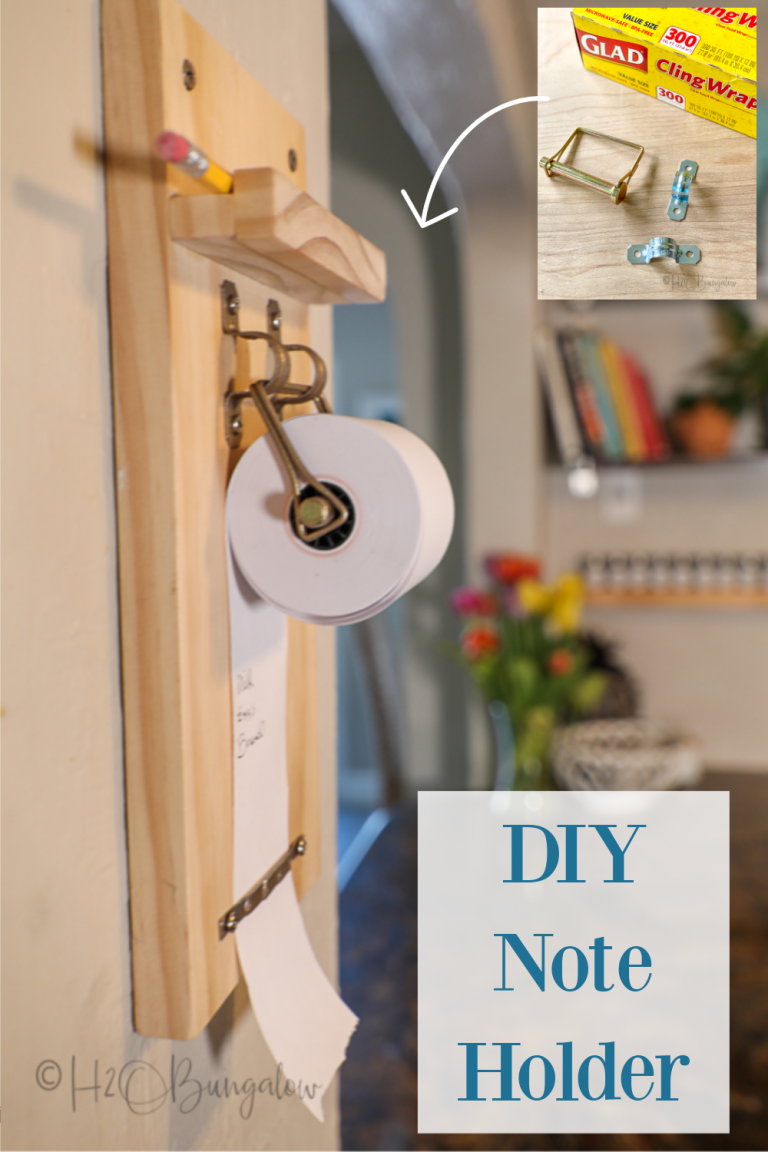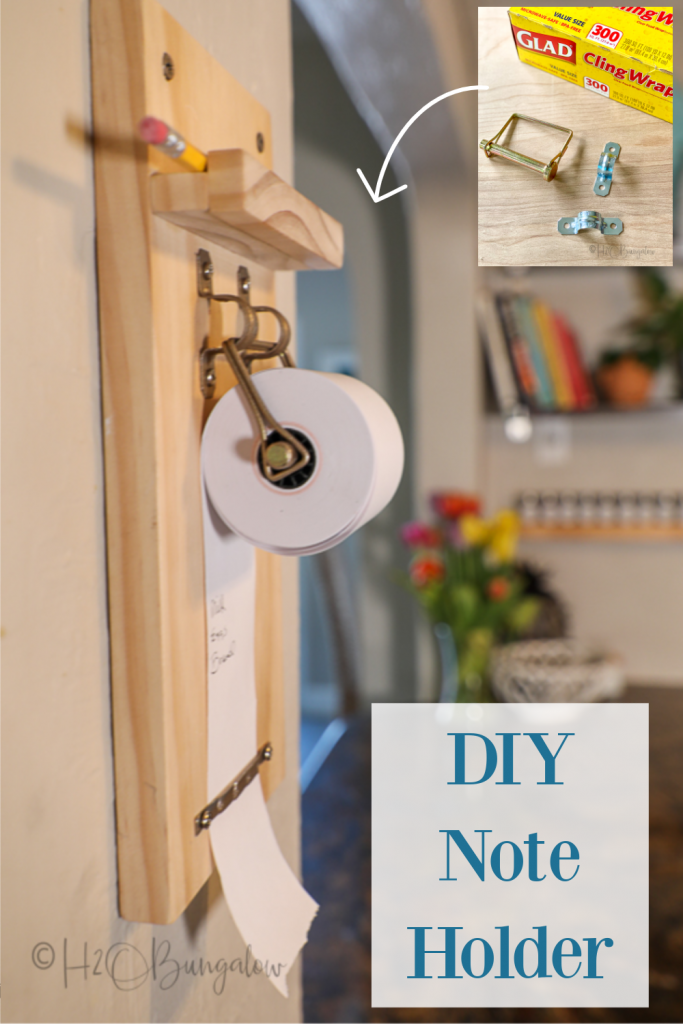 OK, as promised. I found a few ready made note holders you can hang on the wall if you love the idea but aren't so keen on making your own!
I did a some searching for wall mounted paper roll holders and found a few great ones!
Slim style wall mounted paper roll holder
Hanging Paper Roll Noteholder This is the EXACT one Pottery Barn carries, but at half the cost!