Check out this DIY football toss game I just made. I themed mine as a FL Gators football toss game but of course you can use whatever colors your favorite football team sports.
This standing bean bag toss game is so easy to make! It's an easy backyard game to make for a family gathering.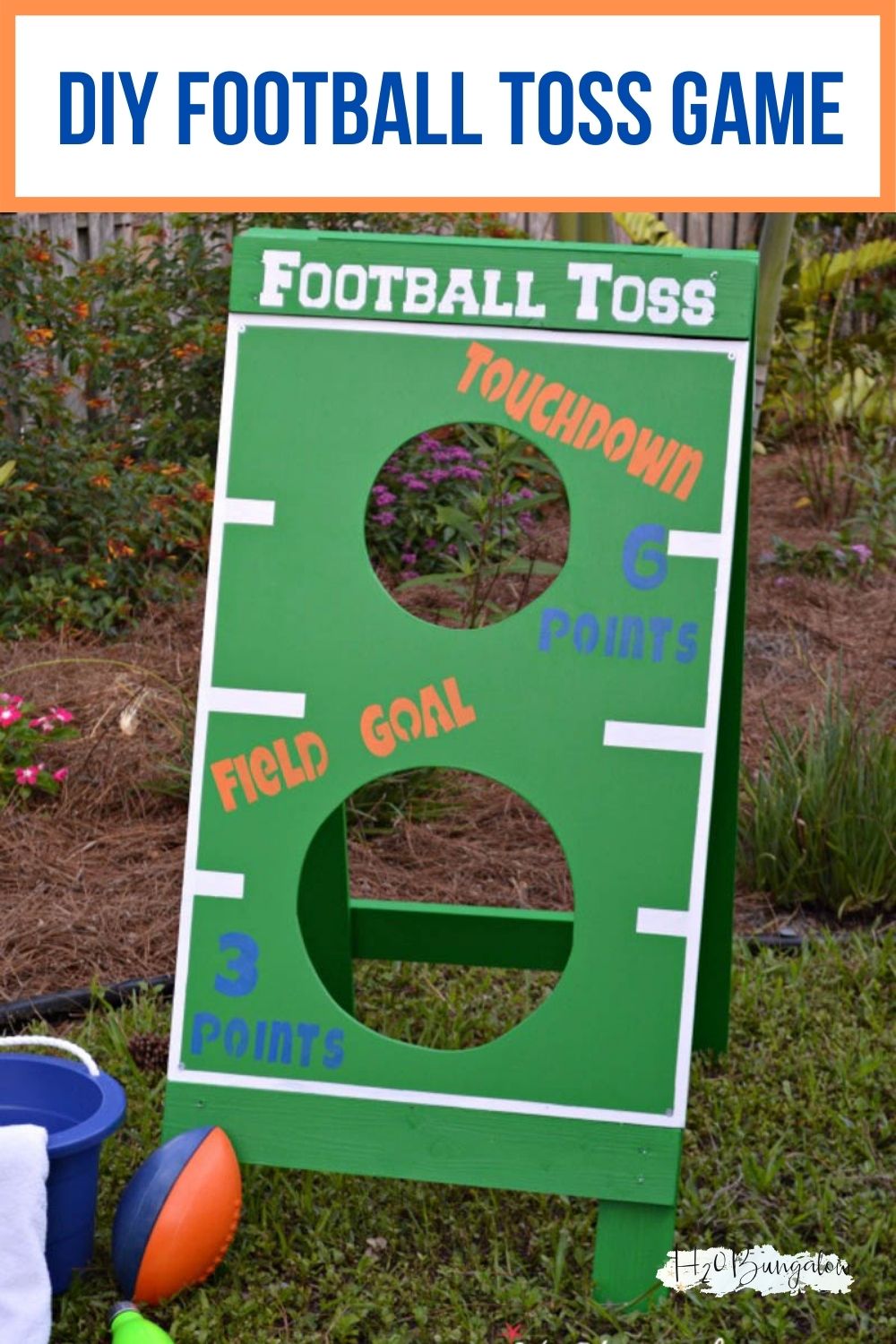 This post contains affiliate links, as an Amazon affiliate I earn a fee from qualifying purchases at no additional cost to you. Thank you for supporting H2OBungalow!
Supplies to make a Fl Gators DIY Football Toss Game
1 – 1⁄2˝x 2′ x 4′ sanded plywood board cut into a 2′ x 3′ and 2′ x 7″ pieces
2– 1˝x 4˝x 12′ common boards cut to 4 pieces at 4′
1- paint stick cut to 7″
1- paint stick cut to 2 piece, each 3/4″ x 1 1/8″
1- scrap wood cut to 1″ x 3/4″ cut to 7″
2 Packs – Everbilt #10 x 11⁄4˝ Phillips Zinc-Plated Flat-Head Wood Screw [8 per Pack]
1 Pack – #10 x 3⁄4˝ Phillips Zinc-Plated Flat-Head Wood Screw [12 per Pack]
1 Pack – Everbilt 21⁄2˝ Zinc-Plated Narrow Utility Hinges [2 Pack]
green, orange, white and blue paint
chalkboard paint
one foot length of string or twine
one small nail
Tools you'll need to build a DIY football toss game
compound miter saw
jigsaw
drill
drill bits – 1⁄2˝ and 1⁄8˝
nail gun
measuring tape or carpenters square
pencil
safety goggles
sanding block
Start by cutting the pieces for the frame, the front board and the scoreboard.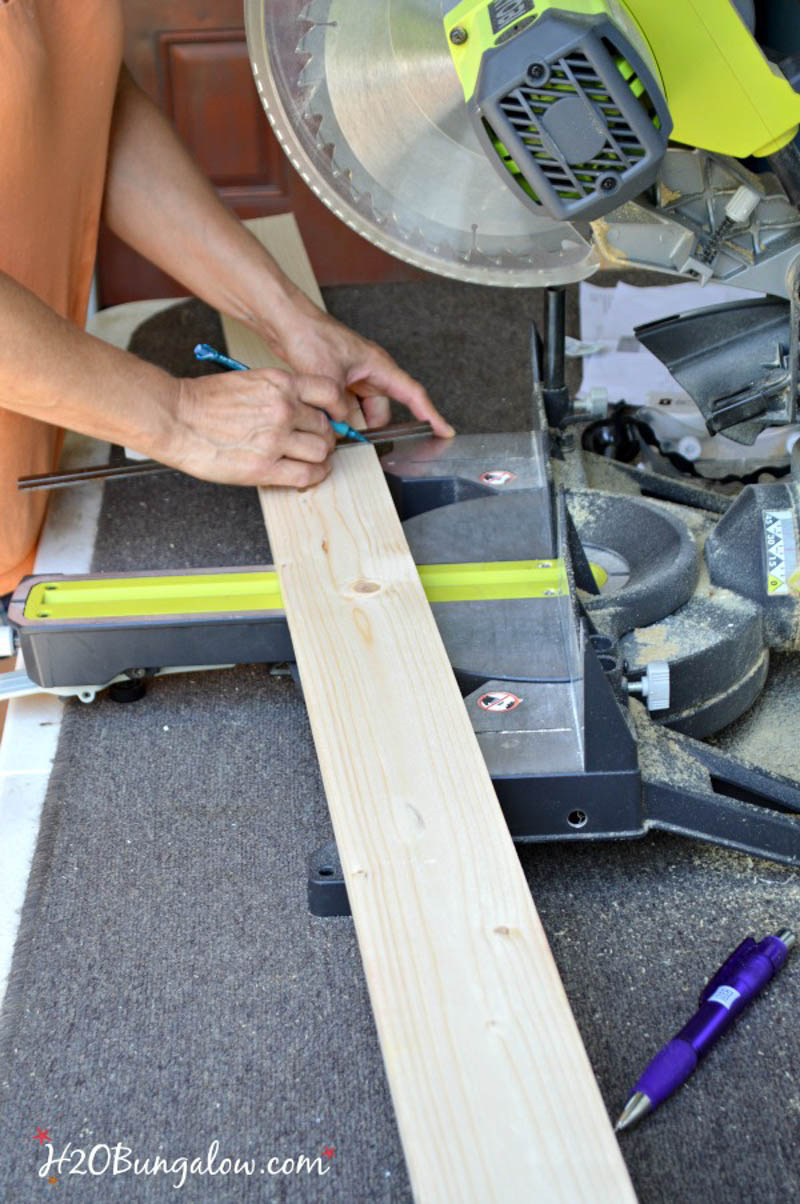 Using the sanding block, lightly sand the edges of all the sharp corners.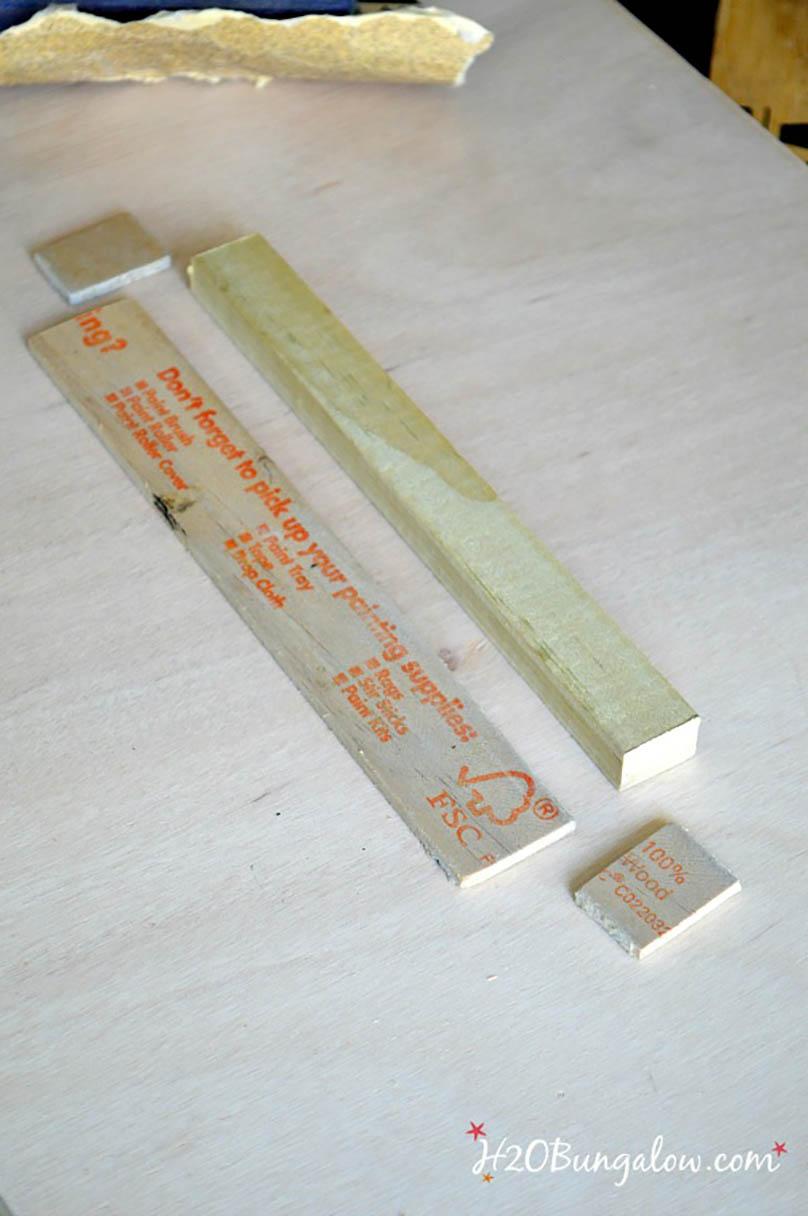 Make a mark in the center of the front panel 9″ from the top and 9″ from the bottom. Use a nail or a push-pin, a piece of string or twine and a pencil to draw two circles on the front of the football toss game board. Use a 4″ string for the top circle, and n 6″string for the bottom circle.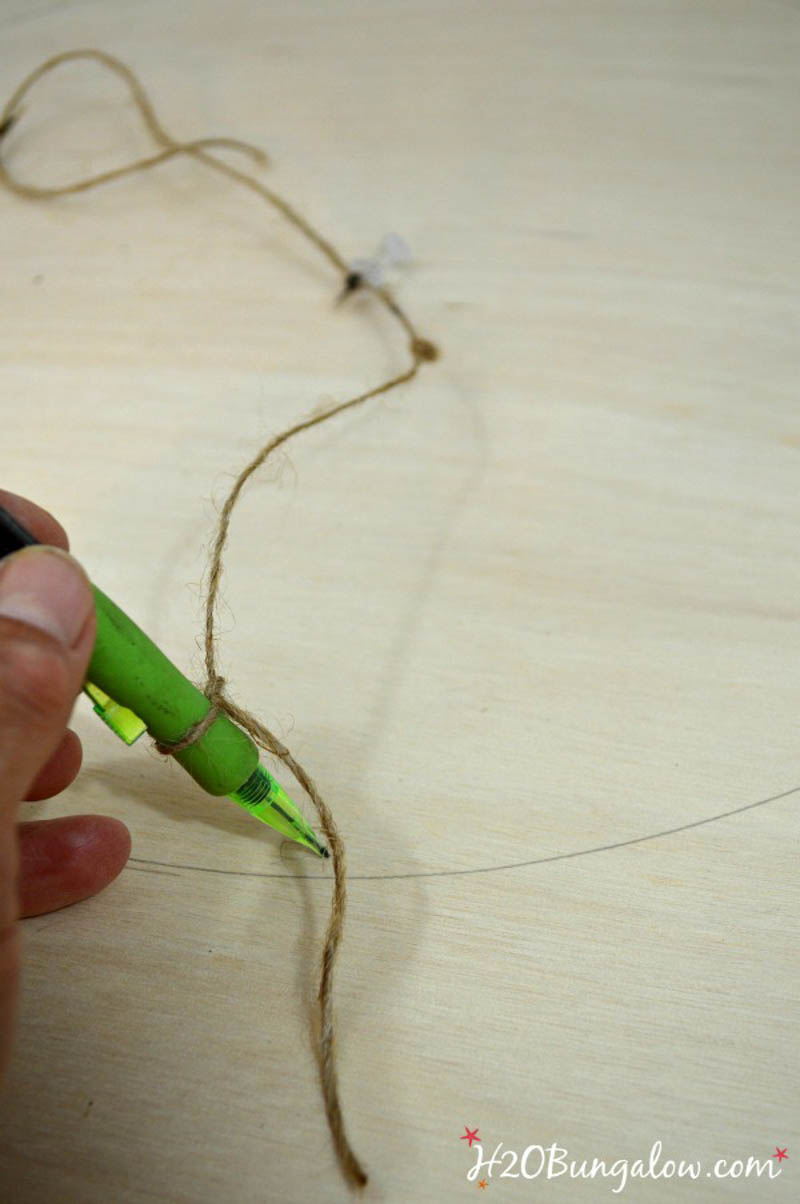 I used my jigsaw to cut both the plywood front board and the circles on my DIY football toss game. Drill a hole large enough for your jigsaw blade close to the center, then cut the circles out like this.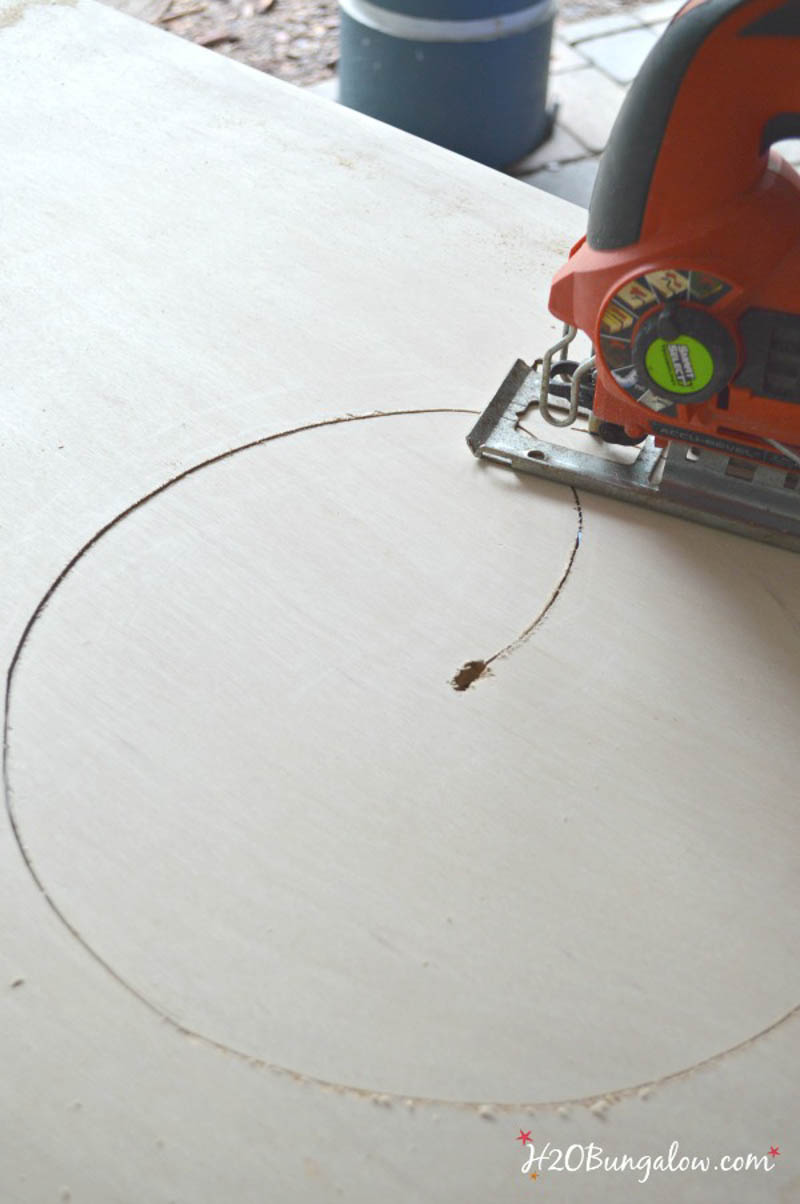 Add some wood glue onto the back of the base of the chalk pocket. Attach it to the left side of the scoreboard with a nail gun.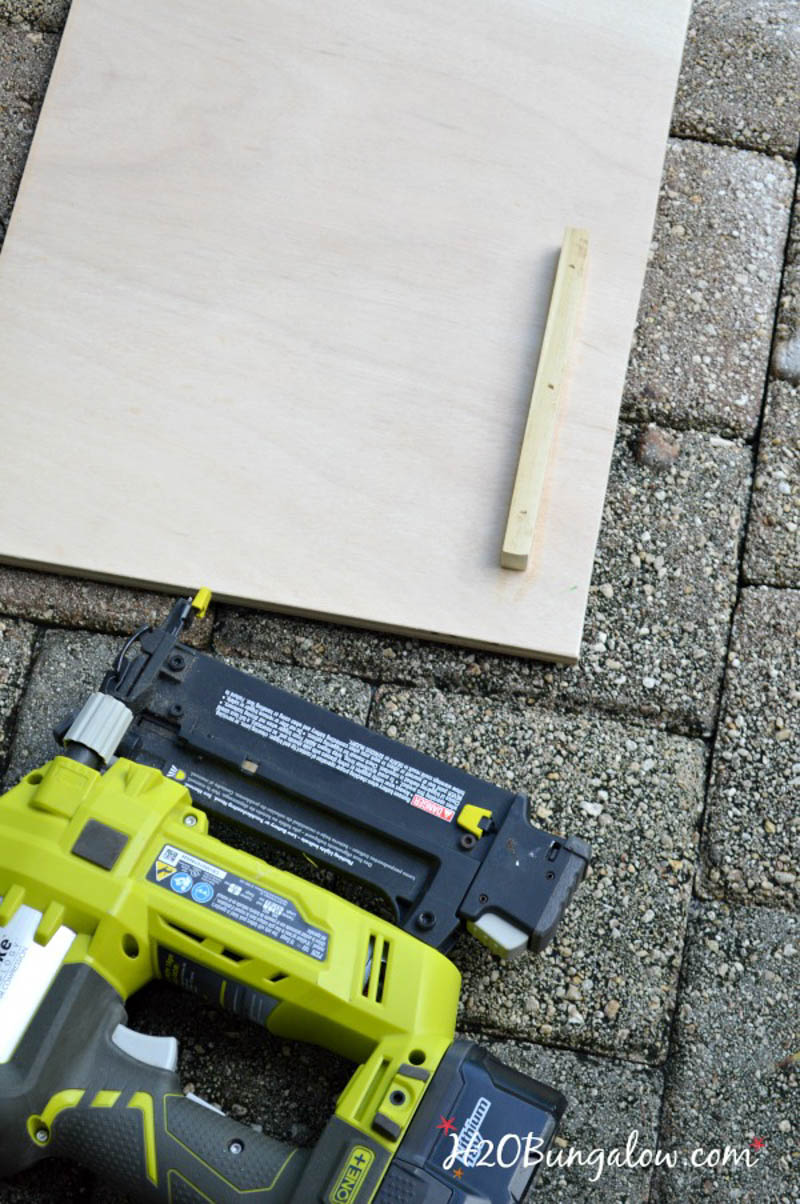 Using the wood glue and your nail gun, attach the two sides next, and then the front.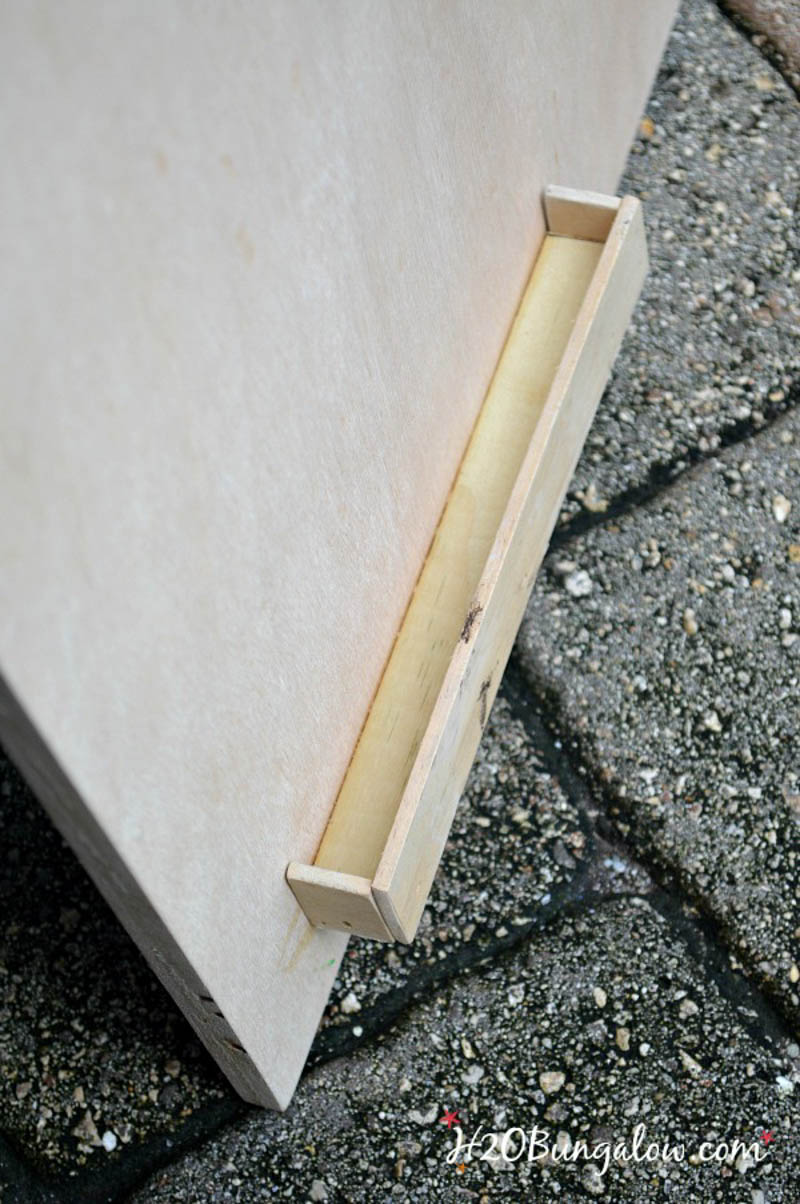 Assemble the front and back frames like the picture below using the 1 1/4″ screws. Drill pilot holes to make the job easier. The top support will be flush with the legs at the top and sides. The bottom support will be 9″ from the bottom. The front DIY football toss game board will fit in the space between the top and bottom support.
Do a quick check and make sure it will fit before securing the bottom support!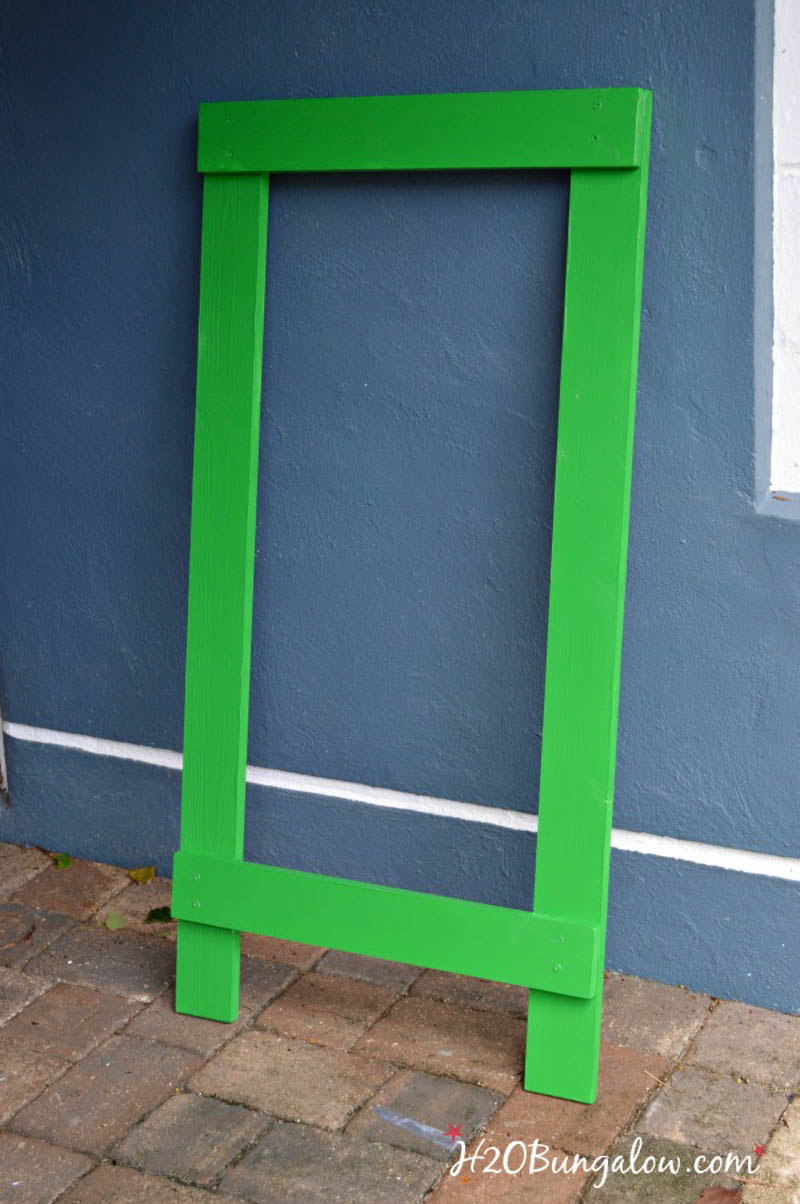 I painted my pieces before assembling my football toss game. I used my silhouette and made stencils with contact paper, but you could easily pick up alphabet stencils to customize your project.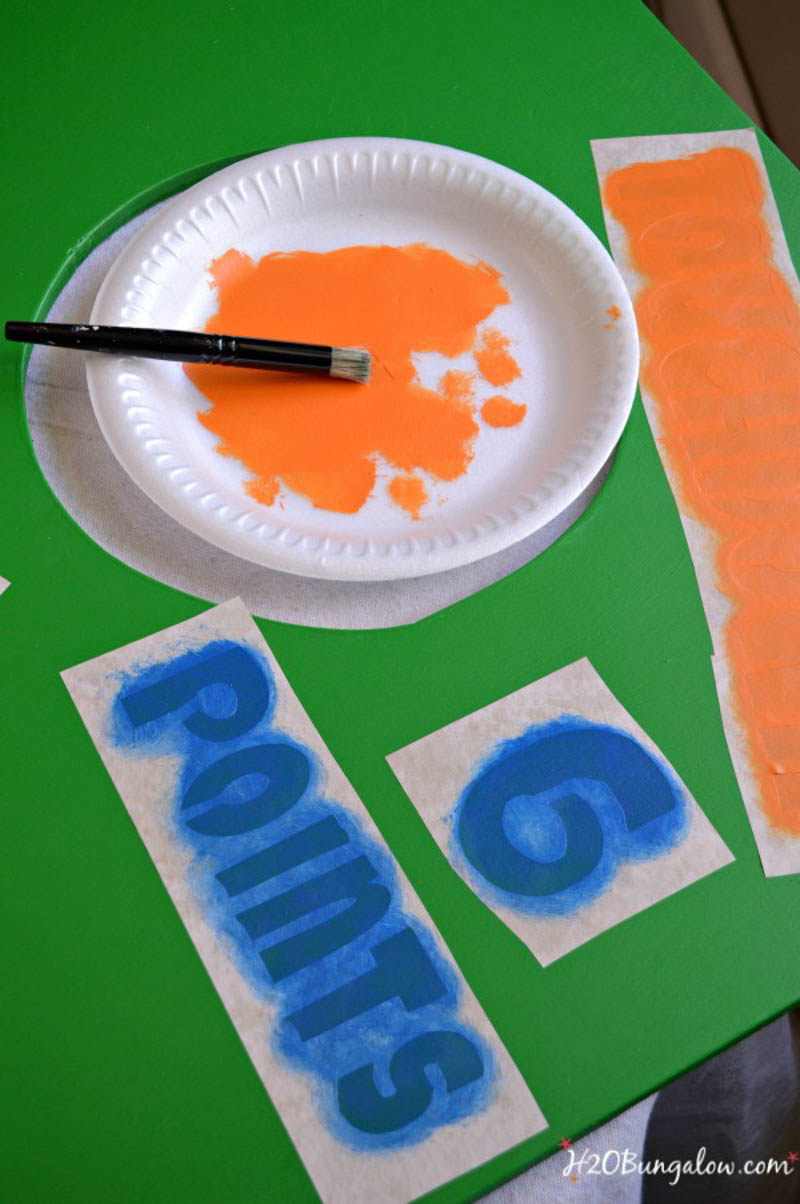 I used my carpenters square to edge and stripe my football toss front panel and marked off the areas with painters tape for delicate surfaces.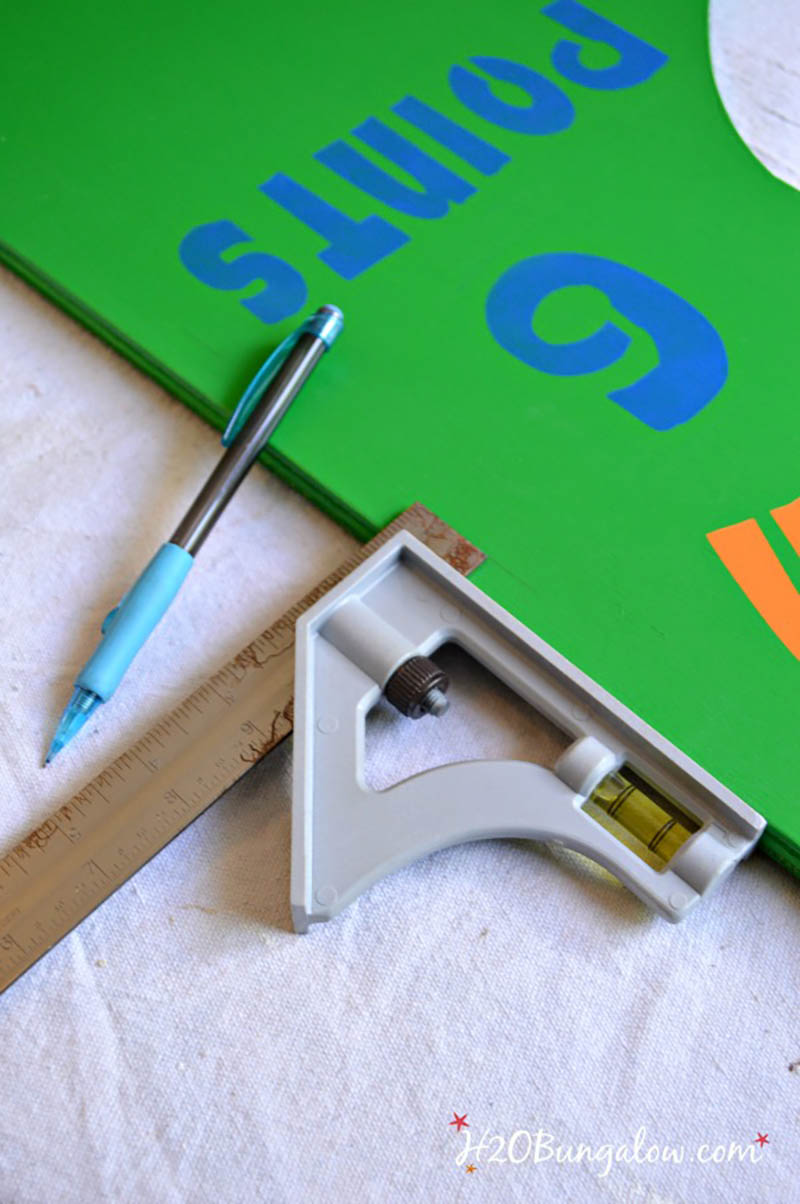 Now it's time to put everything together!
You'll add the hinges to the top of the legs, not the brace. That way they will be hidden inside when the DIY football toss game is standing.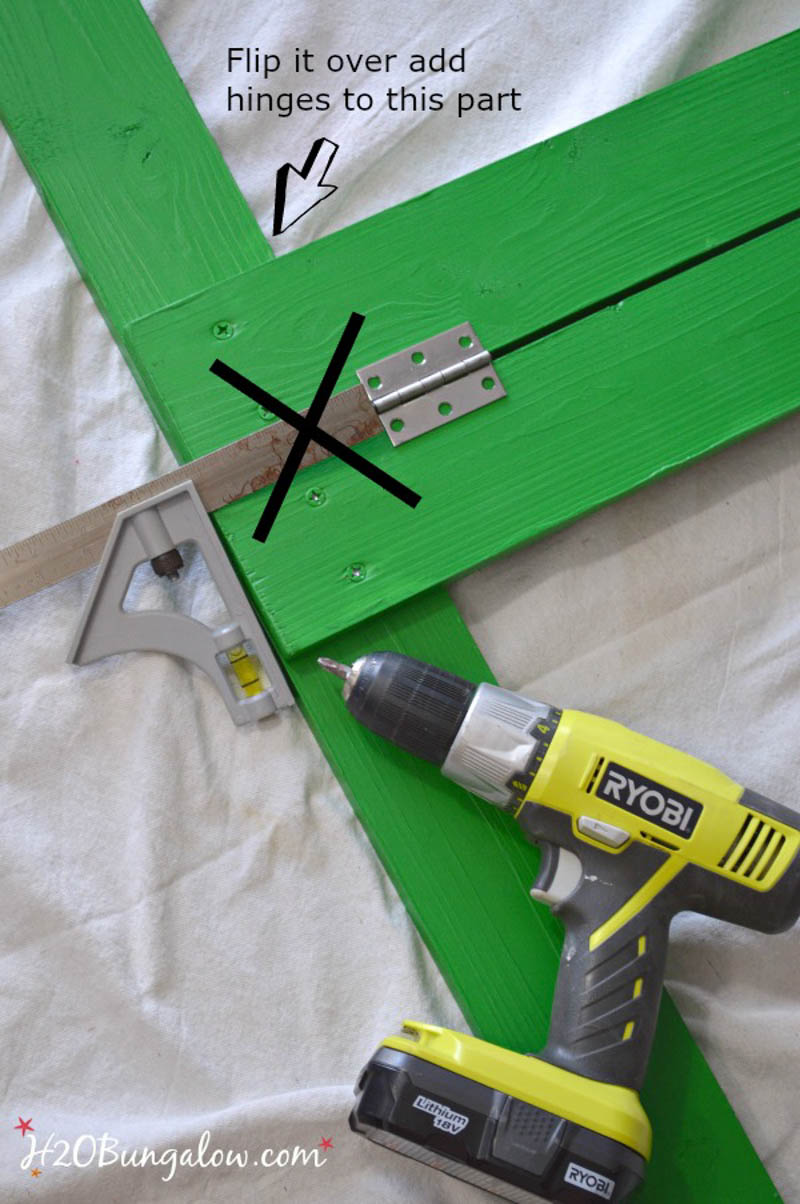 Last, attach the front of the game board to the frame using 1 1/4″ wood screws at each corner. Again, drilling pilot holes makes it easy and helps prevent the wood from splitting.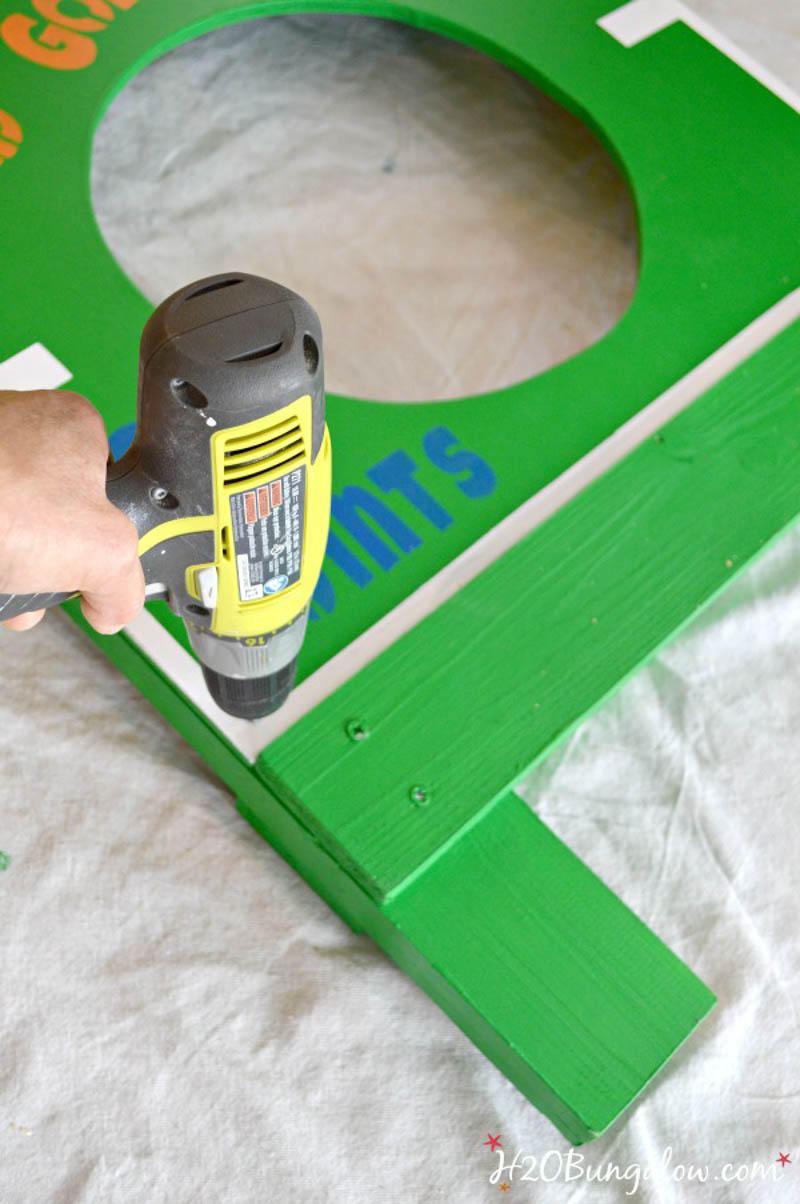 Turn it over and attach the score board under the top brace with a 1 1/4″ screw at each corner.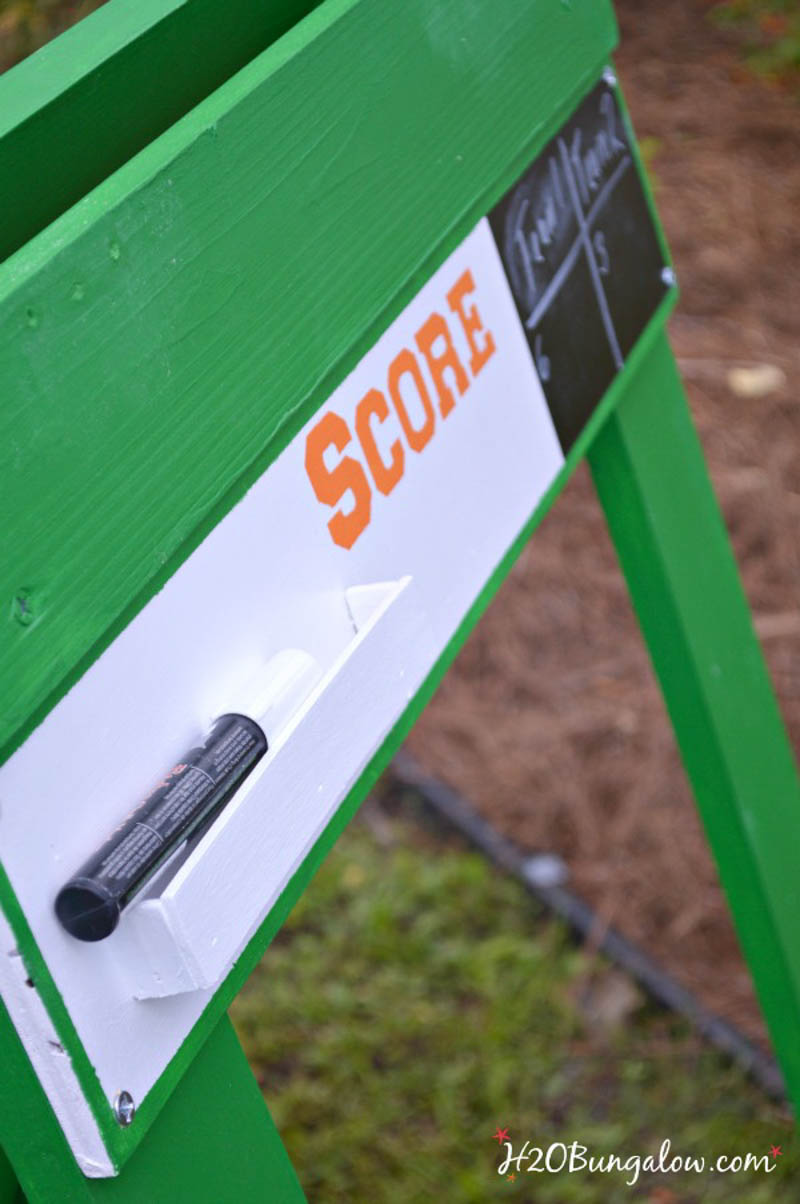 How fun is this?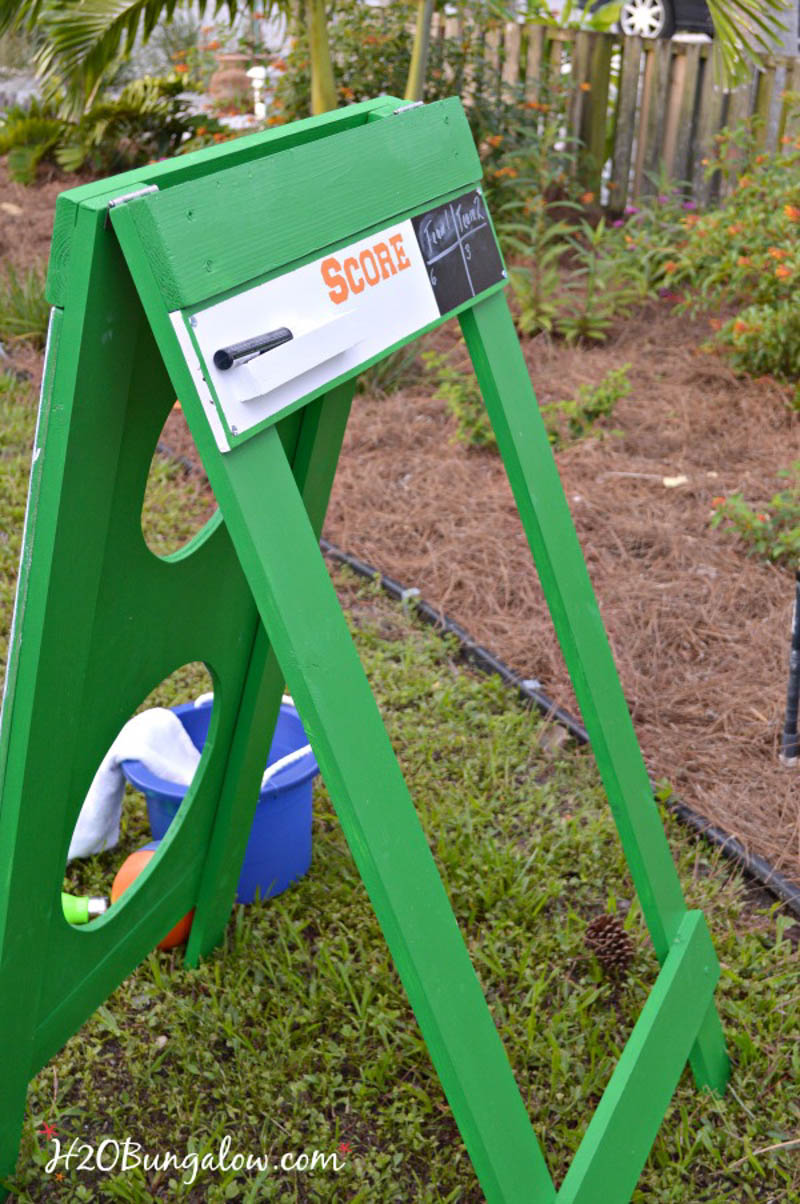 I can't wait to play!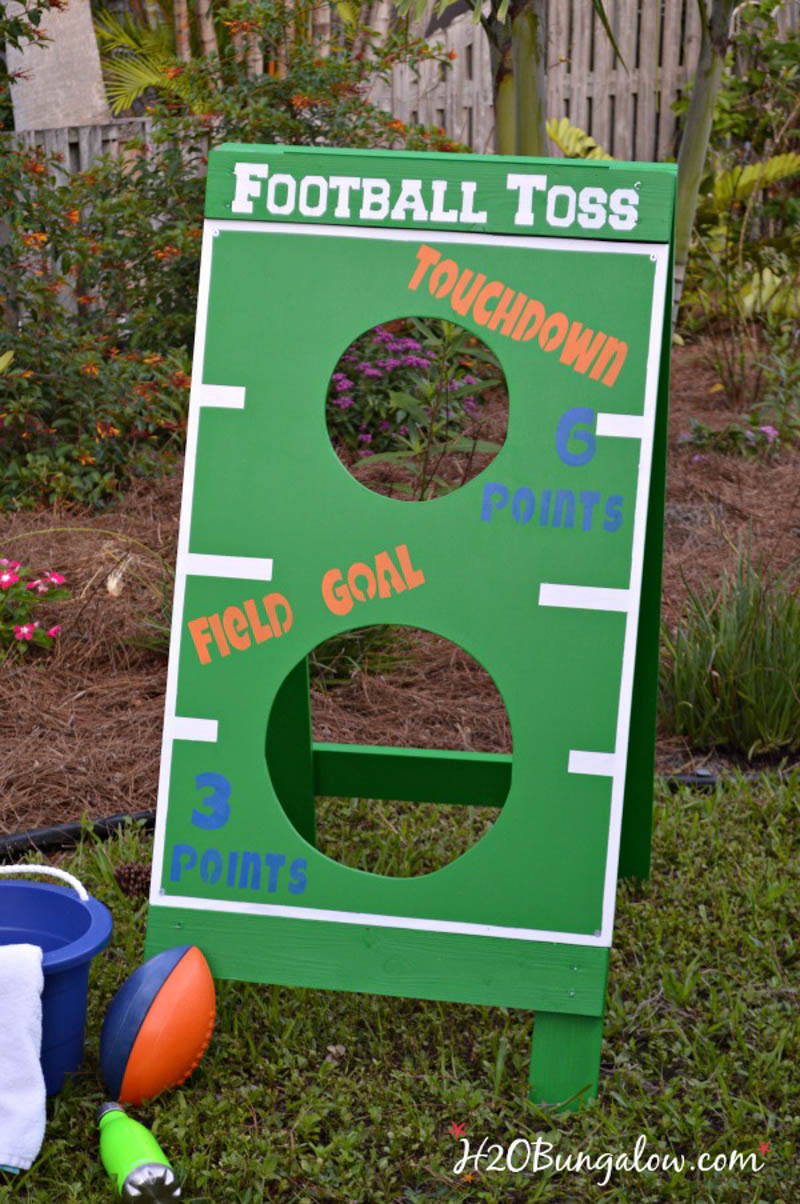 I'm planning on using my DIY football toss game this Father's Day for some family fun.
We'll have a good time, and no doubt a few good laughs, especially since I can't throw worth a hoot. Maybe the guys will spot my team a few points 😉 I have no doubt splitting into teams and keeping score will bring out the competitive spirit in us all!
Part of the fun with a project like this one is putting a personal spin on it. While I was painting mine, I started a running list in my head of ways to personalize this game. I thought it would make a fun bean bag toss game, paint it pink and make it a powder puff football toss game or even a water balloon toss could be fun. This game would be a hit for birthday or school parties too, and I love that it folds flat for storage.
How would you put a personalized spin on your DIY Football Toss Game?
Be sure to check out my other fabulous backyard makeover projects below!