I'm excited to share today how to organize a pantry and get more space. I live by these small pantry organization tips to keep me organized, and reduce clutter. Now you can too!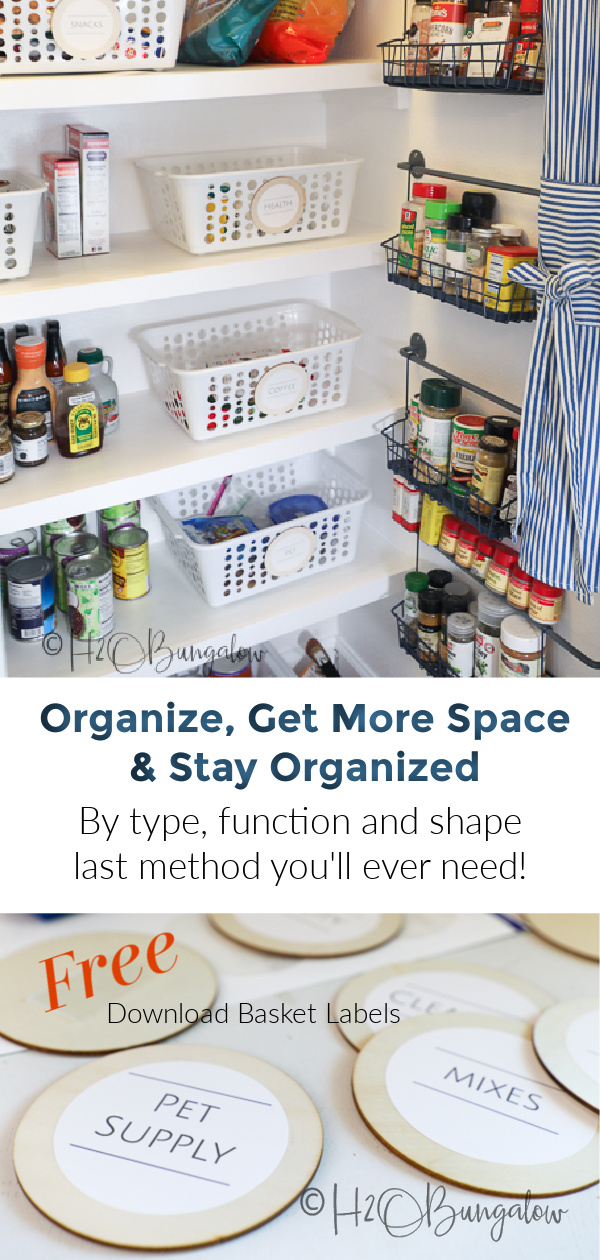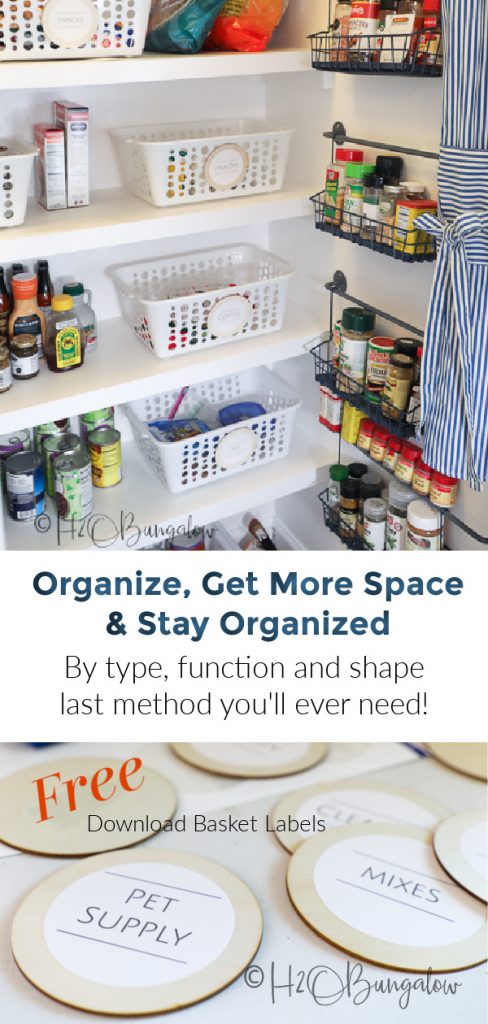 Organizing a pantry by function will completely change the way you look at how to de-clutter and keep a pantry neat. Plus, it makes it easy to see what we have and what we need to pick up at the store!
Win!
It was time for an update in my small pantry and an annual decluttering. I've been using this method for over 6 years and even with the extra clutter you see below, the pantry is (mostly) organized.
I'm on a mission to redo my entire kitchen and the pantry isn't the only thing that got a makeover! Be sure to check out How To Makeover A Kitchen Island on a Budget!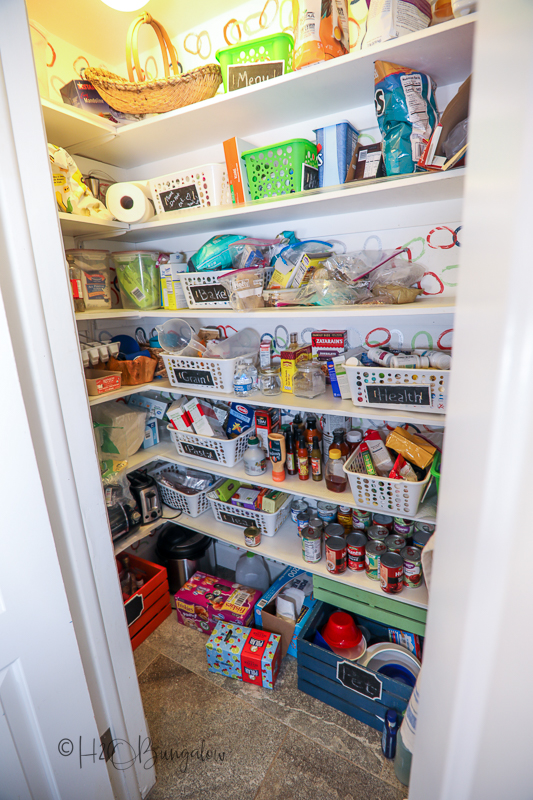 While decluttering, I made a few small changes in aesthetics and freed up additional space.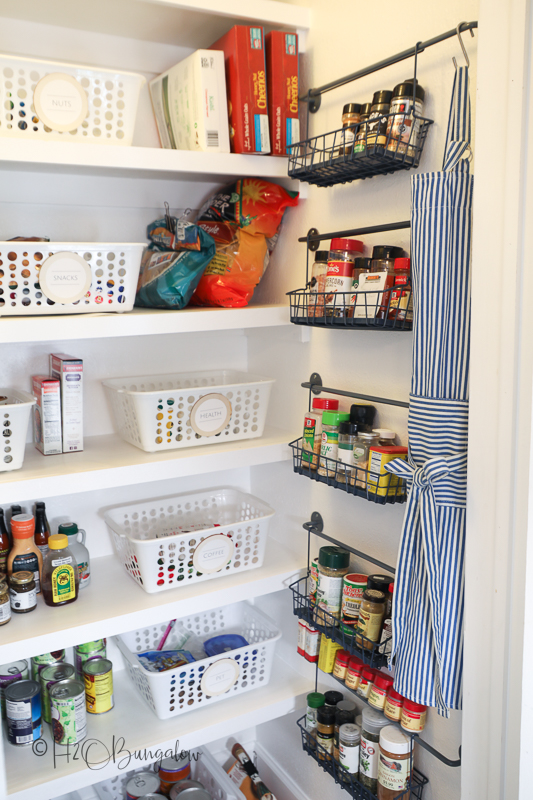 How To Organize a Pantry And Get More Space
This post contains affiliate links, as an Amazon affiliate I earn a fee from qualifying purchases at no additional cost to you. Thank you for supporting H2OBungalow!
If you're wondering how to organize a small pantry for more space, so it stays organized and clutter free. The secret isn't what you use, but how its used it that makes the big difference.
For more kitchen updates check out my Hollow Core Door Makeover On A Budget, how to Make A DIY Wood Spice Rack, and How To Make Wall Mounted Paper Roll Note Holder
Items needed to organize a pantry
This is how I organized my pantry.
#1. Start with a clean pantry.
Remove everything and toss what you don't use anymore, especially expired food items. When I do purge, items like baking soda that can be used for cleaning get moved to the cleaning bin in the garage.
Give pantry shelves and liners a good cleaning. Replace the shelf liners if needed with clear long-lasting heavy duty shelf liners.
#2. Repair sagging shelves and paint if needed.
I took this opportunity to reenforce the sagging pantry shelves by adding a narrow strip of wood along the front of the shelves. Primed 1 x 2″s did the job well. They were secured with 1 1/2″ brad nails onto the shelf fronts.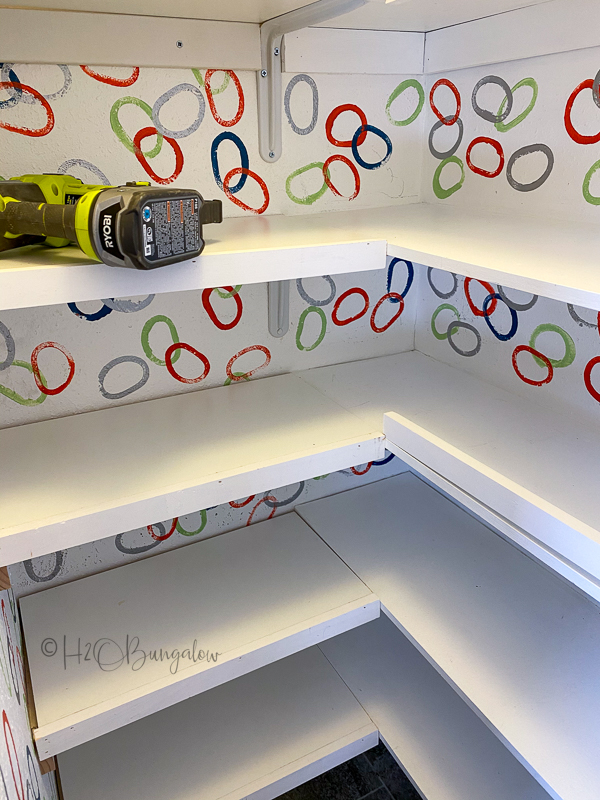 A fresh coat of paint makes everything look cleaner and brighter. I'm not sure what I was thinking when I added the colored circles all over in here. I saved a lot of time and mess painting over them with a fresh coat of white paint by using my Wagner Smart Roller.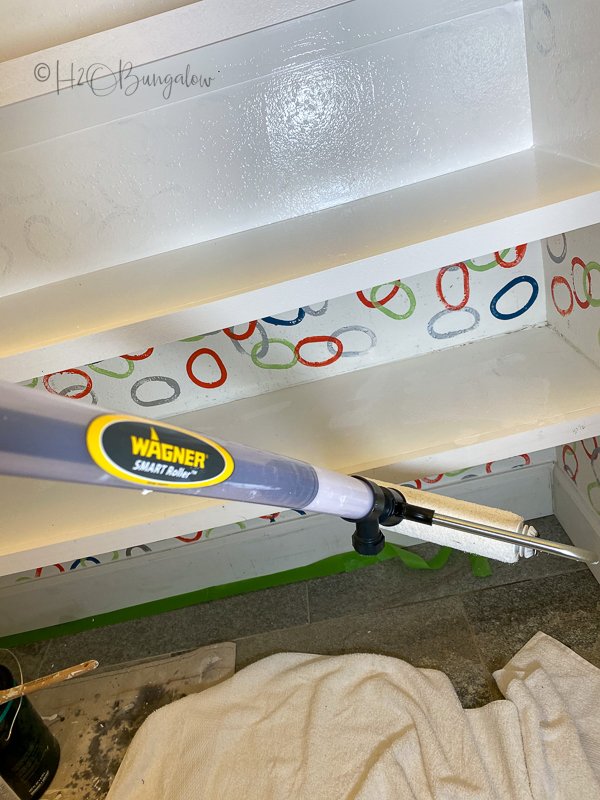 #3. Make bins for pantry organization
Use bins that fit the width of your shelves, are lightweight so they are easy to use and take out, are durable and have room for a label. Mine are from the Dollar Tree. They come in a few sizes and plenty of colors and at $1 each they were a bargain.
I realized what I already had was the best value and not too heavy to lift one-handed after looking high and low for new baskets, so I kept them and picked up a few more.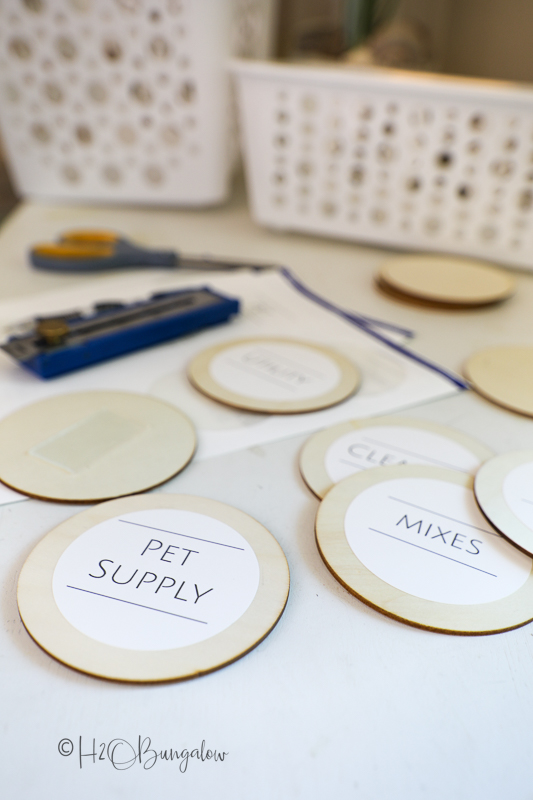 The pantry bin labels can be printed on 3″ round adhesive labels, or they can be printed on regular copy paper, cut out and decoupaged to the 3″ wood discs like I used.
Attach the labels with double sided tape, I used Nano tape, which is an awesome removable double sided tape. You could also drill holes and tie them on with twine or wire.
If my free pantry labels look familiar, they should! They match the DIY spice rack with free labels I built a few weeks ago. Don't forget to grab your free spice rack labels!
#4. Organize while restocking the pantry
How to use baskets to organize a pantry and free up space
The key to organizing a pantry and getting more space is to use bins and dividers on shelves. I use labeled bins to hold small and odd shaped items that tend to fall all over and get messy. Items like medicine bottles, bags of rice or beans are good examples.
The baskets are then used like bookends and keep like items in small groups on a shelf.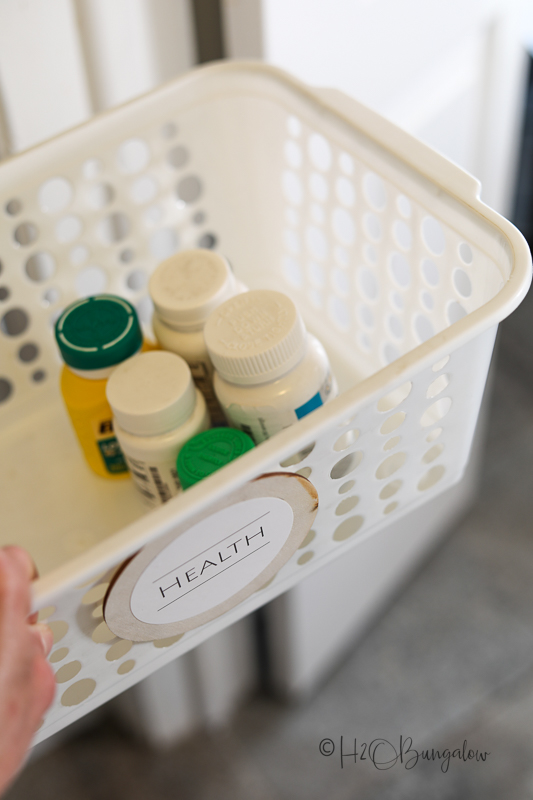 The Health basket holds our daily vitamins and supplements we take. I love that our vitamins stay off our counters and neatly tucked out of sight in a bin!
Next, start by placing the bins you use the most in convenient and easy to reach places on your pantry shelves. Be sure to place them where everyone who uses them can easily see what's inside or get to them.
Place like items together in the sections between the baskets. For example, I'll keep boxed crackers between the Bake and Grain basket. Or condiments in between Drink and Health.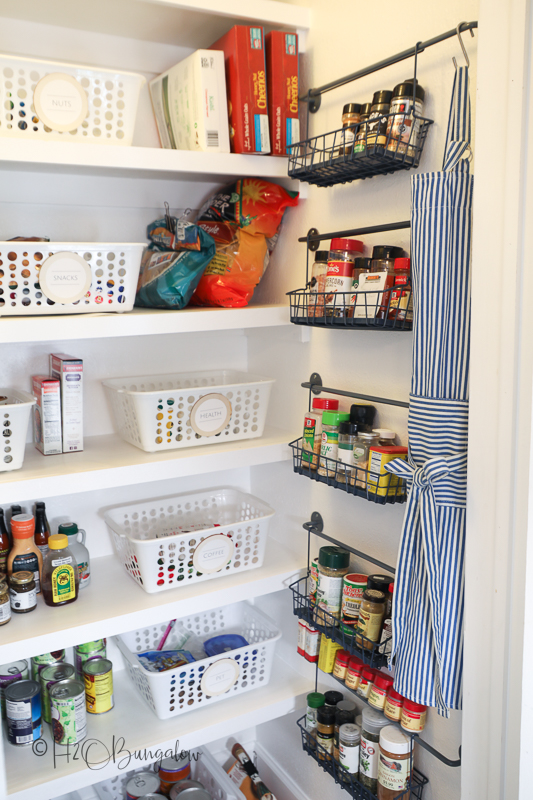 Small groups of items stay neater over the long-term and make it easy to see what needs to be restocked because just about everything is easily seen. I also don't over shop and end up with 5 bottles of ketchup or silly things like that. We waste less because I can see what I need to use before a certain date.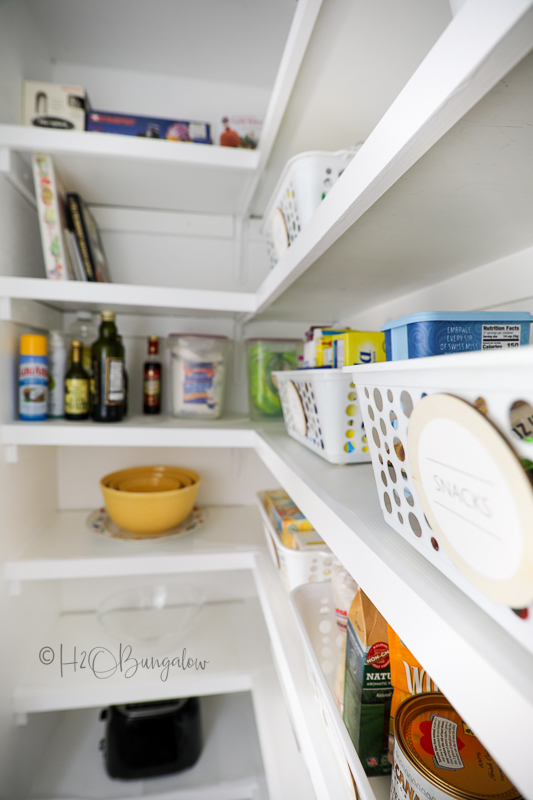 When you're done with placing the food products back into the pantry, move onto other items. Use hard to reach areas for items that you need, but not too often with items used rarely tucked in the hardest to reach out of the way places like a top shelf.
When you organize a pantry like this, it makes best use of space, especially in a small pantry!
I write the date on the packaging of food items we don't use a lot. Especially if I only use them a few times a year and they are date sensitive. Cleaning out old items is easy when I know how long ago it was opened.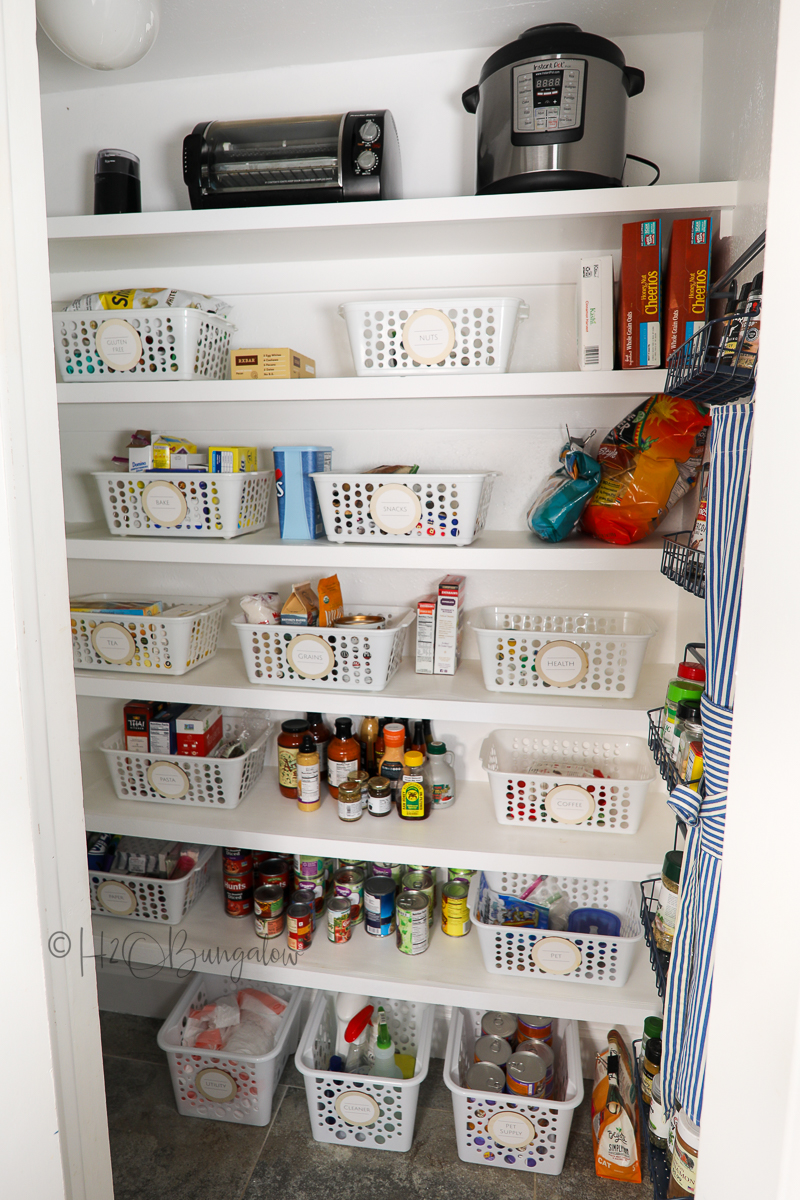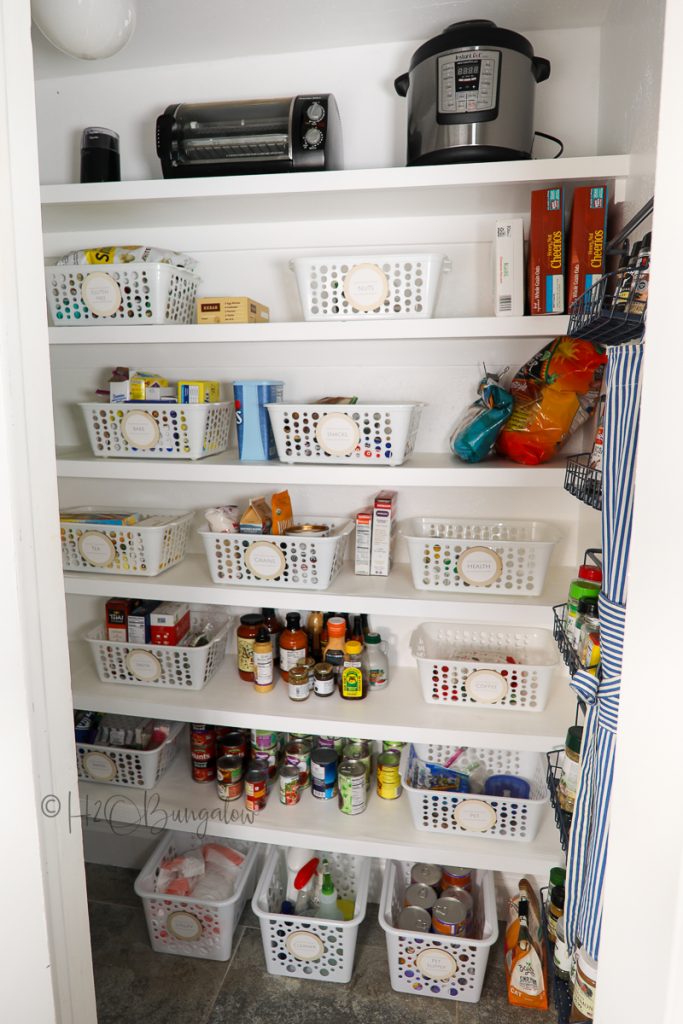 As I mentioned earlier, it's not what I used, but how I used it, that made the difference for keeping a pantry organized in the long run. I've tried other pantry organization ideas before, but they all fell short.
Pin how to organize a small pantry and get more space and share with your friends on Facebook!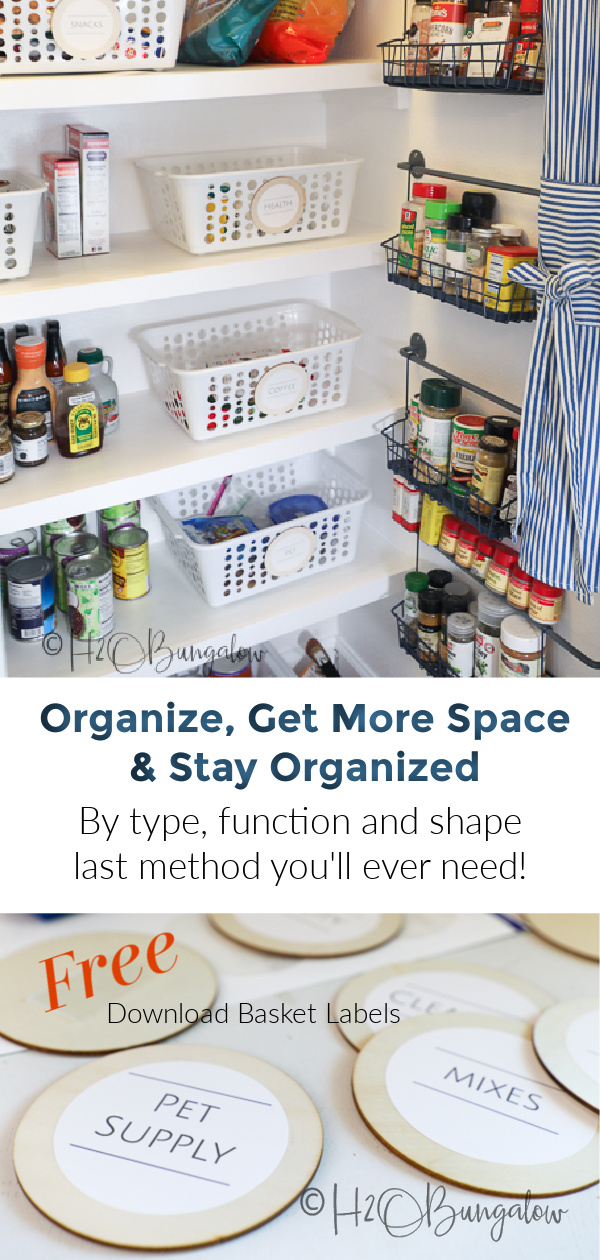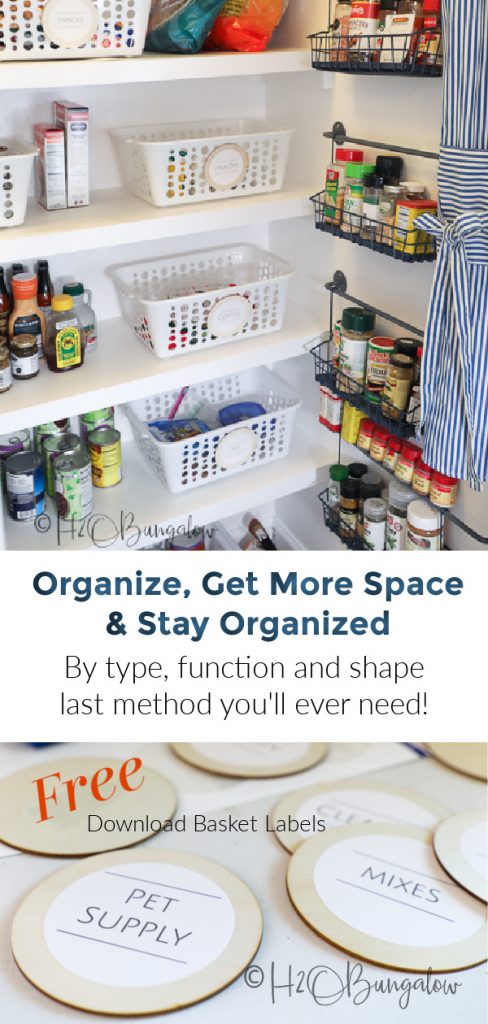 Struggling with organizing your small home? You might enjoy how I found solutions to my small home challenges too 5 Creative Ways To Deal With Sentimental Clutter and Small Home Organizing Strategies or How To Organize Spices In A Small Kitchen