Today I'm sharing how to paint over dark stained wood and update old furniture with paint. Styles have changed dramatically over the years and often, that leaves us hanging on to an old favorite piece of furniture that doesn't fit into current decor styles. For this furniture update, I used a friend's dark wood vintage tables and gave them new life with a fresh coat of paint. I'll show you how to paint over old dark stained wood, tips for sealing wood before painting to prevent bleed through, and lots more in this week's project.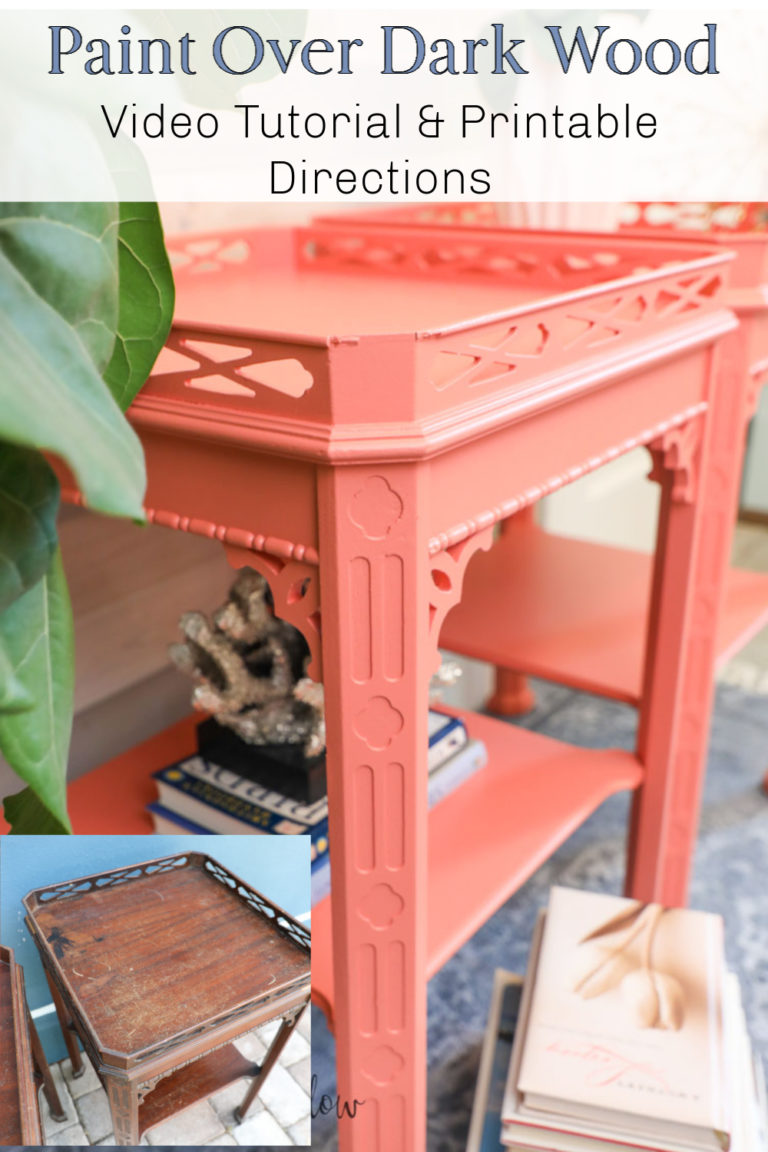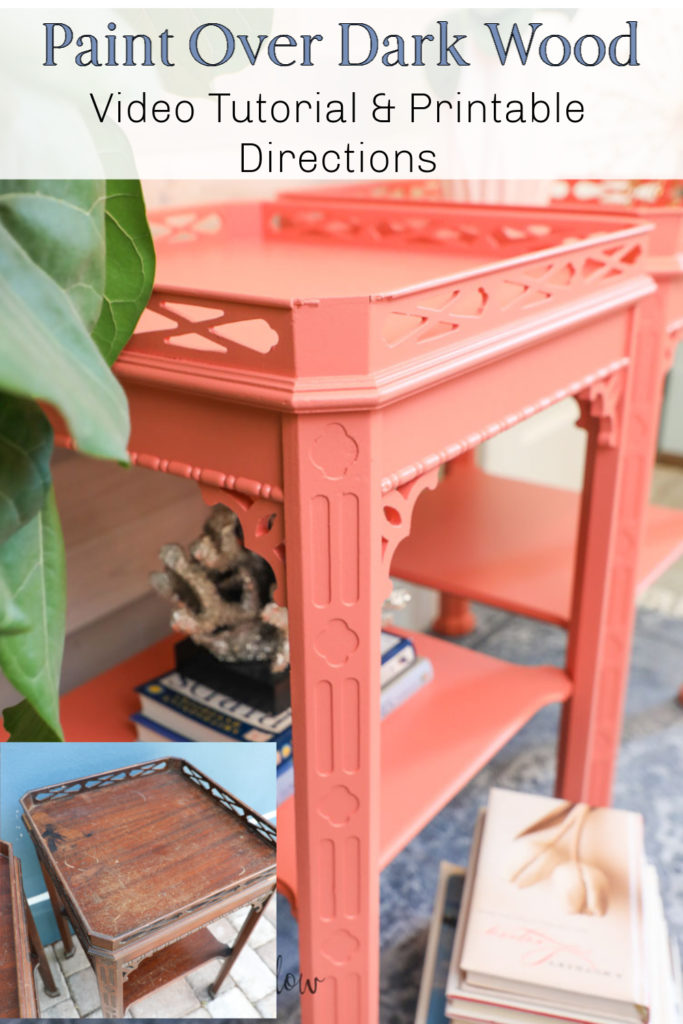 Painting a light color over dark stained wood isn't hard if you follow a few steps first. I've made a video of how to paint over dark stained wood to show you the steps I took in this vintage furniture makeover.
This is what the tables looked like before I painted them. There's no shame in painting over old furniture when it's in really bad condition. These tables had been well loved and they still were loved. I can see why. They have a unique and beautiful shape!
The only challenge I had was painting over the old dark wood without bleed through of the tannins that naturally occur in wood.
Did it work? Read on and see for yourself!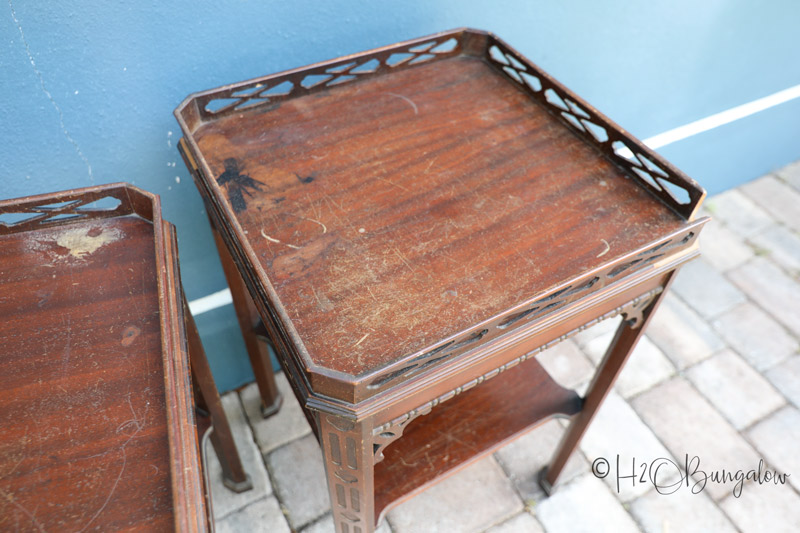 How to Paint Over Dark Stained Wood
Sending out a big thank you to HomeRight for sponsoring this post. This post also contains affiliate links, as an Amazon affiliate I earn a fee from qualifying purchases. Thank you for supporting the brands that keep H2OBungalow going!
Supplies needed for this vintage furniture makeover.
Paint, I used 50% mix of Sherwin Williams Ravishing Coral and Quite Coral

Quality paint primer
Painter's rags

Sander

120 or 150 grit sandpaper
Take a peek at my video of how I updated old dark stained wood tables. Even if you don't use a paint sprayer, you'll find lots of useful painting tips for your own vintage furniture makeovers.
Step 1. Repair
The first thing you want to do is repair any missing pieces or loose trim before painting. Use wood glue and wood putty where needed. Metal office binder clips work great to hold intricate pieces in place while the glue is drying.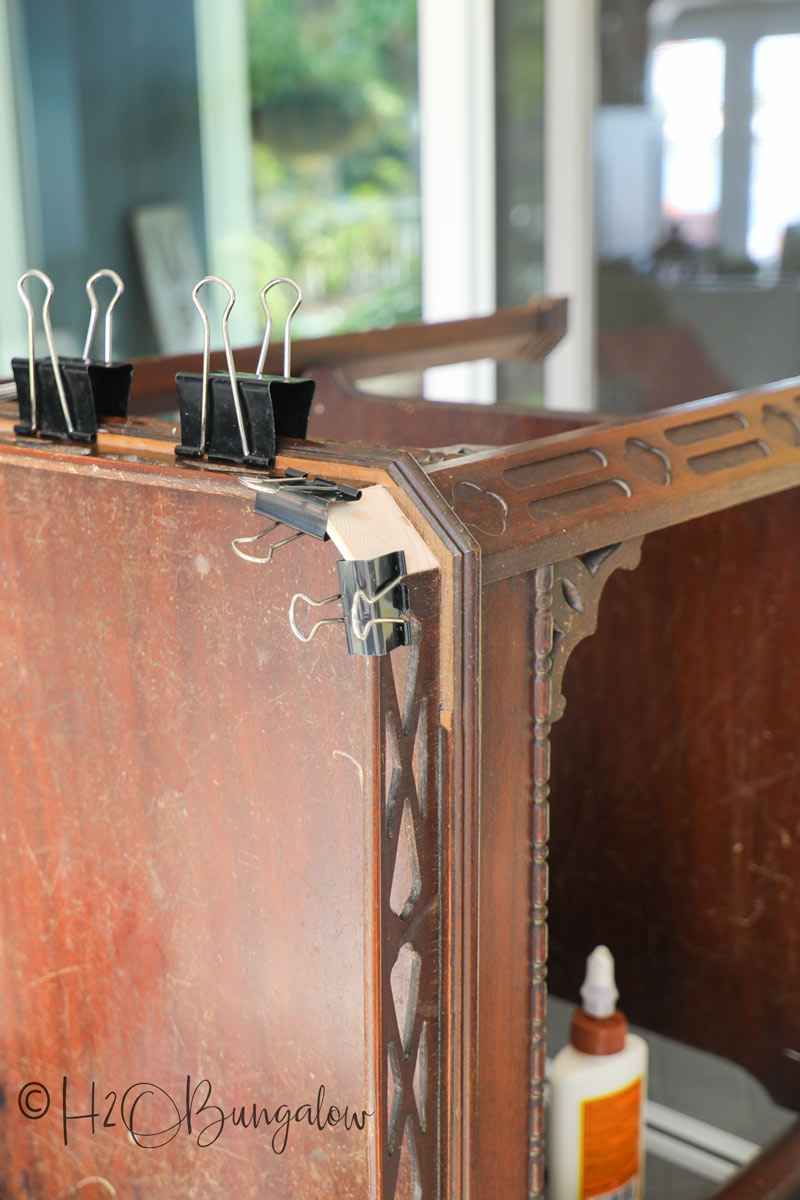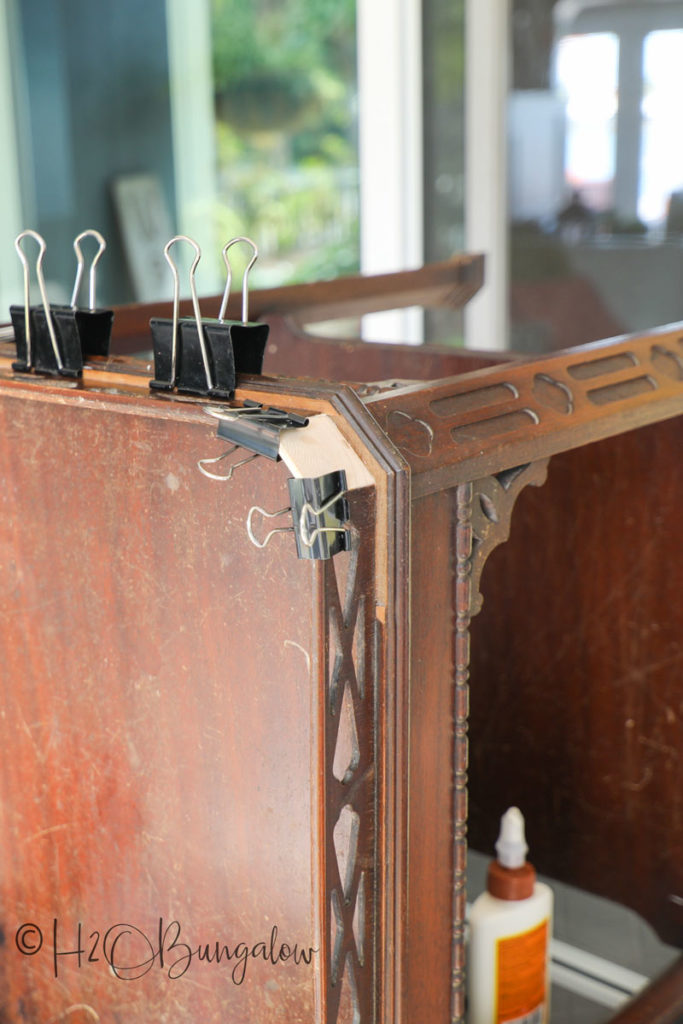 Step 2. Sand if needed
Lightly sand flat surfaces if there are deep gouges in the wood. I sanded the tabletops and shelves with a random orbital sander and 120 grit sand paper. You'll be able to feel when the gouges are gone by running your hands over the area you've just sanded.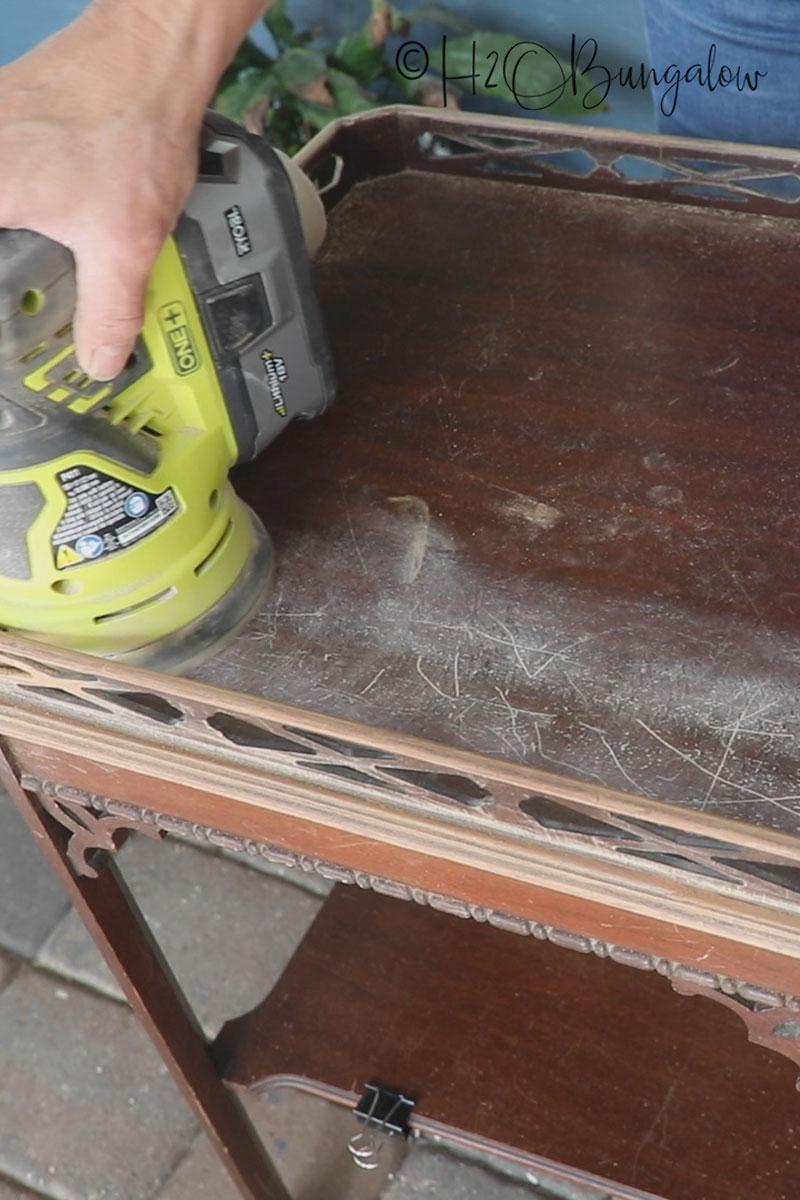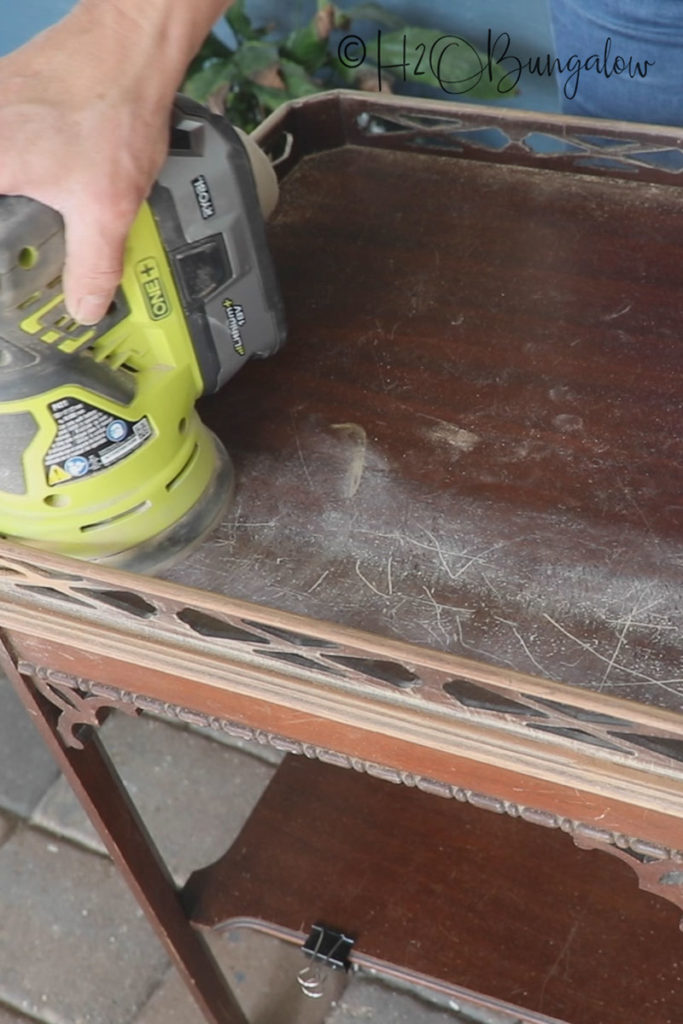 If needed, lightly sand other surfaces like the edges of the trim and top of the table's fretwork to be sure it's smooth also. I did this by hand with a sheet of sandpaper folded over. You won't need to do this unless the old finish is flaking or loose.
When you're done, wipe well or if you have a shop vac it helps to go over your furniture piece to remove as much sanding dust as you can before moving on the the next step.
Step 3. Degloss
Deglossing and cleaning your dark wood furniture before painting is really important. This step prepares the dark wood for painting. Done properly, the paint will have a good surface to adhere to and last a long time.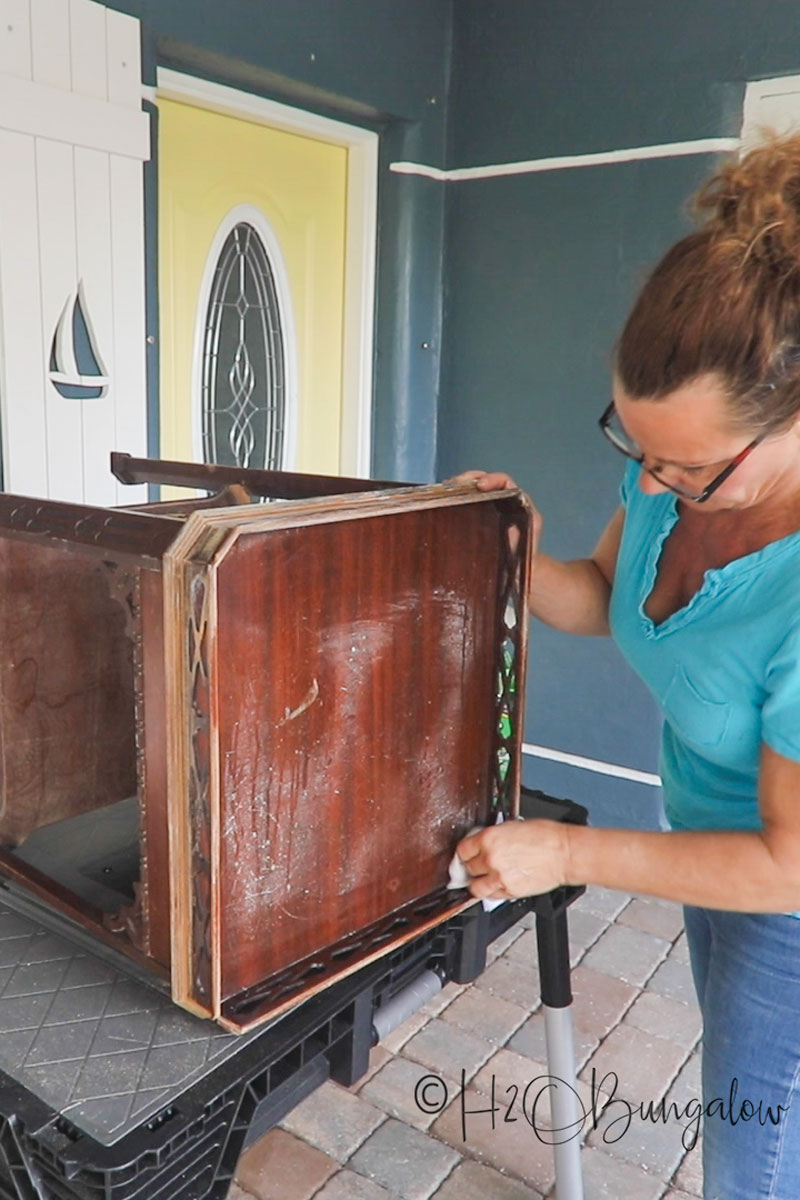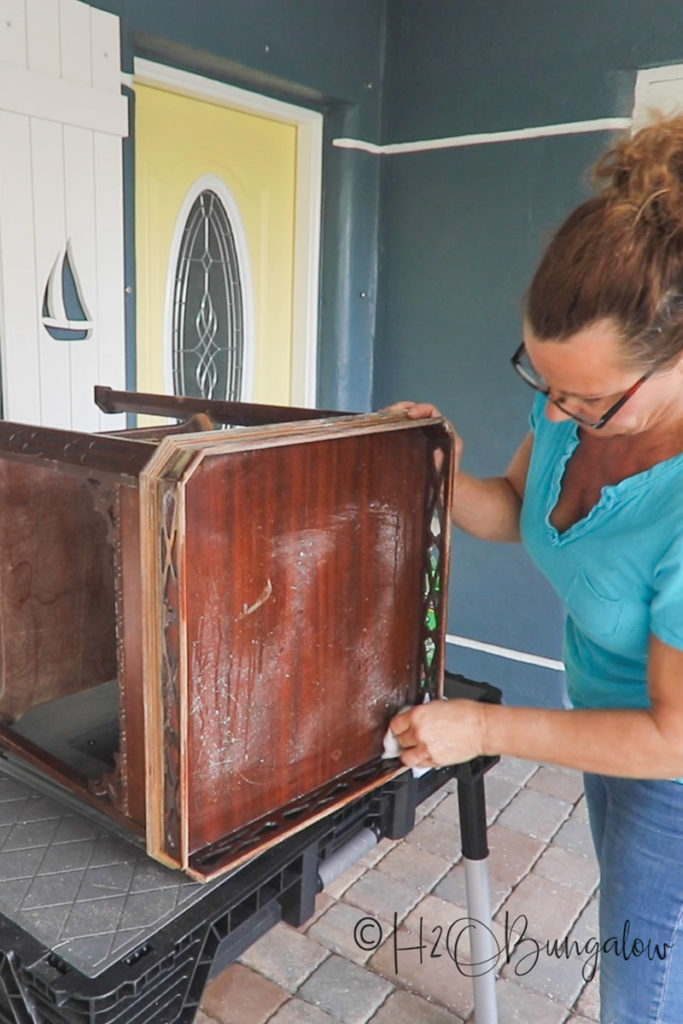 Use Simple Green and clean cotton painter's rags to degloss all of the surfaces thoroughly. This not only get years of dirt off, it takes the shine off the old finish and prepares the surface so the paint will stick to it.
Be sure to get all the nooks and crannies.
Step 4. Apply two coats of primer
Dark wood or stained wood furniture is notorious for tannins bleeding through new and light paint.
I used a water-based Gripper Primer first. Two other good primers are STIXX or Zinsser. Spraying inside fretwork and cutouts can be challenging and lead to dripped paint if you paint over the same place too long while trying to get these areas painted.
My solution when painting vintage furniture with a lot of detail is to pre-paint the fretwork. I used an artists brush to apply a coat of the primer inside all of the fretwork.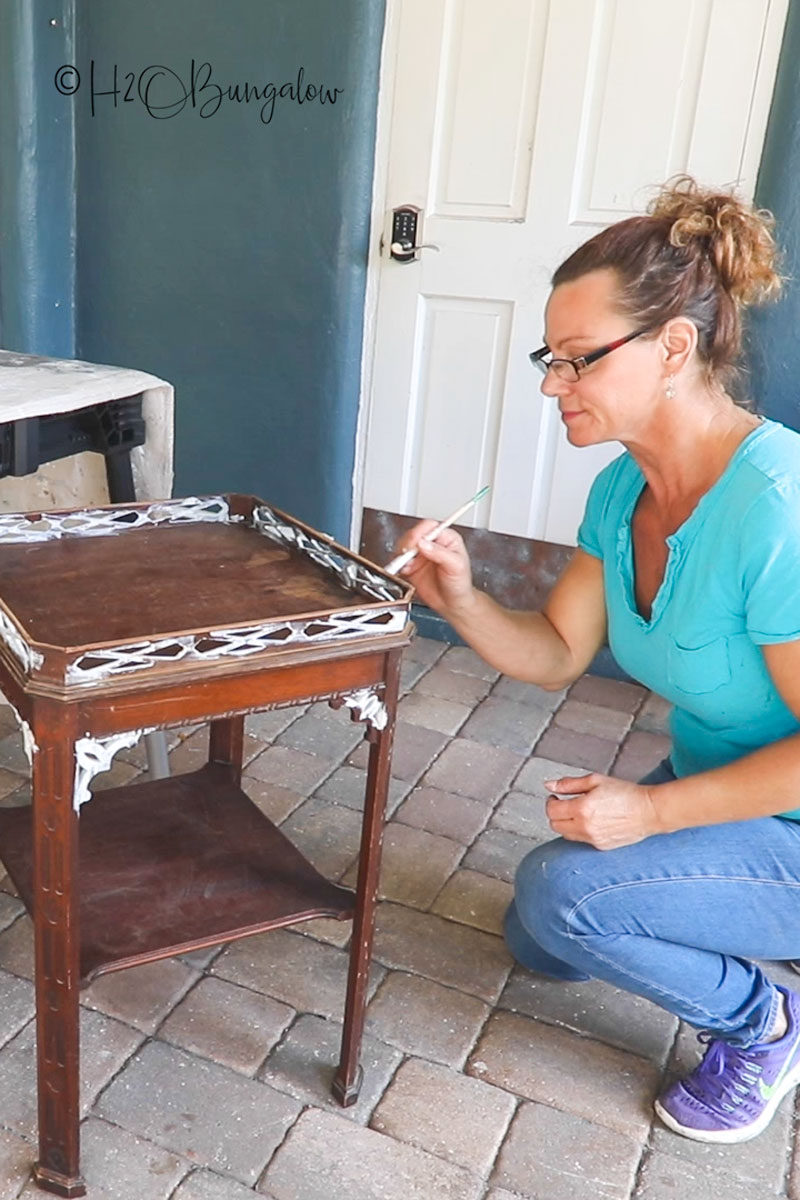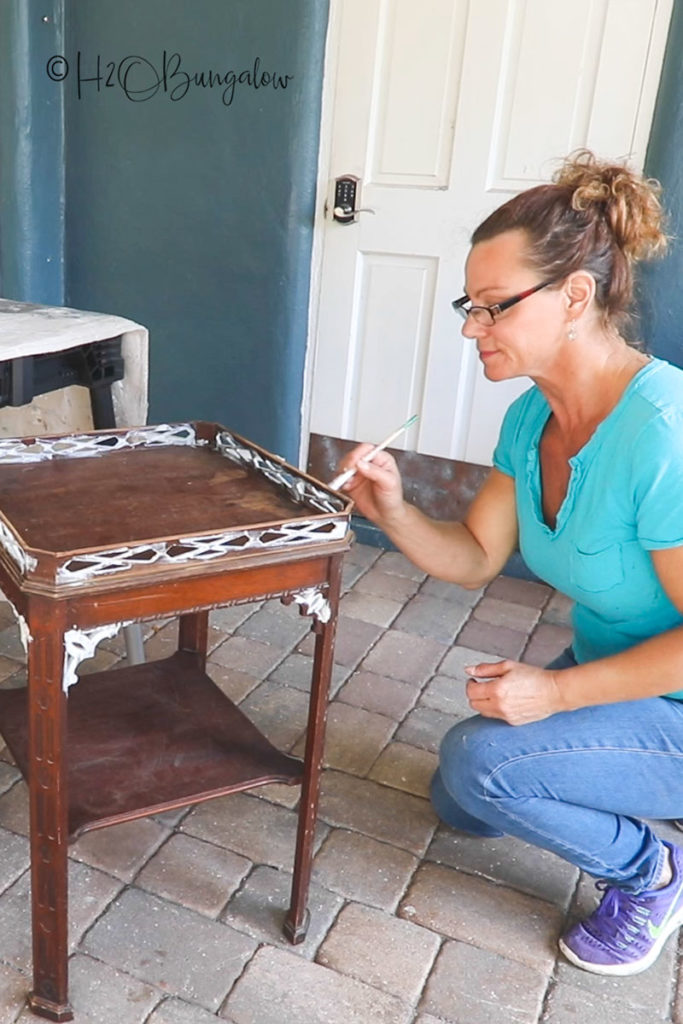 Be sure to check over your pieces from all angles when pre-painting intricate cut outs so there are no missed areas.
Next, you'll prepare the primer to paint the rest of the furniture piece. I diluted my primer with water until I had the consistency of a runny pancake batter and applied it using my Super Finish max paint sprayer.
Watch my video to see how I set up my paint area to protect it from overspray and use my paint sprayer.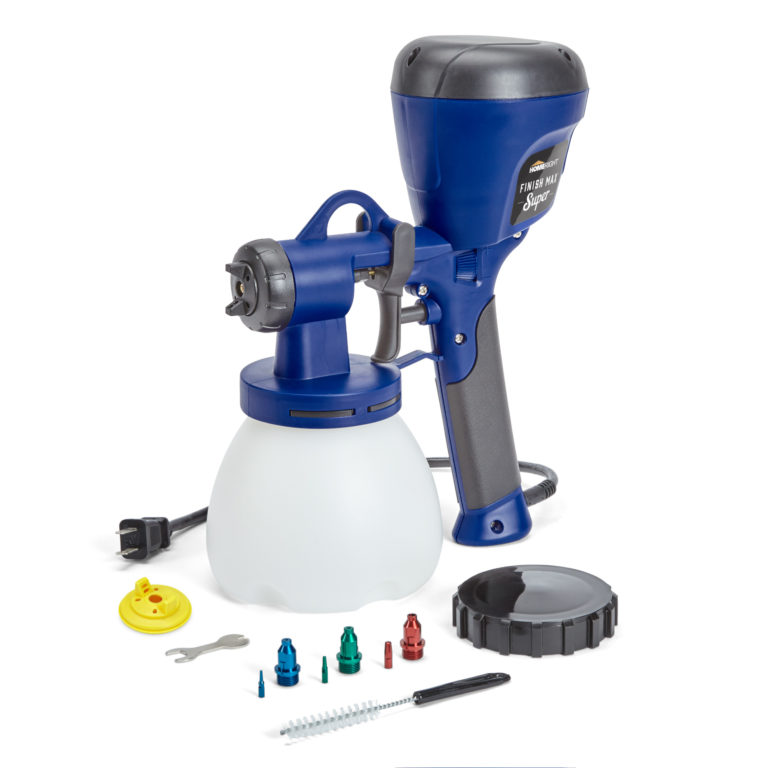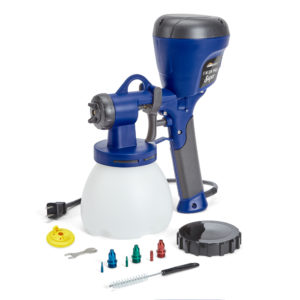 Tip: Add part of the water into the paint container before adding your paint. It mixes better and the paint doesn't stick to the bottom of the container.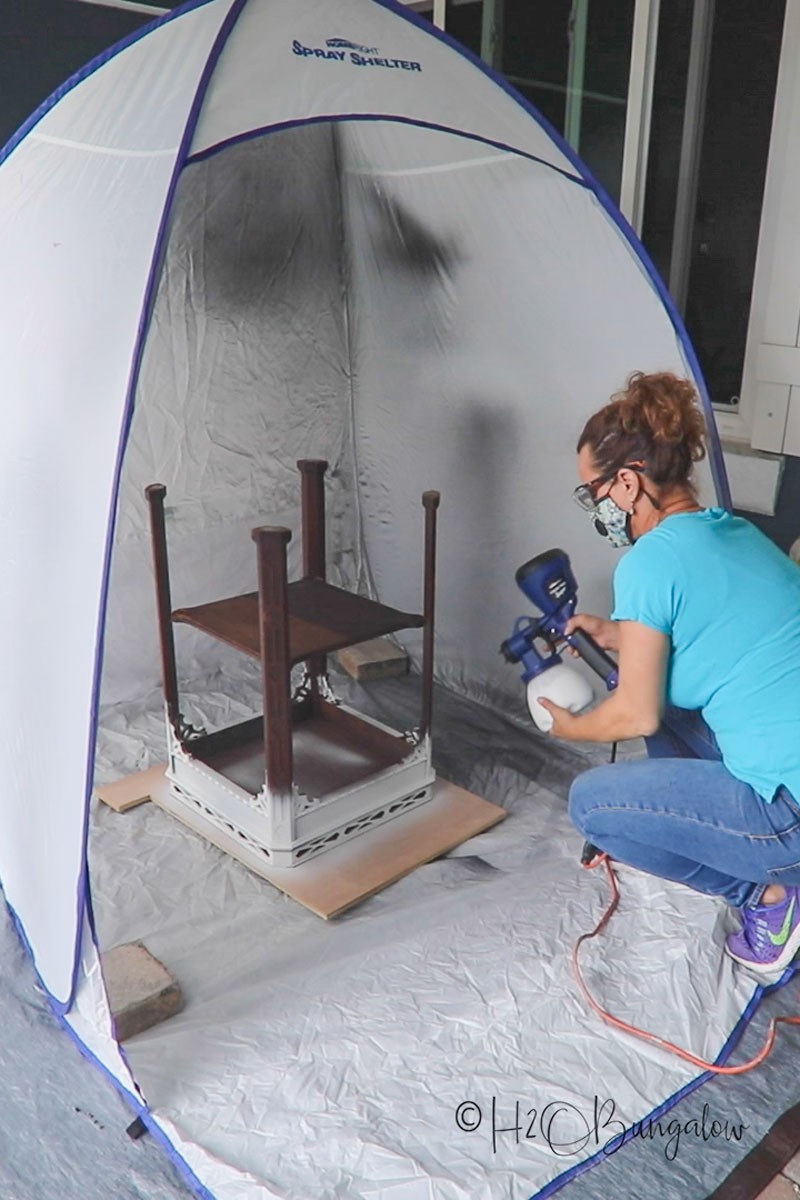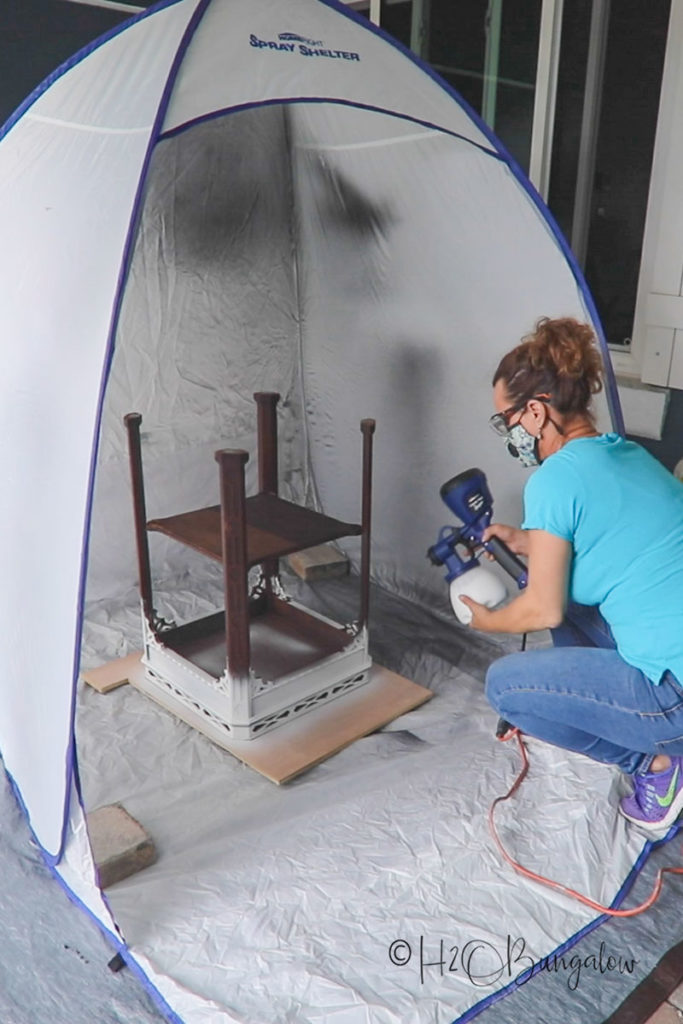 Apply two coats of primer allowing each one to dry before applying the next coat.
Tip: Always start at the bottom underside, if adjustments need to be made on the sprayer do them on this part that people are less likely to see.
Even with two coats of primer the tannins and oils in the wood bled through a little on one of the tops. This is the challenge of painting over dark wood furniture.
If you have this too, apply another coat of primer to only the areas that bled through. Allow them to dry thoroughly until the primer is completely dry and you don't have any more dark areas showing through the paint.
This is especially important when painting a light color over dark wood. The dark areas will eventually show through the paint.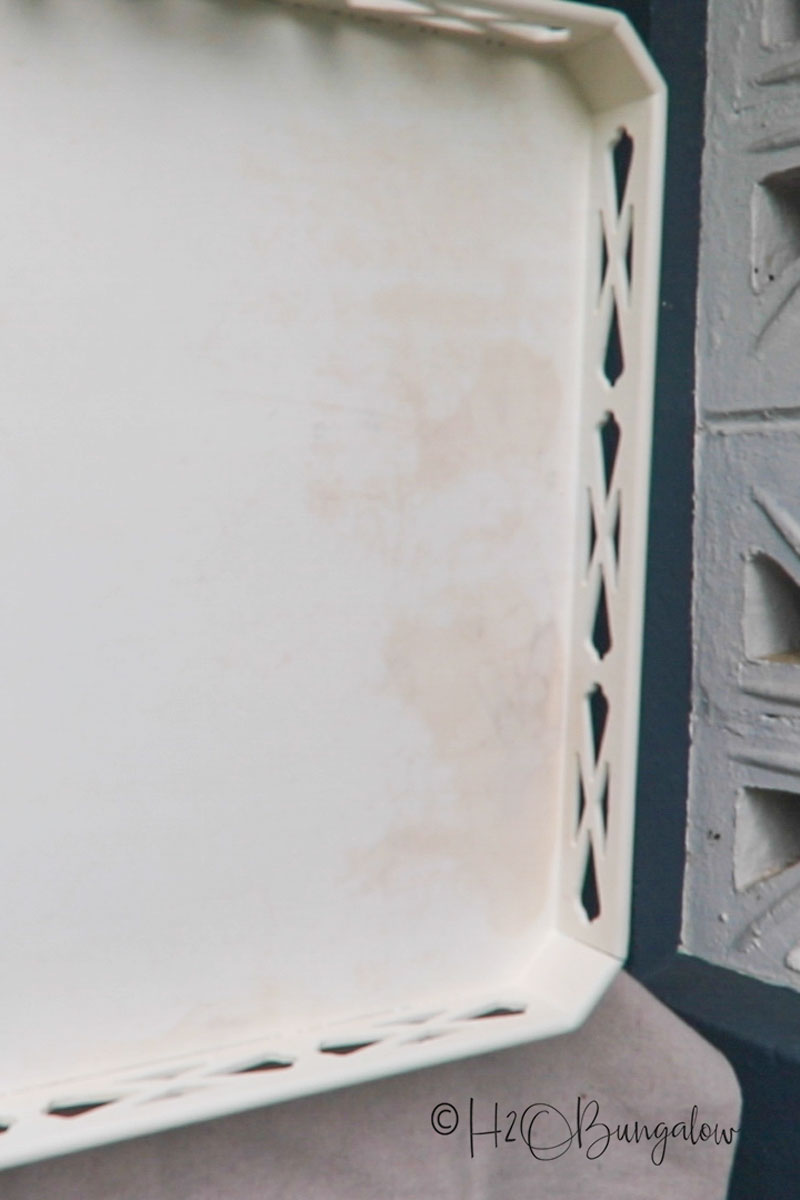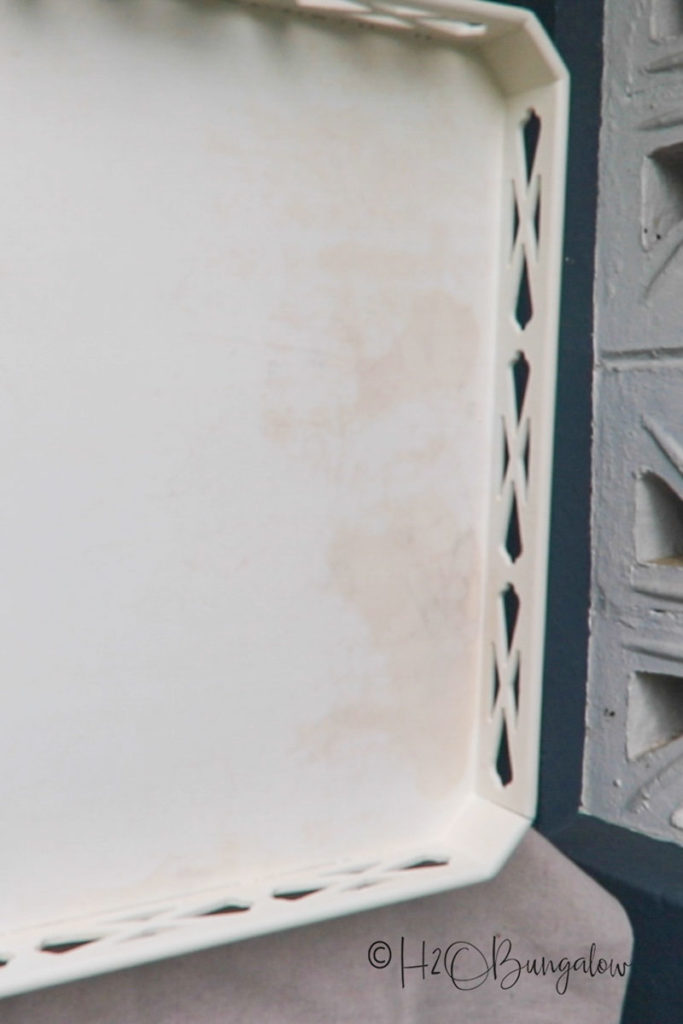 Step 5. Apply two coats of paint
Plan on giving your furniture two coats of paint in the same way as the primer was applied. I started just like I did with the primer by hand painting the fretwork detail.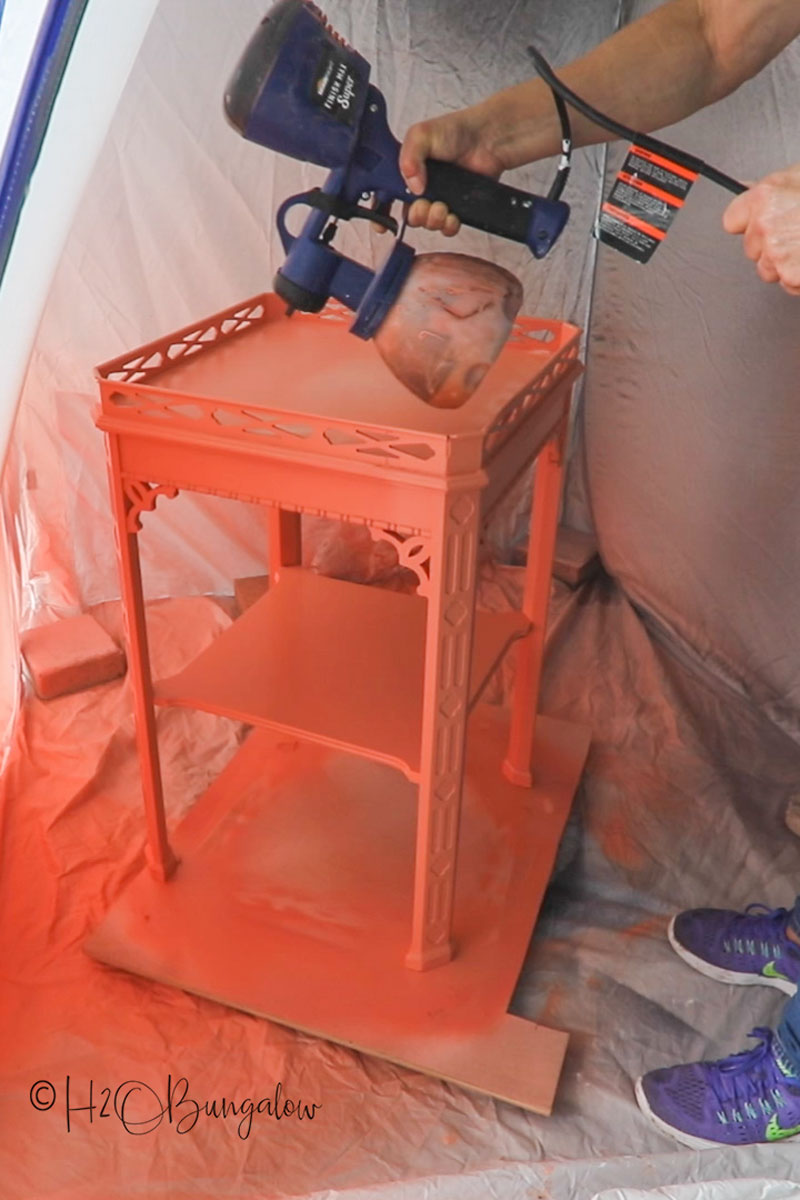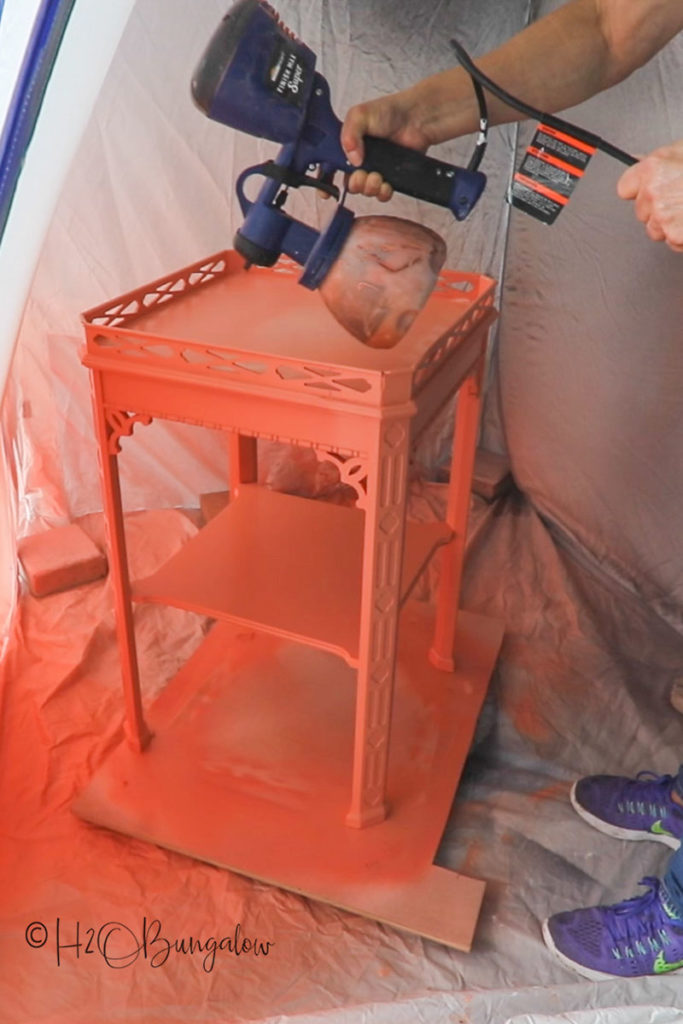 There are a lot of steps to painting over dark wood furniture and it can be time consuming. But, it's so worth the time and effort!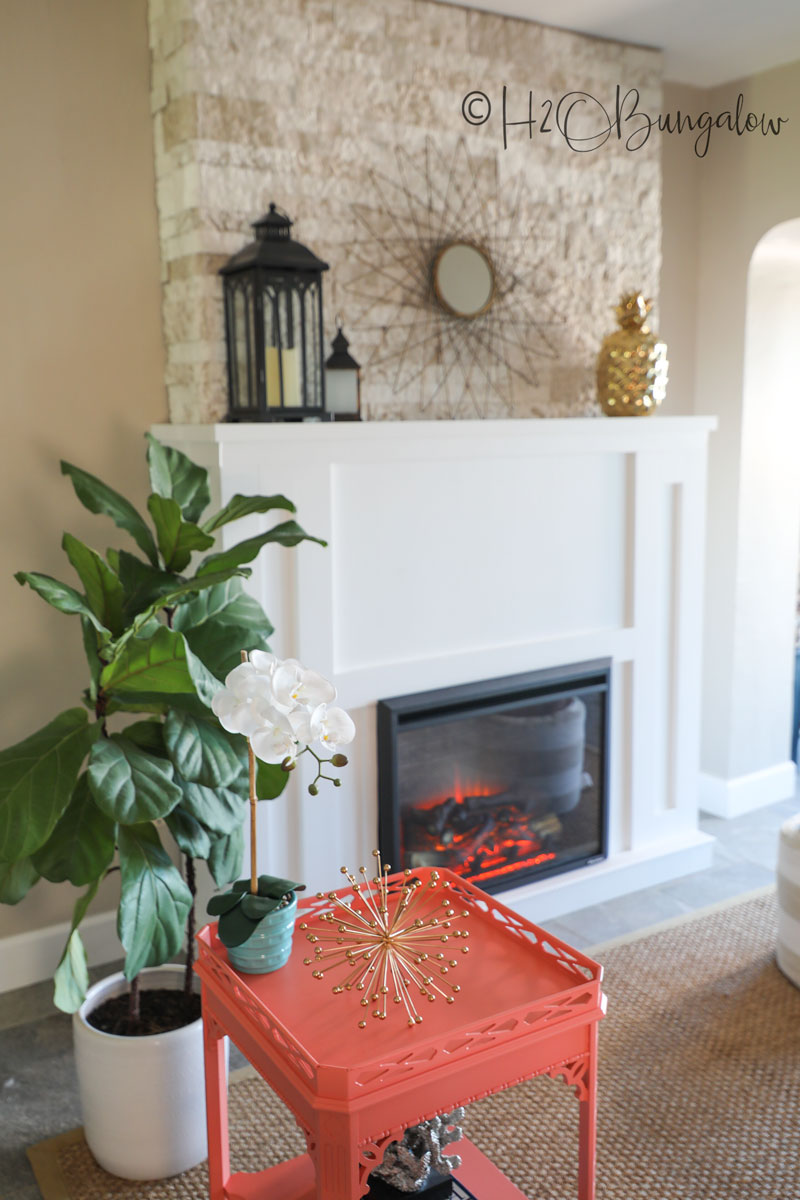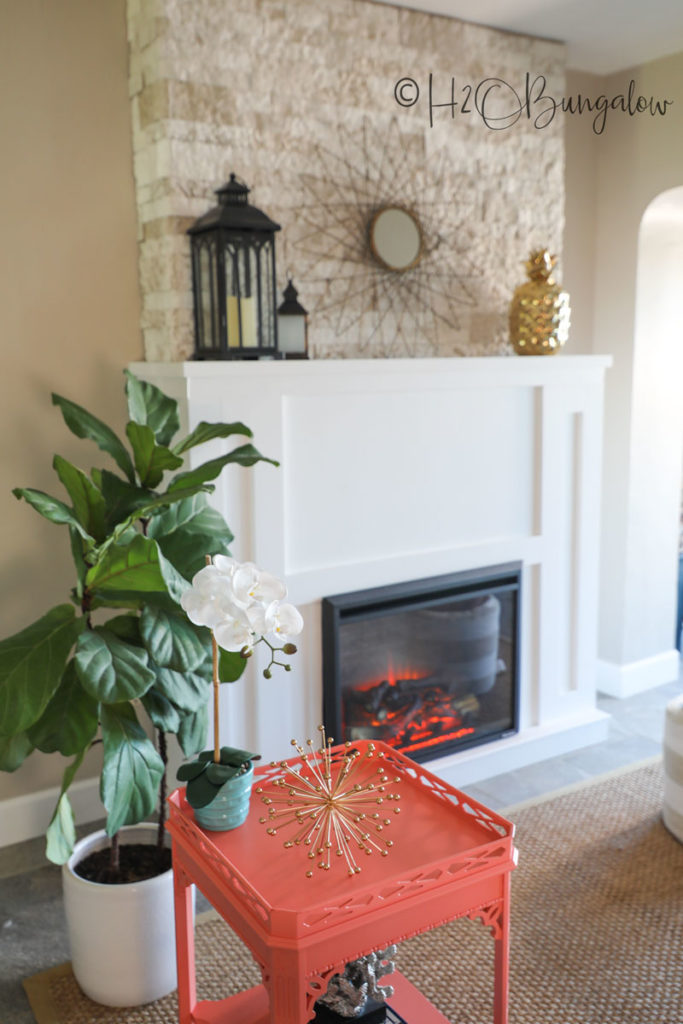 You can see the piece I made where the corner was missing. It's not perfect but still looks better than it did before I started.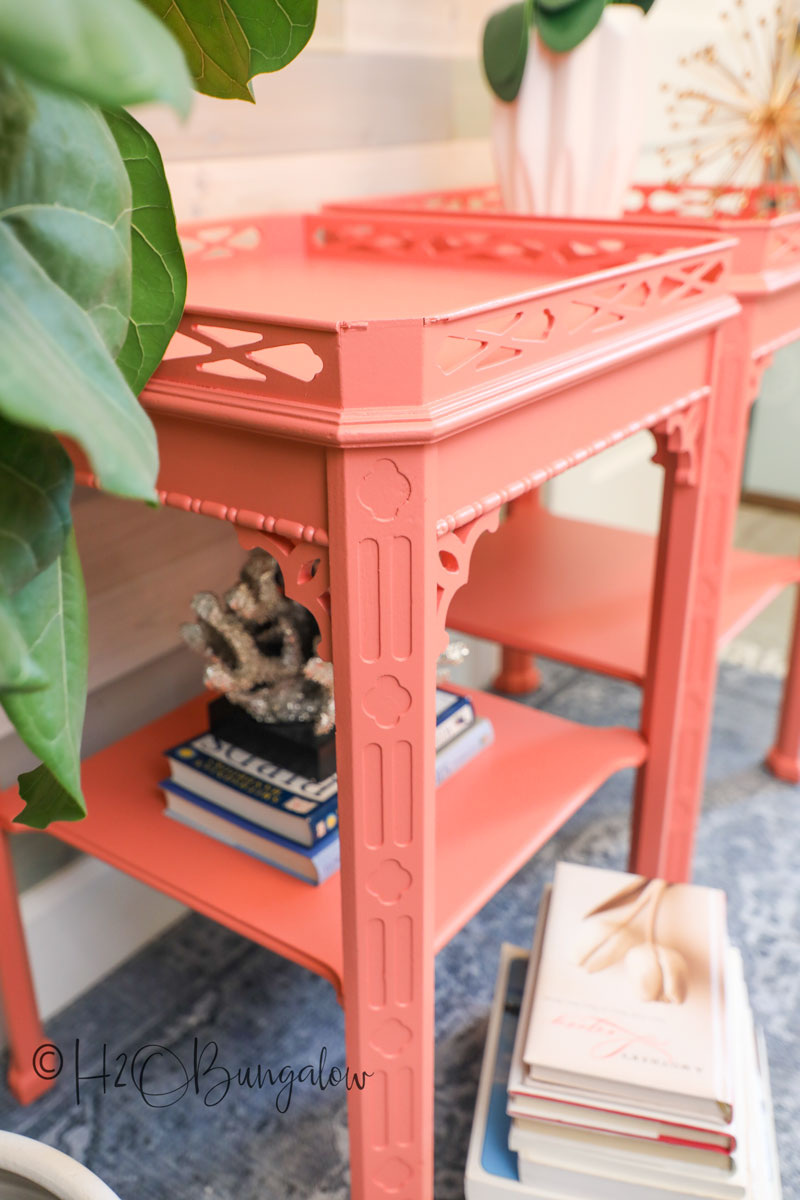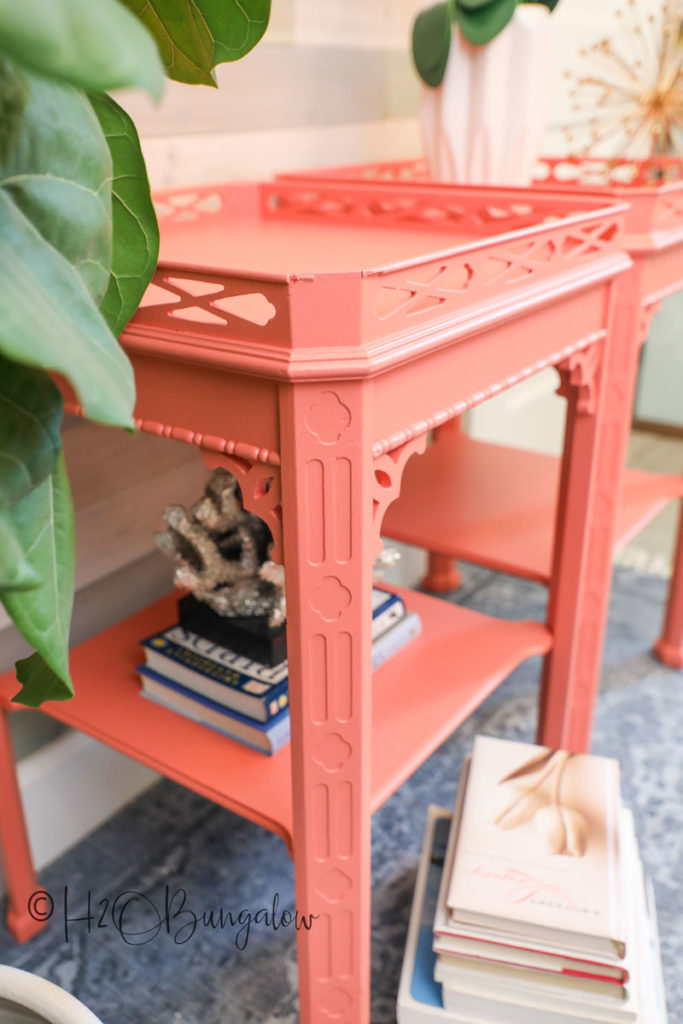 Painting the fretwork first by hand was a good choice for this vintage table makeover. My Super Finish Max paint sprayer gave this table a beautiful and perfect finish with no brush marks or drips anywhere.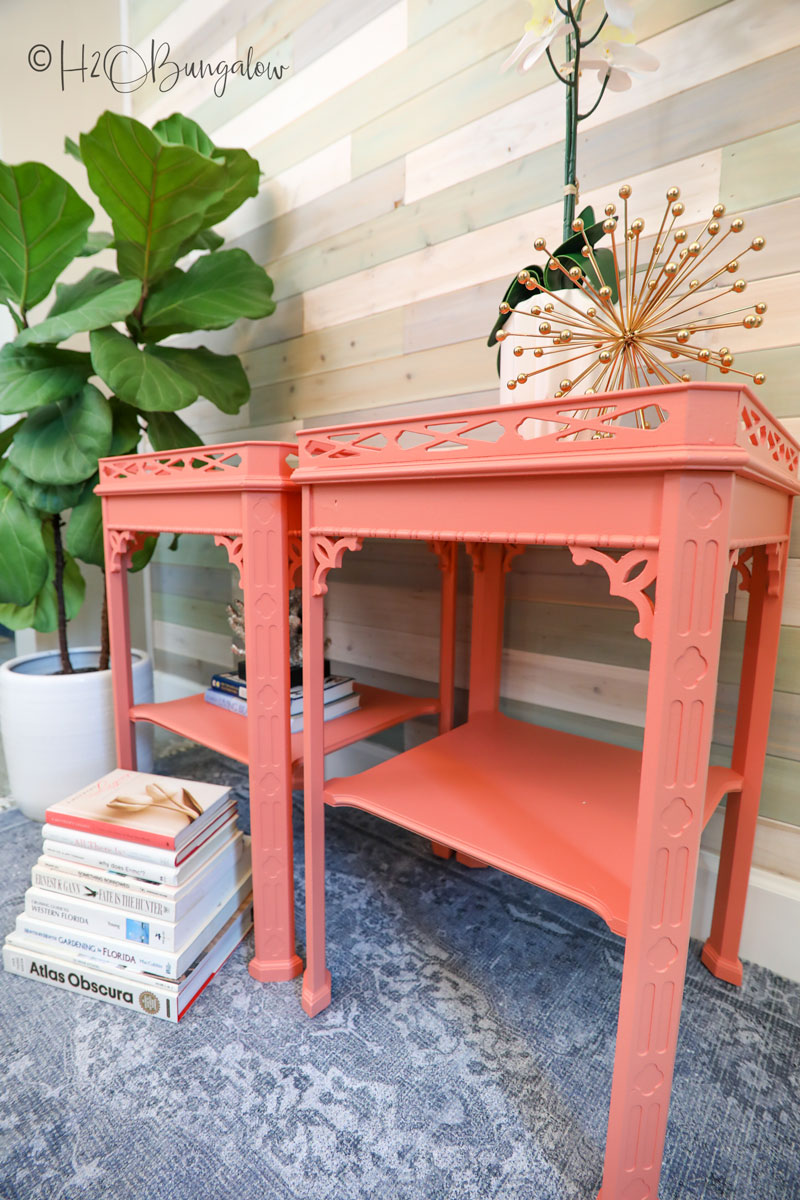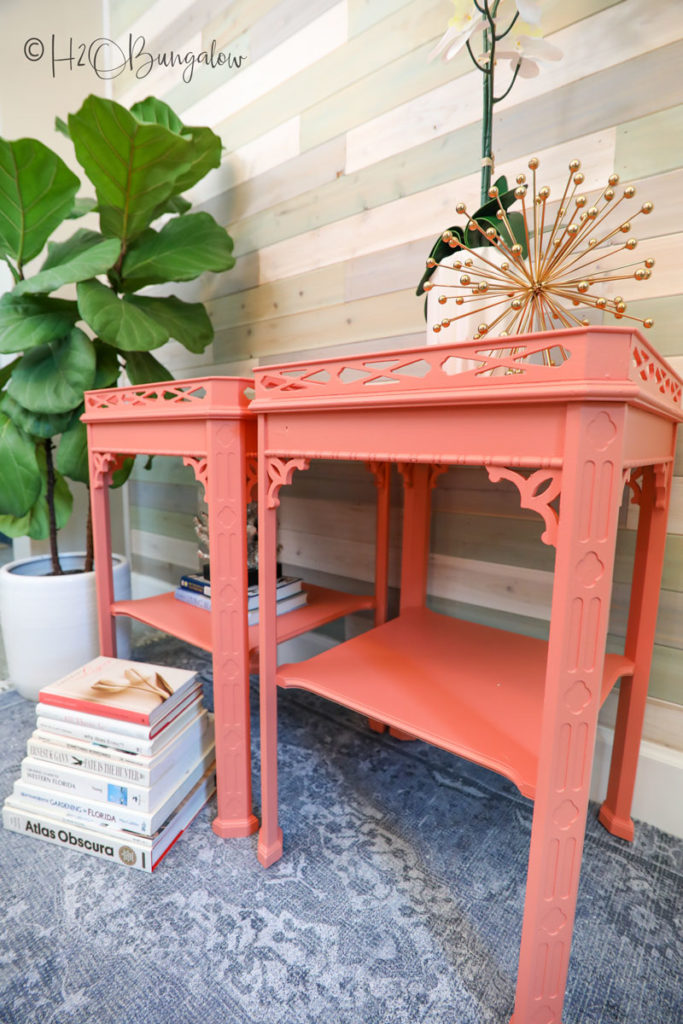 Don't forget to pin how to update old furniture with paint and share my project with your friends on facebook!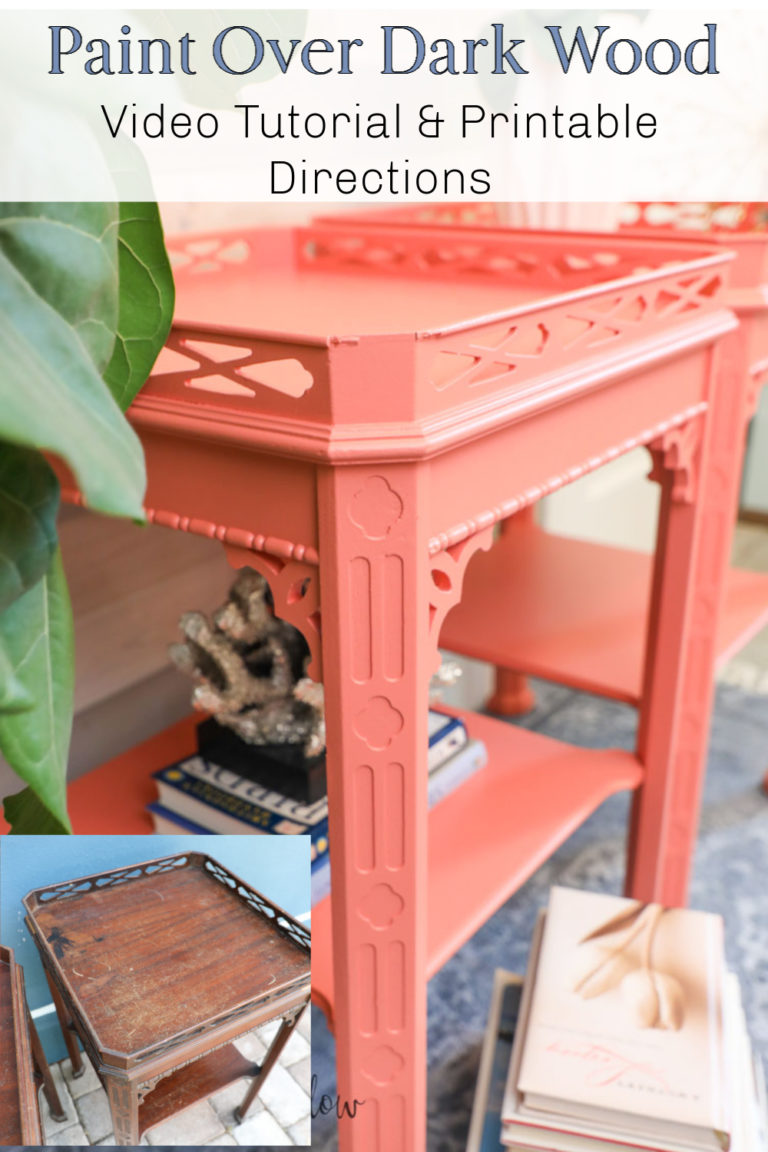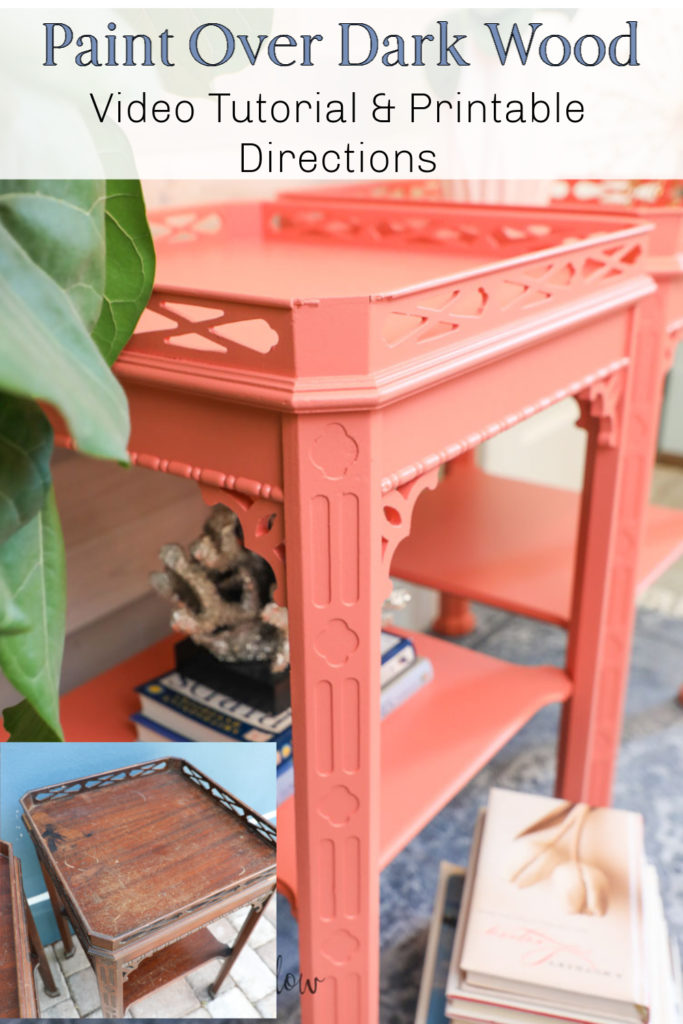 I had a fun time with these tables staging and taking photos. Too bad I had to hand them back to my friend! She uses them as nightstands. Can't you imaging how beautiful they must look next to a white bedspread and colorful throw and pillows?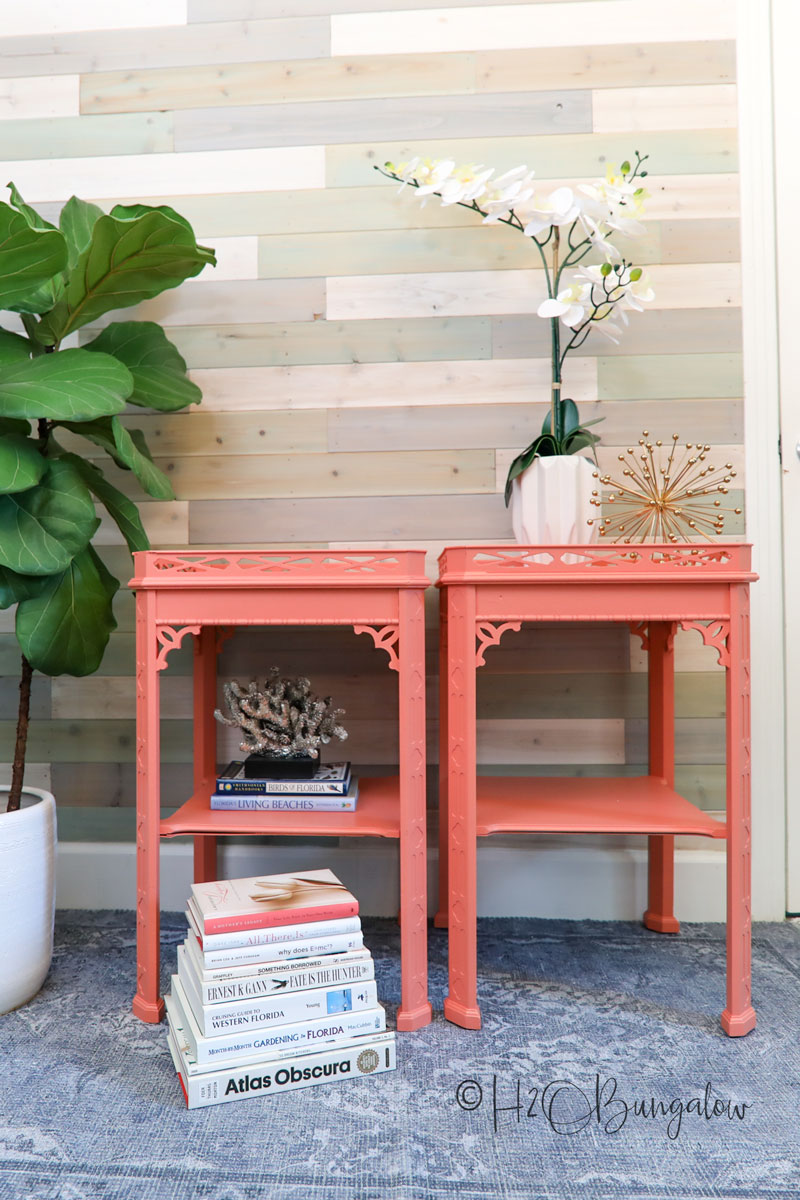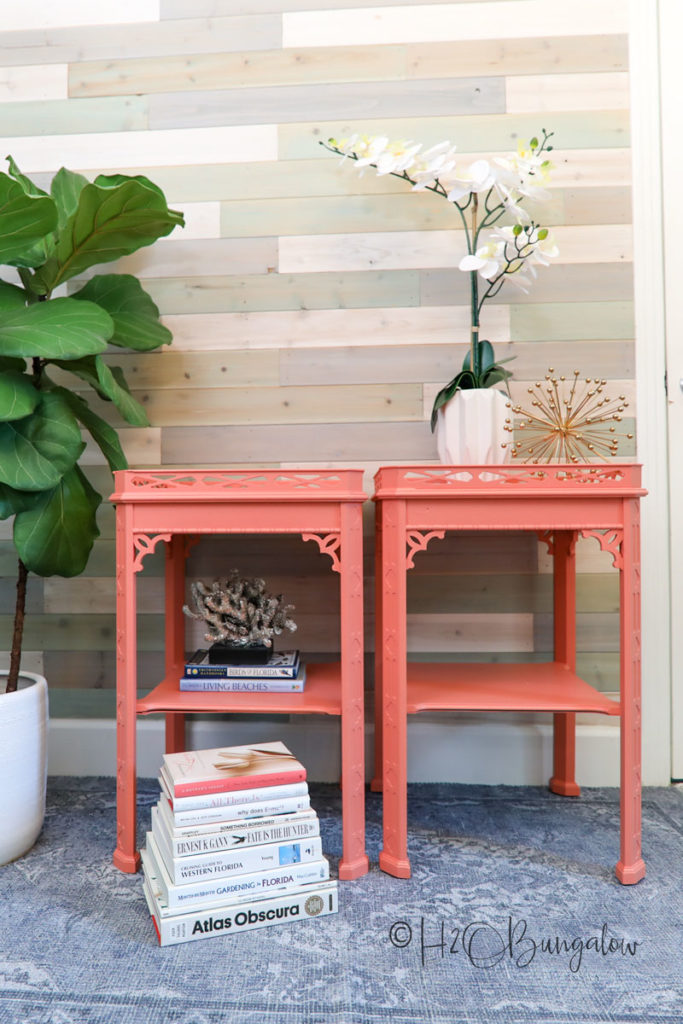 Now that I've shared how to update old furniture with paint and how to paint over dark stained wood are you ready to tackle a vintage furniture makeover too?