Today I'm sharing how to paint a front door without brush marks. Yes! You can paint a front door by hand and get a perfect finish for about twenty dollars in an afternoon. It's one of the fastest pick-me-ups I know to add a quick boost of color to a front yard. Need tips for choosing a front door color? Read on to see how to pick the best color for your front door too.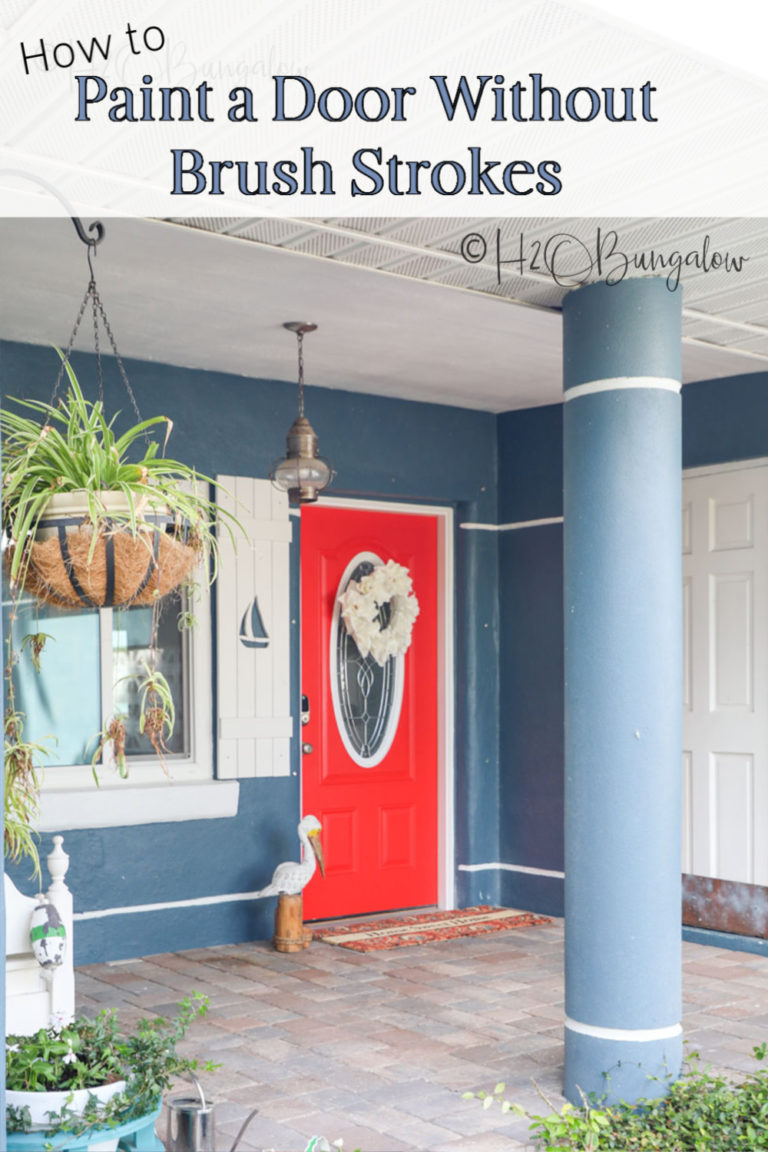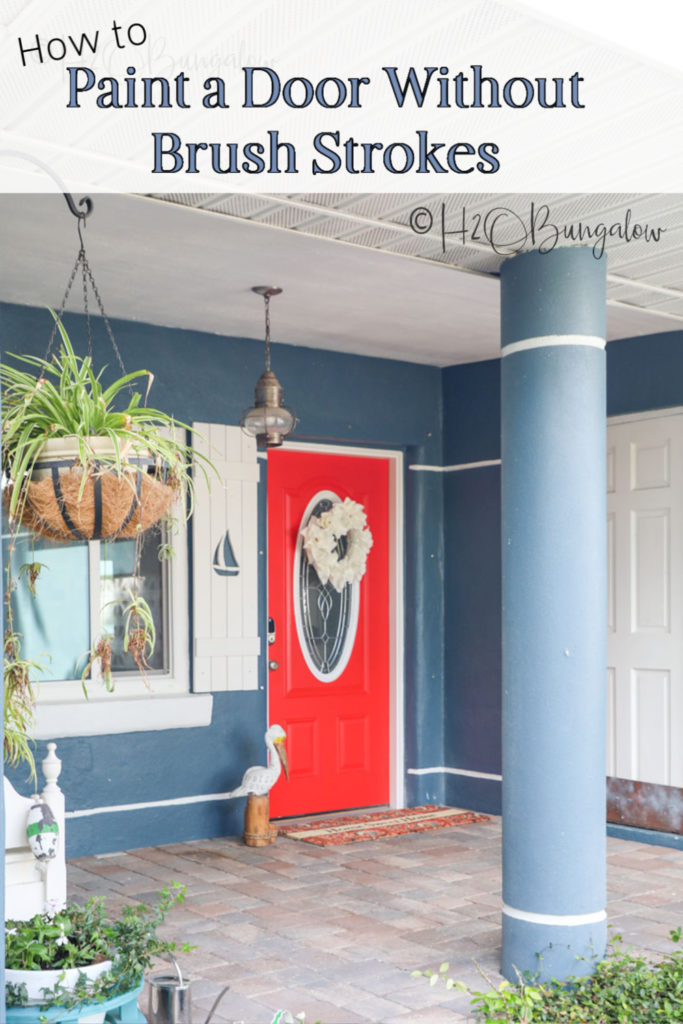 You may also like my How to Paint a Front Door a Beginners Guide.
In the last 8 years my front door has been 5 colors. It was white when we bought the house. Then peach when the house was mint green, which didn't really fit well. So, when I changed our house color to Bungle House Blue by Benjamin Moore in my How To Paint Your Home With a Paint Sprayer tutorial. I repainted our front door in my How to Faux Paint a Copper Door project. It was cool looking but of course, I got bored with that too.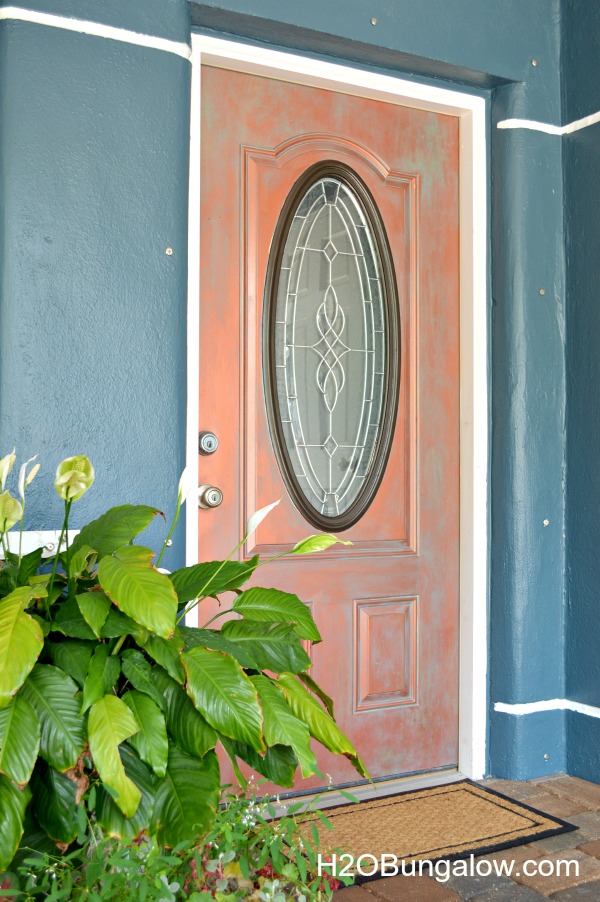 A few years later I painted it light yellow which was beautiful.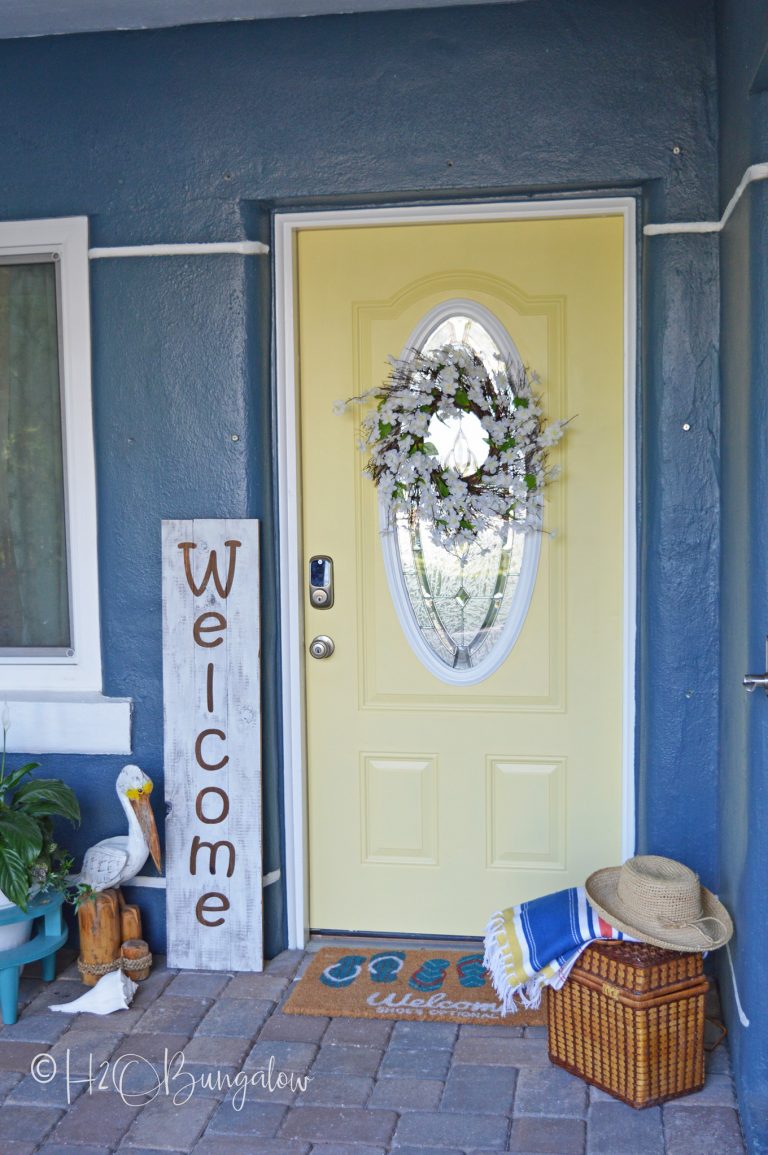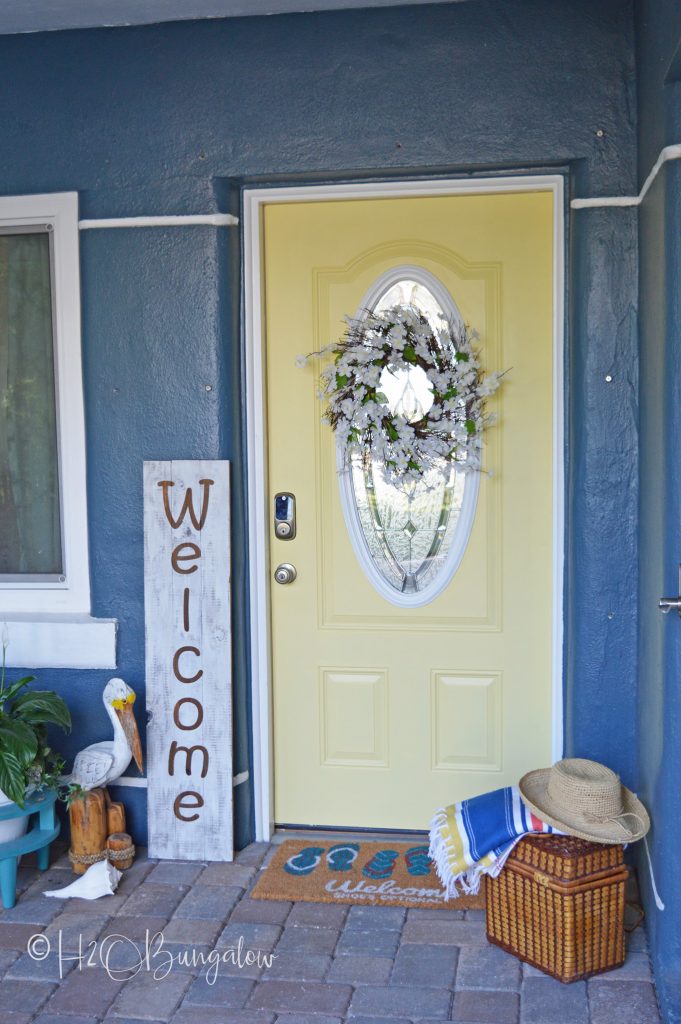 But, it's time for a change. I'm now in the mood for something really bold, a bit in your face and happy. Especially after last week's amazing vintage tables I painted coral.
A front door color is like a like a hair color, it's easy to change and if you don't like it, just paint it again! After all, it's just paint, right?
How to Paint a Front Door Without Brush Marks
To help you find the products I used in this project, I use affiliate links, as an Amazon Associate I earn from qualifying purchases. You can read more in my disclosure statement.
Supplies
Paint – I used Lovely Love Song in Satin by Valspar
Saran wrap or plastic bags
Painter's rags
Drop cloth
Step 1. Choose a paint color.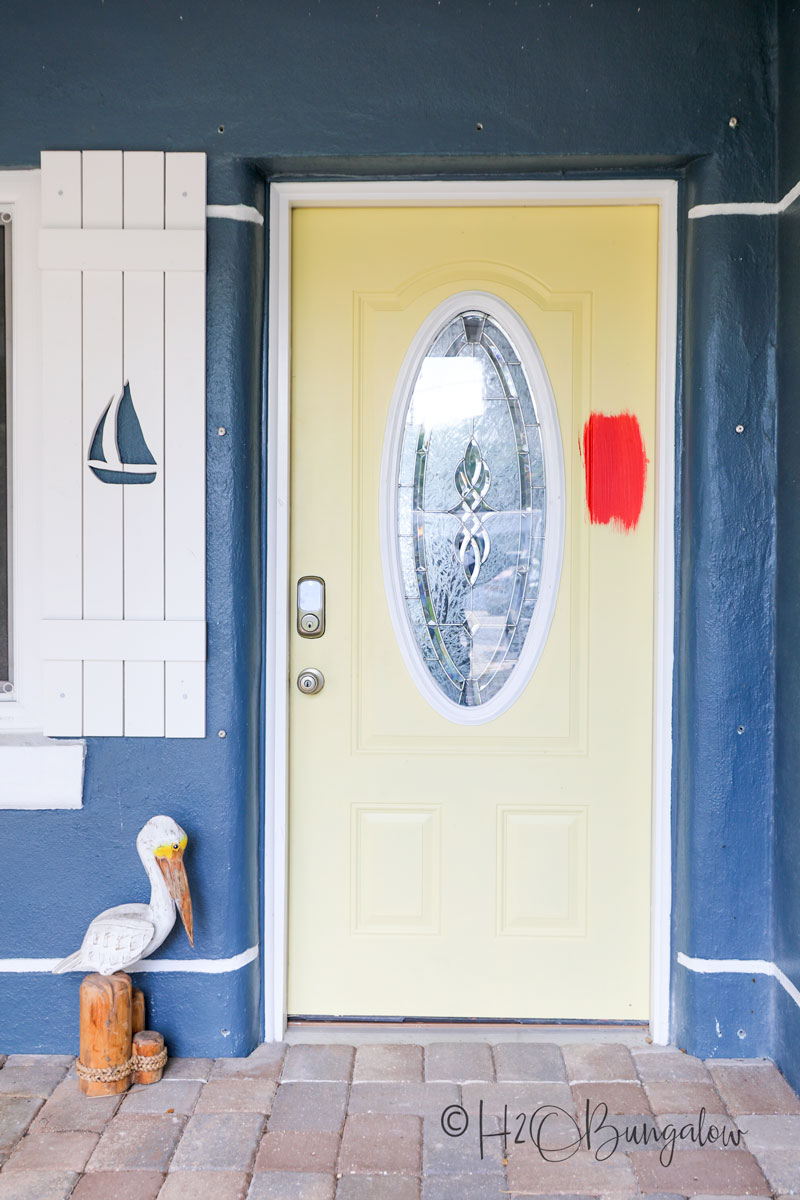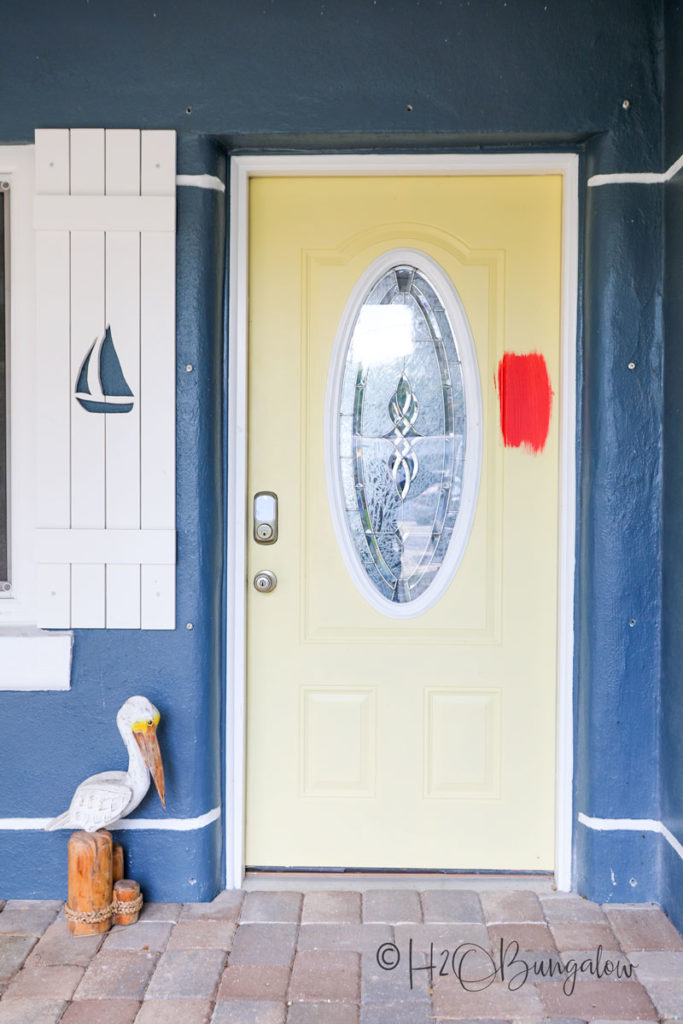 So how do you choose a front door color to match or compliment the color of your house?
Here are some tips for choosing a front door color
Choose colors that are opposite on the color wheel
Complimentary colors are also the ones next to your color on the color wheel
Choose a color in the same tone (how much white or black the color has in it), which means how saturated the color is. My blue paint is a deep color so I went with a bold orange.
Pick a front door color that makes you happy!
Need help visualizing how colors work together? Check out this color wheel tool for picking a front door color.
Try out your color first. Get paint color samples and try them on your front door. Paint looks different in different light and most of the time it doesn't look the same as what it looks like on the paint chip!
Step 2. Prep the door before painting.
I'm showing how to paint a metal front door without removing it because our door is metal. You'll do the same steps to paint a wood door.
Do you need to take the door off the hinges to paint? No you don't. You can if you'd like, but you can get a great looking paint job without going to the trouble of taking a door off the frame and hinges. With that said, I'd take a door down and remove all of the hardware if I was planning on stripping a door to remove old paint or varnish before painting. Doing that kind of work is much easier on a flat surface.
Test the current door paint to see if it's painted with a latex or oil base paint by dipping a cotton ball in alcohol and wiping the door. If the paint comes off onto the cotton, the door is painted in latex and if it doesn't the door is painted with an oil base paint.
More tips for prepping to paint a front door.
Oil base paint requires a good primer on the door to before applying a latex paint over it.
If your front door has peeling paint, you'll need to sand those areas well first. Sand with a medium grit sandpaper like a 100 then go back over the areas you've sanded with a 150 grit.
Use a primer if you are painting a light color over dark painted door.
Clean the door. Wipe the door with Simple Green and a clean painter's rag. Be sure to get all ridges and areas where dust can settle.
Tape edges and areas you don't want to get paint on. Instead of taking my doorknob completely off, I loosened it just enough to get painter's tape around the edge and pull it out enough to get a paintbrush under the knob. I also taped off the weather strip at the bottom of the door. I didn't tape off the white trip around the window because I knew I could cut that in by hand. If you're not comfortable with your freehand painting, then tape trim too.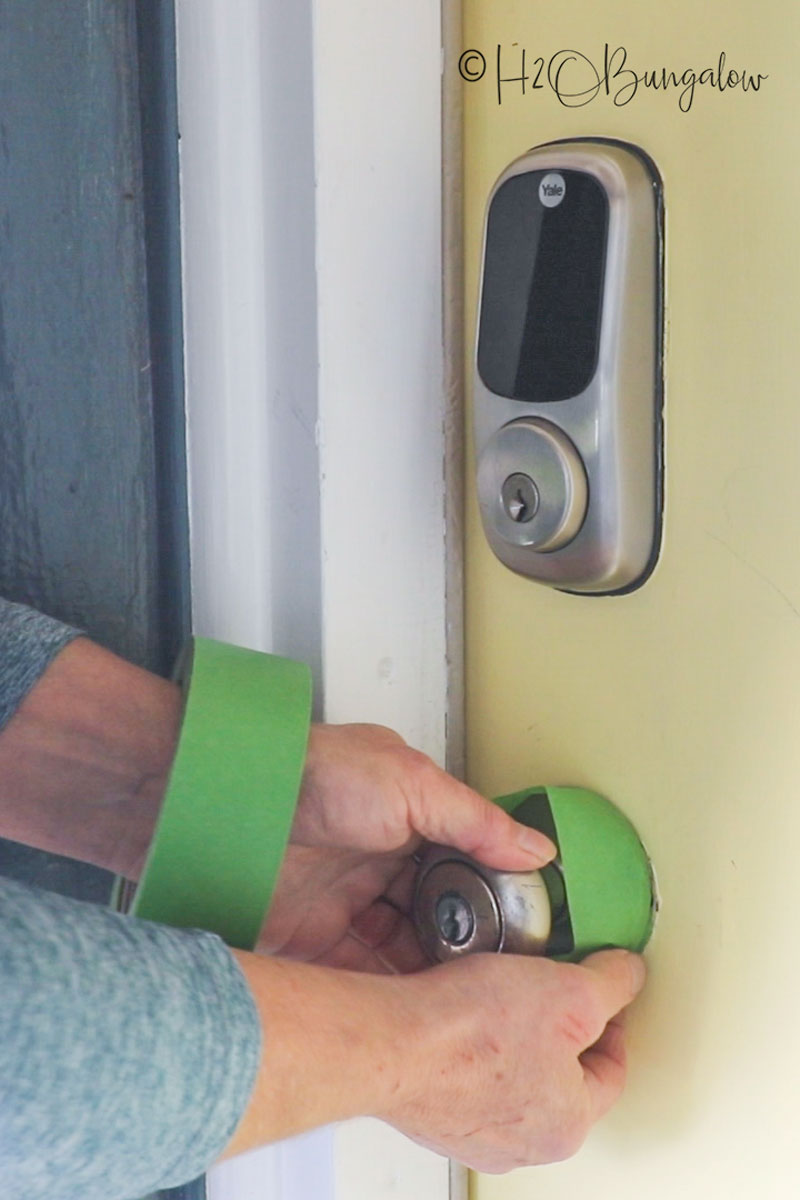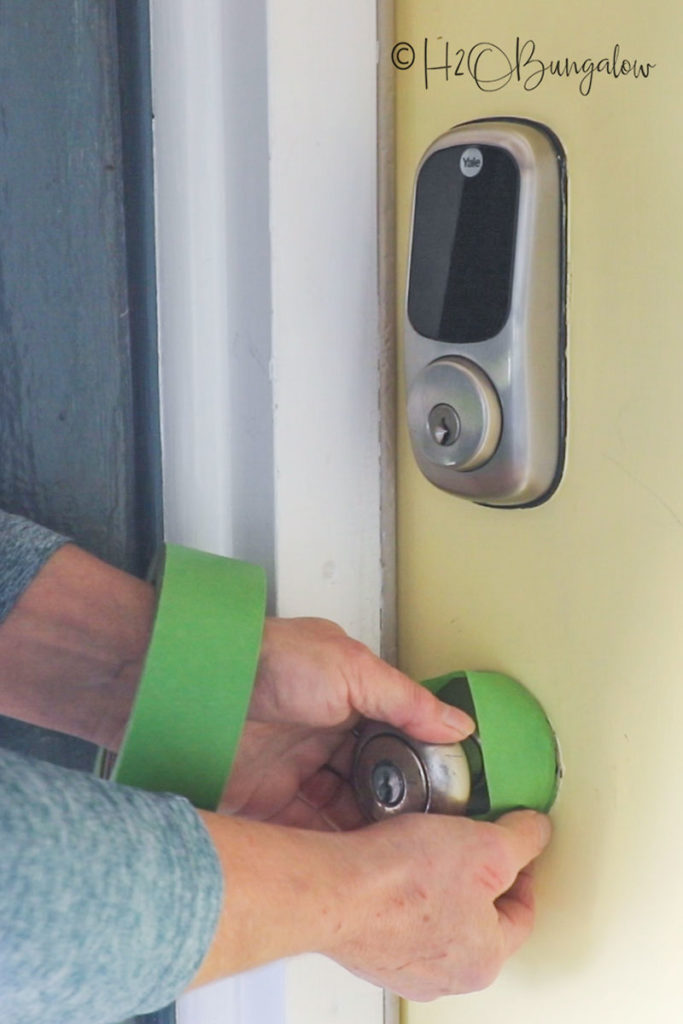 See my Genius Painters Tape Tips for a Perfect Paint Job for more painter's tape tips.
Step 2. Paint around the trim and ridges with a quality 1 ½" painters brush.
Load just the tip of your brush and wipe off excess paint to prevent paint drips.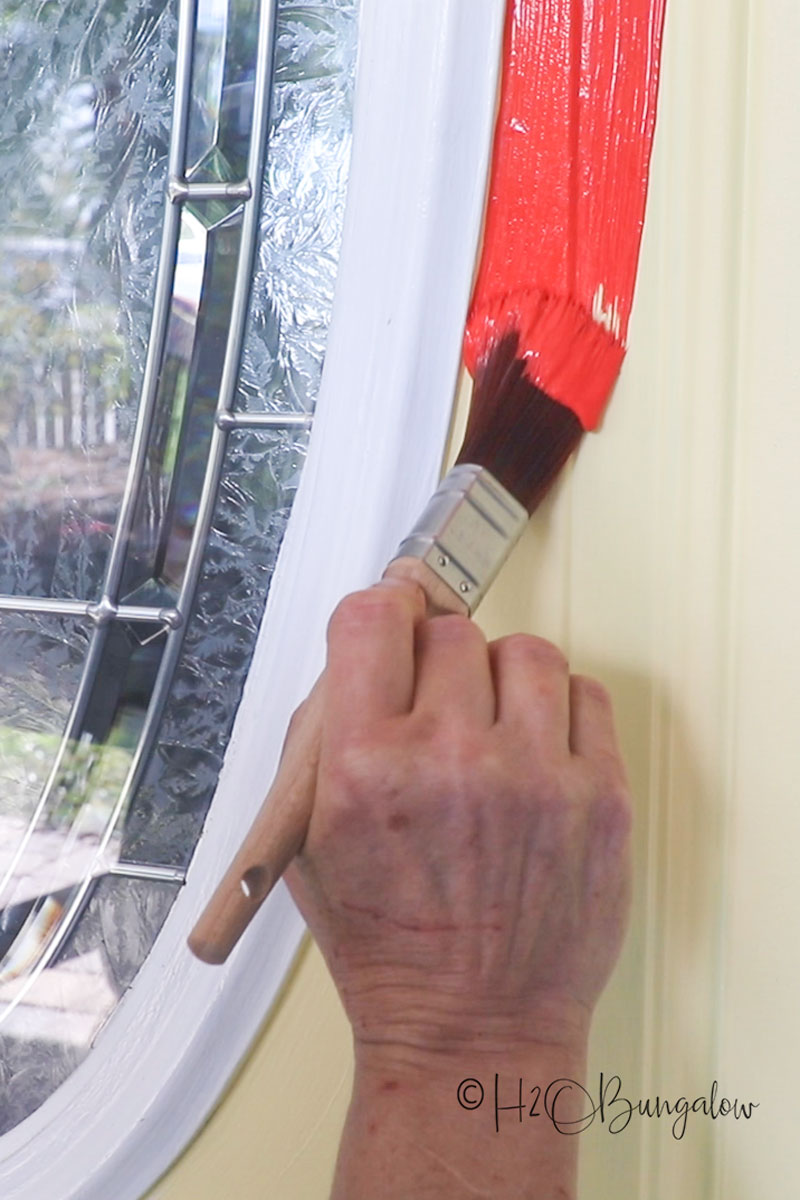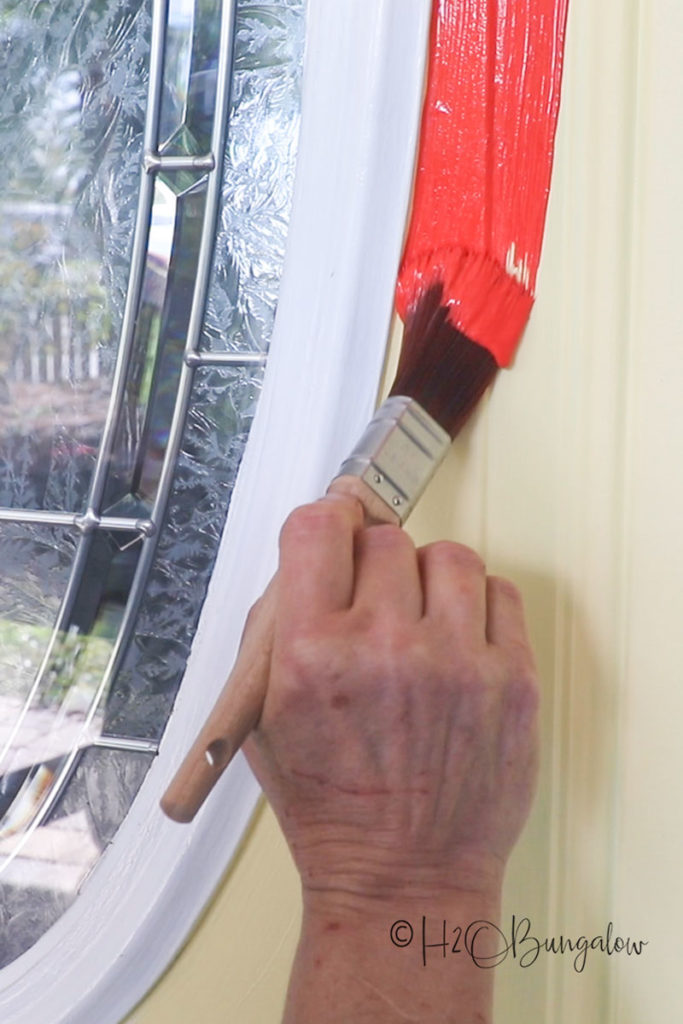 Cut in the areas around your trim and paint the recessed areas a paint roller won't reach.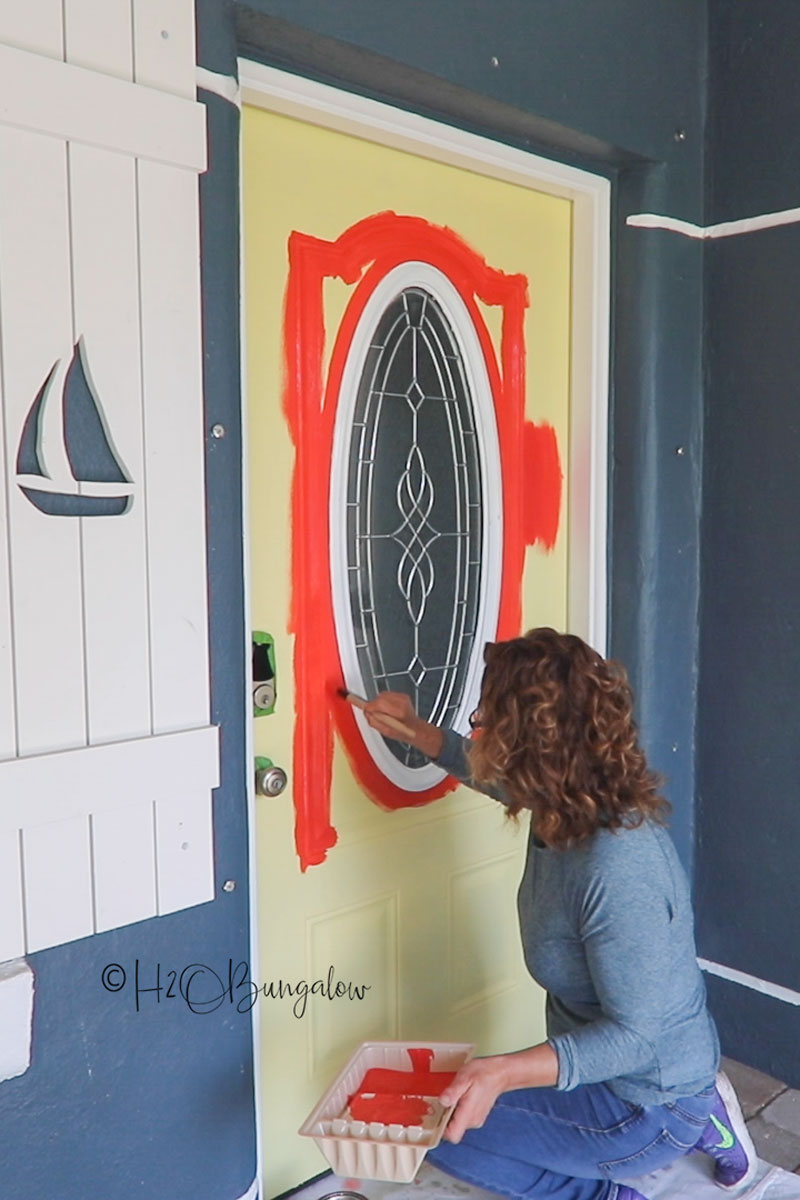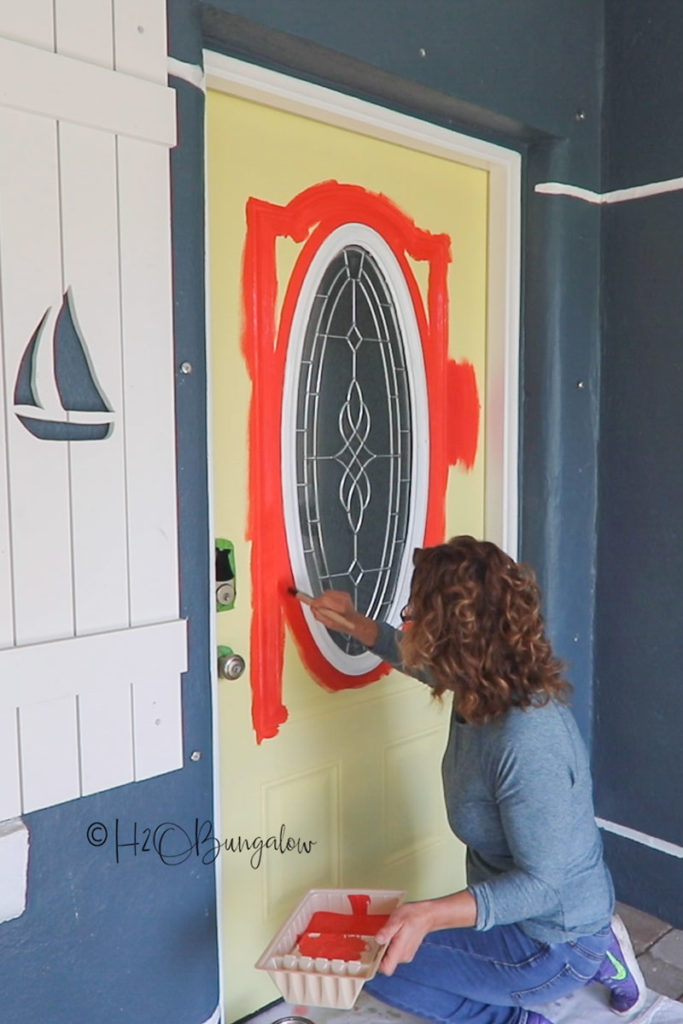 Step 3. Paint the rest of the door.
Use a four or six inch foam roller to paint the rest of the door. Last, you'll gently rock the roller when it's almost empty of paint over the ridges and depressions of the door details to remove brush strokes from the areas you've hand painted. That's how to paint a front door without brush marks. By gently going over the hand painted areas with the roller you'll blend them for a perfect finish.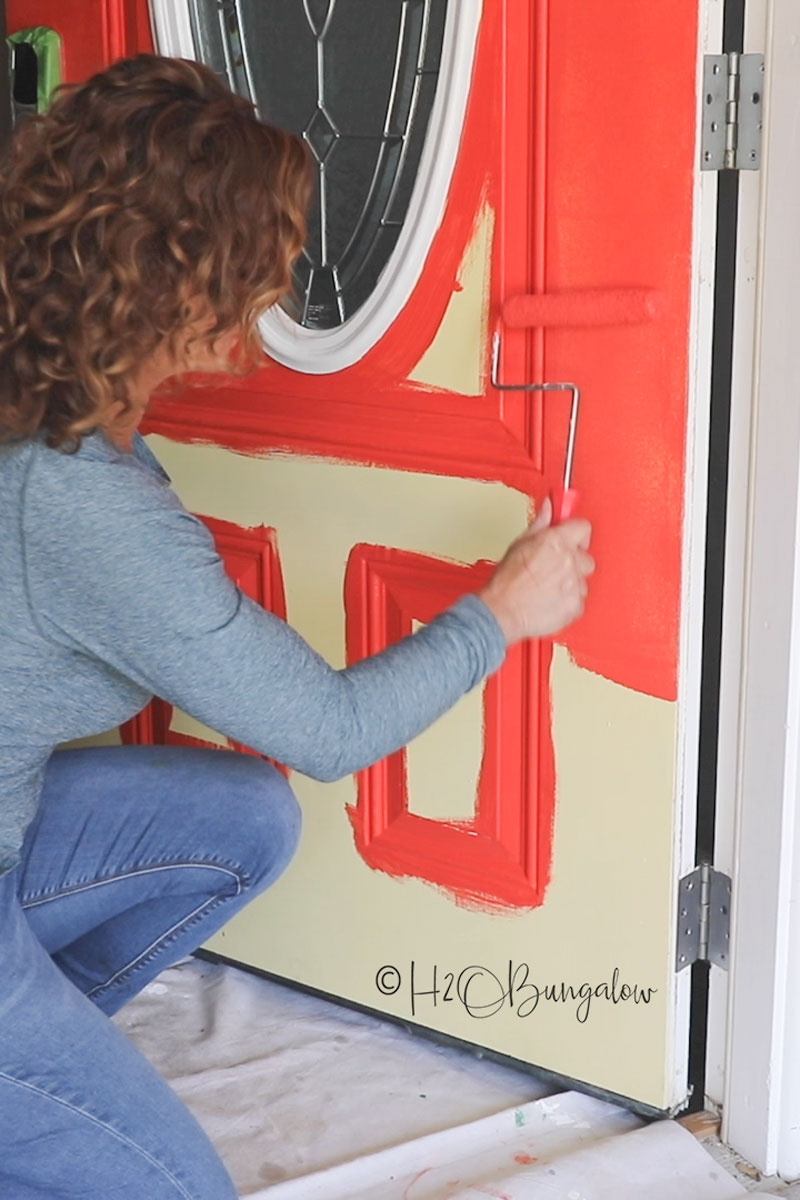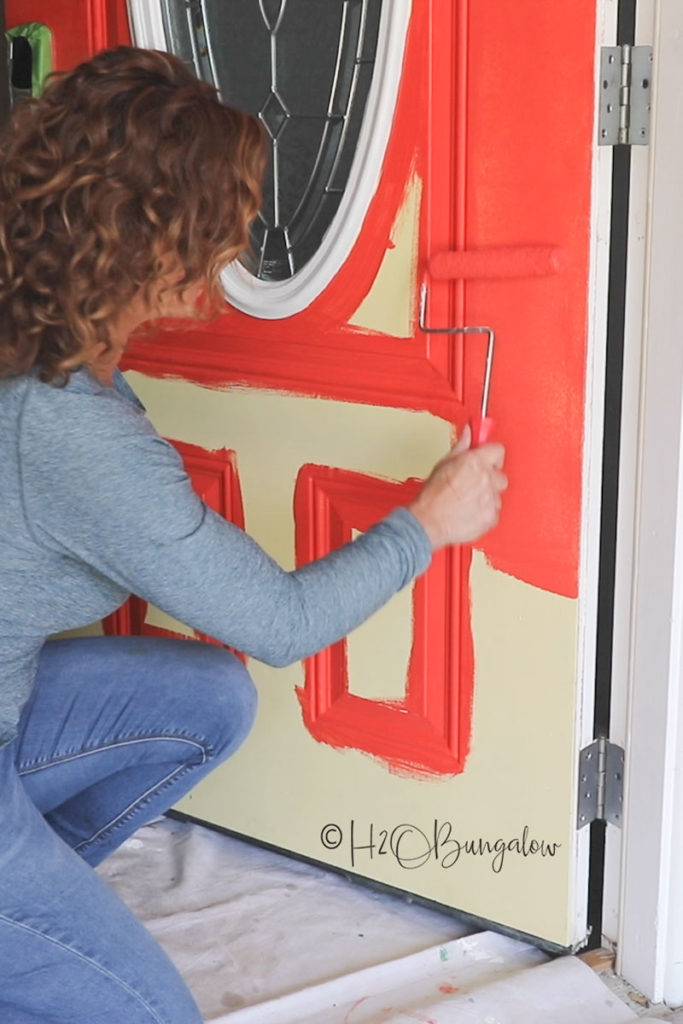 Painting Tip: Roll the paintbrush in a layer of saran wrap and cover the paint tray with saran wrap to keep the paint from drying out in between coats.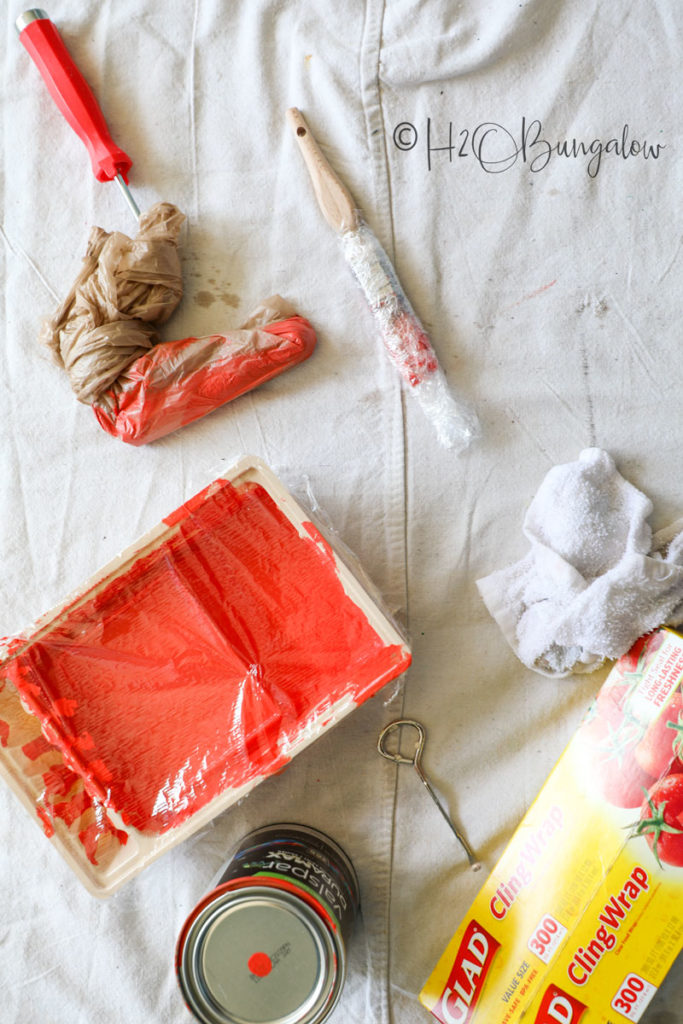 Step 4. Add second coat following the same process as the first coat of paint.
When the first coat is dry, follow the same steps and apply a second coat of paint over the entire door.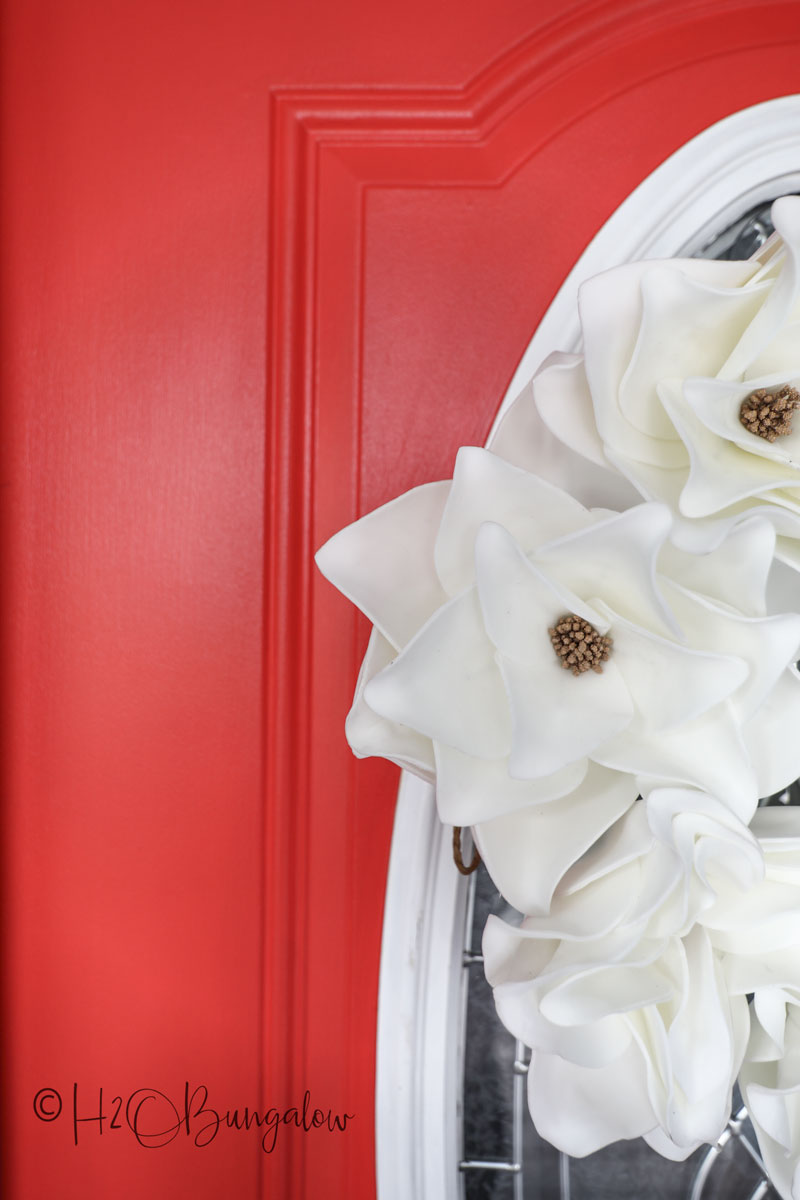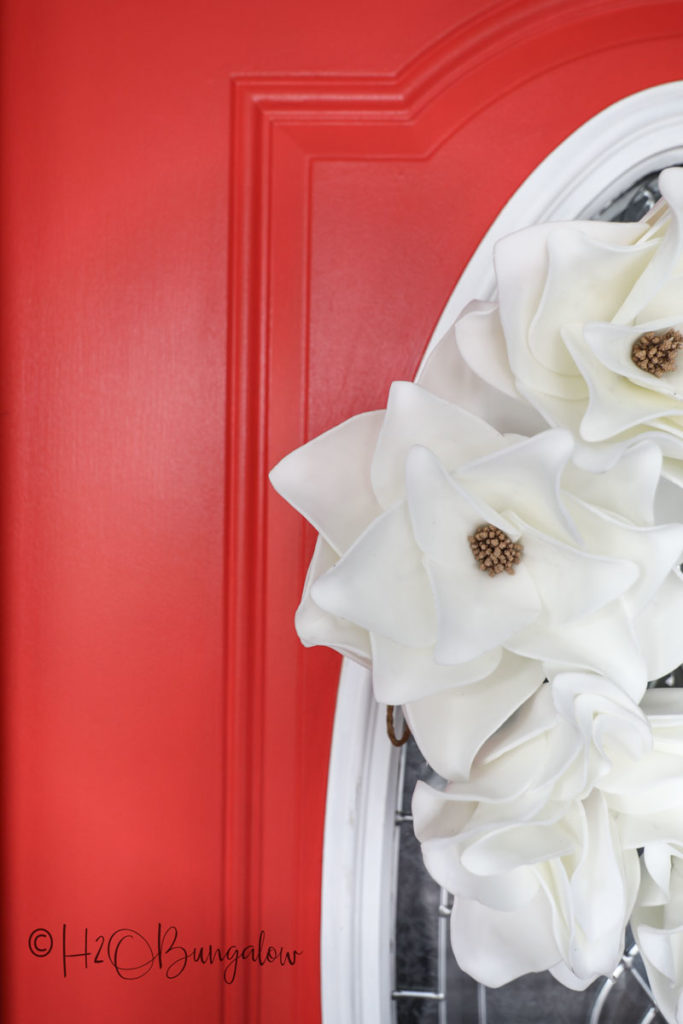 That's all there is on how to paint a front door without brush marks. Pick a good color for your front door and house color, grab a few supplies and put aside a few hours.
Pin this painting tutorial and share with your friends on Facebook!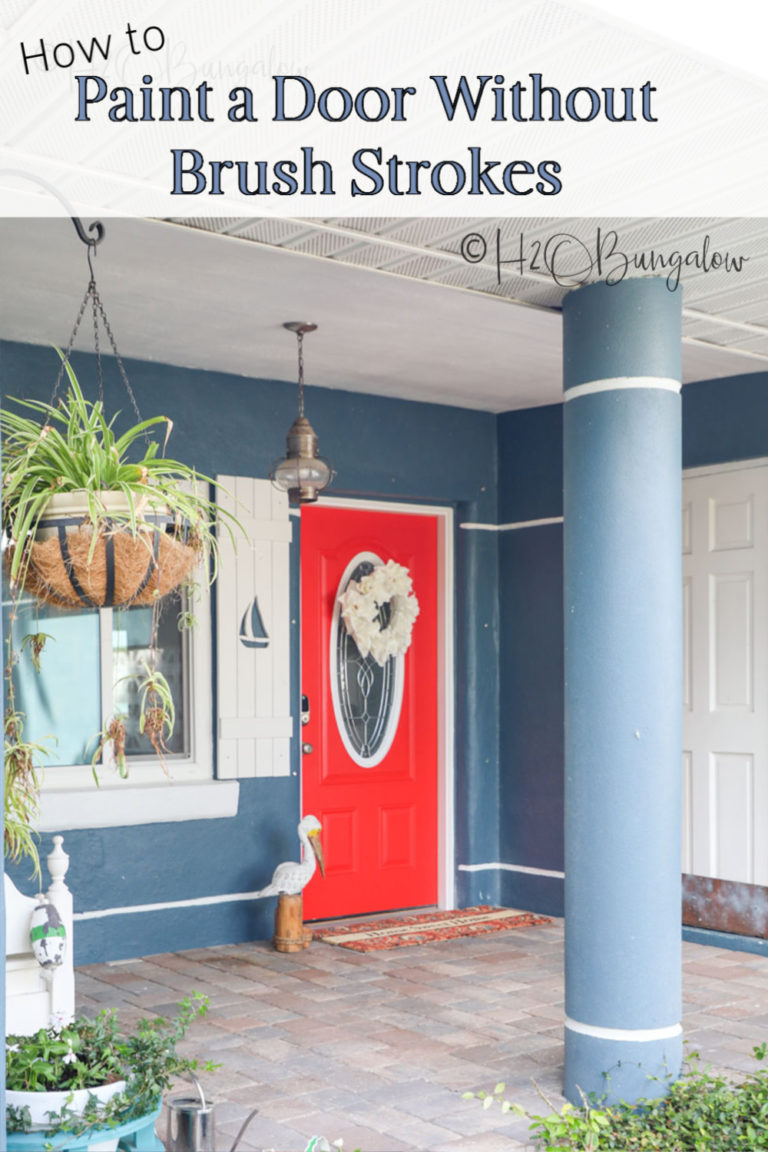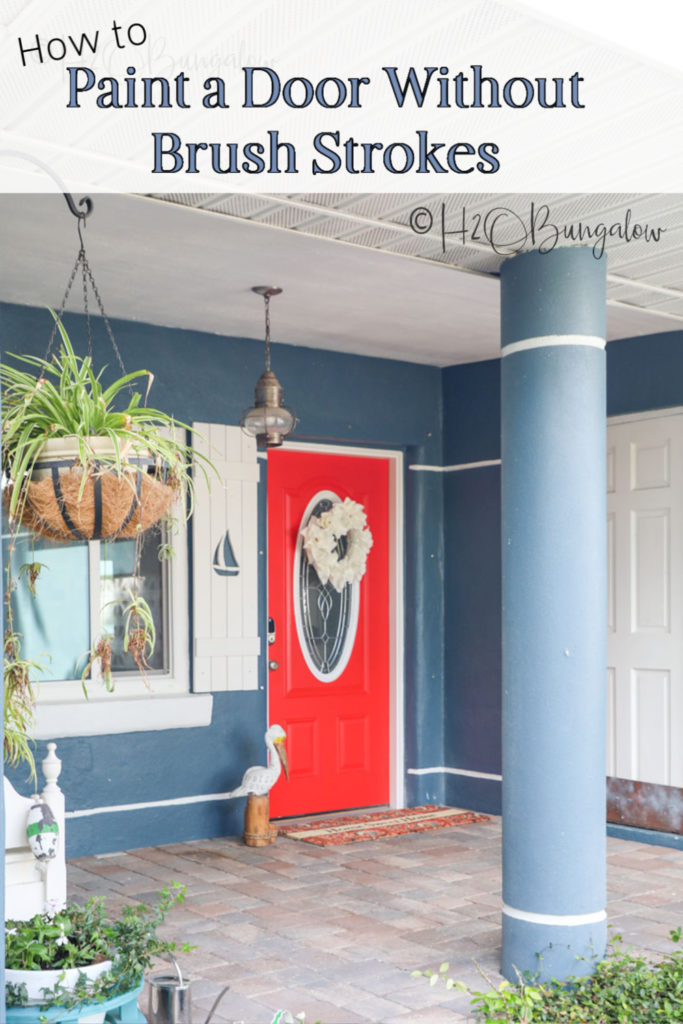 I found a cheerful doormat to compliment my orange door. I know it looks a bit red in the photos, it's one of those colors that changes with different lighting.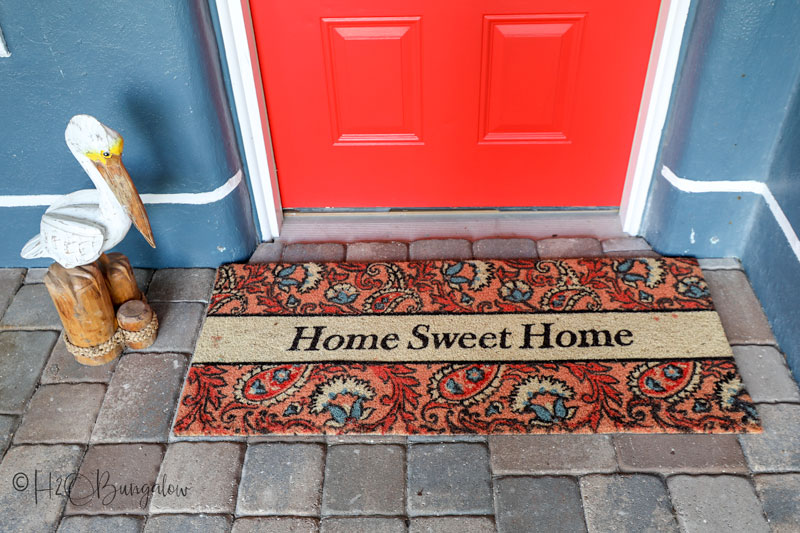 It looks great with my whale headboard bench and big Indoor Outdoor Welcome Sign. I made those DIY Sailboat Cutout Shutters a few years ago too.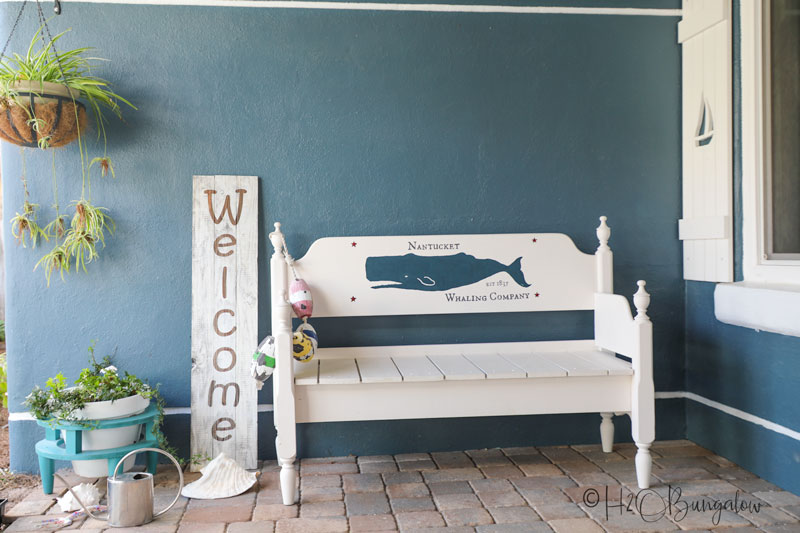 Our new front door color really pops from the street now too, which I love!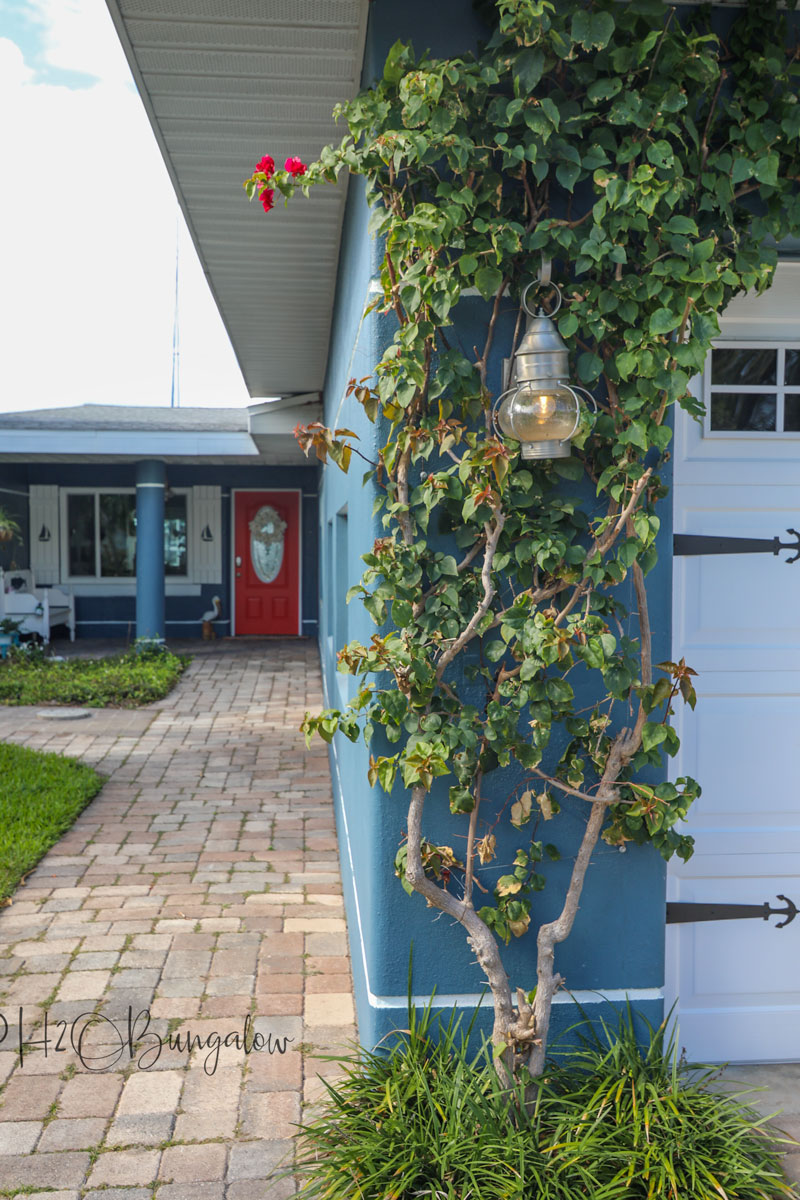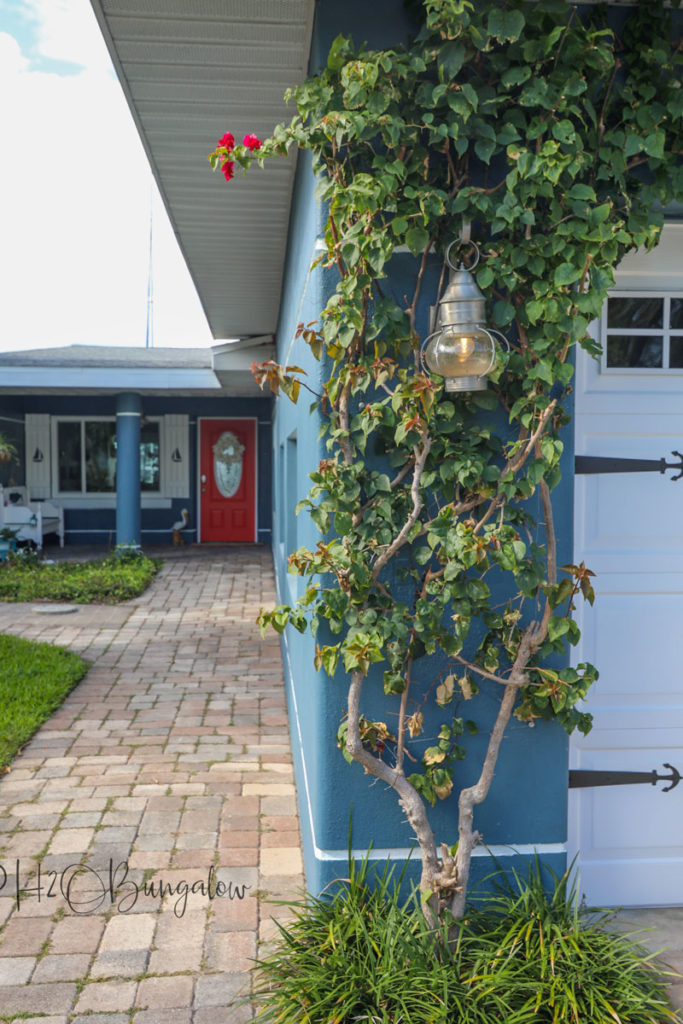 Our house has come a long way in the past 8 years!
Like I mentioned earlier, changing front door color is a quick afternoon project and an inexpensive pick me up too! Are you feeling confident enough to repaint your front door now that you know how to paint a front door without brush marks and make it look amazing too?