I'll bet you guys thought I forgot about sharing my part 2 of how to strip paint off furniture and kitchen cabinets! I didn't. I am fully, sometimes painfully aware of my ADHD tendencies 😉 With so much good DIY happening all around all the time, it's hard to stay focused on sharing something I'd worked on a few weeks ago when I have so much new stuff to share. If I just didn't need to sleep – or had two of me, I'd be able to keep up and share projects and tutorials everyday!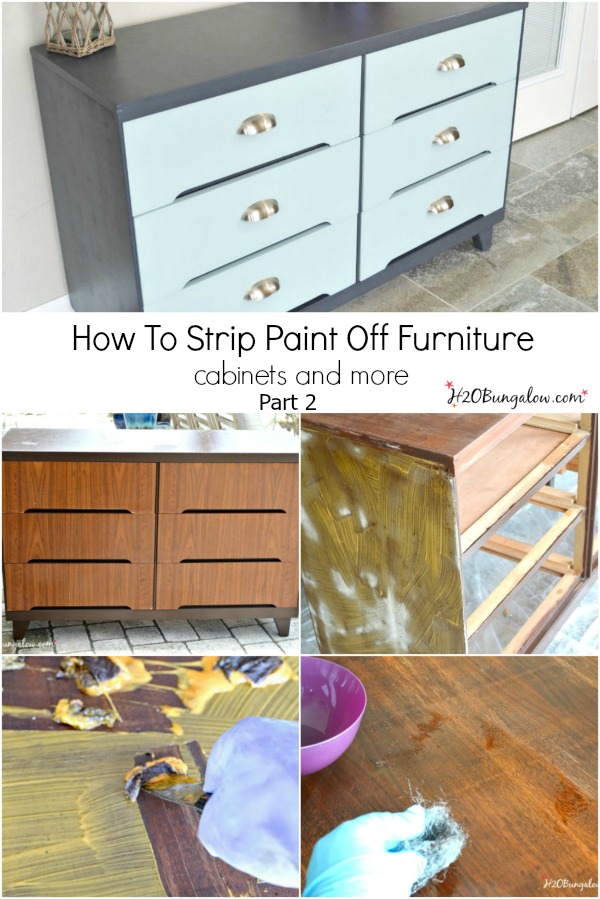 But since there is only one of me… I appreciate you putting up with the sometimes scattered thoughts/projects of a DIY junkie;)
Now let's get back to the at hand.
I believe thinking about stripping paint is more intimidating than actually stripping the paint off an item.
This post is about how to strip paint off furniture and kitchen cabinets. In reality, this info will work for any paint stripping project you need to tackle. You'll see me sharing pictures from more than one project.
If you're joining in now, I'd suggest going back and reading part one first. It covers the supply list and how to prepare your work area and included lots of good info like how to lay dropcloths to save time and mess, especially if this is an indoor project!
I'm using this dresser project to show how to strip paint off furniture part of this post. I refinished it for my son this summer. It had great lines and an awful, thick, brush stroke showing, uneven paint job on the base. There was no way a little sanding was going to make this surface ready for a new coat of paint!
It was time to bring out the big girl gloves and get busy!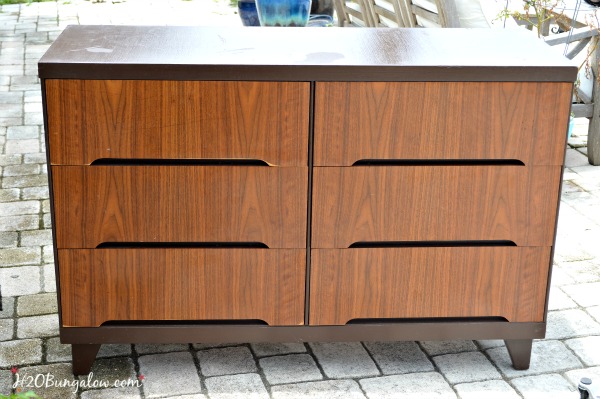 You remember how awful the vintage kitchen cabinets that I've been working on looked like, right?
Yes, they are painted shut!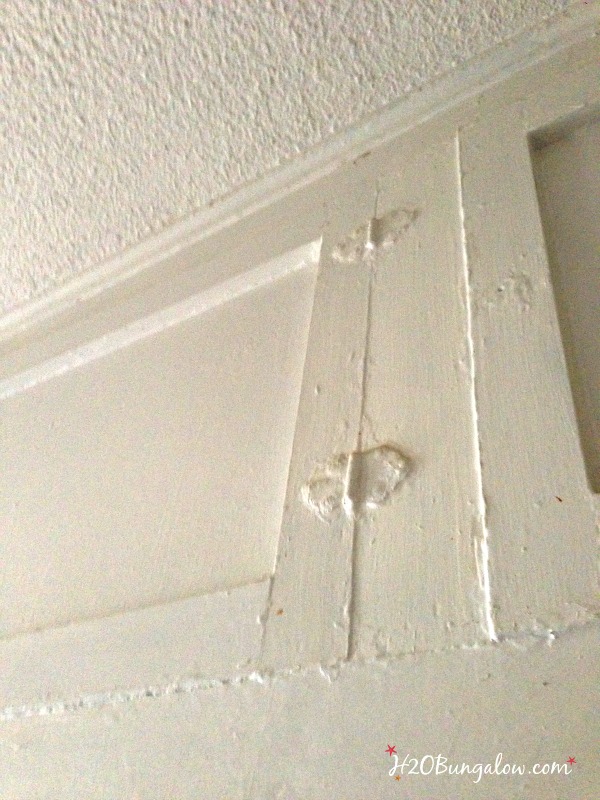 That's a lot of paint to strip off!
You'll be able to tackle an easy job like a piece of furniture or a big job like stripping paint of vintage kitchen cabinets with the steps I'm sharing in this post.
Prepare your work area and gather the supplies you'll need as outlined in part 1.
Begin by pouring the Citristrip paint stripper into a small container that's easy to hold and big enough for a paintbrush to dip into. Use a chip brush and generously cover the surface you want to strip. It will go on like a thick coating of pancake batter or gloppy icing. Work from the top down. I've learned it's best to work in sections. When I'm stripping furniture like a dresser, I'll start with the top first, then the two sides. If you're working something else like a door, I'd work on the top half and then the bottom half, especially if there is a lot of detail work with ridges or trim to strip. If you are working on kitchen cabinets with heavy layers of paint, do a section at a time. Be sure to read and follow the directions of the stripper product you use.
As I mentioned in part 1 of how to strip paint of furniture and cabinets, I'm a huge fan of Citristrip. It doesn't smell (really it doesn't!) and it's easy to use. Which is great because you'll notice I stripped the paint off this dresser inside my house. If it wasn't in the middle of the blazing hot and humid Florida summer I would have done this outside.
Call me a wimp… I can't handle the heat:)
After you've applied the paint stripper, just wait and let it do its magic. I waited about 45 minutes on the dresser and a few hours on the kitchen cabinets. Test it by trying to scrape away a little spot. If the paint scrapes away it's ready. Sometimes it will look like this dresser side when it's ready to be scraped.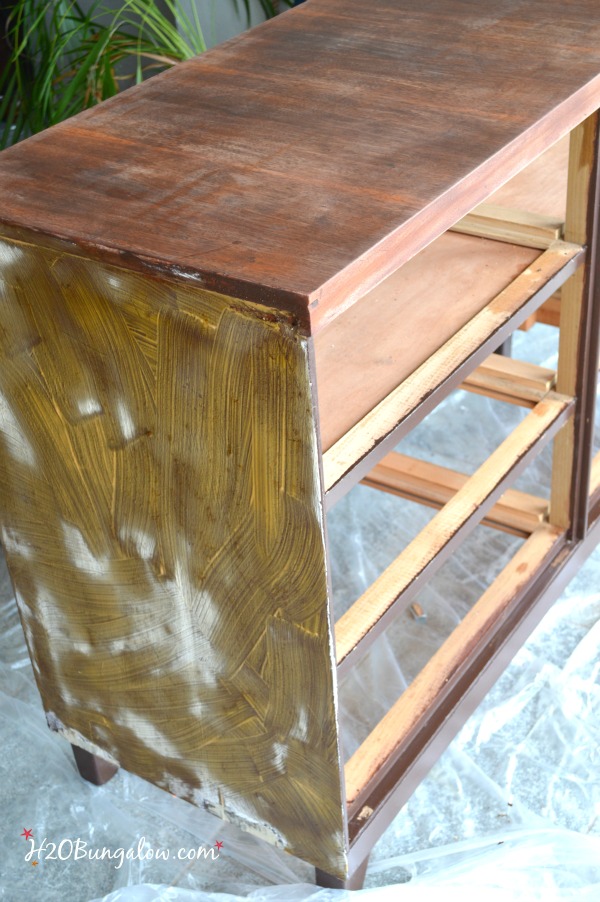 Others times it may bubble like this.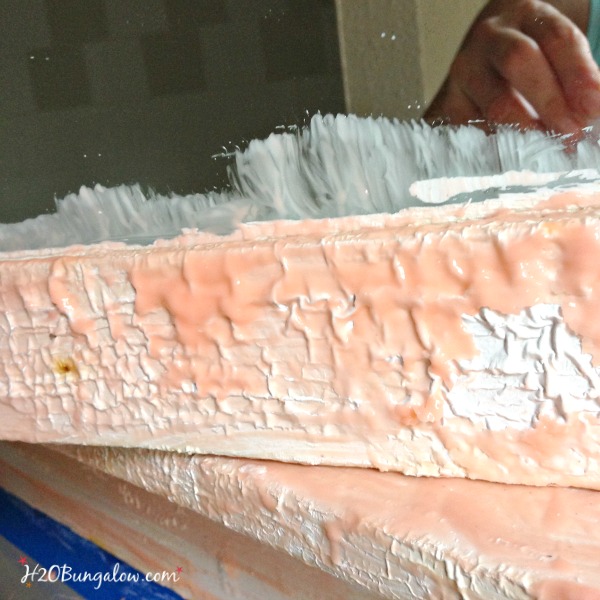 Use a plastic paint scraper to gently scrape off the paint in long strokes starting at one end and working your way to the other. You'll notice I'm using a metal scraper on this furniture project. I was probably too lazy to run to the store 😉 . I've gouged up wood before doing this so I recommend the plastic ones. Especially if you are planning on staining the wood.
A thick paper plate or piece of cardboard works great to catch the gobs of paint as you're scrapping them off, especially on the sides. I didn't have one drop of paint or stripper fall on the dropcloth with this entire furniture striping project!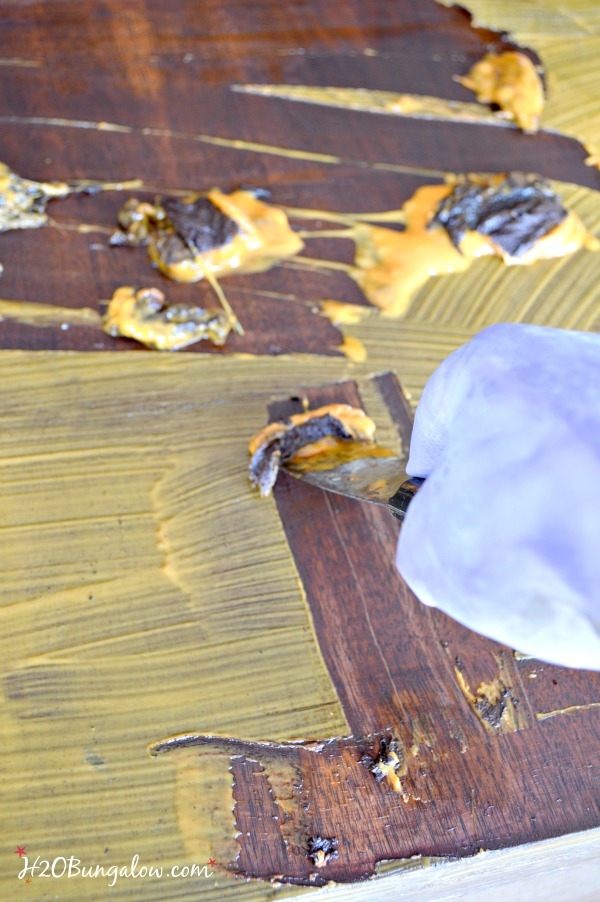 Of course the vintage kitchen cabinets were a completely different scenario. It's pretty easy to strip paint off furniture when there's only one layer of paint. That isn't wood under the paint in this picture.
It's more paint 🙁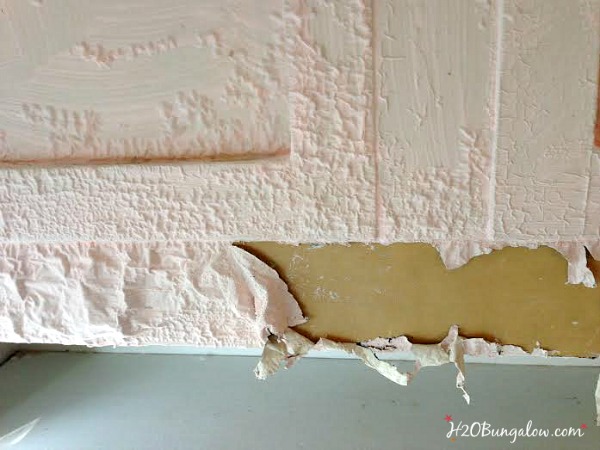 What should you expect when you're stripping years of built up paint off of a project?
You'll probably need to use need to use multiple containers of stripper and do several applications in between scrapping old paint off the surface. Wear the heavy duty gloves and absolutely follow my tips in the first post for prepping your area.
It's a messy job.
But, I saved big bucks $$ and the cabinets aren't painted shut anymore!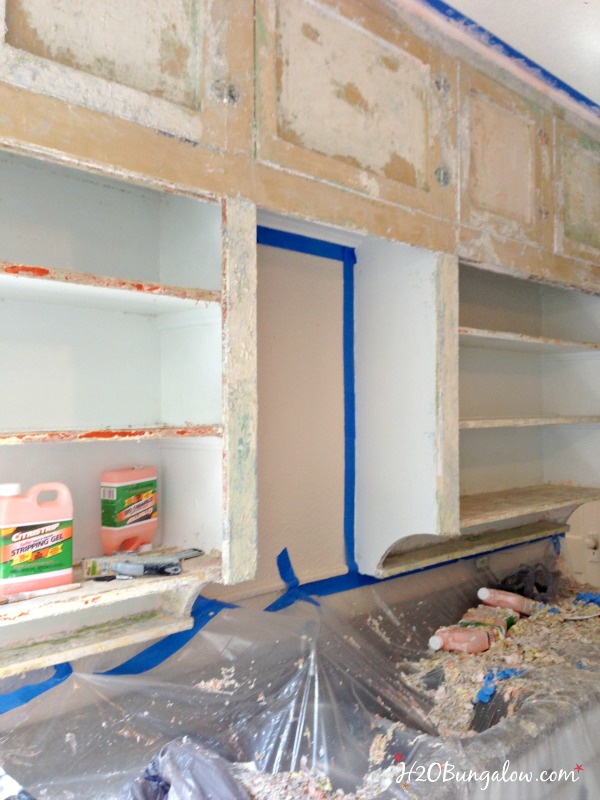 A wire brush is needed when stripping layers of paint off hardware, nooks and crannies.
Do you see the wood peeking through the last layer of paint on left side of the hinge!
Finally!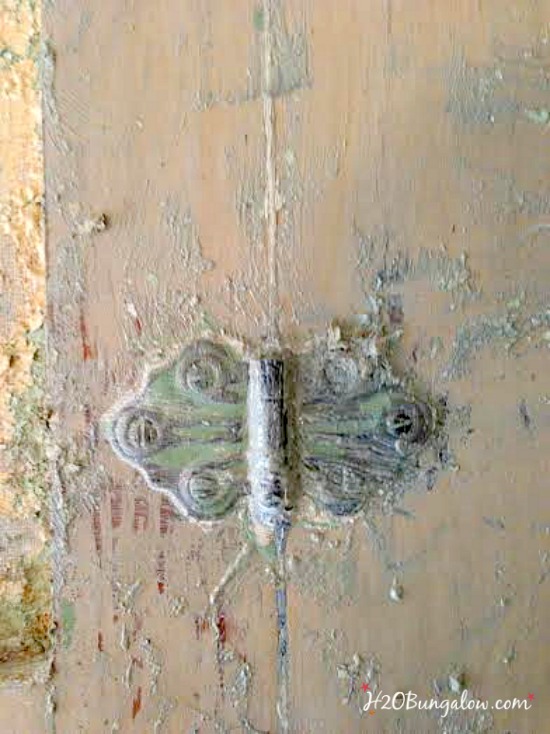 One wire brush should be fine if your project is a single piece of furniture with just a layer or two of paint. If you're planning to tackle a big job like my vintage kitchen cabinets, have several on hand.
It's not worth trying to clean them when they get gunked up.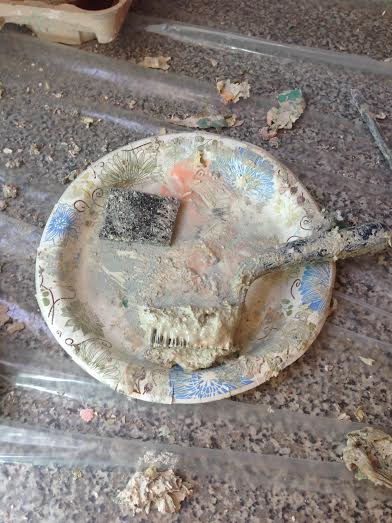 The last step when stripping paint off furniture or kitchen cabinets is to wash down the surface to get off any remaining stripper. I've tried a few products, at the moment I like odorless paint thinner the best. Use a fine steel wool or scrubbing pad soaked in the solution and wipe with the grain of the wood. Change out the pad or steel wool as needed. especially if there's a lot of residue left on the wood.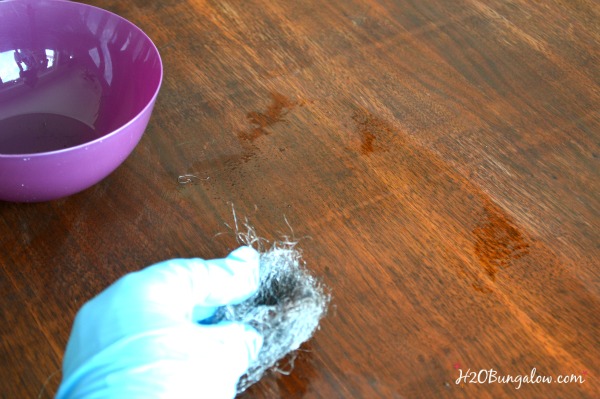 Once all the paint is off and the wood is clean you'll be able to do any repairs needed. Here's how the MCM dresser turned out. The new paint job on the body of the dresser is flawless. It was so worth the effort of stripping the paint off 🙂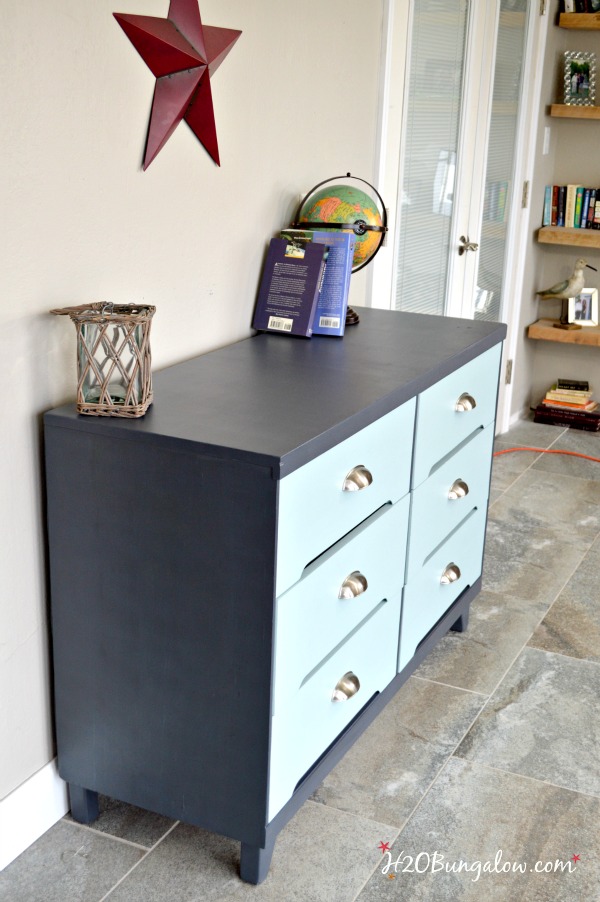 I would have considered leaving that beautiful wood underneath exposed, but there were several areas that needed to be repaired with wood filler.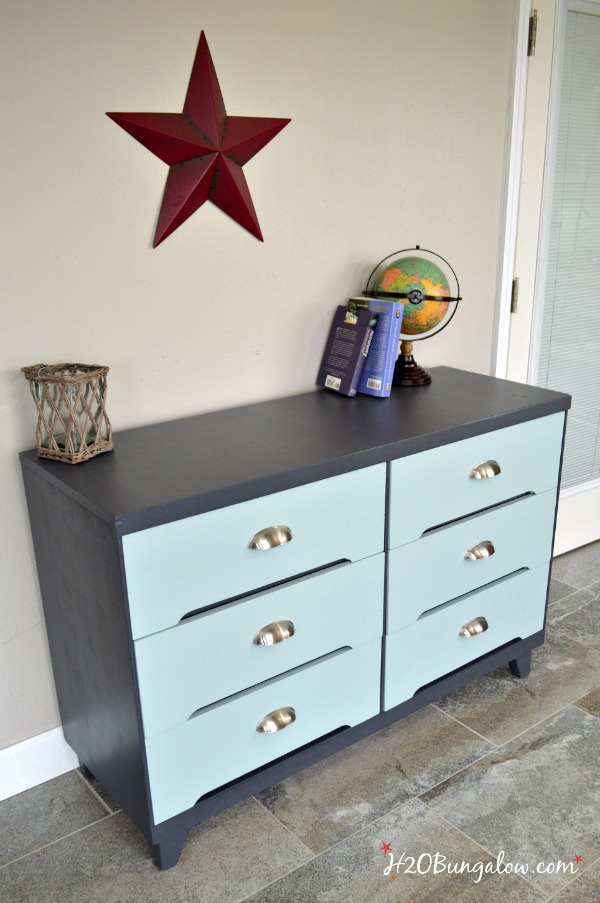 I'm packing my hand sander, chemical resistant gloves, my favorite Finish Max Paint sprayer and heading back to Dallas this week to complete my project of refinishing my vintage kitchen cabinets.
Be on the lookout later this week on my Instagram and Facebook feeds for the updates as I finish this behemoth job. I'm still kind of shaking my head and thinking "what have I got myself into?"
but…
I saved so much money by doing this myself and am sure I'd still do a better job than hiring the project out 🙂 Besides, I get to visit my daughter when I'm there so it's really a win-win.
Now that I've shared how to strip paint off furniture and cabinets are you feeling confident to tackle stripping paint off a project for yourself?