Follow these simple tips to paint wood floors that will last!
I'm sharing how to paint wood floors today. I just made a last minute decision to paint the wood floor that was hidden underneath carpet on the third floor of the North House Lodge. Wowsa, what a difference it made in the room!
Painting wood floors isn't hard if you follow a few tips and use the right products. The steps are the same to paint over previously painted wood floors or painting over bare wood floors. I also added a carpet runner to the stairs of the North House Lodge. I love how it turned out.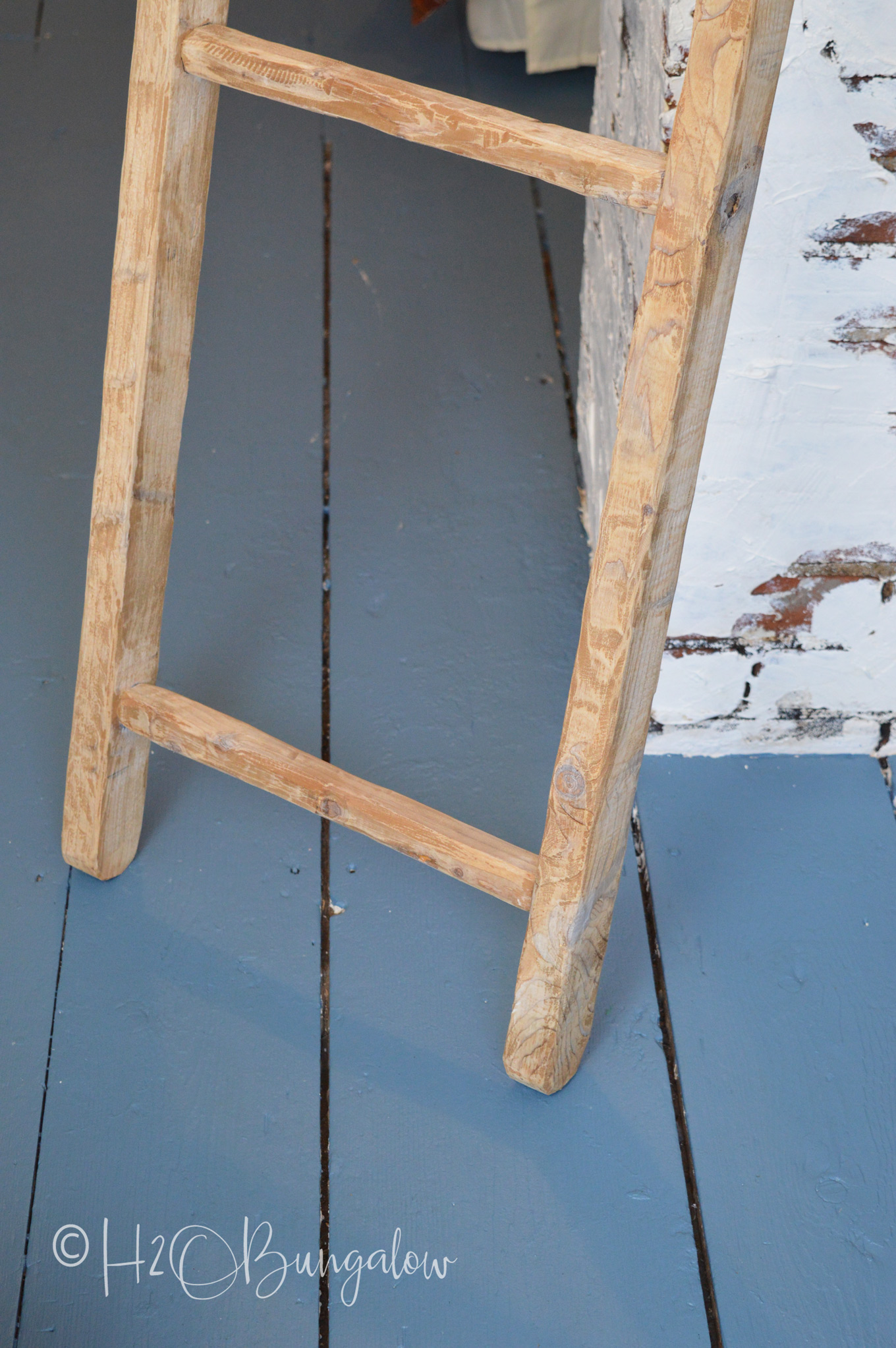 The first thing we tackled in renovating the other side of our old duplex was paint and flooring. There's lots of hard work and achey bones that go along with this stage of work and not so much of the wow factor. Unless you pull up dirty pink carpet to reveal original wood floors that are about 167 years old.
All of the sudden, this part of the work became fun!
This is what the 3rd floor bedroom looked like the day we walked in. If you remember from my first post The North House Lodge the place came furnished. I've saved what items I could use, donated lots of it, and tossed plenty.
We call this room the loft, it has three twin beds and was part of the original home built somewhere around 1850. That was a working chimney at one point and it runs right through the middle of the room.
Can you see the potential in this room? I did as soon as I walked in.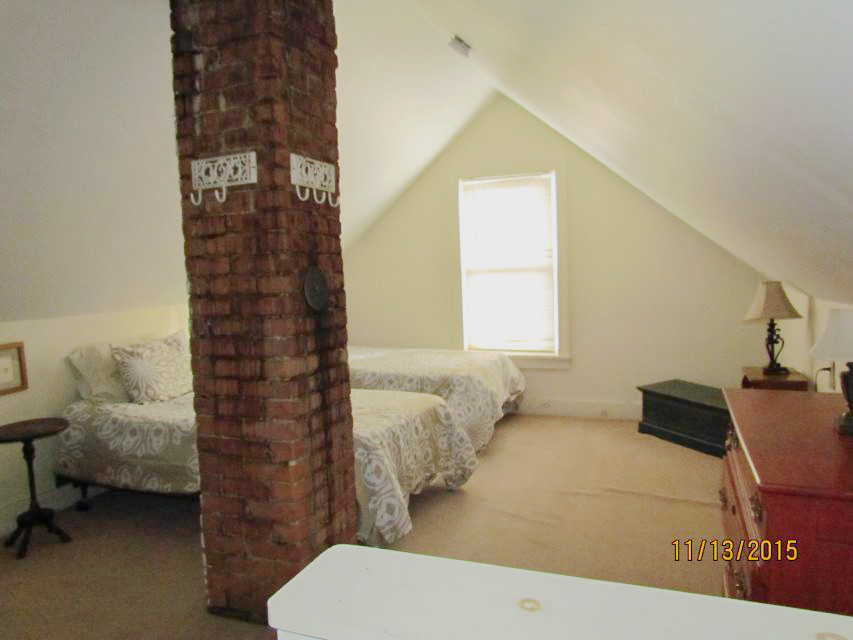 Once we we pulled up the awful carpet we discovered gold; the original wood plank floors!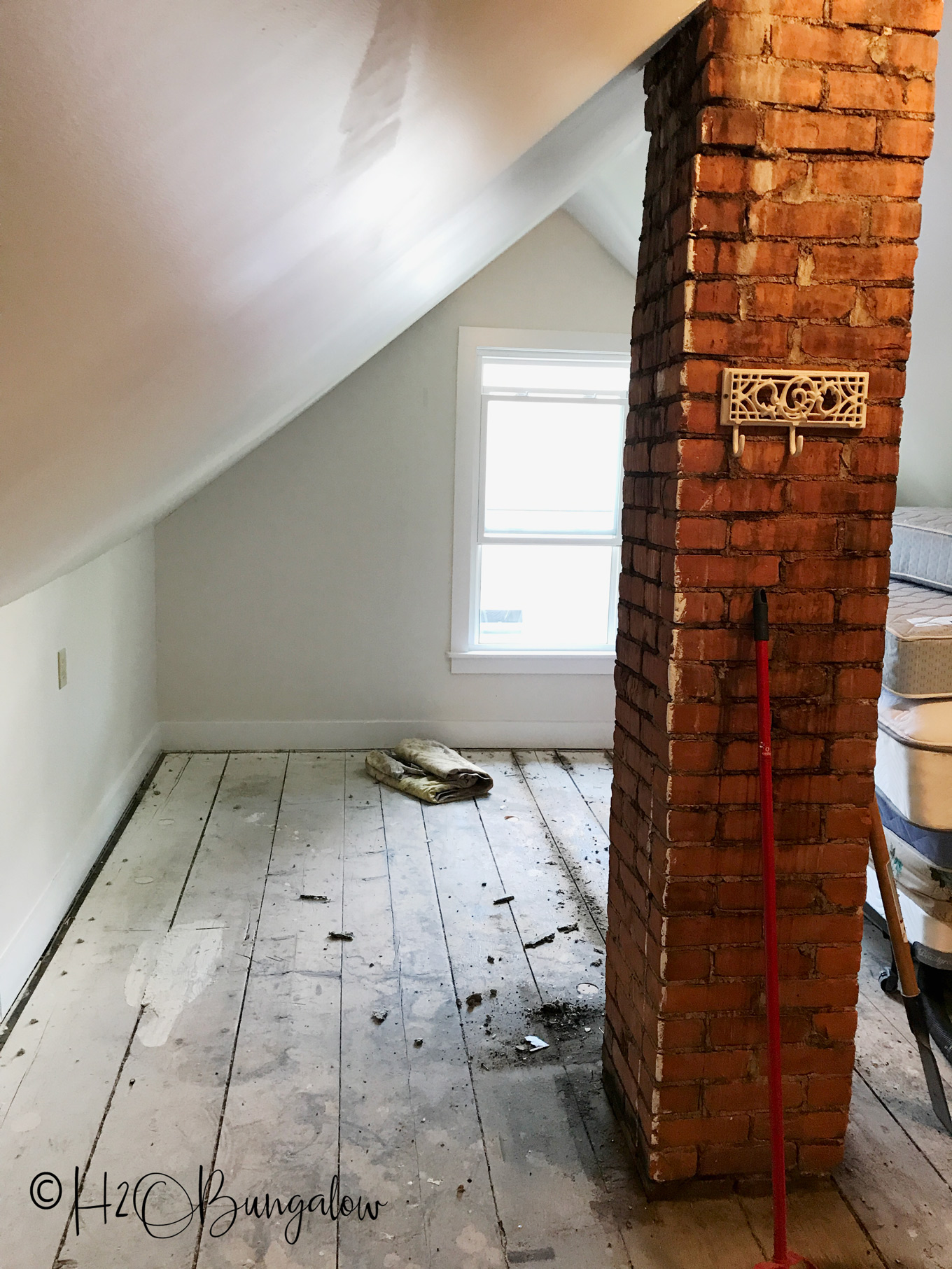 Look at the different plank sizes! How could I possibly cover them back up with carpet, at least not wall to wall carpet anyway. But, I couldn't leave them as they were either. They were unsealed, stained and several floor boards were badly damaged.
Besides, the entire room had a smokey smell from the chimney. I suspect the wood absorbed the smell too. The best way to save the wonderful charm and character in this room was to paint the wood floors which would look good and seal them at the same time.
So, of course, I happily decided to paint them and am now sharing how to paint wood floors with you guys. I hope you have the opportunity to do a project like this!
How To Paint Wood Floors Tutorial
I use affiliate links to help you find the supplies I used. You can read my full disclosure policy here.
Supplies needed to paint a wood floor
latex porch and floor paint – I used PPG Pittsburg Paint Floor and Porch Latex Enamel in Canyon Blue (I was impressed with the coverage).
bonding wood floor primer Stix and Zinsser are my favorite
paint roller with a long handle
paint tray
paint brush
degreaser if needed This one is great for spot treating and it's no rinse
tools to remove nails, staples and old carpet tack strips from floor
painters tape
Before painting wood floors that have been previously painted test the current paint to determine what type of paint it is, latex or oil based. Use a cotton ball dipped in rubbing alcohol and rub the painted floor. If the color comes off onto the cotton ball it's latex paint. If no color comes off onto the cotton ball it's oil based paint. When painting floors or any paint project, use the same type of paint to paint over previously painted surfaces.
Step one: Repair and secure damaged wood floor boards. Once the carpet had been pulled up we could see damaged boards and old repairs. That floor leveler can't be painted, nor would we want to paint it. We replaced these floor boards with plain old wide pine boards.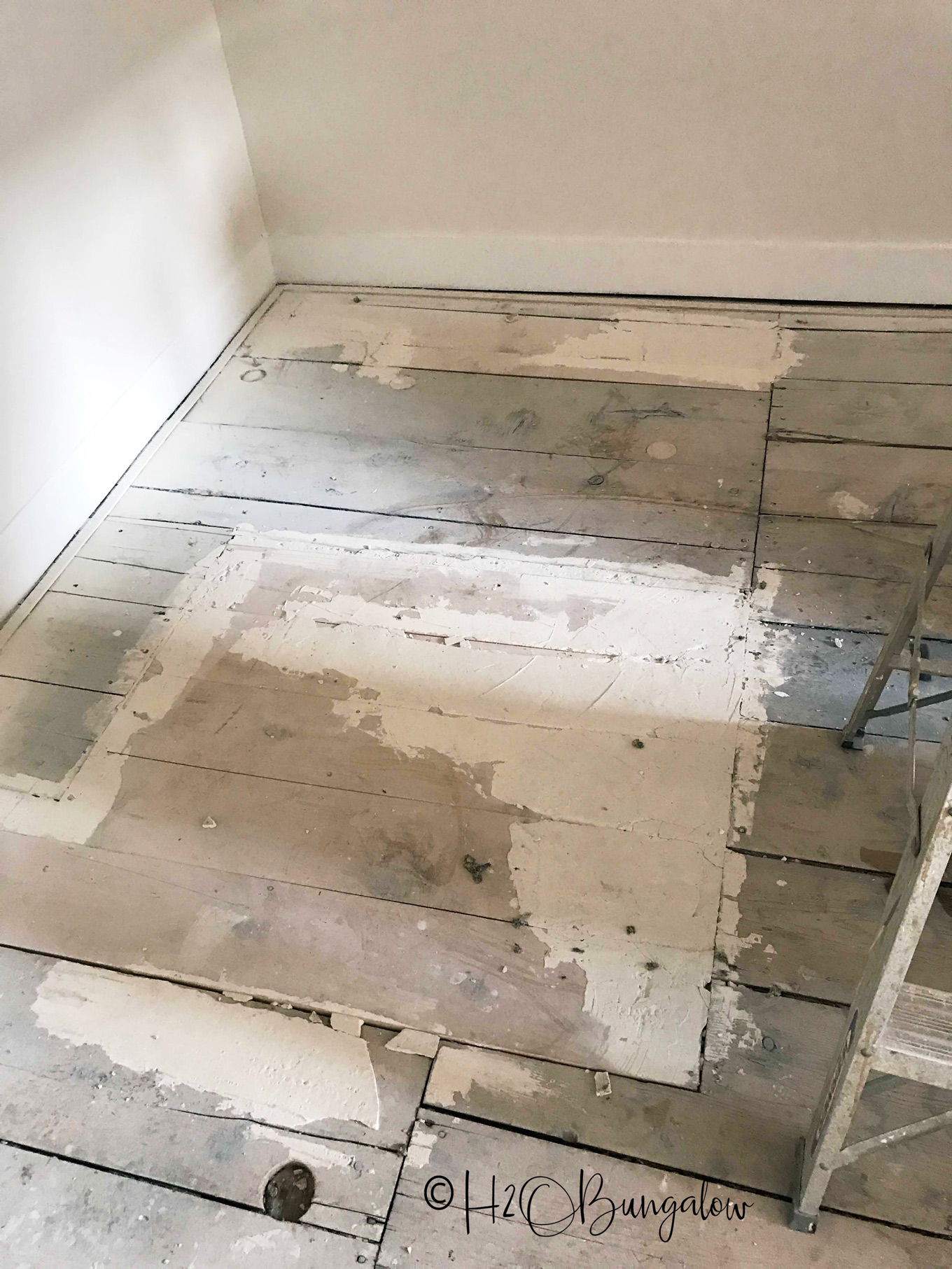 Step two: Remove tack strips, nails and staples from wood floor. Nail nippers, a hammer and a utility pry bar will be your best friends for this stage of work. Place a folded towel on the floor for your knees as you're working. Your knees will thank you.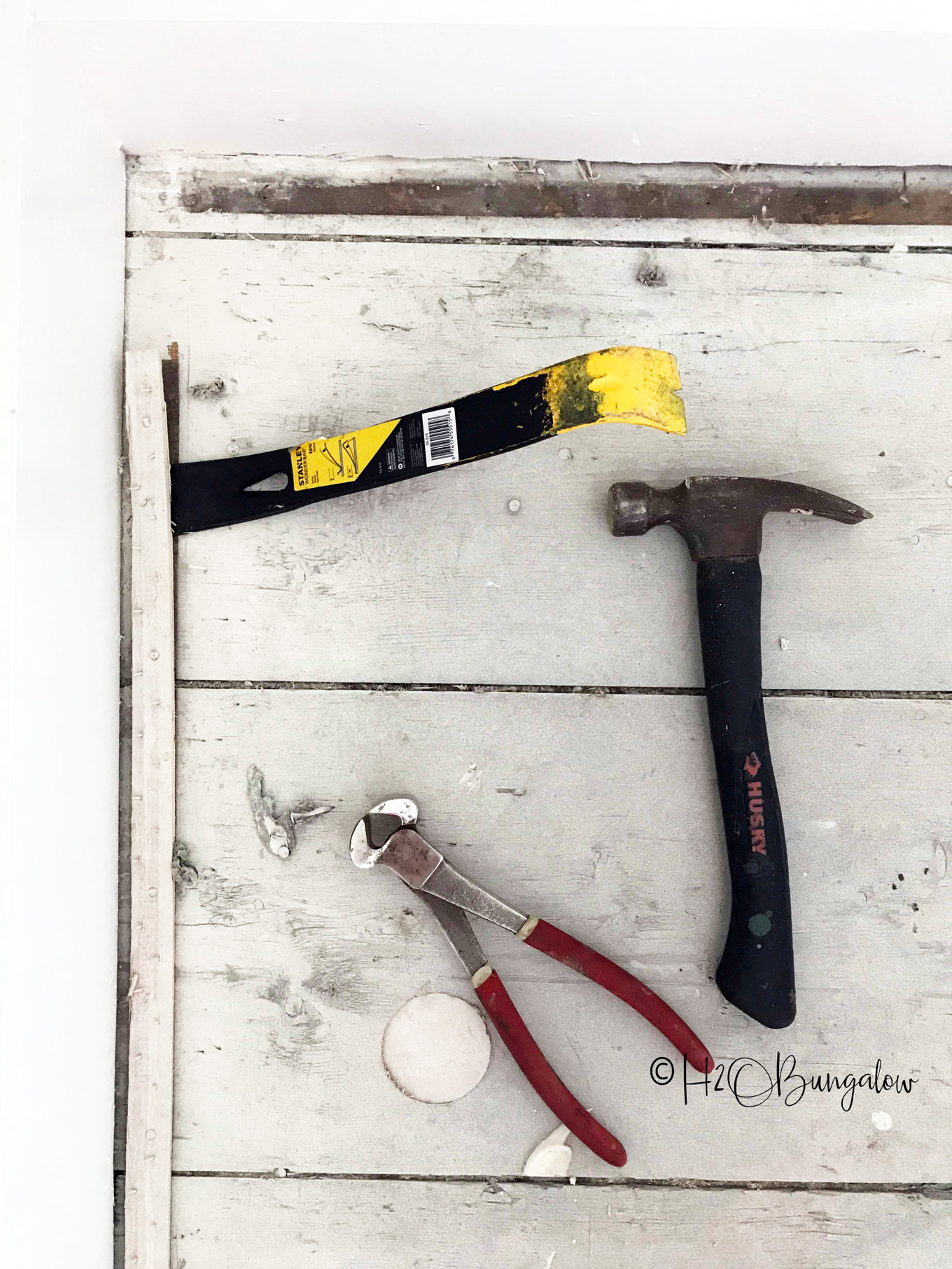 Check entire floor for nails sticking up from the wood floor boards; hammer the ones that cane be re-hammered back into the floor. Pull damaged nails and staples out of the wood planks. The nail nipper made this part easy.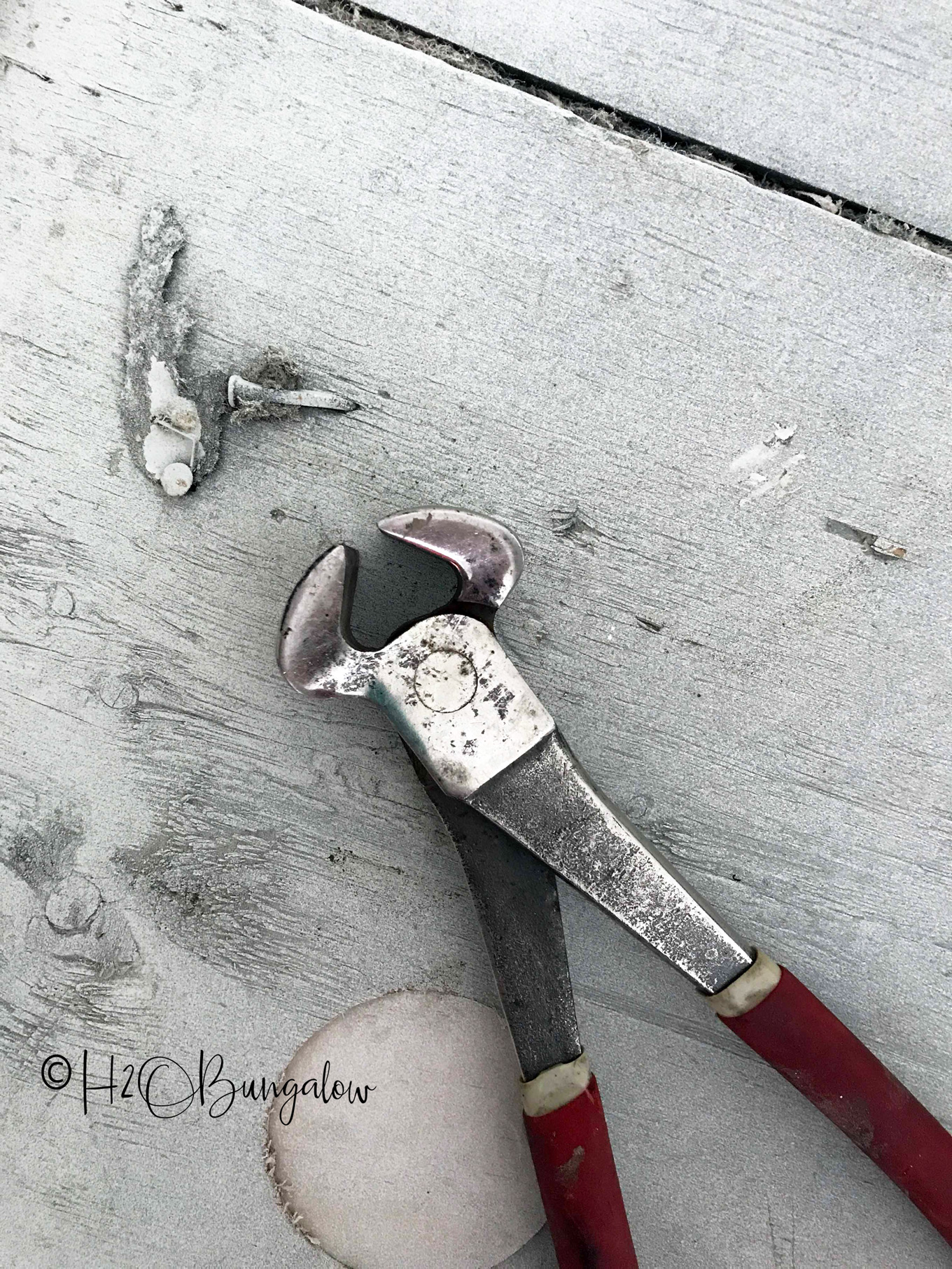 Step Three: Clean the wood floor before painting. I used a nail and scraped out the dirt from between the wood planks. I probably could have planted a small plant with the amount of dirt that came out!
Next, I used a shop vacuum and thoroughly vacuumed to get all the dust, dirt and debris off the wood floor and out of the cracks before starting to paint. If your bare wood floor has unidentifiable areas of grime you can spot treat it with a degreaser if needed.
Step Four: Prime bare wood floors before painting. Use two coat of a quality bonding paint primer allowing each coat to dry in between. Lay the stuff on thick! You'll want to seal the old wood which also seals out odors. Remember the chimney smell we had in this room? I was hoping this wood take care of it.
Here's a paint primer tip; tint your primer light grey. I do this for everything, especially furniture makeovers. It helps the top coat paint color be more even. They even sell grey tinted primer now. I especially recommend this if you're planning on painting your wood floor white.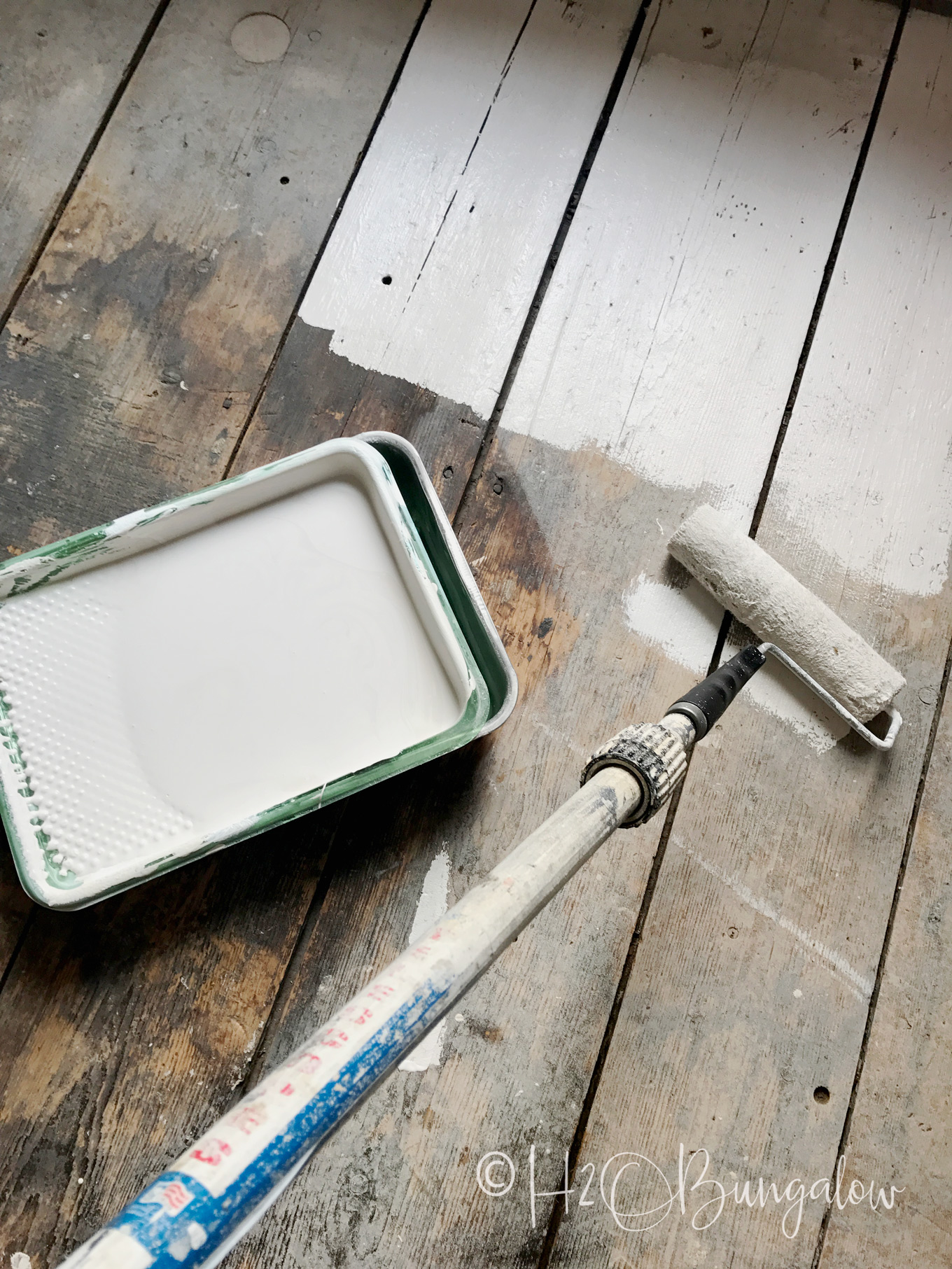 Let the paint dry for at least 24 hours before painting the wood floors with a top coat of paint.
Step Five: Apply two coats of paint to the wood floor allowing each one to dry in between. Again, lay it on thick allowing each coat of floor paint to dry before applying the next coat of paint.
I'd wait a few days at least two, if not three before placing items on the freshly painted floor. There is a big difference between dry paint and cured paint. Keep in mind when the newly painted floor feels dry to the touch it's not fully dry yet.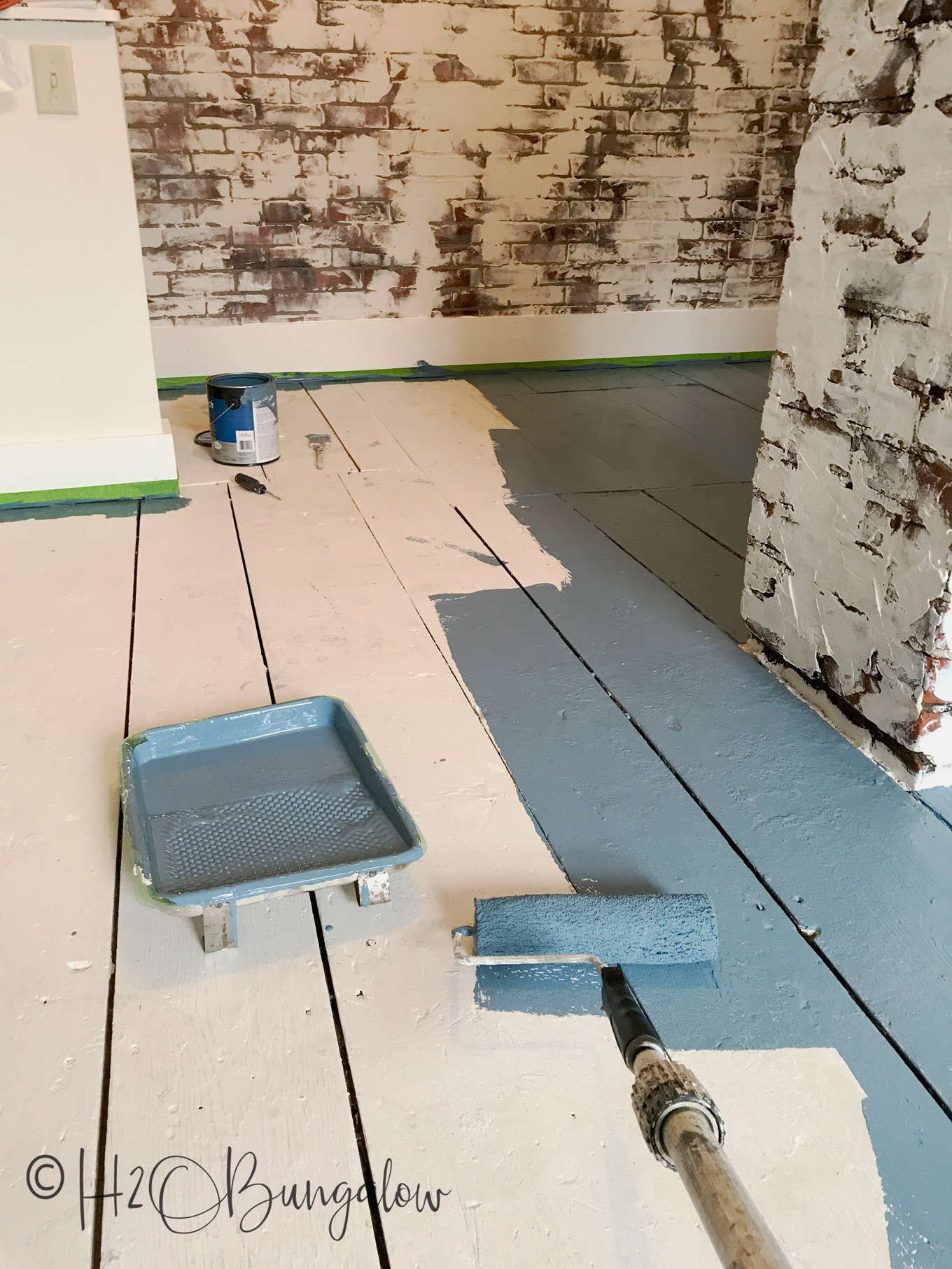 Now that I've shared how to paint wood floors, I should share a few simple painted wood floor care tips to make your DIY paint project last.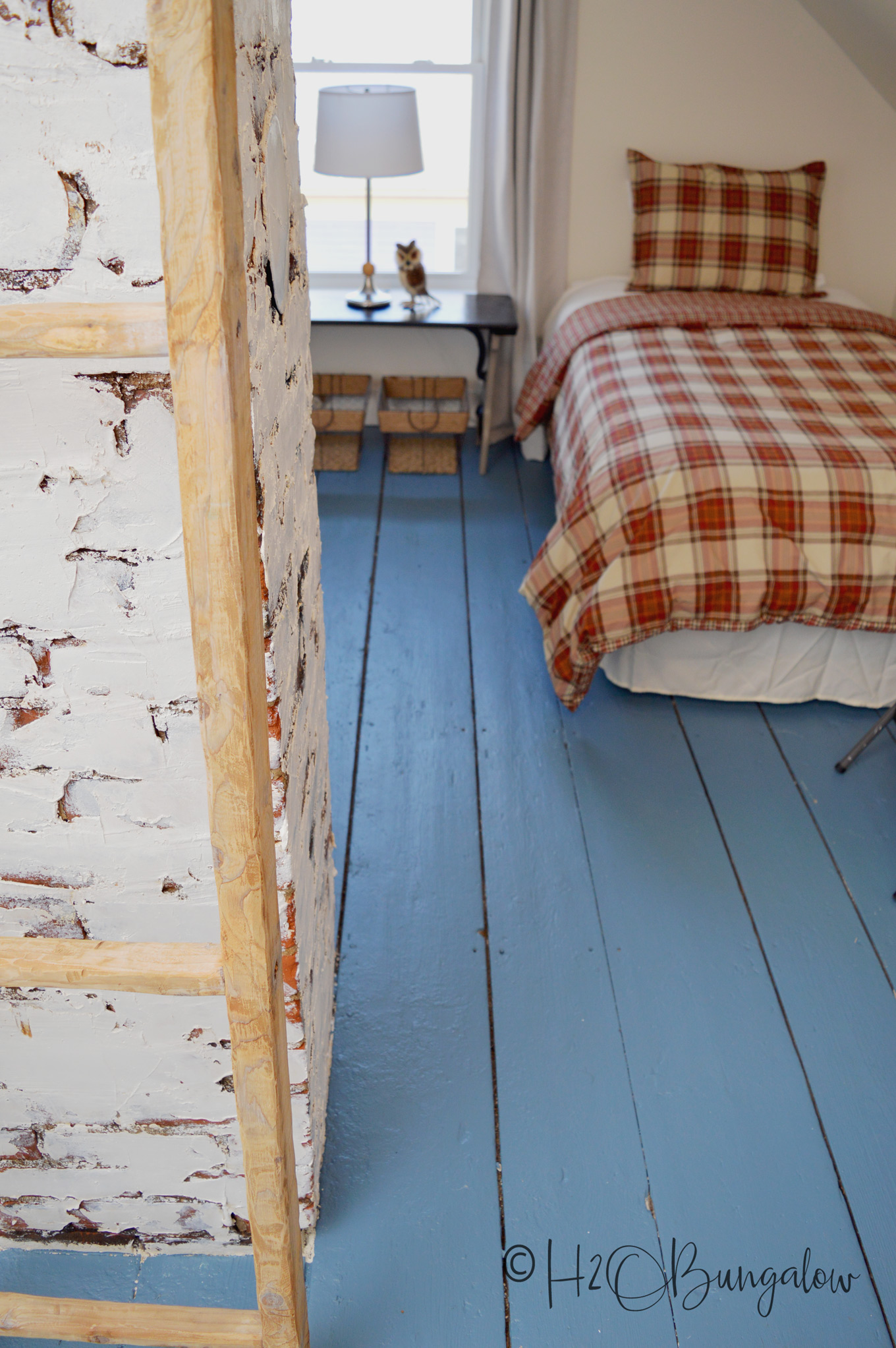 Wood floor care tips
How to clean a painted wood floor. Use a damp mop with a gentle cleaner or a Swifter to clean painted wood floors.
Avoid scratches in your freshly painted wood floor. Carry, don't drag furniture and other heavy items across it. Use felt stick on pads under furniture feet. I also purchased anti-skid rubber cups to put under the bed legs with wheels and dresser legs so they wouldn't move around. Both of these fixes also worked great on our new wood floors we installed in the rest of the house.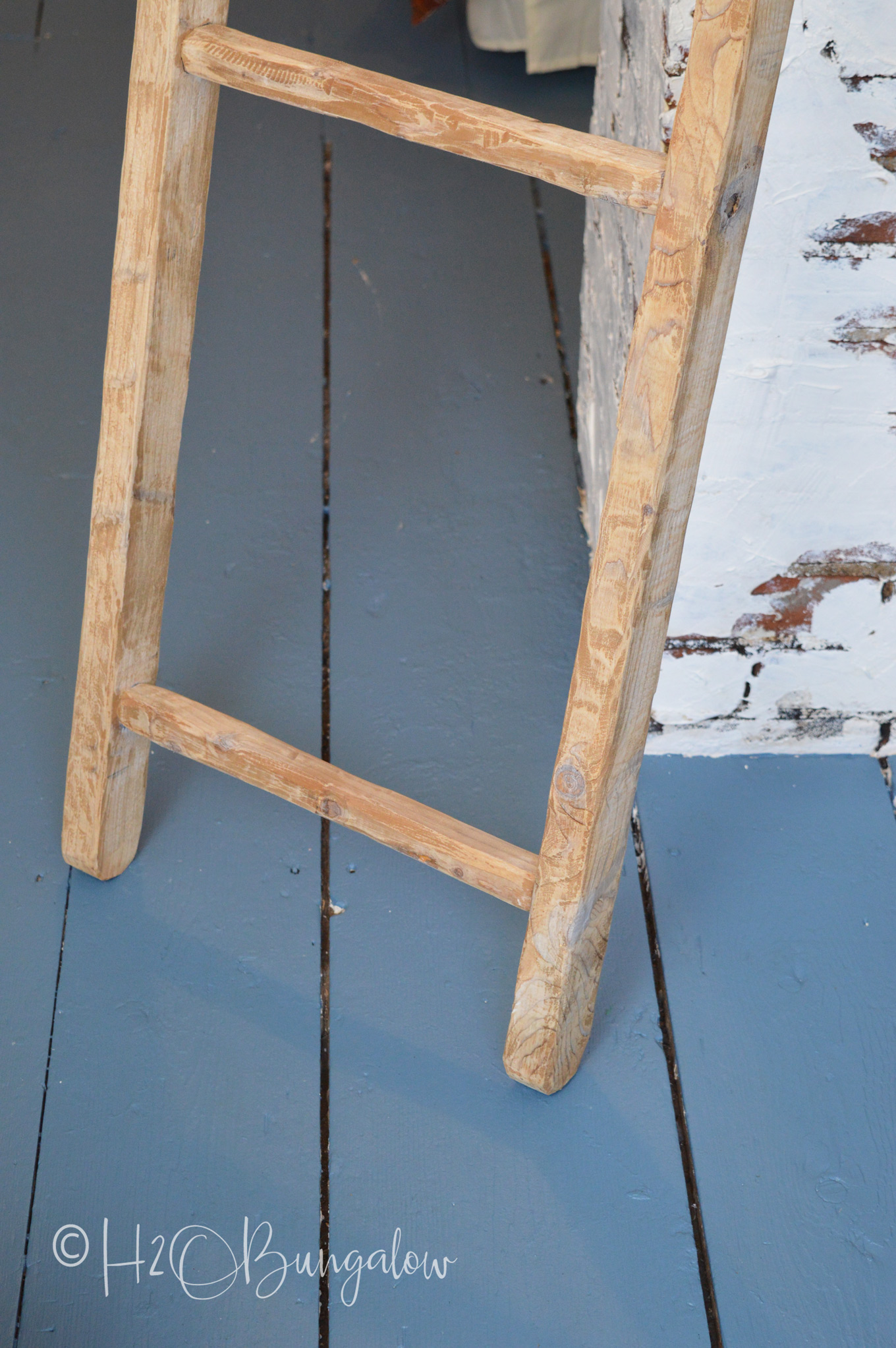 I have so much more to share in this room besides my how to paint wood floors tutorial 🙂 I'll share more pictures of the room and more awesome home decor projects soon, I promise!
I'd love it if you pinned my tutorial!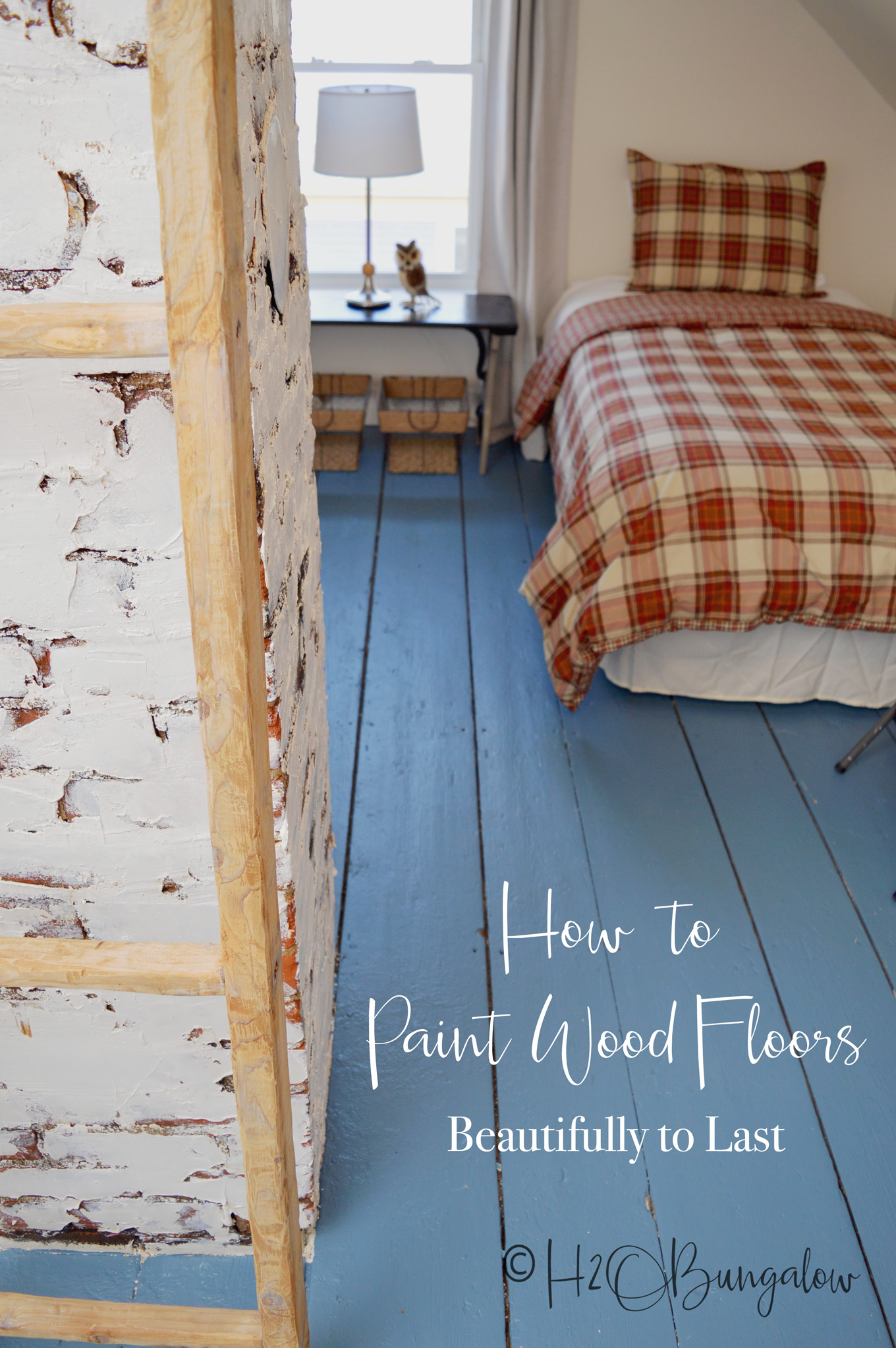 Are you or someone you know thinking about painting wood floors? What color would you choose?