I'm sharing how to stencil vertical blinds today. Are you thinking why would I stencil my old vertical blinds?
Well … there are some things that can't be improved upon. Like the functionality of the blinds on my front window. They are perfect for letting in just enough light or giving the right amount of privacy, Plus, we just aren't ready to do a full makeover in this room yet.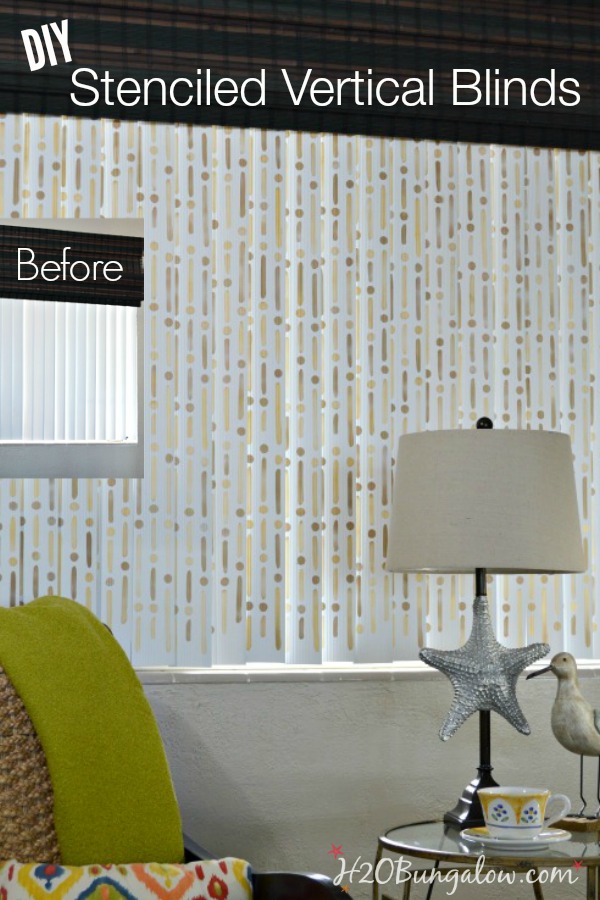 My only issue with them is that I've never liked the way they looked. So I ignored them. Until now. Can I share that this simple DIY is a game changer in the looks department?
Wow!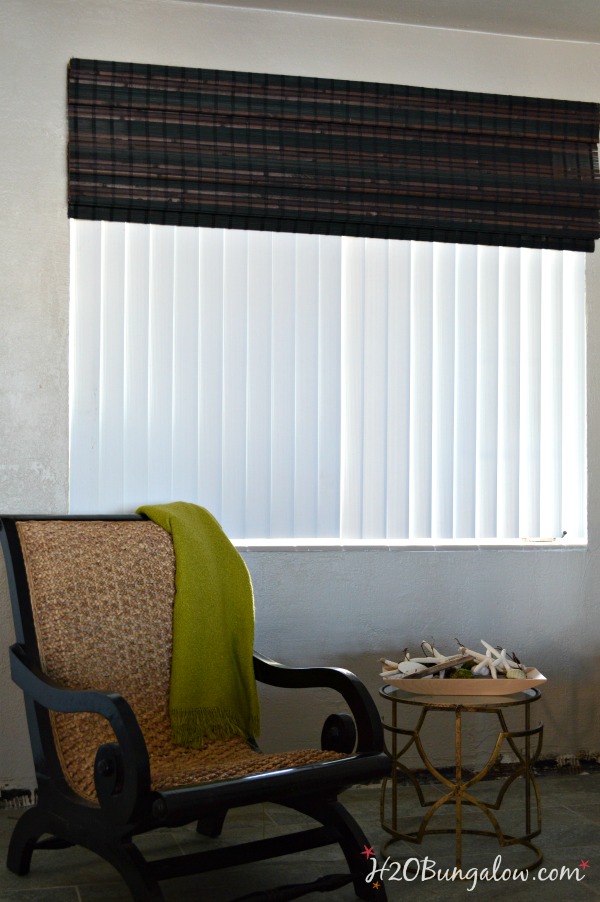 So let me show you how to stencil vertical blinds. This is an easy project and, depending on the size of your blind, can be completed in an afternoon.
Here's what I used:
Vertical PVC blinds
Morse Code Stencil by Royal Design Studio. I used the large size.
Painters tape
Soap, water and a sponge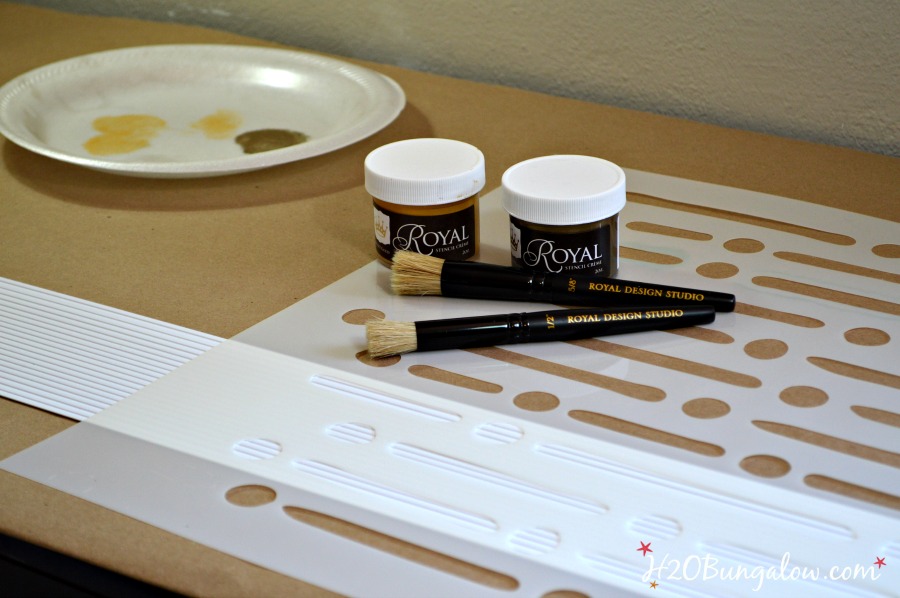 Start by carefully taking down the vertical slats. Wash each slat individually with soap and water and dry completely.
On a flat surface, line up 3 or 4 vertical blind slats side by side. Position and use painters tape to hold your stencil in place. Start at the top of your slats. I realized this later, so let me share this tip now:) The stencil pattern ends better if you start at the top of the slats and work your way down to the bottom of the slats.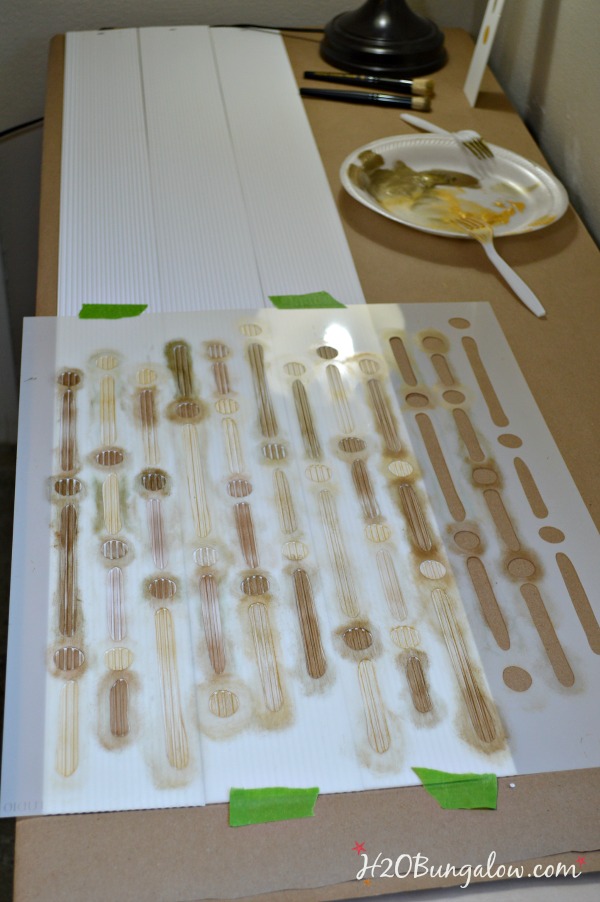 If you aren't familiar with stenciling, the key to clean images is to work with very little paint on your brush. Your brush will be almost dry. A little paint goes a very, … very, long way. If you'd like to read more on stenciling techniques, Royal Design Studio has a handy section of tips on stenciling in their Learn To Stencil section of their website.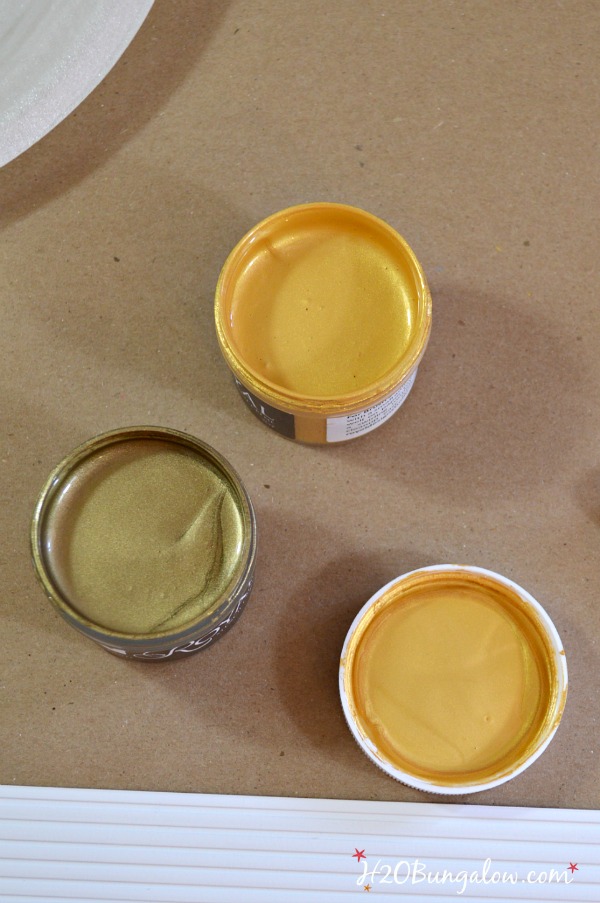 You'll notice I applied the Stencil Creme in random amounts of coverage without following any pattern. I varied the amount of paint used, mixed and layered the paint in different areas. I think the variation of the colors and the randomness make the look.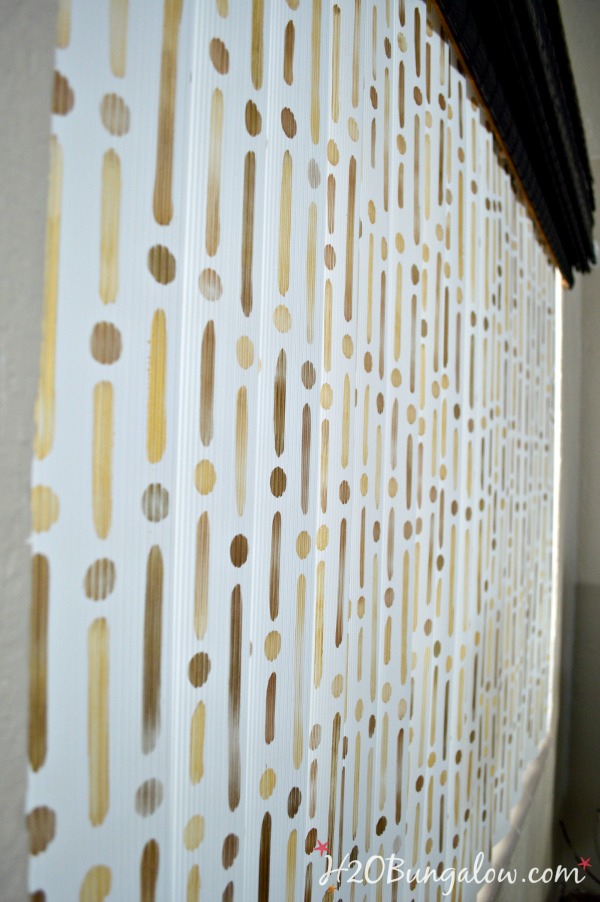 After painting, I allowed each pvc slat to air dry overnight before rehanging them.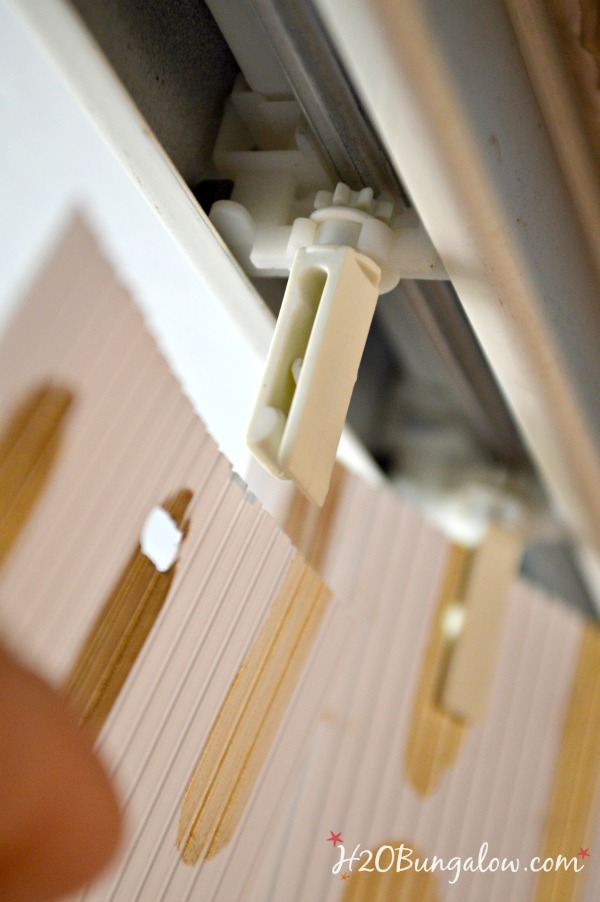 If I'd have known they would look so good I would have tackled this project a long time ago!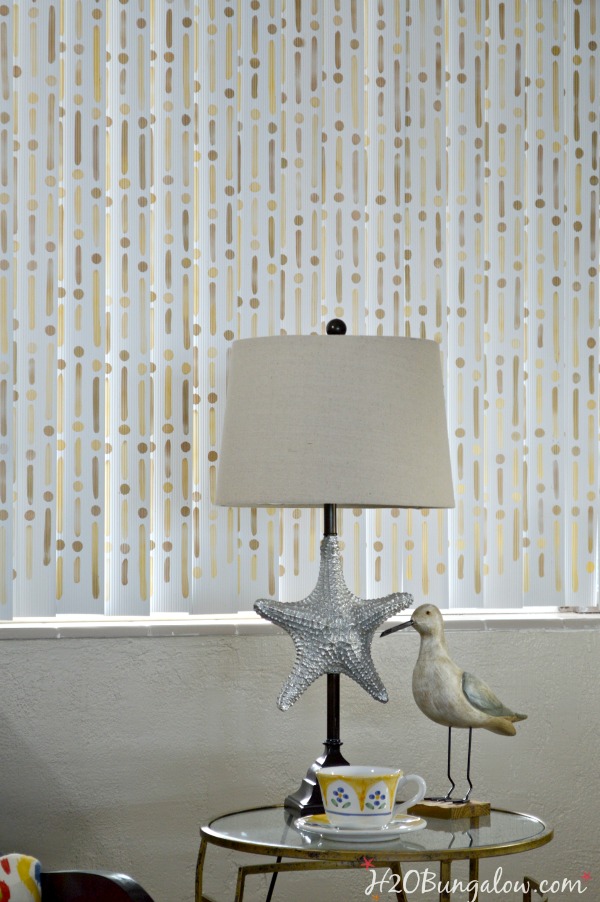 The Morse Code Stencil from Royal Design Studio was perfect for this project. I choose it because the pattern of dots and dashes is 3 inches wide and fits perfectly onto the width of the pvc slats.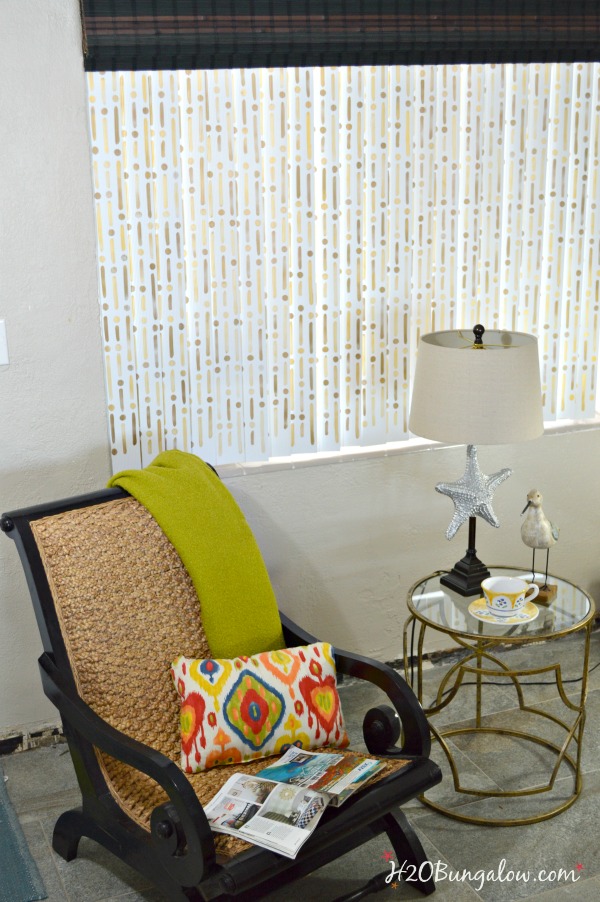 I love that this simple project makes such a huge impact in my living room.
I wish some of the other projects on my "to do" list were just an afternoon away as well. Like our baseboards … Yes, we have no baseboards. Living in a project house means living through the steps of making it pretty. We are getting there, project by project, one room at a time!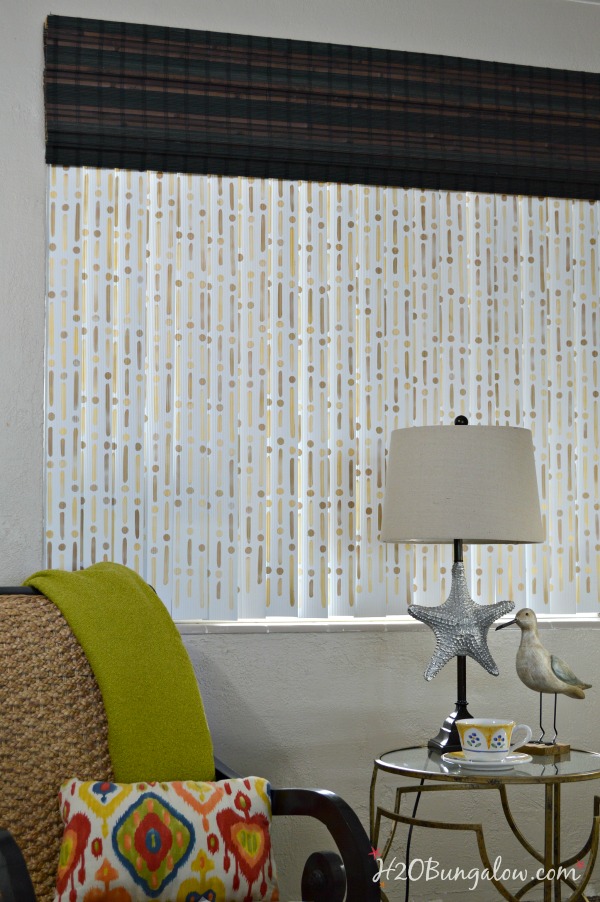 Now that I know how to stencil vertical blinds,I'm ready to roll up my sleeves and tackle more plain old blinds in my house. How about you, do you have a plain vertical blind that's calling out for a makeover too?
As you might have guessed this is a sponsored post, I was provided product and or compensated for sharing this information. All opinions, craftiness, and projects are 100% my own and never for sale. I'll only share items I think have value for my readers!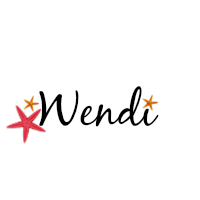 You may also like these other paint & stencil projects of mine, All Of Me Loves All Of You Love Plaque , How to stencil terra cotta planters or my favorite Damask Stenciled Dresser Makeover.