It took me three days to find the right words for my romantic phrase wall plaque. We've had a big blank wall in our bedroom that has nagged at me ever since we finished the master bath remodel and addition last year. Sure, every now and then I'd get an idea but none that really grabbed my attention and made me want to start DIYing right then and there. That's kind of my barometer, if I don't get excited enough to want to start a project right then and there…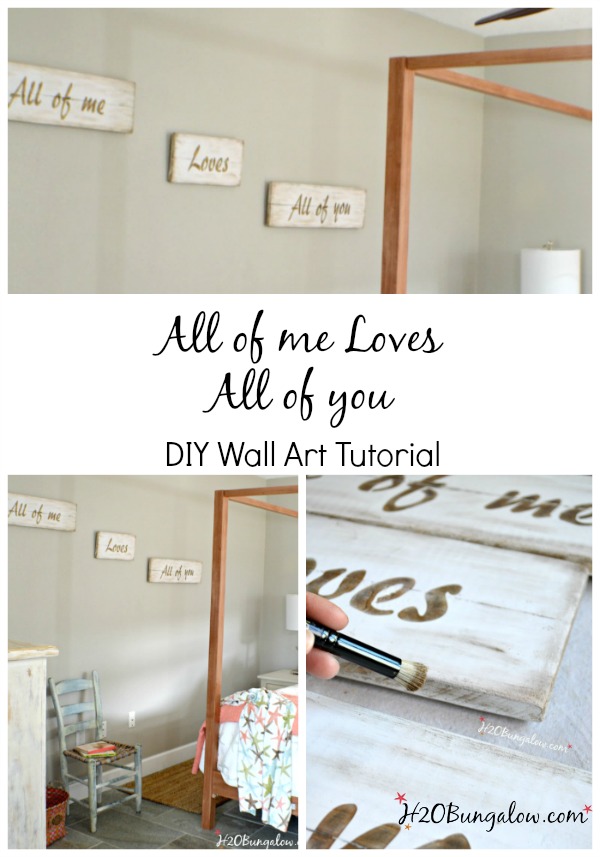 It's not the right one for me.
This idea? Yeah… it got me excited, and I had to wait until later that week to actually start on it which made me crazy;)
How hard could it be to choose the perfect words for my DIY romantic phrase wall plaque?
About 3 days worth of tossing out over-used cliché's, phrases that didn't fit DH and I. If it was going on our wall, and I had to look at it every day, at the very least it has to be special and make me feel something. Finally when I was doing random errands and in the car I heard it! The radio was playing in the background and All Of Me by John Legend was playing. BINGO! This was it. I knew I'd found the perfect words for my DIY romantic phrase wall plaque.
Here's a simple tutorial to make a DIY All Of Me wall art. It's simple to change out words if you have another special phrase already picked out.
I made 3 plaques each with two 3″ x 2″ boards and secured them a few wood strips in the back. Used my Ryobi Airstrike with 5/8 " brad nails and then gave them a quick coat of Annie Sloan paint in Pure White front and back.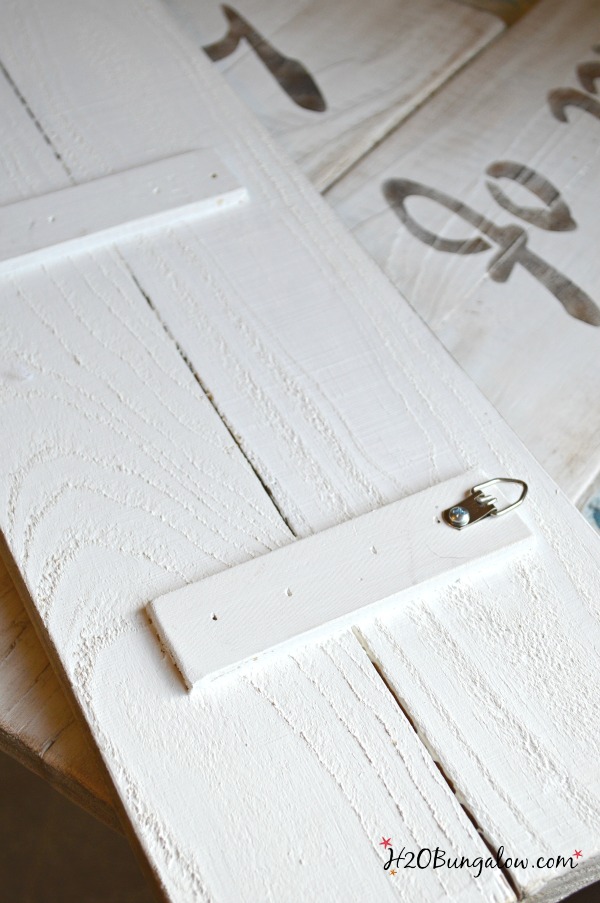 I made my stencil with my Silhouette Cameo and a $1 roll of contact paper from the Dollar Tree. This was my first attempt at using contact paper There are lots of good tutorials on using contact paper instead of the Silhouette brand stencil material. This was much cheaper! It's pretty thin to work with, but was easy to reposition.
This step could easily be done with individual stencil letters as well.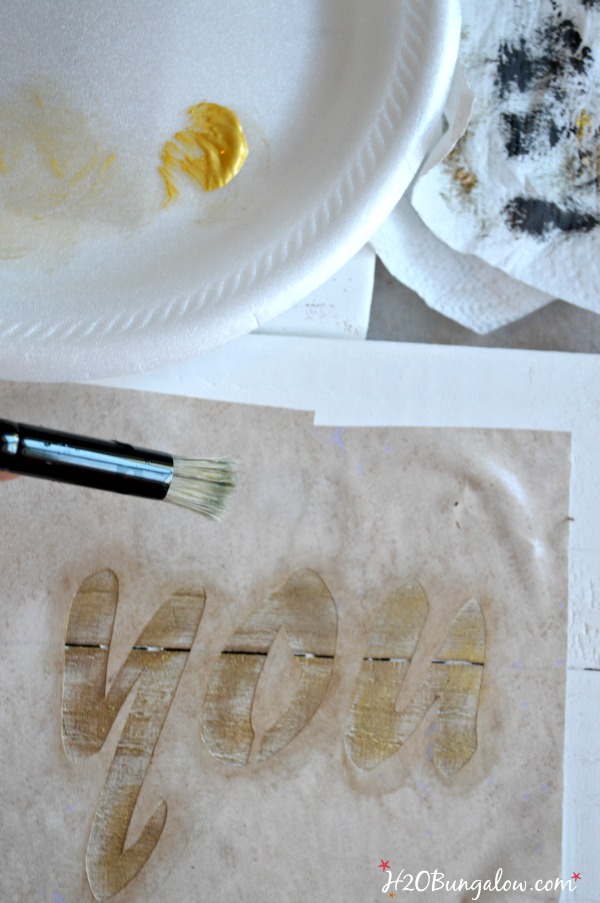 Royal Design Studios has wonderful stencil cremes. I used Antique Gold over a light coat of black chalk paint for the letters and added some extra Antique Gold around the edges.
Here's a useful tip – if you're working on more than one piece, lay them side by side while adding shading or finishing touches. That way you'll be able to keep the amount of color consistent across the pieces.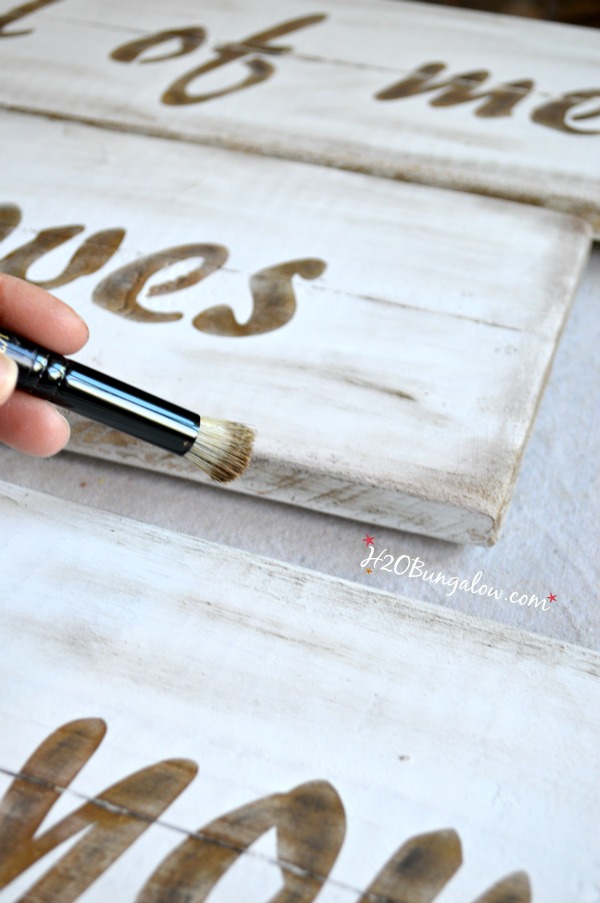 My DIY romantic phrase wall plaque is perfect on my wall!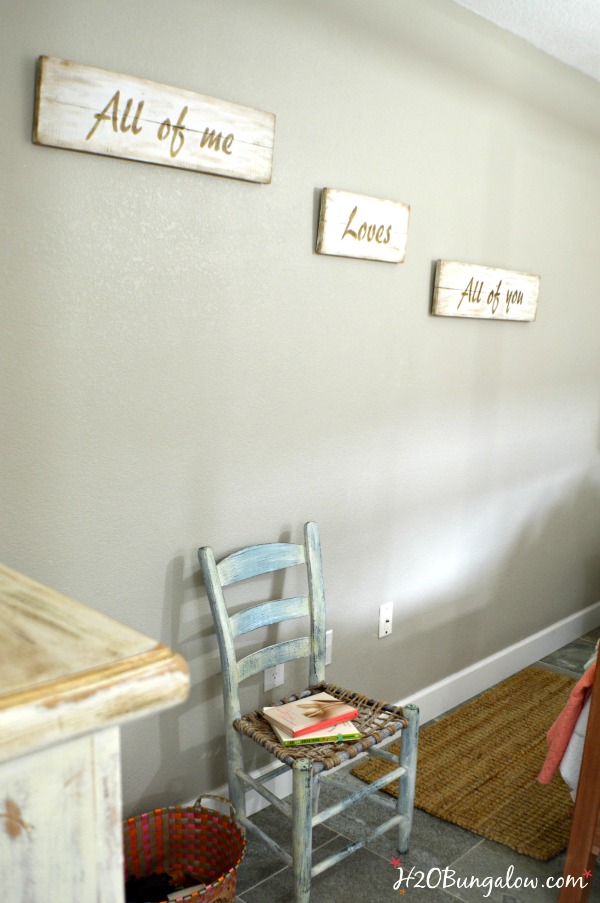 It fits the space just like I imagined it would and yes, I really do read it every time I walk in the room. At least for now 🙂
See how nice our newly made over nightstands look in the room? That sweet chair was a makeover for Themed Furniture Day and so was my White and Gold Distressed Damask Dresser that you can see just on the left side of the photo.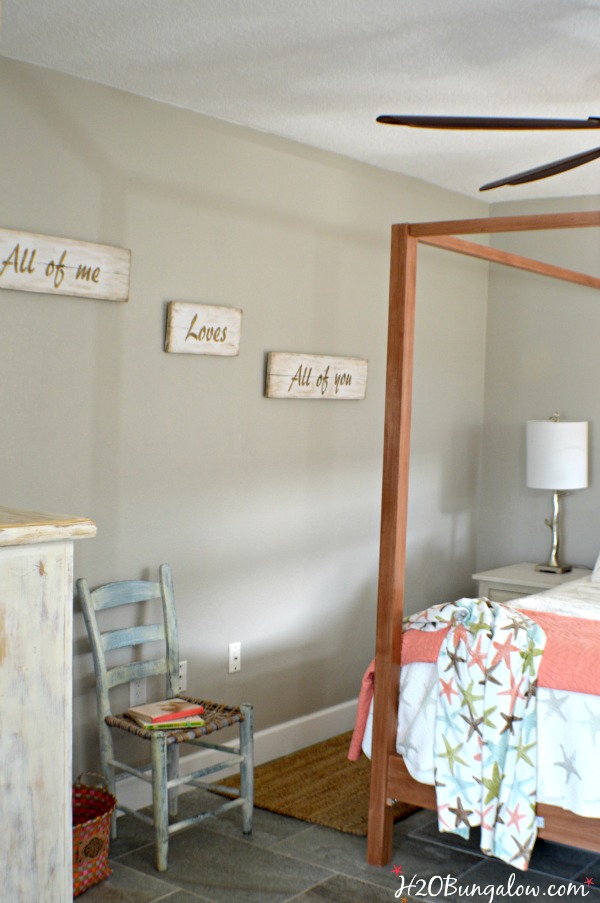 This is just a teaser of our master bedroom refresh.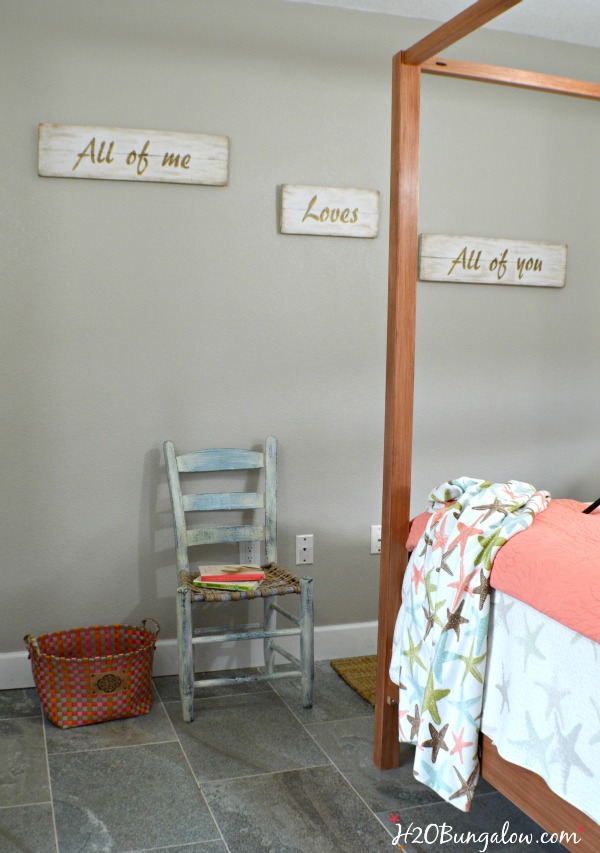 Have I got some good stuff to start sharing with you in the next few days!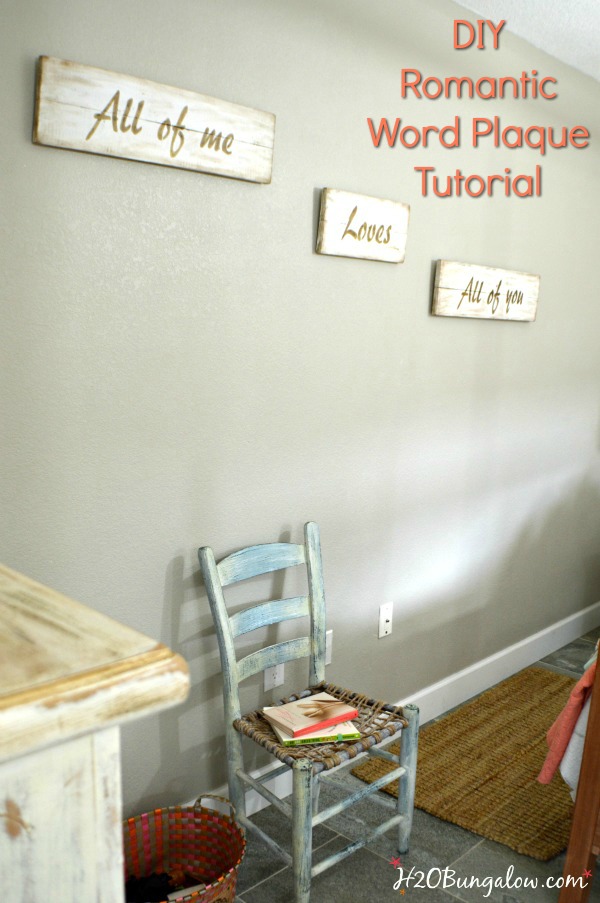 You can see what I did next for my budget master bedroom makeover here.
If you were to pic the perfect phrase for your own DIY romantic wall plaque, what would it be? You know I love when you guys share your creative minds!