I made a modern rustic DIY vintage hook coat rack for the North House #54 side entry last fall. It was easy to make, basically it was vintage style hooks on a long pine board. What I love about this coat rack is that it would fit perfectly in a modern farmhouse, a rustic modern setting or just about anywhere. Another coat rack that would fit perfectly in a modern rustic setting is this Chevron DIY Coat Rack . Maybe you live at on the coast, or just love the beach and/or whales…if that's the case, then this DIY coastal whale coat rack or if you're tight on space, how about this Live Edge Coat Rack, might be more your style. On either, I think my DIY Rustic Garland would look great.
This is the 54 side of the North House. Many of you know I spent last fall remodeling and decorating this side of our guest house in Vermont. As soon as I hung the DIY vintage coatrack on the wall, this space started looking cozy!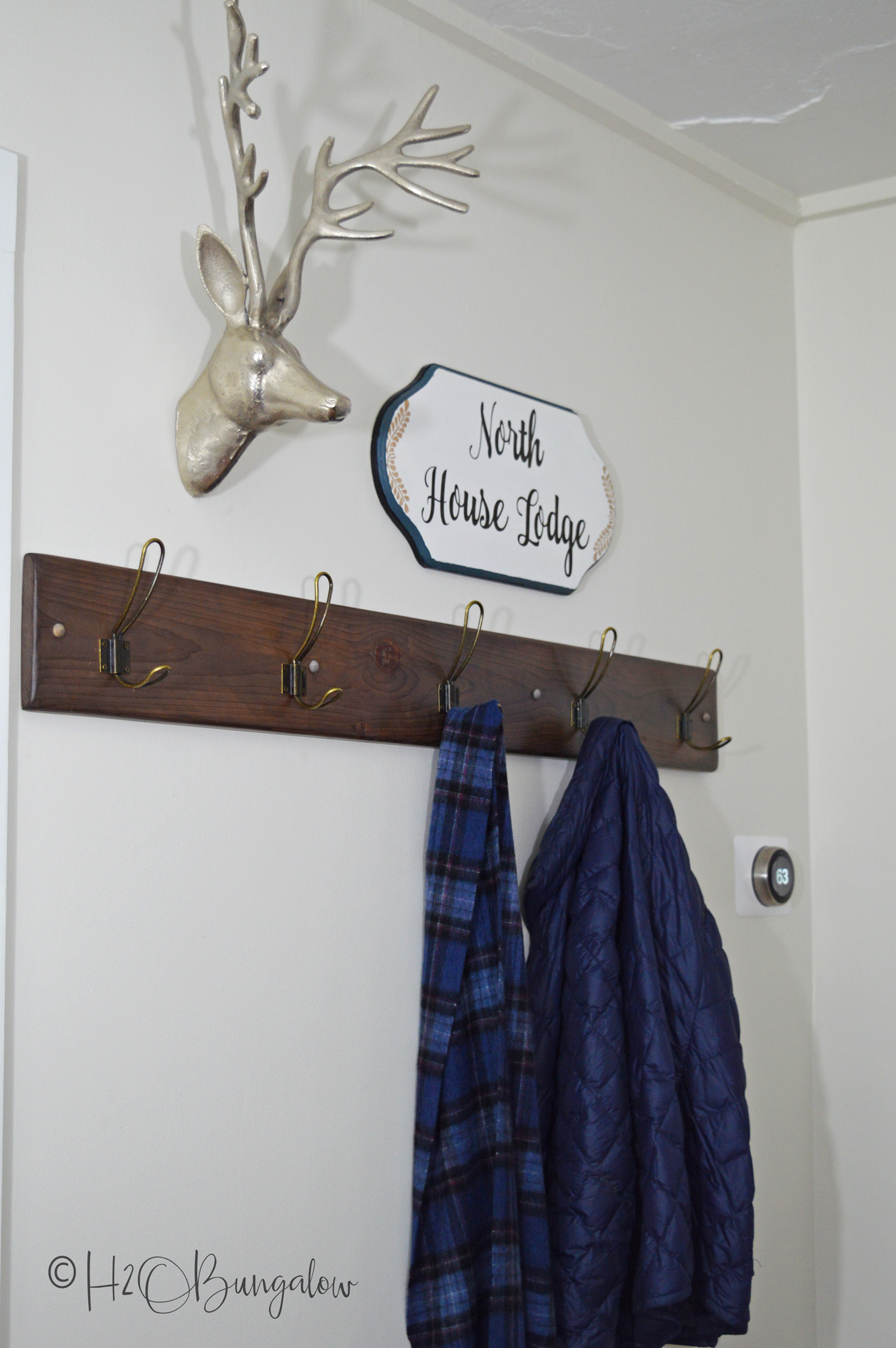 I don't need to share how to make a coat rack with you guys, I think it's pretty self explanatory. Take a board , add a few hooks and you've got yourself a functional coat rack. You guys know functional alone won't do it for me, I need pretty.
So I'm sharing tips to make an exceptional coat rack that you'd be happy to hang in your home, one that people will say Wow, where'd you get that awesome coat rack? …and then you can reply "I made it!".
How to Make a Modern Rustic DIY Vintage Hook Coat Rack
I use affiliate links to help you find the supplies I used. You can read my full disclosure policy here.
Supplies needed to make a DIY vintage hook coat rack like mine.
4 foot pine or other wood board
paint or stain finish
1. Choose quality wood for your coatrack. Make sure it's not warped or bowed. If there are knots in it be sure they are in the center of the coat rack and are flat.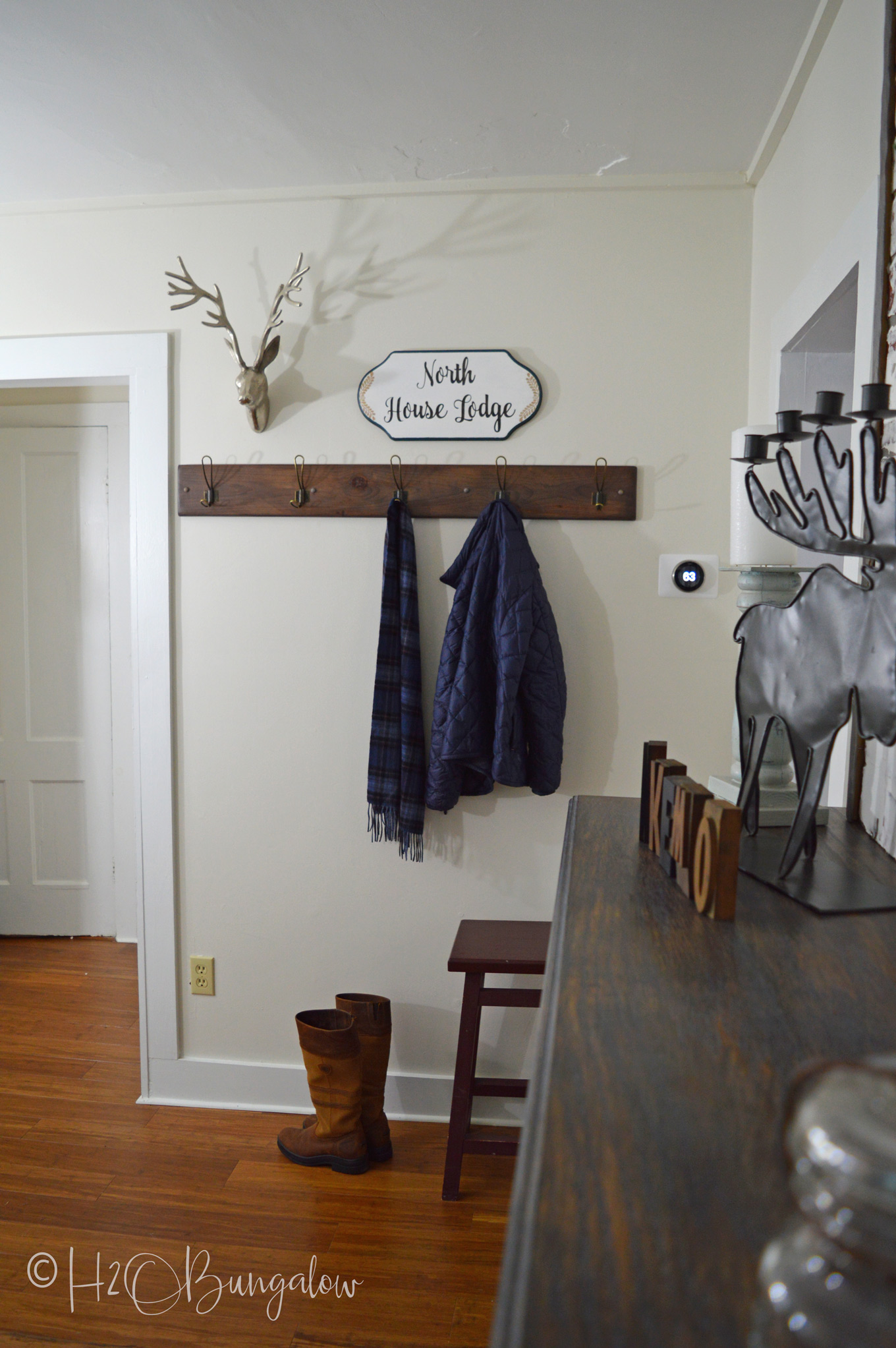 2. Sand the daylights out of it. Use your palm sander or random orbital sander and heavily sand down all four corners and square edges. Sand down the sharp edges of the back side corners a tad and get the straight edges too.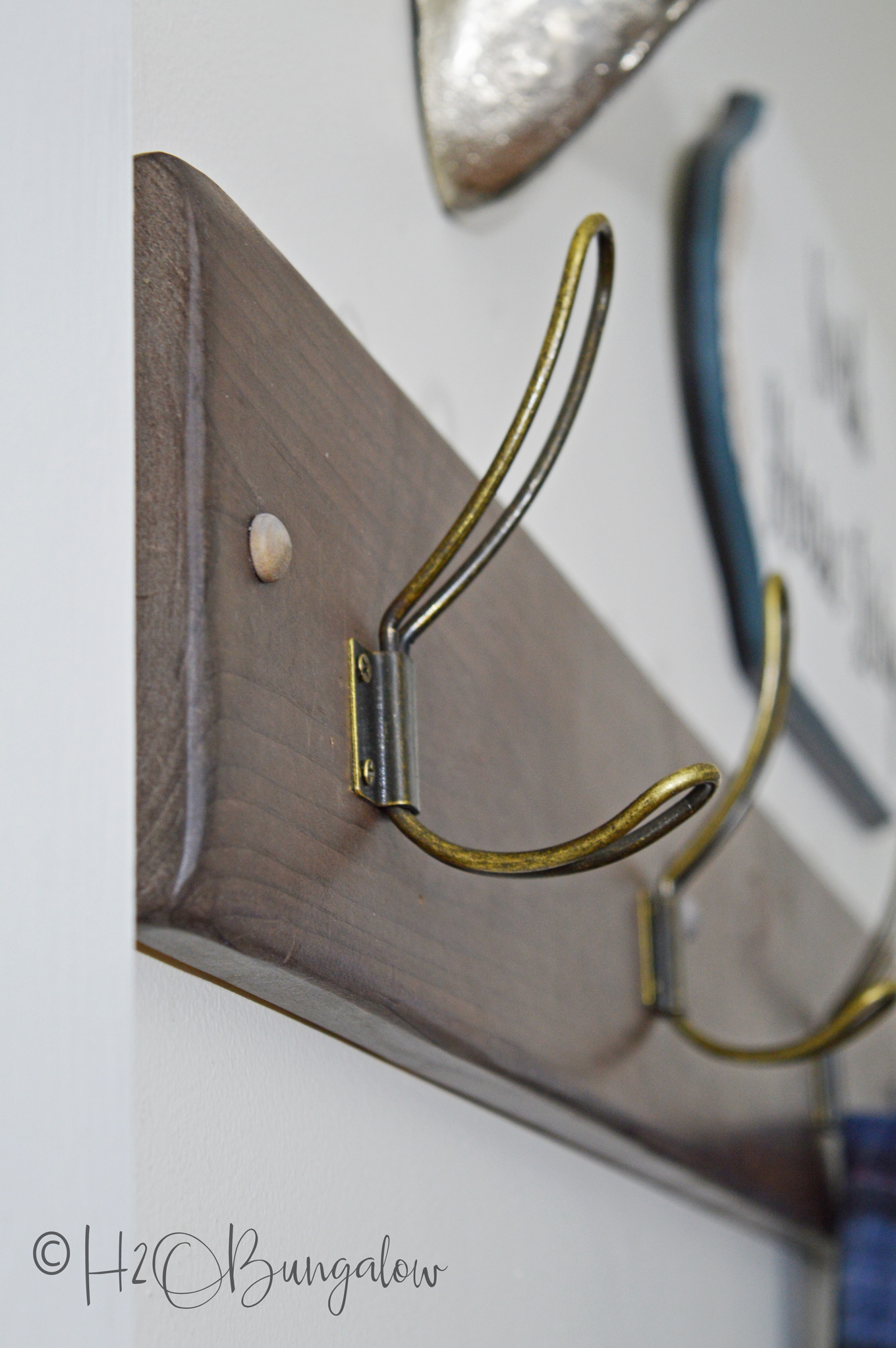 3. Give your DIY coatrack a furniture quality finish. I used my tea stain recipe as a base and let it dry about 50%. Next I used the weathered wood accelerator and let dry overnight. The two stains layered gave the wood a beautiful multidimensional finish. The grand finale and big secret to my stained wood finishes is clear furniture wax. Yep, wax like you'd use on a painted piece of furniture. I gave this coatrack 2 coats of Fiddes clear wax and buffed it. …it turned out beautiful and has lots of depth just like a piece of furniture you'd buy in a fine furniture store.
4. Drill pilot holes to mount your hand made coat rack to the studs in your wall. Use wood buttons to cover the holes and give them the same finish as your coat rack. Of course, you'll wait to put these in until after you hang your awesome new coat rack 🙂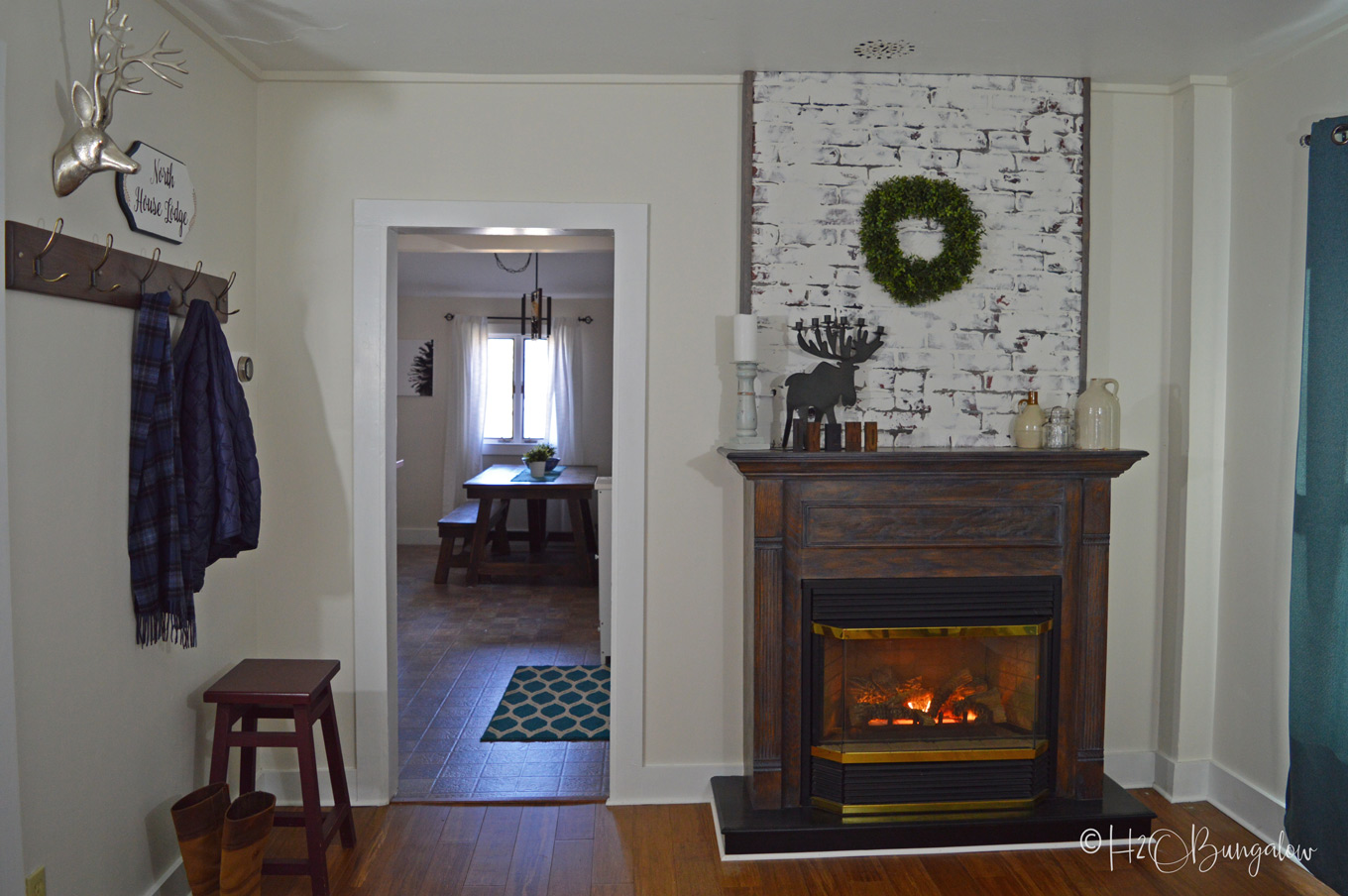 There you have it. An easy to make but stunning DIY vintage hook coat rack that wil addd loads of character to your home.
Love it? Share it on Facebook and Pin it for later!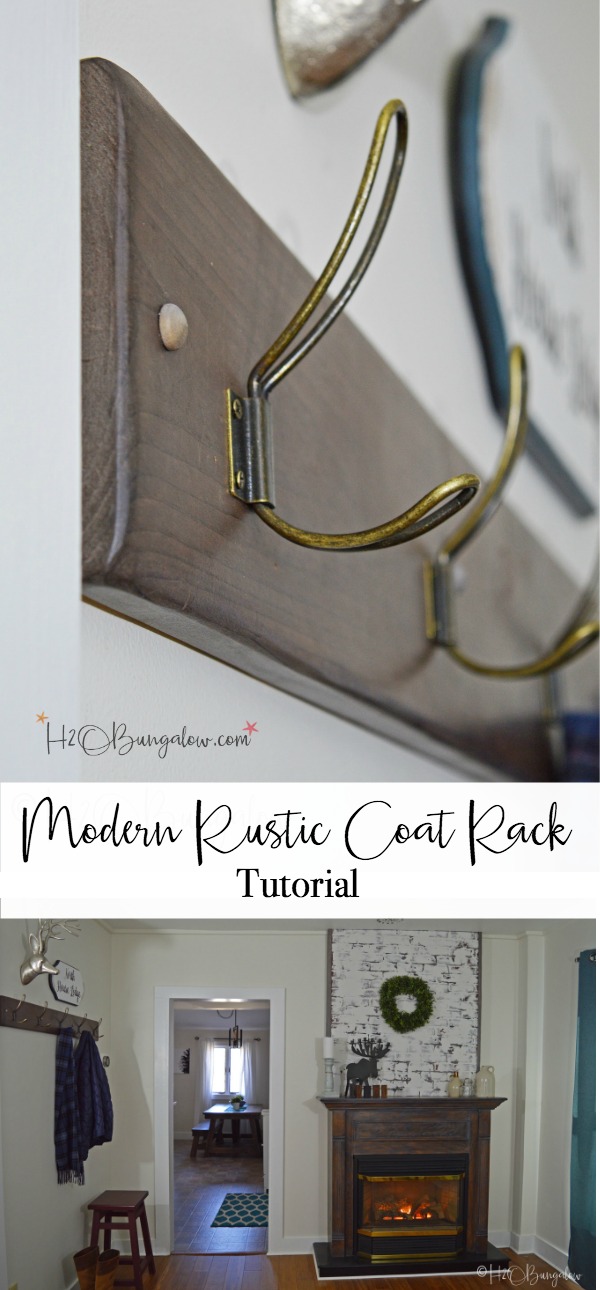 I know many of my readers like what I create but may not have the time to make one too. I found a few similar coatracks that are ready made. All you need to do is hang them!
I found this coat rack with vintage hooks on Etsy already put together and it looks almost like mine.
Rustic modern and modern farmhouse decor is popular. Here's another vintage style coat rack with hooks I found on Houzz that I love! I would have purchased this one in a heartbeat.
So… I'm curious my friends, are you a heck yeah, I'm going to make this or a just deliver it to my front door kind of person? Share in the comments below!