I've got a handy process to share with you today. How to tea stain wood with three simple ingredients from your kitchen and get a weathered look on new or unfinished wood, without chemicals and really inexpensively. It's more of a process than it is a project, unless you do like I did and make a batch big enough to stain your project, and every raw wood project you'll ever make, like this Pallet Wood Wall I created in The North House Lodge using this stain.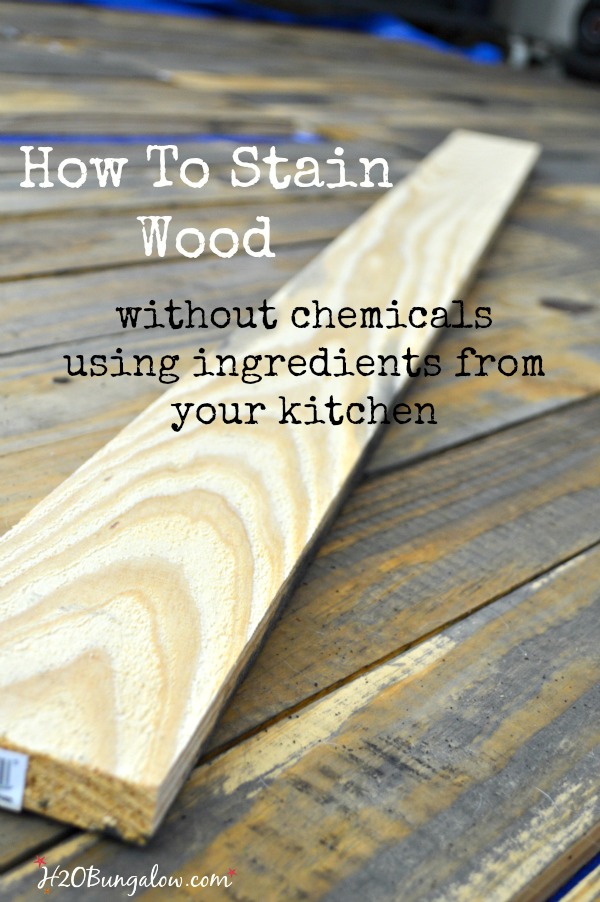 A few months ago I had the brilliant idea of building a wood planked wall as a photo backdrop in my studio. It's still a great idea, and will make staging and taking project photos so much easier and more convenient. I measured, purchased and cut 60 boards, laid them out in my living room on big tarps and tea stained them.
I'll share the wall later, because I still haven't finished it;)
But, I'll share how to tea stain wood now, because it's such an easy way to stain wood without chemicals, it works great and you'll get a naturally weathered wood look for pennies.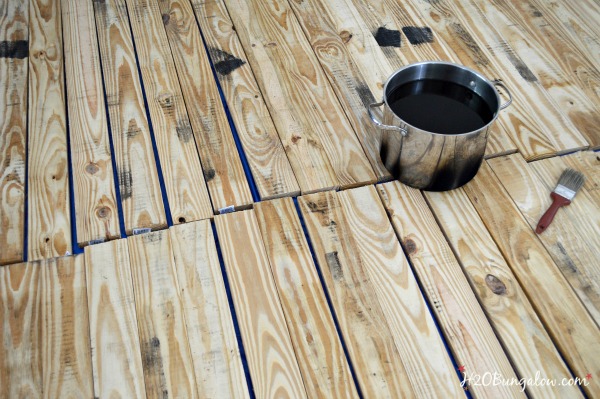 Tea stain wood ingredients
1 -2 large tea bags – any brand will do.
1 steel wool pad pulled into pieces any, but not Brillo with soap in it. Just plain steel wool.
3-4 cups white vinegar
paint brush
This tea stain recipe covers about 150 – 200 sq feet of wood plank.
You won't need a gigantic pot of tea like I brewed. I have no idea what I was thinking when I made this batch of tea! This would have been enough to stain floors in an entire house.. or my house and a neighbors:)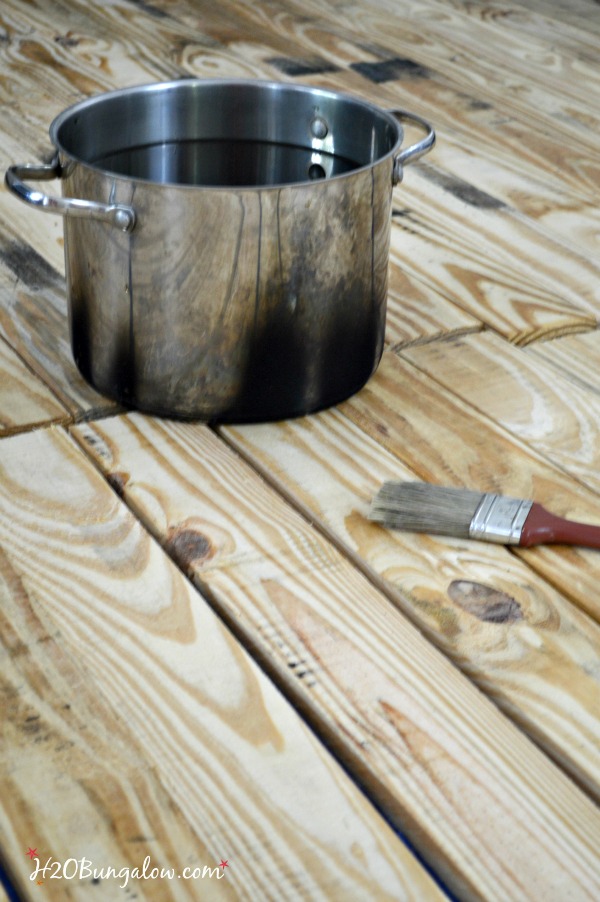 Rip the steel wool into bits and put in the white vinegar in a container. Let sit overnight. Watch the container for air bubbles. I had to open the lid several times to let out the air. Or just leave the top off and slightly covered. The next day lay out the planks on a tarp, use the paintbrush and apply a generous layer of the white vinegar and steel wool solution over the wood. Let it soak in. Within a few minutes, follow with a generous layer of the brewed tea also applying it with a brush.
Here's the hard part..
Sit back and watch the wood change color and start to look naturally weathered. It darkens as it dries.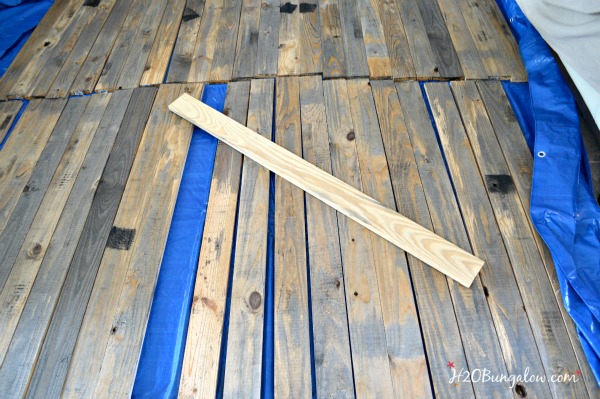 It will age and look like its been sitting outside and weathered. Don't worry about the vinegar smell, my wood didn't have any at all when it dried.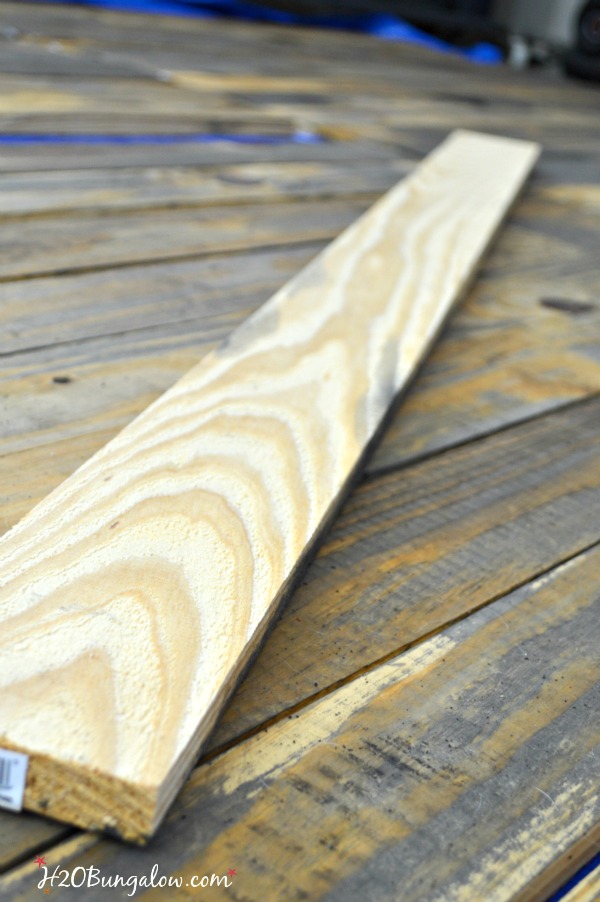 I love this tea stain wood method and it's a super chemical free natural wood stain method that kids can use too.
I've yet to put the plank wall back on my schedule to finish my photo back drop. On of the big challenges is keeping myself from pilfering the stash of tea stained wood for other projects! I made this super bench with it.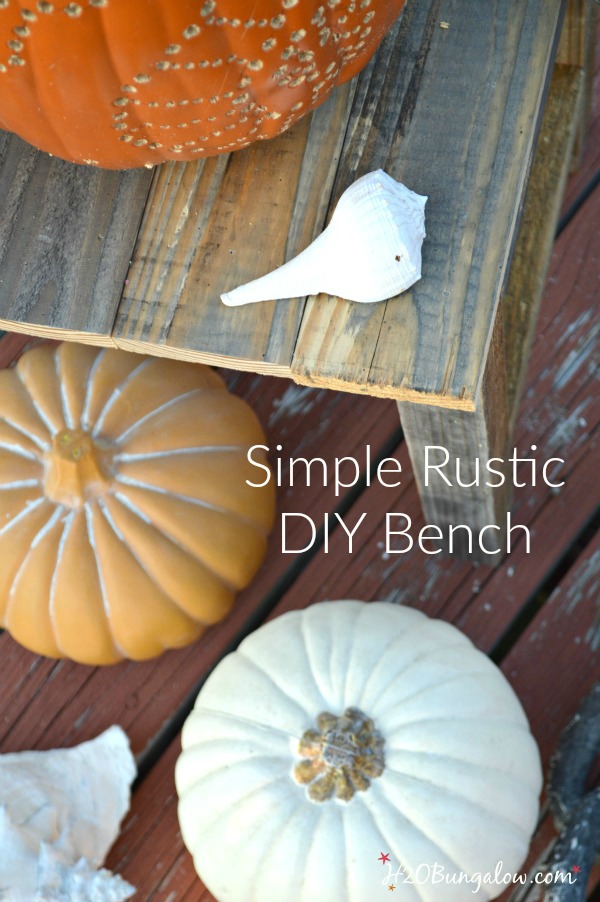 And another super project I'll share with you soon 🙂
If you love patinas like I do, you may like these projects too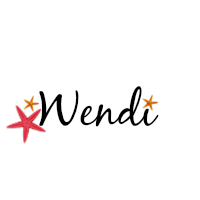 Love a good dose of DIY home decor, home improvement, the challenge of woodworking and creative ways to make your home look fabulous?
Me too!
I'd love to share mine with you. Click here to sign up for my post emails and I'll send a quick note when I have a new project to share.
Social media fan? Don't be shy say hello! I love when you guys do that! I'm interactive on Facebook and I share lots of other projects and, useful inspiration for the home and content I don't share anywhere else. Follow H2OBungalow on Facebook here
Oh heck, just follow me on all social medias. We'll have some fun…promise:) Follow H2OBungalow on Instagram , Follow H2OBungalow on Twitter , Follow H2OBungalow on Pinterest, I'm on Periscope! @H2OBungalow
I use affiliate links in my posts. If you should make a purchase I will receive an itty bitty commission at no cost to you. Thank you in advance for supporting my blog…my two cats and our boxer dog