I made this no sew burlap table runner last weekend in about 20 minutes. I wanted to enjoy it for more than just one day so I made it to fit our Thanksgiving table and my sofa table.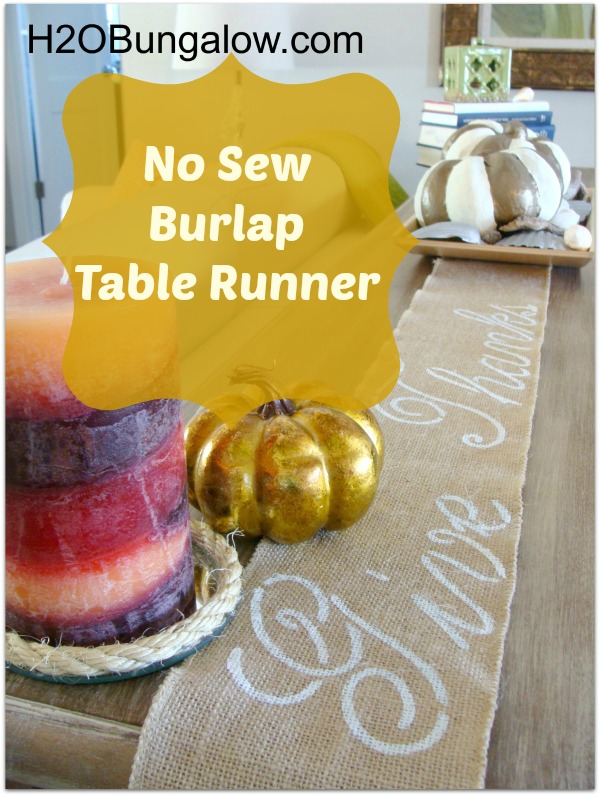 I think that was a smart idea, don't you? Especially for those of us who live in a small house and have to conserve storage space!
I use affiliate links to help you find the products I used. If you make a purchase I get a small commission at no cost to you. The affiliate money I earn helps cover the overhead costs of H2OBungalow. Thank you for your support!
Supply list for no sew burlap table runner project:
Tools:
If you're planning to use your table runner for more than one place like I did, measure both table tops to be sure your words line up well on the top of both. Choose the words you want to use and do the math on how much space you'll need. I needed approx 2″ per letter and my words "Give Thanks" were about 24″ in legnth together. I measured my dining table and fit my words on each end so I could place a centerpiece in the middle and the words wouldn't be covered by anything. I like that my saying can be read from each end of the table too.
I used a tight knit burlap and simply cut the ends, they haven't frayed at all. I centered the first capital letter on the burlap and to make an easy guide so all of my capitals would be lined up the same, I drew a 1″ line at the top and bottom of the capital stencils I was going to use. It was easy to line up the pencil marks with the burlap edges after that.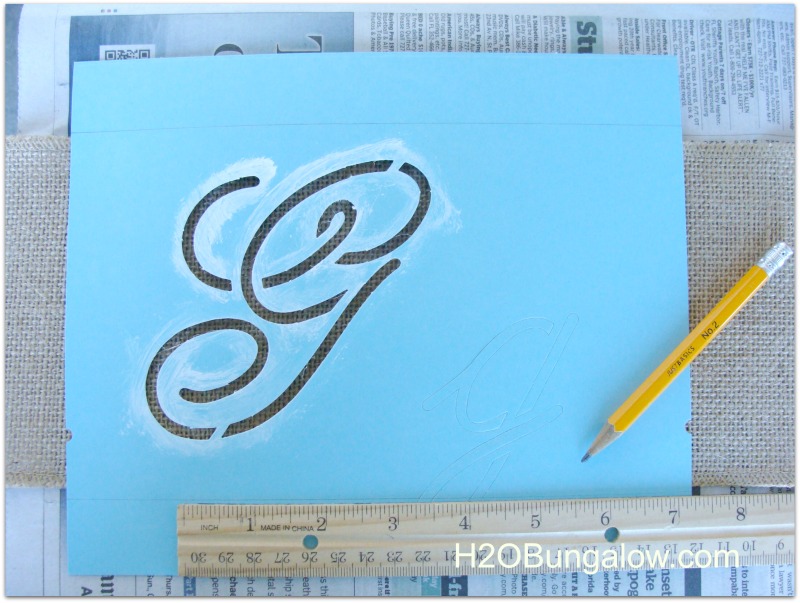 I held each stencil in place and dabbed and lightly pushed the paint onto the burlap so there was an even coverage. On the lower case letters I lined them up to the burlap bottom edge by the notch in the stencil.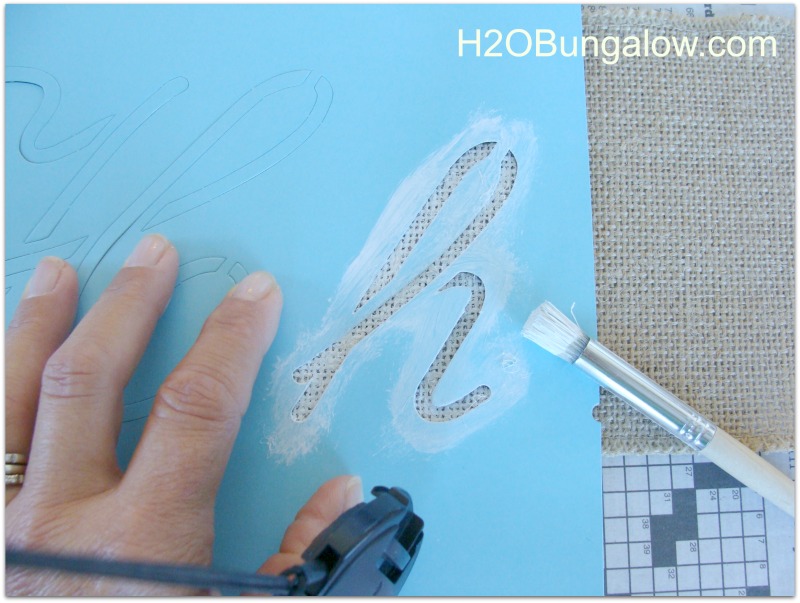 I haven't stenciled with script letters before and wasn't sure how difficult it would be. Connecting the letters in my no sew burlap table runner was easier than I expected. Simply line up the notch and overlap the leading edge of the stencil with the trailing edge of the letter already painted. I marked the stencil with arrows below so you could see what I'm talking about.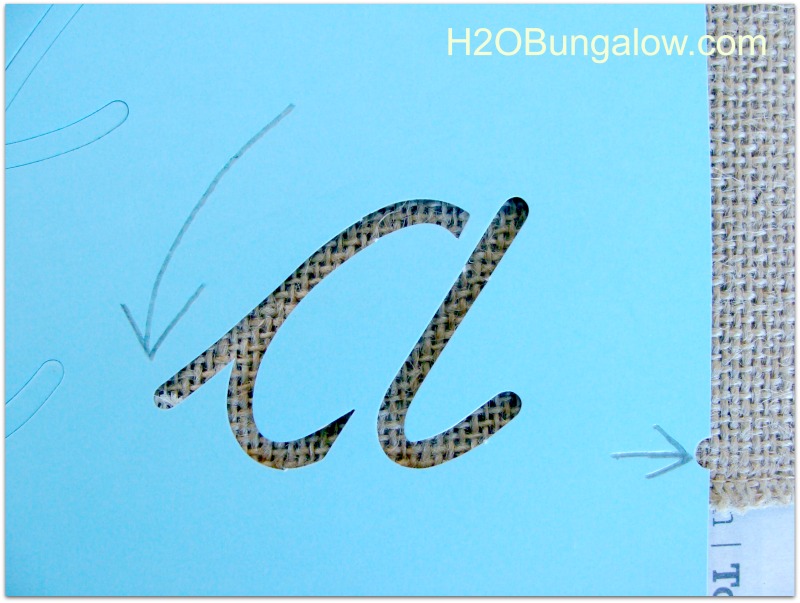 It will look like this! I promise 🙂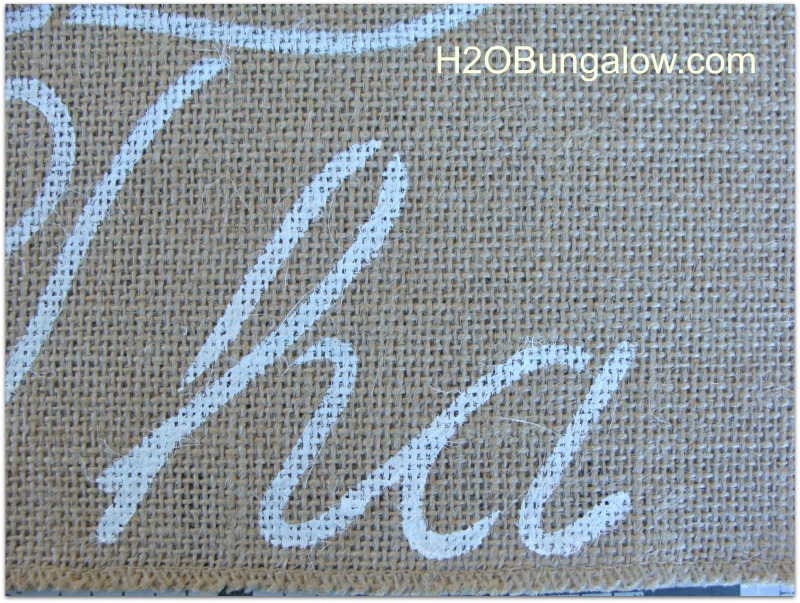 It's that simple to make a personalized no sew burlap table runner with your choice of meaningful words. I know mine will be beautiful on the dining table but I'm especially excited about using it everyday and enjoying it for several weeks during the Thanksgiving season.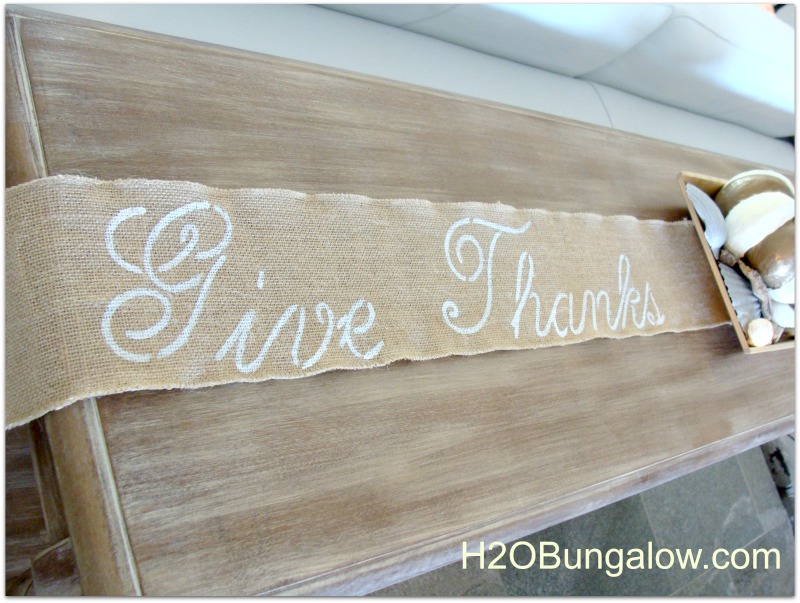 I loved it as soon as I placed it on the sofa table. I've added some accents,… which I'm still moving around 🙂
Notice where my DIY Metallic Pumpkins ended up? Yup, the cats had a field day with them on the coffee table and I kept picking them up from the floor every time I walked by:(
I gave up… they won.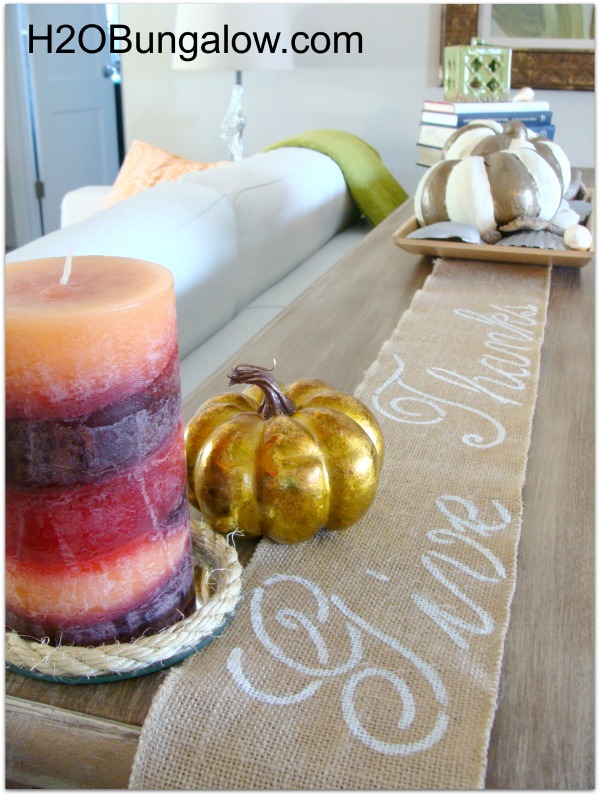 That's it my friends…my 20 minute project.
I think the coolest feature about this table runner is that we get to enjoy it so much more than a traditional table runner that only fits a dining table for one holiday meal out of the year!
What special words would you use to make your own no sew burlap table runner?
Guess what? This project was featured on