I just discovered how to clean silver naturally and easily without using harsh chemicals, store-bought silver polish or a ton of elbow grease! I'm really excited about this.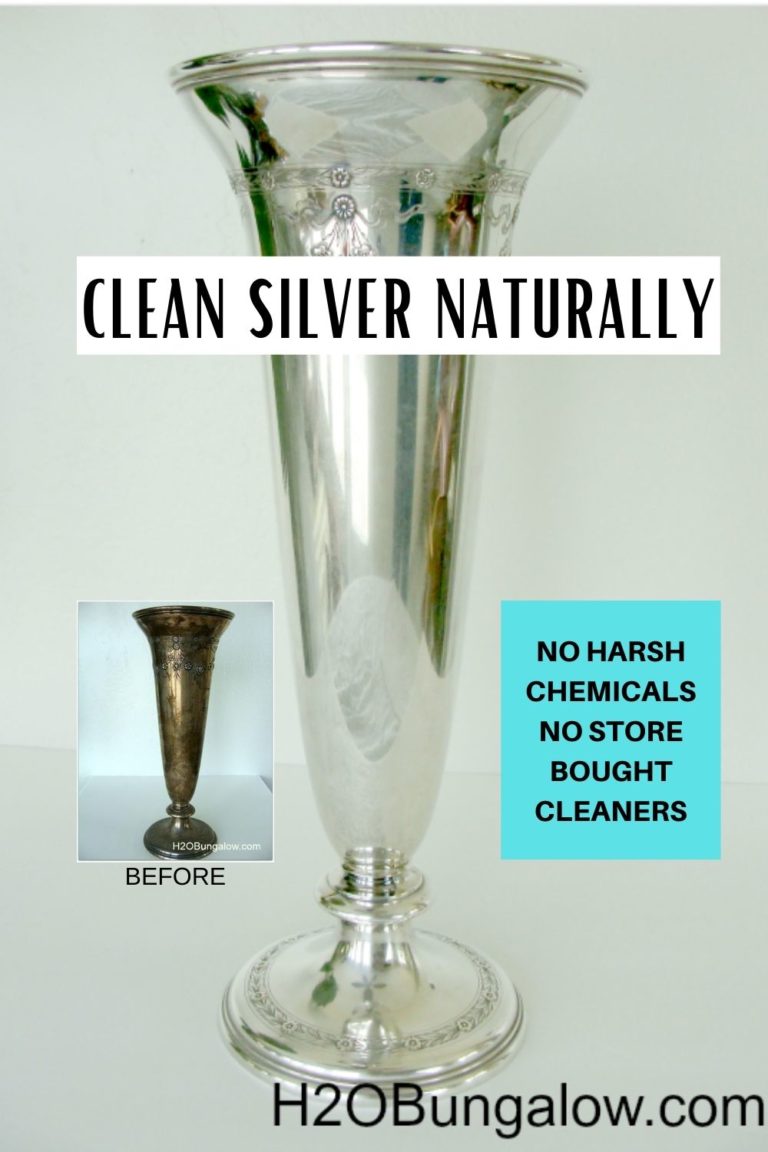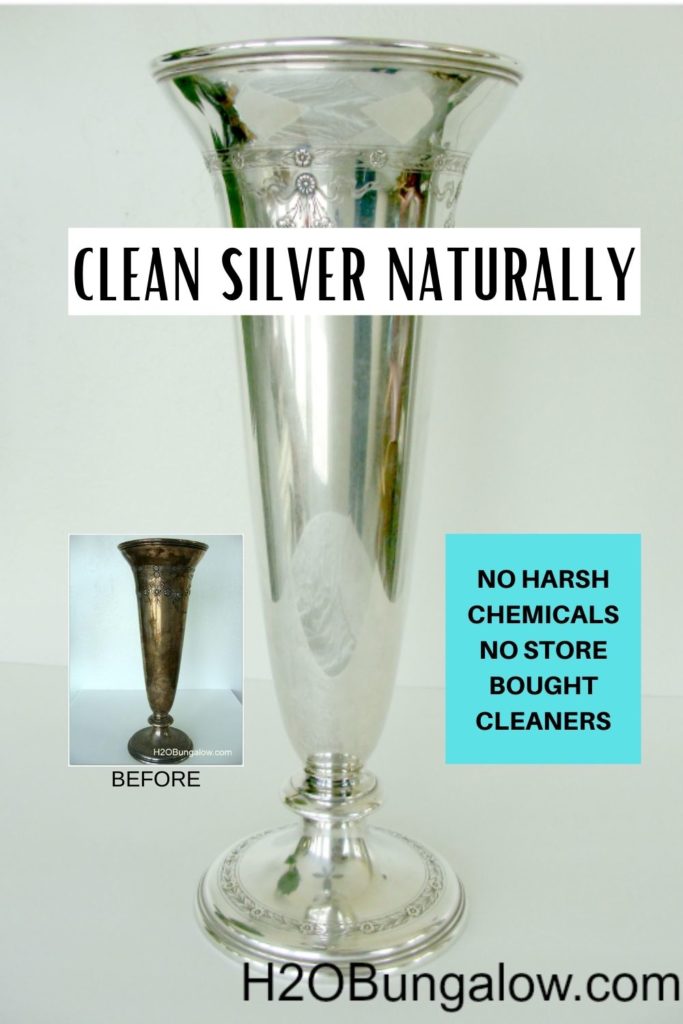 You can see from my photo below I desperately needed some help here!
This was my mom's vase, a wedding present to her and my dad many years ago. As you can see it's built up a heavy layer of tarnish.
There's something about the air out here that seems to tarnish silver really fast. I've put off cleaning this but with the holidays just around the corner, I couldn't procrastinate any longer.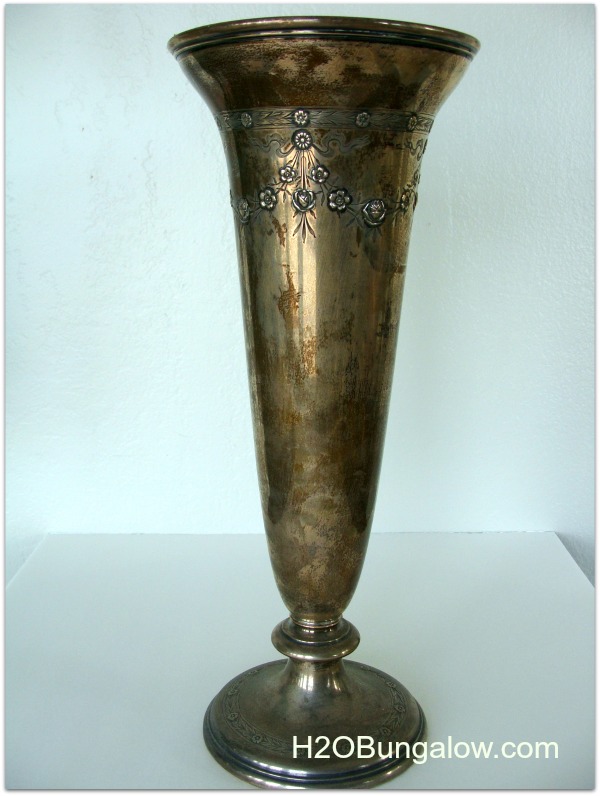 It's a tradition in my family to use our silver on holidays. Many of the pieces we use go back several generations and some have beautiful stories attached to them too.
Naturally, part of our holiday preparation when I was growing up was silver polishing (boo). I remember it was fun helping my mom when I was little. I probably made a bigger mess than I did clean 🙂 Later, when my sisters and I had to do it, it was just a chore.
Wiping silver polish onto the silver, rubbing and rubbing forever to get the tarnish off. Washing and drying everything..ugh, It was just no fun. You can understand why I haven't been in a big hurry to tackle the vase.
In short, I love the tradition…not the polishing.
This year, I started reading about alternative ways on how to clean silver naturally and easily. I was a really skeptical such a "way" existed, but since we've pledged to live greener I had to do my due diligence. I was skeptical because I've tried so many brands and products before.
I've used pastes and liquids, I've purchased some on infomercials and also bought a contraption at the state fair once too. None were ever easy, some were stinky, others expensive or hard to find in stores, or harsh on my hands. Nothing simply worked well and was easy.
Until today.
This was my mom's vase before I started cleaning it.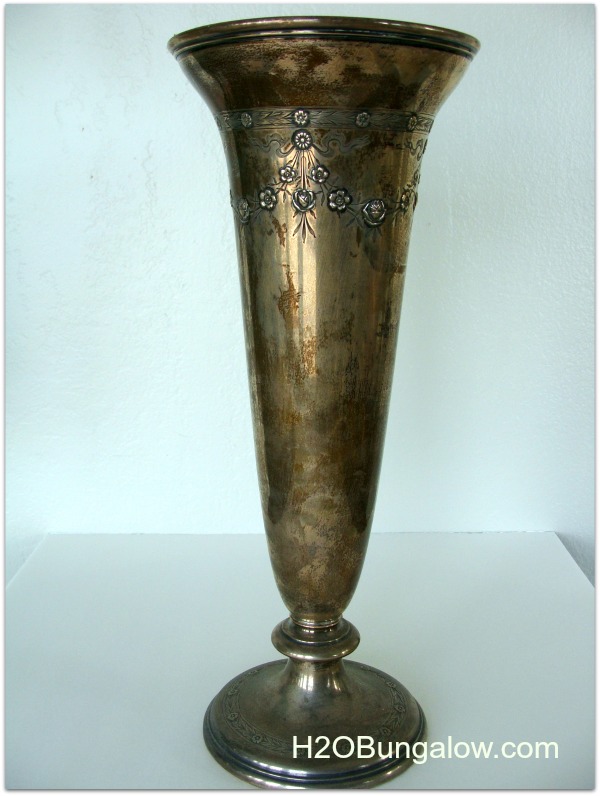 I love the detail. I know I shouldn't have let it go this far, but it was in a box and parts of our home are still in transition from the 1950's and previous owner.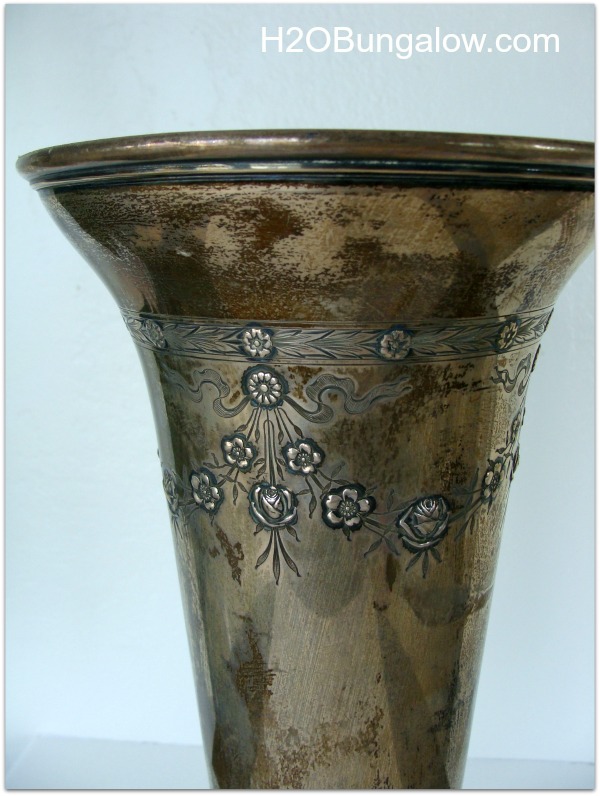 Without further ado, let's get started. Here's how to clean silver naturally using just a few kitchen items.
Aluminum Foil
Salt
Baking Soda
Soft T-shirt or rag for buffing
I used my kitchen sink which was the most convenient place to clean my silver.
Start with a clean sink, put a stopper in the drain, line the sink with aluminum foil (two sheets wide is fine), fill it about 1/4 of the way with warm water, add 1/2 cup of baking soda and 1/2 cup of salt. Swish it around to dissolve the salt and baking soda.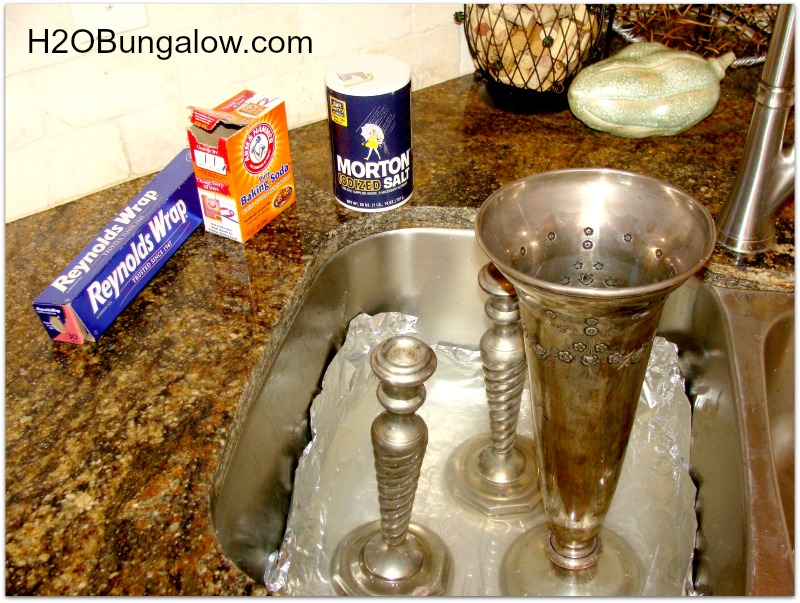 Because my vase was so badly tarnished, I let it sit for a while (maybe 10 minutes) in the mixture. I could barely see the solution working. Patience is not my friend most of the time, so…curious and skeptical I washed the base off.
I wanted to see if any noticeable cleaning had happened. There was still a lot of tarnish on the base of vase. I thought well, no big surprise, and then I noticed the tarnish smudged where I was holding it. I took my soft rag and buffed the base lightly.
The tarnish came right off. I did the happy dance, right then and there (really did too).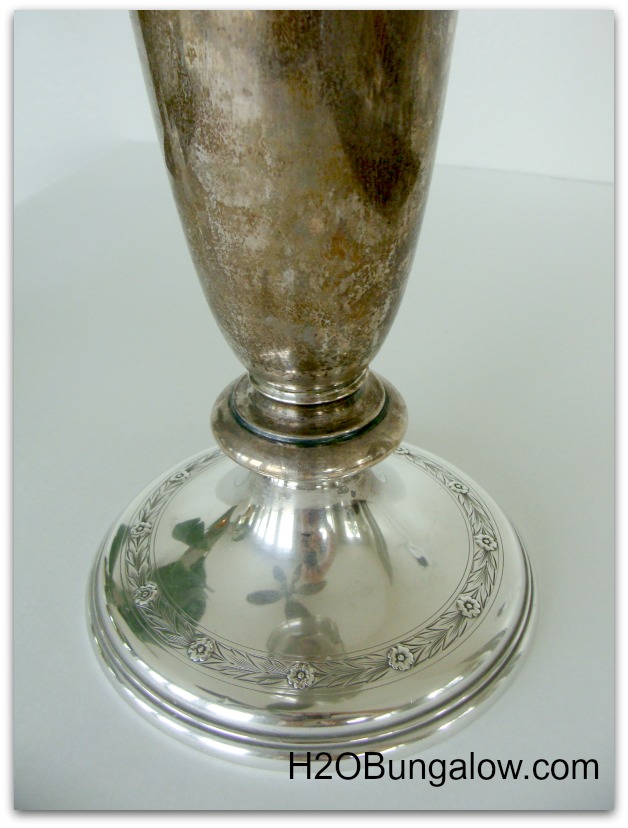 I've had this vase for years and it's been polished with many different types of silver polishes and cleaners. It has never looked this good.
At this point, I'm really excited so I placed the vase on its side and spun it around. Letting each side soak for a few minutes but kept spinning so it stayed wet. Probably for 10-15 minutes.
While it was soaking I thought I'd clean some of my jewelry. Here's a before and after picture of a few of my pieces. I'd stopped wearing these because they were so tarnished.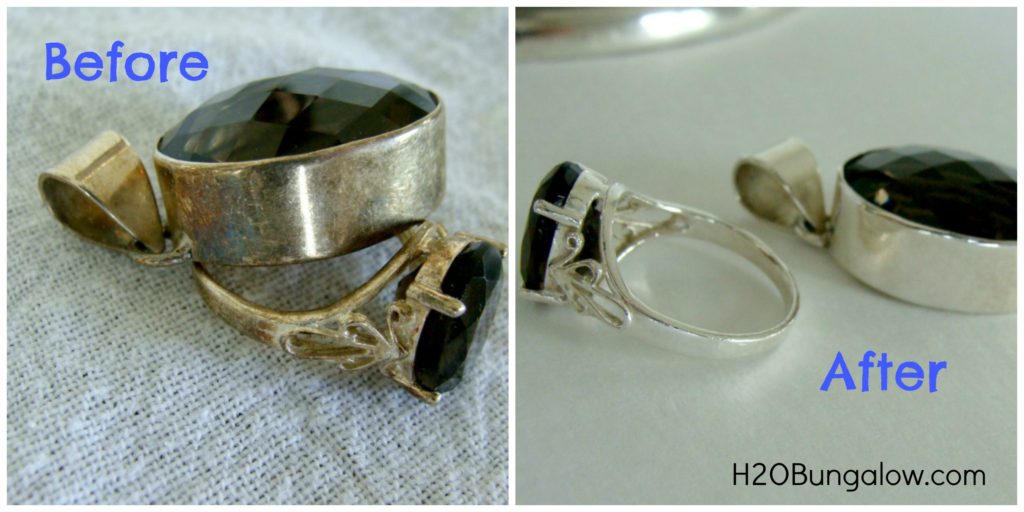 Take a look at the finished vase.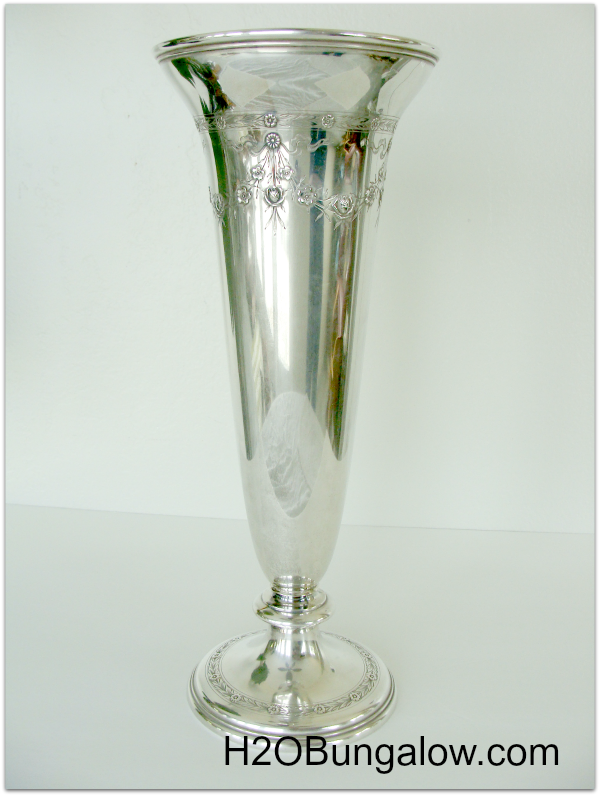 It's beautiful. Probably as clean as the day my parents were given it.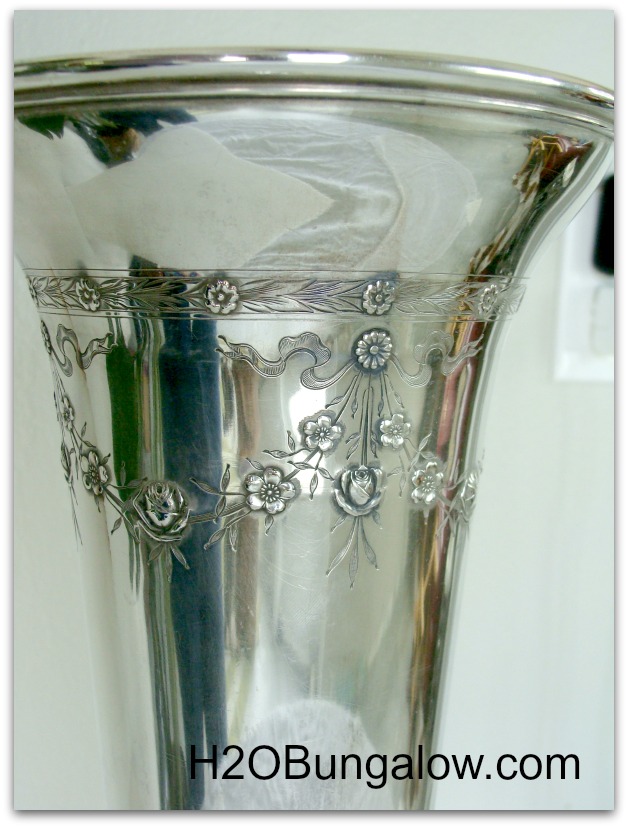 Pretty amazing, isn't it? I'm thrilled to share how to clean silver naturally. It really worked, didn't harm my silver and it took very little effort to get the shine back to what it was over 50 years ago. I'm comfortable that we are using a green solution and it's budget friendly too.
I'm planning on placing "silver care" instruction cards in each box as I pack them away. Someday my children will carry on the traditions we've followed and it will be up to them to pass along what we've shared.
I love that I can contribute something today that will become a part of our family traditions, and passed on to future generations.
Want more green home care solutions? You may enjoy these posts:
Naturally Clean Your Oven Without Chemicals (click here)
chemical free Organic Pest Control (click here)
Don't miss my Best House Cleaning Checklist and Cleaning Hacks (click here).
Looking for more good green living information?
Try these books, both are filled with great information.
Do One Thing Green
The Naturally Clean Home 150 Super Easy Herbal Formulas For Green Cleaning .
Now that I've shared how to clean silver naturally and easily what have you got that you're going to polish?
Love a good dose of DIY home decor, home improvement, the challenge of woodworking and creative ways to make your home look fabulous?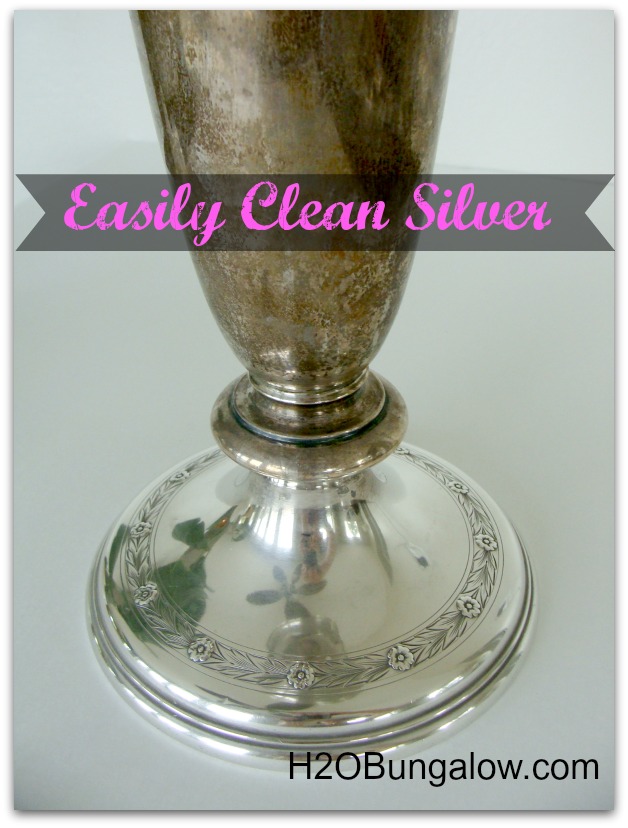 Me too! I'll share mine with you!
Click here to have my posts sent to your mailbox fresh off the press.
Social media fan? Don't be shy say hello! I love when you guys do that!
I'm very interactive with my readers on Facebook and I share lots of extra projects and, useful inspiration for the home and content I don't share anywhere else.
Follow H2OBungalow on Facebook
Oh heck, just follow me on all social medias. We'll have some fun…promise:)
Follow H2OBungalow on Instagram