Is organizing your tweens room part of your holiday preparation? Do you have holiday guests planned and you don't want to or can't just shut the door to their room? If my kids were still in the tween phase this is how I would organize a tween room and get rid of clutter in their rooms. My kids are past this stage so I borrowed my nephew's room for this project. Actually this was part of his birthday gift of a room makeover.. I'm just a wee bit slow in posting it…but, his mom gets a break for the holidays because his room is now neat!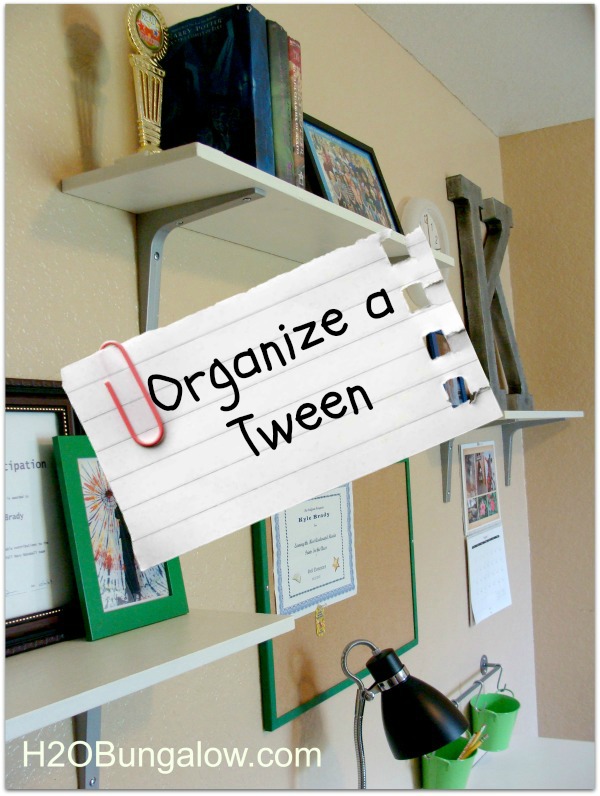 Besides decorating, cooking and shopping for the holidays, each year one of my bigger tasks was clutter control in my kids rooms.
I'll bet things haven't changed much. When they are young it's so easy, just pick up toys and a few items here and there. When they get bigger like in the tween stage they not only have their own opinions, they accumulate clutter! Lots and lots of clutter that they are very emotional about keeping. Then it becomes not so easy to organize a tween room and you have to adopt a strategy.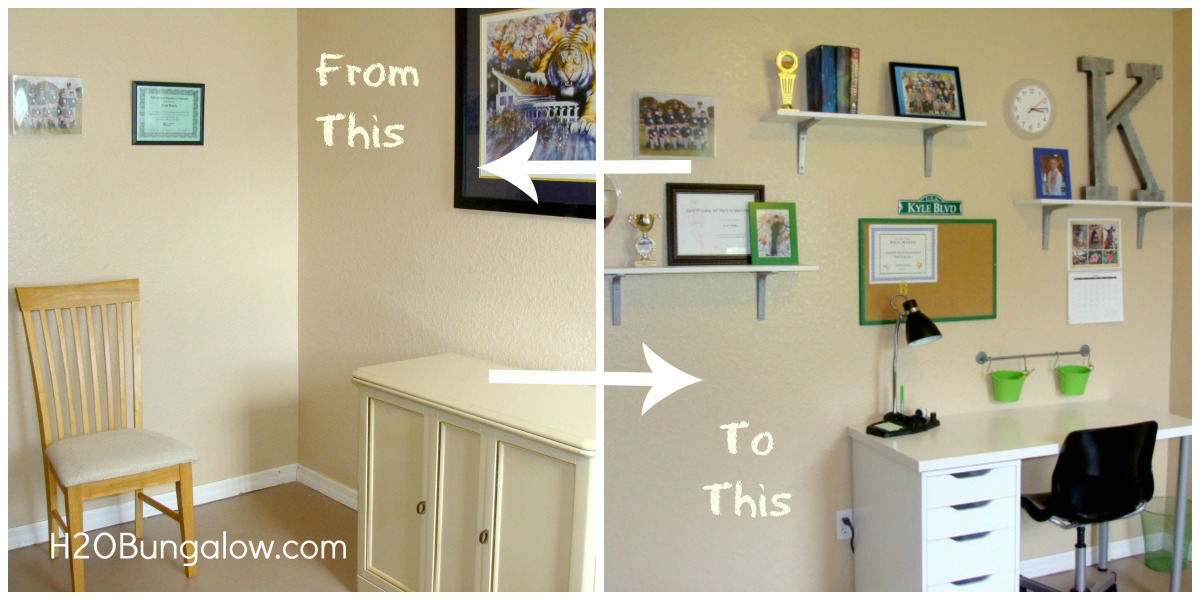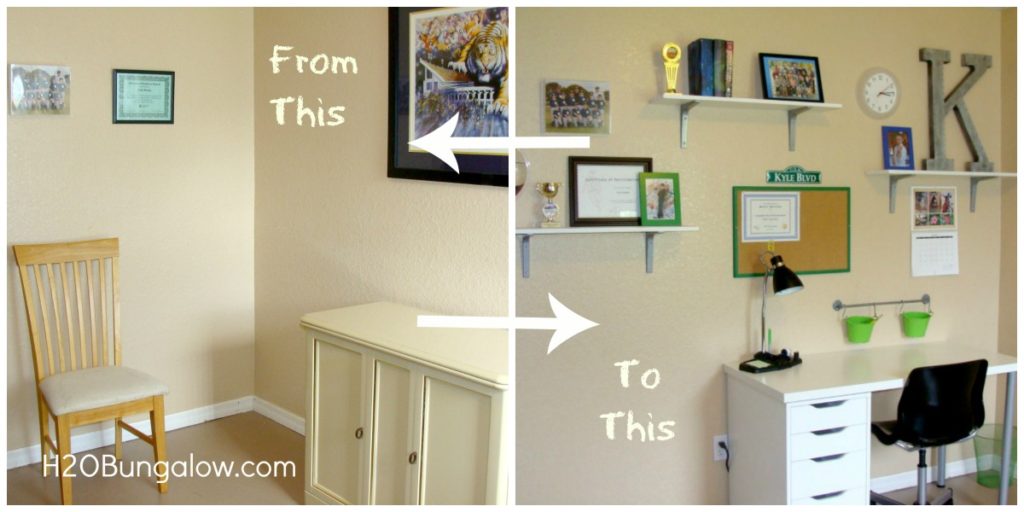 Tweens like to fill their space with special things like awards from school, artwork, pictures with their friends and sporting activities. Which is wonderful. Unless there is nowhere to put it! I 've found the easiest way to organize a tween room is to add lots of storage and display space. I simply gave my nephew a place to put his stuff and made use of a big blank wall that was just sitting there waiting for a transformation. Now his favorite possessions are displayed, they stay off of the floor and his room stays neat.
This little guy loves to read and needed a quiet place to do homework so I also added a desk and study station. I bought the desk, chair and shelves at Ikea. This was part of a whole room makeover and by the time I got to the wall shelves I'd already killed my budget and had to get extra creative to finish this area. The shelves were only $4 each including the brackets! I used the Ikea unfinished shelves and painted them white and I spray painted the plastic brackets to look like metal. They are really sturdy and hold the weight fine. I used 40# anchors which was overkill but it's what I had and worked fine.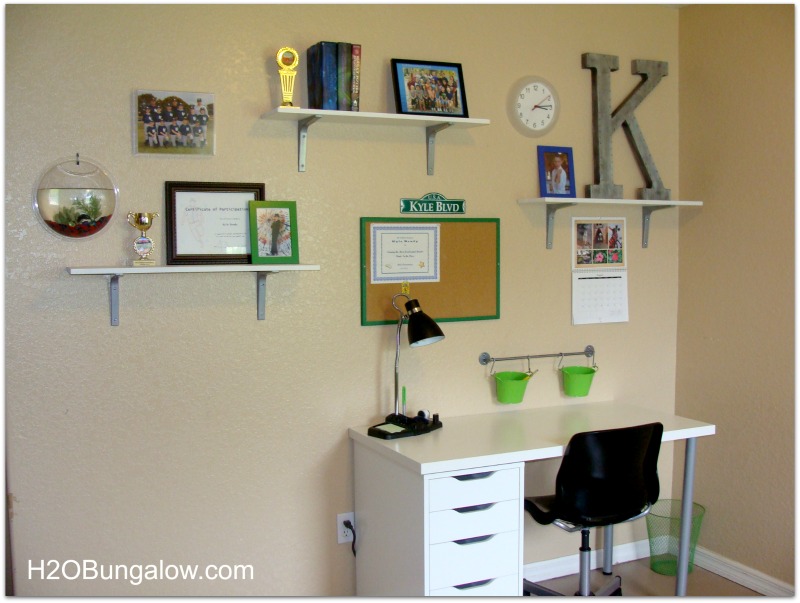 I'm a big fan of using Ikea wall rails and buckets to stay organized and keep a clean desktop. You've seen me use them here in my office and here in my pantry. Pencils, pens, rulers, calculators, etc. all fit in these buckets and are a staple if you're planning to organize a tween room. These buckets fit perfectly using "s" hooks and were $1 each from the Dollar Tree. The bulletin board is just a $5 one from Ikea that I painted with leftover paint from the dresser makeover I did a few months ago.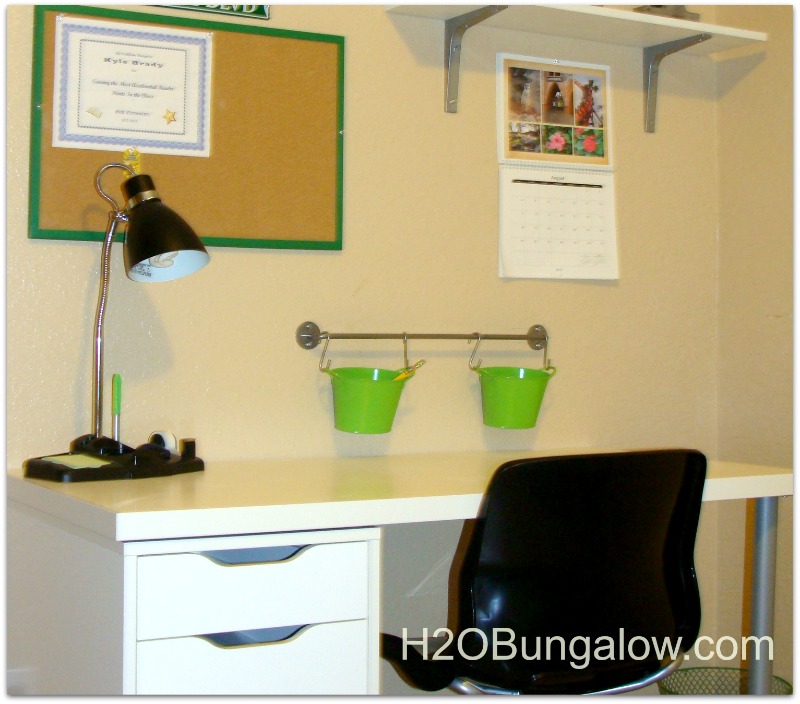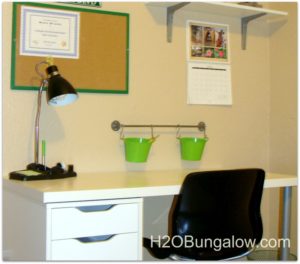 I added a few more personal touches like a big K for his name. You might remember this letter and my faux metal letter tutorial . What teen doesn't like a giant cool metal looking letter?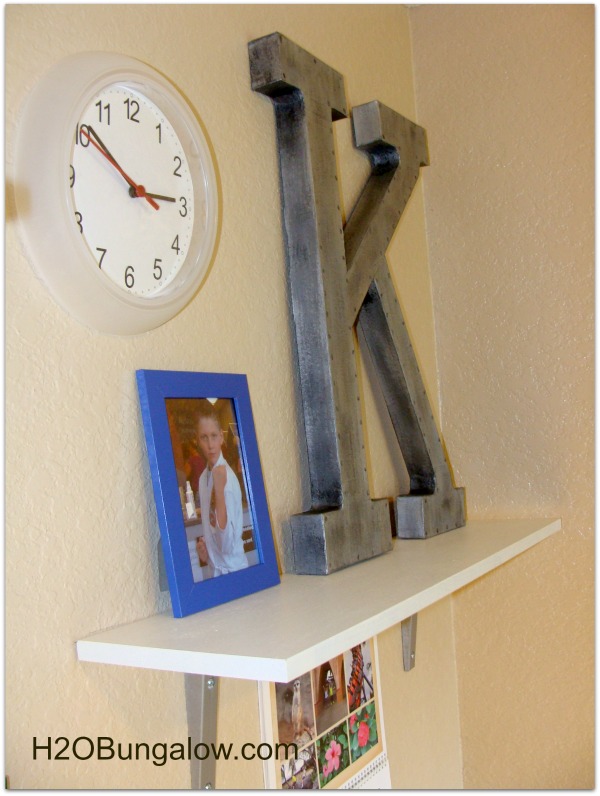 Why, yes that is a live fish on the wall now that you ask. Seriously, it is. My nephew has the coolest mom who seems to find some really unique things and this is one of them! I knew I'd get questions about where to find one (what a cool Christmas gift idea). I found it here Wall Mount Fish Bowl Aquarium Tank Beta Goldfish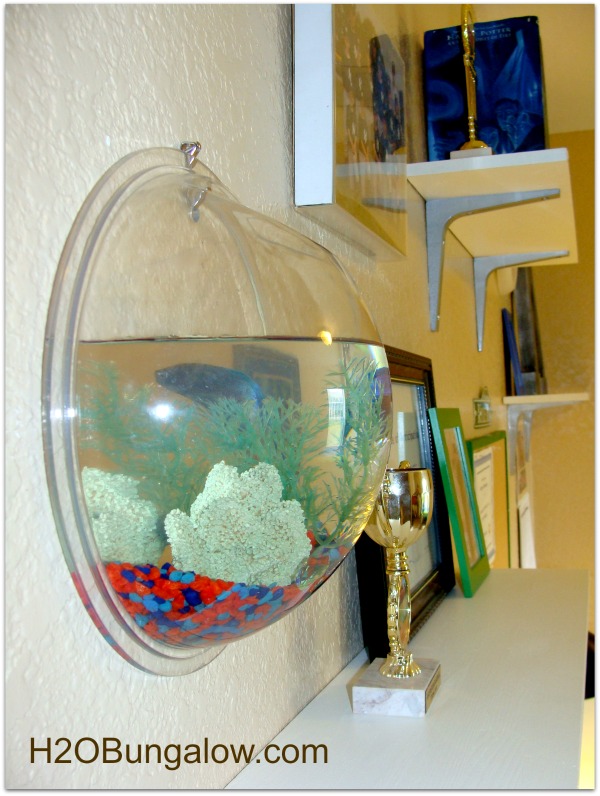 There you have it, this is how I organize a tween room and get rid of clutter. My nephew has a personalized space and a great desk for homework and studying. He's happy and his mom is happy because his room stays neat.. it's a win – win!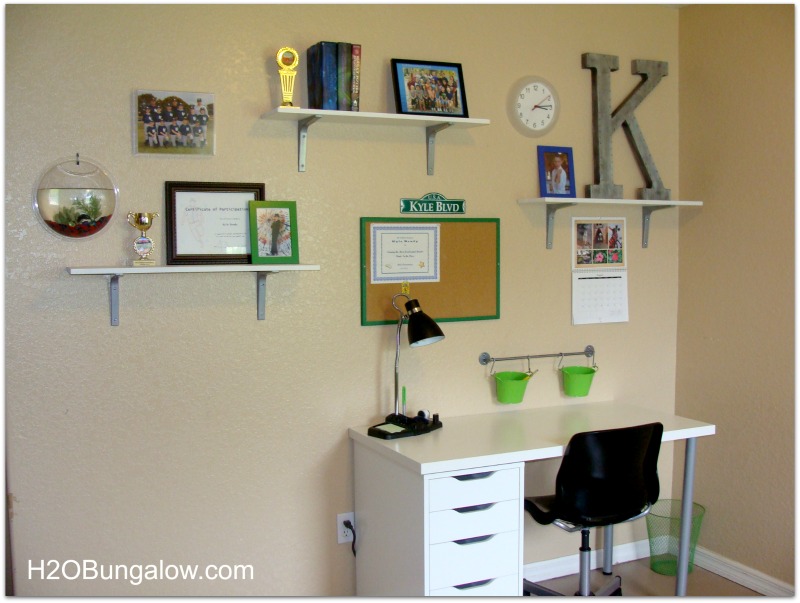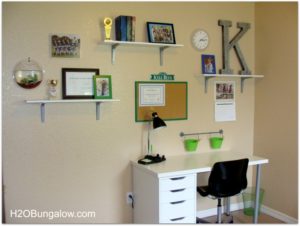 How do you organize a tween and get rid of clutter? Share in the comment section below!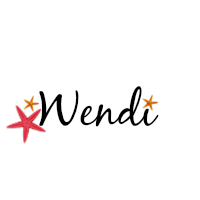 This post has one or more affiliate links. I will receive a tiny commission if you buy something. All opinions are my own and I'd never recommend anything I wouldn't use myself!
Don't miss a single creative idea I share!
Love my posts? Click here to get my posts sent to your mailbox or follow me here on Bloglovin.
Following H2OBungalow on Facebook? It's one of my favorite places and I share lots of extra projects, inspiration for the home and content I don't share anywhere else.
Love Instagram? Me Too! Follow H2OBungalow on Instagram and see my projects in process and lots more.