Painting an iron bed frame today and turn an old dark and tired bed into a stunning centerpiece. This project makes a huge impact in any makeover.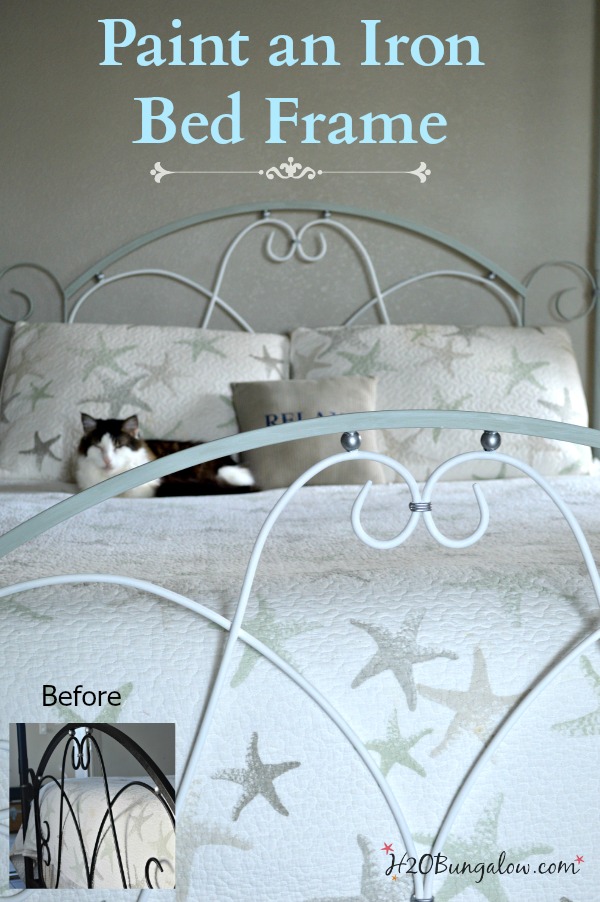 Today I'm sharing a project that I haven't had the guts to do, and yet it's been on my mind for several months. I've just finished it and now I'm going to show you simple steps in painting an iron bed. I've been on the fence about updating my old iron bed for the longest time and was afraid to take the plunge into painting it. I loved the frame shape, but was so very tired of the black metal. Now that's it's behind me, I don't know what I was afraid of. A little paint and a weekend is all it took to completely update and brighten my old metal bed frame!
I've had this bed frame for years. It's worked well in many different places we've lived. The airiness of the thin iron doesn't over-power our small bedroom. I love the lines and how the tall and thin posters bring the eyes up which is also one of my favorite make a small room feel bigger tricks.
After several years of the same look I was ready for something new. A year ago I started playing around with my guilders wax on some of the bed details… I wasn't ready yet to bite the bullet and paint the entire bed.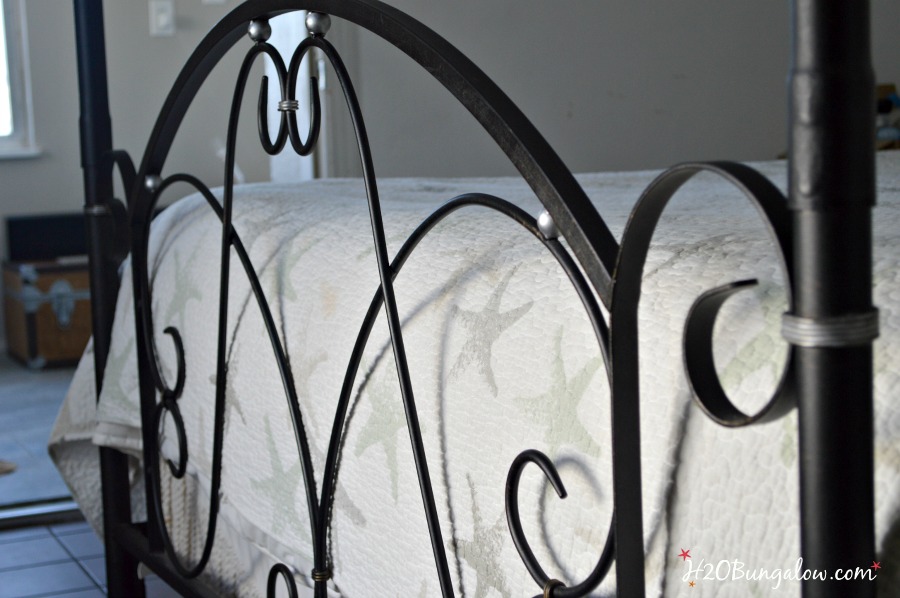 I finally did it and it was easy. You'll find my simple steps and tips in painting an Iron Bed below:
Supplies List
Paint – I used Americana Decor Chalky Finish by DecoArt in Verde and Eternal
Good quality paintbrush
Glaze or Extender
Topcoat
Deglosser and cleaner like TSP (Trisodium Phosphate)
Rubber gloves
Small rag for the glaze application
Begin by taking the bed frame apart enough to paint sections. I wiped my entire frame down with a TSP mixture to clean it thoroughly so my fresh paint would stick well to the metal surface. You can find TSP in the paint department or a paint store. I love this stuff, it's inexpensive and cleans dirt and grease from everything while prepping a surface for a new coat of paint.
I really liked the Chalky Finish Paint for this project. I simply brushed in on with a good quality paint brush. You can see in my photo how well this paint covers the metal. It's tough too and sticks to the surface, especially after its cured. I gave the frame two coats of paint with the base coat color Verde and let it dry.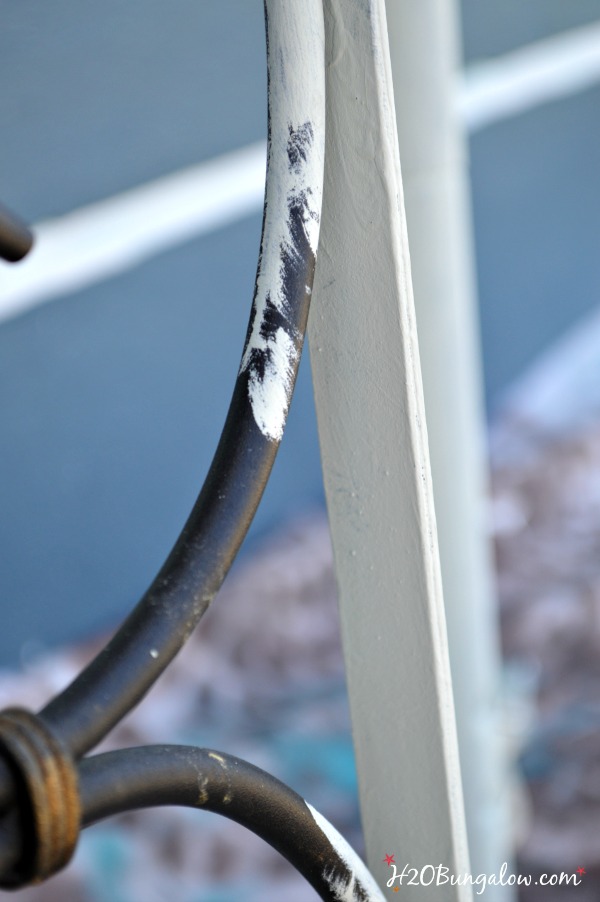 As much as I liked the color and the new look of my painted iron bed, it looked too flat. I added dimension to my metal bed frame by mixing a little white paint and some glaze together, and rubbing it onto the frame generously with a rag. Notice I didn't blend it in, I left the streak marks of my application. It's a very subtle effect. Someone would notice it unless they were close to the frame but it adds character which I liked.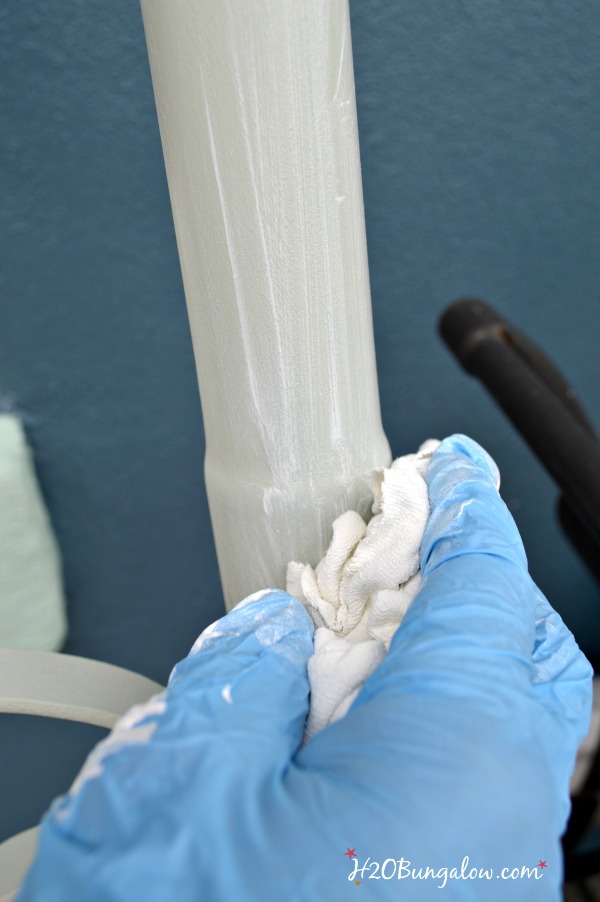 I painted the inside scrolled sections of the bed frame white and used my silver paint for details like the little round balls. The white, soft green and silver is a beautiful color combination. I used a good matte top coat on the frame after it dried thoroughly.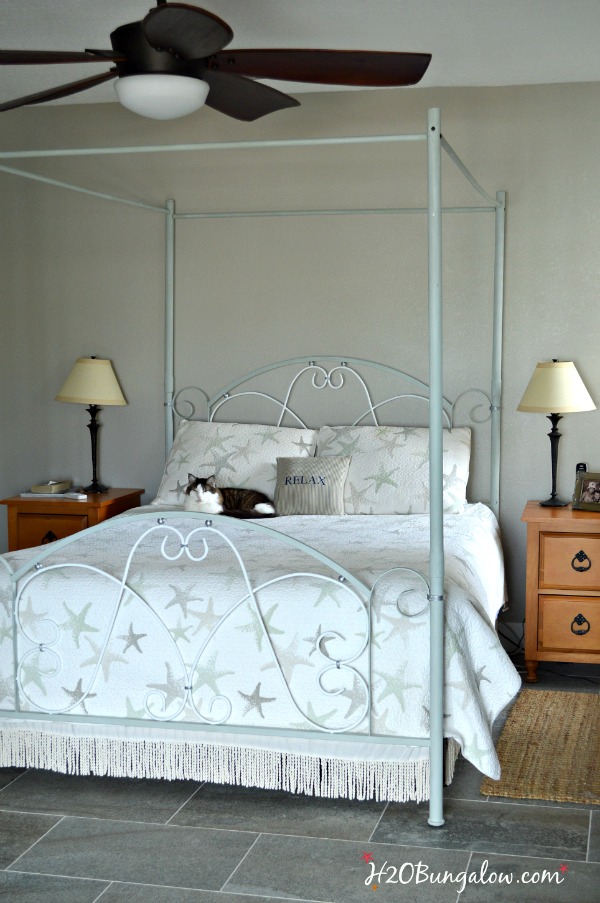 I like the light frame color much better than the dark one, don't you agree?
I'd never though about how to paint iron bed frame before this project. It was pretty straight forward. I have beautiful round finials that fit on top of the posts, but the ceiling fan is too close to them so I have to leave them off 🙁
These are the first pictures of our undecorated master bedroom. We made a bit larger and moved the window in the remodel last year. I haven't done anything much with it.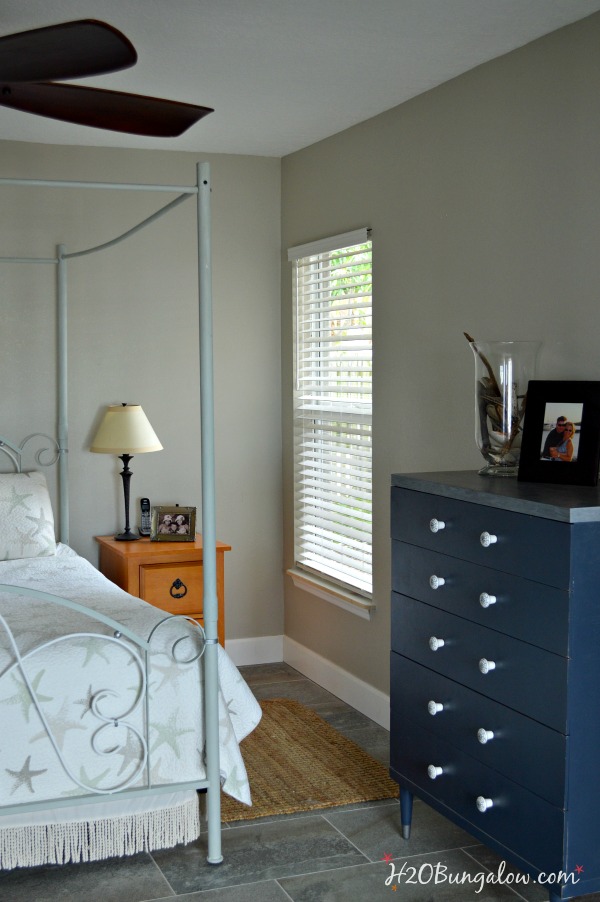 Soup Can Sam would not leave for my photos. I'd shoo him away and straighten the cover, walk over to the other side of the room to take my photo, he'd be back. So I just gave up and let him photo bomb.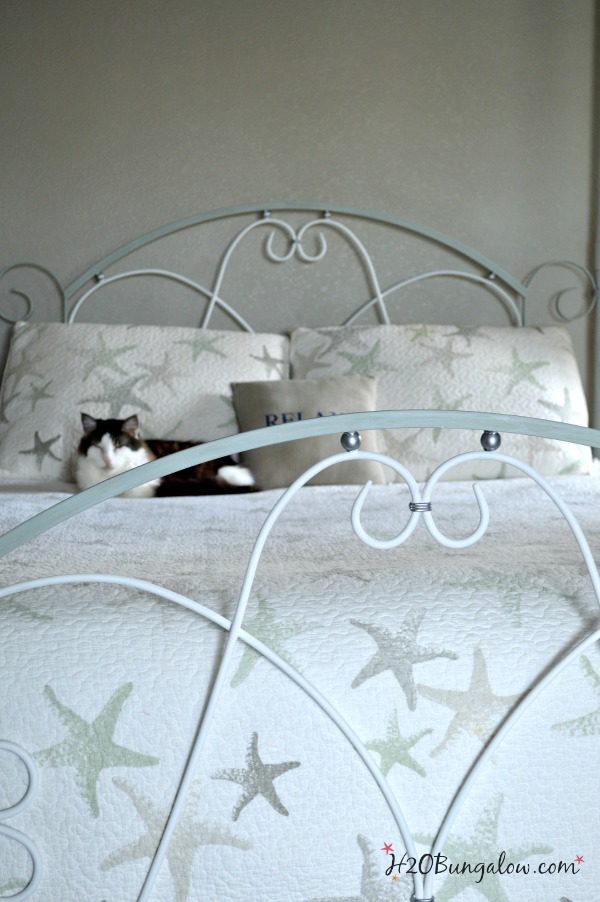 Try easily painting an iron bed over a weekend with time to spare for other fun things like laundry or home chores.. just kidding:) Painting my iron bed frame was a simple and super inexpensive way to update the look of my old bed frame. Now that I've seen my up-cycled metal bed frame in our room, with a touch of color, I'm happy that I took that leap of faith or leap from boredom with an old piece that was driving me crazy.
Do you have an old piece of furniture you've been on the fence about painting too?
As you might have guessed this is a sponsored post, I was provided product and/or compensated for sharing this information. All opinions, craftiness, and projects are 100% my own and never for sale. I'll only share items I think have value for my readers!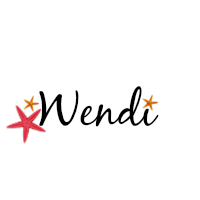 Don't miss a single creative idea I share!
Love my posts? Click here to get my posts sent to your mailbox or follow me here on Bloglovin.
Following H2OBungalow on Facebook? It's one of my favorite places and I share lots of extra projects, inspiration for the home and content I don't share anywhere else.
Love Instagram? Me Too! Follow H2OBungalow on Instagram and see my projects in process and lots more.