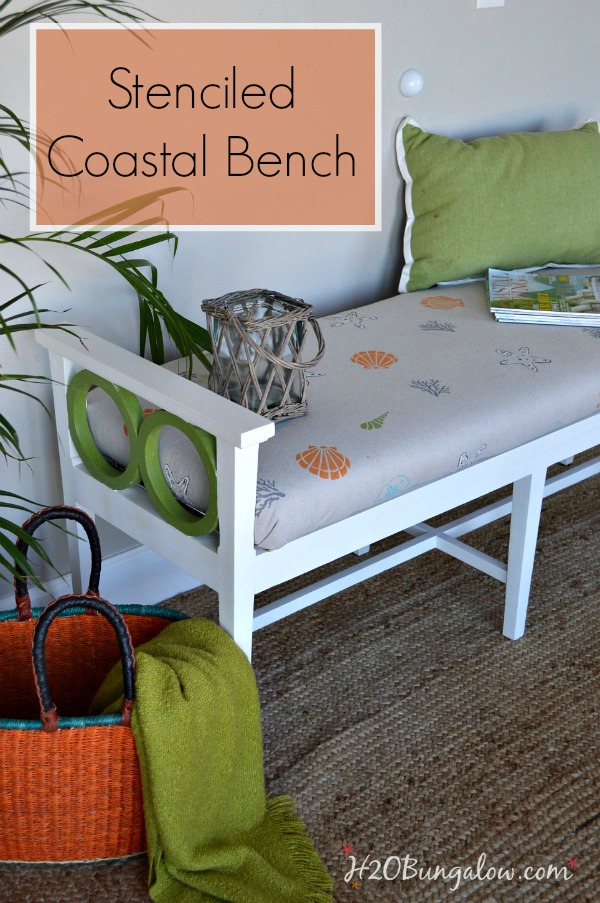 I just finished up my coastal bench makeover with a hand stenciled cushion. It's themed furniture day, one of my absolute favorite days of the month! Themed furniture day comes once a month for our group of super talented bloggers with an affinity for upcycling old discarded furniture into something beautiful and useful. I consider myself lucky to be included in this group, and I LOVE that I'm always learning new tips and tricks of the trade from these gals as well.
This months theme is chairs.
Benches, stools, anything you can sit yourself down onto qualifies as a chair. Which is good, because it gave me a reason to finish a coastal bench makeover that's been on the "to do" list for several months! I love making over chairs. A few of my favorite oldie but goodie makeovers are how to Create an aged silver finish on chairs and my americana folding chair set. My personal favorit is this stenciled nautical chair.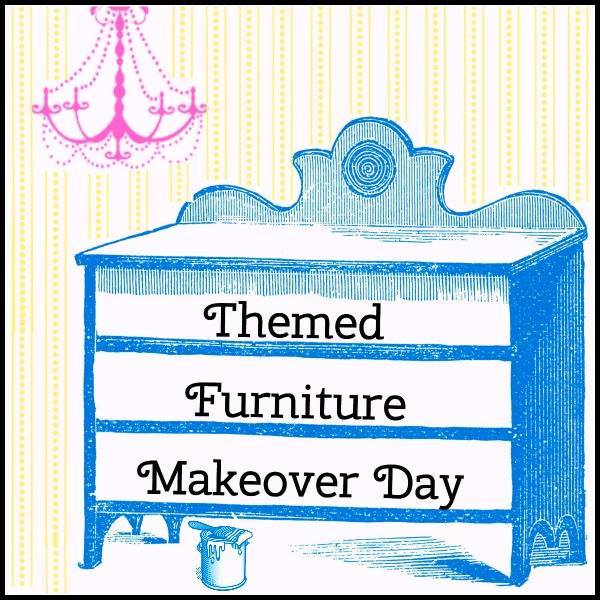 My bench started out like this. It was one of two I bought last spring. It was sturdy and very well made … It's just seen better days.
This project was finished the same as my upholstered cane bench project I shared last May. I love the custom look of the stenciled dropcloth fabric. You'll find the tutorial on stenciling fabric here. Because I'm thinking about adding this to my dining table I gave the fabric a good coating of Thompson's fabric protector before I assembled the cushion.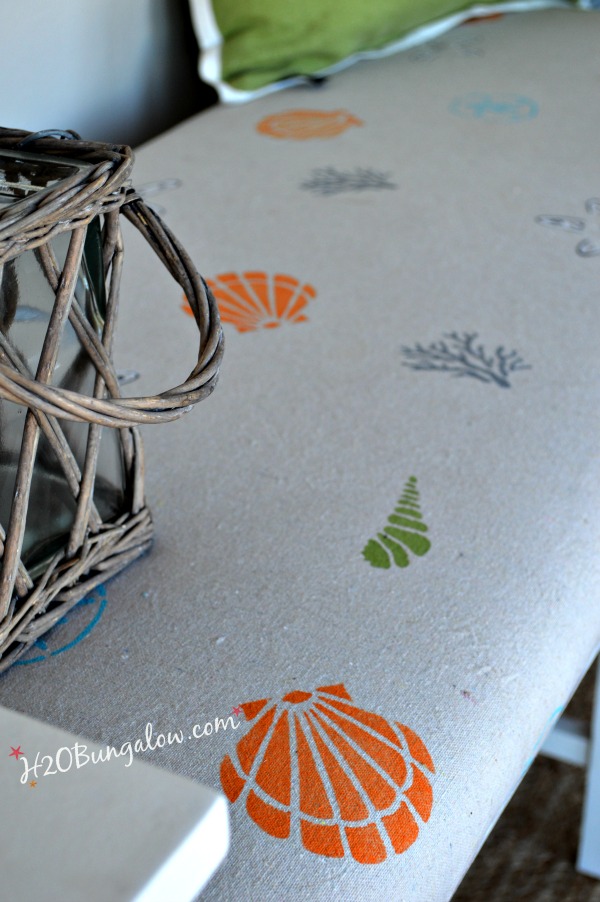 I'm loving these colors! They look like a few that are in Pantone's Spring Collection for 2015. The orangy-coral, green and especially the blue are fresh and slightly muted this year.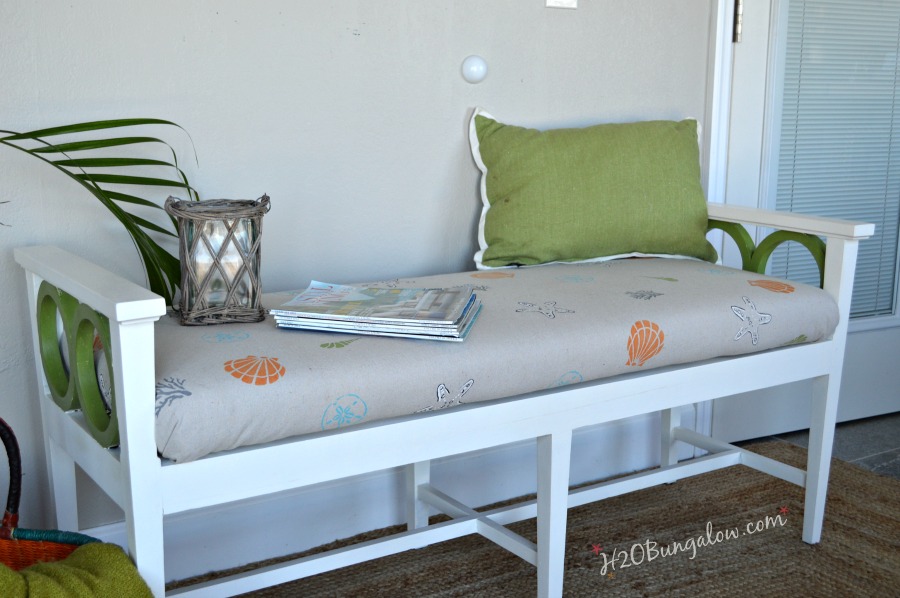 Such a coincidence that I used green for the armrest circles on the bench makeover I did last spring too. Or … maybe I'm just predictable.
Nope. Definitely not predictable!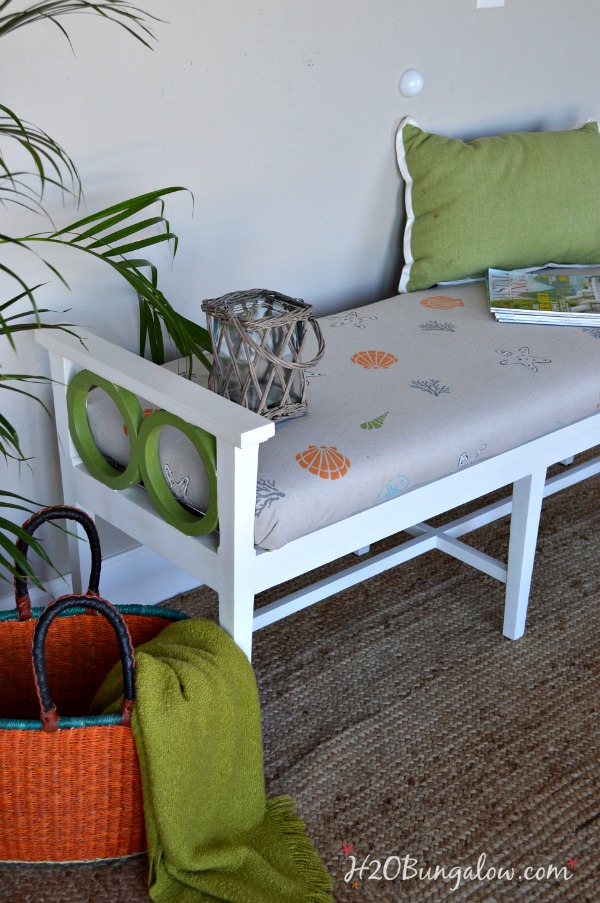 I love benches for so many reasons in a small house. They are great for extra seating at the dining table or easy to pull up to a group of friends having a conversation. This one is a good size for a banquette at our table and also fits at the end of our bed. I'm not sure yet where it will end up. I'm leaning toward adding it to our small dining area. We only have seating for four at the table now. It's a tricky space since it's only 7 feet wide. I think this bench would work and not be bulky. I'll be sure and share my solution when I have it figured out!
So, enough about my coastal bench makeover…
Are you ready to for some more Chair-speration? 🙂
Ok, maybe not so funny, but I do have some fantastic talent to share with you today as in all manners of chairs! Click any picture below to go to the original post. Enjoy!