You may have noticed my pumpkins were a little on the plain side when I posted my Easy Halloween Decorations For a Front Porch earlier this week. I had this grand plan to come up with the MOST amazing pumpkins…ever! I was going to WOW my family and the neighbors too! I just couldn't make up my mind on what style I wanted to try.
After doing some research for ideas and motivation, it's clear that pumpkin decorating has evolved into an art form. I saw so many super cool, creative, fun, how'd they do that pumpkins- I felt like I just had to share. Today, I'm posting my first Pumpkin Decorating Ideas and Curated Pumpkin Roundup. Ok, so here we go…
Here's a few of my favorite carved pumpkin decorating Ideas. I'm not even a sports fan and think that baseball is too cute!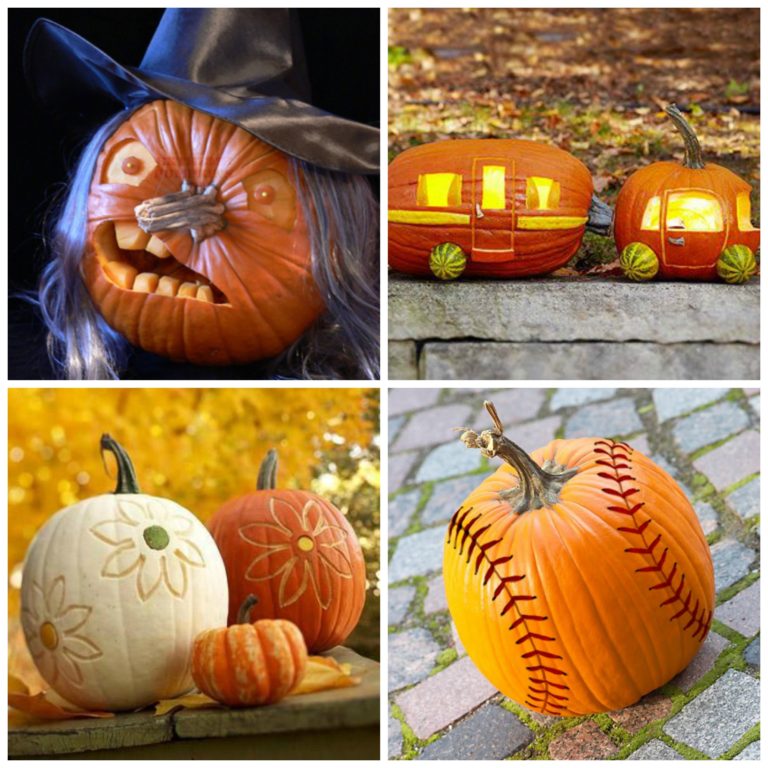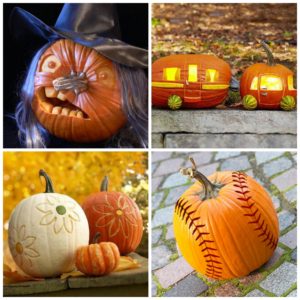 Sources: Witch Pumpkin, RV Pumpkin , Flower Pumpkin, Baseball Pumpkin
The sky's the limit for painted pumpkin decorating Ideas. There are oodles of creative options for the non-traditionalist. Maybe black and white is your style? How about a patriotic theme?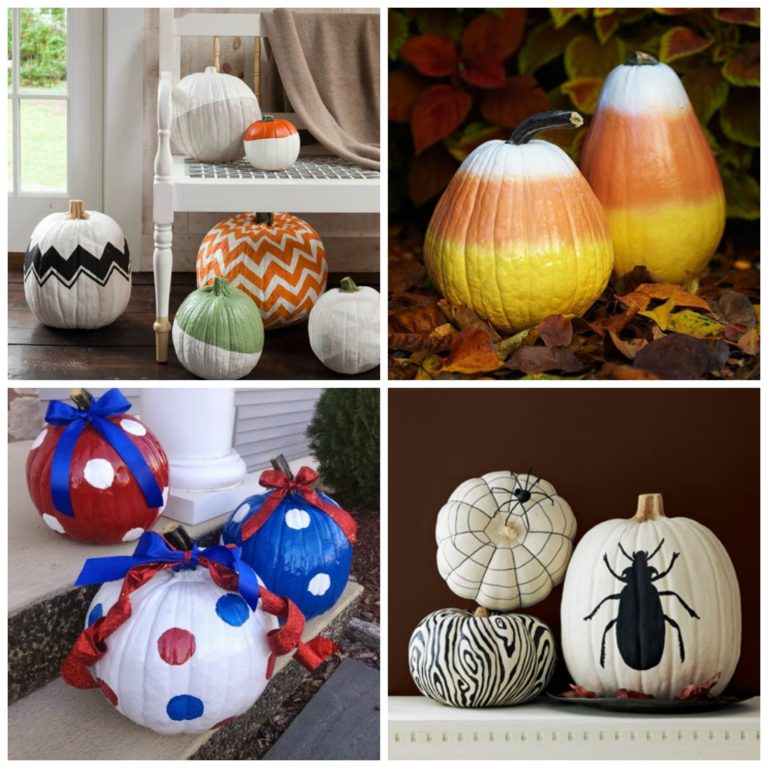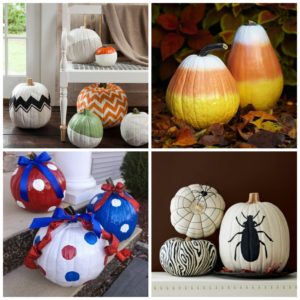 Sources: Chevron Pumpkin, Candy Corn Pumpkin, Patriotic Pumpkin, Spider Pumpkin
You want elegant? No pumpkin problem 🙂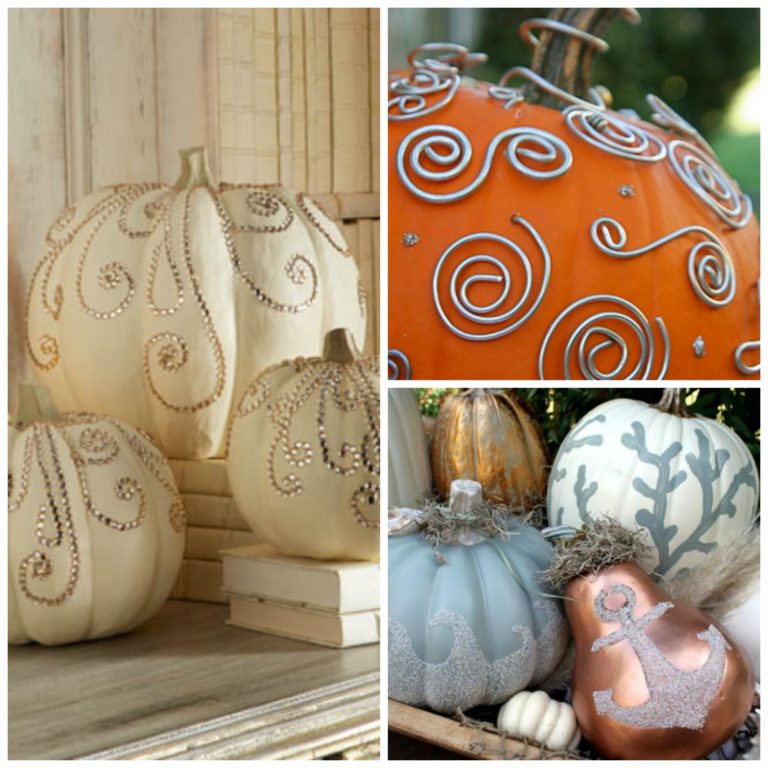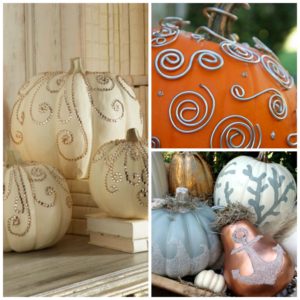 Sources: Jeweled Pumpkins, Wired Pumpkin, Coastal Pumpkins
And this group of abstract and creative pumpkins? They were simply too fun to pass up!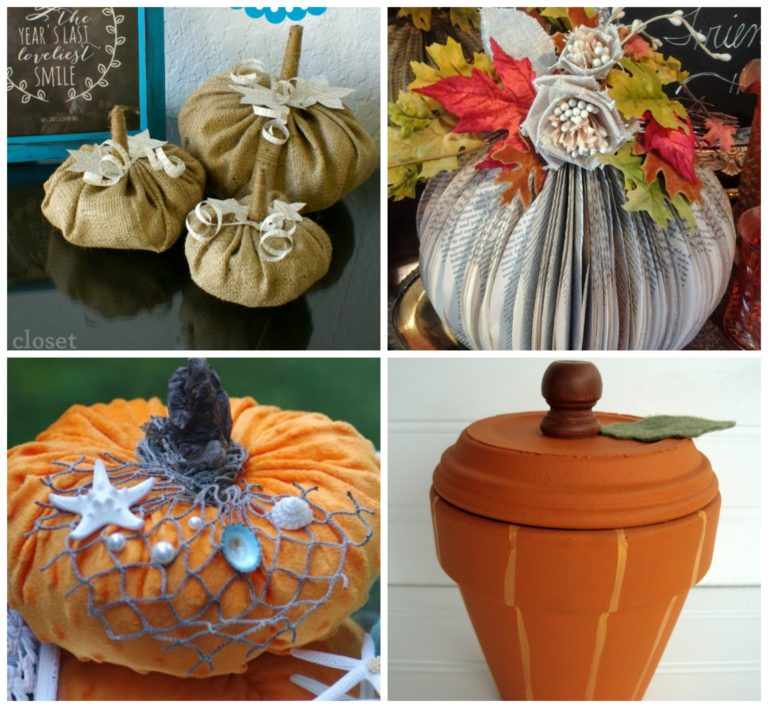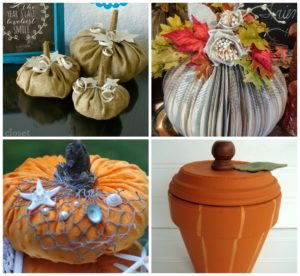 Sources: Burlap Pumpkins, Paperback Pumpkin , Beachy Pumpkin, Terracotta Pumpkin
I had so much fun putting this together that I've decided this will become an annual event. I hope you found my first pumpkin decorating ideas and curated list inspiring if not entertaining:) If none of my favs caught your fancy… no worries. Head on over to my Pinterest Board Here and check out all 270 pumpkin pins I've collected. Yes – I said 270 creative and awesome pumpkins!
Oh and my front porch pumpkins? Uhh.. I'm still trying to make up my mind. What are you doing with your pumpkins this year?