This is a sponsored post written by me on behalf of Schlage®.
Lets talk keyless deadbolts today. I'm sharing my 5 smart reasons to have a keyless entry or keyless electronic deadbolt One because I'm excited I finally did it, and two because it's the perfect solution for a long-term issue DH and I have had.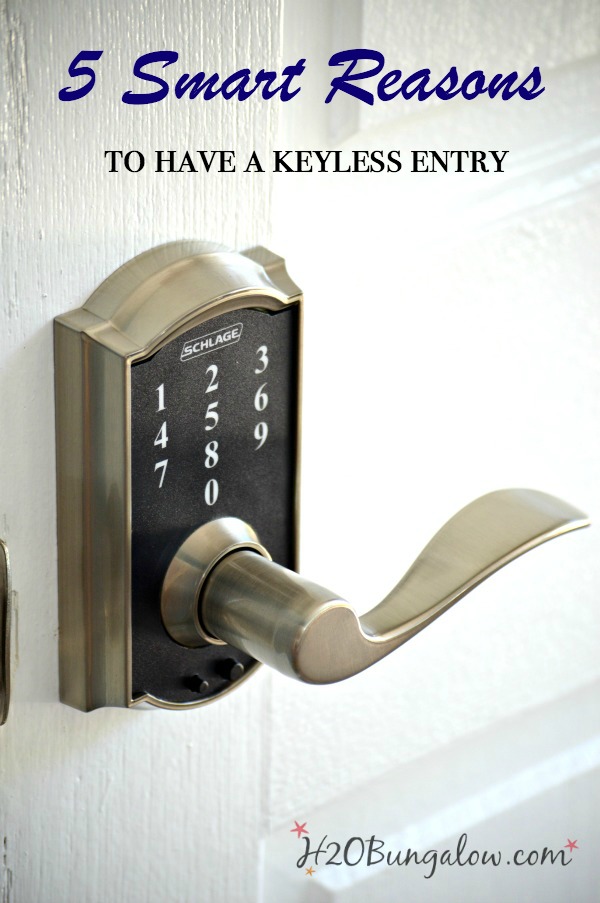 I should stop for a second and share the back story with you. Our entry to the garage is outside by our front door. There's lots of stuff in our garage including our washer and dryer, all my tools and lots of things I use everyday. As a professional DIY Blogger, you can imagine I need access to my tools and supplies often. Some days I am in and out of our garage constantly.
My sweetheart of a husband, (and he really is), will walk by, find the garage door unlocked and lock it. Of course with the best of intentions. I'm then locked out. Usually at a critical time with wet paint or something all over my hands as I run into the house and search frantically for my keys to unlock the door.
Can you picture it? It's not pretty 🙁
Like any good debating spouse, I did my research before bringing up the topic to try a keyless deadbolt for the garage door. Here are my top 5 smart reasons to have a keyless entry that I presented to him.
5 Smart Reasons To Have A Keyless Entry
#1. Keyless entries are convenient. No more digging for keys in a purse or on a keyring or going to look for the keys for a door. With some models, you can even unlock and lock a door lock from your smart phone remotely, or with your voice alone.
#2. Keyless door locks are safer. No need for extra keys floating around or to rekey the house when a key is lost. No need to give a key copy to the dog walker, person watching your home, repairman and so on. Think about it, do you really know everyone well enough to hand them your keys? Some of the Schlage® models can even be tied into your alarm system.
#3. Electronic deadbolt locks bring accountability Have teens with a curfew? Want to know the cleaning service showed up on time and worked for how long? With the smart features several models of the Schlage® keyless locks keep a record of when each code was used which you can access on your phone.
4. Keyless entries can save money – You don't need to have extra keys made, and won't need to call a locksmith to have a door rekeyed if a key is lost or stolen. Simply change a code. Lastly, installing a keyless door lock is a simple DIY project. It took me maybe 15 minutes to install my new Schlage Touch™.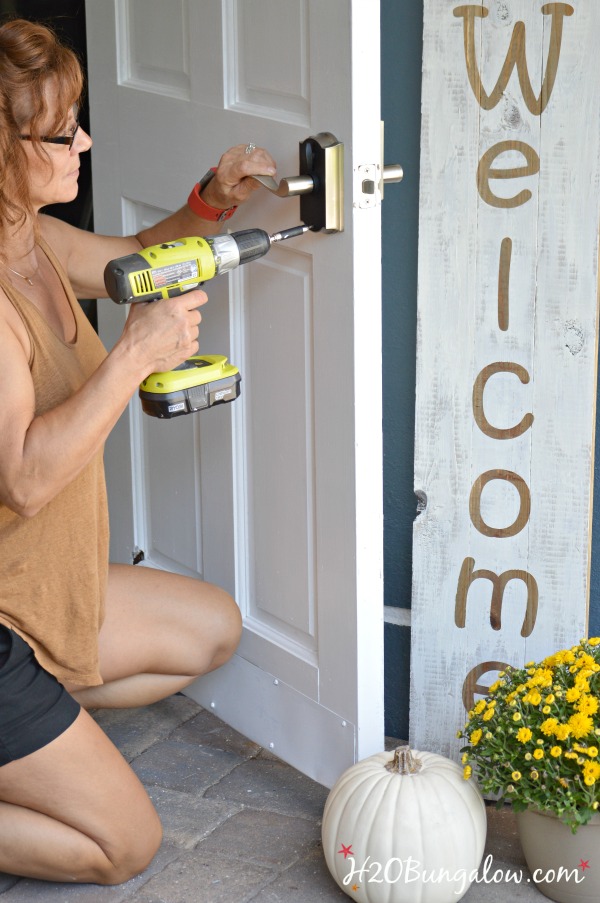 #5. Keyless door locks can work in lots of spaces because they look so good. An interior office, front door or garage door like ours. Schlage's keyless electronic product line comes in several styles and finishes. Just about any design style or feature needed can be found with the four models, the Schlage Touch™ lock, the Schlage Connect™ lock, and the Schlage Sense™ systemTouchpad keylock. I chose the Schlage Touch™ with a simple electronic keypad on the outside.
It's easy to use, just press your 4 digit code, that's it. You can see it unlocked the door as soon as the little green light comes on the lower left side of the faceplate. Take a quick peek…
It can hold 19 codes you guys! I don't have 19 people to give them to but I can tell you it will be perfect for this summer when we have company. Everyone visits when you live at the beach! There's a built-in light for night, it will work in all kinds of weather, even rain and with gloves on.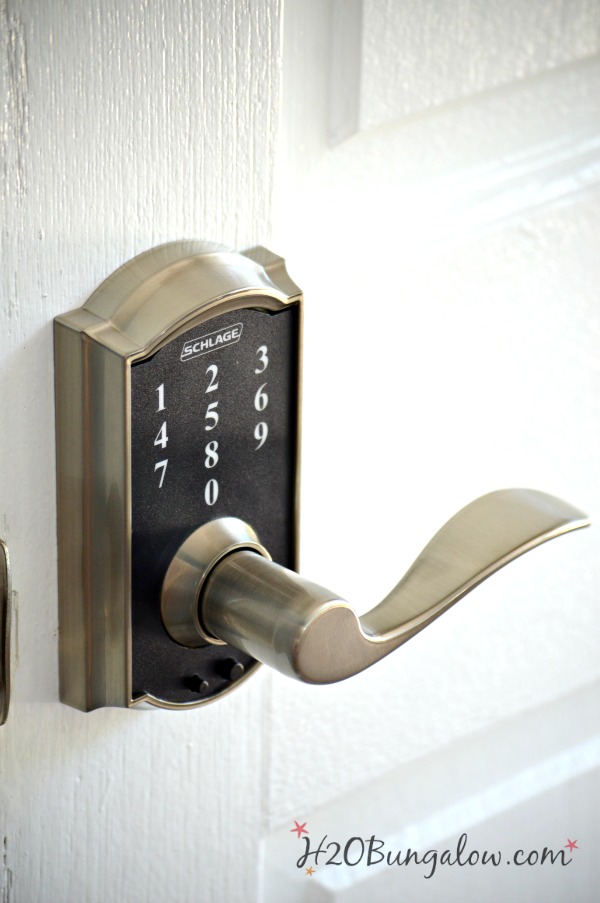 The inside part is a simple thumb turn-knob. My favorite feature is that I turn the thumb knob in one direction and the door stays unlocked. Turn it in the other direction and the lock automatically locks when the door closes. That's great for folks who forget to lock the door too.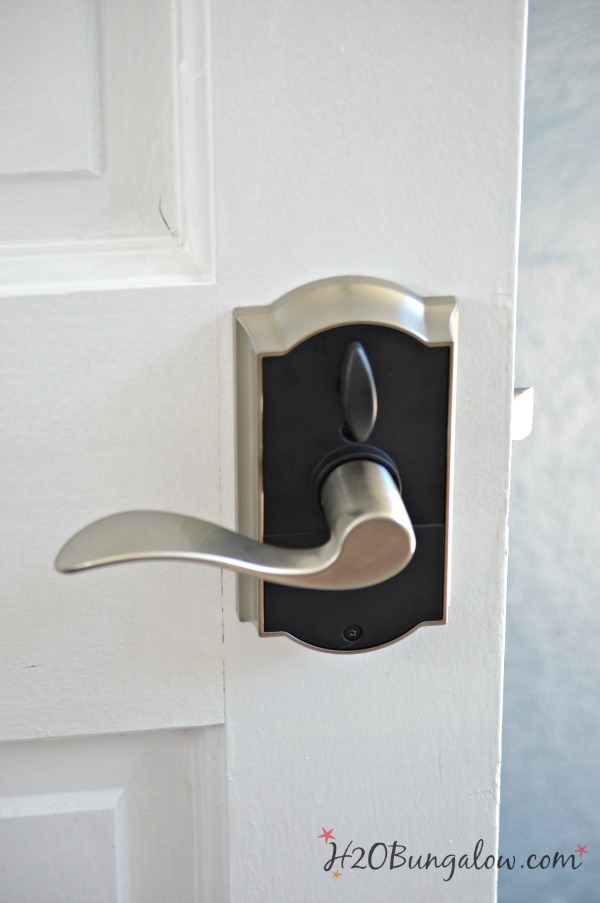 DH and I can both be happy now. When he feels the need to walk by & lock the door, it won't be any big deal for me to simply enter my 4 digit code and unlock the door without disrupting my moment. That's happiness!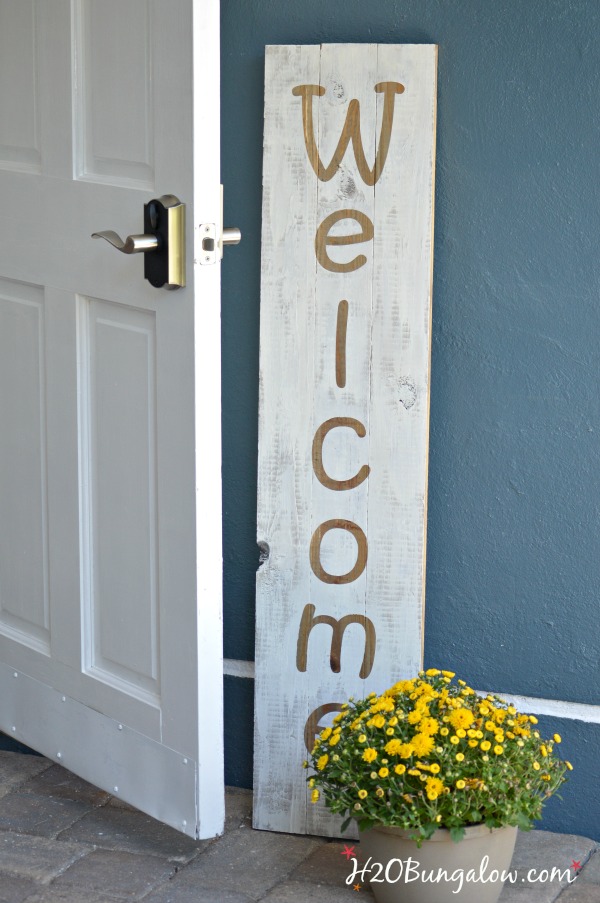 We are starting small with the garage door. I bet it won't be long before we install one of the other Schlage Smart Deadbolts on the front door, and operate it with our smart phones or tie it into our alarm system!
Schlage products are easy to find online at Amazon.com and Build.com, as well as in retail locations including Home Depot and Lowe's.
Have I got you as excited as I am about the Schlage® door locks? Where would you put a touchpad keyless entry in your place?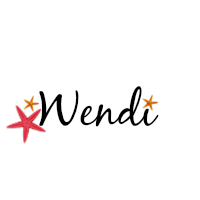 This is a sponsored post written by me on behalf of Schlage®.