I stood there for about 20 minutes trying to talk myself out of this project. But I lost the battle and I'm glad I did. Today's project, how to make a DIY faux fur throw is the result of that lost battle. But you guys win because I'm not just going to share how to make it, I'm sharing some fabulous tips that make this project a breeze for any level of sewer!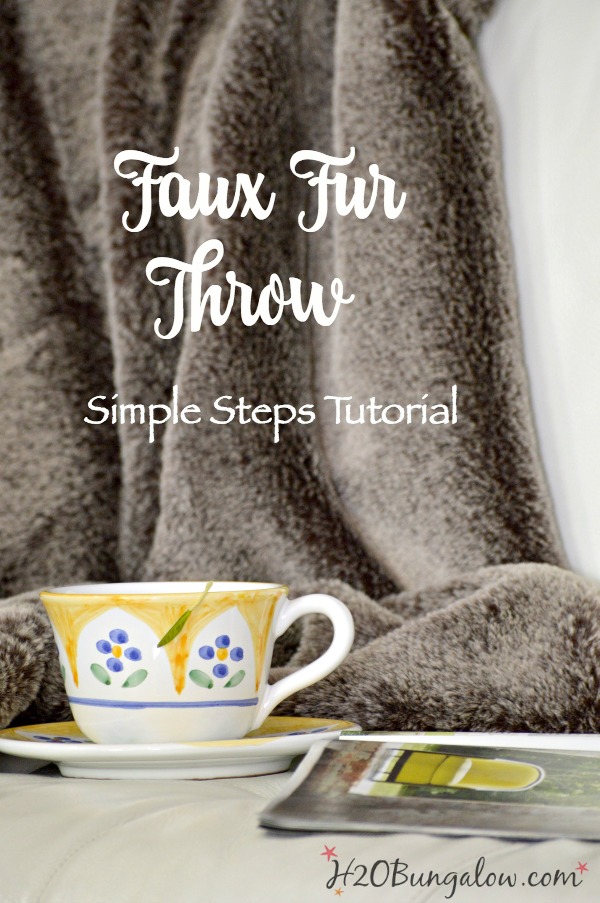 My intentions were to run into the store and find some fabric for a new fall pillow project and be on my way. Fortunately, as soon as I felt the faux fur I was a goner. I'd found the same quality faux fur that I've felt on sofa throws in high-end stores I've visited. The big difference is this throw wouldn't cost me $130. Mine was about half that much.
How To Make A DIY Faux Fur Throw On A Budget
Supplies to make a DIY faux fur throw. I use affiliate links to help you find the products I used in this project.
1 1/2 yards 60″ wide faux fur
1 1/2 yards 60″ wide dark brown silky fabric for backing
sewing machine
I don't have any photos of my DIY faux fur throw while I was making it. My camera lens broke the day before and the one I overnighted in was the wrong lens 🙁 All of these photos were taken with a telephoto lens. For the most part, I stood in the next room to take each one. Ya do what you've gotta do, right?
Step #1. Cut both fabrics to match in size. My throw is about 60″x 60″.
Step #2. Use scissors and clip the fur shorter all the way around the outside edges. My faux fur is over an inch thick, I clipped about 1/3″ in from the edge. This will make it easier to sew the two fabrics together.
Step #3. Put the front side of the faux fur material and the front of the backing fabrics together.
Step #4 Using the metal clips, clip the four corners together and then clip the sides. Pins will not hold on the faux fur, but the metal office clips work great!
Step #5 Using a 3 or 4 stitch setting, sew around the edge of your DIY faux fur throw, leaving about 8″ unsewn at the end. Trim the corners as close as you can without getting too close to the stitching to prevent them from being too bulky.
Step#6. Turn the DIY faux fur throw right-side out and stitch the opened area with a whip stitch by hand.
Now all I need to do is wait for the cool weather to get here. I can't wait to cuddle up with a good book on a cool evening.
Changing out my summer throw and adding this DIY faux fur throw is just the right touch for fall.
Yes, I made my fall pillow project too. I'll share those in a few days 😉
The pillows and my DIY faux fur throw all cost less than the 2 pillows I was eyeing in the store. They took me about a day to make but were well worth the savings!
Looking for more fall decor? You might like this No Sew Table Runner or these simple No Sew Burlap Pumpkins or even this simple DIY Book Pages Pumpkin
Do you have a favorite throw for the cool weather seasons?