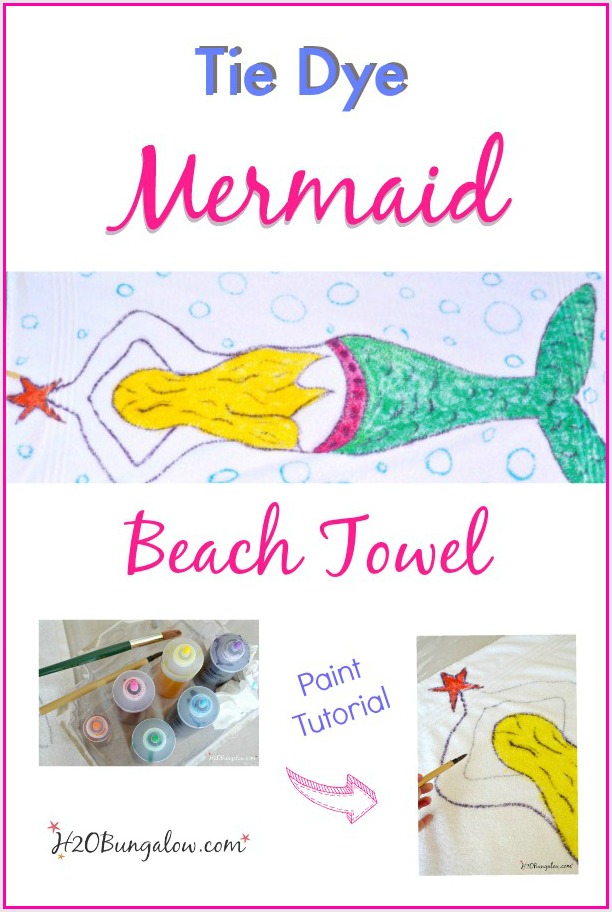 This post is sponsored and written by me on behalf of Tulip Tie-Dye. I love my job! It's always fun and sometimes it's waaayy fun, especially when projects I need, align perfectly with projects I need to do:) My daughters will be here soon for a summer vacation of beach time, fun and a little Mom time too. They're bringing a friend who I've watched grow up along side of my girls for years. I wanted to have a special welcome to the beach gift ready for their arrival. Something personal that they can keep to commemorate this special girl time together. I used the tie dye paint technique to create personalized tie dye mermaid beach towels as a welcome home gift for all my girls.
My tie dye mermaid beach towels were easy to make, so much fun and clean up was a breeze.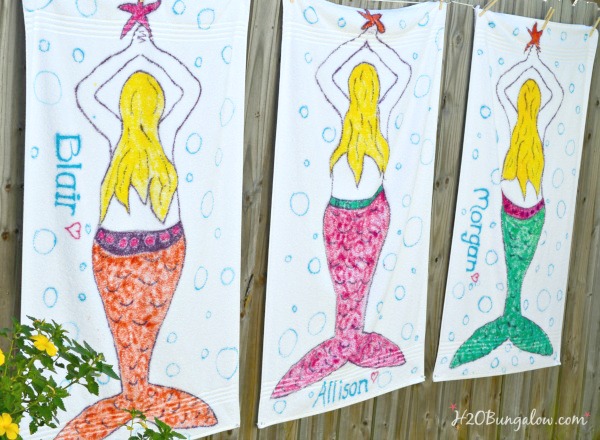 The colors are vibrant, and match the popular colors of the season.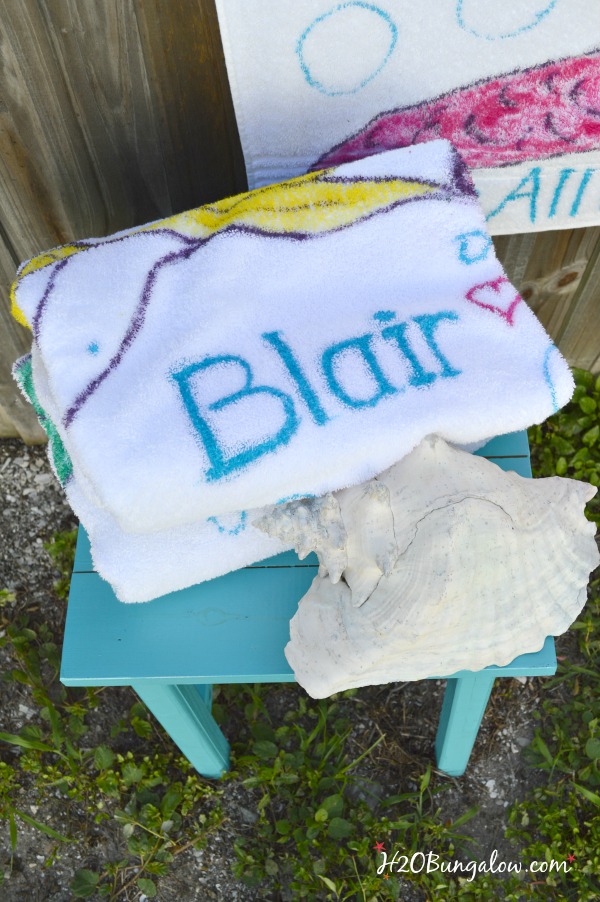 It's far too brutal outside in our FL heat and humidity to work on any project this time of the year. I covered my kitchen table with plastic and completed the entire project indoors. Each of the colors are pre mixed in their own squirt bottle. I just added water. There was no mess; it was an easy clean up. If I were doing this project with a group or with kids, I'd definitely recommend moving it outside!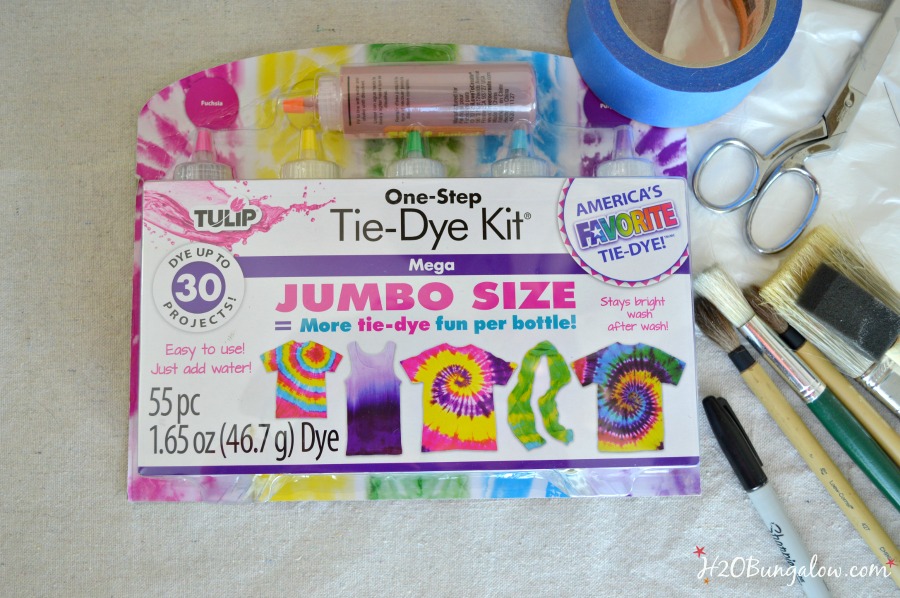 To make tie dye mermaid beach towels, you'll need:
white beach towels
paint brushes – I found used a large lettering paintbrush
pattern or design to trace onto the towel
paper towels
jar of water to rinse your paint brush
plastic to cover a table
painters tape to tape down the plastic
Cover a work area or table in plastic. I made a pattern of large mermaid on brown craft paper. You'll save time by folding the paper in half, drawing one side, cut your pattern out and unfold. Trace the pattern onto a white pre-washed beach towel with a Sharpie.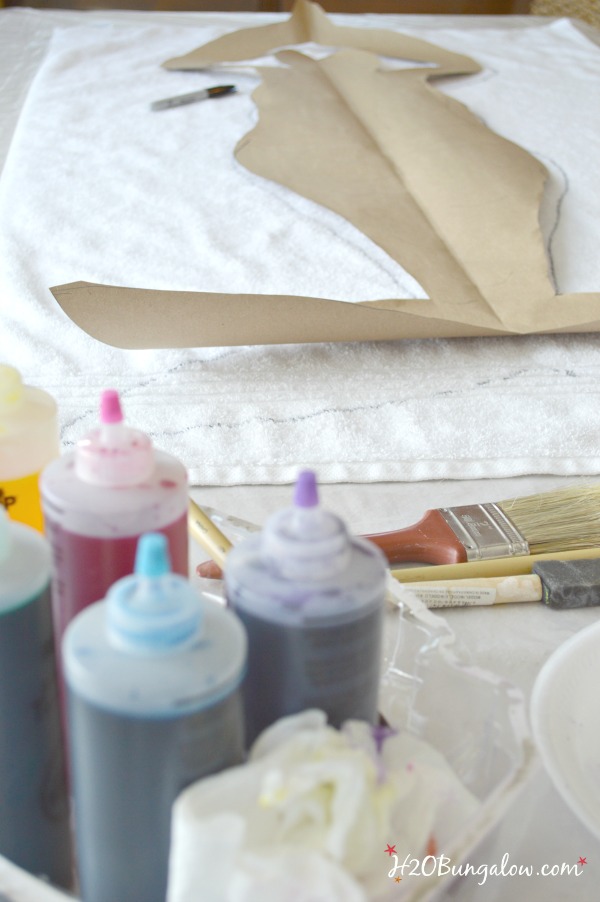 Next, fill in any details you'll want on the inside of your mermaid.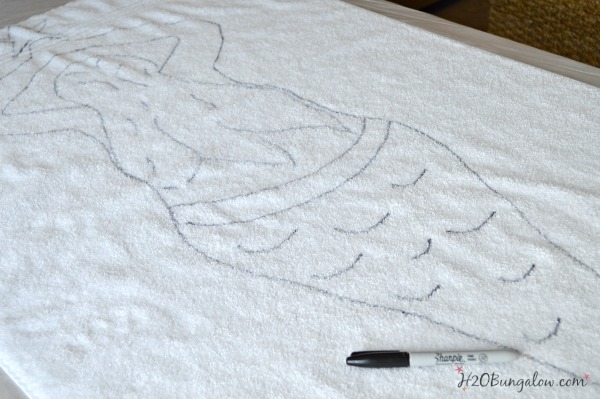 Prepare the Tulip Tye-Die according to the directions. Begin painting with the lightest colors first, I stared with the hair, added the starfish and moved on to the tail for each of my mermaid tie dye beach towels.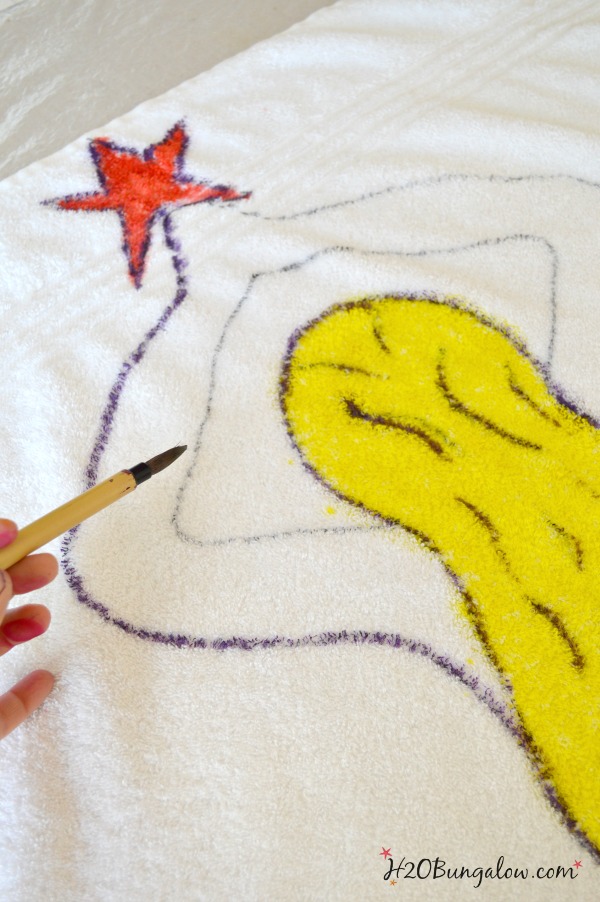 Try not to over fill the paintbrush to prevent drips. Pounce the color onto your tie dye mermaid beach towel to add a scaled appearance to her tail. Finish the mermaid by outlining her in purple and filling in a few scales and details for her hair.
See how much dye I have left over in the photo below? That was after I made 3 mermaids!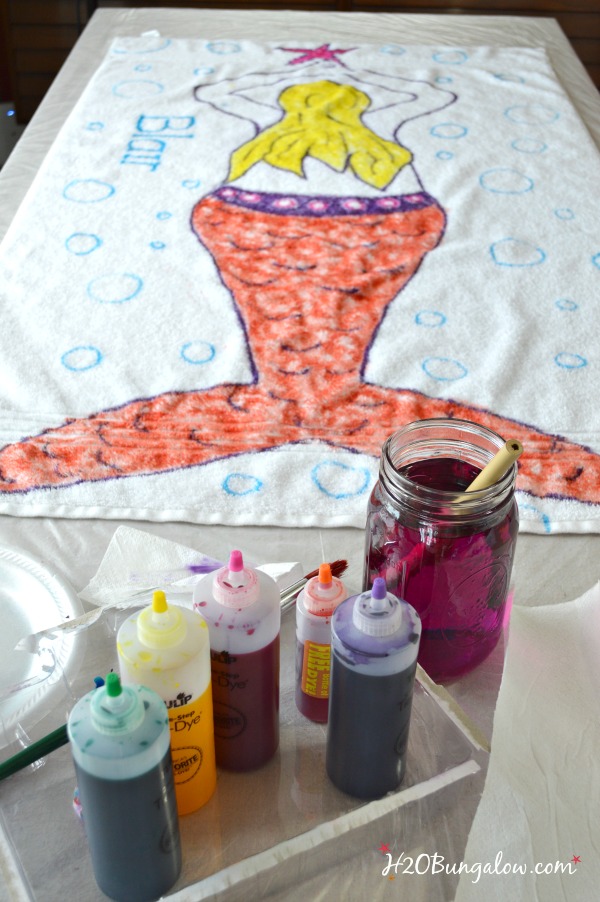 Each towel took about 20 minutes. I finished them all with blue bubbles in varying shapes around the mermaid and wrote each girls name on her towel.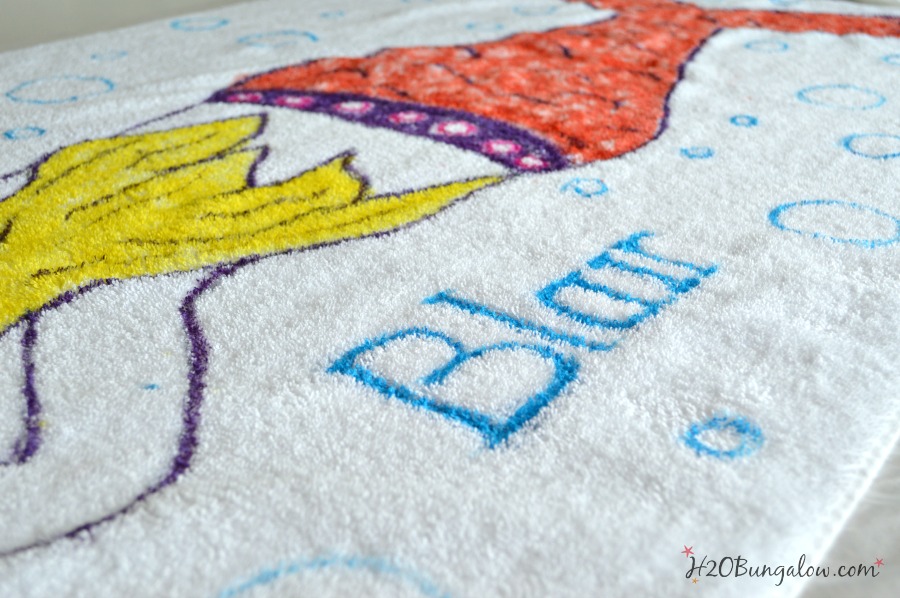 I wanted to keep the intense colors so I let the towels dry overnight, rinsed with clean water in the morning and then ran them through a cycle in the washing machine with a little soap. That's it.
You know how there's a to do list a mile long before company arrives…
Funny thing is, as busy as I was, I kept eyeing the leftover dye in the bottles. I just couldn't let it go to waste! That would have been like throwing fun away. So I quickly had some good old fashioned, tie dye fun with rubber bands and some big white t-shirts. There's a pamphlet in the tie dye package with instructions for several tie dye techniques. I tried a few that looked like fun. I put each shirt in a plastic bag and squirted the dye onto them. Zero mess! I followed the directions and let them sit in the plastic bags until I was ready to wash them.
Now the girls will have matching tie dye shirts too! I'm sure they'll have fun hanging out in them together after a good day at the beach.
As you might have guessed this is a sponsored post, I was provided product and, or compensated for sharing this information. All opinions, craftiness, and projects are 100% my own and never for sale. I'll only share items I think have value for my readers.