I love the feeling of opening my front door and being greeted with a tidy and uncluttered home. When you live in a small space maintaining this isn't easy. If you live in a small space, you know there are challenges to happily living in a compact world. We love our small home and the simplicity that came with downsizing. But, the first several months had me doubting our "grand plan" of scaling down and simplifying our lives. I had a few things to learn about small home organizing to make our small space work for us.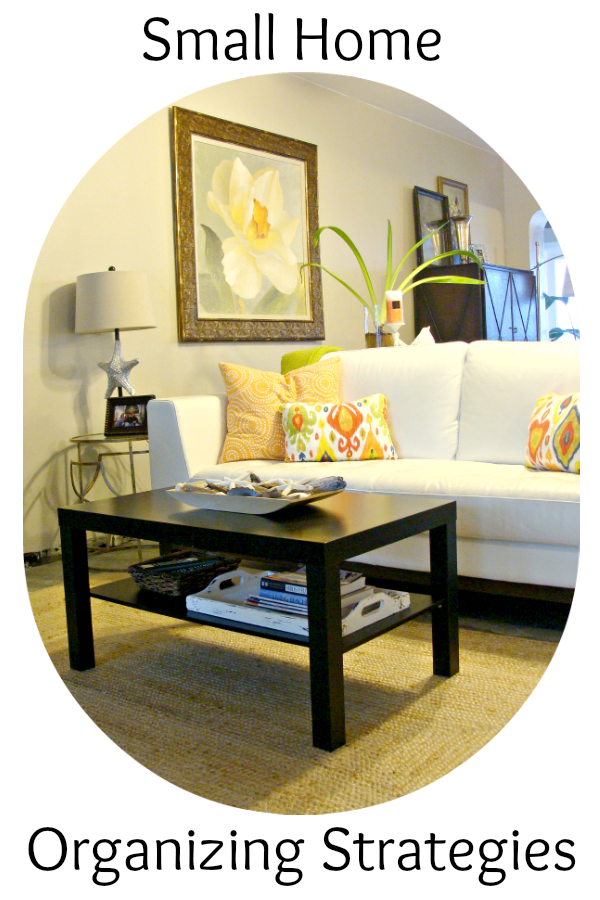 Closets were a mess and packed with so much stuff that it was hard to find anything. I'd put things "away" based on my old way of thinking and my old home which was more than twice the size of where we live now. It wasn't working. Piles were growing, it began to take forever to clean up simply because I had so much tidying to do before I got down to the real housework 🙁 At that point, our dream of simplifying wasn't so dreamy anymore.
Then, I started changing the way I went about small home organizing. Small home organizing is as much a thought process as it is an organization method. Implementing this list of small home organizing strategies was the turning point to keeping my sanity and the house clutter free.
My Small Home Organizing Strategies
Everything has a place, and one place only. – For example, office supplies such as pens scissors, ect, all go in the office. Family board games and cards are all stored together. The beauty of a small house is it's only a few steps to find something or put it back. You'd be surprised at how much precious space you can save by storing like items together and in one place.
Put it where it belongs as you enter the house. – Mail in the basket for mail, magazines in the basket for magazines, the dog leash in the basket. All as you walk in the door, you're probably walking right by that spot anyway.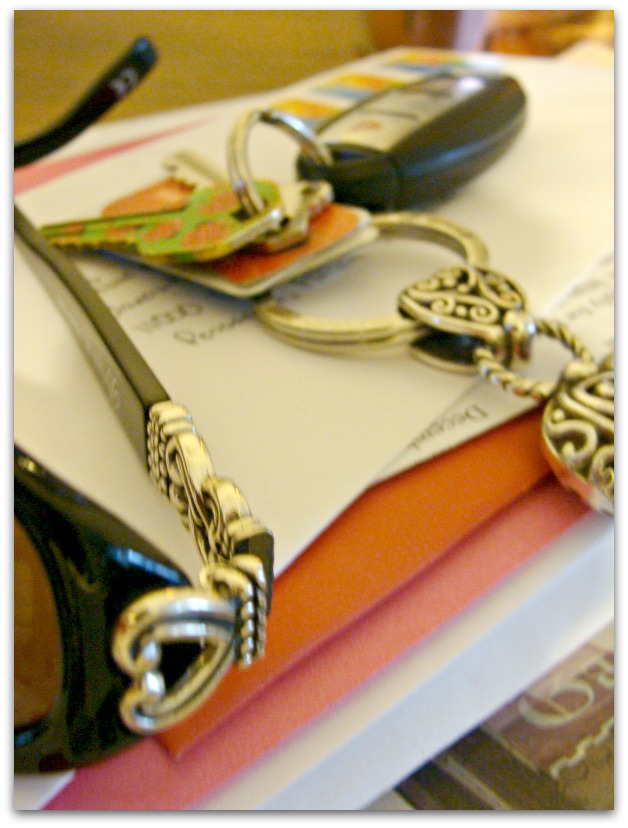 Keep what you use the most near where you need it. – Saves time and frustration! Items that aren't used as often can be tucked away. If you use certain kitchen appliances often, keep them where they are easy to reach. Put items you don't use often in the hard to get to areas. You won't mess up your closets and storage digging for items anymore.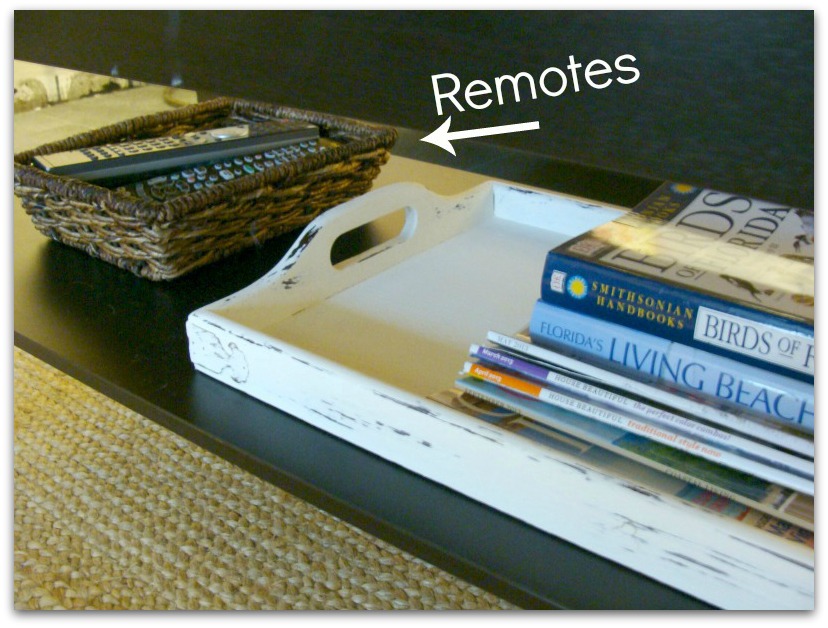 Baskets and sturdy boxes are good to hold items in closets and act like dividers – My pantry stays organized when I keep small items in baskets and use the space between for boxes. I can easily look at my pantry and see what needs to be restocked because it's organized and everything is always in the same place. Read my post on "Clutter Busters For Pantry"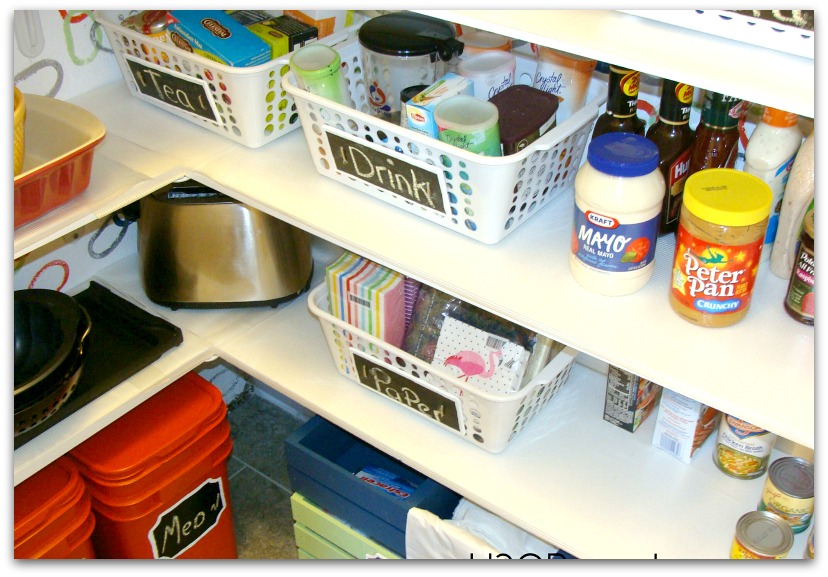 One of the most challenging areas in small home living is the kitchen. Need more help there? Click here to read my very popular "How To Organize A Small Kitchen To Get More Space". It worked for me!
Get rid of what you don't use and what you have that doesn't fit. – If you haven't used it in the last few months or it's too big for your place, ask yourself, can I get rid of it? Give yourself a reality check. Is this more important than the stress I'm causing myself by keeping it? I realized I was holding on to way more "stuff" than I needed.
These are my most useful strategies and easiest to do. They are also the first tips I'd share with anyone who is getting ready to downsize or is struggling with living in a small house. By making a few changes I was able to keep the house tidy and cut down dramatically on clutter.
Most importantly, I was able to stop stressing and start enjoying our simplified life 🙂
What's your favorite small home organization strategy? I love when you guys share with me! Let's talk in the comments section below.
You'll find my project linked up to these fabulous parties!
Love a good dose of DIY home decor, home improvement, the challenge of woodworking and creative ways to make your home look fabulous?
Me too!
I'd love to share mine with you. Click here to sign up for my post emails and I'll send a quick note when I have a new project to share.
Social media fan? Don't be shy say hello! I love when you guys do that! I'm interactive on Facebook and I share lots of other projects and, useful inspiration for the home and content I don't share anywhere else. Follow H2OBungalow on Facebook and Instagram!
I use affiliate links in my posts. If you should make a purchase I will receive an itty bitty commission at no cost to you. Thank you in advance for supporting my blog and two fur-ball cats who believe they are privileged.