This silver glam dresser makeover was a fun challenge! I had to take a boxy plain dresser and give it some feminine glam style. This had to be done while I visited my daughter in only few days, without my own tools and supplies.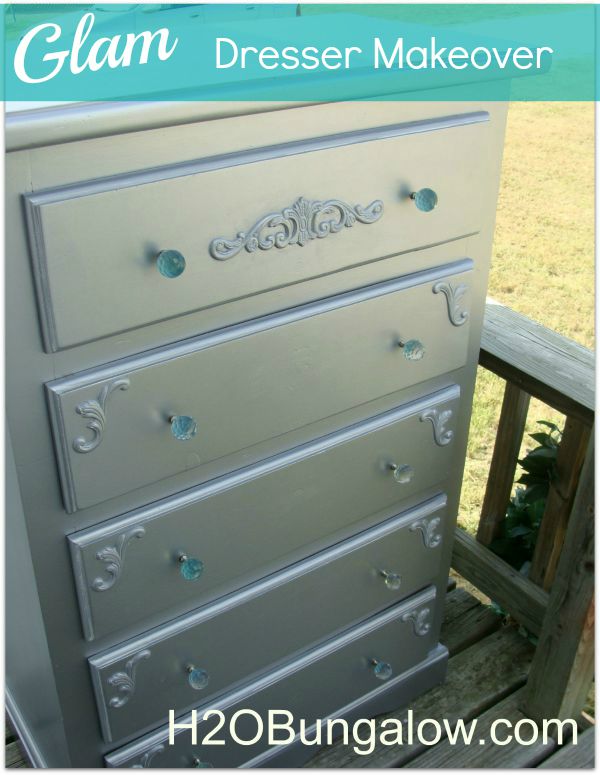 Most importantly this dresser HAD to turn out well. I was finally making good on a promise I gave my oldest daughter more than a year and a half ago which was to refinish her dresser. Every time I mentioned it I could read her thoughts, "ok..yeah Mom" …I'm sure she didn't think I'd get to it.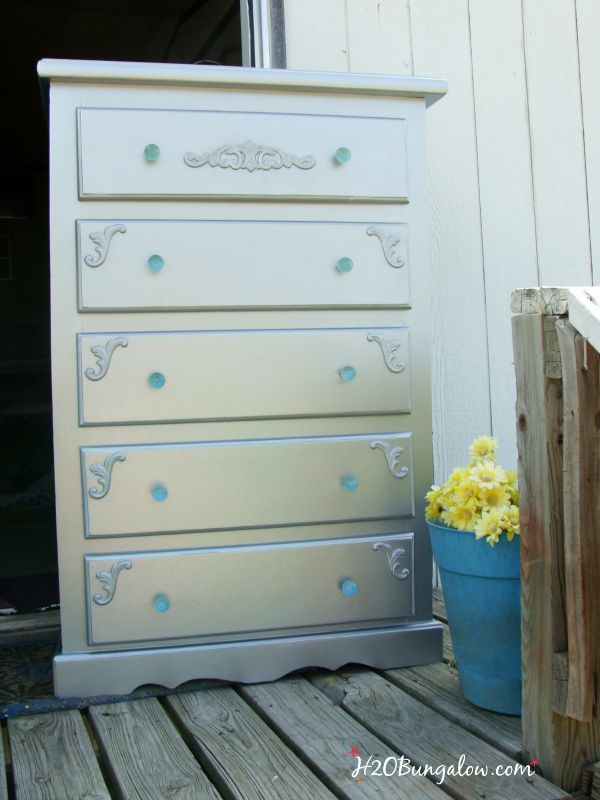 As things normally do…it worked out just fine and in fact better. We worked on this together and that gave us some pretty special quality time. Had I not been so behind we wouldn't have had the chance to do this and for that, I'm grateful! Here's a few shots of our finished silver glam dresser makeover.
Here's another one.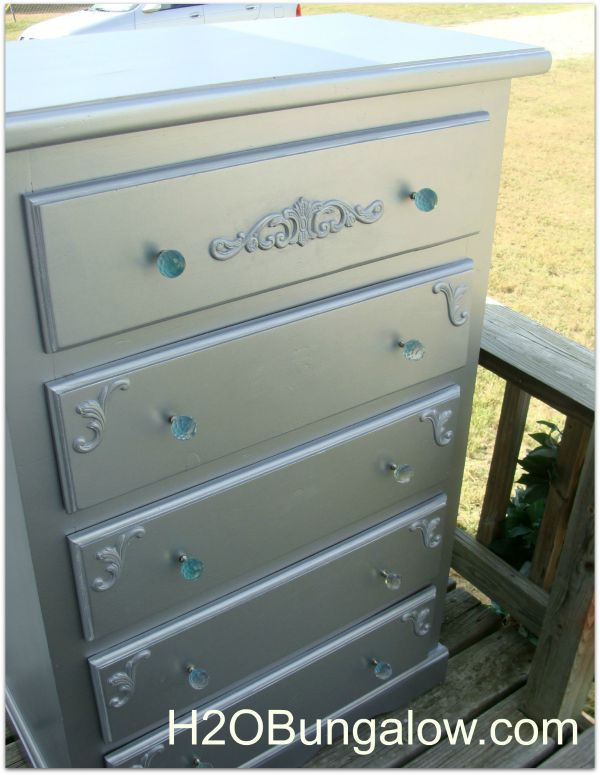 This is what it looked like before the redo. PLAIN and definitely not reflecting the personality of a fun, artsy, cool twenty something woman.
We've had two of these dressers in the family for years. They came from a bedroom set I had made for my girls when they were little. I'm glad that Blair has held onto it and so many memories came back to me as I worked on this with her. The dresser looks unfinished but it's actually a white washed finish. Remember when that look was popular? UGH..! Here's the makeover I did on the other one.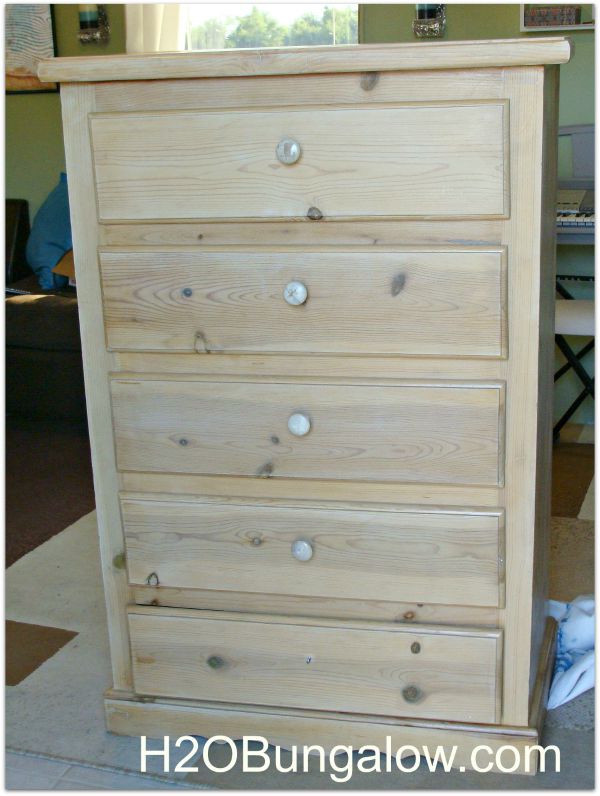 We spent the first night priming, prepping and planning. We wrestled with a stripped screw on a knob that just was not going to come out easily. Putting our minds to the task of pouring over our Pinterest files looking for ideas and a design we could both love took several hours. Check out my Bungalow Pinterest Board here for a few hundred good furniture makeover ideas and read How to Paint a Dresser in 7 Steps, it's a great beginner's guide and will definitely help you when taking on a project like this one 🙂
Furniture redos are my absolute favorite type of makeover. Together, we finally decided on a silver glam look and knew it would be a winner in Blair's room.
Initially, Blair showed me pictures of furniture with ormolu detail and said that's what she liked. Oh yikes, I thought to myself, that's a completely different style than what we have to work with! Ormolu detail if you're not familiar with it is a style of embellishment on furniture often in metal and gilded in a metal like gold leaf. What a surprise, I had no idea she liked this style. Ultimately, we got creative and found a pretty neat substitute that made her happy.
We took wood appliques and added them to the drawer fronts which worked out really well. They gave the entire dresser a softer, more feminine feel. We used a silver paint from Martha Stuart but it's not made anymore so this metallic silver paint from Modern Masters is one I like alot. I used a foam mini 4″ roller to apply about 4 very thin coats of paint after a good coat of primer. My primer of choice is Stix, it works well on everthing!
We both liked the idea of a double row of knobs which also softened and changed the look of the dresser. We found these fantastic faceted glass knobs at Hobby Lobby, they are kind of vintage retro but not grandma like. From the side view they are clear but if you look at them from a front view they appear blue. Blue happens to be Blair's favorite color. As soon as she picked them up I knew these knobs were it!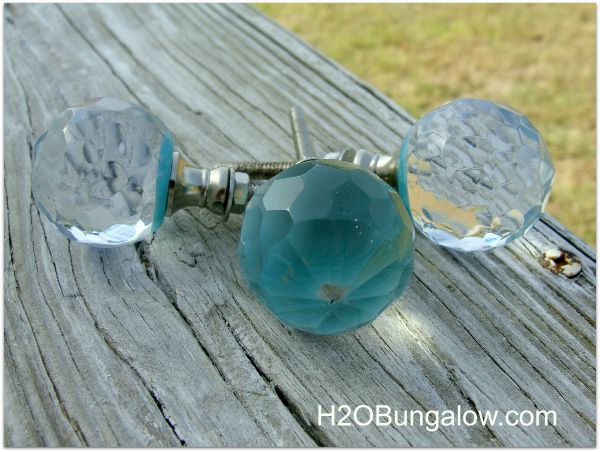 We added a white glaze to all the drawer edges, routered edges on the body as well as in the applique detail. It doesn't show up well in the pictures but added some softness and age to the finished piece. I mixed some Modern Masters Glaze and white paint to make the glaze.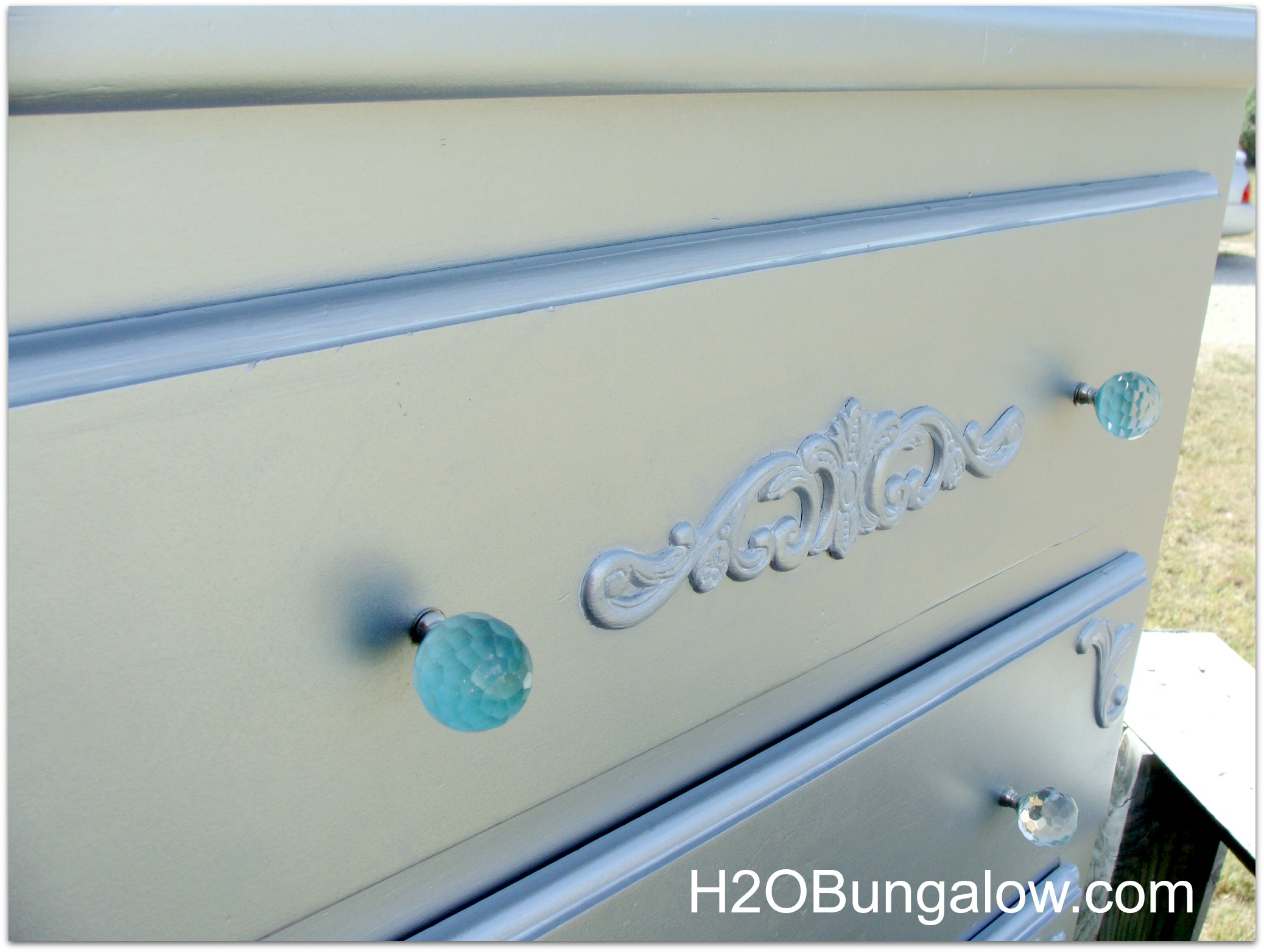 I loved working on this silver glam dresser makeover with my daughter. The time we spent together was a beautiful gift and I delivered on a promise that was long overdue. She now has a lovely new dresser that suits her and her retro glam decor! I'm already thinking about what we can to together next!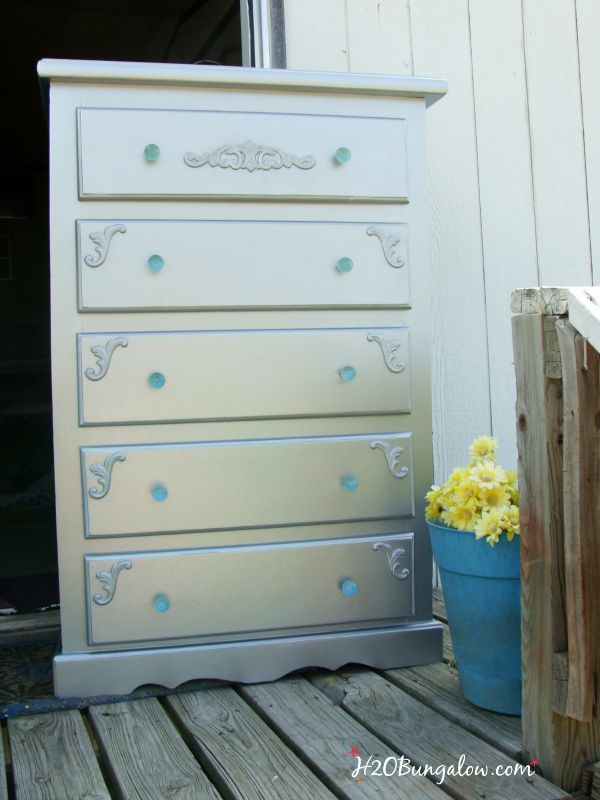 Is there someone special you'd like to do a project with? Why wait…start planning today 🙂