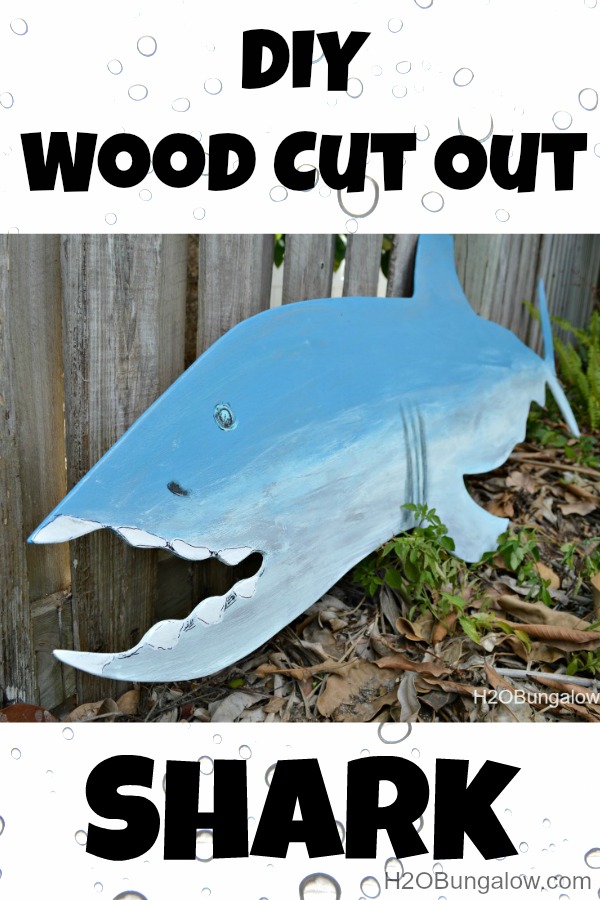 Have a little plywood, some paint and an afternoon to spare? You can create a DIY wood cut out shark like mine in no time at all. I have a special guest here on the blog today sharing how to create this big fun shark out of plywood.
I met Sierra last spring while participating in the Michaels Pinterest Store event. We hit it off immediately and have since forged a friendship. Sierra creates fun and whimsical fish which have been popular at the local art walk sales events. She has graciously agreed to share how to make her wood cut out shark and I am so excited!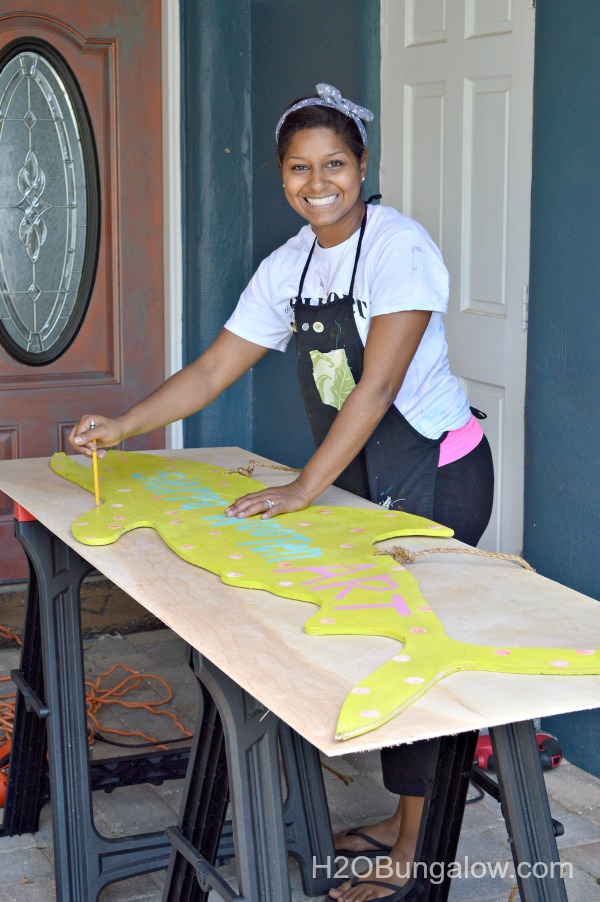 Here's what you'll need to make a wood cut out shark:
1/4 " Plywood cut into a 6′ x 2′ piece
Craft paints and paint brushes
Jigsaw
Sander
Sawhorses
Safety wear, eye protection and facemask
I used 1/4′ birch PureBond Hardwood Plywood for this project. Aside from the high quality of PureBond, I LOVE that it's made here in North America, formaldehyde free and eco-friendly. This project is part of a room makeover present for my nephew. Using safe and quality materials is important to me (see my note at the bottom for more information on where to find PureBond).
Sierra brought one of her signature sharks to use as a template for our shark project. There are several online sharks that can be copied freehand. Just draw directly onto your plywood. Next, follow the outline of your shark and cut with a jigsaw.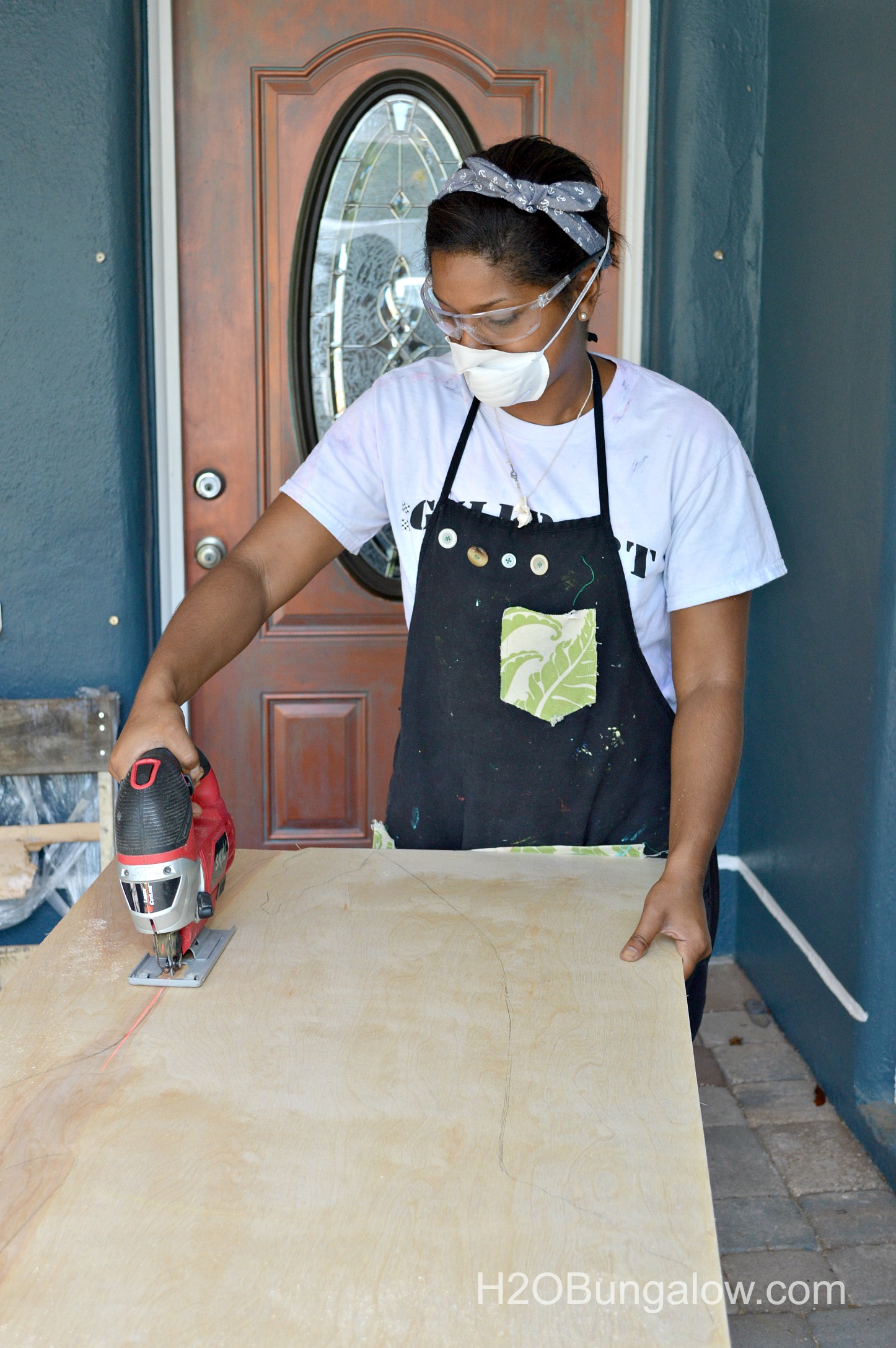 Once the shark was cut out, we grabbed our sanders and got to work smoothing the edges. Don't worry about being perfect, just get the rough spots off. I also drilled a few holes along the back of the shark to attach it to the wall in my nephews room.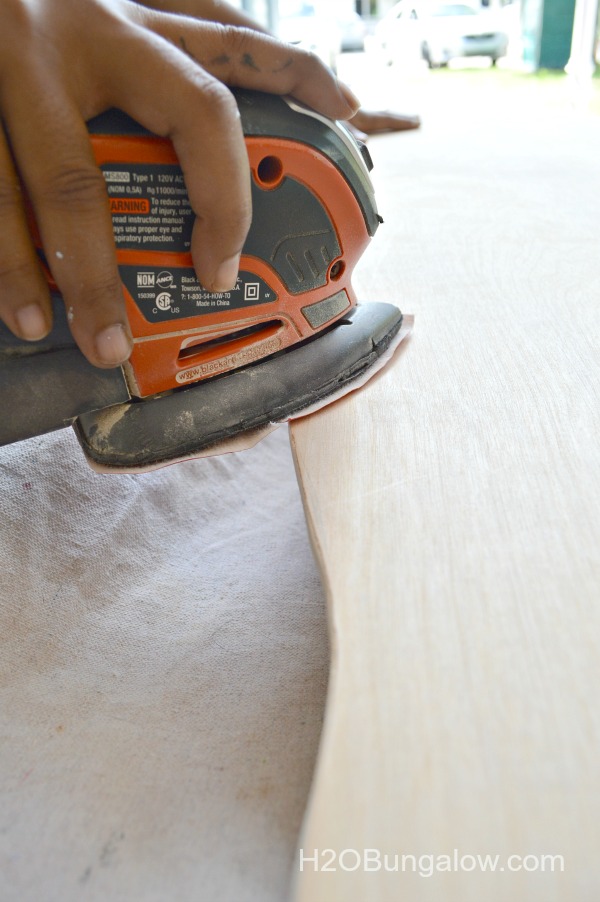 Once we moved on to the painting part of the fish, we were then in my familiar waters
..Haha, such a bad pun…fully intended 🙂
To paint the shark, we used blue paint along the length of the fish from about the middle section up to the dorsal fin. We used white paint from the belly down.
To blend the two sections of color, I grabbed some paint extender to slow down the drying of the paint. Using a rag, we blended in some silver paint along with the white and blue all along the body. The last steps were to add the eyes and a little detail for the sharks teeth and the gills.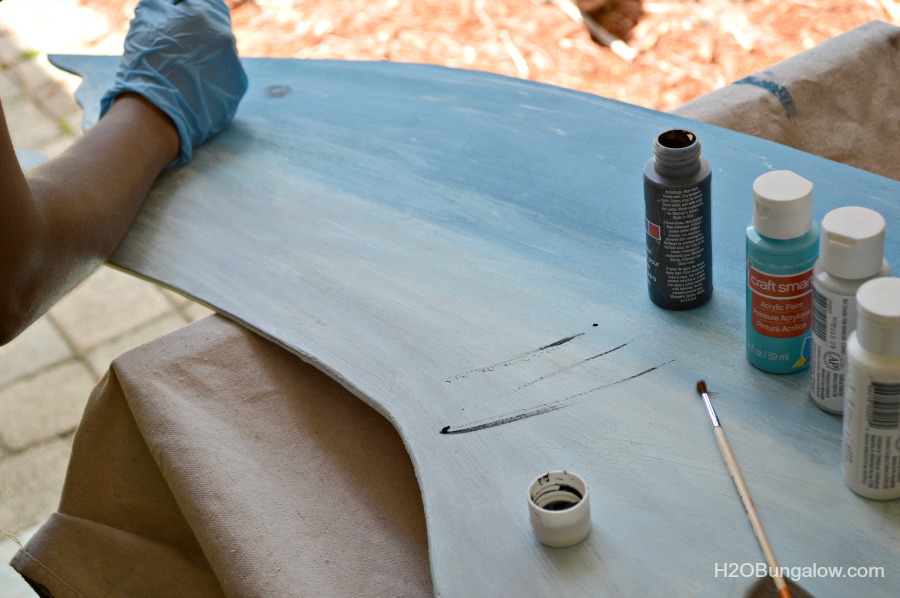 That's it!
Don't you just love it?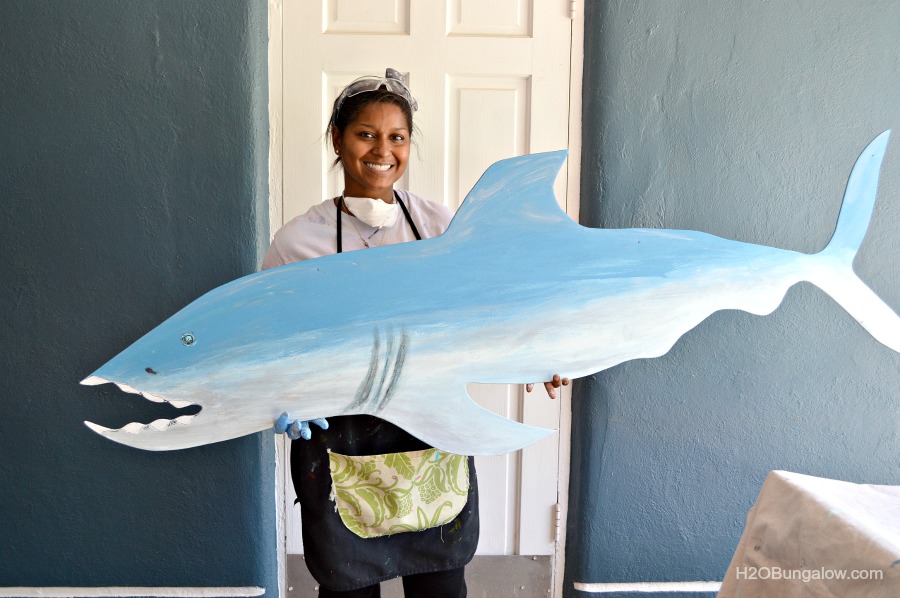 We had plenty of leftover wood and decided to make a few small colorful fish to go along with the big wood cut out shark. I love these colors!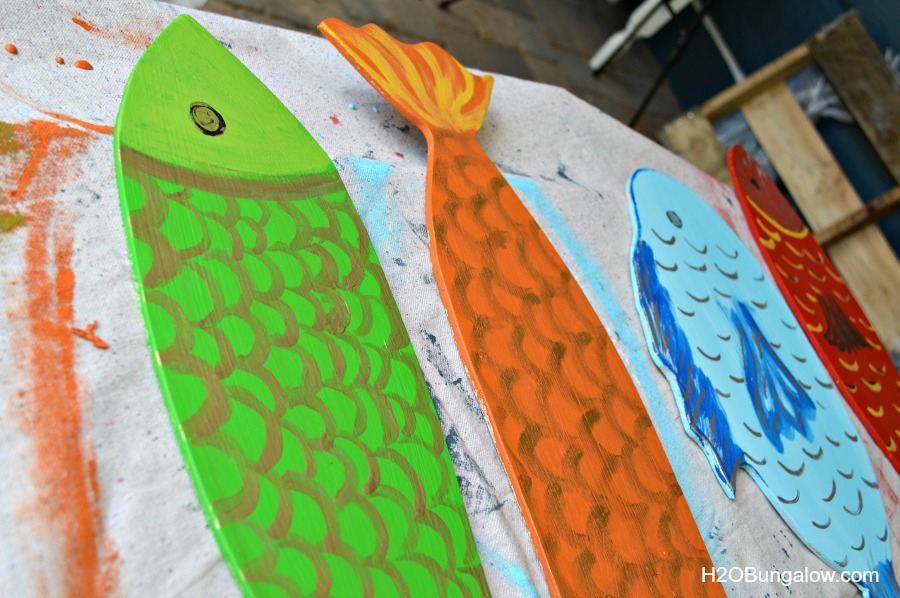 We made all of these wood cut out fishes and the 6 foot shark in under 3 hours.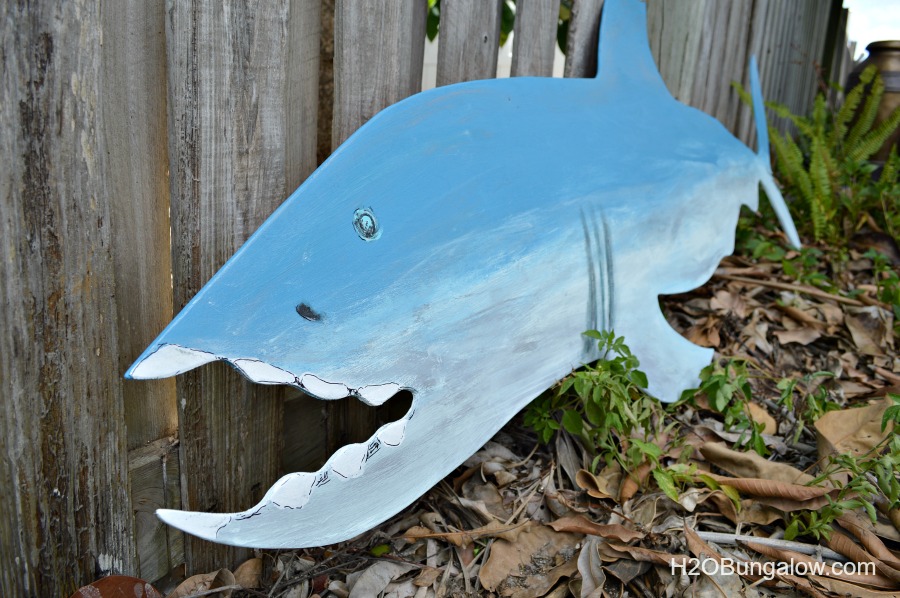 These are the beginning of a room makeover I've promised my nephew. He has no idea what I'm planning:)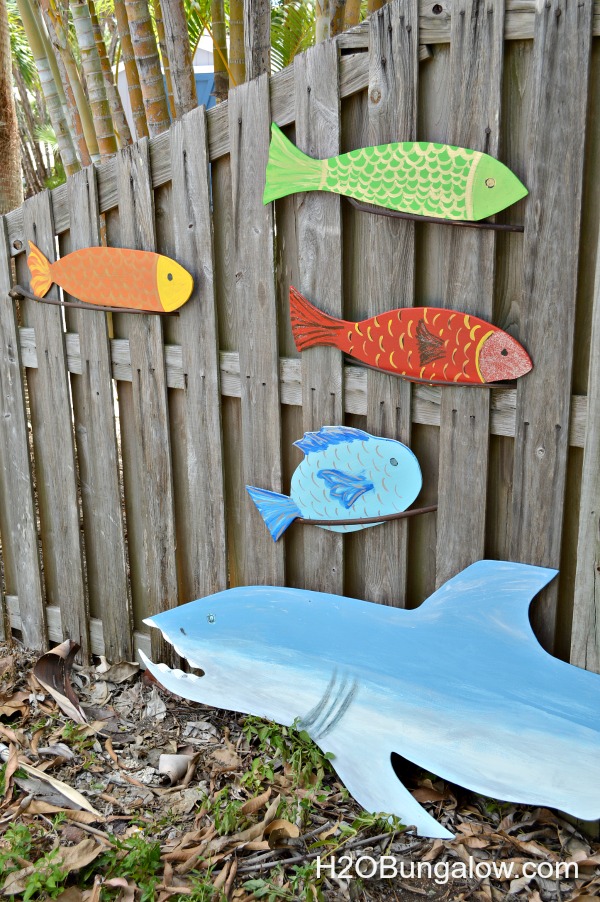 I hope he likes them!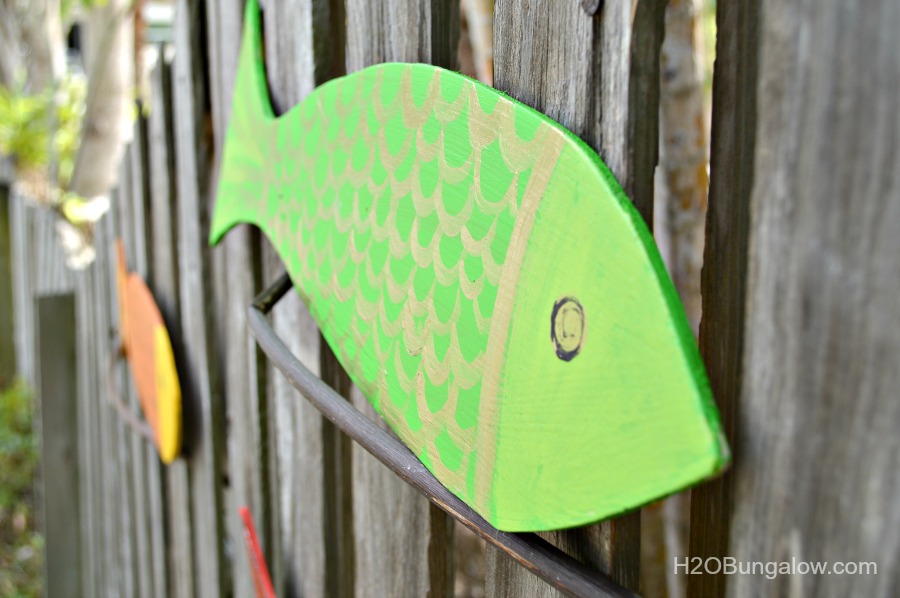 I may need to make a set for myself too. I think they'd look terrific along our wood fence.
One quick note on finding PureBond Hardwood Plywood which can be found in Home Depot Stores. I discovered that finding it in the store can be tricky. My online search on the Home Depot website didn't show a big selection of PureBond plywood. BUT, when I clicked on the product specifications of the various hardwood plywood, it listed if the wood was made by PureBond. Once I selected which PureBond plywood I wanted, I used the item locator on the Home Depot website which listed exactly where to find it in the store.
So….What would you do with a 6 foot shark wood cut out shark?

Are you following me? Like, you know…my blog? What? Not following me yet?
Sign up for my posts via email HERE or Bloglovin HERE. Both are free!