I've got wooden planter box plans to make a beautiful DIY planter box for your outside patio or front door today.
If you're looking for DIY planter box ideas, you may also like these other DIY wood planters I've built.
DIY Mid Century Modern Plant Stand
How To Build a Flower Box Planter for any size window.
I was inspired to design this DIY outdoor wood planter after a trip to Key West, one of my favorite places to visit here in Florida. What I love about this planter design is it fits well with all styles of homes, beach cottage, contemporary or even traditional home.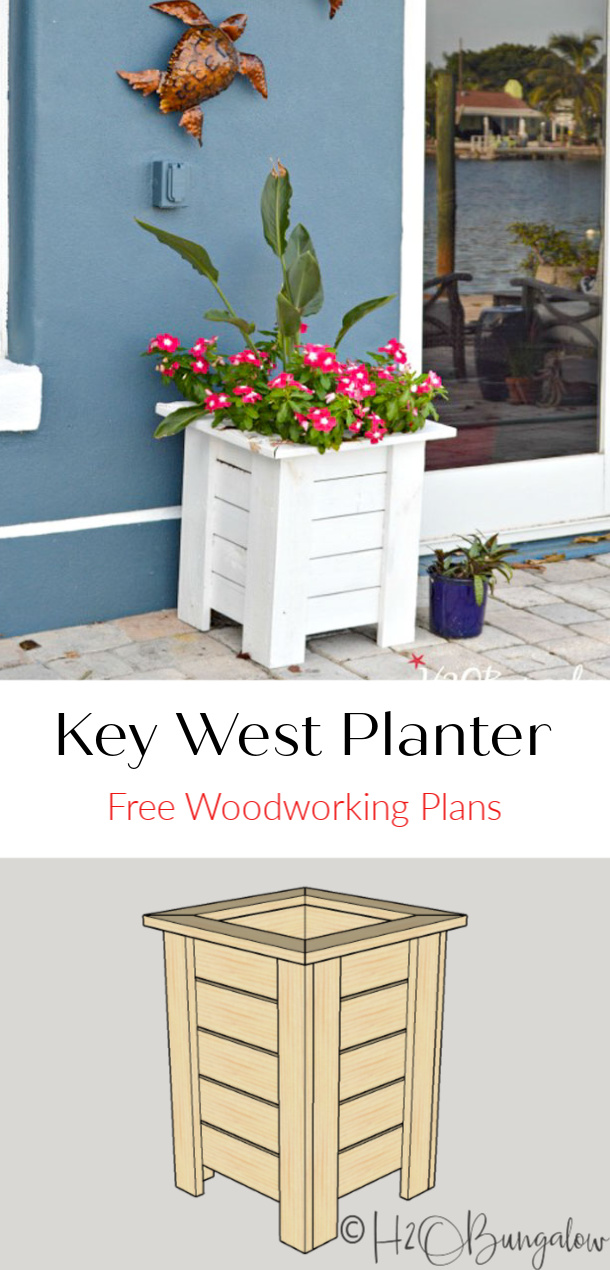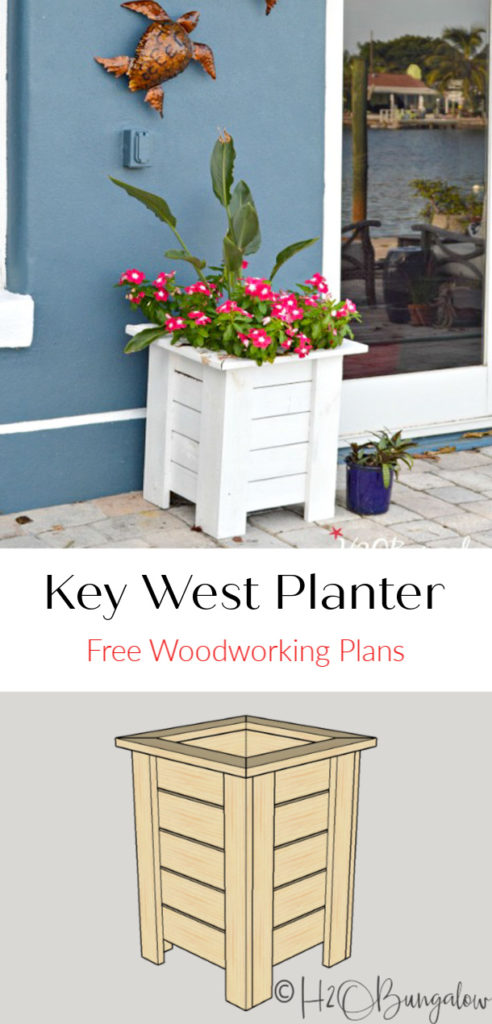 Best of all, this DIY Outdoor planter is budget friendly and can be made for under $20!
Wooden Planter Box Plans and Tutorial
To help you find the products I used in this project, I use affiliate links, as an Amazon Associate I earn from qualifying purchases. You can read more in my disclosure statement.
Want step by step instructions, cut list and assembly directions? Download my planter box plans pdf here!
Materials needed to make my Key West Wood Planters. See my DIY'ers list of favorite tools for my must haves for projects.
1 x 4 pressure treated wood
Wood screws, outdoor rated
Pocket hole jig or this 320 Pocket Hole Jig
Pocket hole screws 1 1/4″
Tape measure
Brad nailer – optional
Miter saw
Drill
Outdoor paint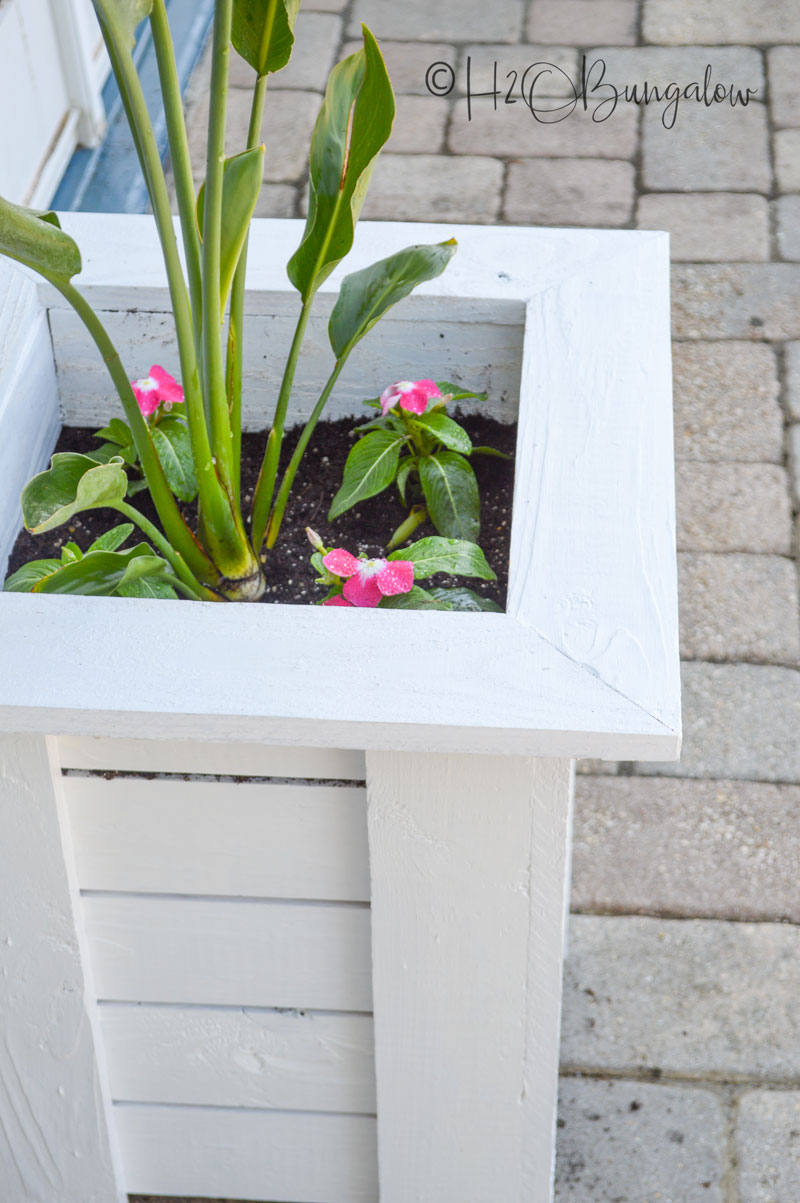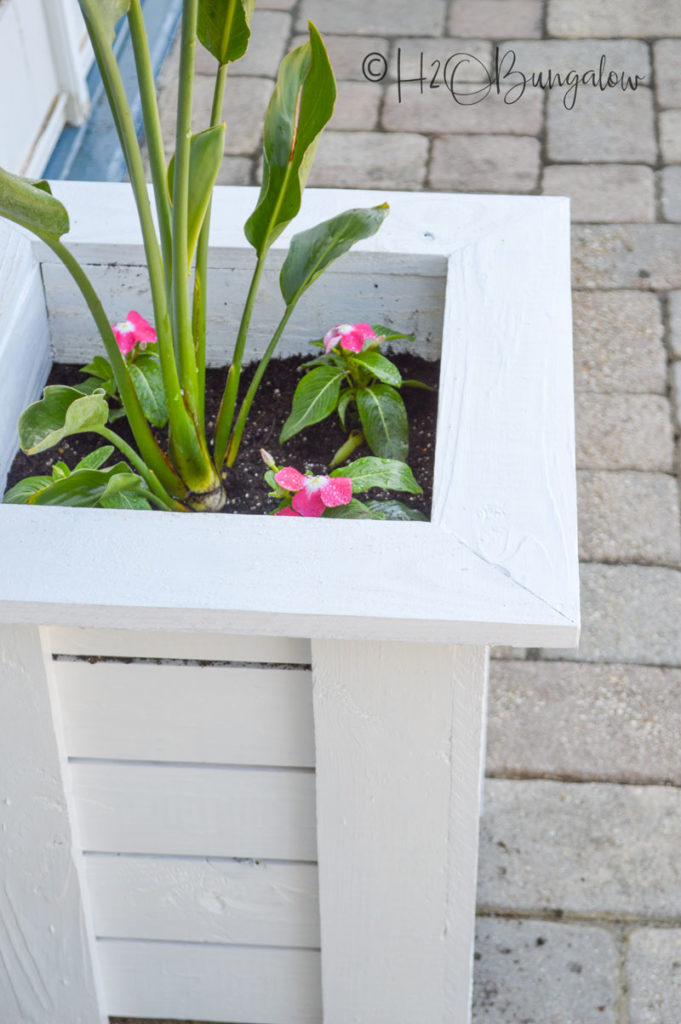 Step 1. Put together the four outside supports.
Cut eight outside supports. Add pocket holes in four and attach them to the other four.
Step 2. Assemble the front and back
Use spacers and place five side slats between two end supports and attach with brad nails or outdoor-rated wood screws.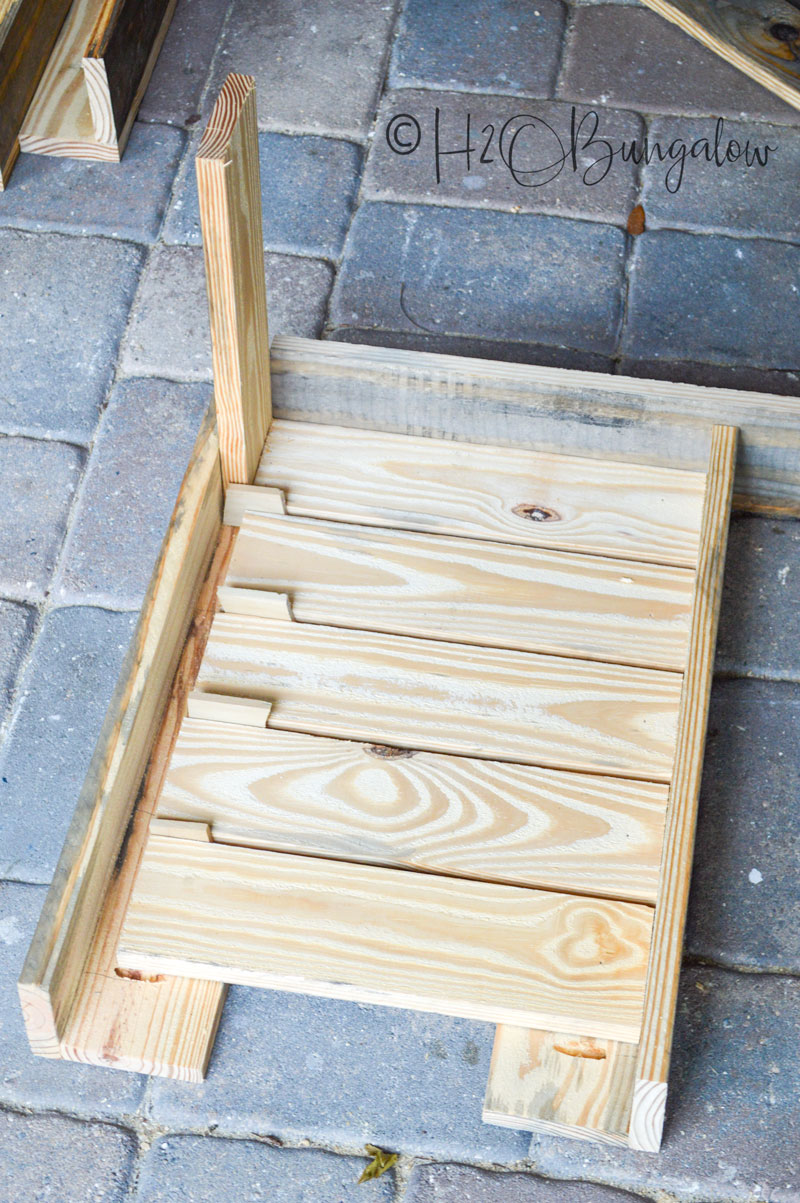 Step 3. Connect all sides.
Connect the other two sides to the first to make a square box.
Step 4. Attach inside bottom.
Attach the inside braces at the depth you'd like the planter to be. I attached mine about 8″ from the ground so I'd have a deep planter. Place the bottom supports inside.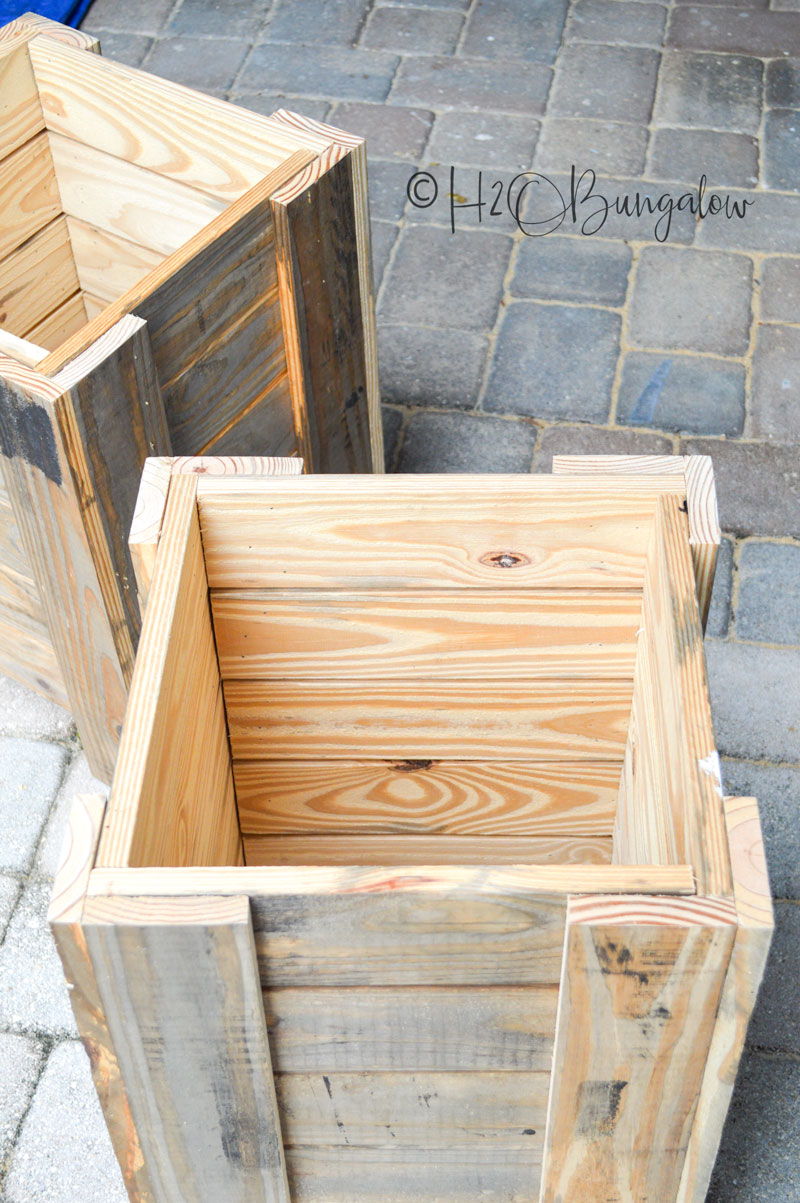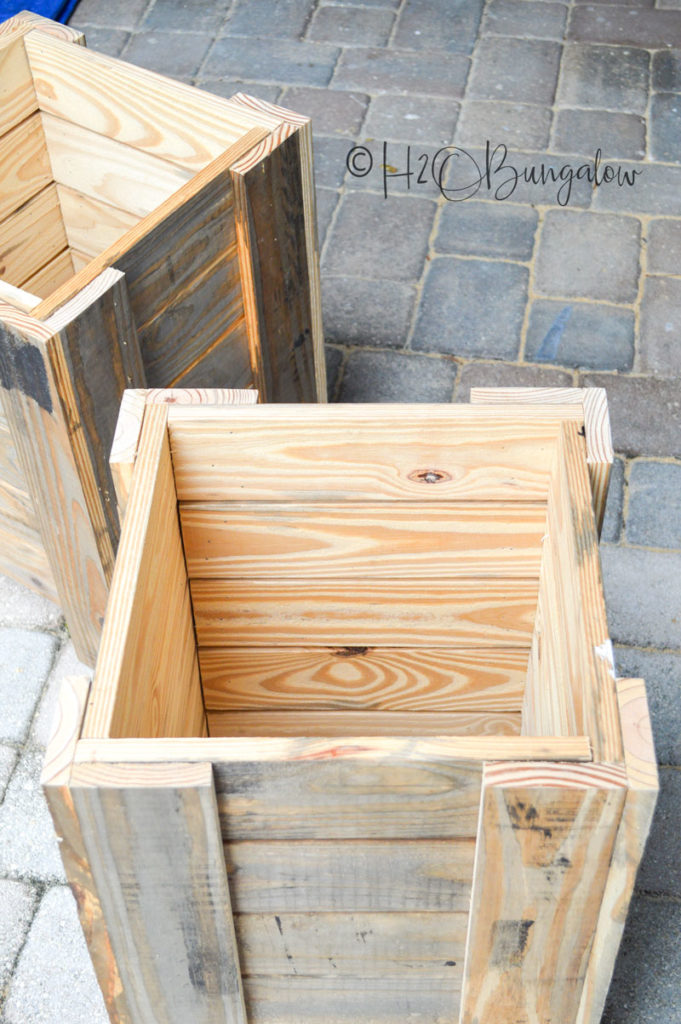 Step 5. Assemble the wood planter top frame
Assemble the top frame and attach to the planter base.
You can easily modify this wooden planter box plan to make a tall wood planter by making the sides longer and cutting more side slats or making it wider by cutting the sides longer.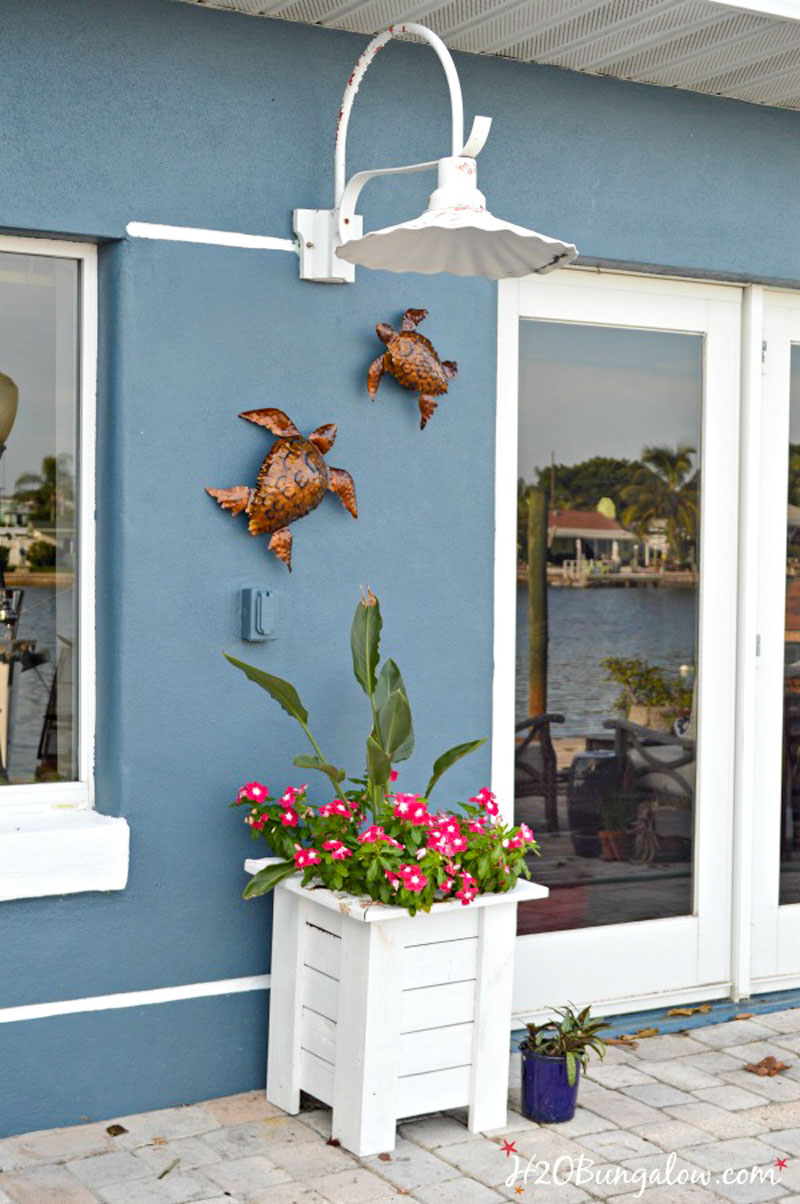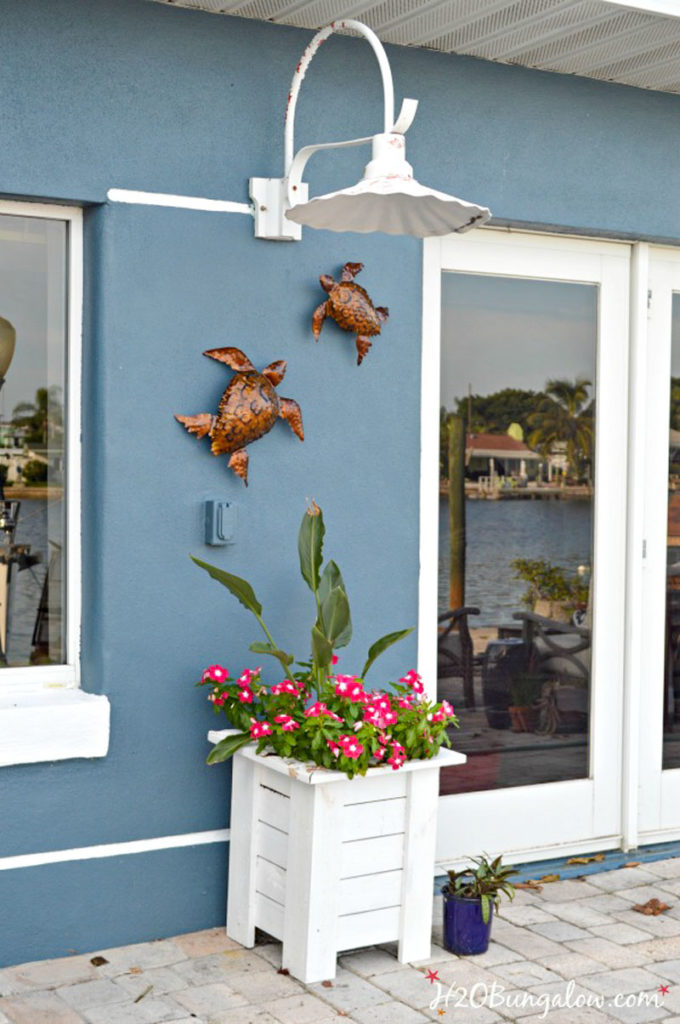 I painted my wood planers white inside and out with a good quality outdoor paint.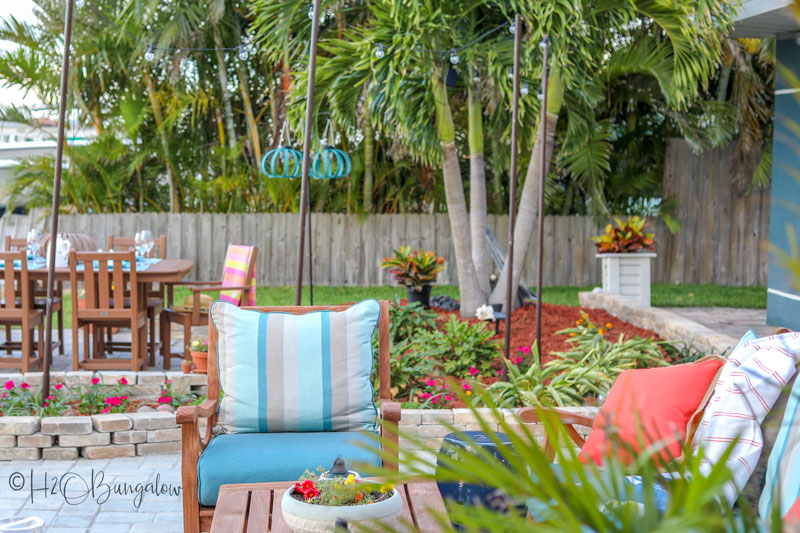 Pin my wooden planter box plans now and share with your friends on Facebook!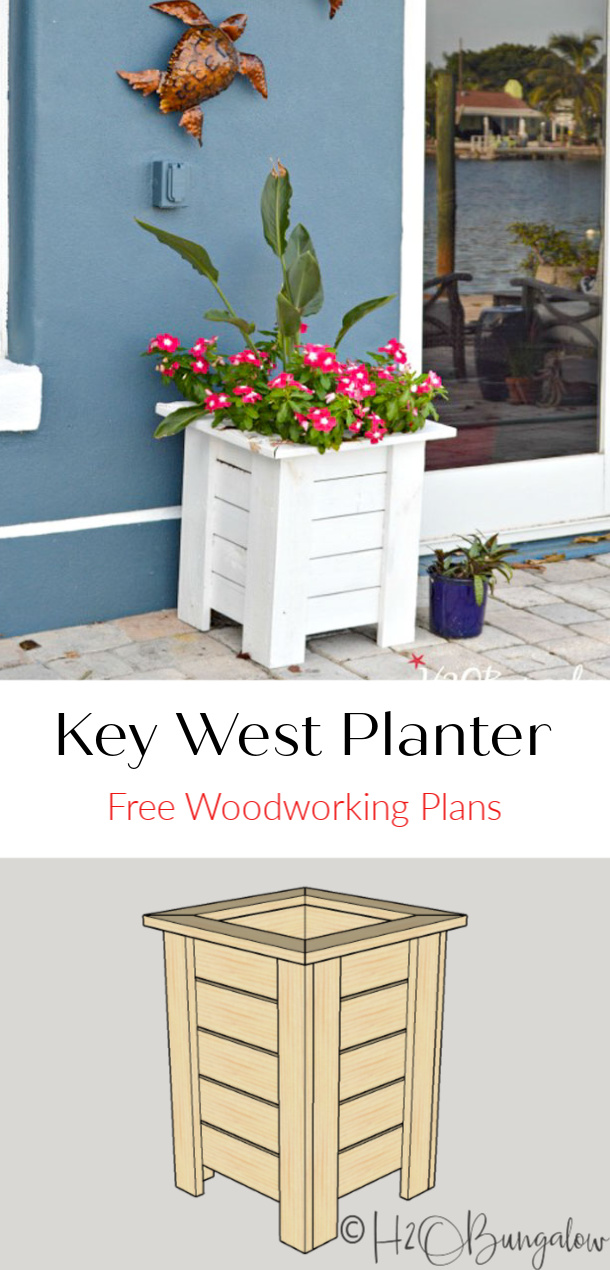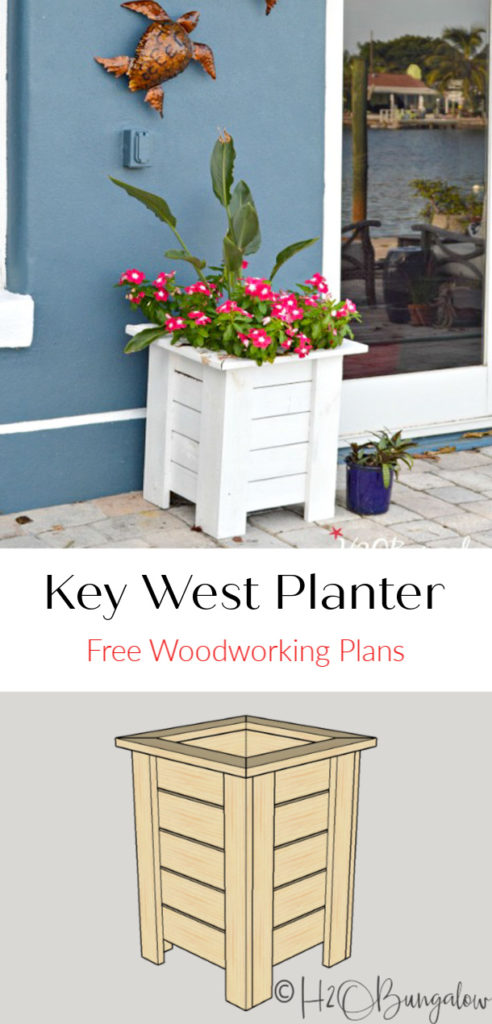 Wood planter ideas
Choose one of two ways to use your planter:
Place a potted plant directly inside of the planter so it's easy to take out or change.
Line the inside of the planter with a heavy-duty plastic shower liner and staple it to the inside. Poke a few holes in the bottom so it can drain.
I lined my planters with heavy duty plastic liners and they've lasted well over the past few years.
Check the USDA Zone Hardiness Map of the US to see what type of plants are best suited for your region.
I love that you can easily modify my free wooden planter box plans to make a taller or wider planter! It doesn't get easier than this!
Where would you put one of these adorable DIY outdoor planters at your home?