I have a cheery spring project and video tutorial to share with you guys today. I made a DIY mid century modern plant stand for my porch. I've been mulling over tiered DIY plant stand ideas lately because I think we need more personality at our entryway. I used leftover wood and pieces from other DIY projects and came up with this design. Even though I made this plant stand for the front porch, the design would be gorgeous done in a natural wood finish inside.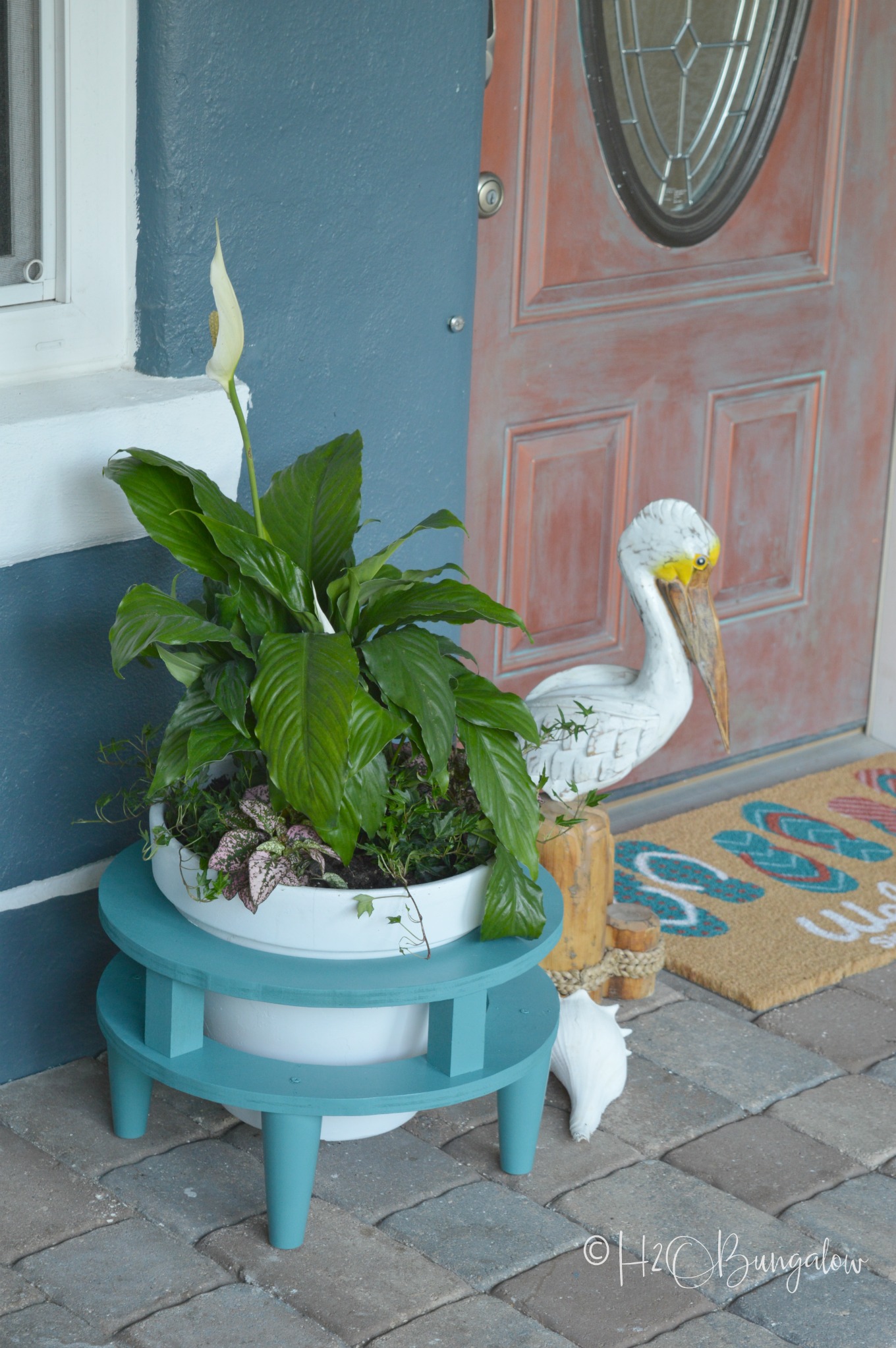 You may have noticed I've been changing things up and moving towards cleaner lines and coastal contemporary in the beach bungalow for the last year or so. Which is why I think this modern planter would perfectly compliment my living area with my Live edge hair pin leg table and the gorgeous media console I built a while ago. Don't you think so too?
Today is also the Power Tool Challenge Team's monthly get together. Our theme was spring porch which is why I made my DIY plant stand a colorful beachy blue to jazz up our entry. Don't forget to scroll down and see what my friends created for their spring porches.
How to Make a DIY Mid Century Modern Plant Stand
I use affiliate links to help you find the supplies I used. You can read my full disclosure policy here.
Supplies I used to make my mid century modern plant stand
2- 18″ square 3/4″ plywood (cut from a 2′ x 4′ sheet of birch plywood)
4 – 6″ tapered legs these are the ones I used
3 1/2″ screws
4 – 4″ x 2″x 2″ blocks (cut from 2″ x 2″ x 24″ piece of wood)
large terra cotta planter
Gorilla non-foaming wood glue
Tools used for this DIY planter
First, take a look at my video which will pretty much show you how I make my wood plant stand. Below I'll share a few tips that didn't make it into the video. I should also say that I wasn't planning on making a video for this project, it was a last minute decision so overlook anything that's not quite perfect!
The wood plant stand is made to hold the terra cotta pot an inch or so under the top lip. If you have another size planter you'd like to make a plant stand for, here's the formula to figure out your dimensions. I'm not a math person by any stretch of the imagination but in simplest terms …
Circumference (outside measurement) x 3.14 = radius
The radius is the distance from your center nail to the outside of the circle you're drawing. Basically 1/2 the distance across the top of your planter. In the video my radius was 6″ on the outside and 4″ on the inside.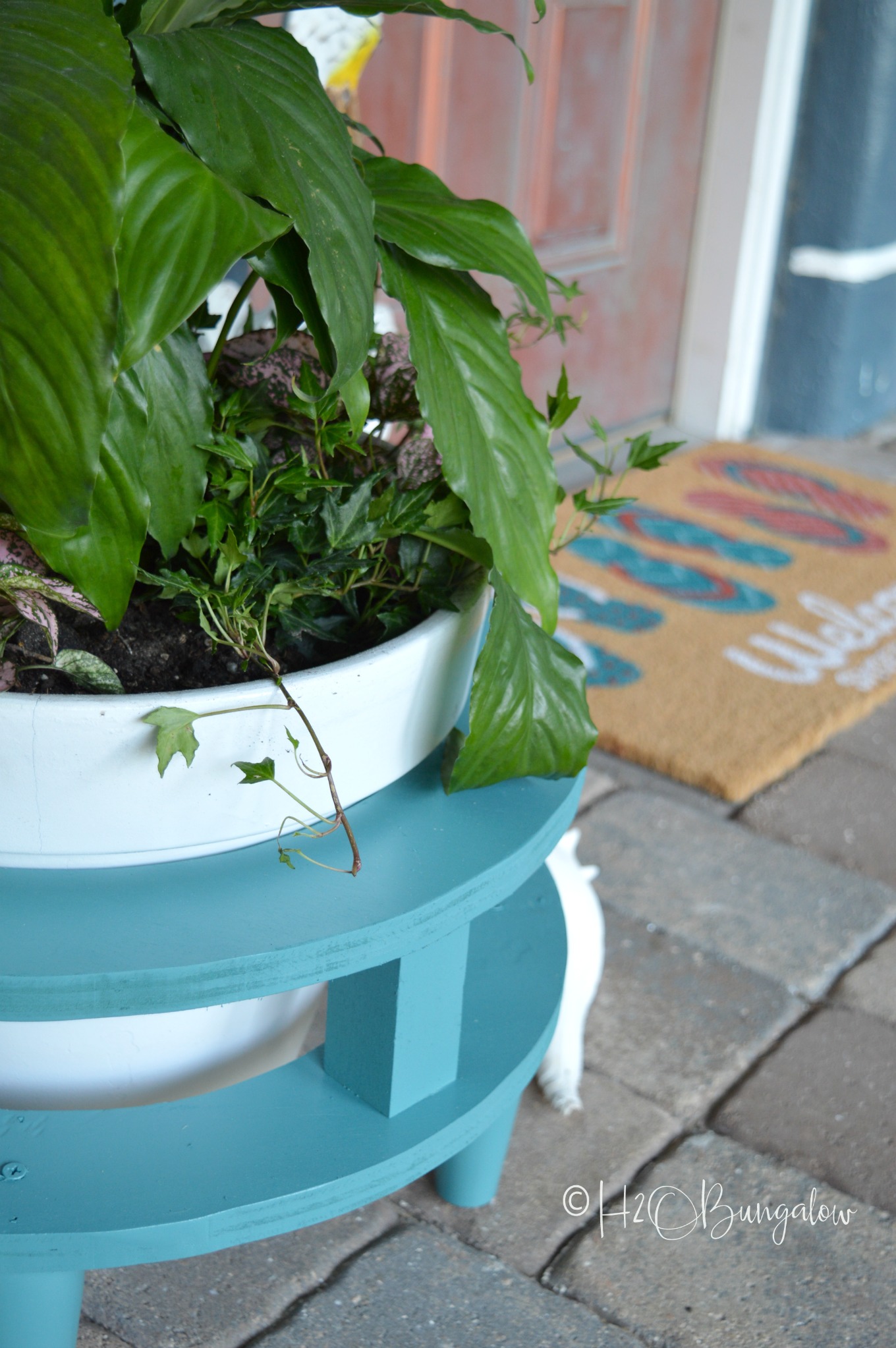 Because it was made from plywood and furniture legs, the planter will do fine as long as it's out of the weather and under the cover of a porch.
As you saw on the video, I used pilot holes where the screws connect into the legs. I wish I'd countersunk the screw heads into the plywood circle. If I built this in a natural wood finish I would definitely do that.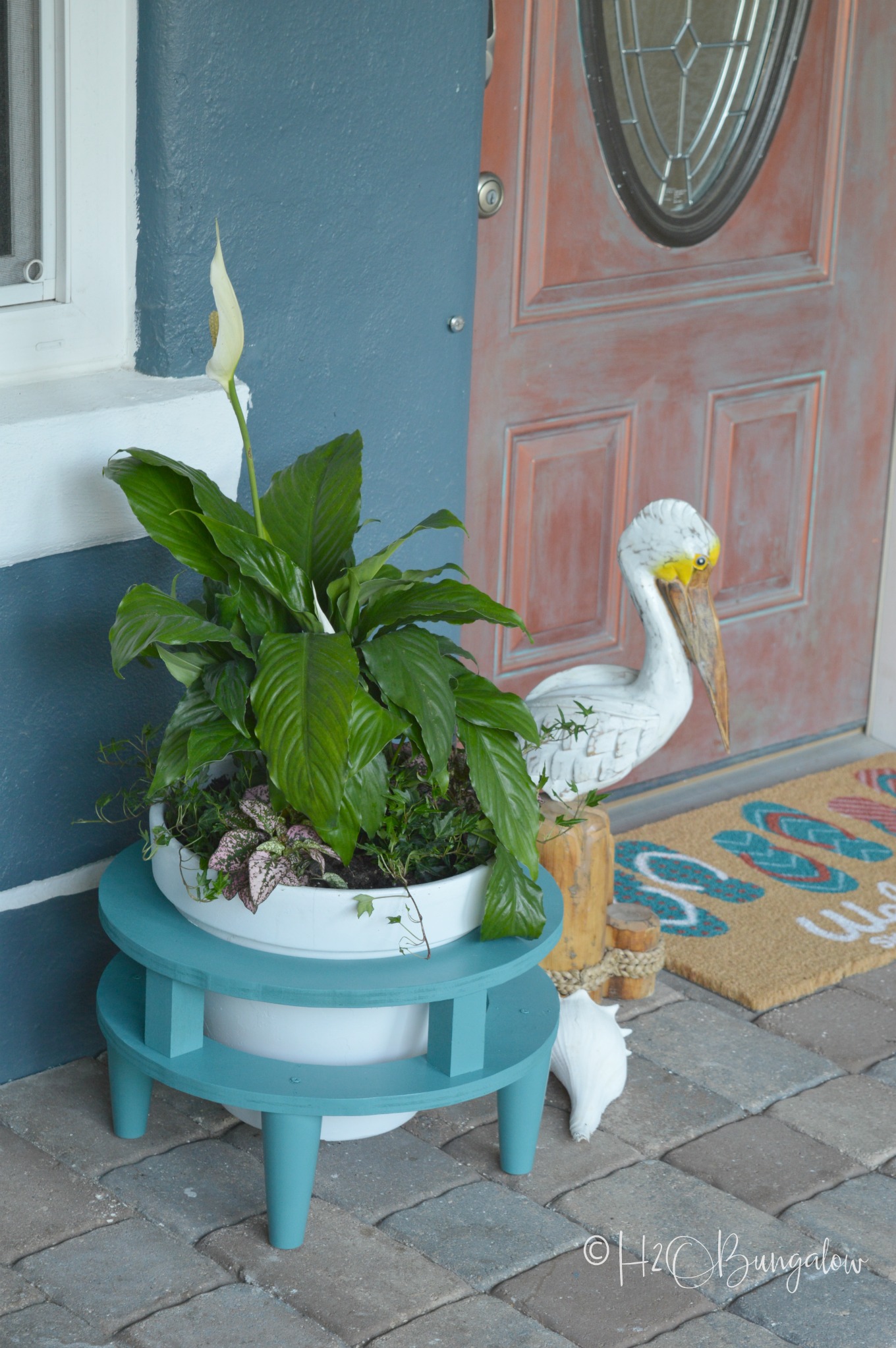 I think it looks great sitting next to Pete the Pelican. Having a pelican like this is a big local thing. You see these everywhere. We have lots of real pelicans here on the west coast of Florida. Our town was originally a fishing village so I think they've just hung out for years waiting for hand-outs.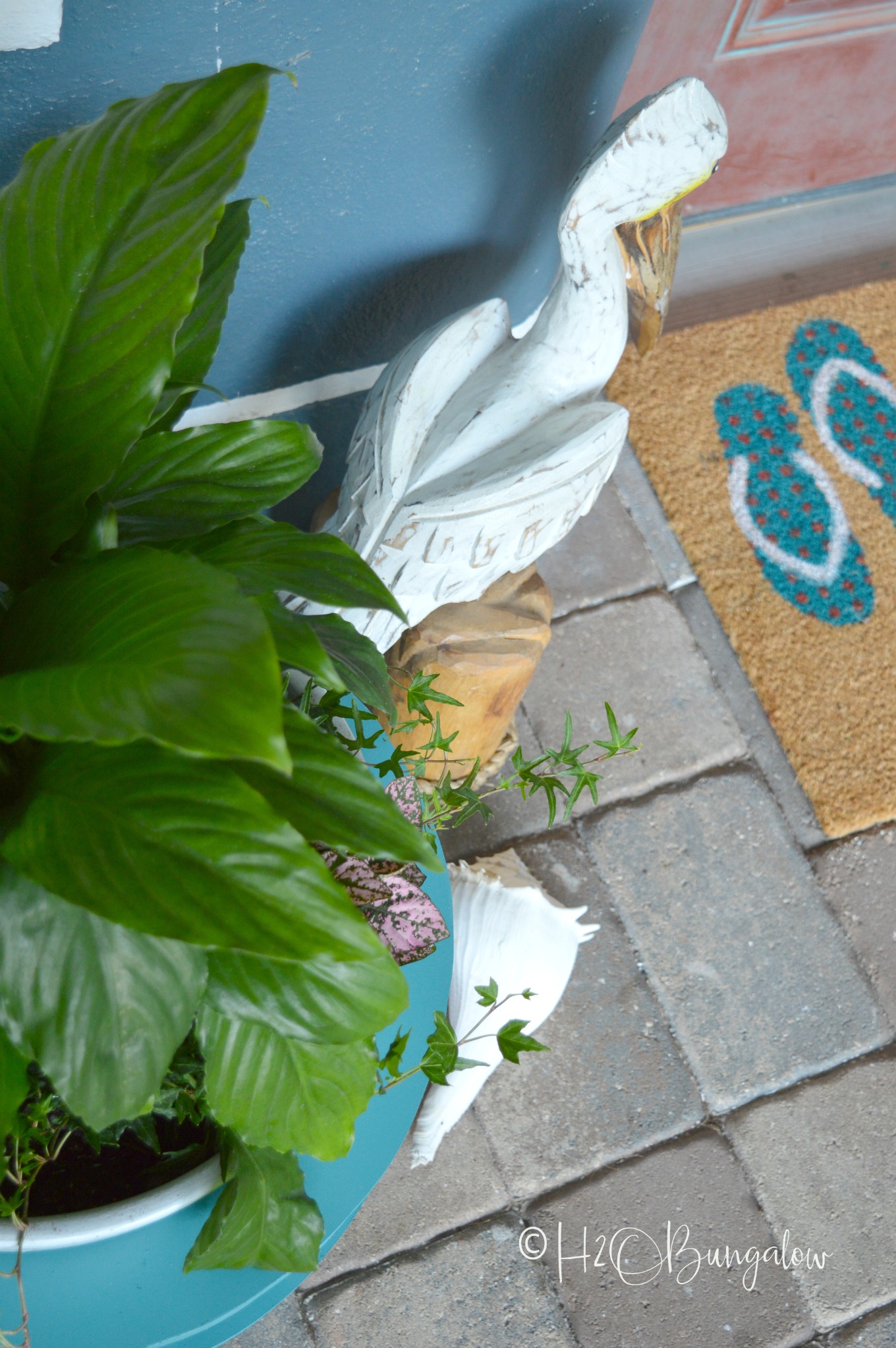 I couldn't resist this colorful mat for the front door. I'm loving these colors for our porch update!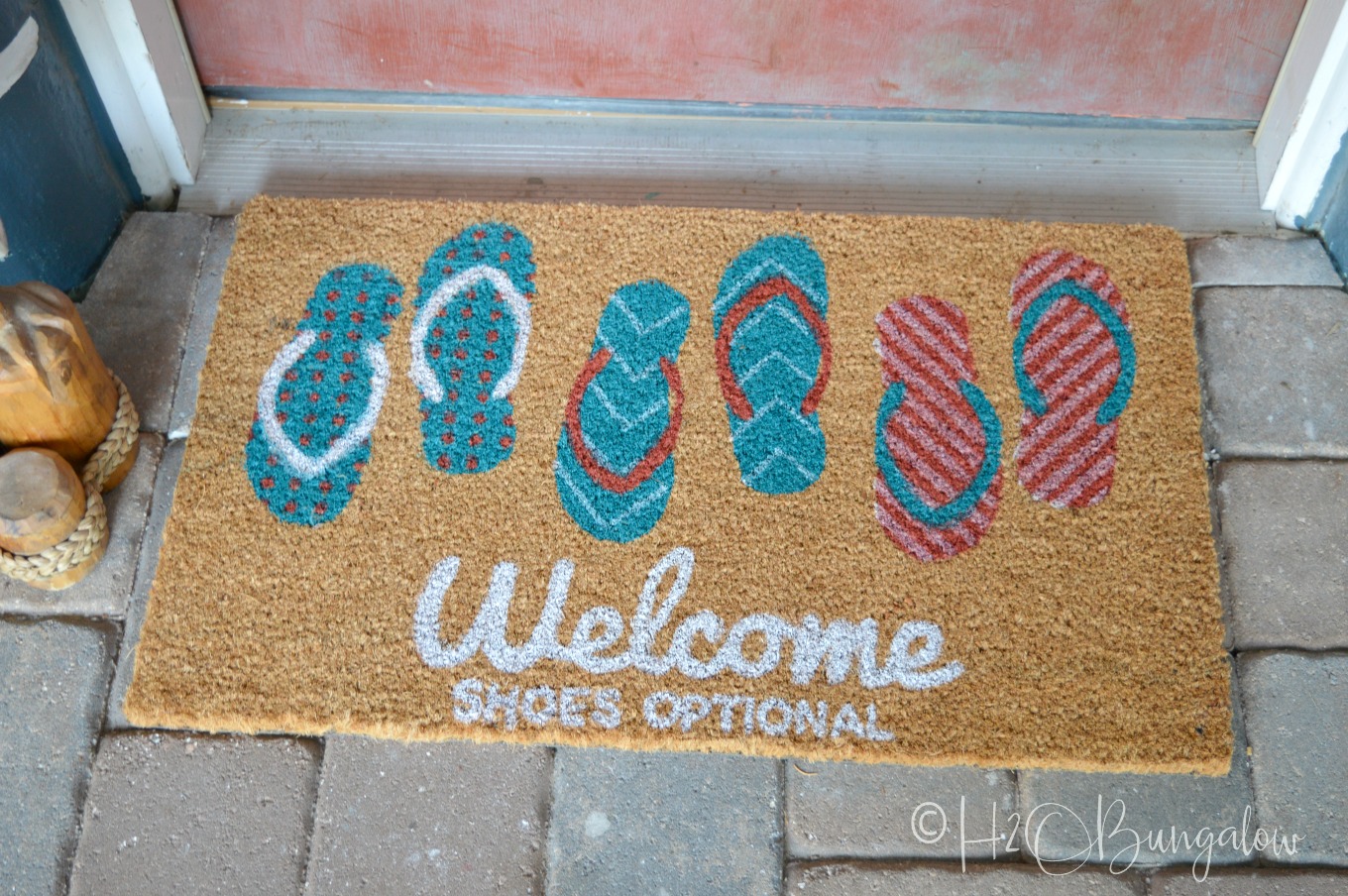 Don't forget to pin this for later and share it on Facebook!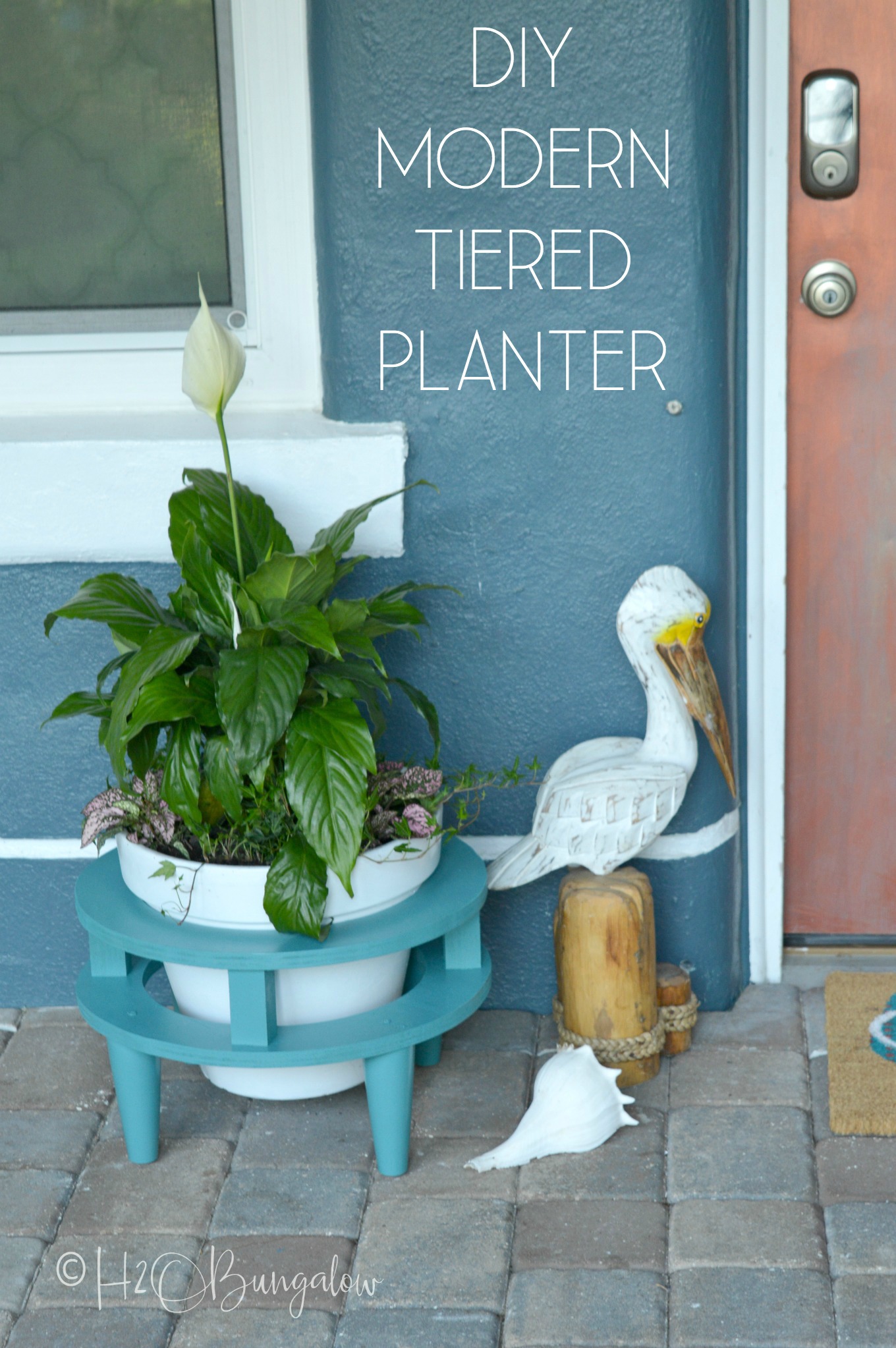 Looking for more fresh ideas for spring? Take a look at what my talented friends whipped up for their spring themed projects.
Just the Woods –DIY Adirondack Chairs
Domestically Speaking – Solar Address Post
The DIY Village – DIY Barnwood Lantern
H2oBungalow – DIY Mid Century Modern Plant Stand – That's me!
The Kim Six Fix – Kitchen Herb Garden
Create and Babble – How to Make Easy Wooden Flowers
My Repurposed Life – Reclaimed Stair Stringer Tiered Plant Stand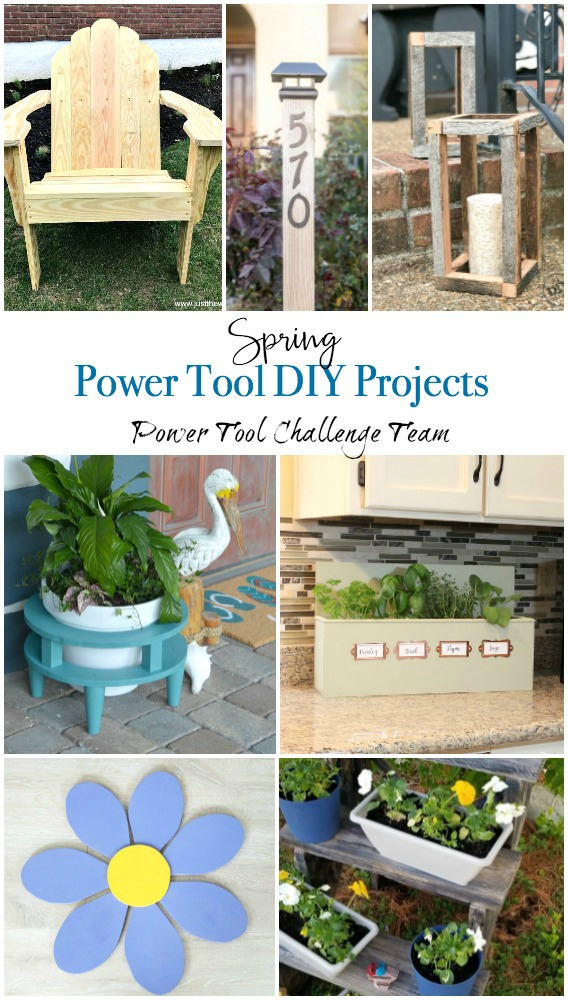 As I was staging the photos for my new DIY mid century modern plant stand for this post I looked around and realized my porch is desperate for some springtime love! Later this week I'll share my springtime curb appeal refresh and how I'm doing it! Is the front of your home in need of a cheery pick me up too? Share the first thing you'd do below in comments!