Today, I'm sharing my 10 spring lawn care tips for a beautiful summer yard. I have a secret to share. You know those yards that look like everything is perfectly in place? Maybe there's one in your neighborhood. You know one, they have lush green grass, blooming flowers and pretty landscaping? Guess what? They weren't always that way. Every yard has a beginning and those yards are just ones that have been nurtured. It's not such a big secret that in order to have a beautiful summer yard, other yard care work needs to be done earlier in the year. These are the spring lawn care tips I follow to make my yard look fabulous in the months ahead.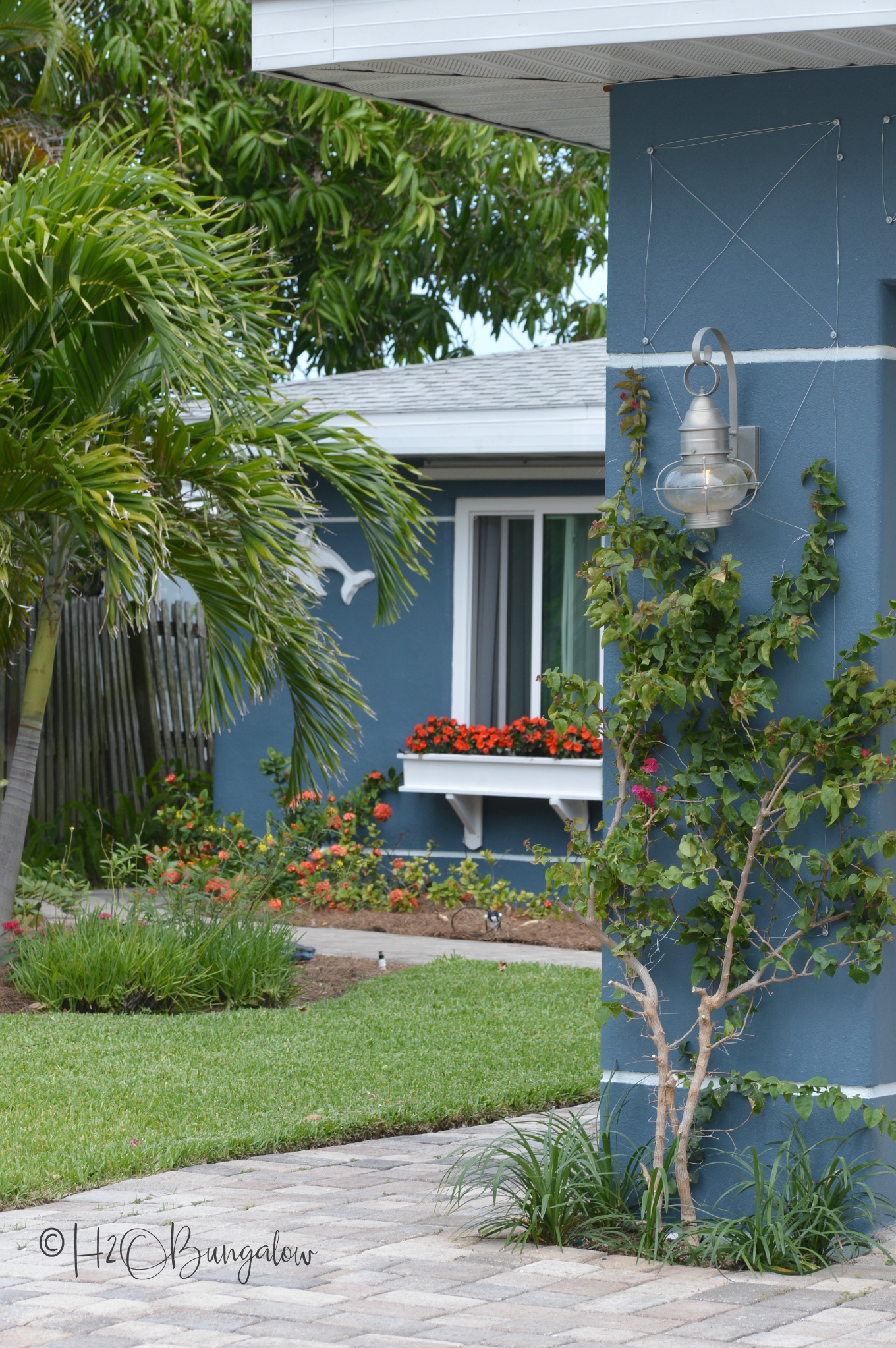 This post is sponsored by Ryobi Power Tools. I've used and loved all my Ryobi products for the past 5 years. They fit well, are durable and I love that the same batteries operate my power tools and yard tools. In other words, I only share the products I love and use myself. Thanks so much for supporting the brands that keep H2OBungalow going. You can see my disclosure policy here.
First, let me re-share what I mentioned earlier my friends, every yard has a beginning. We are living proof and our beginning was U-G-L-Y. Our yard was one gigantic bush when we moved in. It grew almost to the house and up to the street.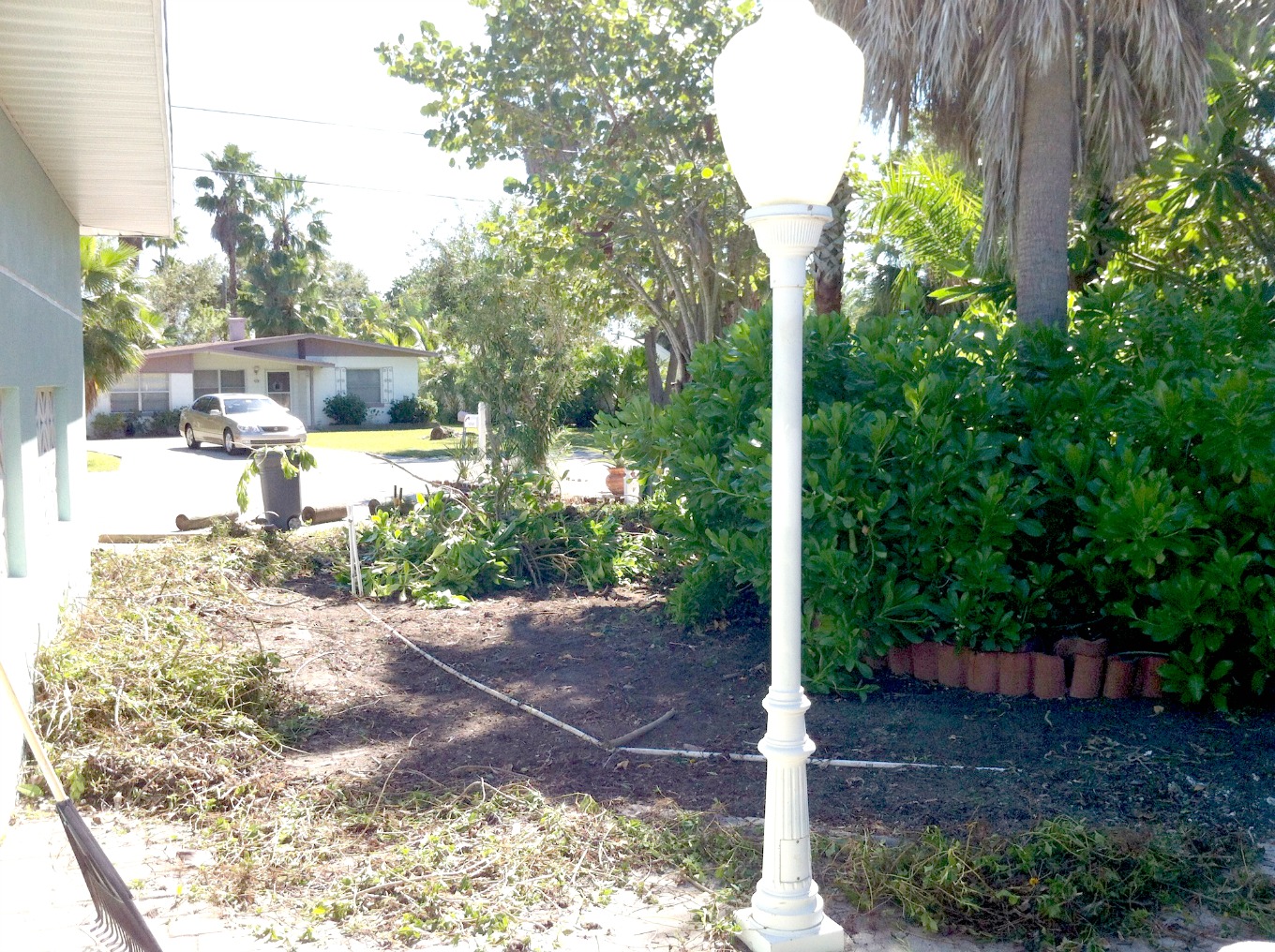 Beautiful yards are nurtured and develop over time.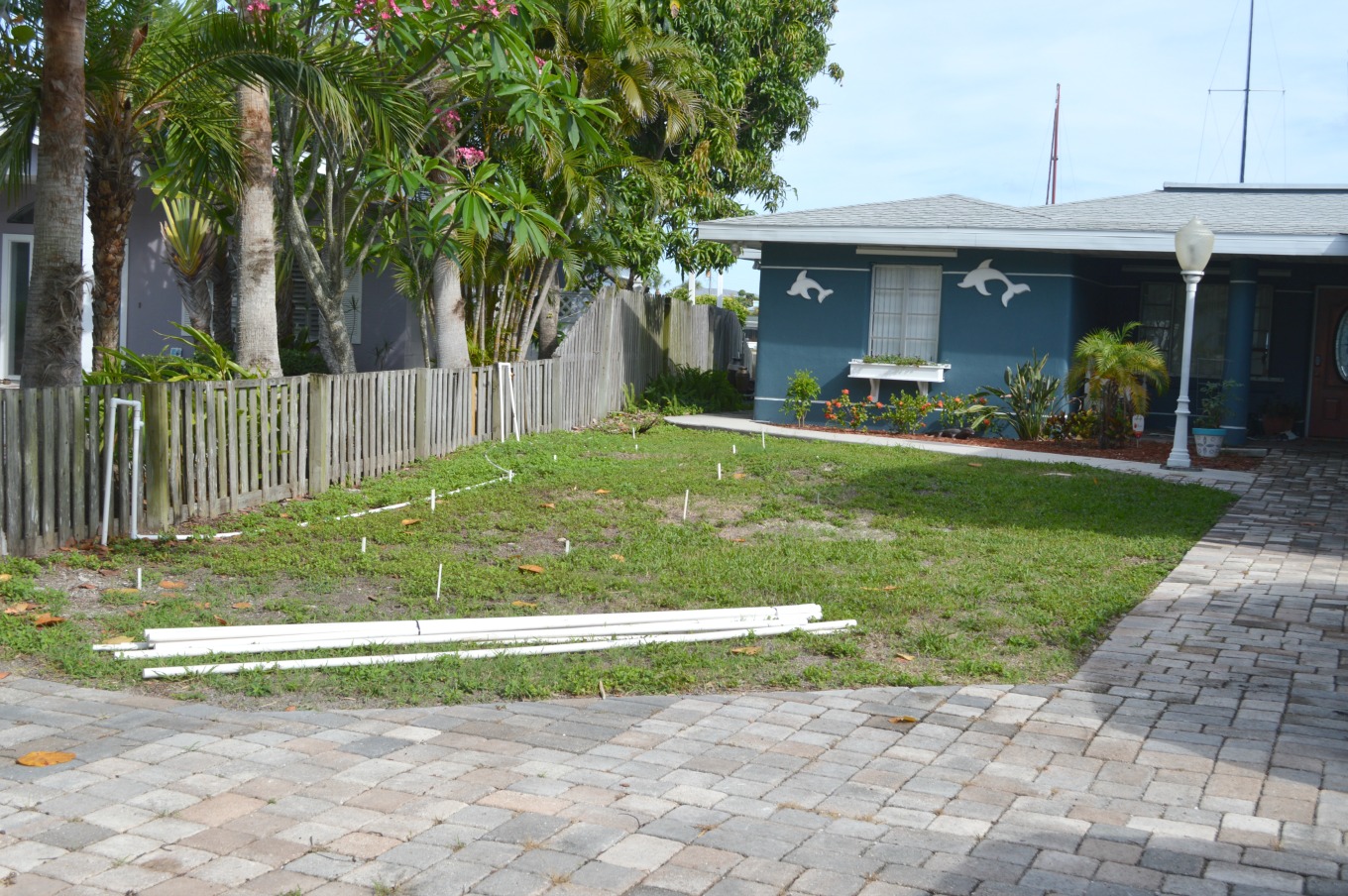 A few years ago I shared my DIY butterfly garden landscaping project with you all. Our yard and gardens have come a long way since then.
Now that I have mature landscaping and a butterfly garden I have routine work that needs to be done to keep it healthy. I'm sharing my garden routine and spring lawn care tips I use to make our yard and garden look neat and tidy as well as pop with vibrant color and lush greens in late spring and the summer. Later this week I'll share a full garden tour with you guys.
10 Spring Lawn Care Tips for a Beautiful Summer Yard
1. Weed before roots establish. Weed now while it's easy and before the growing season allows weeds to establish roots. Favorite tip – It's super easy to weed a garden bed after it rains or a when the bed is well watered. Weeds with roots intact slide easily out of moist dirt.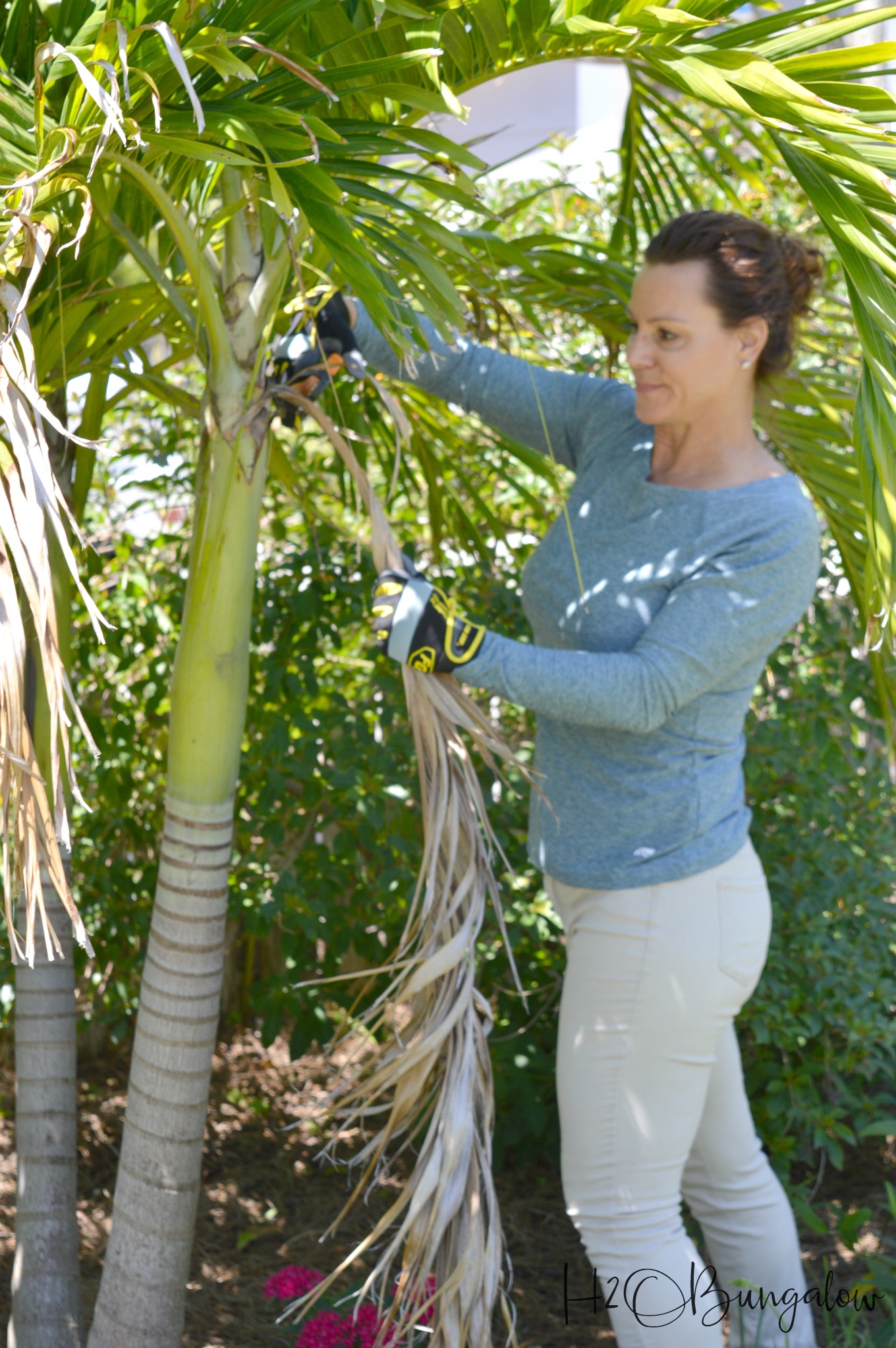 2. Trim and prune trees and bushes. Here in Fl. we can trim trees and bushes almost anytime since we only have about 2 months of winter cold. Early spring, when plants are still dormant, is a great time to get rid of dead and dying branches and shaping greenery for the growing season ahead.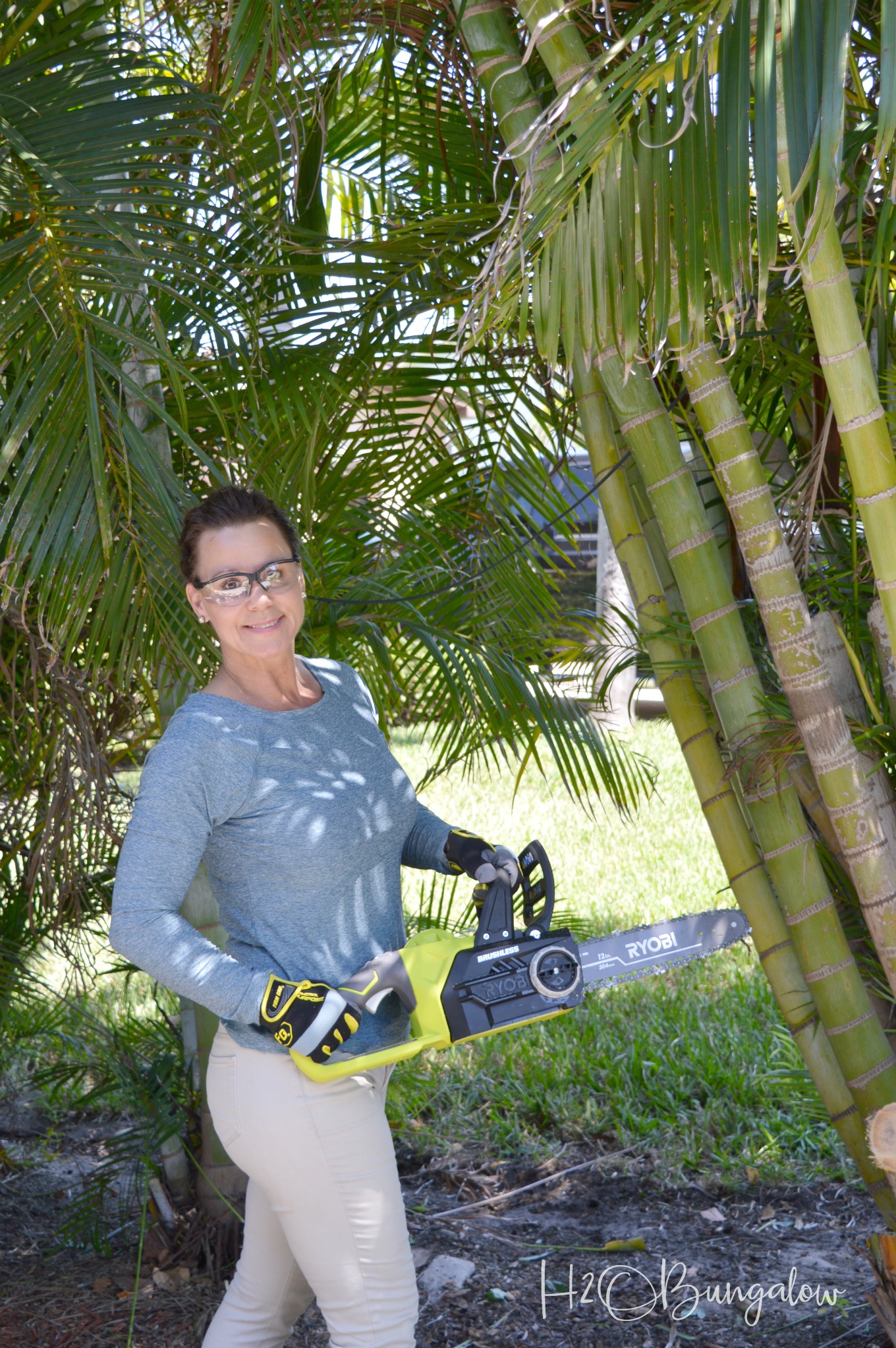 Ryobi 18 Volt Chainsaw
3. Think outside of the box. When it comes to yard-work, many outdoor lawn tools are good for more than one task. Of course our string trimmer is great for edging the garden around the heavy plastic boarder and neatening around hardscape. It's also awesome for getting rid of weeds growing in between pavers and concrete seams. Favorite tip– We don't use chemicals because we live on the water. We use a vinegar, salt and dish soap mixture to kill weeds in between pavers.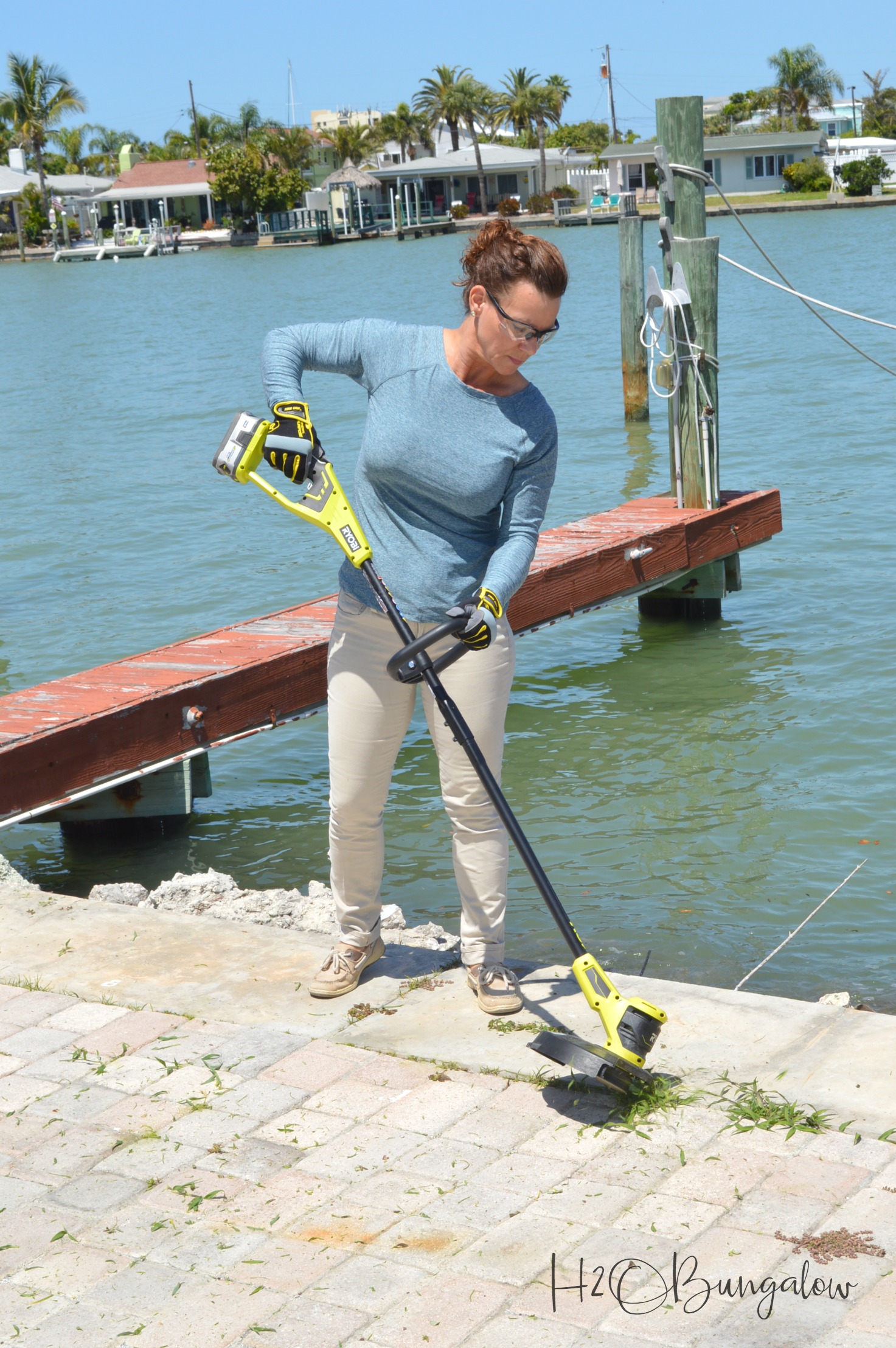 Ryobi 18 Volt String Trimmer
4. Mow before the grass is too long. keep grass healthy by not cutting it too short. Cut the Grass and leave the clippings to nourish the yard. Favorite tip – Sharpen mower blades now. The grass will look better after cutting.
5. Mulch or replenish mulch. Mulch helps conserve water and prevent weeds from growing. Favorite tip– I use pine needle mulch in my garden beds. It doesn't blow away in the wind, is fabulous for controlling weeds and breaks down into the soil and creates nutrient rich soil that plants love. It comes in handy bales.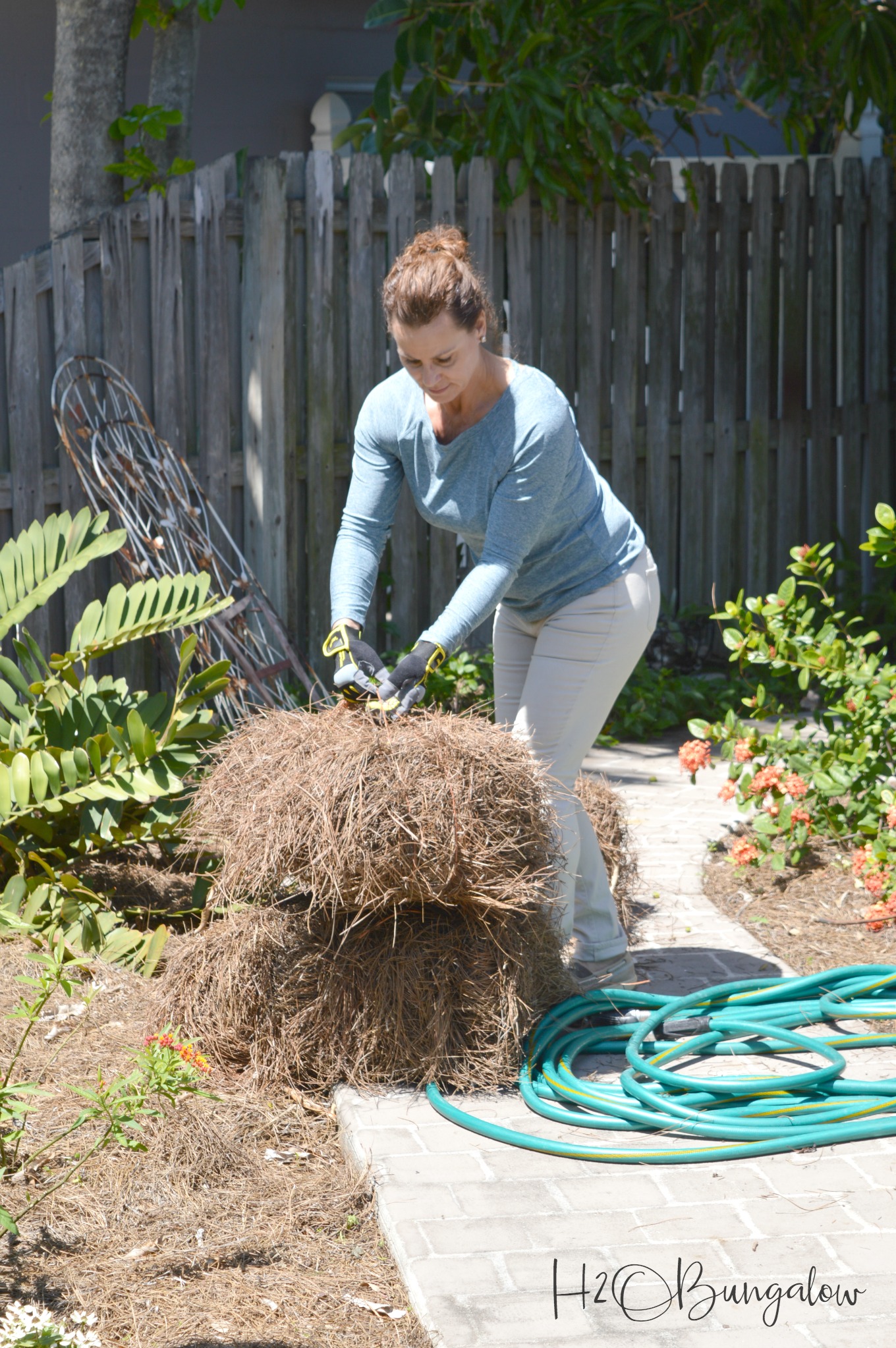 6. Edge for a crisp look. Give lawns and extra tidy appearance by edging driveways and sidewalks. Favorite tip – Make clean edges look extra crisp by using a blower after edging to clean out the space between the grass and concrete.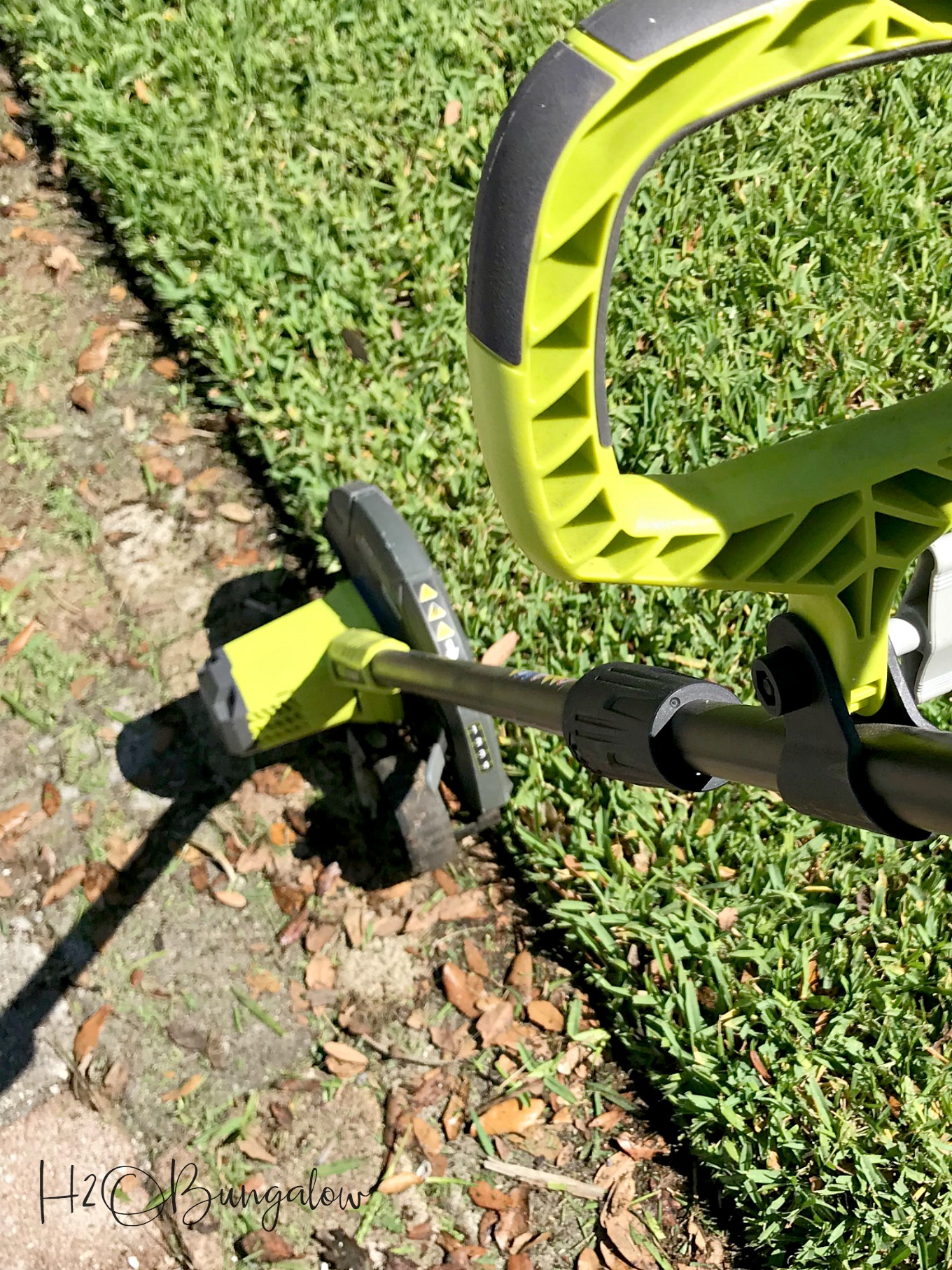 Ryobi 18 Volt Edger
7. Feed your lawn now. Add nutrients now before the growing season. Use a well balanced fertilizer like 10-10-10 or 6-6-6 to help your plants and lawn get off to a good start this growing season. I use Milorganite on my grass and in my gardens because it's organic and easy to apply with a hand spreader. Favorite Tip– I use my Ryobi 18 volt sprayer to apply liquid plant food or my home-made weed control mixture. It saves my arms so I don't have to keep pumping like I would need to on a manual sprayer.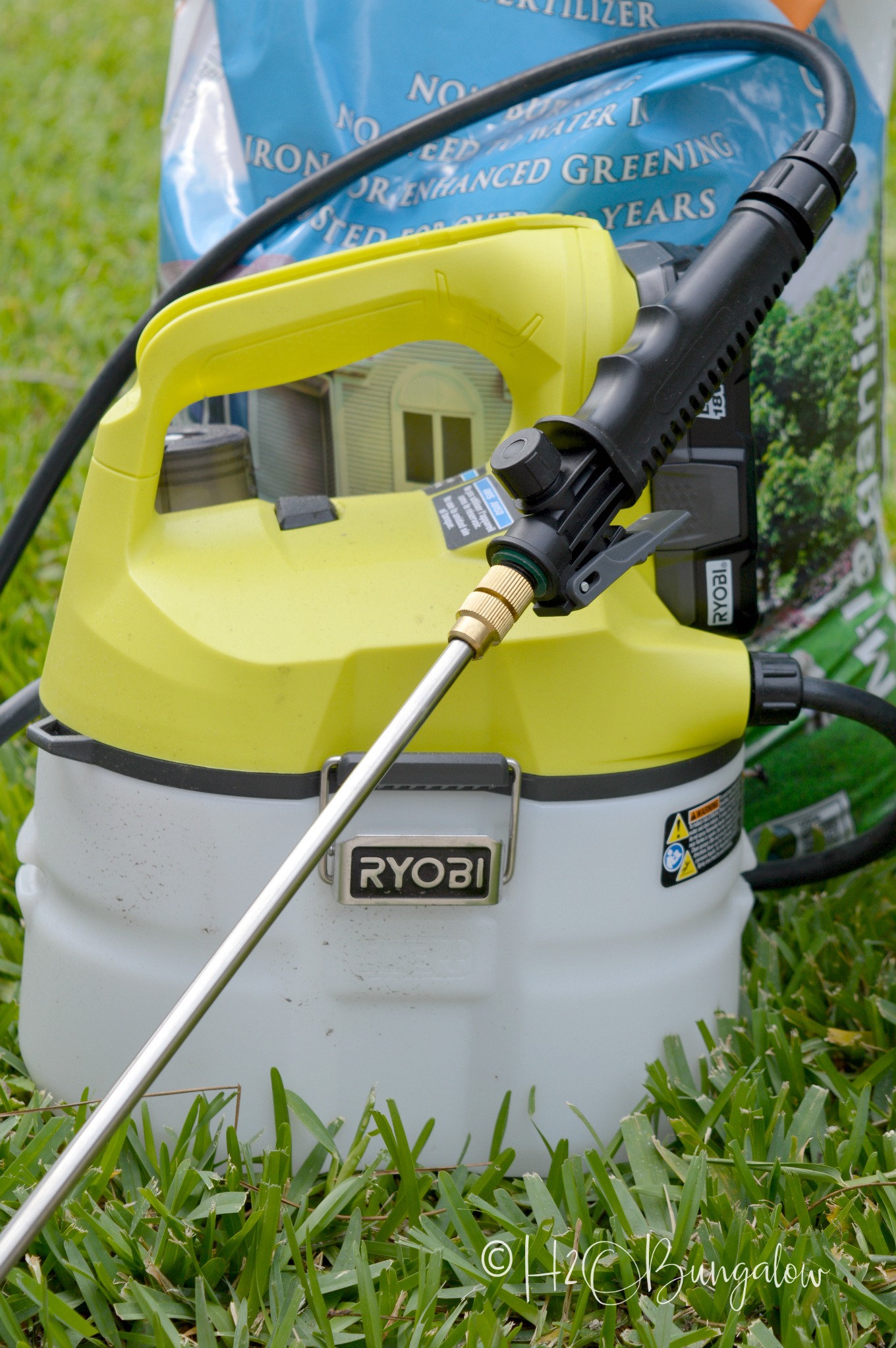 Ryobi 18 Volt Sprayer
8. Clean up your trimmings. Use a blower like a sweeper to collect extra trimming and debris from your clean up. Finish by sweeping into a pile and discarding in the trash. Don't blow yard trimmings into the street or down drains. Especially if you live near water where storm drains flow into open water. Yard trimmings and traces of fertilizer damage the ecosystem. Favorite tip – I use the small battery on my blower to blow just the leaves off of the top of decorative bark and shells in some of our beds. It cleans off the top and leaves the heavier stuff in place.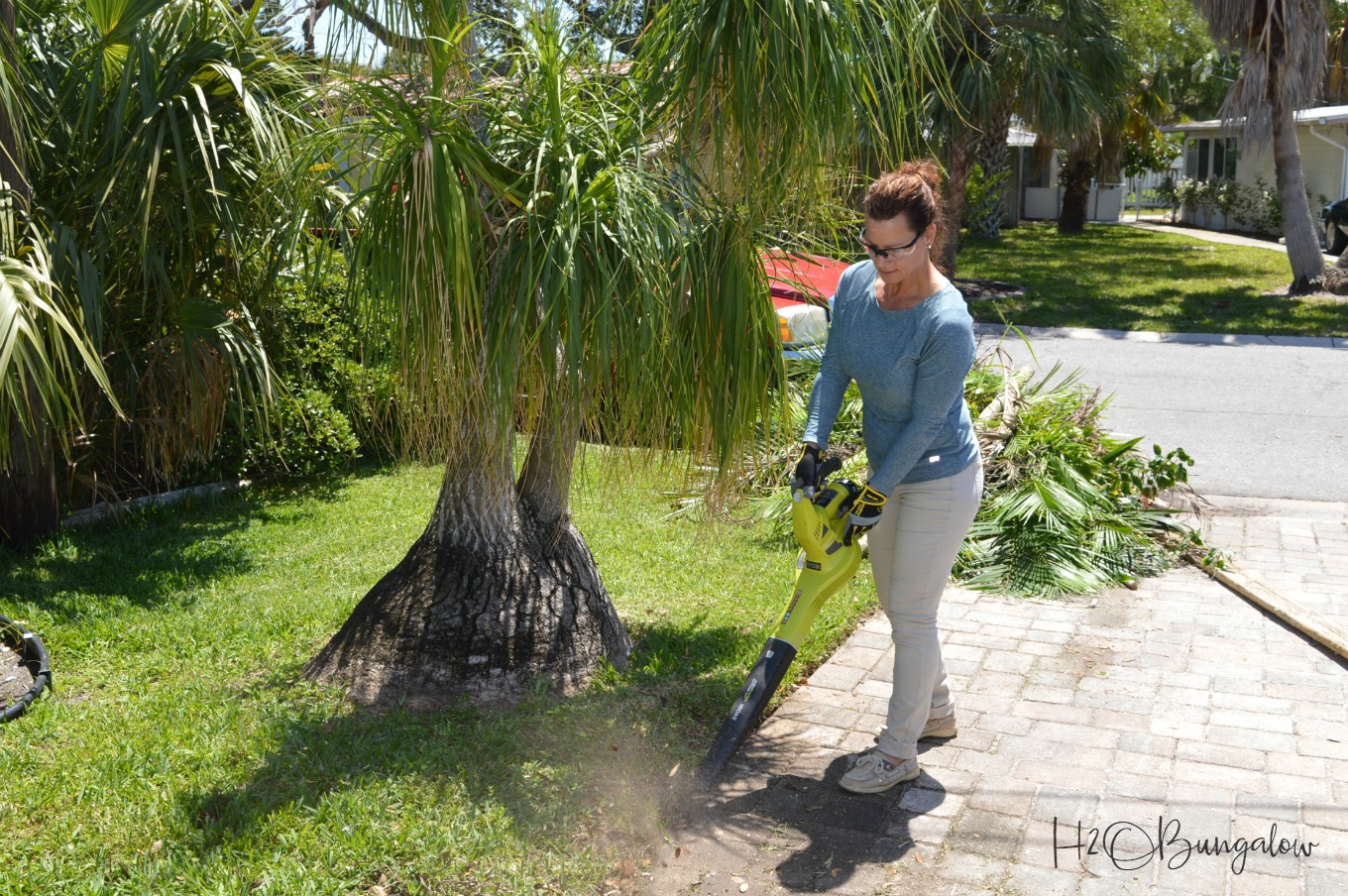 Ryobi 18 Volt Blower
9. Check your water system now. Check for broken sprinkler heads, over-spraying and heads that have been blocked by winter growth. Adjust watering for the season, our grass needs 2″ of water per week. It's better to water deeply and less often.
10. Freshen up– Even perennial plants get tired or leggy after a while. Add fresh interest and color and plant as early as you safely can for spring and summer color. Favorite tip – Pick a color theme in your garden. I choose plants and flowers for my garden that compliment the color of my house paint. Bold oranges, yellows with a few bright pinks are wonderful against the blue-gray of our home.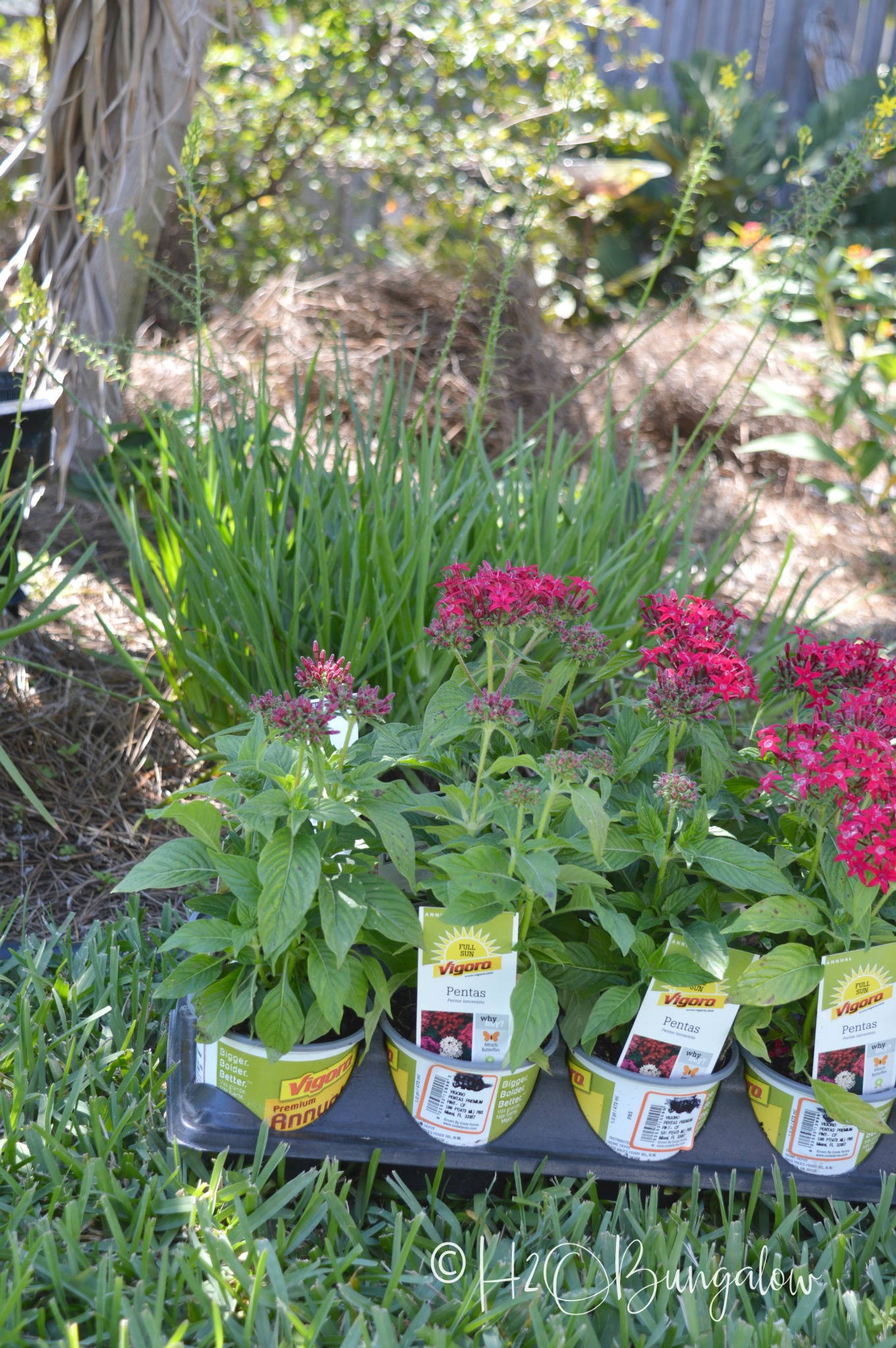 Don't forget to make your entry and walkway interesting and inviting.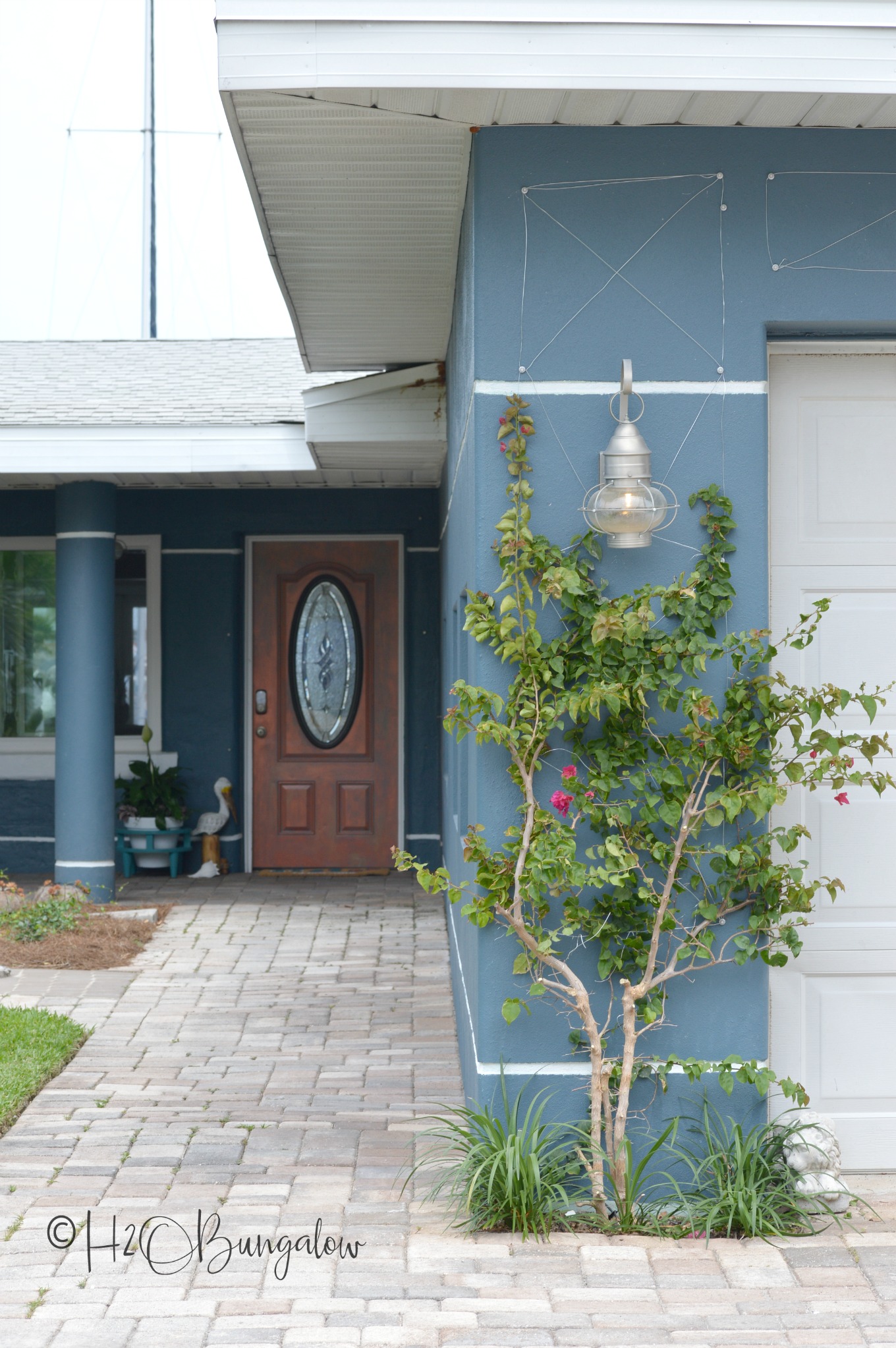 Especially at the front door. I built this Mid-Century Planter Plant Stand last week. I'm loving the coor! Yes, I have a copper door. It's actually faux painted.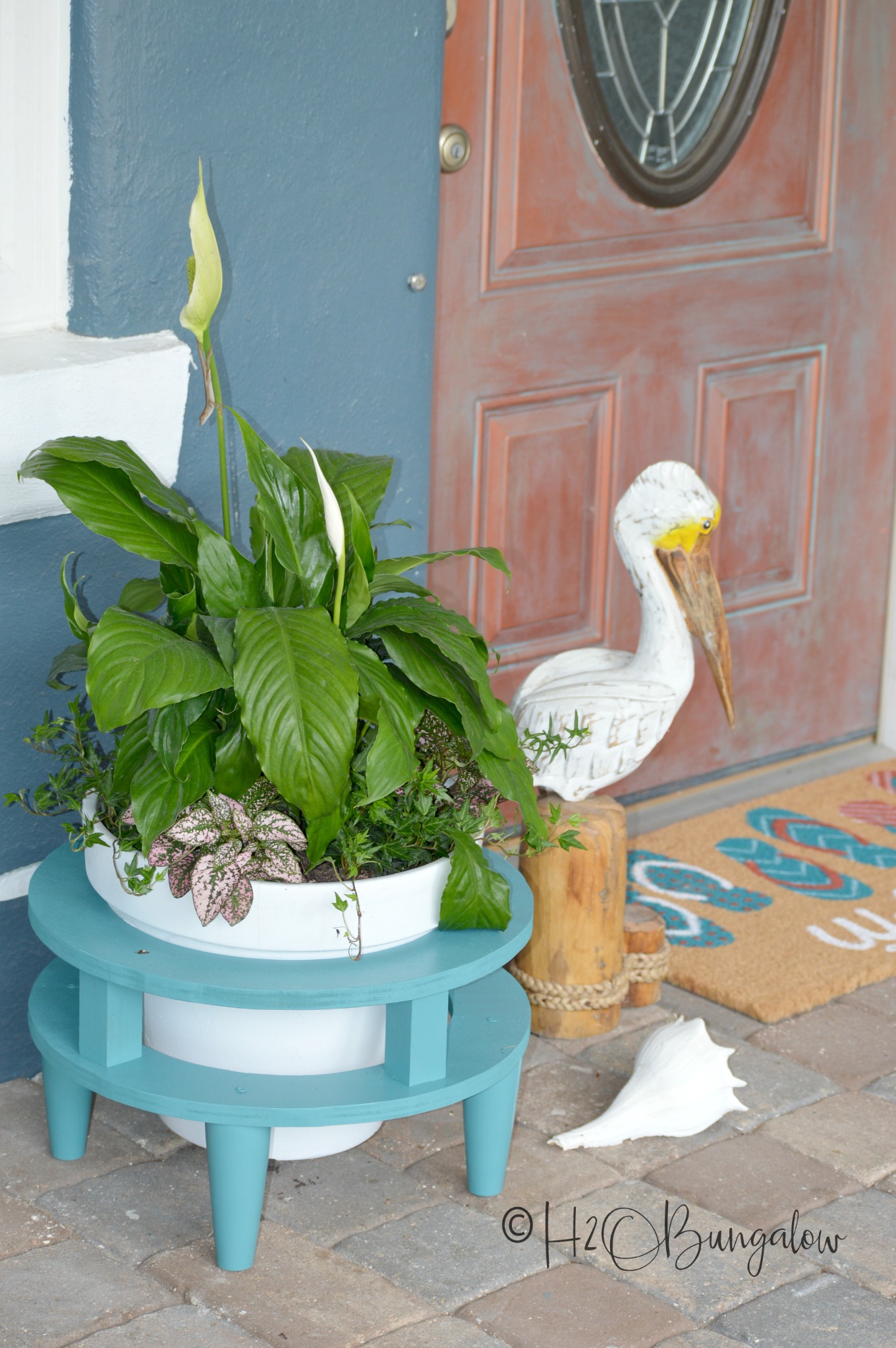 Pin my spring lawn care tips for later!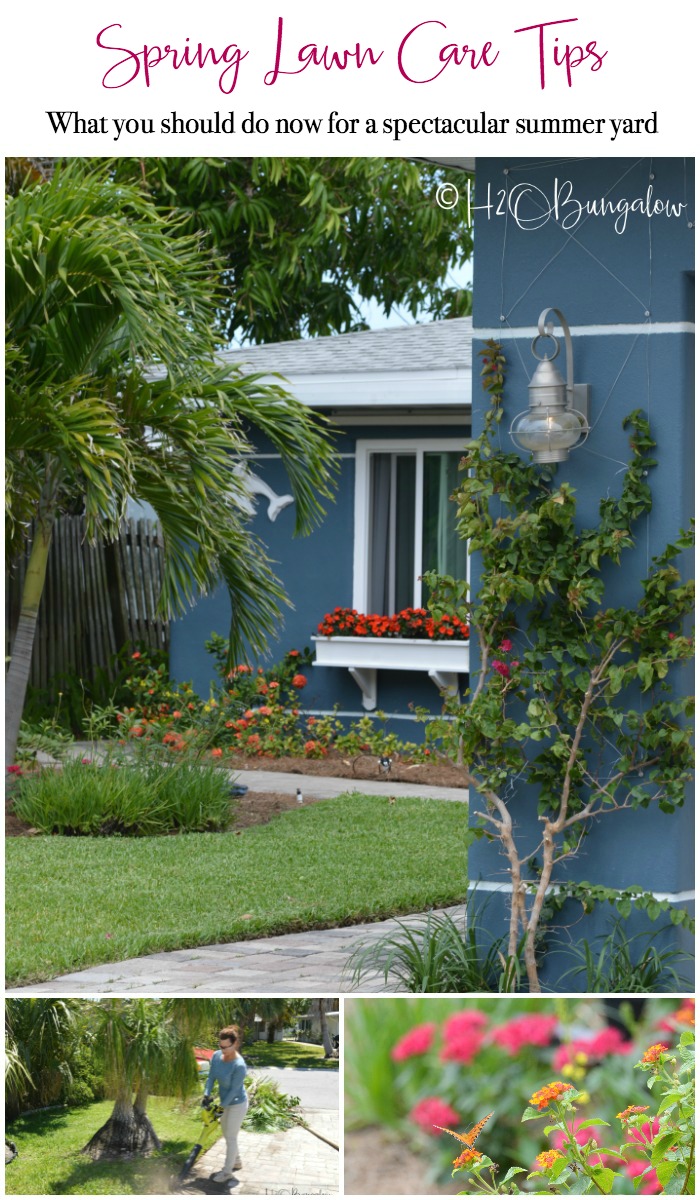 I knew this year I'd have enough of a garden and mature enough landscaping to host a spring tour of my yard. I started working in my yard early this year using the same spring lawn care tips I shared today. I'm excited to share our front yard later this week! The difference from the before pictures and now are dramatically different!
I like sharing the not so pretty beginning pictures of where we started in our own home to hopefully inspire those of you who may have curb appeal or other home challenges. We all start somewhere. While my yard is far from complete in my mind, it's come a long way.
Are you ready to get outside and tackle your own yard to make it the best it can be this season? What's the first project you'd take-on? Share with me below in the comment section below!