I promised you guys a spring garden tour and here it is! Spring has been brutal for many of you this year. I know there's still snow on the ground in many parts of the country and May is only a few days away. Ouch! Don't hate me for saying, but it's been a spectacular spring season here on the west coast of Florida. My flowers are full of blooms, the greenery is lush an healthy and my butterfly garden has an abundance of Monarch butterflies this year too. Without further ado, let's get started.
Our Florida home isn't fancy or large. It's been a project house from the day we moved in. I realized a few weeks ago that I hadn't shared many outdoor photos of our place. Quite honestly, I was a bit embarrassed that it didn't look so good. After several years of hard work I think it may have turned a corner.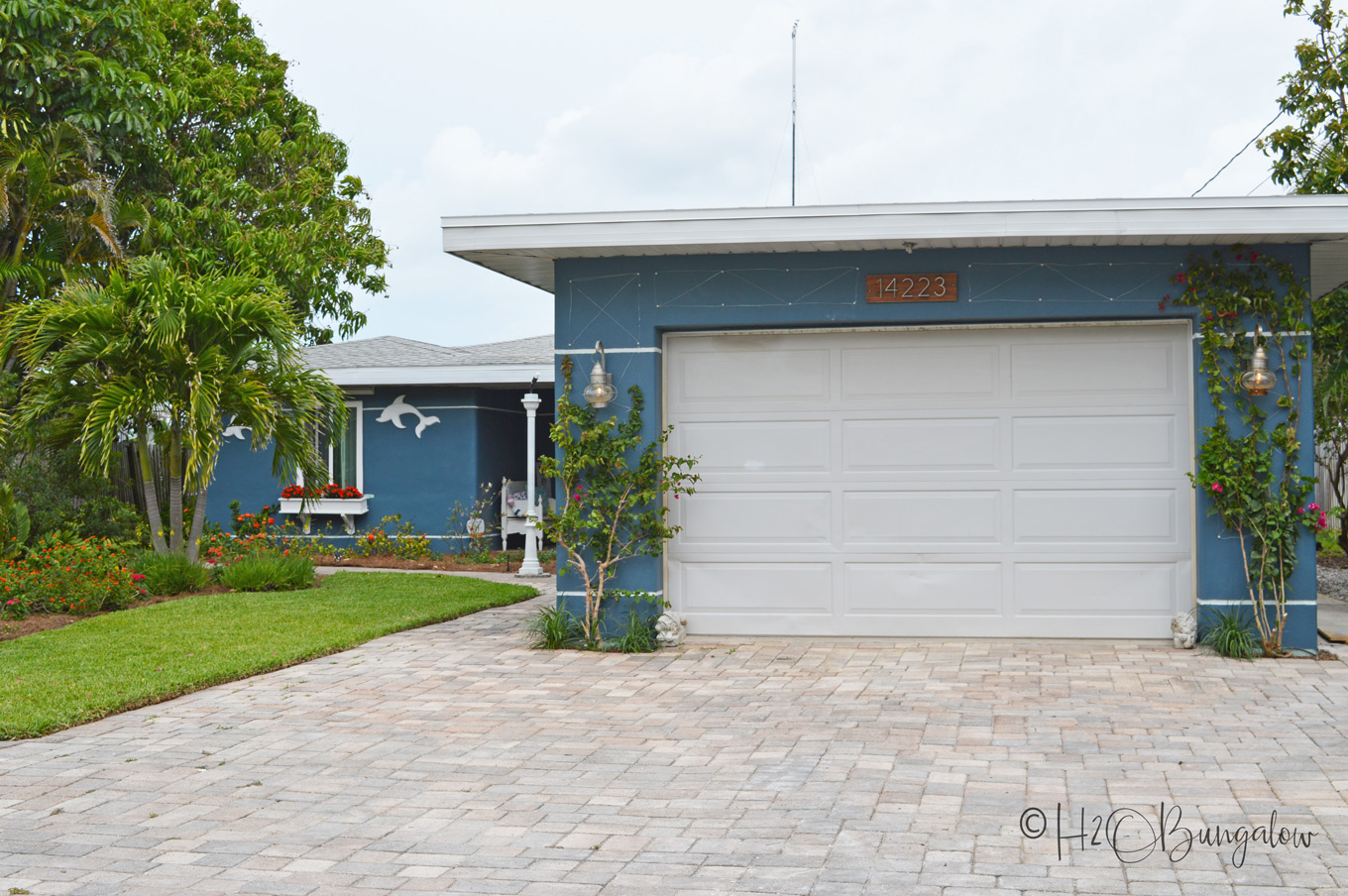 I use affiliate links to help you find the supplies I used. You can read my full disclosure policy here.
Earlier this week I shared several pictures of what our yard looked like when we moved in. You can see them in my 10 Spring Lawn Care Tips for a Beautiful Summer Yard.
I'll point out a few of my favorite DIY projects along the way.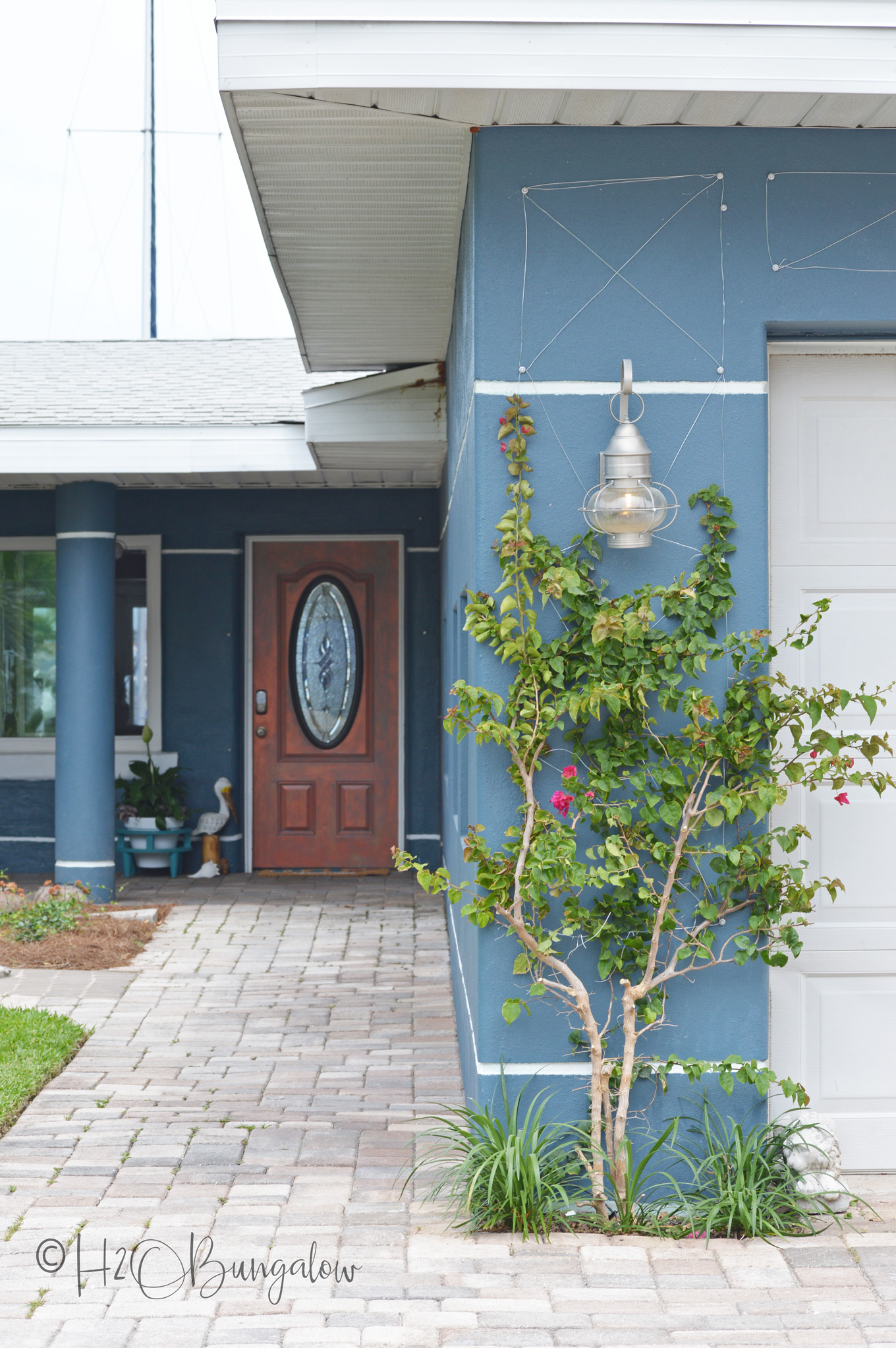 I took out a few pavers and added bougainvillea to the front of the garage a while ago. I shared a DIY Self Watering Planter Tutorial on how I did it. I'm a huge fan of work less when possible. 🙂
The garage is looking much better than it used to. I love these outdoor lanterns, they have light sensors built in and turn themselves on and off each night. I recently found these LED light bulbs that flicker like a gas light and have been dying to order them for the lanterns. They'd look amazing!
I still love my modern Horizontal Wood Slat Address Plaque project on the font of the house.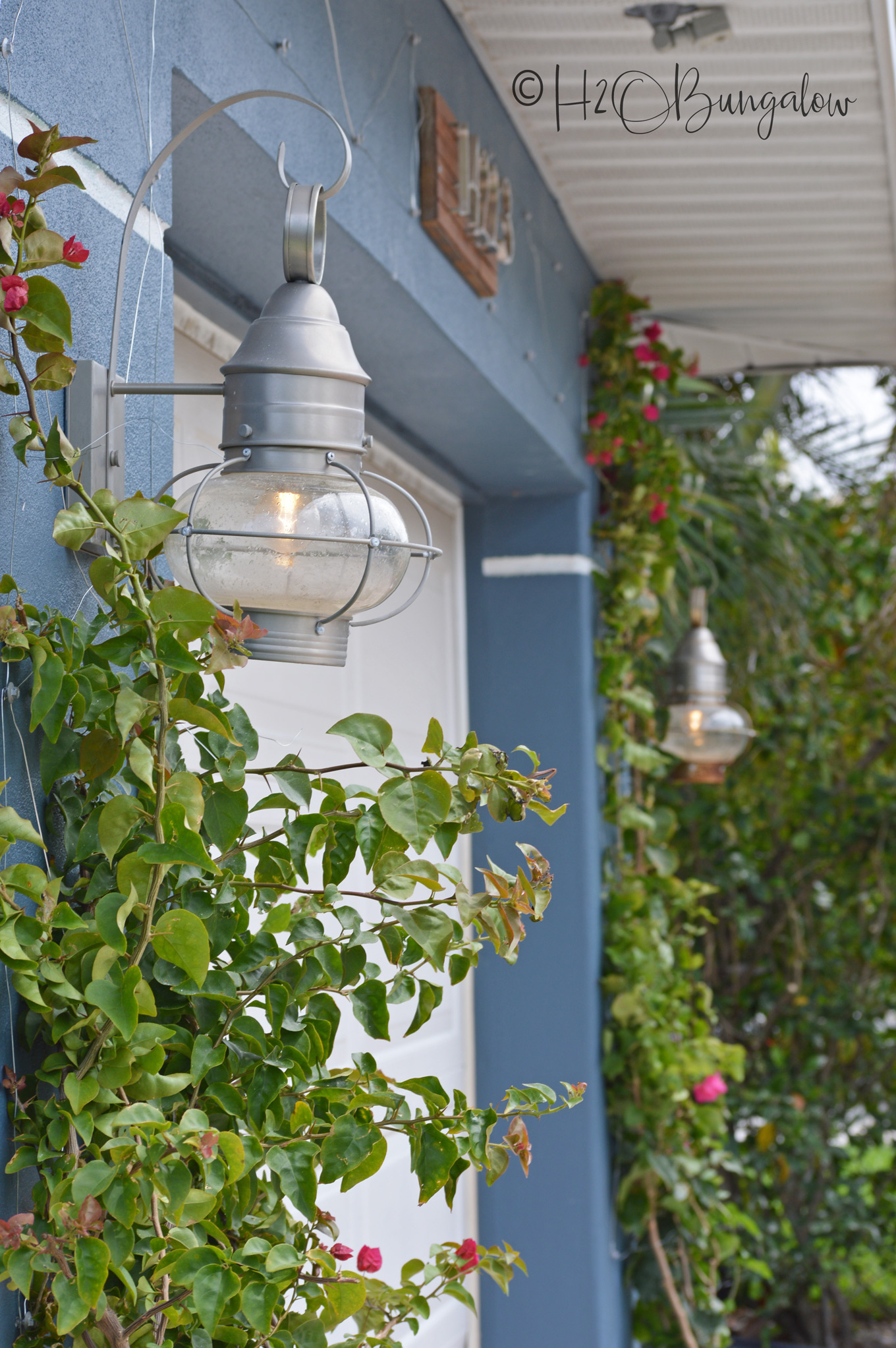 Like I mentioned in my tips on yard-care post , I choose flowers colors that compliment my house color. I have lots of vibrant orange from our ixora bushes, New Guinea impatiens, milkweed and lantana. What's not blooming yet are the Gold Flame Honeysuckle bushes in the back of the garden. There's a splattering of yellow color and some deep pinks from the pentas.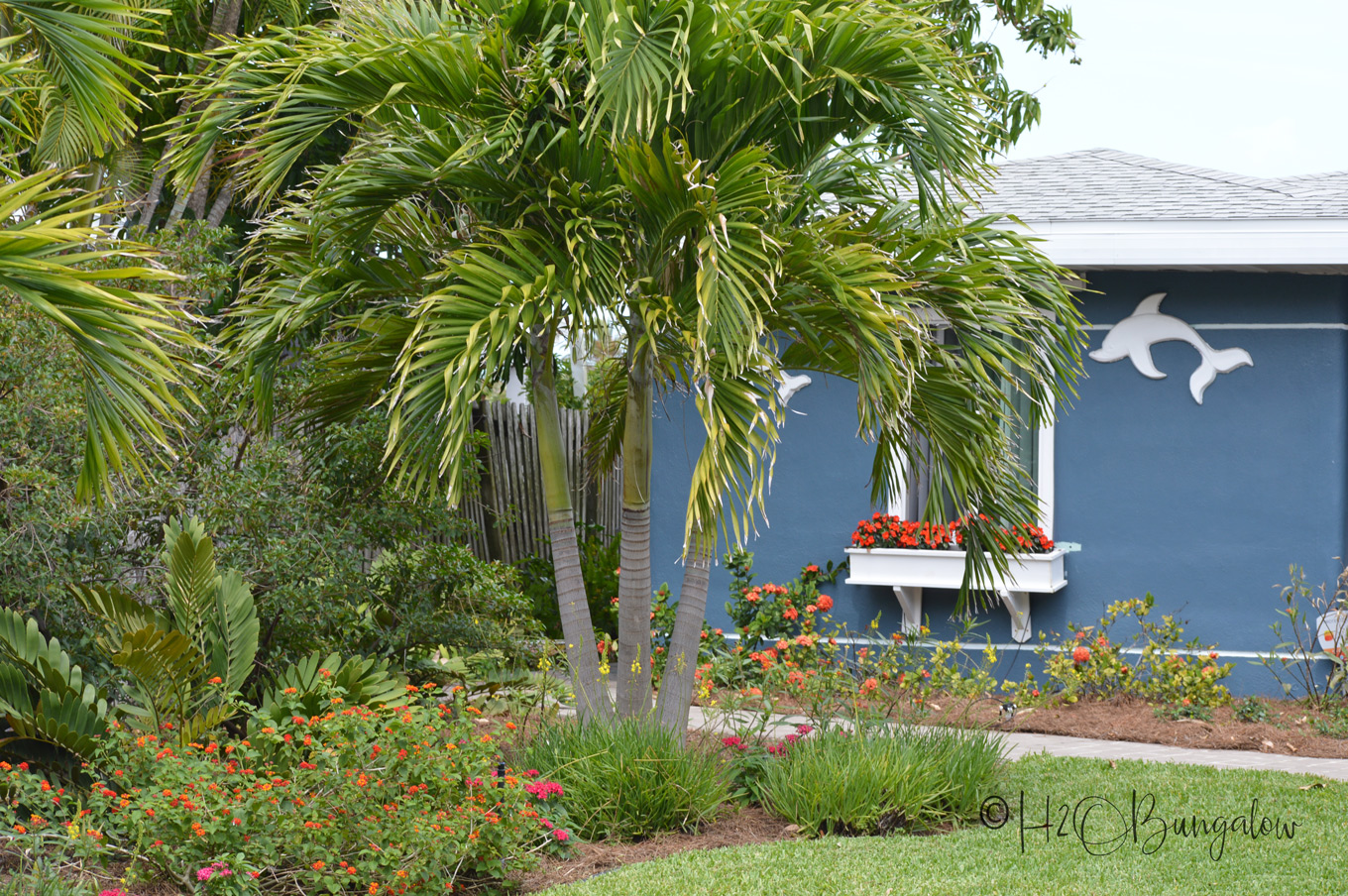 I choose as many Florida native plants in my color palette as possible. But also for another reason. I made a DIY butterfly garden. A few years ago, I had this garden certified as a wildlife habitat and a pollinator garden. It was easy to do. Monarchs and bees are on the decline and our little patch of a yard supports them all.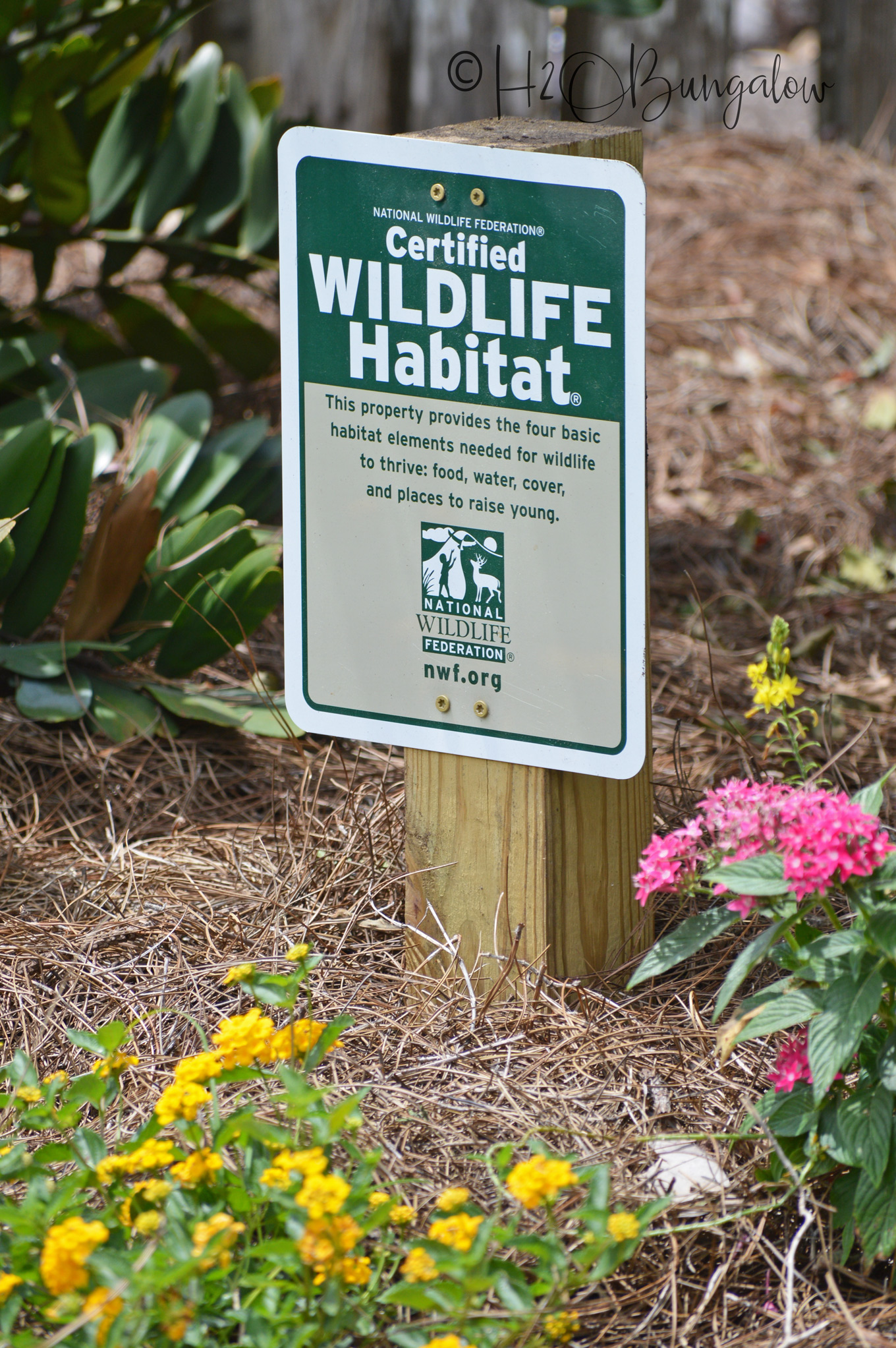 All of my plants are perennial, at least here in Florida. I keep the garden full of milkweed which the monarchs love eating. When the leaves are gone from the milkweed, I know the butterflies are eating well. Milkweed reseeds itself all over the garden and I let it grow wherever it wants to.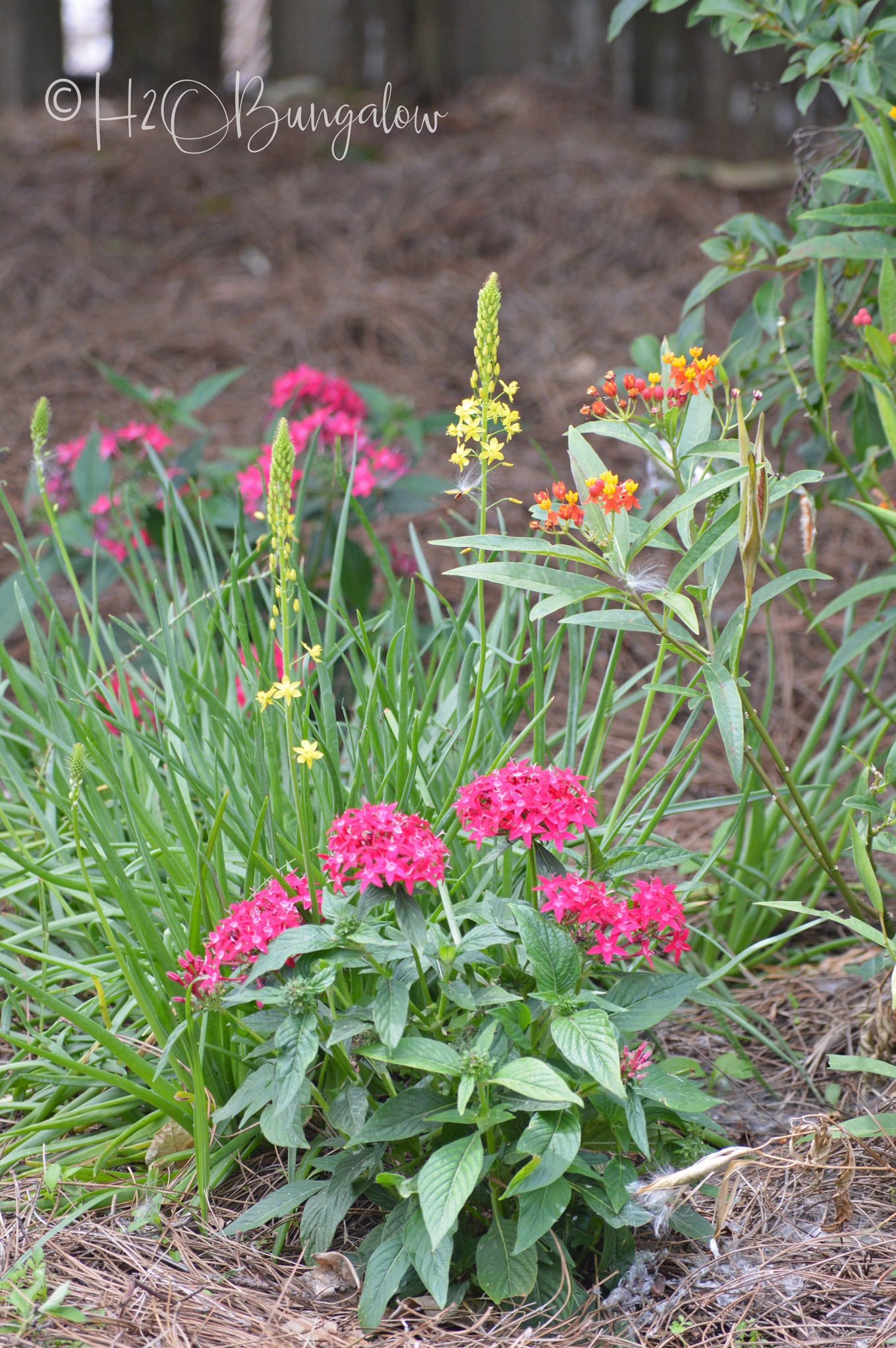 My front yard is almost always filled with butterflies. I find myself standing inside at the front window watching butterflies often. It's kind of like watch fish in a fish tank. Really relaxing and you don't realize how long you've been standing there!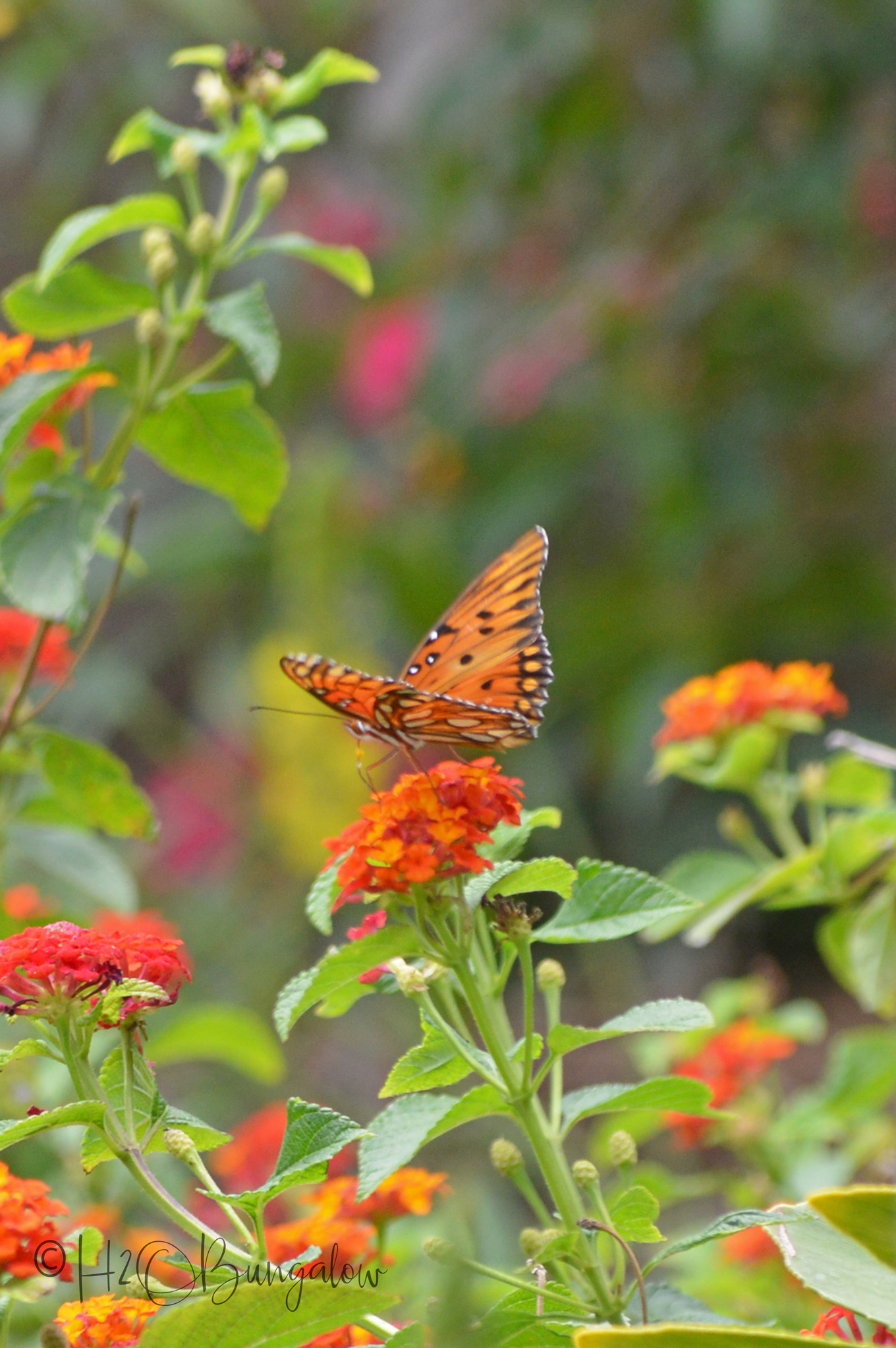 I love night-time outdoor lighting. I think it makes a yard look upscale. Besides the pretty lanterns on the front of the garage, I use these solar spotlights to up-light the two palms in our garden at night. At $20 for two it was the best money I've spent and they've lasted several years.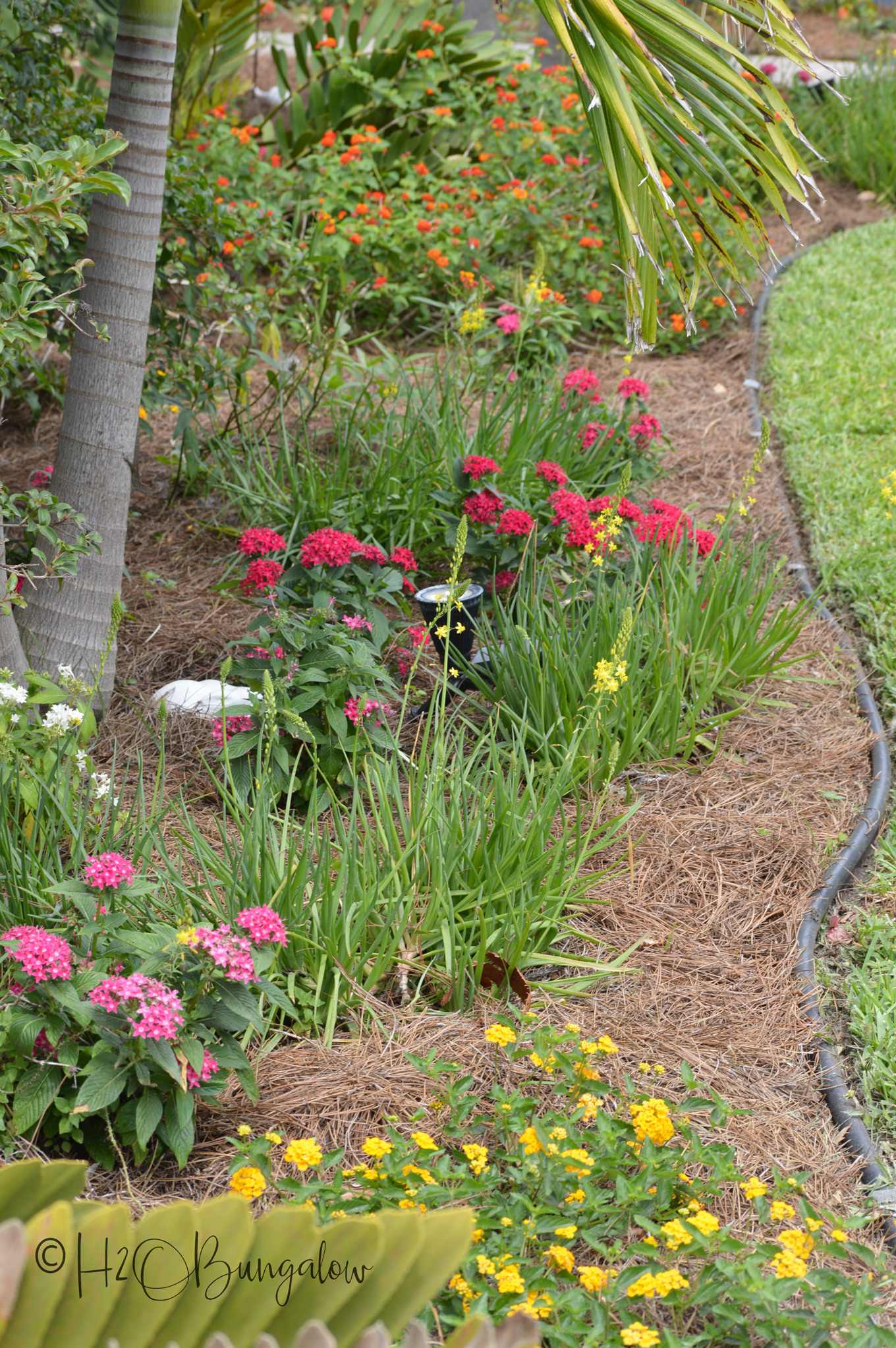 I love my flower box and keep it full year round. It self waters too, just like the bougainvillea planters.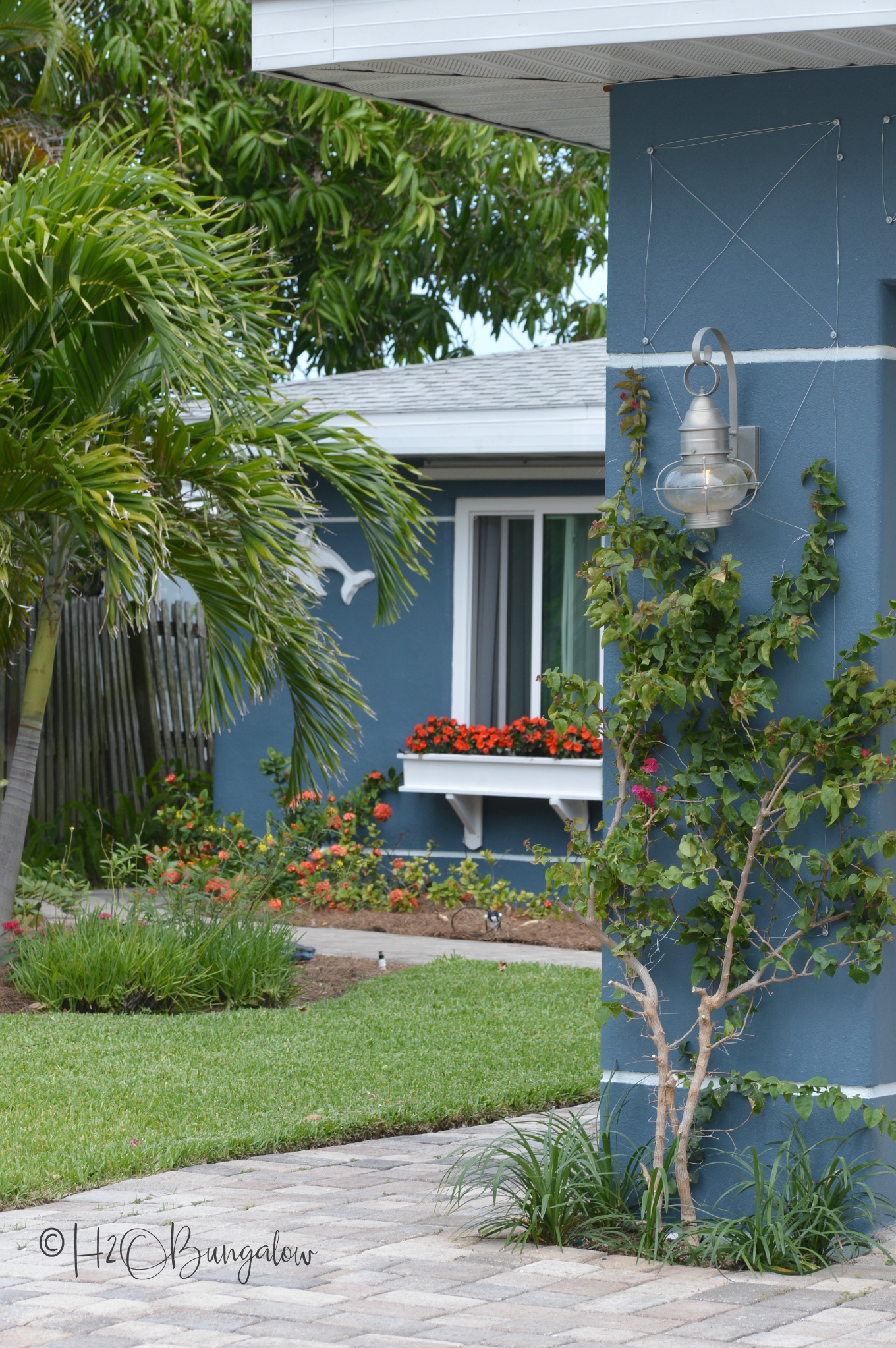 Of course I have to share my yard art in my spring garden tour! I keep a water dish filled for the butterflies and birds. Making a more substantial birdbath has been on my want to do list for a while. Maybe I'll actually get around to it this year (smile), maybe not.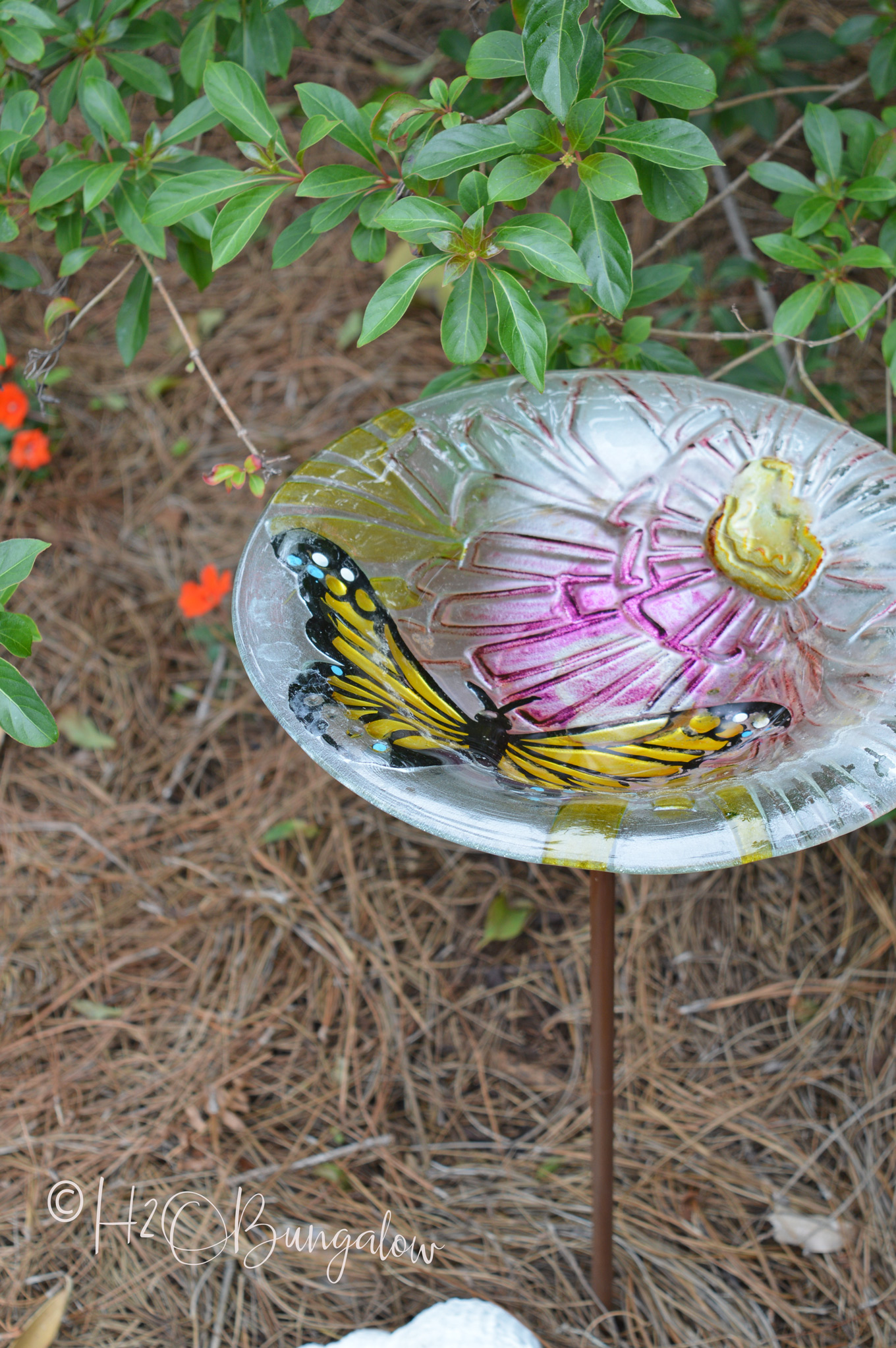 I kept this concrete alligator that we found under the ginormous front yard bush (among many other things stuffed under the bush) when we moved in. I turned it into a Faux Bronze Garden Statue so it looks like real bronze. It's a great way to take something cheap..or free and make it look like an expensive bronze garden statue.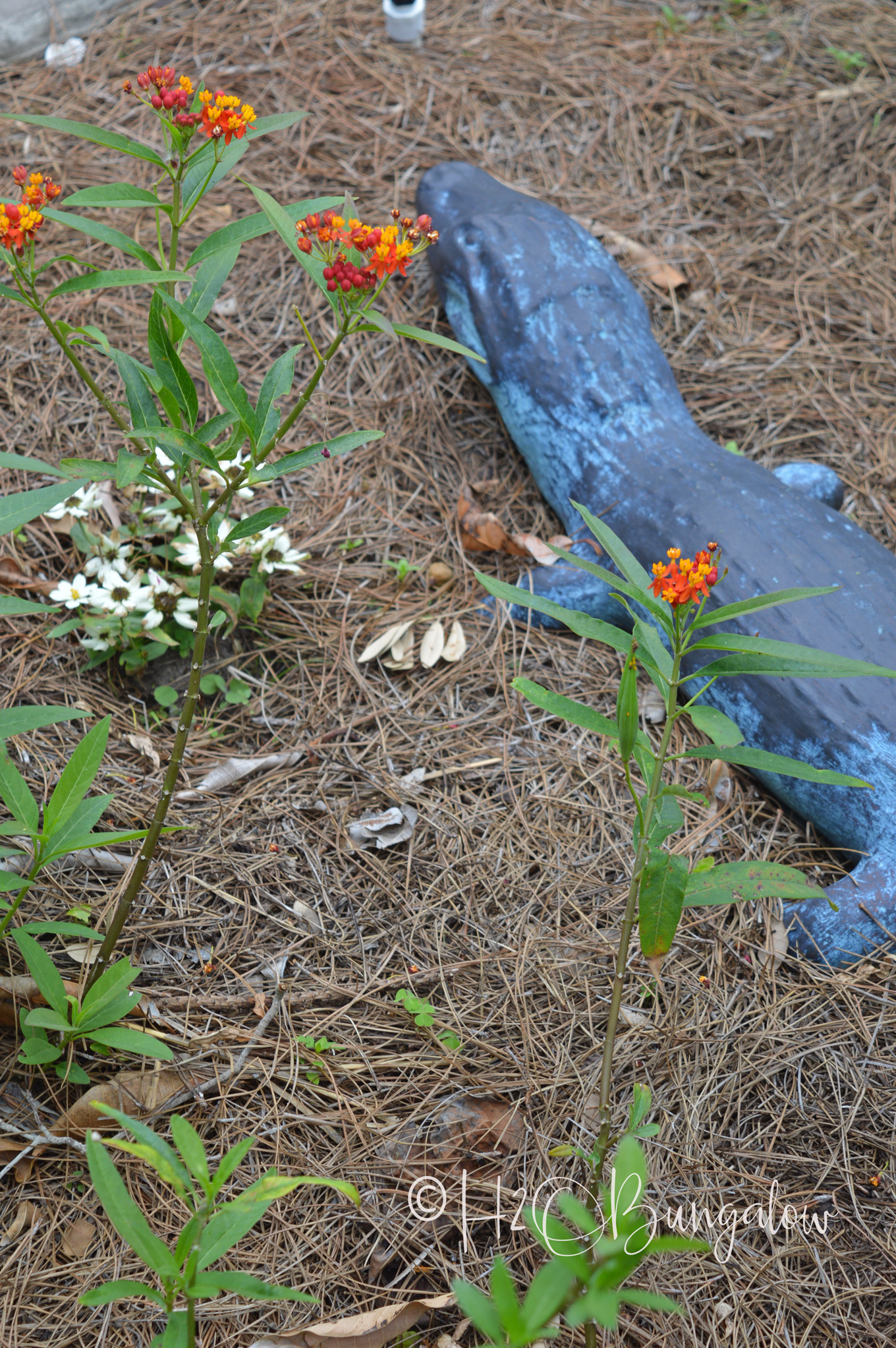 The concrete dolphins came with the house too. I just gave them a few coats of white paint. This little patch of sidewalk stuck out like a sore thumb next to the pavers. I faux painted pavers on concrete to match. This is a super project to pretty up old concrete! Oh, I shared a tutorial to make a flower box last year if you want one like mine.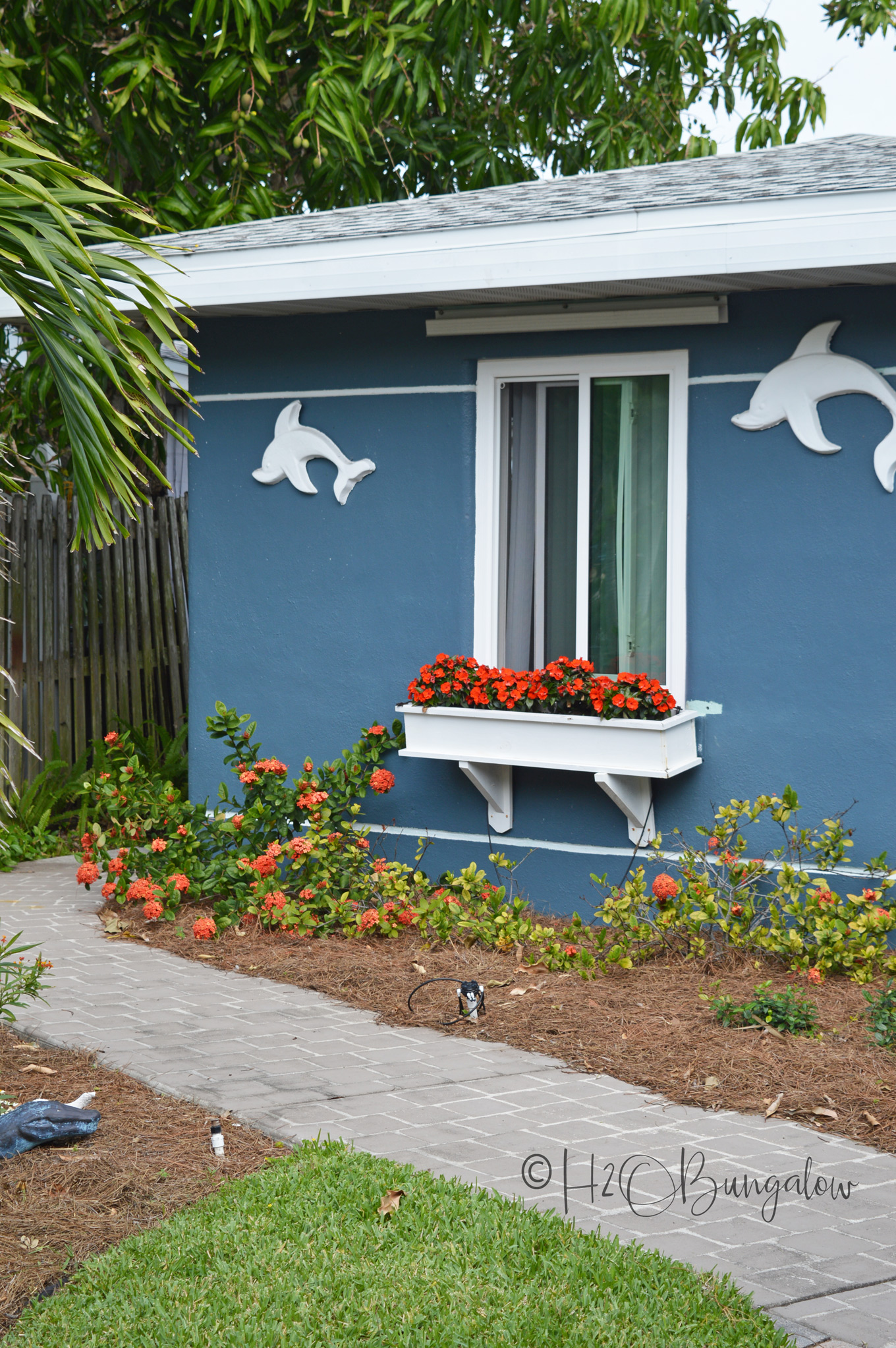 The last stop on my spring garden tour is our front door. I love a pretty entrance. I just made this DIY Mid Century Modern Plant Stand a few weeks ago. Our little porch stays shaded all the time so I filled my planter with low light plants that would thrive in this spot. Yes, my front door is copper. I shared a tutorial on How To Faux Paint A Copper Door a long time ago. It's time for a change and I'm thinking I want a yellow door now. What do you think?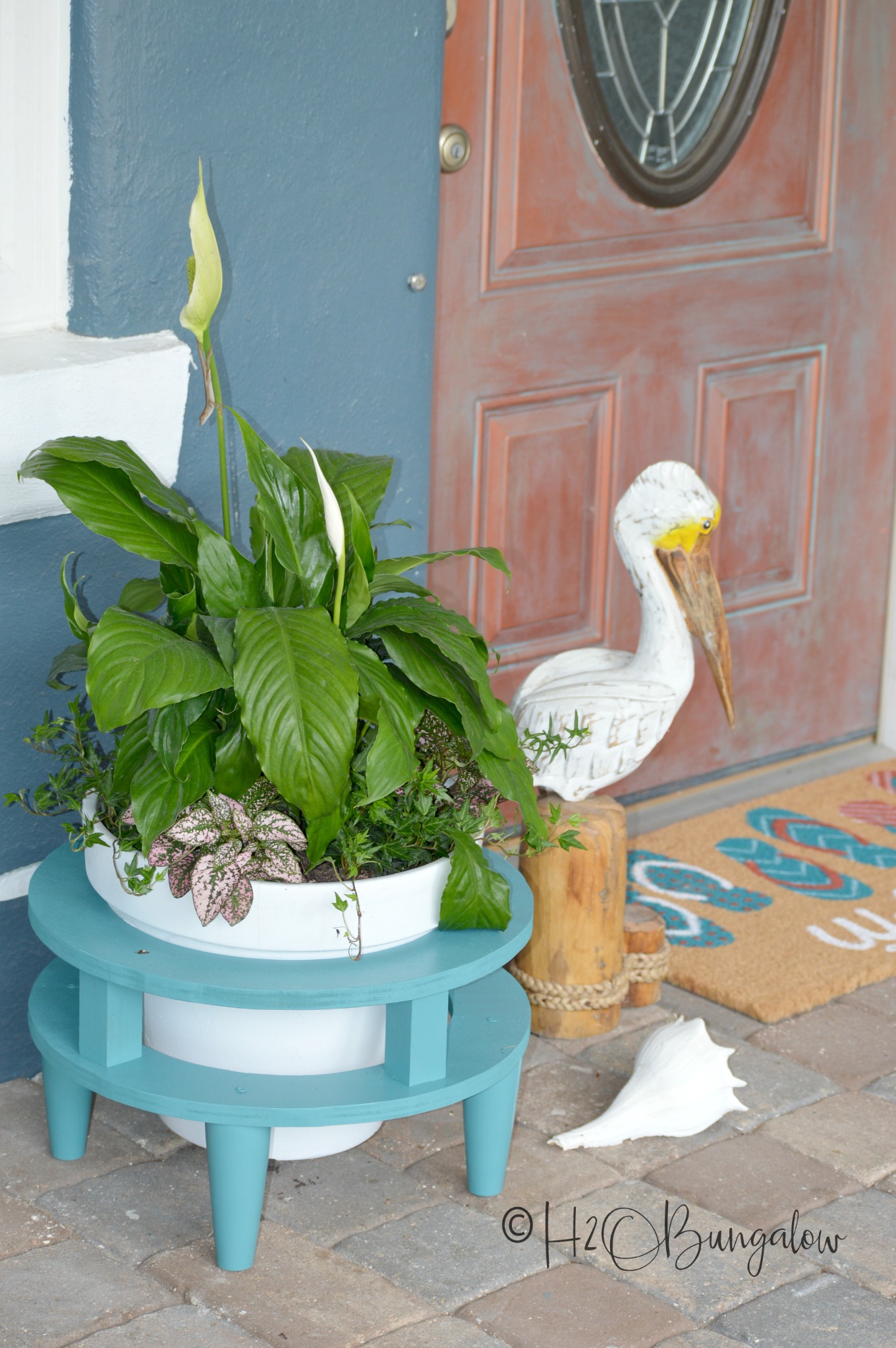 I hope my little spring garden tour brought cheer to your day! Especially if spring hasn't arrived at your door yet this year.
I'd love it if you'd share this with your friends on Facebook and pin it for later!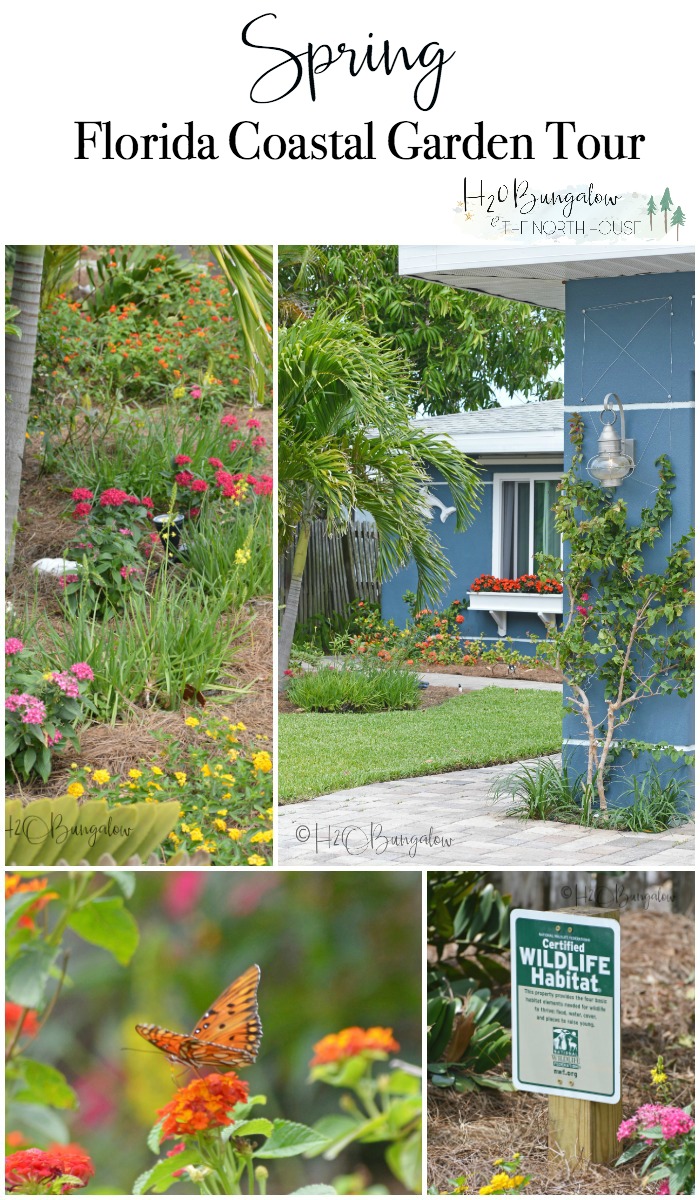 I hope you enjoyed my spring garden tour. As you can tell, I like a woodsy, non-formal style of garden were things naturalize and fill in. A pretty front yard has been a long time coming, but I think it's finally photo worthy… or at least I'm not embarrassed to share it with you guys!
Are you a fan of formal or naturalized gardens? Tell me your favorite style below!