Hi guys! I've put together six must have fire pit decorating ideas to create a cozy outdoor space for today. You guys know I just returned from the North House Lodge and finishing a new round of DIY projects. It's just past the mud season in Vermont and I had big plans. Not only was I going to do an amazing job cleaning up our backyard but was planning to have friends over to enjoy the new cozy outdoor space I planned to put together.
This is what the backyard looked like last fall and was basically what I started with when I arrived a few weeks ago. The only visual I need to add is 13 huge bags of very wet, deep and heavy leaves along the back fence that needed to be raked up. I had no idea there was a beautiful stone edged garden under all those leaves! – Yes, we are still getting to know the place and this is my first spring at the North House Lodge and in VT.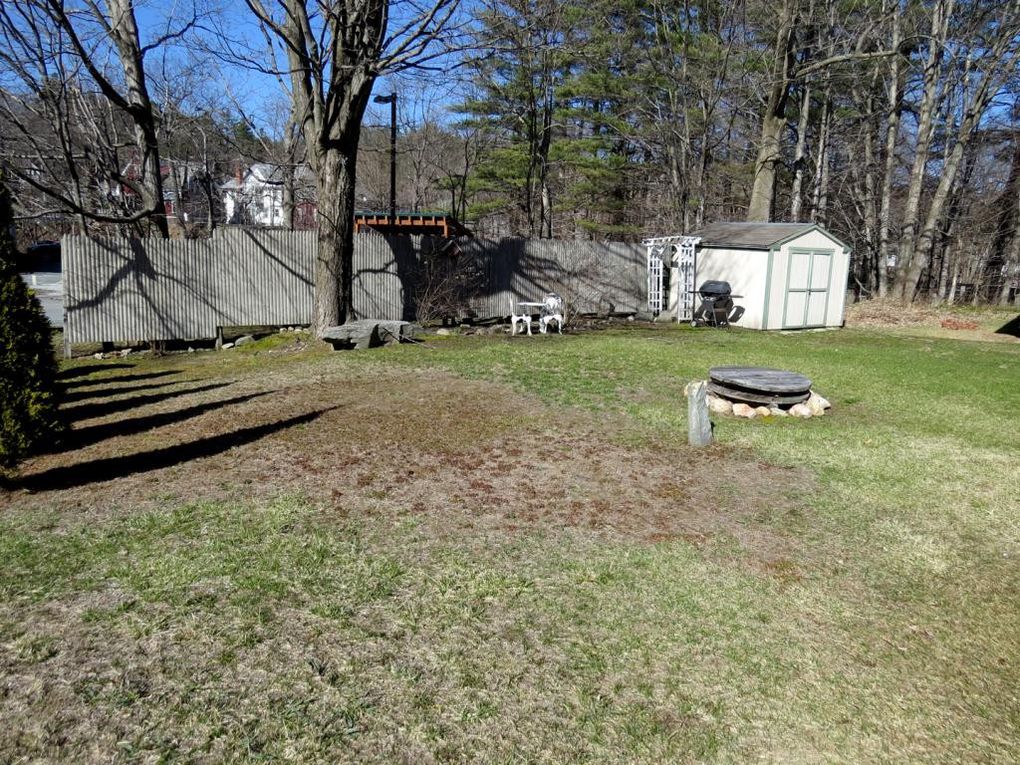 It rained the entire two weeks I was there. Yep, grey skies, drizzle, rain, cold and wet days made enjoying the backyard, and getting to put my fire pit decorating ideas on display was a challenge. I'll share a little secret about how I managed to pull this off at the end of the post. First, lets get on to my favorite backyard and fire pit decorating ideas and tips 🙂
6 Must Have Fire Pit Decorating Ideas to Create a Cozy Space
1. Start with a clean outdoor area
Start with a clean and tidy outdoor space. Help your fire ring and barbecue grill last longer and look fresh all season by adding a coat of heat resistant rust proof paint. If you have rust, prep before painting like I did in my How To Paint Outdoor Furniture To Last a Long Time project.


2. Accessorize your back yard fire pit area
Create a visual that looks inviting as you walk up to the outdoor fire pit area. Think day and night when decorating an outdoor fire pit area. Use outdoor decor that looks great in the day and at night too. It's an extra bonus if it's useful like using pretty lanterns.
3. Pick a color theme and use it throughout your backyard fire pit area
Choose a color theme and use it throughout your backyard fire pit seating area. Bright colors and themed outdoor decor help set the mood for fun and special times. Use color coordinated tables or make a DIY set of patio tables with my Easy DIY Patio Table Plans. One of my favorite ways to add color is drape a few lap blankets over chairs for when it gets cool in the evening. I always place a basket nearby with extra folded throws too. Even if they aren't used they look great.


4. Add fun to your backyard fire pit decorating
Give guests something to do by creating a s'mores station. Almost everyone loves toasting marshmallows on an open fire.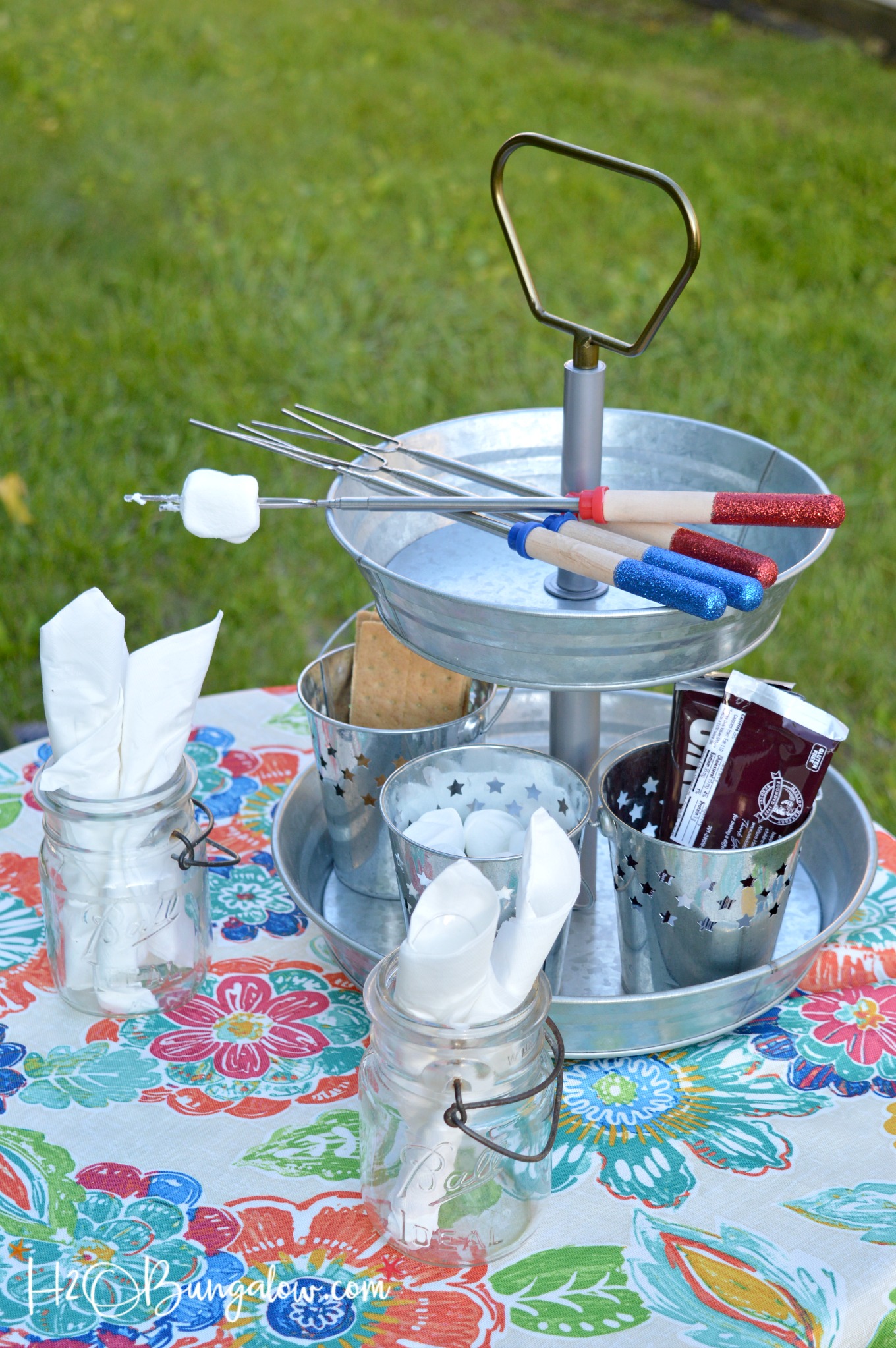 Simple is always better.


5. Arrange Group Seating for Conversation
Have comfortable seating in clusters to encourage conversation and visiting. I have these same chairs in Florida. They last forever and everyone loves them. They look great natural or painted a bright color like the orange I used.


6. Be Prepared
Set up the fire pit with a kindling starter in advance. Place dryer lint or smashed Doritos (yes, Doritos work great!) in the kindling for a quick start. Skip the matches and lighter fluid and use a HomeRight ElectroLight Fire Starter to make starting the fire pit easy. It's fabulous for lighting a charcoal grill too! It works by blowing super heated hot air that starts a fire. No open flames come out of the Fire Starter which I like.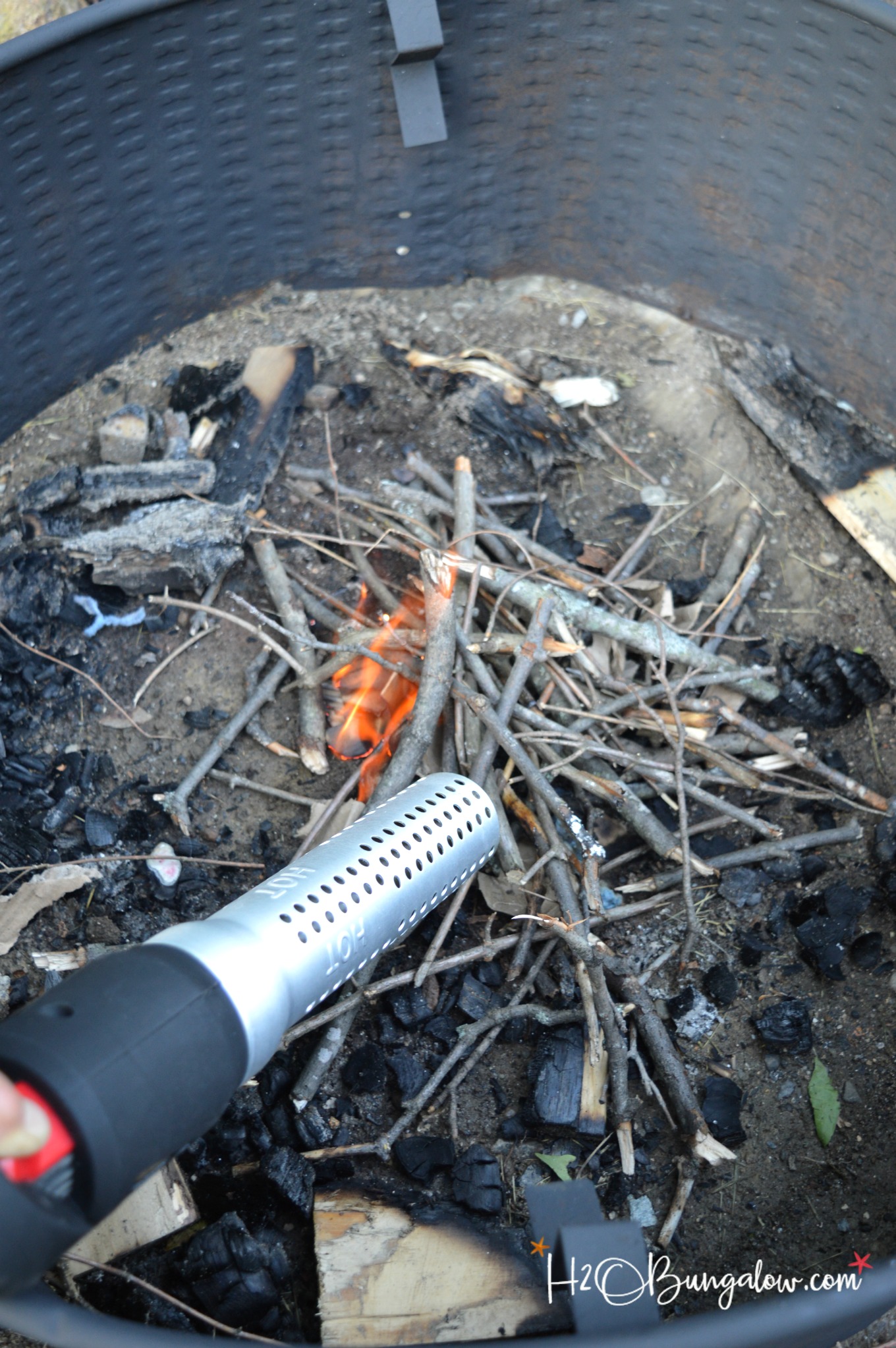 These are my favorite outside decorating secrets and tips. To me, nothing says "Hi and Welcome!" like a cozy setting for outdoor evenings with family and friends. Shop inside your home too. You'd be surprised how many items work indoors and outside as well.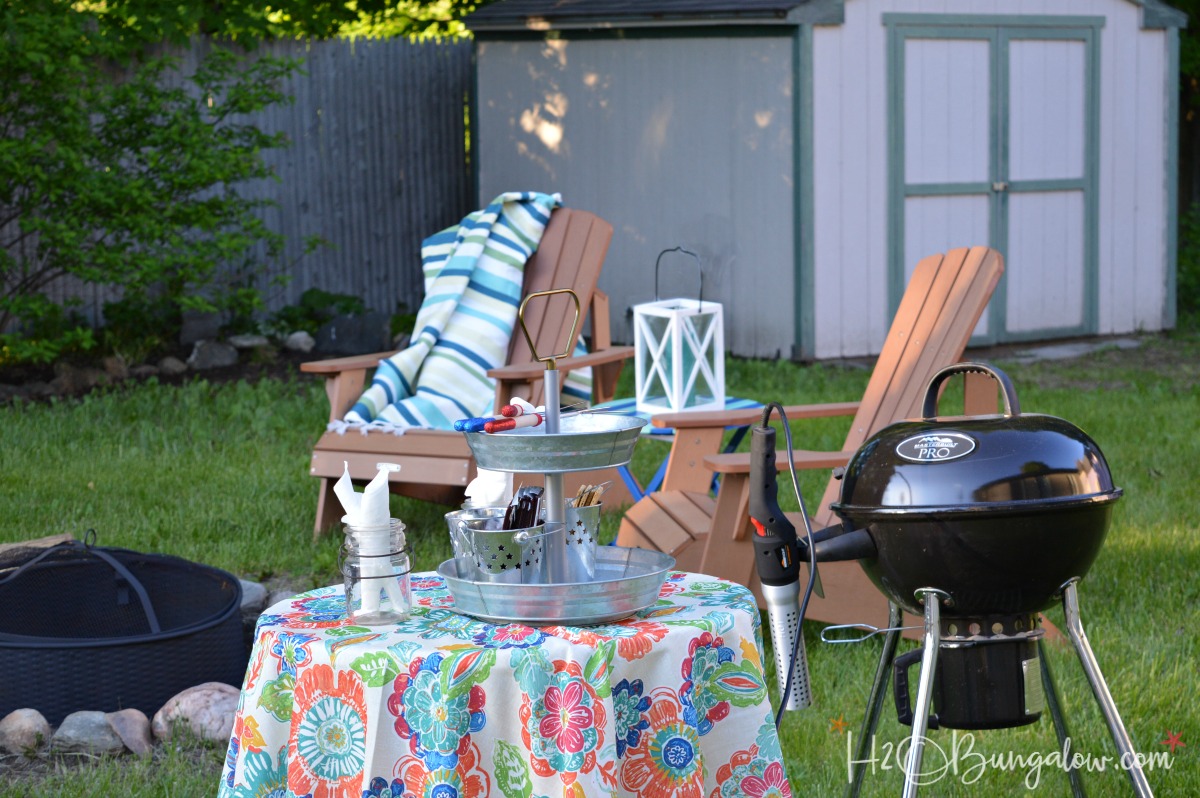 Here's my little secret about this post. I staged this entire party including the s'mores station for just me. It was my last night in VT and the first non-rainy day I had. I ran around taking these photos and sipping the wine from both of the staged wine glasses 😉 The sun was setting and I had perfect light.
I lit the fire pit, sat and enjoyed the beautiful view, my lovely decorated back yard and the fresh cool air.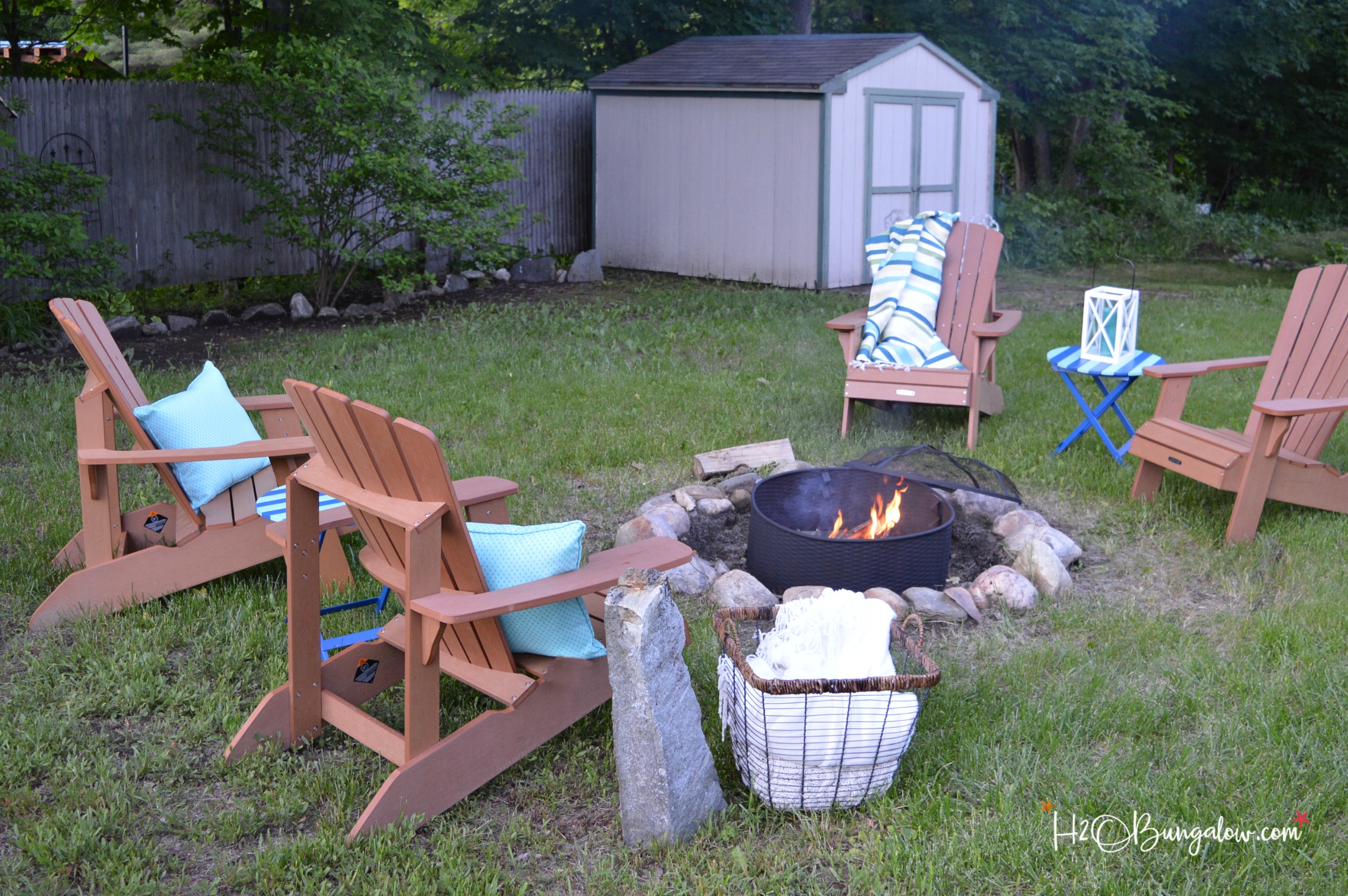 Then I packed it all up and put it away. My neighbors in VT don't know I'm a DIY blogger. If any of them were watching they must have thought I was nuts or got stood up by an entire group of people. So, I guess the best part about my favorite easy fire pit decorating ideas is that they can be enjoyed by a party of 1 or a group of friends and family 😉
Pin this for later!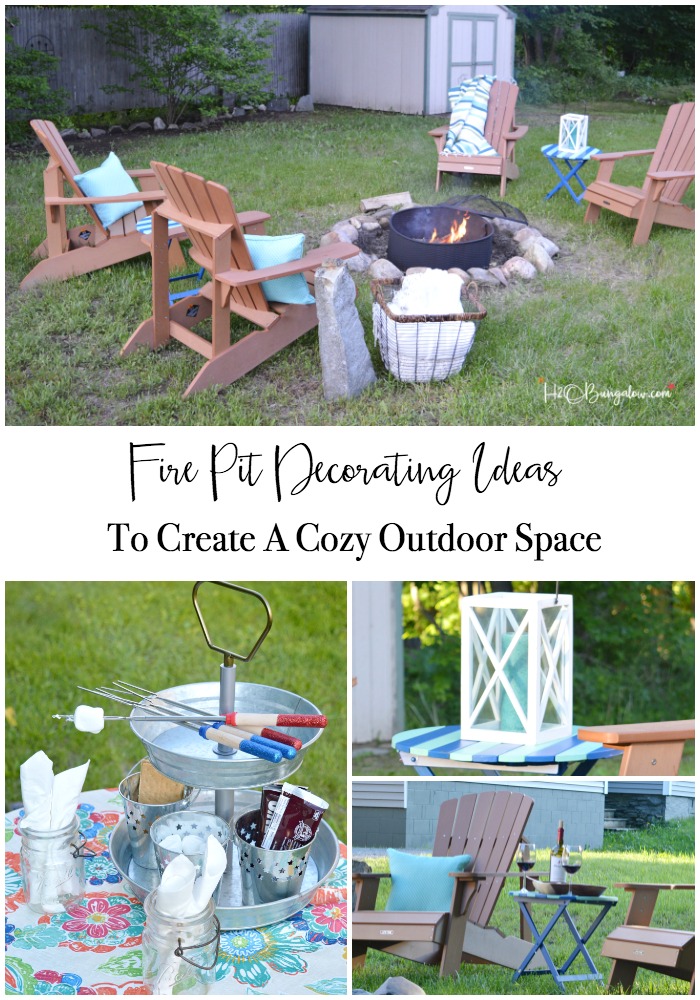 This post was sponsored by HomeRight's Electrolight Fire Starter. It is easily the best way I've tried to start a grill or light a fire pit. I love that I can skip the lighter fluid and stinky chemicals on my charcoal too. You all are probably familiar with the line of HomeRight paint sprayers you've seen me use to save time on my painting projects. HomeRight has lots more than paint sprayers.
I think the ElectroLight Fire Starter would make a fantastic Fathers Day Gift too! My ElectroLight Fire Starter made grilling with charcoal easy and the taste was amazing. I may switch from gas! Here's the big question, do you prefer gas or charcoal for outdoor grilling?