Not every furniture makeover is about applying paint. Sometimes you just gotta take it off. Off, as in strip it down. I didn't plan this makeover, it took on a mind of its own once I started working on it. Today I'm sharing an aged chippy paint finish tutorial.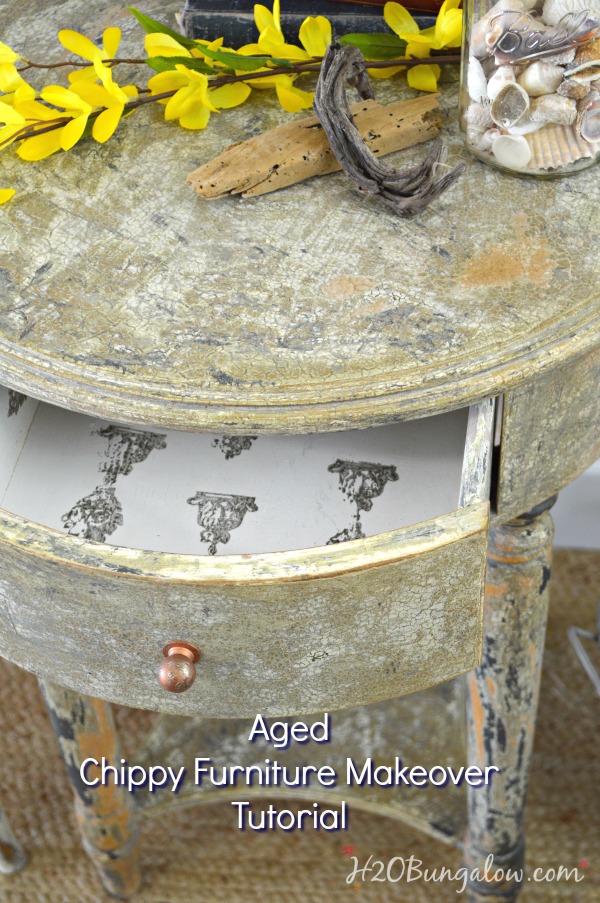 This table has been with me for years, it's sturdy and has great lines. The challenge has been that it's kind of a formal style which just doesn't come close to the laid back casual coastal style that suits coastal living. The second and probably bigger challenge was that it had a crackle finish. I painted over the original cracked finish a few years ago and didn't like it, at all.
I put it back in the garage, and there it sat.
Until a few days ago when I figured I strip it down and start all over.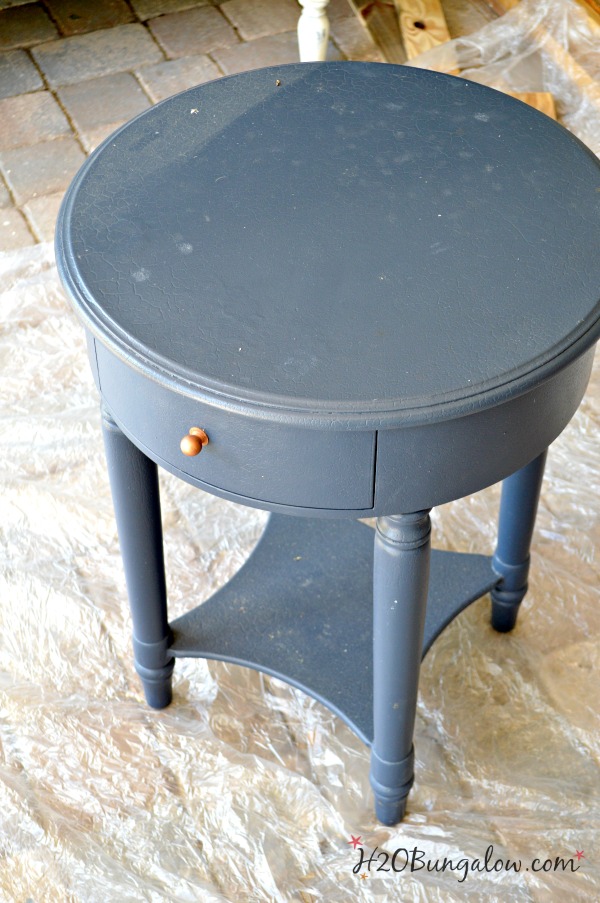 I love stripping paint.
Not.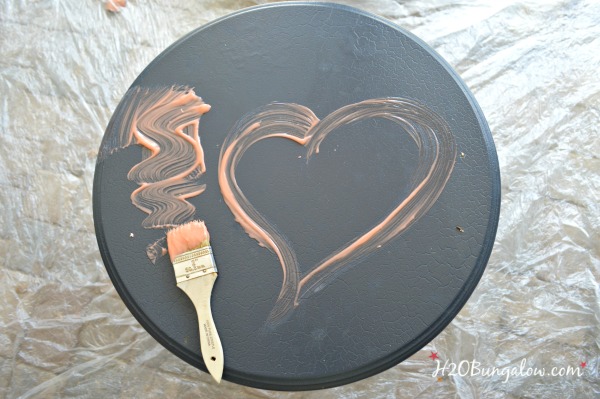 As soon as I started scraping away the layers a light bulb went off, and I decided to make it old looking with a chippy paint finish. This style of makeover is easier than it looks.
Supply list for Aged Chippy Paint Finish Tutorial
I use affiliate links to help you find the products I love and used.
I have a useful two-part series that covers striping everything from doors to furniture and cabinets with lots of tips and tricks to save time and shorten the workload. If you've never stripped furniture before, you may want to read through or pin it for future reference. Even if you have, you'll probably pick up a tip or two:)
These are my tools of choice for stripping paint of furniture to get a chippy paint finish.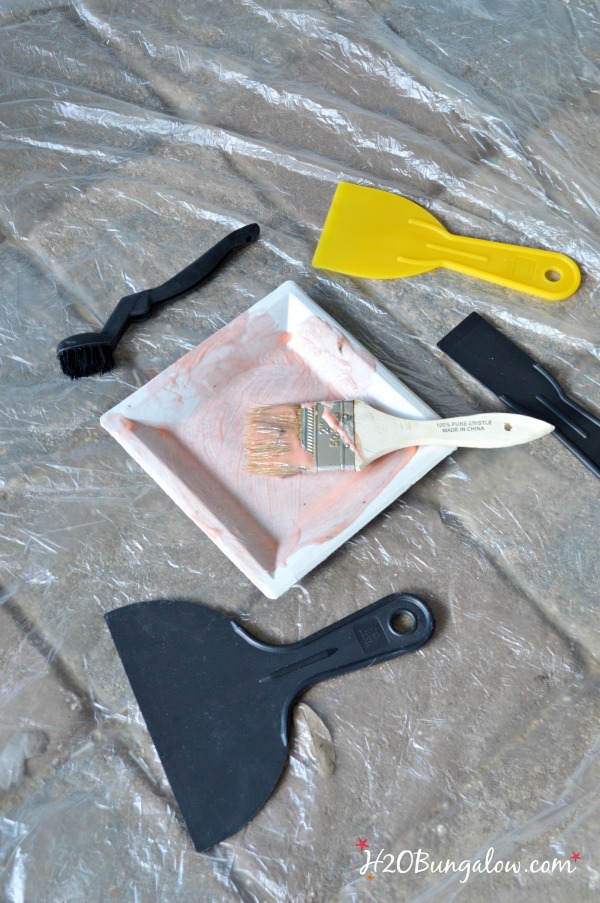 Apply the stripper with the chip brush. Test a small section to see how well the stripper will work on the paint. To get the perfect chippy paint look it's best to work on a section at a time.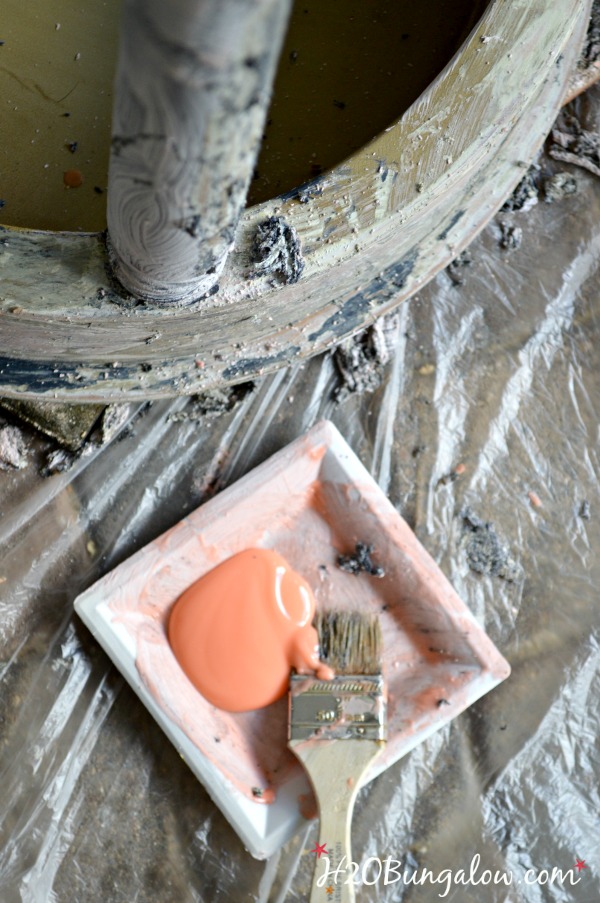 Use the scraper to get more paint off where you want to age the furniture piece with a chippy paint finish. When you've removed almost as much paint as you'd like, quickly douse a steel wool pad in the mineral spirits and run it over the scrapped paint area. Follow up with a clean white rag to wipe off any residue of the paint remover so it doesn't continue to strip more paint off.
You're trying to duplicate an aged look with layers of paint wearing off. This is the base for your aged chippy paint furniture makeover.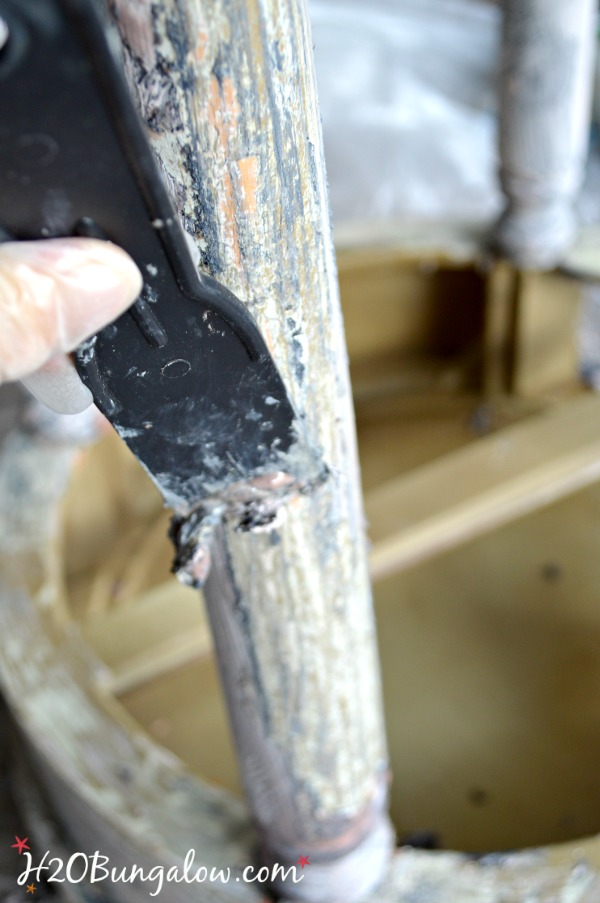 Now it's time to put some finish back on and add some interest that will make it look naturally old and not like it was just striped.
This is what I used.
250 grit sandpaper
wax brush I've been using this brand lately and LOVE it. This one is on sale now at a crazy good price with free shipping:)
Sand your chippy furniture piece lightly all over. This will also help you be sure there are no clumps of paint remover left. Sand it down a little if you find some. You're just takin the rough spots off, don't make the surface smooth.
Next, apply the light antiquing wax, small sections at a time with the wax brush. I share a good tutorial on my aged desk makeover. Let the wax come to tack, which means lightly sticky when you place a finger on it. This may take a few minutes or more depending on your air temperature and humidity. Grab a chip brush and your Dust Of Ages and generously apply it all over the waxed area. Be sure to pounce it into the cracks and detail areas. That's going to give you the best aged look. Continue working in sections until you're done with the entire piece.
Next comes the hard part.
Let it sit.
How long, you ask?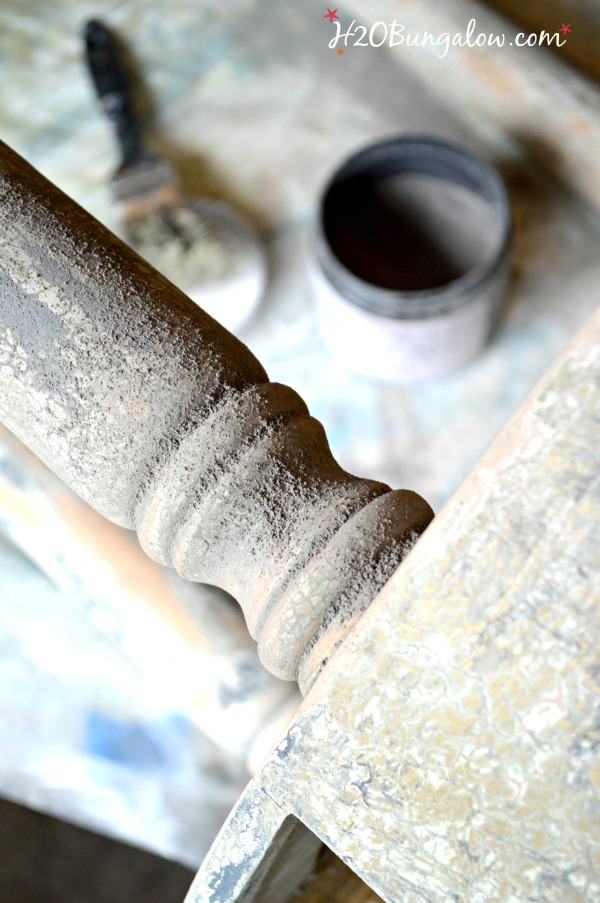 As long as you can, it's OK.
I went to lunch with a friend and when I came back I was ready to buff it. Using a clean white and lint free painters rag, start gently buffing your chippy painted furniture piece. Mine was looking pretty good at this point. The grey dust had settled into the cracks an added some detail in the areas where the original crackle was still on my table.
Don't buff it out of the cracks!
Last you'll take a clean chip or detail brush and load some of the dark antique wax onto it. Off-load any extra onto a piece of cardboard. My Aged Patina Desk Tutorial has good tips for using Amy Howard products in it including off loading wax, Using light "butterfly kisses" apply the dark wax to only areas that needs extra detail, and that would darken or have more wear naturally through use.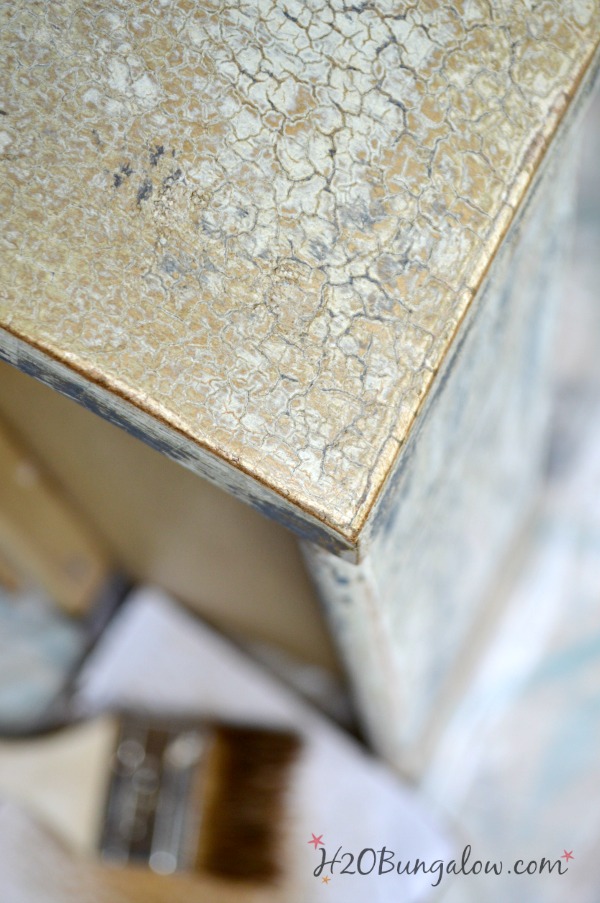 I concentrated on the table edges, high points of the legs, the edges of the lower shelf and around the drawer edges.
I feel that the piece looks right, more than see it when I'm adding dark wax detail. I used a lot on the legs.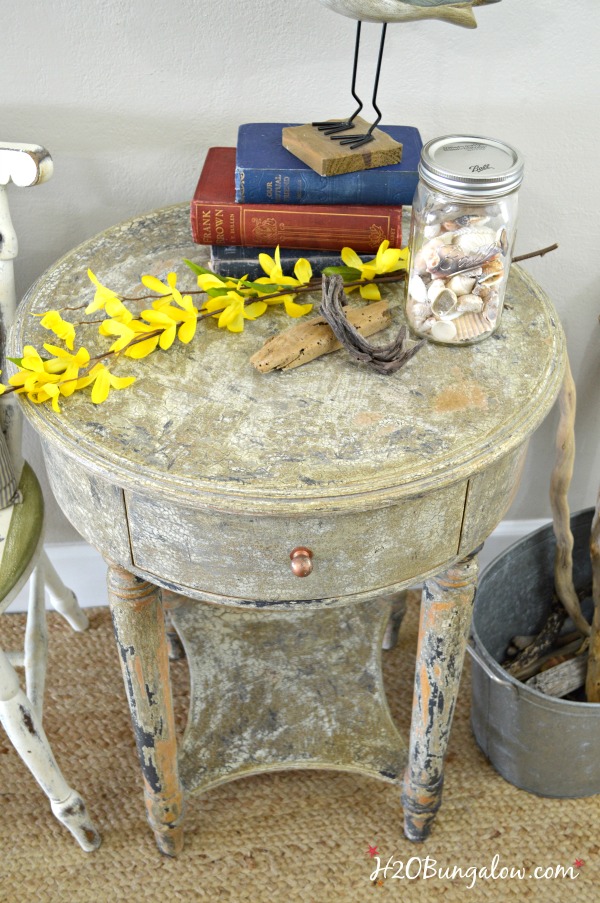 I painted the inside of the drawer with Amy Howard's One Step paint in Bauhaus Buff, and used my latest crush, the Friffery Clear Stamp and the permanent Decor Ink in Athens from Iron Orchid Studios. You'll see several more über cool projects with IOD products soon;)
I love the little surprise. I think it looks like wallpaper.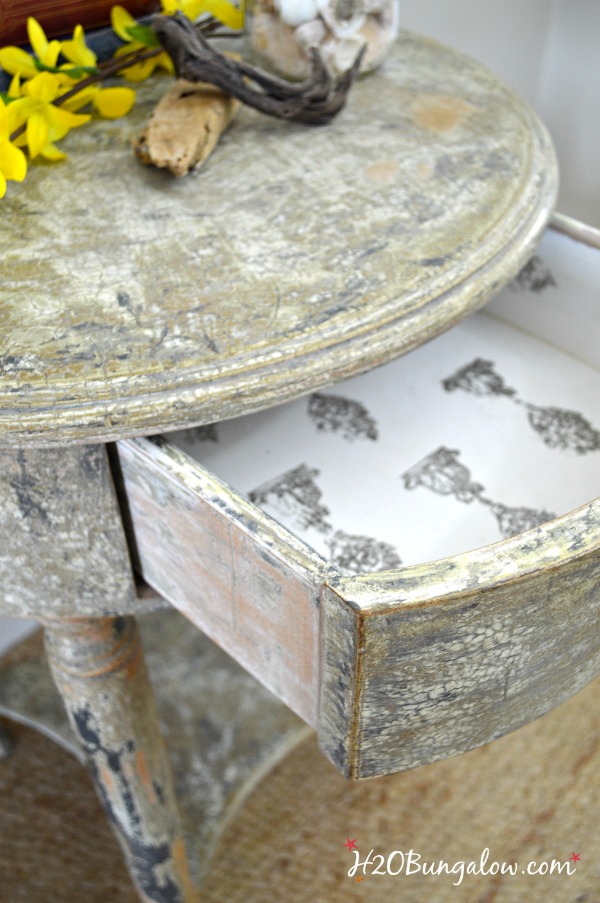 I think the aged chippy paint finish dramatically changed the way this table looks. Even though this table has formal lines, it's now casual. I can see it in a beachy, coastal or even farmhouse setting.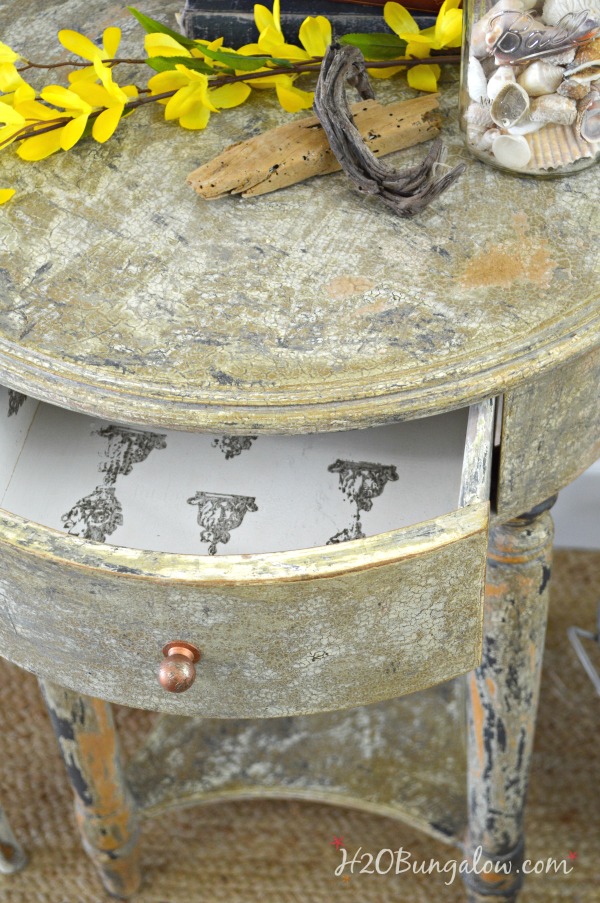 Can you?
Making over a furniture piece and giving it an aged patina is one of my favorite type of projects. I spoke about my aged desk makeover above. You may like and find inspiration in my farmhouse corner cabinet makeover and my aged white nightstands makeover projects too.
You'll find my project linked up to these fabulous parties!
Love a good dose of DIY home decor, home improvement, the challenge of woodworking and creative ways to make your home look fabulous?
Me too!
I'd love to share mine with you. Click here to sign up for my post emails and I'll send a quick note when I have a new project to share.
Social media fan? Don't be shy say hello! I love when you guys do that! I'm interactive on Facebook and I share lots of other projects and, useful inspiration for the home and content I don't share anywhere else. Follow H2OBungalow on Facebook and Instagram!
I use affiliate links in my posts. If you should make a purchase I will receive an itty bitty commission at no cost to you. Thank you in advance for supporting my blog and two fur-ball cats who believe they are privileged.