I'm sharing how to authentically age white painted furniture today for Themed Furniture Makeover Day. I like old stuff, time worn patina and pieces of furniture that make me want to run my fingers across their surfaces and wonder what kind of stories they'd share if they could talk. I always have. I also can't afford to have many authentic ones. But with a little paint, a few products and patience, I can make them look old.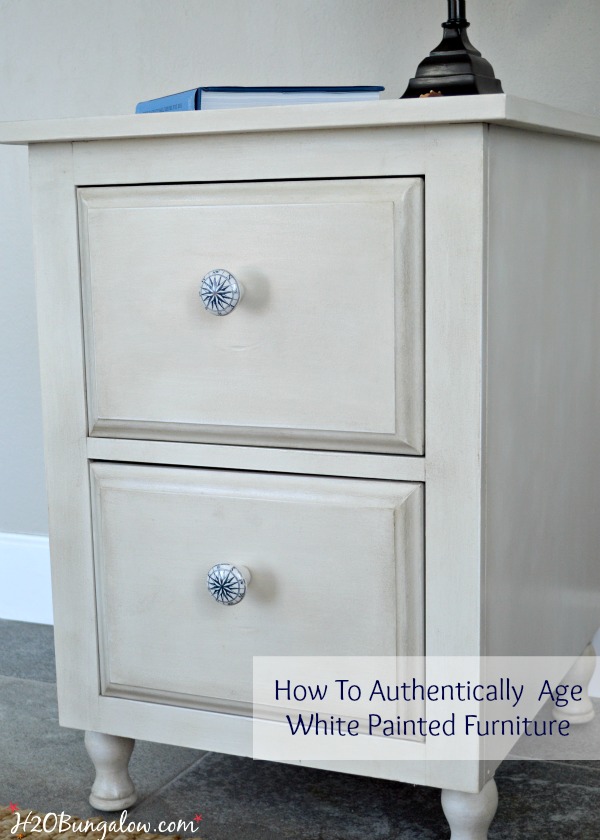 Our theme this month is white. The best part about Themed Furniture Makeover Day is you not only get to see my furniture makeover, you get to see several more of the same theme and in different styles:)
How To Authentically Age White Painted Furniture
I started with two orangey wood night stands that weren't particularly pretty but had nice lines and were really well made. I applied one coat of Amy Howard One Step Paint with a brush and a 4″ foam roller on all the flat surfaces. One coat gives an excellent coverage, but left a few thin areas here and there. My first big challenge was to leave it the way it was knowing that I'd layer more product on top of it and nature doesn't age anything perfect, so why would I start with a perfectly painted surface?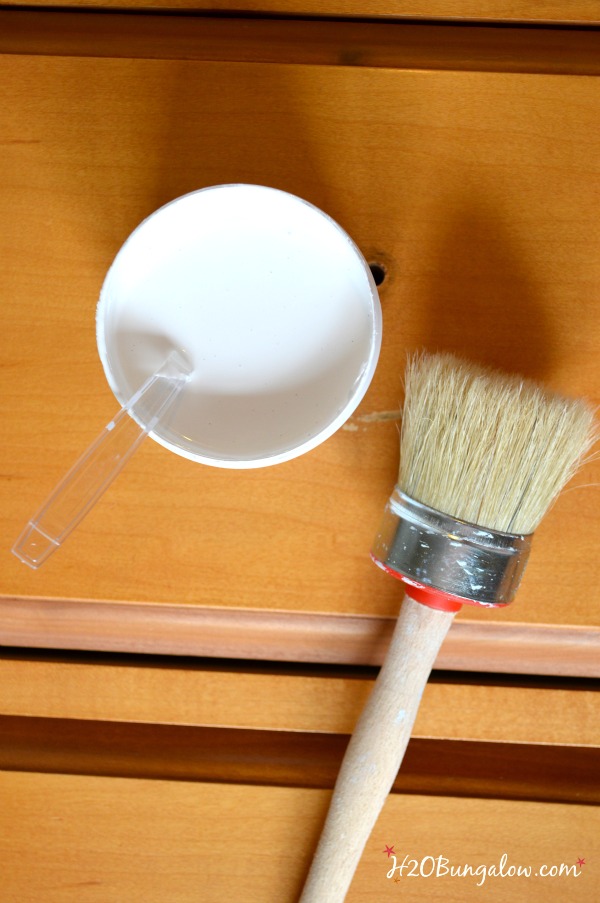 This is one coat of paint. It's one step, primes and seals at the same time.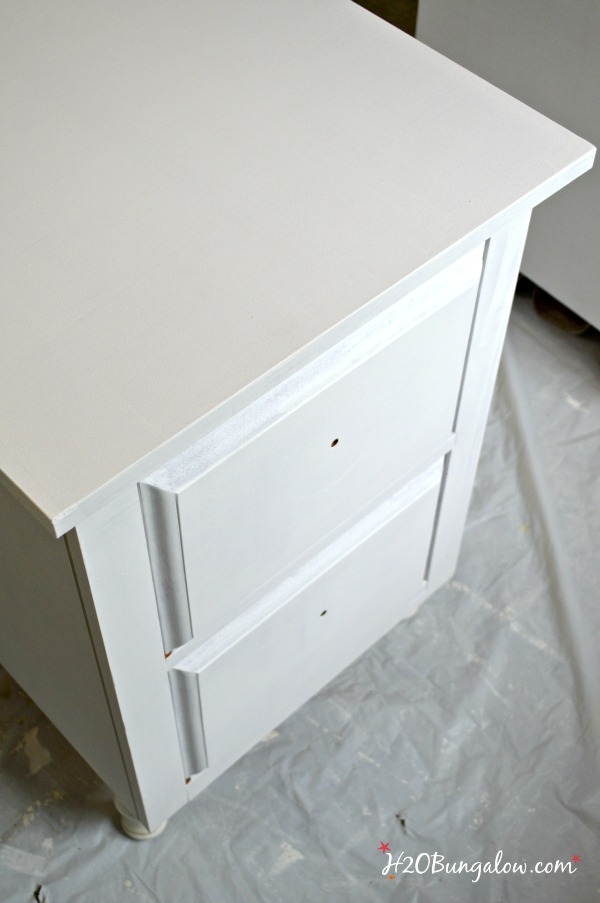 Next I mixed up a batch of Toscana Milk Paint in Remis Grey. I used 1 1/2 cup paint powder and mixed it with 1 cup water. I used my immersion blender to mix it. An old pantyhose worked great to strain the grit out .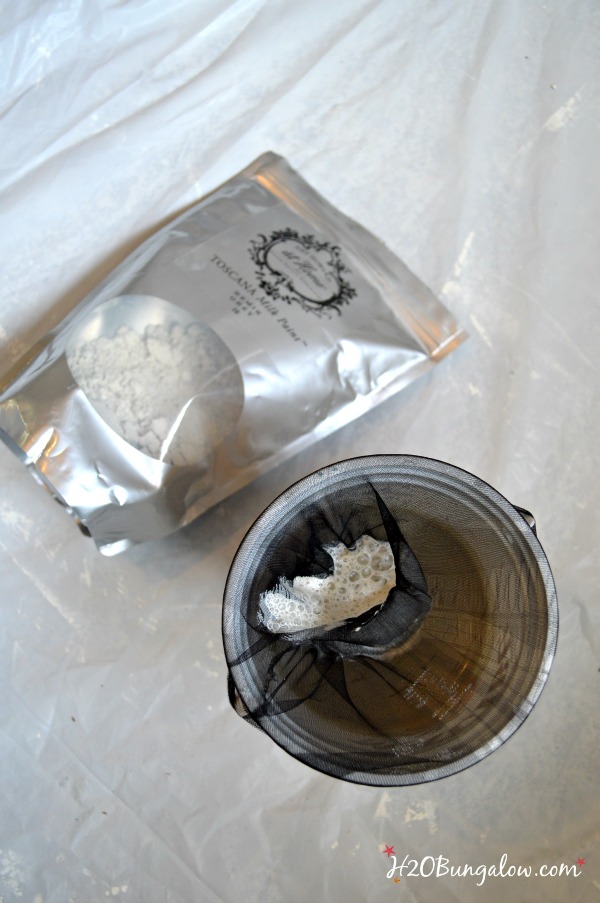 I applied one coat of the Toscana Milk Paint.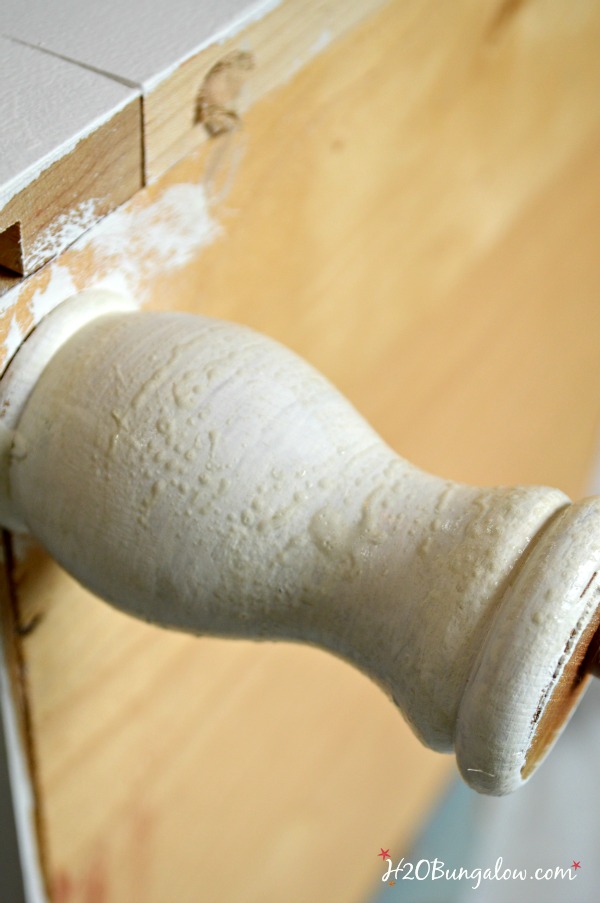 Once more it was time to trust in the process. The paint looked like this..streaky and full of brush strokes. I just about started biting my nails over it. I was close to changing the entire project, but..nope I thought. trust the process and see how it turns out.
So I did. When it dried, all it was an even coat all over:)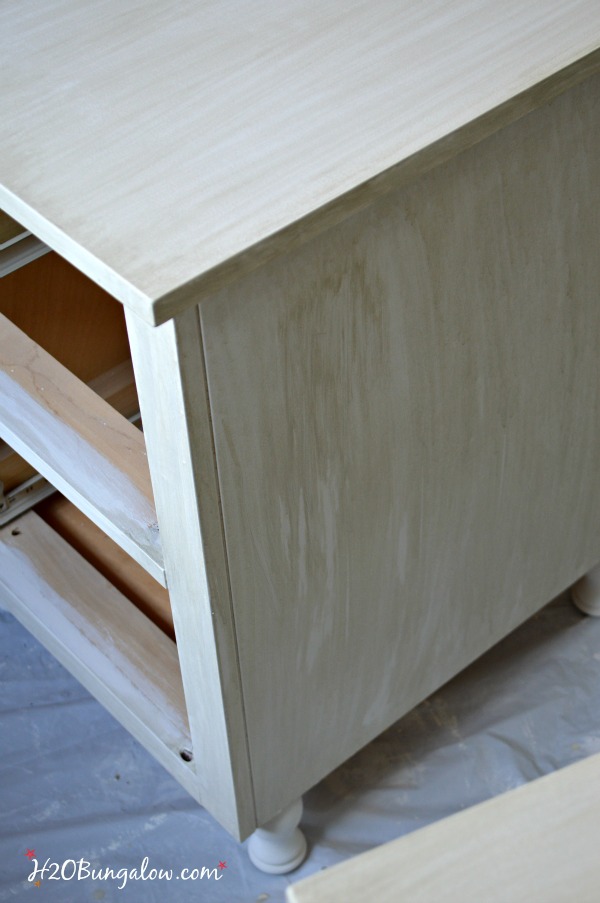 Next came the Antiquing Glaze. In my last painted furniture project, the Aged Patina Desk Makeover I used the glaze with the sponge to help age and distress the paint. Read that post to see how I used the Antiquing Glaze and the other aging products from the Amy Howard At Home Paint Line.
This step was another trust in the process, because it looked like a hot streaky antiqued mess when wet, but dried perfect! My white nightstand took on a beautiful aged look. Subtle, aged and a little loved, which was exactly what I wanted.
I only used the sponge to distress slightly on the drawer edges and the legs. I used the 4″ foam roller to roll on an even coat of the antiquing glaze all over and let it dry. It toned down the white a lot and brought out a nice depth in the two different coats of paint.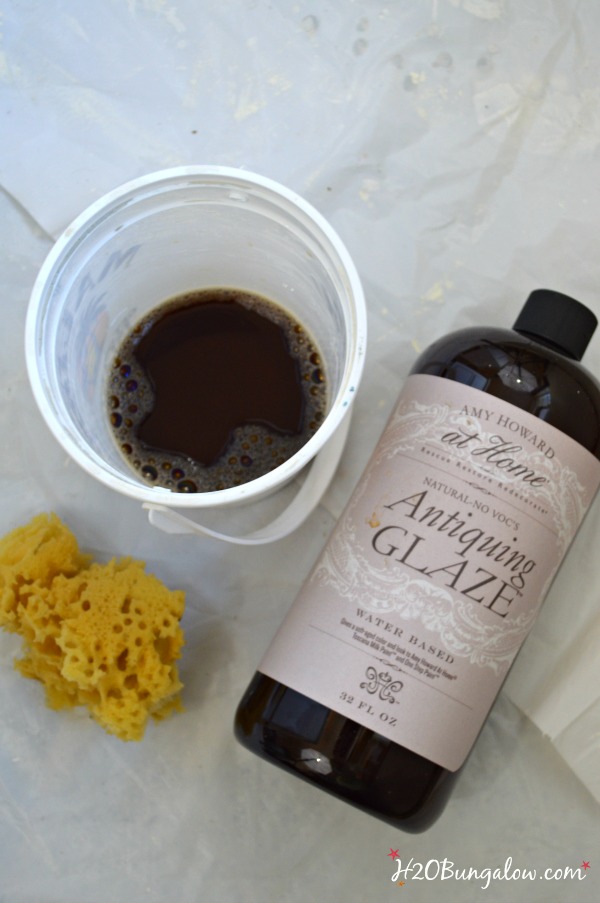 Next came a coat of clear wax all over, followed by a hint of the Amy Howard Light Antiquing Wax in areas that would naturally have more wear. Again, read this post to see how I used these aging products.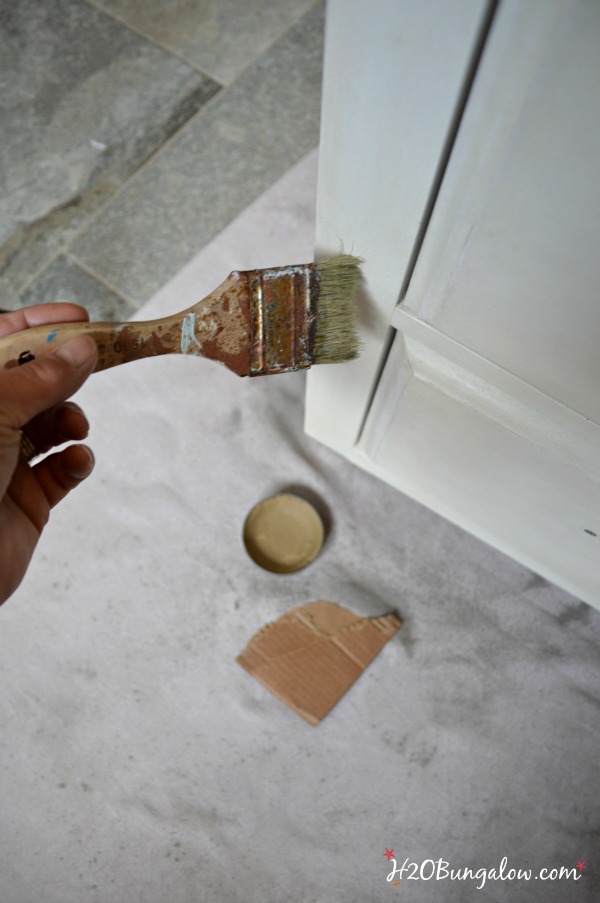 Last, I added some Dust Of The Ages to the areas where I applied the Light Antiquing Wax.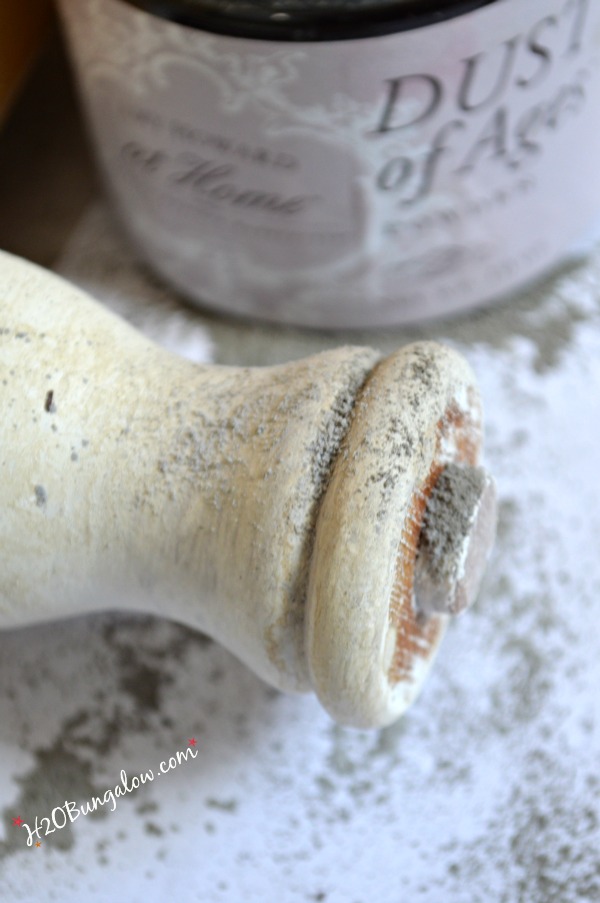 After letting it sit for about 30 minutes I lightly buffed the areas with a soft clean white cloth.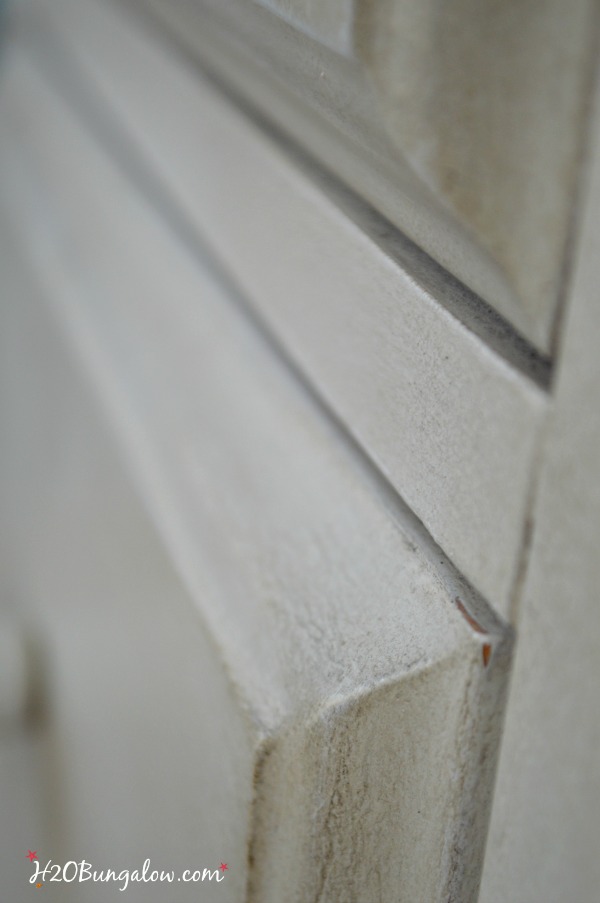 The vintage compass rose knobs were the finishing touch.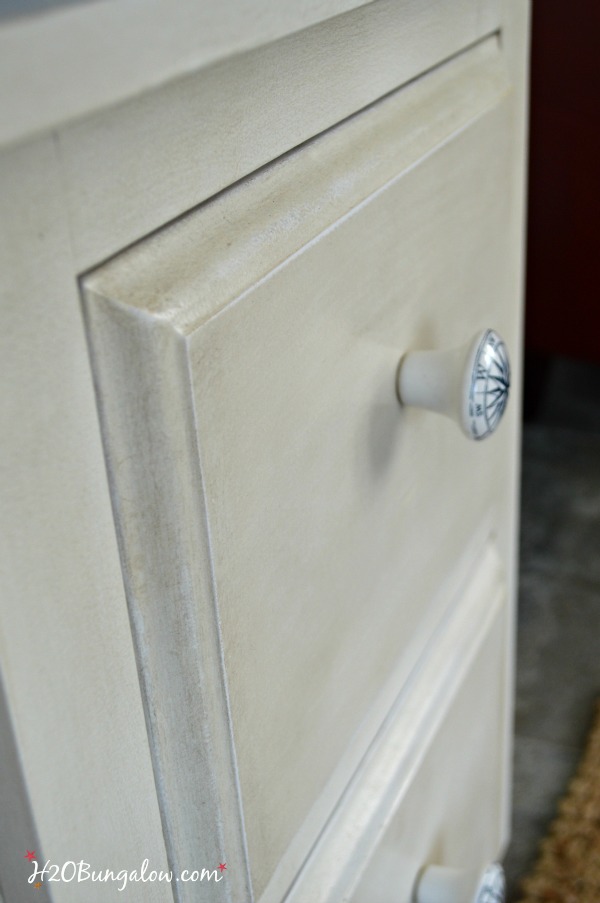 Using this technique to authentically age white painted furniture, I took boring orangey night stands into beautiful pieces of furniture with character and depth. Pieces that look aged like they have been around the family for a log, long time.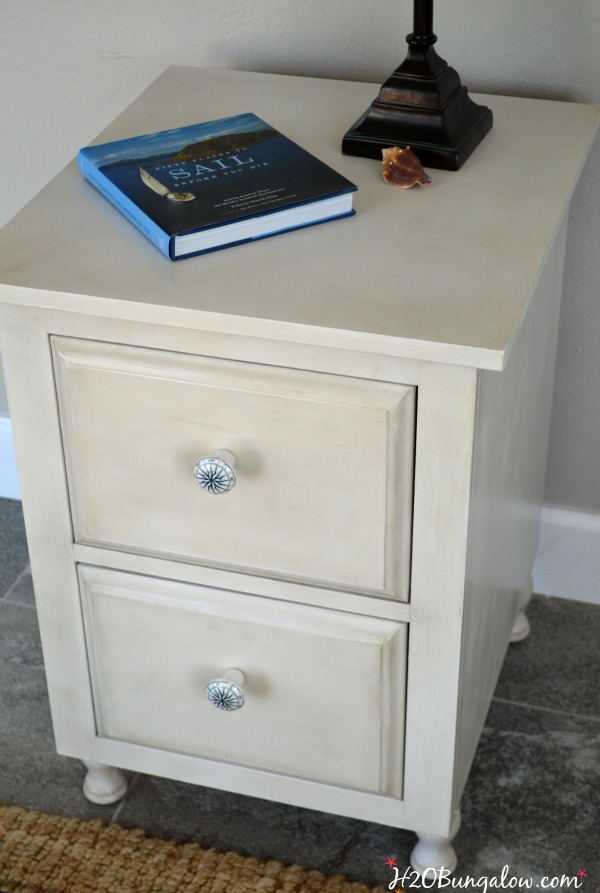 I can't wait to put them back in our room. These will be the first step in a much needed master bedroom update I'm sharing over the next few weeks:)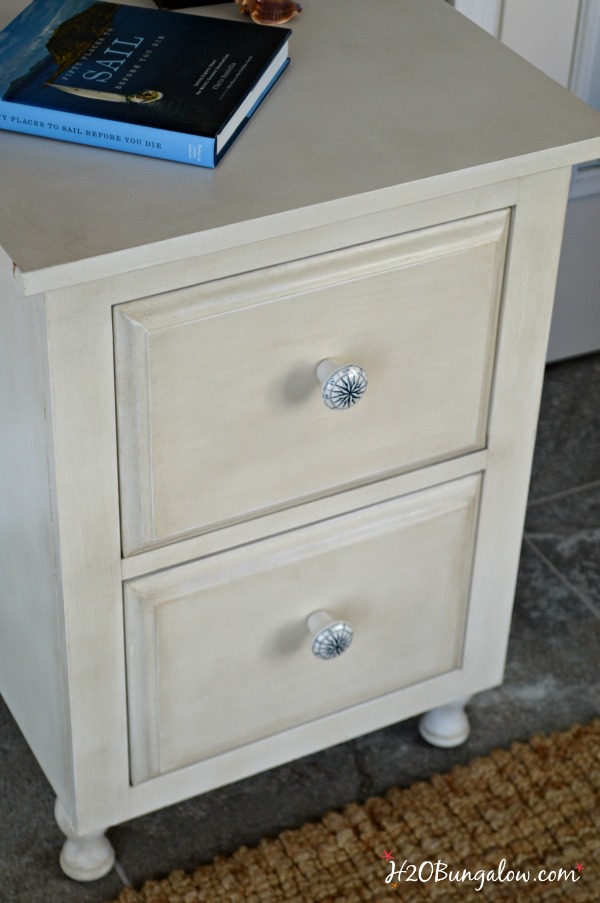 If you liked today's post on how to authentically age white furniture, be sure to check out my Furniture Makeover Gallery packed with different furniture makeovers and tutorials and read How to Paint a Dresser in 7 Steps if you are new to painting furniture. It's a great beginner's guide!
The best part of Themed Furniture Makeover Day is that you don't just get to see my makeover, you get to see lots more! As always this monthly tour is filled with inspiration. Click any of the photos below to go to that project.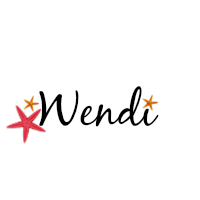 Love a good dose of DIY home decor, home improvement, the challenge of woodworking and creative ways to make your home look fabulous?
Me too!
I'd love to share mine with you. Click here to sign up for my post emails and I'll send a quick note when I have a new project to share.
Social media fan? Don't be shy say hello! I love when you guys do that! I'm interactive on Facebook and I share lots of other projects and, useful inspiration for the home and content I don't share anywhere else. Follow H2OBungalow on Facebook here
Oh heck, just follow me on all social medias. We'll have some fun…promise:) Follow H2OBungalow on Instagram , Follow H2OBungalow on Twitter , Follow H2OBungalow on Pinterest, I'm on Periscope! @H2OBungalow
I use affiliate links in my posts. If you should make a purchase I will receive an itty bitty commission at no cost to you. Thank you in advance for supporting my blog and two fur-ball cats who believe they are privileged.