I have the best organization tips for travel and packing a suitcase to share with you guys today! Since this is about the time of year when people start traveling with spring break and summer just around the corner I thought I'd share some of my favorite packing organization tips and tricks along with my newest travel organization crush, these Packing Cubes from EzPacking. I also shared my best organization tips for busy people, you might find helpful.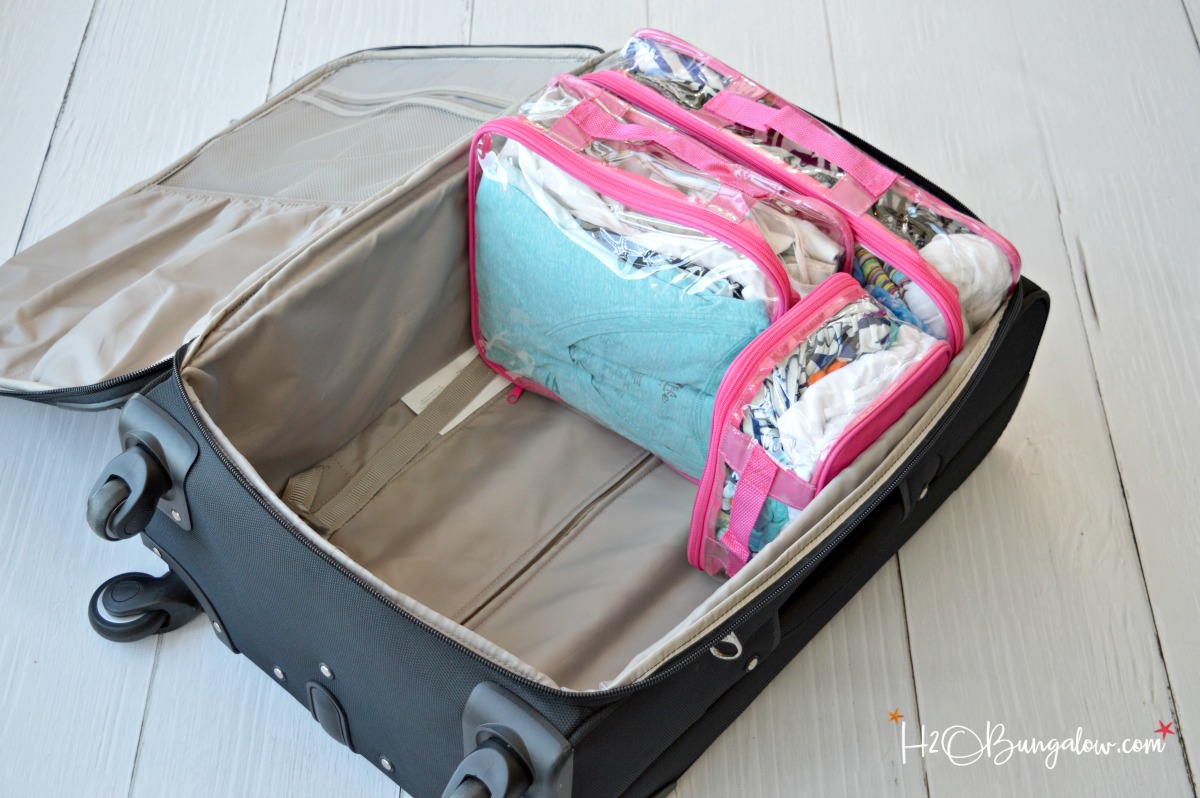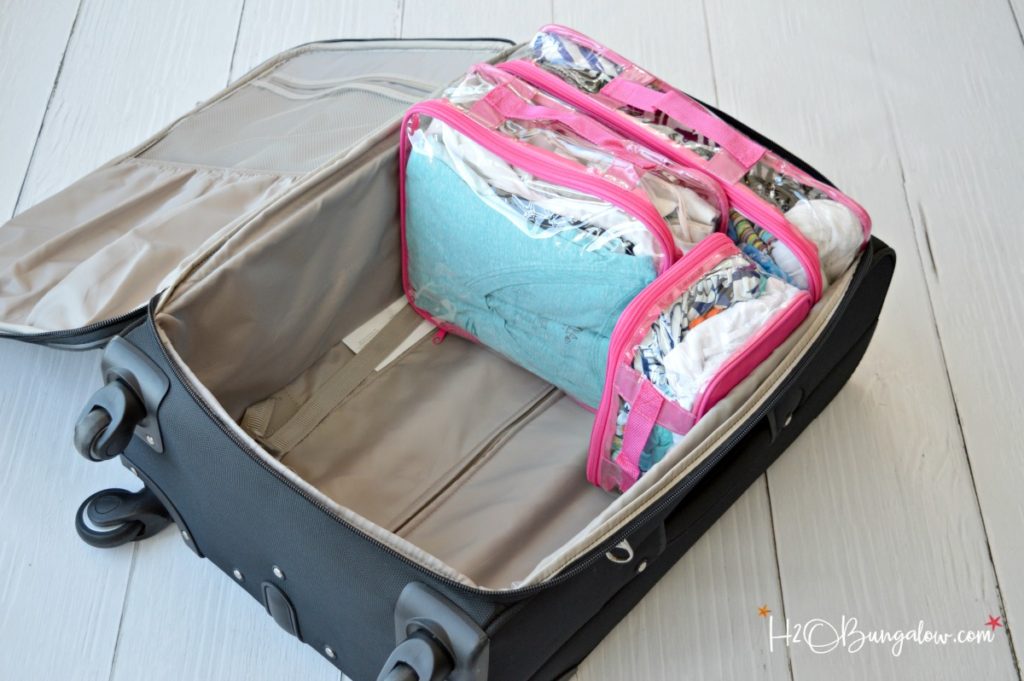 As you may have guessed, DH and I are getting ready for our next big boating adventure. This one requires me to be highly organized. There will be no room for wasted space or extra luggage which means I need to be highly organized. When it comes to packing a suitcase, that's a tall order my friends! I'm using affiliate links so you can find what I used.
These three Packing Cubes hold an entire 11 days worth of my clothes and there's room in the suitcase for the rest of the color coordinated set for DH to pack his stuff too 😉 What's inside?
Small cube – 3 bathing suits, 1 cover up, 1 pr UVP shorts, 1 long sleeve UVP top
Medium cube – 3 pr shorts and 5 tops with room to spare
Large cube – 1 pr slacks, 5 sundresses, 1 dress shirt, wristlet purse, 2 scarves, jewelry bag, sunglasses with room to spare
Plus, I'm using another smaller cube for my delicates. That's more clothes than I'll need and there's room to add a few more items. I have the EzPacking complete bundle set in two colors which is perfect for DH and I. They also offer a starter set or a build your own packing cube set option. See below for a discount exclusively for H2OBungalow readers.
Aside from huge space savers, my other favorite features of these packing cubes? They are really heavy duty, and see through so it's easy to find what I'm looking for. The folding boards made it easy to fold my clothes to fit each of the larger cube sizes exactly. Clothes don't get wrinkled because the cubes don't loose their shape and items don't get tossed around when someone is digging for something at the bottom of a neatly packed suitcase either. Nice!
I made a 30 second video to share how easy it is to pack and use the EzPacking Cube system. I know it's much easier to see first hand!
Besides using my EzPacking Cubes I have a few other favorite packing tips that are always part of my travel planning and packing process. Having a routine to follow for my trip reduces stress (bad stuff!), and lets me enjoy the process of getting ready (good stuff!). After all, isn't the anticipation of a new adventure part of the fun?
Best Organization Tips For Travel and Packing A Suitcase
Plan ahead when preparing for a trip
#1. Start a packing pile. Don't wait until the last minute to pack. Start your packing pile a week or so in advance. Place items you think you'll need in the pile as you think of them, especially specialty items you don't use often. You can always weed out what you don't need later.
#2 Check the weather for your destination. It's no fun when you've packed warm clothes and it's hot outside or being cold because all you've packed is shorts and t-shirts.
#3. Make a list of your events. List your events by day so you'll know what type of clothes to pack. For example, Monday – beach in the am, dinner out pm.
#4. Get errands done early: Drop off dry cleaning and items that need to be altered at least a week or two before your trip. Take care of other important tasks like refilling prescriptions, confirming pet and house sitters or halting mail delivery.
#5. Go paperless. Download your airline app to check in and get flight updates for your return flight.
#6. Take a photo of your luggage to help identify it if it's lost.
Maximize space when packing
#7. Don't overpack. Lay outfits together with accessories. Pack 2 – 3 tops per bottom or upscale a casual dress with accessories. Weed out what you don't need.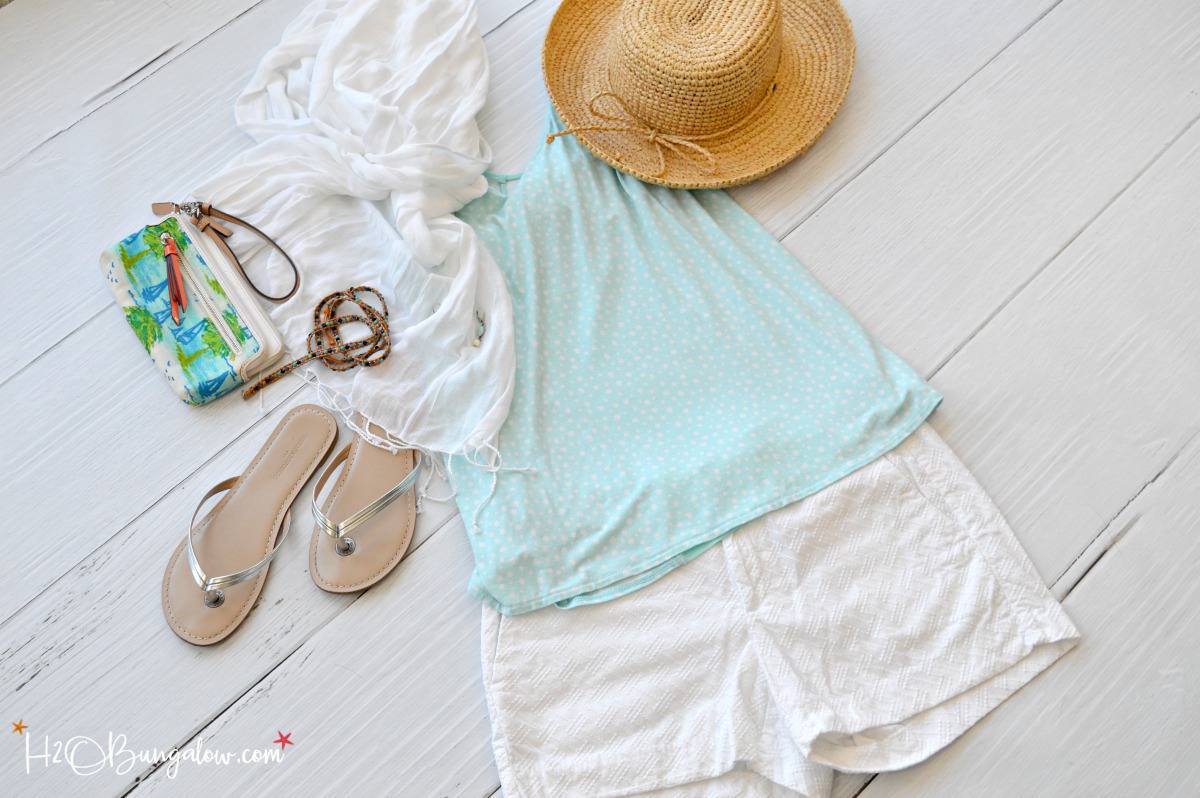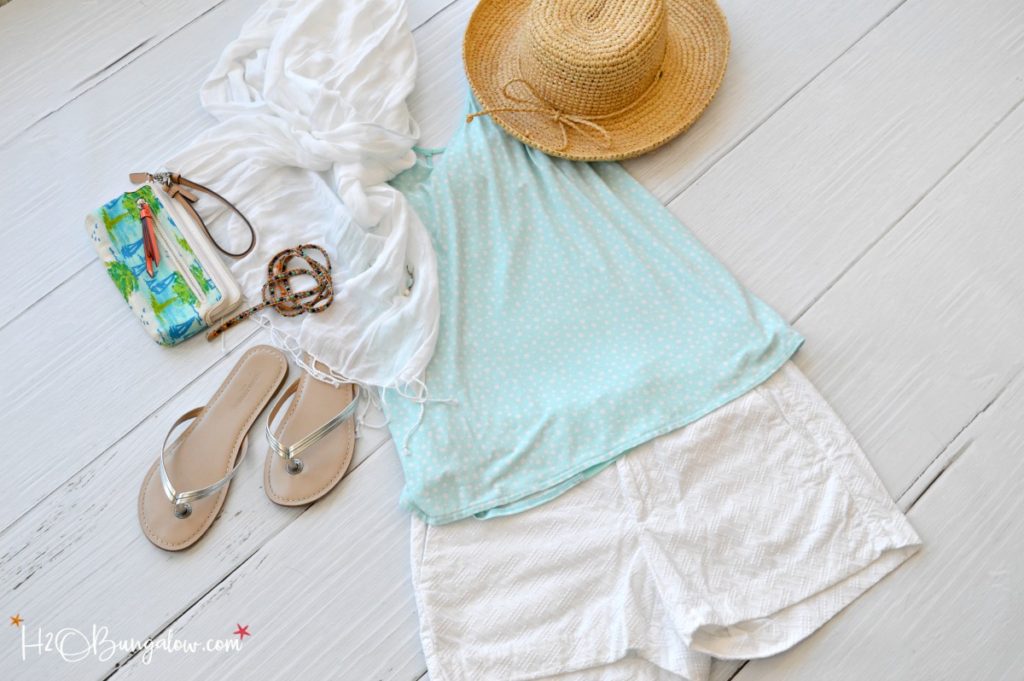 #8. Use every bit of available space. Roll or fold items neatly which prevents wrinkles as well as maximizes space in a suitcase. Roll socks inside shoes, put toiletries in smaller containers. Tuck oddball items in extra spaces left over after packing your main items.
# 9. Have a consistent packing system and stick to it. Pack clothing by day, event or like item. Use a color system for different people sharing a suitcase.
#10. Tuck a sachet or dryer sheet in with your clothes to keep them smelling fresh.
Stay organized when traveling
#11. Keep clothes clean. Keep clean and worn clothing separate. Plan for dirty laundry by packing a laundry bag.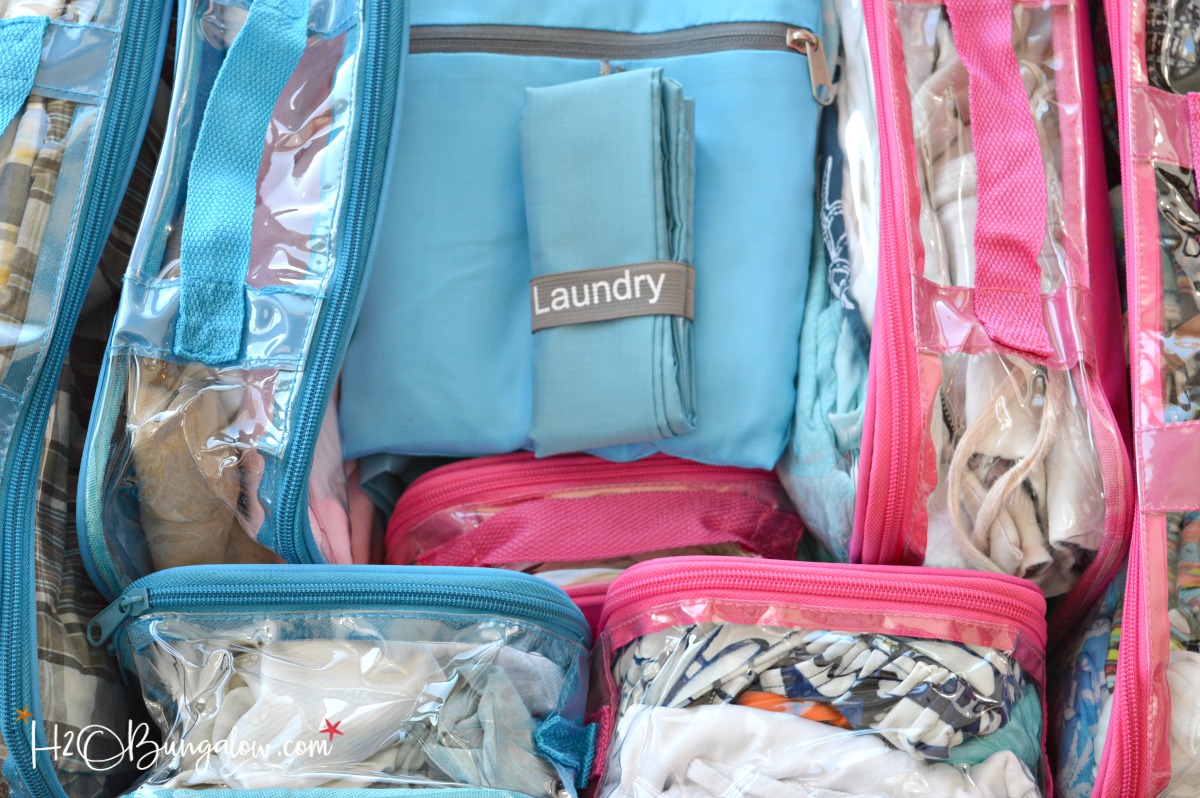 #12. Use shoe bags to protect clothing.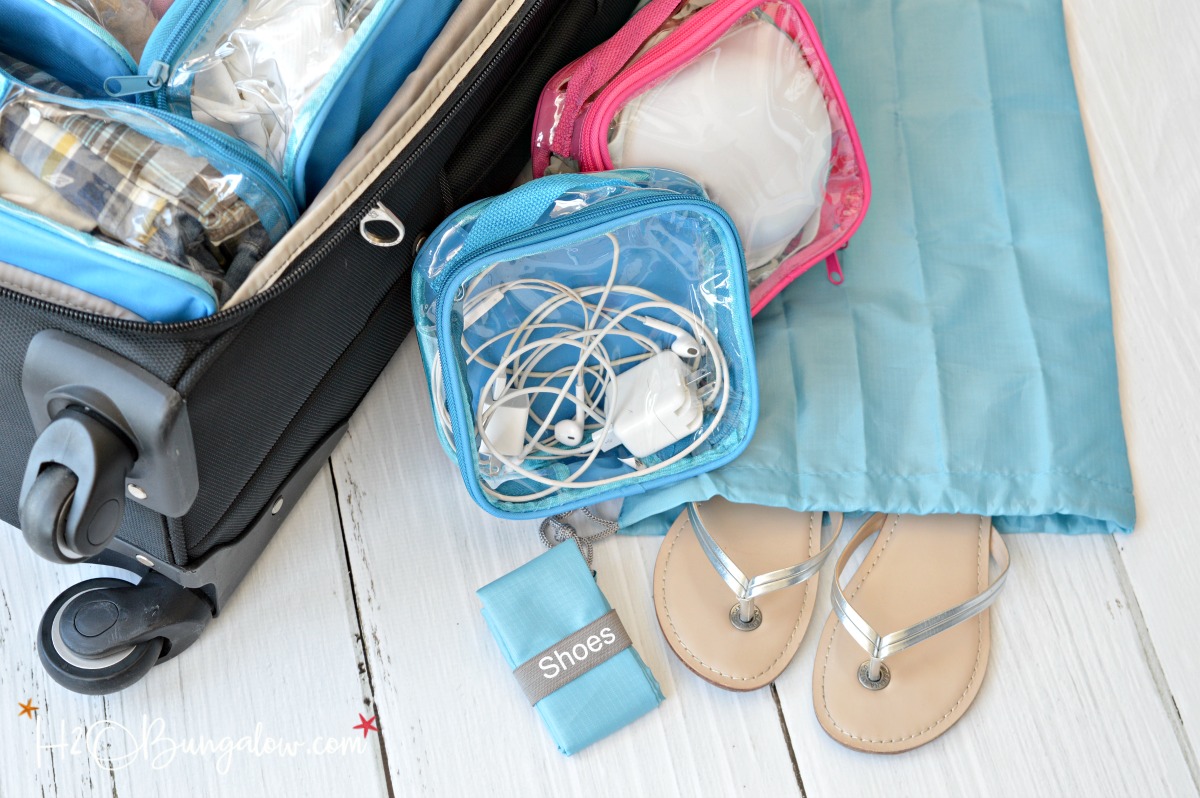 #13. Be prepared for the unexpected. Take an extra bag like this convenient duffle bag that folds into itself. You never know when you'll need one for a day excursion, an unexpected shopping trip…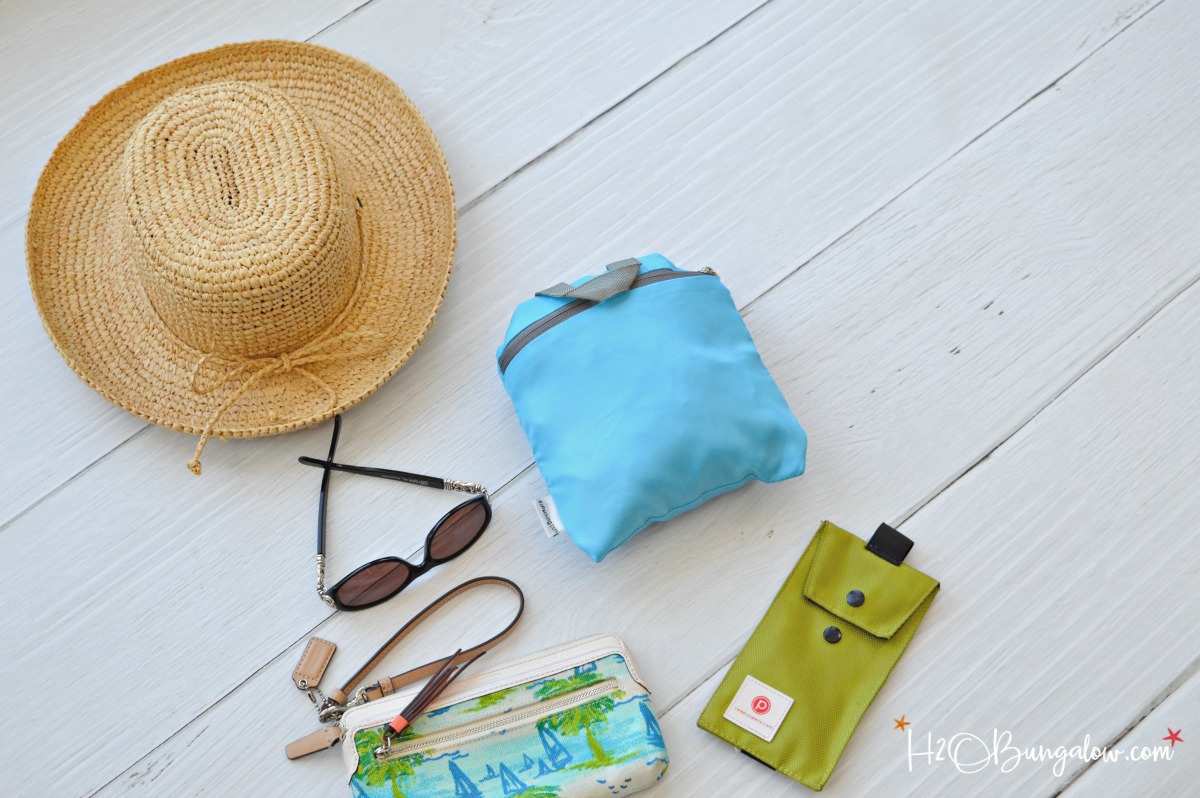 …or find you have too many souvenirs to pack on your return flight. 🙂 Plus you can avoid heavy luggage fees on the return flight if your bags are too heavy. Simply pull out an EzPacking Cube and take it as a carry on.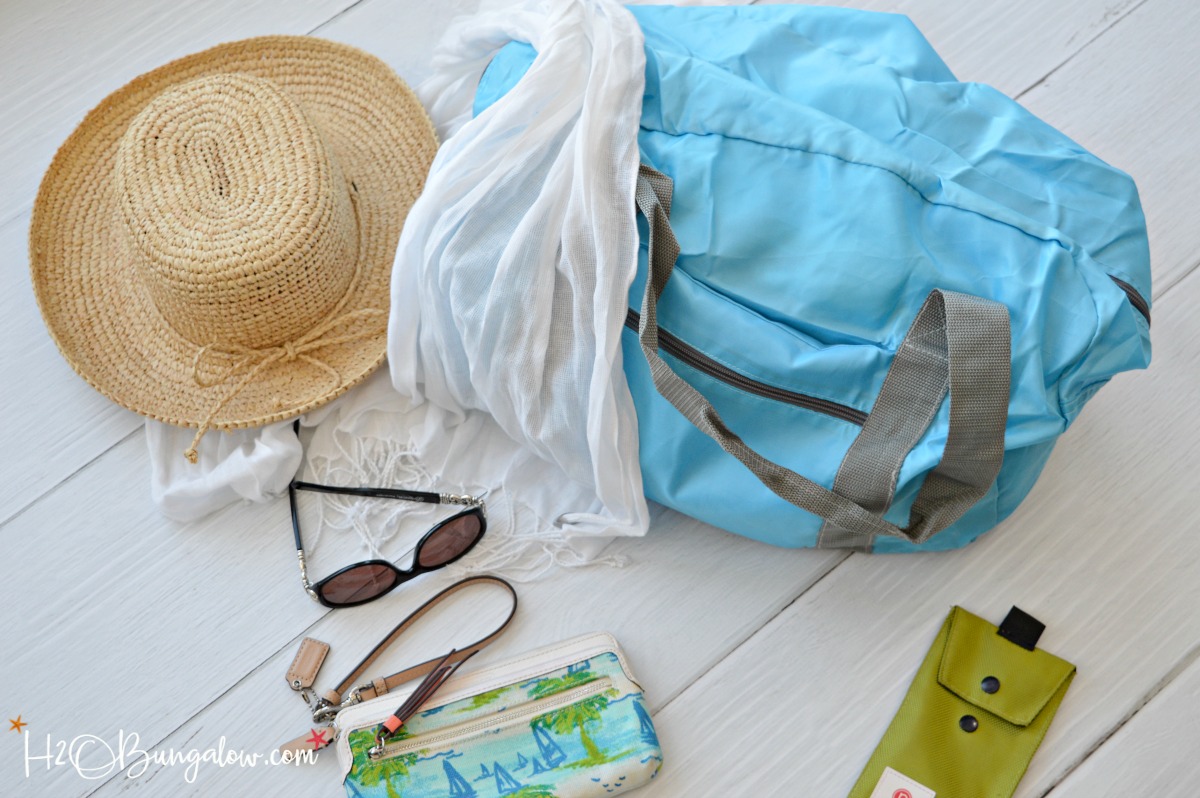 The tips above are my favorite go-to organization tips for travel and packing a suitcase. When I'm organized at the start, I forget less, stress less and enjoy my time away. Even if it's a work trip like traveling to the North House for a new round of DIY home improvement projects.
Pin these best organization tips for travel and packing a suitcase for later!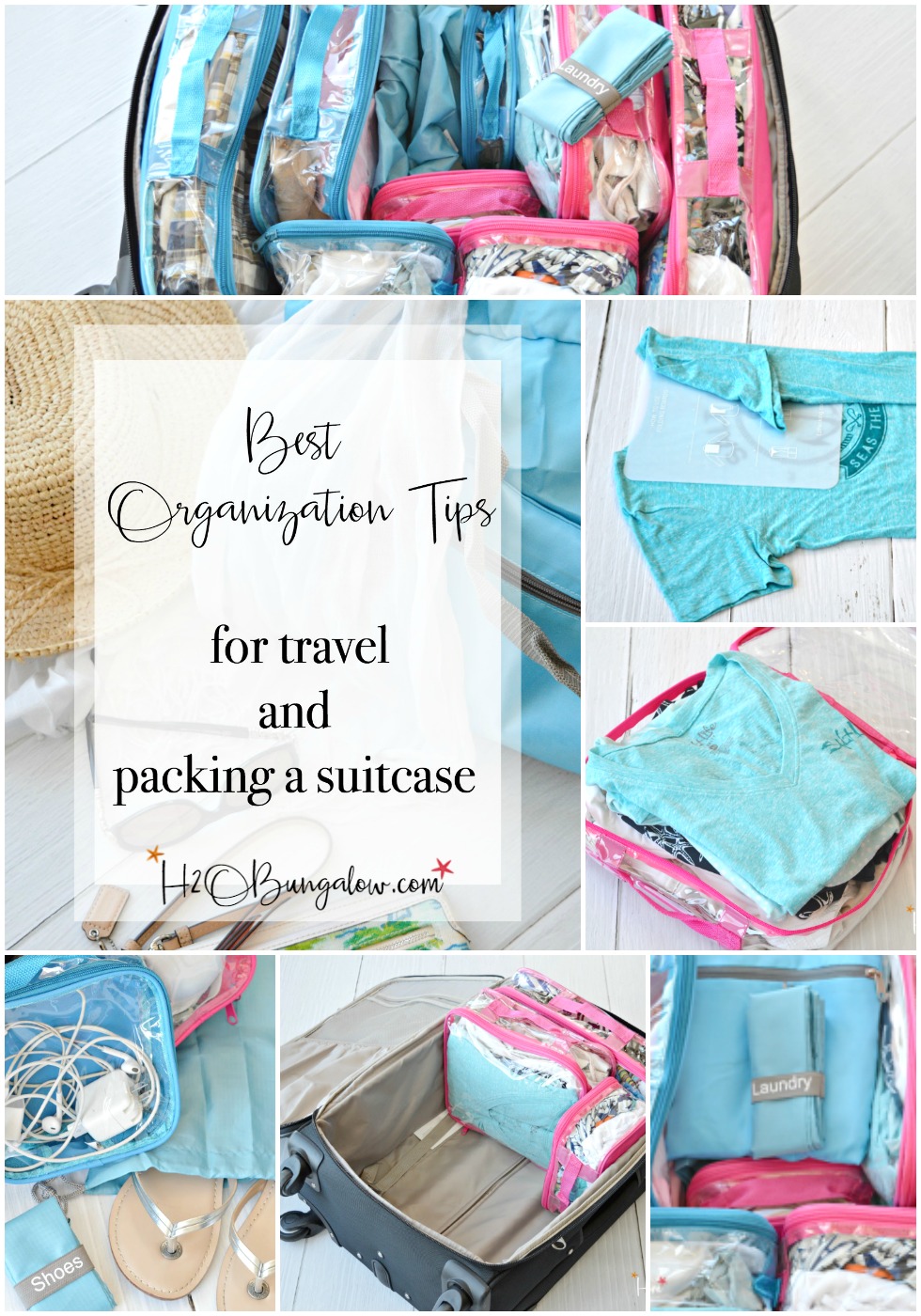 Do you have any favorite organization tips for travel and packing a suitcase that you swear by too? Leave a note in the comment section below. I love it when you guys share your knowledge with me too!
This post was sponsored by EzPacking. I only share products I love and use myself. All content is 100% my own including opinions and creativeness 🙂
Check out EzPacking's website for more ideas on packing for travel and suitcase organization. I enjoyed the the reader testimonials where other people shared their own stories of creative uses.