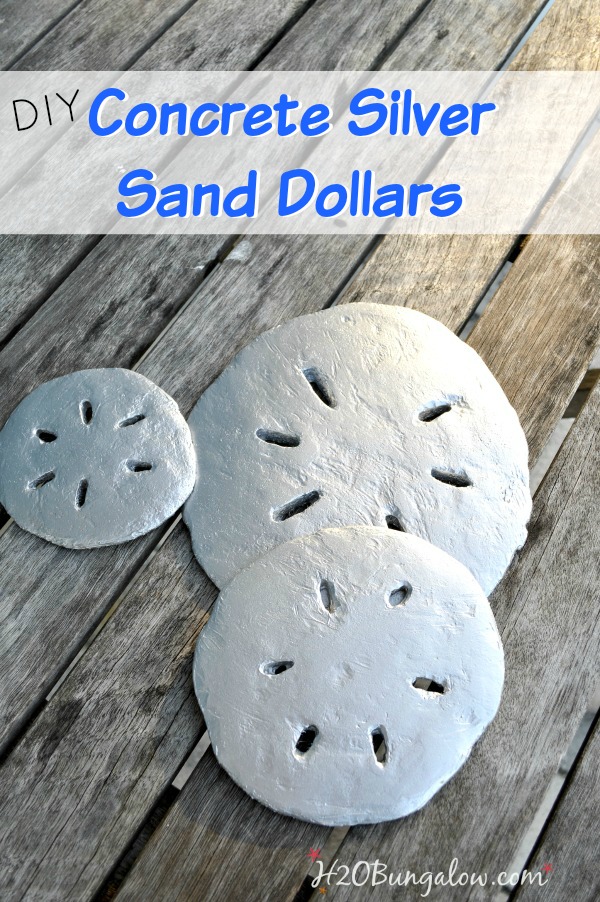 My concrete silver sand dollars were inspired by a local artist who has a shop near the beach. He fabricates the most amazing sea creatures out of metal. Every day he puts a huge, and I mean huge, sand dollar sculpture outside by his front door. I've coveted his beautiful sand dollar sculpture for the longest time. His work is unfortunately out of my budget, at least for now. Our project house has practical priorities which doesn't include a giant metal sculpture of a sand dollar. I made my own version, just smaller as a prototype for a set of large ones. They came out so well I wanted to share my little project:)
I made my concrete silver sand dollars last fall. They sat in a pile in my garage until last week when I finally got around to painting and hanging them last week. My idea worked well and they look great!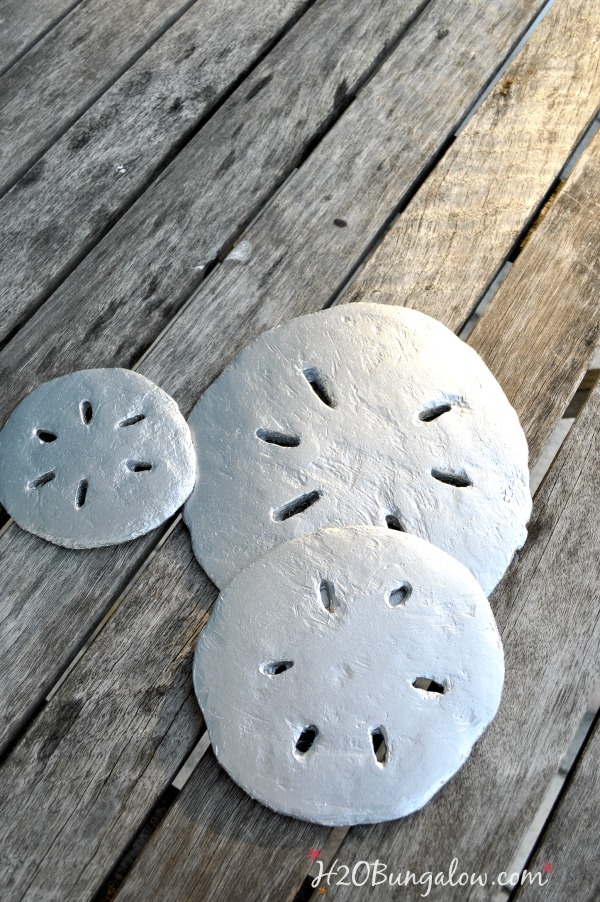 You might remember last September when we built our own vanity for our new master bath addition and poured our own concrete countertop. I had some extra concrete let over after filling our counter forms. I thought why not?
These concrete silver sand dollars are a cinch to make and you won't need project leftovers. Buddy Rhodes also carries small ten pound buckets of artisan concrete, pre-mixed and ready to use. This concrete product is not the same as concrete mix from the hardware store, it has no aggregate and has special ingredients added for strength.
I formed these by hand and used a flat head screw driver to make the slots. The rest of the steps are the same as my concrete countertop tutorial.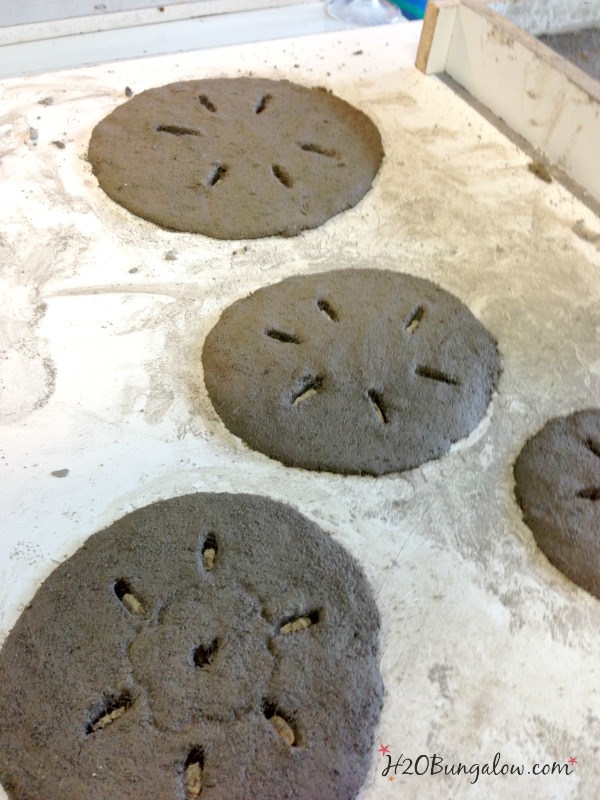 After a slurry and a light sanding I thought they were too plain. That's when I decided to I wanted them to look like metal so I gave them a few coats of my favorite Modern Masters Silver Metallic Paint. It looks just like liquid metal.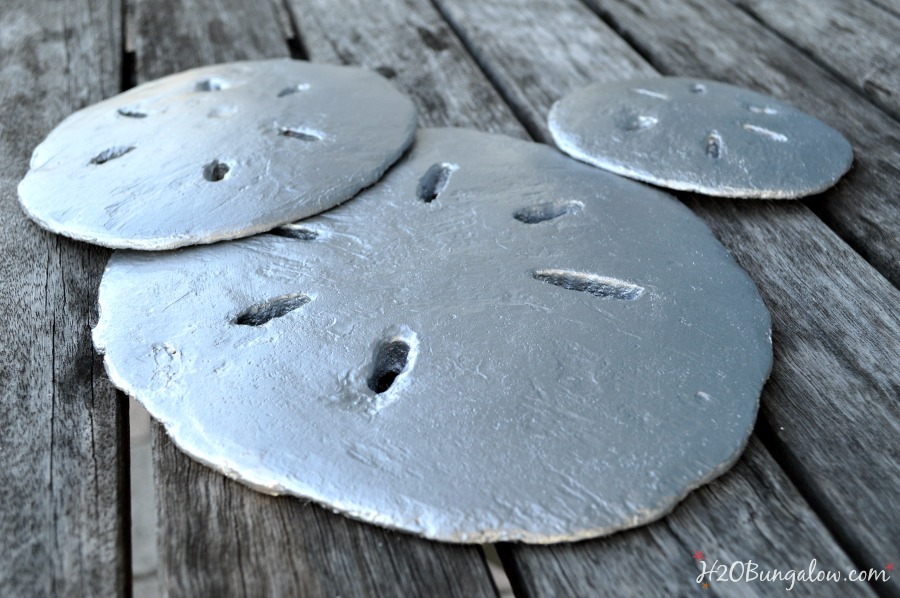 I hung my concrete silver sand dollars with picture hooks using the open slots on the sand dollar bodies. They look great by the window in our modern master bath. The setting sun reflects soft hues of pink and oranges onto them in the evening which I love.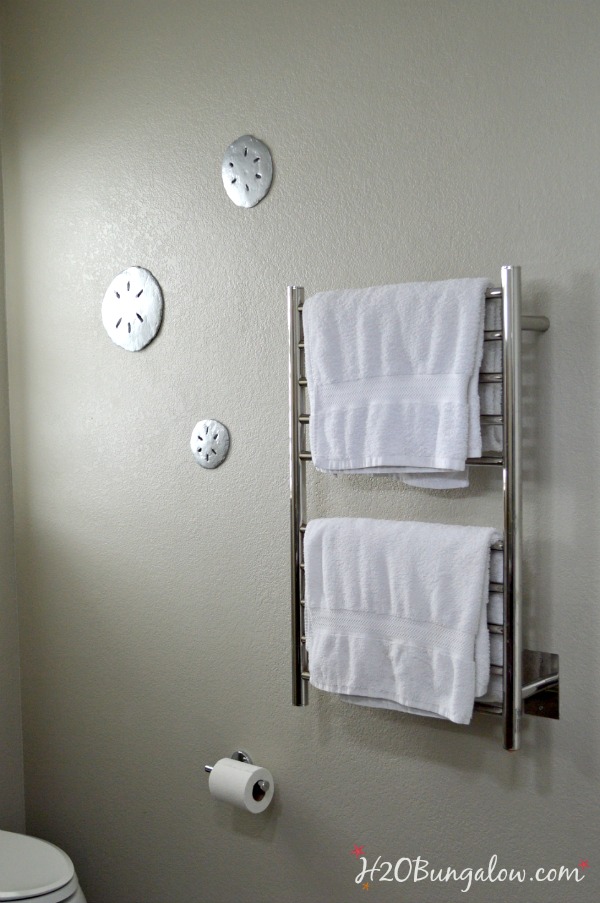 My prototype concrete sand dollars came out exactly the way I wanted them to look. I love the texture and random shapes of each one. So much so, that now I'm ready to tackle the big ones.
So, just how big do you think I should make my new concrete silver sand dollars for this wall?
Want to learn more about using concrete for countertops? See my DIY Concrete Countertop project to see how DH and I made our own concrete counter top and save big bucks!
This isn't technically a sponsored post, but, I was provided product for my original concrete project. All opinions, craftiness, and projects are 100% my own and never for sale. I'll only share items I think have value for my readers!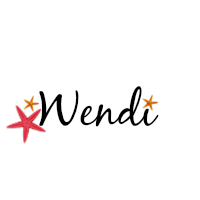 Don't miss a single creative idea I share!
Love my posts? Click here to get my posts sent to your mailbox or follow me here on Bloglovin.
Following H2OBungalow on Facebook? It's one of my favorite places and I share lots of extra projects, inspiration for the home and content I don't share anywhere else.
Love Instagram? Me Too! Follow H2OBungalow on Instagram and see my projects in process and lots more.