I've shared pictures of my DIY open shelf vanity in progress for the last several weeks, no….probably the last few months. I'm over the top excited to finally share my project as well as the story behind it and thank the awesome people who helped make this plan of mine a reality!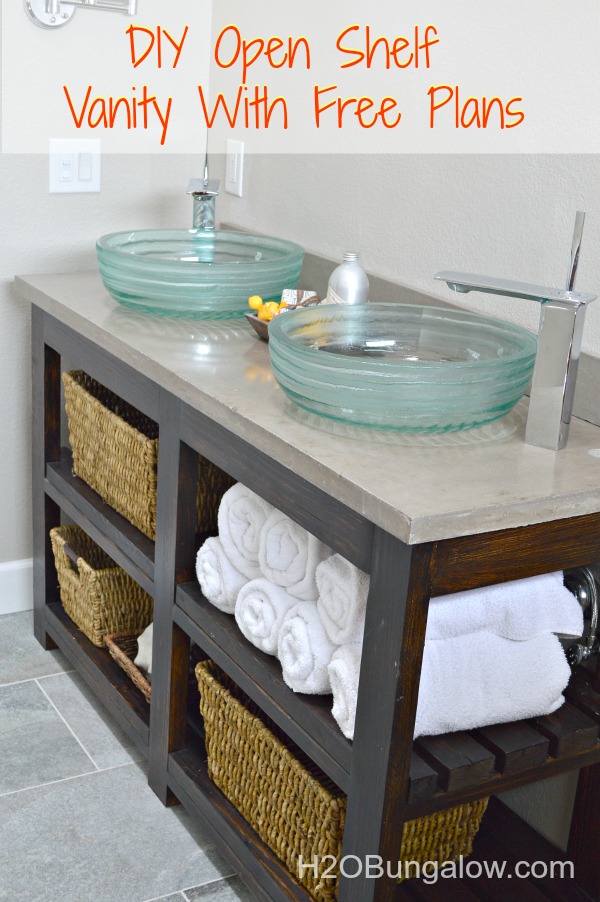 The plans..
Last spring I met Cher of Designs By Studio C who is a dynamite lady with a tool belt. She builds things, like real things. So I asked her, do you think I can do this? Of course she said!
Will you make plans for me to build my vanity?
…and she said yes!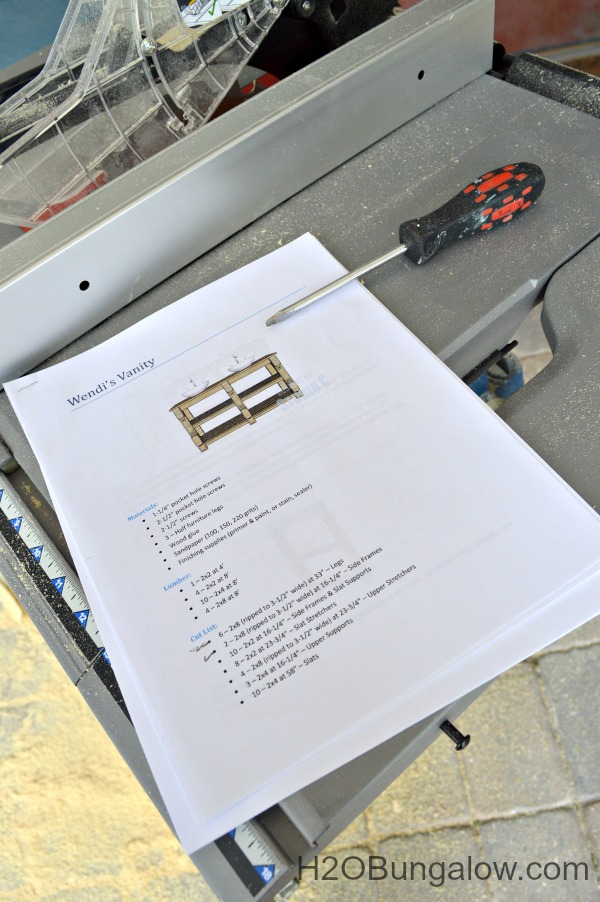 ..and that's how it started
And I shared my grand idea with my husband and any family member who would listen. I was secretly looking for volunteers…along comes my father-in-law who has tons of patience and builds really well. He helped me assemble my new Ryobi table saw and gave me lessons including safety do's and don'ts.
I have a little confession to make.
The only other thing I've ever built is the bench behind me in that photo. I had Home Depot cut almost all the wood and I propped it up in the corner of my living room to "square " the corners. Nope, I didn't even own a square or a proper measuring device. It was then that discovered that a yard stick will not suffice for building stuff:)
This was a personal challenge I simply had to master.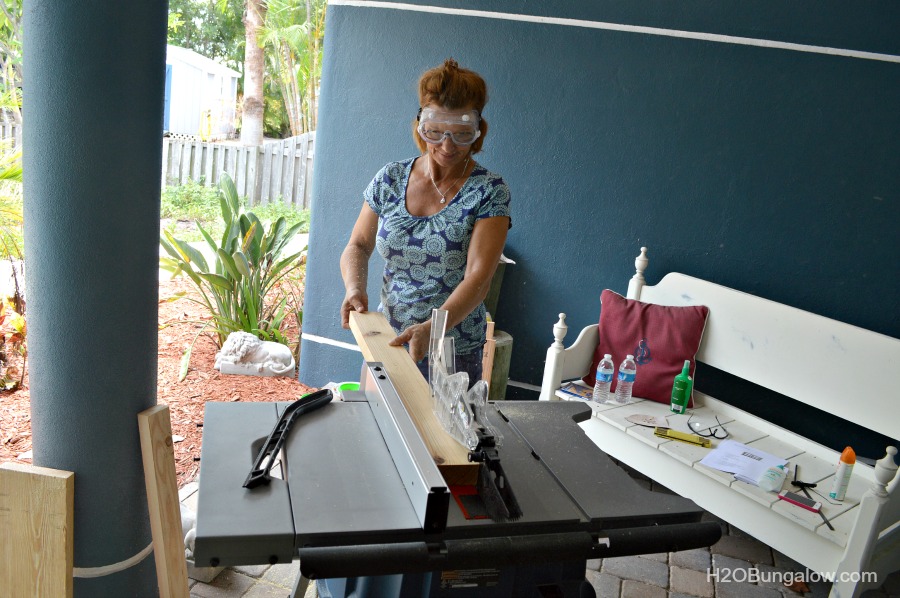 It's messy. It's fun.
Can I tell you how empowered I felt, "ripping" my own boards for my vanity? 🙂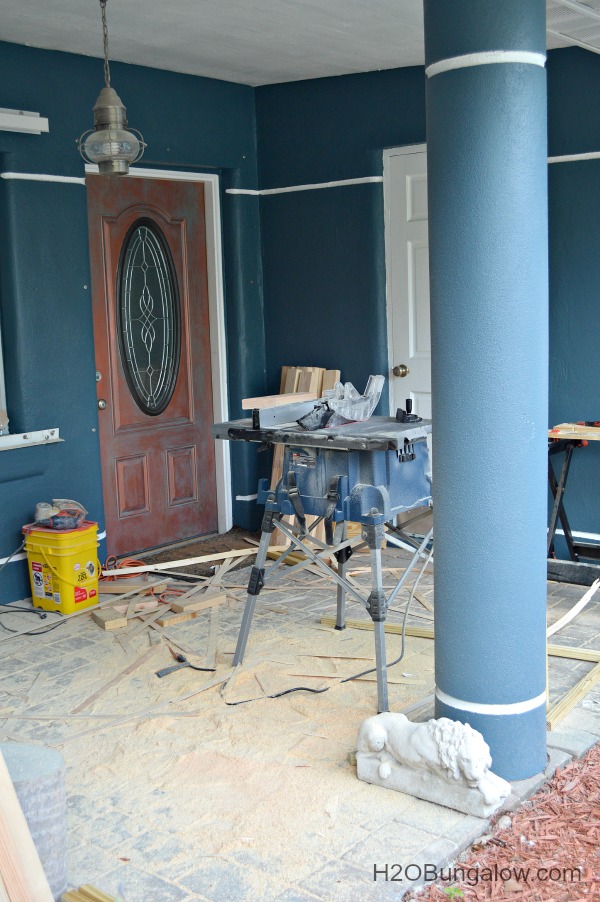 You can download the free plans to make your own DIY open shelf vanity. Any type of flat top will work on it. It's designed for vessel sinks that sit on top but it would be easy to change by moving the top supports mount if you want to use it for drop in sinks. I think this would also be an awesome kitchen island with a granite or butcher block top on it as well.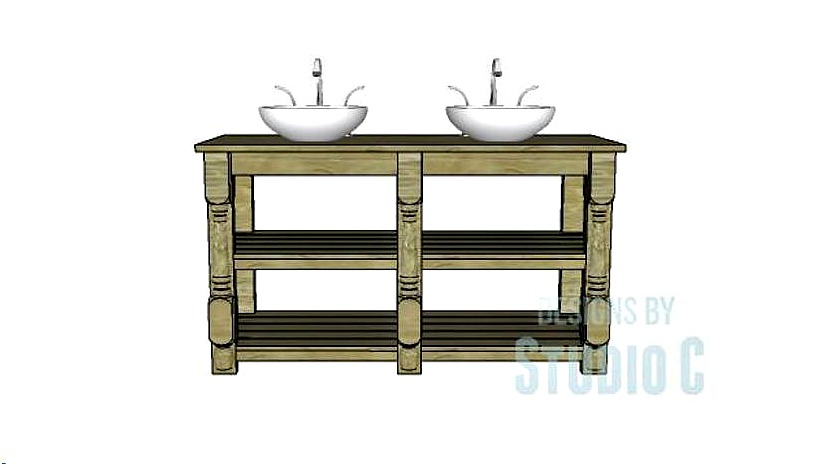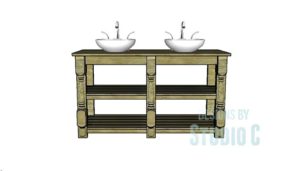 Cher did a great job with the plans and they are easy to follow. If I did it, anyone can! Here's a tool list of what you'll need to make your own DIY open shelf vanity. You can easily make this over a weekend.
I'm going to share a few tips to make this process even easier that will help a non-builder or a beginner, like me, build one.
Buy straight boards. You can check if a board is straight by holding one end and looking down the side to the other end. If its warped or bowed, put it back and get another piece. We spent a lot of time at Home Depot in the lumber selection choosing the right boards.
I used 2″ Kreg Jig Pocket Screws
for the entire assembly (this link is an incredible deal on these screws!). It was easy and they fit well.
Label everything as you "rip" or cut. your board. I went even further and listed 1 of 4, 2 of 4, etc. which was very helpful so I didn't mix up vanity pieces and scrap wood.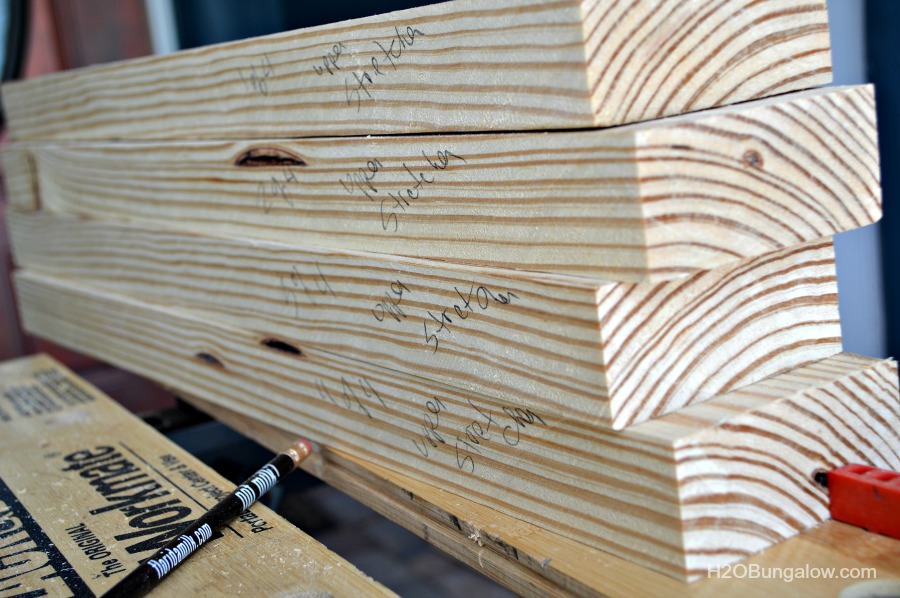 It's absurdly hot here in Fl during the summer. So…
I got creative!
A drop cloth, an old Meryl Streep movie and a Sunday afternoon is all I needed to drill about 130+ pocket holes.
Time flew.
The Kreg K4 Jig
makes joining two pieces of wood together really easy and with a strong bond. You will never regret owning one! Now when I look at things, I actually imagine where the pocket holes should be placed and how I would put that item together….nerdy, but cool 🙂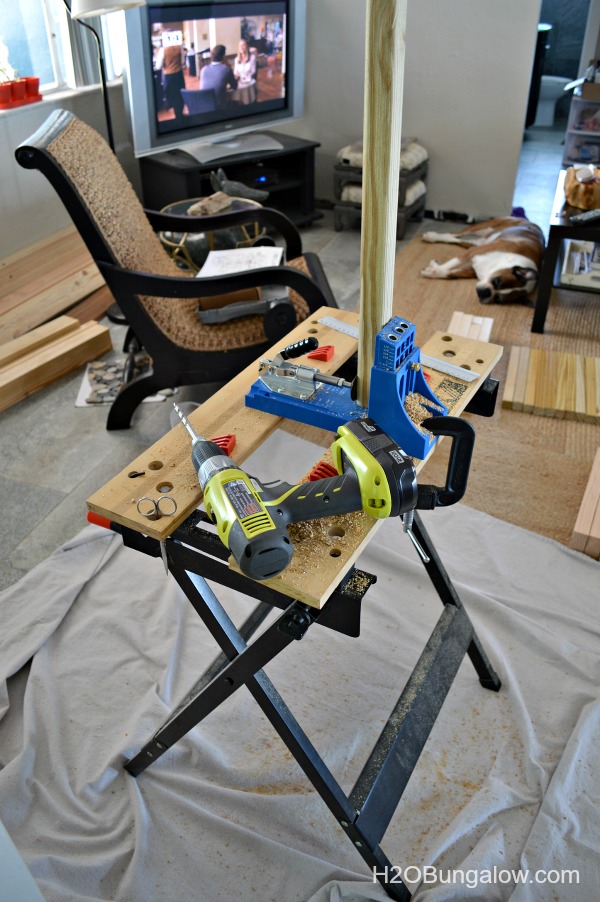 When It finally came time to put the vanity together I put all the pieces together in piles. We laid out the sides and it's pieces before assembling.
Choose the best looking boards for the front of your vanity.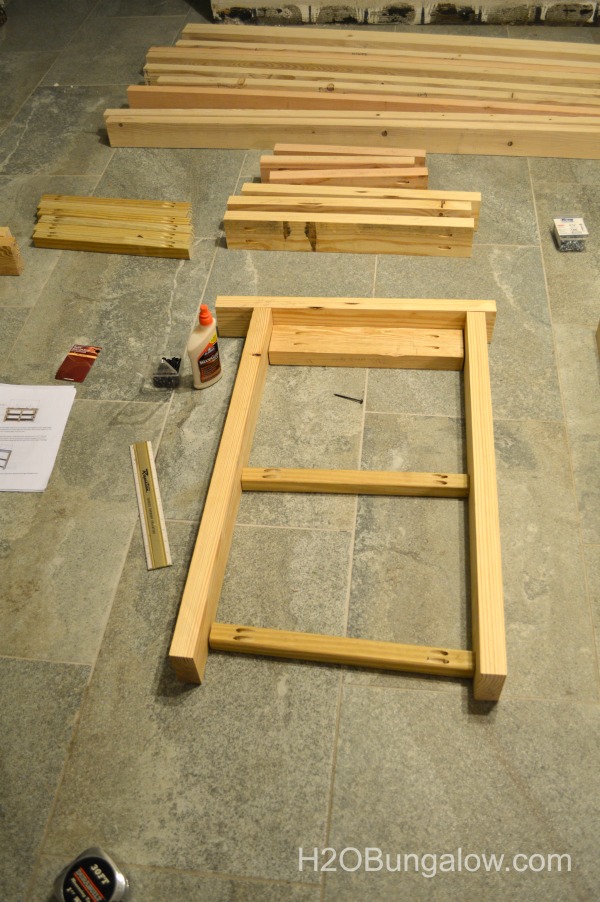 Soup Can Sam decided to join in and help. He wasn't too helpful at all 🙂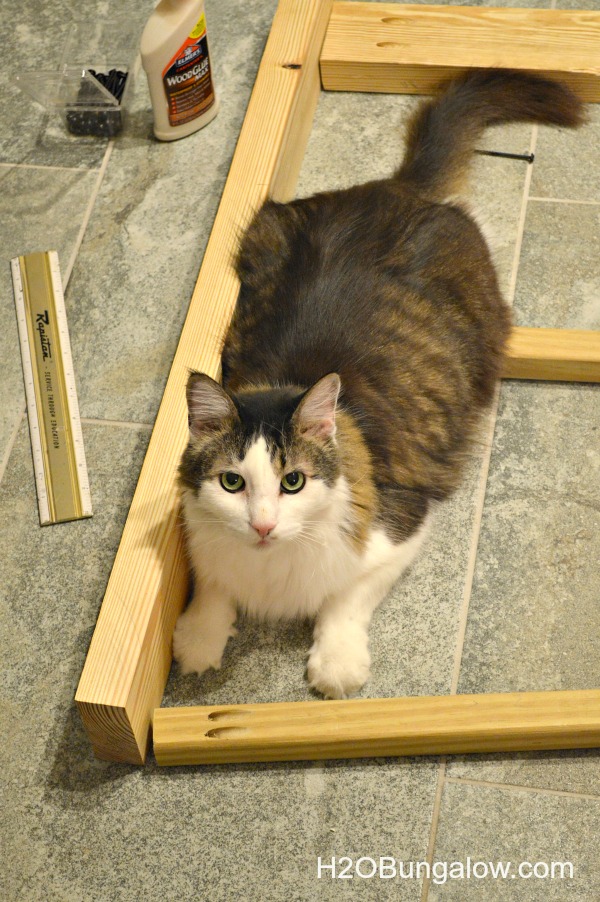 Assembly wasn't hard. You will need two people but that's because 4 hands make the job much easier.
Before you assemble your DIY open shelf vanity check the height of your plumbing pipes and then check again that they clear the center shelf. 🙂 It's a lot easier to make a little adjustment before they are installed!
I speak from experience 🙂 We moved the pipes in the wall up 3 inches.
I also highly recommend double checking your measurements for your 6 slat supports before cutting them when your vanity is ready for them. Since the boards weren't exactly 2 x 2 inches they were a tiny bit off. The same goes for the last 3 top supports.
I'll mention again…be sure your last 3 slats are not in the way of your sink drain pipes and faucets. I'll call myself lucky at this stage because I forgot to use the wood glue on the top 3 supports. Yay!!…cause we had to move them:)
A beginner error that worked in my favor.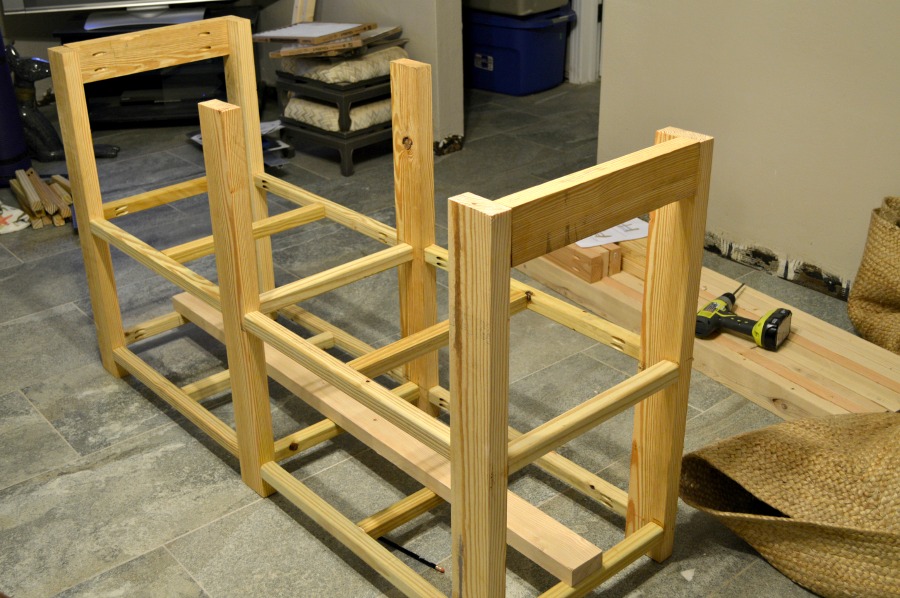 This is our finished vanity base. All I had left to do was to cut out the notches for the front and back slats with the jigsaw which was pretty easy.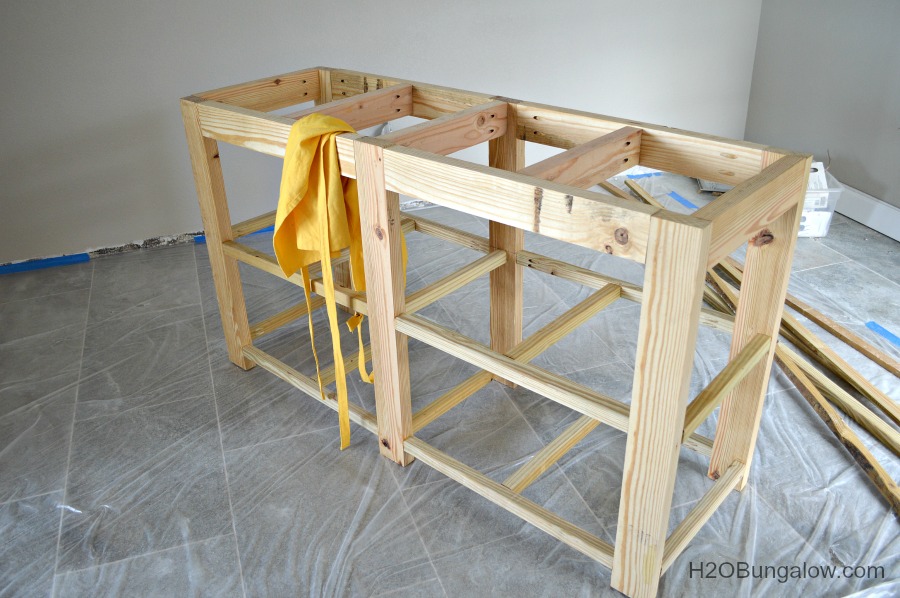 I decided to put my finish on before installing the slats so I could get the sides of the shelve slats evenly. To prep it for the finish I filled in spots that needed it with wood filler and gave it a light sanding. I cheated on the slats and just sanded the areas that faced forward and the tops of the slats only.
I used Minwax Wood Conditioner to prep the wood for the finish. I used Polyshades for the color. I love the color. The finish looked awful after the first coat and terrific after two coats. I think the trick is to brush it on and then wipe it off.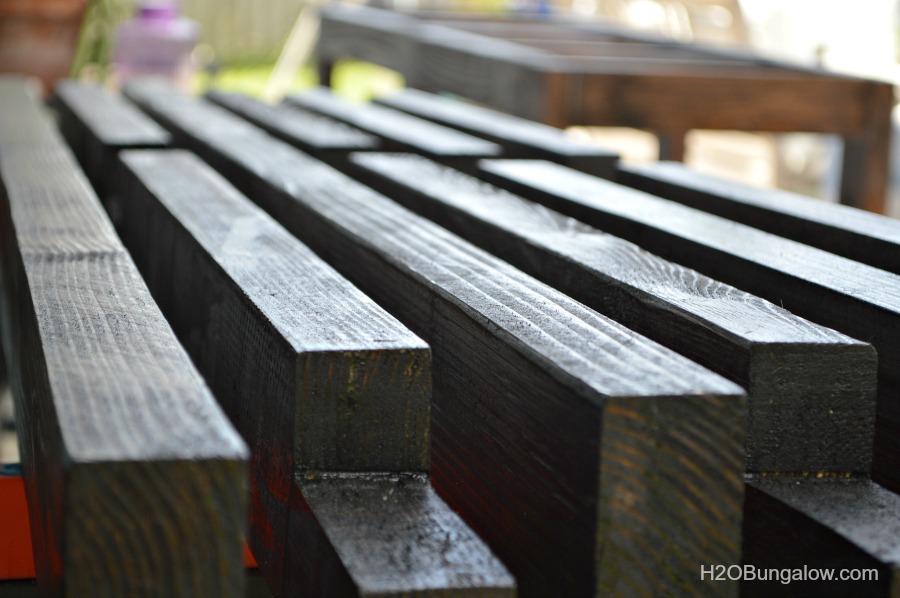 We finally made it to the last step and I have a few tips that turned into huge time savers for the final assembly.
We flipped the vanity upside down and drilled pilot holes along the bottom where we were attaching the shelf bars with 2″ screws. We installed the two outside shelf bars first. Using the clamp to hold them was very helpful. Next we installed the center shelf bar. That left the two middle shelf bars and we simply centered those.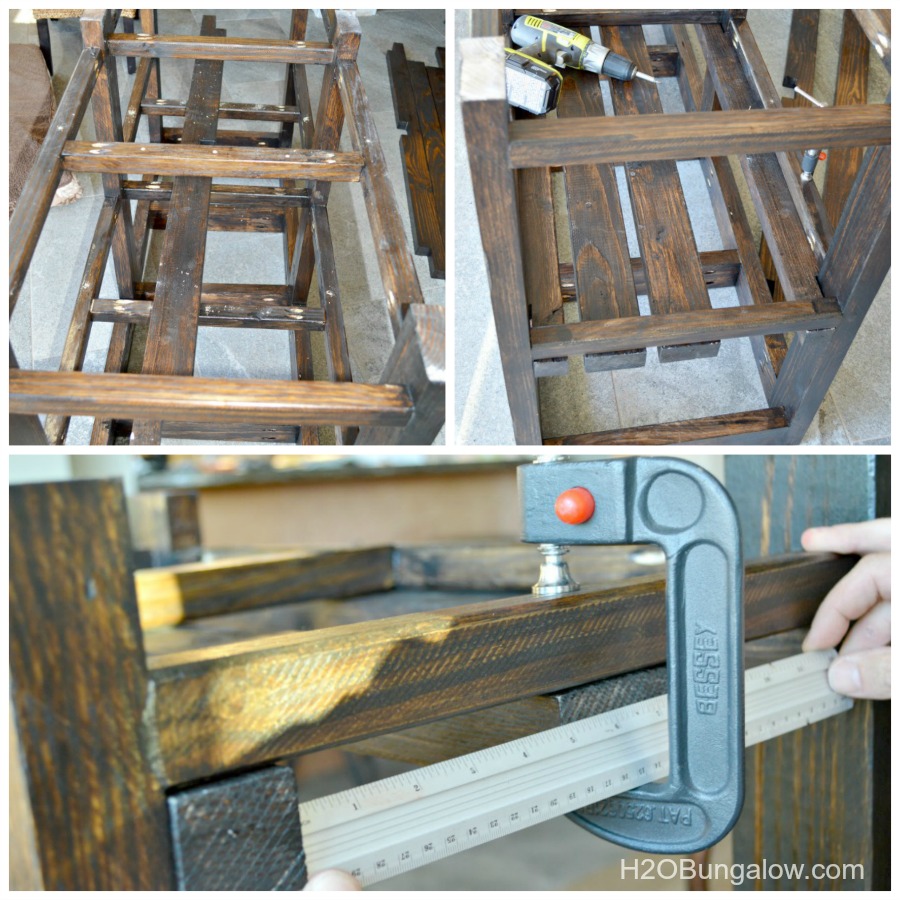 Done! Here's a few pics of our progress as of today.
I don't have a wall mirror yet, but I do have this lighted magnifying make-up mirror, which will do for the important tasks for now.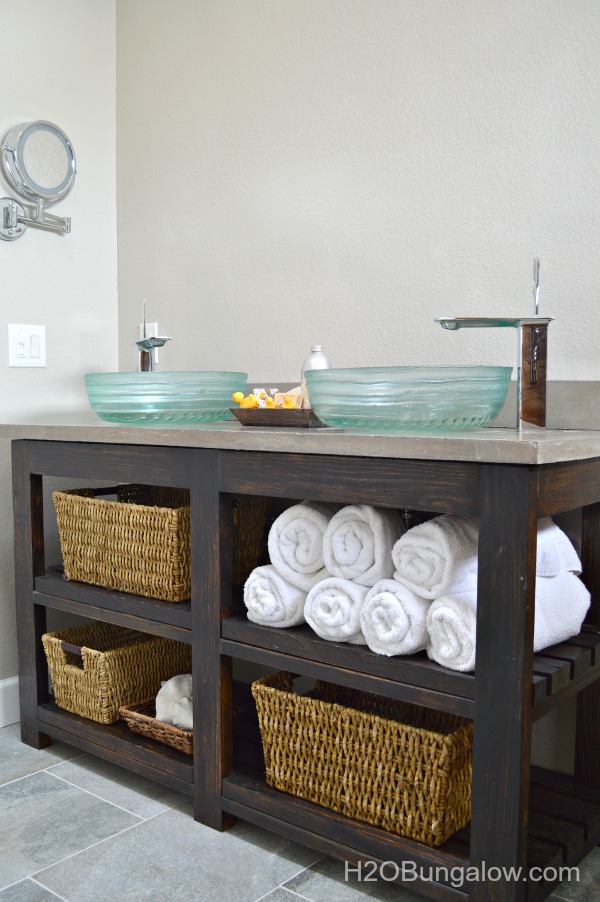 I love the open shelves and the minimalist style of my vanity. Cher was awesome to work with and designed a vanity exactly how I wanted it. I can't wait to find something else to make from her blog Designs By Studio C . The hard part will be choosing!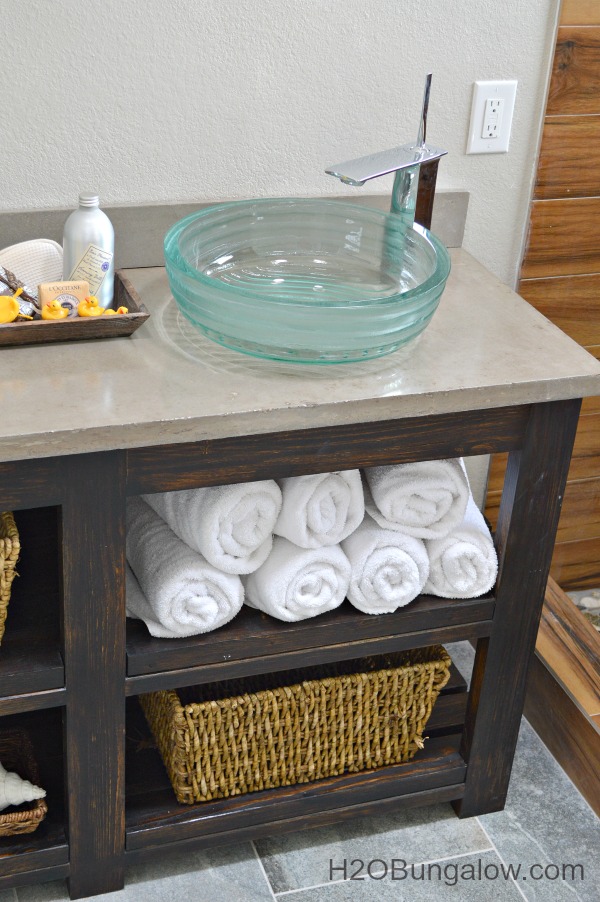 We poured our own concrete counter top. It's a doable project for beginners and we save a huge $$! I'll post on that next week as well as finally sharing the big reveal!
I love the frosted glass vessel sinks I found at a local store, but wished I would have chosen this sink instead because I'm short.
If you've followed along with me on my Expert Advice Tips for Renovation Series you probably remember I have some pretty awesome sponsors for this huge project. Be sure to stop by and visit them!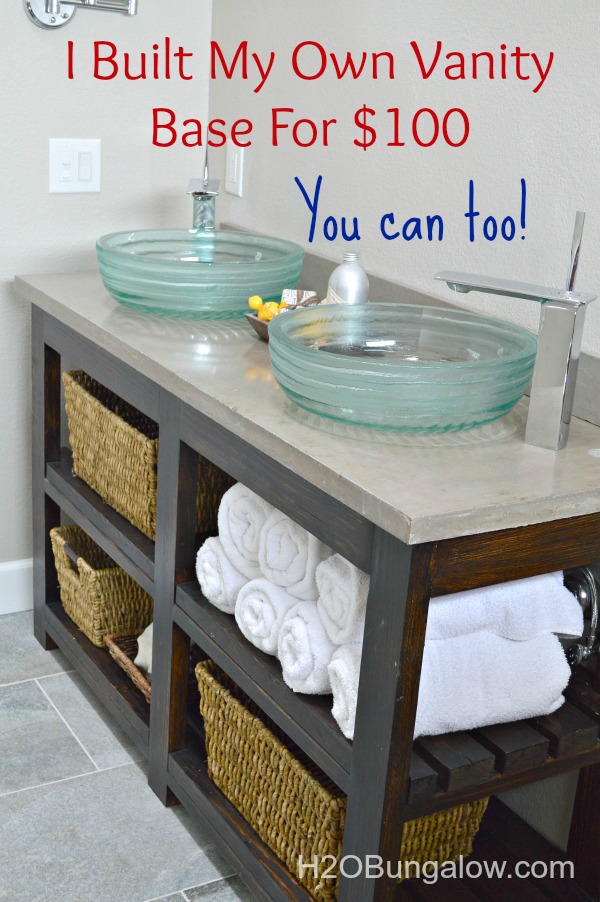 It took me a while to figure out what mirror I'd add to the vanity. Click here if you'd like to see what I built to complement the modern rustic style and not break the bank. This project was just one of the many Creative DIY Shelving Ideas for Organization and Styling for your home that I've shared.
It was worth the wait!
I designed my own Contemporary Master Bath Renovation and I share my expertise so you can too.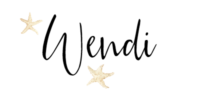 This project was featured at

And