I can't wait to share my metal bakers rack makeover. I'll show how to paint a metal bakers rack and give it a completely new look.
This was one of those Lucy moment projects, as in..uh-oh what did I get myself in to this time? I found this broken down bakers rack at the local Goodwill. It was a fiasco getting it home and then I needed help carrying the behemoth heavy thing into the garage. I endured DH's hard stare with the silent words of what the heck? and..where are you going to find room for this?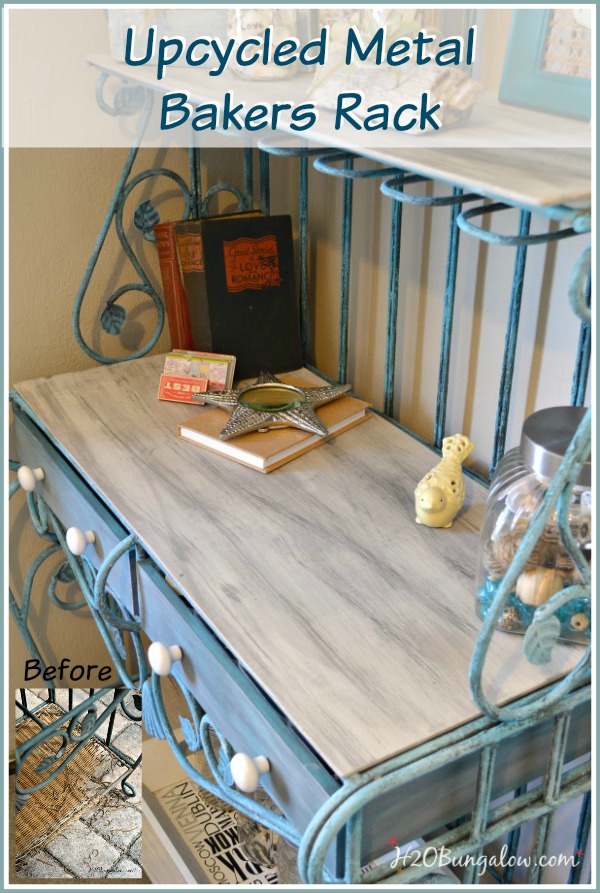 … I wasn't about to let him know I was thinking the same thing. I've always loved bakers racks, I simply needed to find a way to give this old piece a fresh new look.
A couple of weeks ago I had to use the table saw for another project and figured I might as well cut the new shelves for my metal bakers rack makeover while I had it out. It was the perfect jump start I needed to get this project rolling 🙂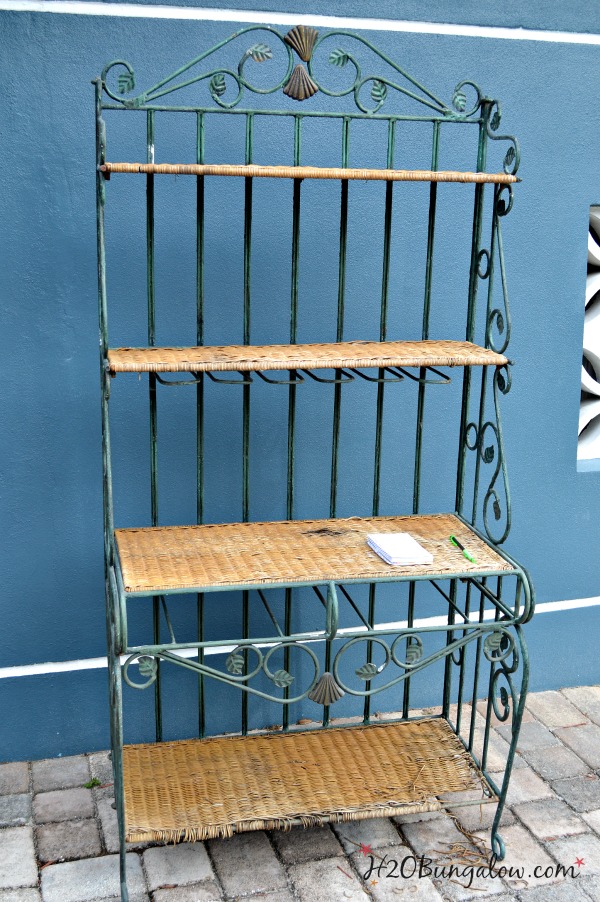 As you can see, it was in rough shape. Removing the wicker was time-consuming. The box cutter blade made me nervous about loosing a finger. What if it slipped? I tried the Dremel tool which cut great, sparks and all. But, the two cutting discs I had worn down really fast and I still had 2 shelves to finish. Next, I took the jigsaw and cut the wicker out of each panel just inside the frame edges and then unwound the rest of it by hand. If you're trying this, skip the other methods and jump right to the jigsaw.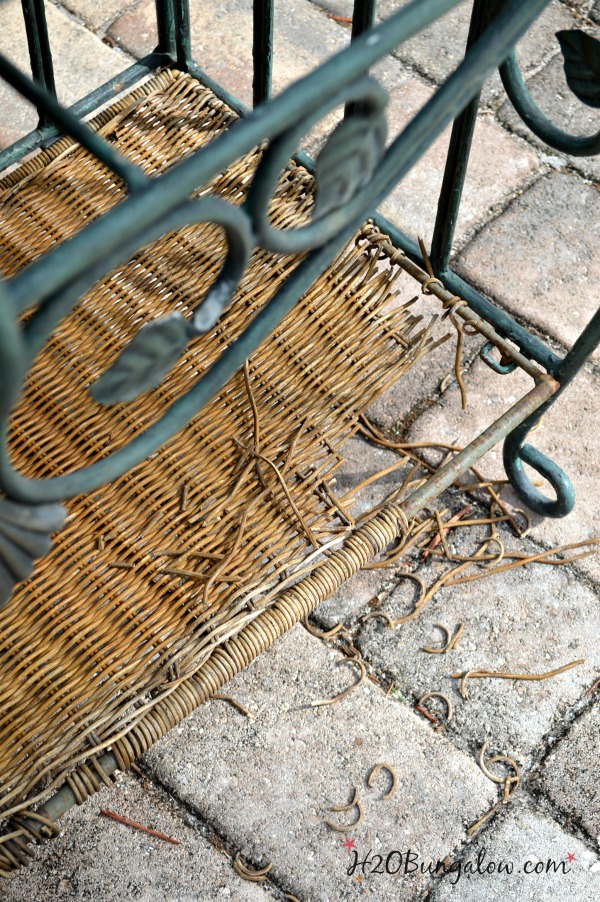 After a good cleaning, I dry-brushed the metal frame with a coat of Benjamin Moore's Baltimore Sky in a flat finish. Dry-brushing is just using a minimal amount of paint on your brush and almost rubbing and pouncing the paint onto the surface. I used the crummiest brush I had for this job, which was good because I ruined it pouncing on the paint. See it in the picture below. Last I added a little bit of white dry-brushing in a few areas like the leaves and some areas of the scroll work to add highlights. You don't really see the white, it just gave the areas some interest.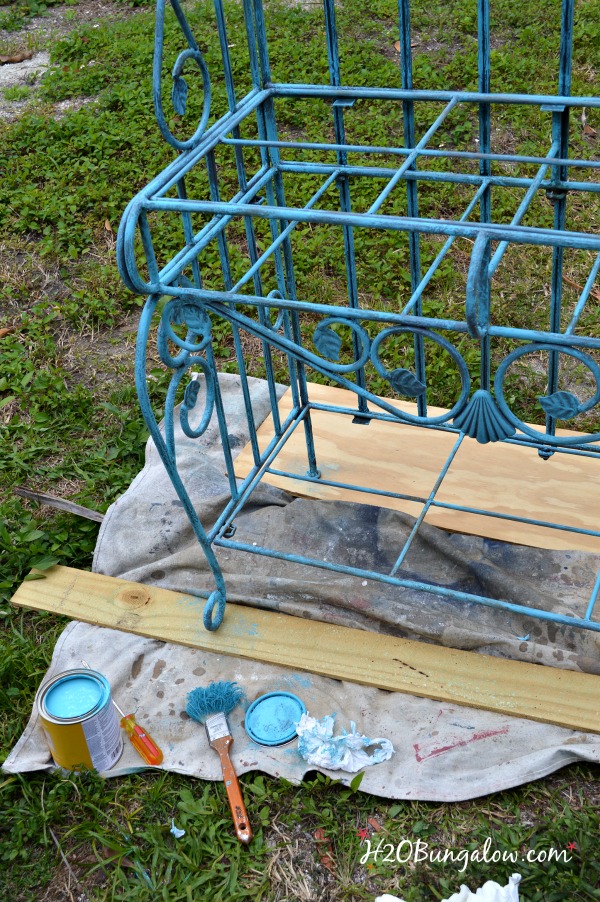 Because the frame had a lot of texture, the paint covered the high areas and left the depressions dark, almost black. My frame took on an aged patina, like it took years to get this color variation. It was exactly the effect I wanted!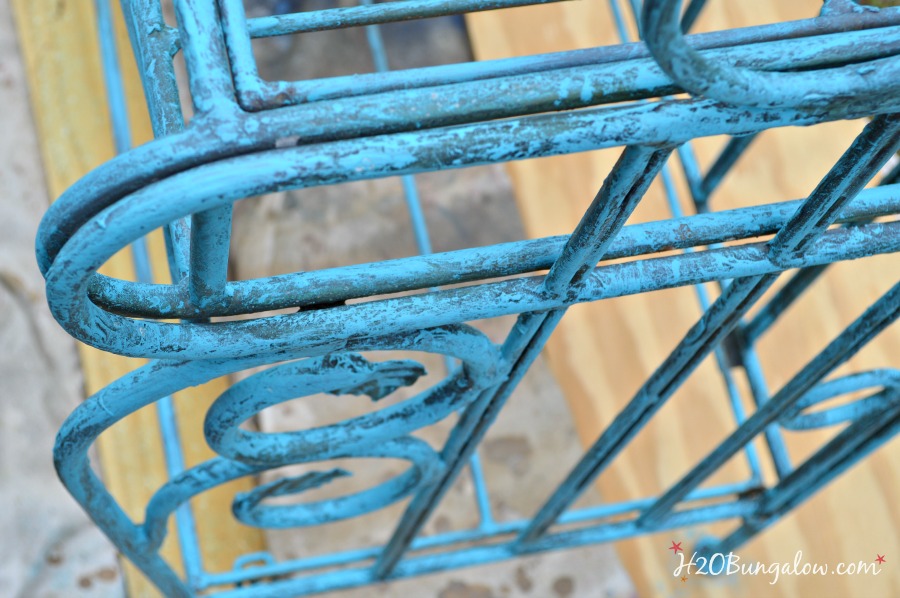 The front of my bakers rack frame had two openings that looked like there may have been drawers at one time. I made two drawers and finished them to compliment the frame. I'll share how to make a simple drawer in a later post.
Here's how I made the aged patina on the new wood so it matched the bakers rack frame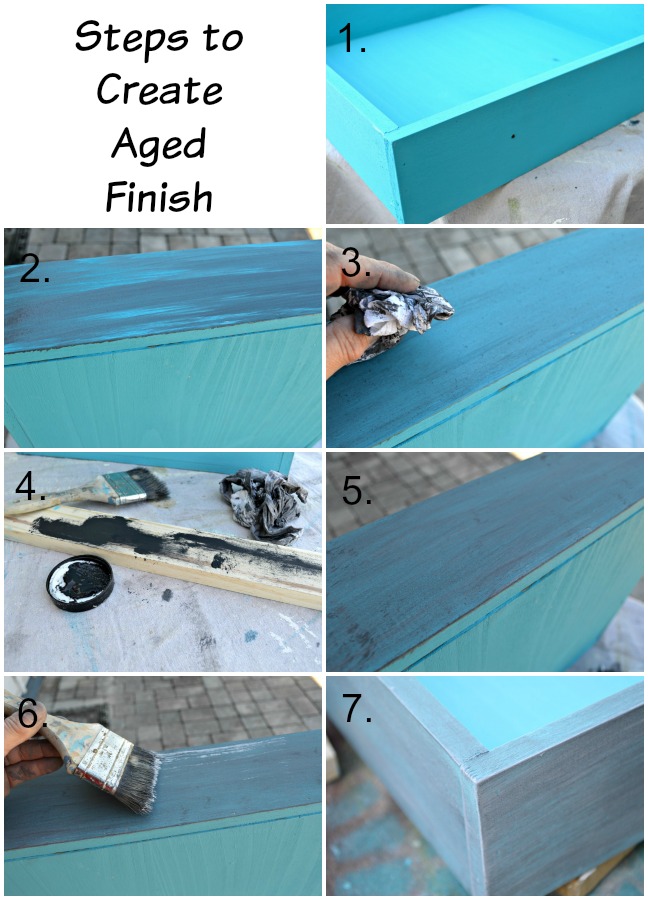 Start by painting the drawers the base blue.
Apply a watered down wash of dark grey.
Wipe and blend it in immediately with a rag or paper towel.
Dip a few bristles into a little black paint, rub extra off onto a paper towel or piece of wood.
Dry-brush and blend in a little black paint.
Follow steps 4 and 5 with a little white paint until you get a color you like.
Seal the drawer with a clear top coat.
I cut four shelves out of 1/4 inch plywood to replace the broken wicker. The plywood is sturdy enough because each shelf has a frame and metal support on the frame. I'm glad the thin plywood worked so well, I can't imagine making this bakers rack any heavier! It's without a doubt, the heaviest one I've ever seen.
The new wood shelves were painted the same way as the above instructions. I used colors that looked like old driftwood. I applied them in this order a base tan, grey wash, white wash and little black dry-brush.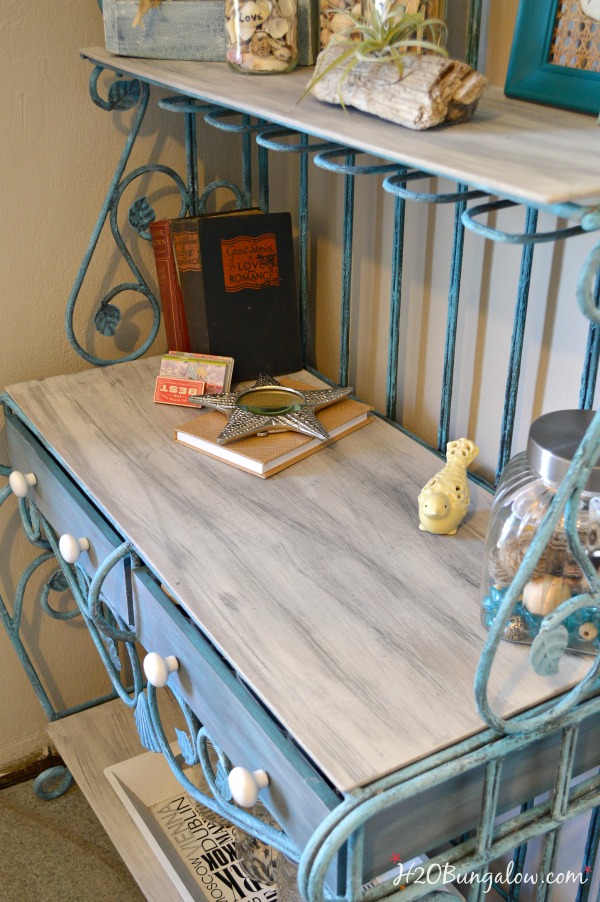 Here' a close up of the drawers, they match the frame pretty well, don't you think so? I used the plastic drawer bins I had in my kitchen drawers before I made my new DIY wood drawer dividers.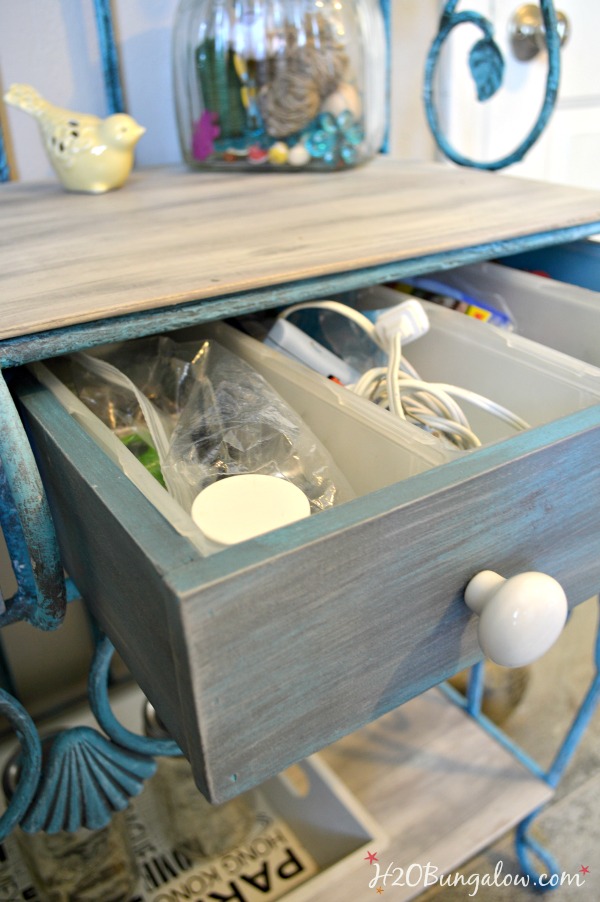 Oh, my! Is this what organized looks like? LOL My metal bakers rack makeover is for my studio/office.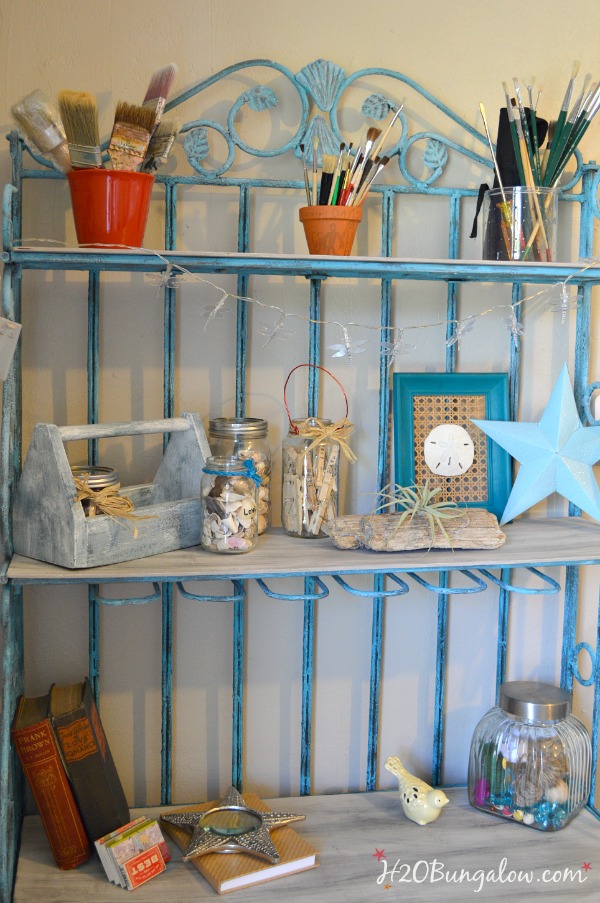 After the holidays we moved some furniture around and my office is no longer a part-time guest room. It's my full-time office/studio! When you live in a small home, having a room all to yourself is a very big deal!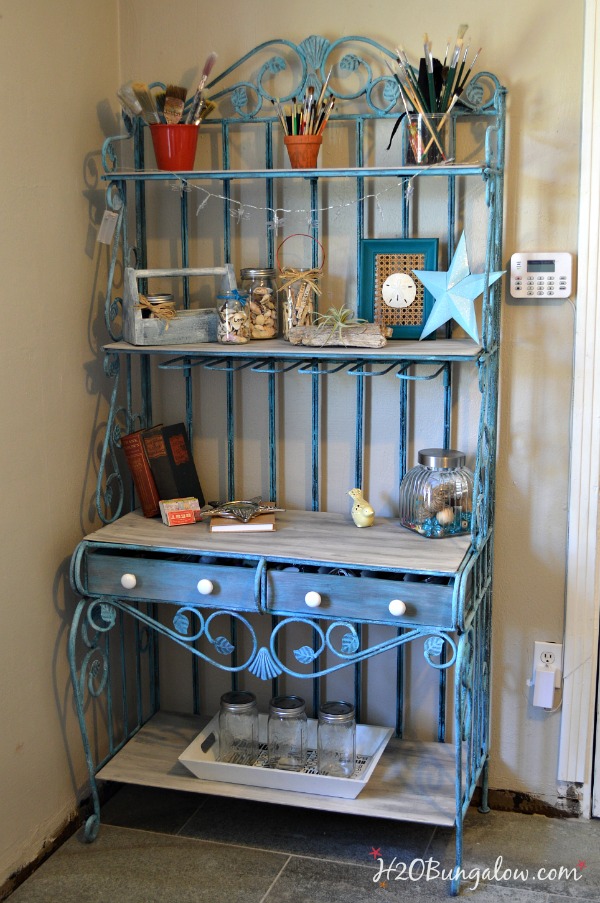 The aged patina and new wood shelves made this project a keeper. I'm having the best time organizing my supplies so I can actually find what I'm looking for when I need it, and not a few days later. This is the first project in my studio makeover. I have some exciting things planned for my feminine retreat and work space. I can't wait to share my big plans.
In the meantime, I think you'll enjoy a few of my other projects. This was just one of the many Creative DIY Shelving Ideas I've shared.
I love the rich, time-worn look of a good patina. I rarely find a furniture piece with a perfect patina, and if I do, it's not in my budget. If you enjoyed this one, you might also enjoy how to create an aged silver finish on furniture or how to create a vintage nautical trunk.