This post has been sponsored by NewAir. However, all opinions expressed are entirely my own.
The kitchen makeover on one side of The North House is well underway. On a major makeover like this one I always do what I can myself so I can use my budgeted funds for the extra special items. When I'm planning a makeover, big or small I always look for a way to add a wow factor. Something that makes the room special, stand out with an extra bit of pizzaz. A wine cooler is may favorite go to in a kitchen.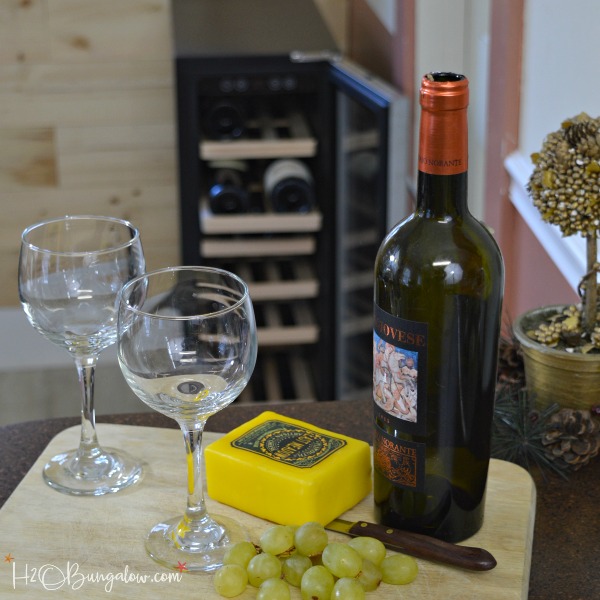 In bathrooms one of my favorite things to add is a heated towel rack. Like the one I used in my Contemporary Master Bath Renovation I designed. For kitchen renovations one of my favorite wow factor items to add is a wine cooler. Including the two I'm adding to each unit in the North House Lodge this makes four wine cooler installs I've completed over the last few years.
I've certainly learned a thing a two between shopping for and installing wine coolers and want to share some info with you guys in case you're thinking about adding a wine cooler to your kitchen too.
Where can you put a wine cooler?
Replace an old trash compactor with a wine cooler. I've done this in the past. I slid it in the space, plugged it in and that's all there was to it. The 19 bottle wine cooler pictured below is 12″ wide, 23″ deep and 34″ wide which is the perfect size for this type of install. Most trash compactors are the same size.
When I designed my kitchen in Florida I made sure to leave a space between cabinets and added an outlet for it. Here in the North House since I'm putting in new counter tops, I'm building a frame and extending the cabinet area to enclose the new wine coolers. I'll have another post in a few weeks with the full tutorial on how to do this. Of course wine coolers look great free standing as well.
You're getting a peek of some of the work I'm doing in the kitchen…and of course some I have yet to finish like repainting!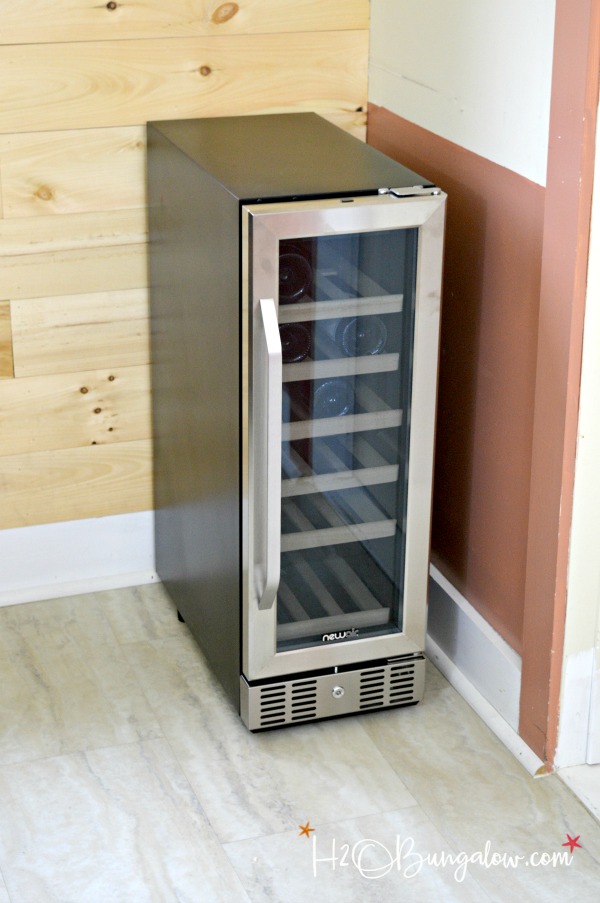 What makes the New Air Wine Coolers perfect is that they work for both freestanding and installed because they are front vented. If you plan on installing a wine cooler under a cabinet it must be front venting!
Where to find a wine cooler
Front vented wine coolers are not easy to find. But that's not an issue with New Air. I picked out the units I wanted and they were delivered right to my door. That's great considering I'm out here in VT with no shopping possibilities for miles, I have a small car and could never have loaded this in my car and hauled it into the house by myself anyway!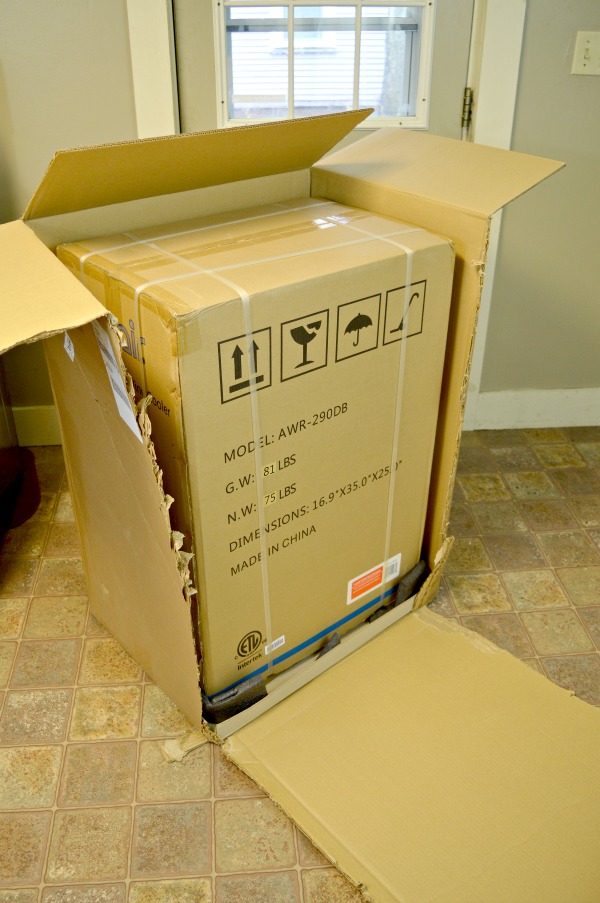 New Air Wine Cooler features
This is the New Air 29 bottle wine cooler. I choose this one for the other North House kitchen. It's a good size for a built-in unit at 15″ wide by 23″ deep and 34″ tall. There's a section for white and red wines with a programmable digital temperature read-out for both. The cedar wood slats on the shelves are nice and wide which will support the wine bottles well. From experience I can say that this is not always the case. The bottles are always falling through on the one I have in Fl now 🙁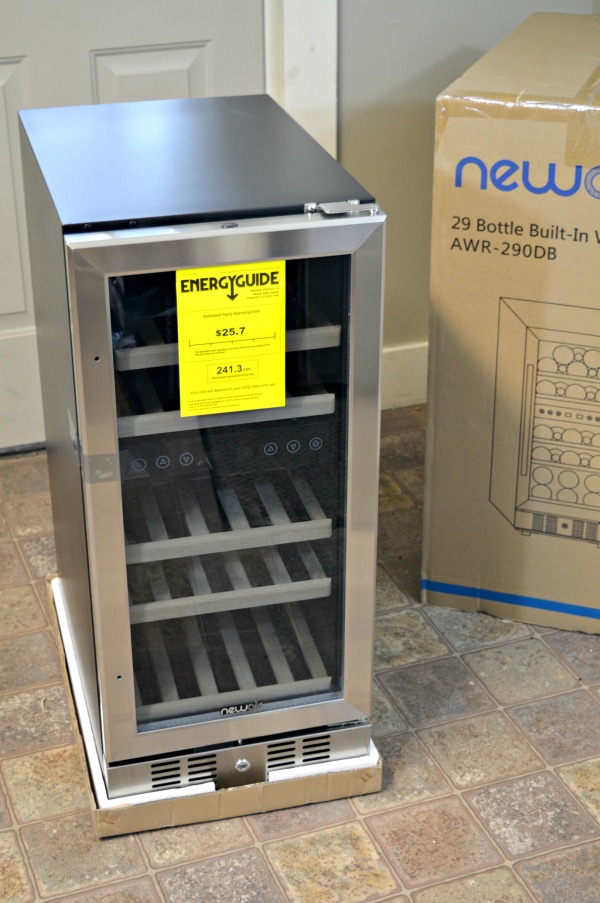 It comes with two keys to lock the cabinet. The only assembly I had to do was put on the door handle with the two screws that were included. If I need to change the door to open from the other side I can with the extra parts that were also included.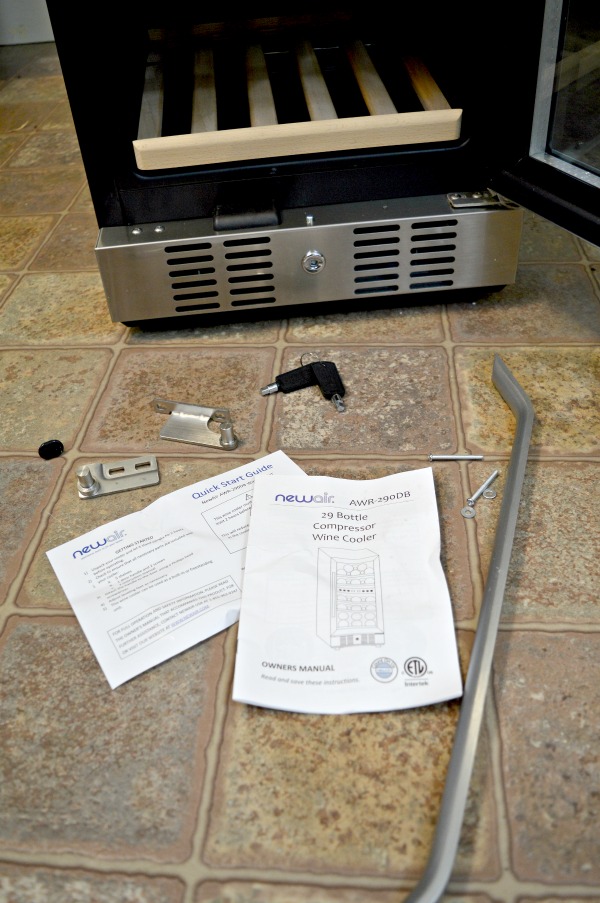 Simple, right?
Here's a quick video on the 29 bottle unit and a rundown on the many features I didn't list.
Like I mentioned, these units are great as stand alone, easy to install where there was a trash compactor or plan for in a new cabinet installation. I'm getting a bit more creative and building a small add-on to the kitchen cabinets I have already since I'm putting in new counter tops. It will take a few more weeks for the counters to come in but be on the look-out for my creative DIY wine cooler install tutorial coming shortly.
In the meantime, I'll enjoy my New Air wine cooler as a freestanding unit 🙂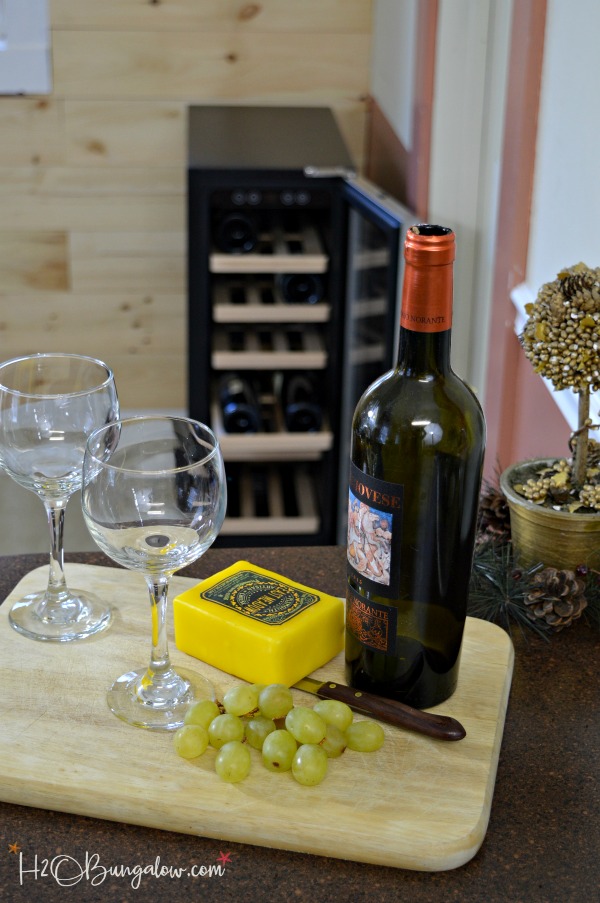 Be sure to Pin these wine cooler buying and installing tips for later!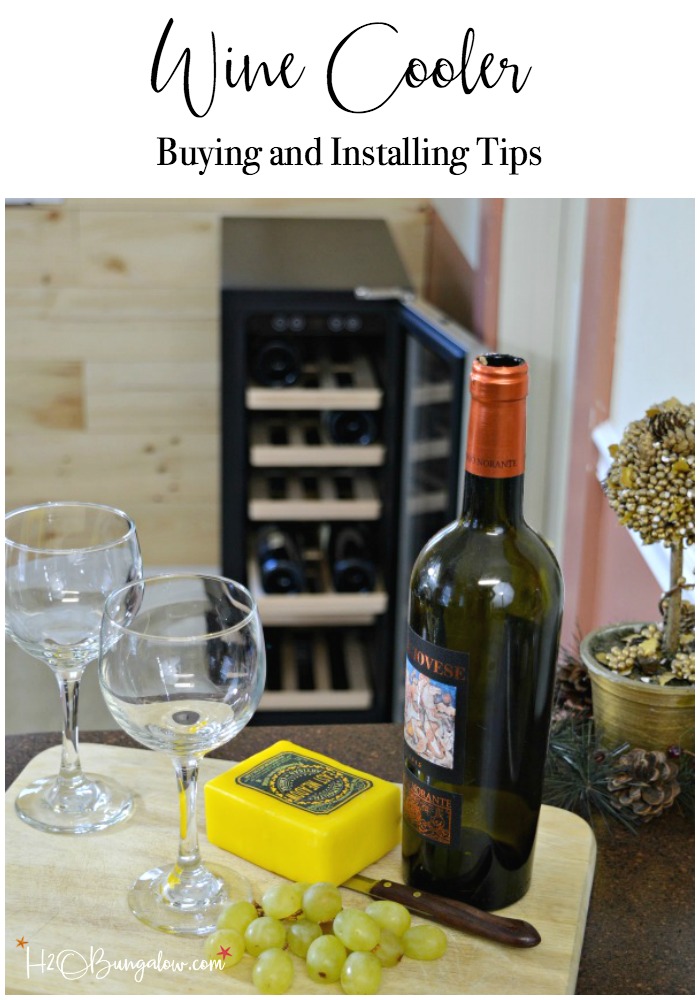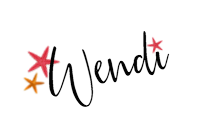 You'll find my project linked up to these fabulous parties!
Love a good dose of DIY home decor, home improvement, the challenge of woodworking and creative ways to make your home look fabulous?
Me too!
I'd love to share mine with you. Click here to sign up for my post emails and I'll send a quick note when I have a new project to share.
Disclosure: I may have been compensated, given product or tools that I used in this DIY post. All opinions that I share are always 100% my own. I use affiliate links in my posts. If you should make a purchase I will receive an itty bitty commission at no cost to you. Thank you in advance for supporting my blog and two fur-ball cats who believe they are privileged.